Greetings and salutations everyone and welcome to another blog here on BlueCollarBlueShirts.com. Are you scared?
By now, you're aware of everything that's going on in the world and what's going on in the sports world too. NCAA March Madness? Canceled. The NBA? Postponed until for at least a month, according to NBA Commissioner Adam Silver. The XFL? Canceled. MLB Spring Training games? Canceled, and with the start of the regular season pushed back at least two weeks. Major concerts? Canceled. Broadway shows? Canceled. Pro wrestling and boxing events? Canceled and canceled. And of course, the NHL has announced that they have, "paused", for the time being.
In my last few blogs, I talked about the Corona Virus. I started off being silly about it, as I really thought this would all blow over. By the time I finished my Rangers/Avalanche blog, late Wednesday, things didn't look good. By Thursday afternoon, the NHL made it official – they were taking a timeout.
I'm not going to rehash my previous thoughts on the Corona Virus here. To catch you up, in case you missed them, here are my most recent blogs below:
---
---
---
---
---
---
For someone like me, who just writes blogs every other day or so, it's tough for me to give you the up-to-the-minute corona virus updates. I'm obviously not a news reporter and shocker – I'm not a doctor either. What I know about this corona virus is what you know – whatever we get from reading and watching the news. Even by the time you read these words, there could be 38674380673634 more updates on the corona virus.
What we do know is this. This is what the NHL released, via NHL.com, on Thursday afternoon, in their announcement of "pausing" the NHL season:
National Hockey League Commissioner Gary Bettman on Thursday released the following statement regarding the 2019-20 NHL season:
"In light of ongoing developments resulting from the coronavirus, and after consulting with medical experts and convening a conference call of the Board of Governors, the National Hockey League is announcing today that it will pause the 2019-20 season beginning with tonight's games.

"The NHL has been attempting to follow the mandates of health experts and local authorities, while preparing for any possible developments without taking premature or unnecessary measures. However, following last night's news that an NBA player has tested positive for coronavirus — and given that our leagues share so many facilities and locker rooms and it now seems likely that some member of the NHL community would test positive at some point — it is no longer appropriate to try to continue to play games at this time.

"We will continue to monitor all the appropriate medical advice, and we will encourage our players and other members of the NHL community to take all reasonable precautions — including by self-quarantine, where appropriate. Our goal is to resume play as soon as it is appropriate and prudent, so that we will be able to complete the season and award the Stanley Cup. Until then, we thank NHL fans for your patience and hope you stay healthy."

The NHL Players' Association also released a statement Thursday.

"The decision to temporarily suspend play due to the COVID-19 pandemic is an appropriate course of action at this time.

"The NHLPA will continue to closely monitor this very dynamic situation and remain in daily discussions with the League, our medical consultants, and our players regarding all aspects of this matter. The players are looking forward to the opportunity to resume play in front of hockey fans everywhere."
To me, this news is obviously unfortunate, but I get it. With every other professional sporting event and entertainment event canceled, sans "Wrestlemania" and a UFC show in Brazil, the NHL couldn't be the one league to take a stand. In this crybaby liberal world, where everything is offensive and everyone has to overreact to every little thing, the NHL couldn't adhere to a "attend games at your own risk policy."
Furthermore, with the NBA animals knowingly spreading the corona virus (NBA player Rudy Gobert knowingly spread his germs on microphones, towels and other items, which in turn gave the virus to his teammate in Donovan Mitchell) the NHL couldn't take the risk of having one of their players/staff/employees getting sick, as the NHL and NBA share many arenas throughout the nation.
I do wonder this – what would've happened if the Super Bowl was this Sunday? If there was ever one league that doesn't give a crap about anything and can get through any controversy, murder, rape or any other sort of crime or wrong-doing, it's the NFL.
I totally understand the NHL's decision. They can't go rogue here and be the one league still holding games. To the NHL and NHLPA, the health of their members is a priority. They can't be putting guys in high-risk arenas or situations. If there is anything I'm angry about, it is that because of a few disgusting Asians who eat bats and vermin, their actions have crippled the sports world, the health of others and the American economy.
I mean really think about it – a few Asians eat live and dead rodents and creatures not part of any food chain, and in turn, they've turned the world into a George Romero movie.
Personally, as an NHL fan, while the decision sucks to "pause", I support the decision of the NHL to "pause". Not that they need my support anyway. What really sucks for me, was that I was supposed to fly to Pittsburgh next week, and attend the Rangers/Penguins game. From there, I was going to drive with my buddies from Pittsburgh to Buffalo and catch the Rangers/Sabres game. After that, it was a short flight home from Buffalo to JFK. Of course now, all those plans have been thrown out of wack and are canceled. Making things more painful, is the fact that obviously the whole world is effected by the corona virus and my Rangers road-trip is the least of anyone's concern, as it should be. That said, I spent two hours on the phone on Friday morning trying to cancel my plans/get a refund:
No joke, once the NHL canceled or "paused" all of their upcoming games on Thursday afternoon, I tried calling Expedia, to cancel/get a refund on my trip. I called five times and couldn't get through. Once I finally got through, after being on hold for 45+ minutes, my call was disconnected.
Knowing that the whole world is canceling their travel right now, I decided to call Expedia at 5AM on Friday morning, thinking the early call would get me through all the waiting time. Instead, I was on hold for 75 minutes, before reaching an Expedia agent. The end result? One hotel would refund me my money in full, another hotel is waiting from corporate to see if they can give out refunds and my two flights can not be canceled right now.
How stupid is this? When I tried getting my flights canceled/refunded, I was told that I could get a free cancellation, as long as I booked a new flight before the day my original flight was supposed to take off. When I explained we are in the middle of a pandemic here and that I won't know when I could use a free cancellation/re-booking, I was told I would have to call back 72 hours before my flight takes off.
Long story short, after being on the phone for two hours, I got one hotel refunded. I'm waiting to hear back on the other hotel. And when it comes to the flights, I have to call back, where I presumably will have to be on the phone for two hours again. If my buddy TEN O'CLOCK TOMMY is reading this, I'm taking a 10% travel agent fee for all of this! (Or Tommy can buy me a beer and all will be good!)
Isn't it amazing Suzyn, how easily these companies will take your money, but what an excruciating process it is to get your money back? The world is at its knees right now, we have a travel ban in place, President Trump issued a national emergency, everyone is saying to stay indoors and the airlines can't even give you back your money. As if I had anything to do with this corona virus! I'm not the one eating diseased bats here!
Speaking of companies that don't give a crap about their consumers, how about the company Fanatics, who on Thursday, bombarded my email account with 8 separate emails, all promoting the following: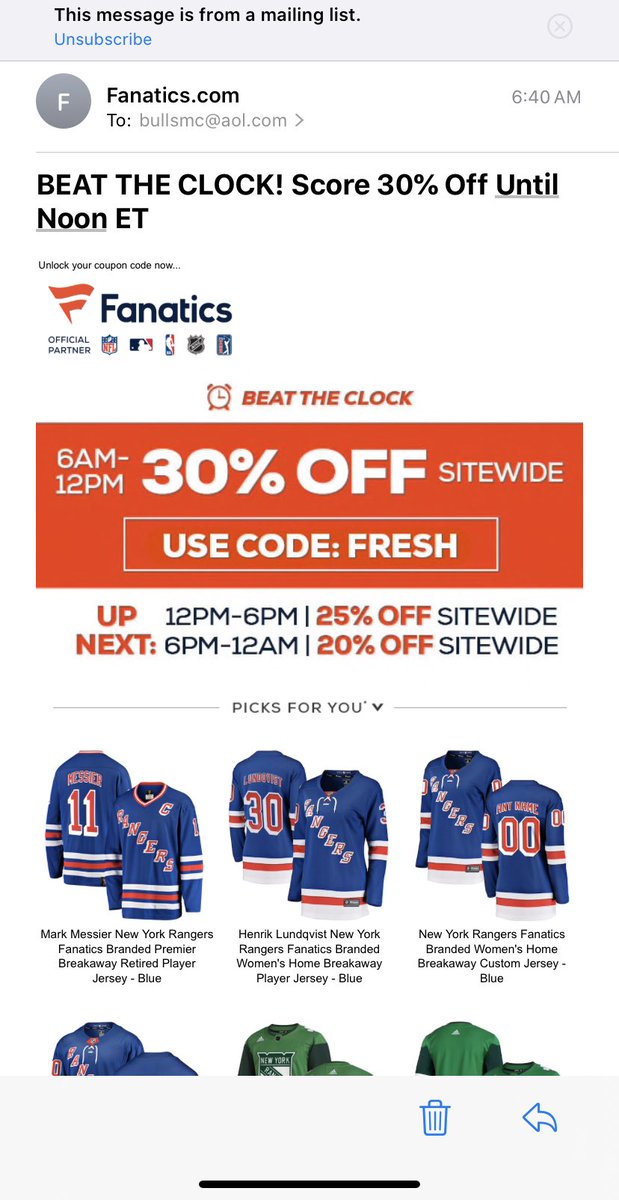 Not for nothing, with how callous and annoying Fanatics can be, with their 675675677858675 emails a day, I'm surprised they aren't running a COVID 19% OFF SALE, PROMO CODE: GETSICK! Even worse, they promoted a Henrik Lundqvist jersey to me; a women's jersey! (And is it offensive in 2020, for a male to say they don't want a jersey made for a female? I'm sure Adam Hermtrans is offended, as you'll soon see at the end of this blog!)
While on the topic of emails, the Rangers emailed me, and everyone else that follows them, the following on Thursday too: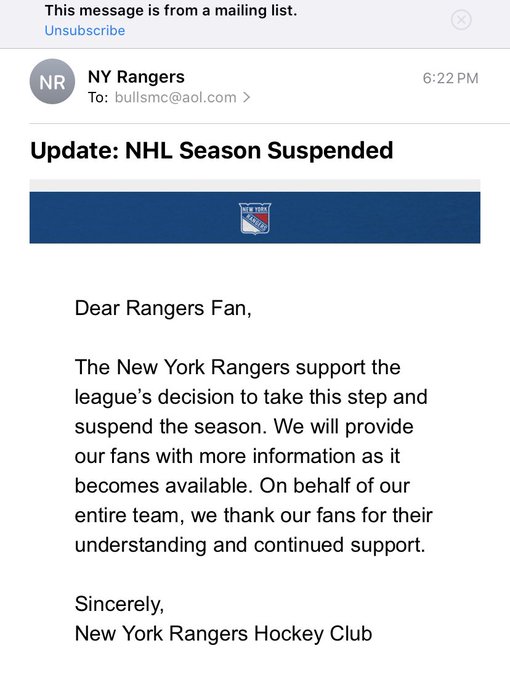 I know I'm jumping all over the place tonight with this blog, but every time I check social media or the news to get a corona virus update, I'm swamped with never-ending news. It's just choosing and picking through what news is important to me.
One news item that's important, is the the new article on NHL.com.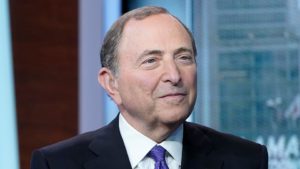 Here's the article from NHL.com:
NHL Commissioner Gary Bettman decided to pause the season Wednesday night after an NBA player tested positive for the coronavirus and the NBA suspended its season, but he wanted to speak to the NHL Board of Governors on Thursday afternoon before making an announcement, he said in an interview on CNBC.
Commissioner Bettman said no NHL player has tested positive for the coronavirus, to the best of his knowledge.

"The last couple of weeks, we, like everybody else, have been monitoring what's been going on, and we went from dealing with things on a day-to-day basis to an hour-by-hour basis, and then it was in minutes," Commissioner Bettman said. "And we were constantly evolving our strategy as to how we were going to have our teams playing or not playing, or under what circumstances.

"But last night, when the NBA had a positive test and they had to cancel a game at that moment, it was clear to me. And through all of our calculus, we knew that once a player tested positive, it would be a game changer.

"I decided it was time to get ahead of it and not wait for one of our players to get tested, because in all likelihood, at some point in time, we weren't going to get through the rest of the season without a player testing positive."

Commissioner Bettman said the NHL answered a lot of questions on a conference call with the Board of Governors and has been working closely with teams, medical personnel and the NHL Players' Association.

"We've sent everybody home, and we've asked them to self-quarantine for the time being, and we're going to continue to monitor the evolution of the coronavirus," he said.

Commissioner Bettman stressed the NHL is taking a pause.

"I'm a little hesitant to use the word suspension, because our hope and our expectation is, when things get back to normal and it's safe and it's prudent, that we can go back and resume the season and ultimately have the Stanley Cup awarded," he said.

Asked how far into the summer the NHL was willing to push the schedule, Commissioner Bettman said, "That's a question that I can't answer right now. It's something that I and my senior staff are dealing with on a day-to-day basis.

"It's going to evolve. We're looking at all contingencies, and when the circumstances are right that we can play, then we'll look at what we can do.

"My hope is that at some point we'll get back to some normalcy, and that's not just my hope for the NHL, and it's not just my hope for all sports, it's my hope for everything that's going on."

---
Let's circle back to the New York Rangers and hockey here. Of course, the biggest question is – "will the Rangers play again?" The answer – "who knows?"
While Gary Bettman didn't put a timetable on when the schedule would resume, his counterpart, in Adam Silver did, when Silver said that he thought the NBA season may be on hold for a month.
Furthermore, while I would never take Mayor Deblasio or the NY Daily News for their word, there's also this: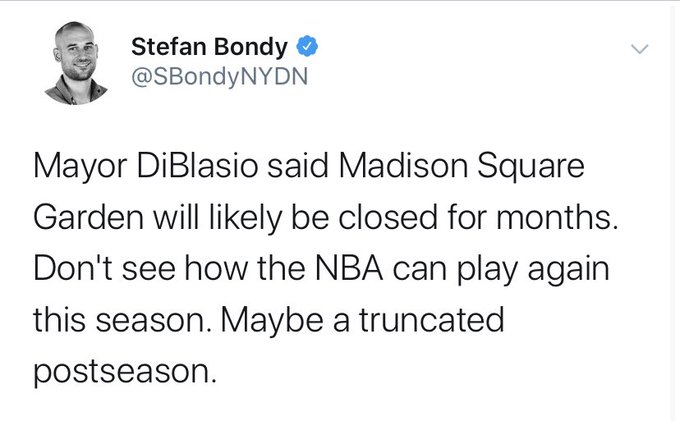 I know that Mr. Bondy has a nice twitter check mark to his name, but are you really going to take him at his word? After all, he can't even spell the mayor's last name correctly.
Of course, the idea of "empty arena" games have been tossed about. Many ex-players, media members and current players have wondered this. Ron Duguay tweeted out as much:
Is it possible that sometime next week the @NHL could resume playing the remaining 10 to 13 games left for each team in closed settings? Played with no live audience but to be televised for everyone to watch at home !!
All teams travel with private jets! 🤷🏼‍♂️

— Ron Duguay (@RonDuguay10) March 13, 2020
While I get what Duguay and the others are saying here, I think NBA players having corona virus is a major concern right now. It was suggested that some of the NY Knicks should get quarantined, because they recently played the Utah Jazz, which is where the corona virus started in the NBA.
If I'm going to repeat anything from last blog, it's this – this is just a time of uncertainty. Nobody knows what's going to happen. Anyone telling you otherwise is lying.
Unlike the NBA, who can easily play the NBA Finals in air-conditioned arenas in the summer, for the NHL, it's tough to host the Stanley Cup Final in the middle of July. I don't see this season being "saved in full", meaning I don't see an 82 game season at this point. While it's in the NHL's best interest to play playoff games and the Stanley Cup Final, you can't have the SCF taking place in the middle of July either.
There are so many working variables and things going on here. Here are the biggest:
— Obviously, the playoffs will be pushed back a bit. How long is anyone's guess. However, that means the draft will be pushed back. What may also have to be pushed back is free agency. While I don't see any NHLers or the NHLPA getting up-in-arms about this, contracts may have to be extended. For example, say there is a Stanley Cup playoff game after July 1st, the date where some contracts expire and FA starts. What happens if a player has a contract that expires after the 2019-2020 season and they are in the SCF? Technically, they would be a free agent, yet would still run the risk of playing without a contract. What happens if that player gets hurt? I'm sure this would all be worked out and teams would rollover contracts for a week or two, should this scenario come up, but it's something to think about.
— When it comes to professional sports, collegiate sports, MMA, boxing and pro wrestling; LIVE ATTENDANCE/GATE RECEIPTS provide the most bulk of the NHL's profits. While the NHL will eventually get a major TV and/or streaming contract soon, as of right now, they are waiting for the NBC deal to run out, before testing the market. And they will be in a good position too, as the NFL, NBA, MLB, UFC, NCAA and WWE have already been taken off the market. Live sports are DVR-proof, so the NHL will have some bargaining power. However, for right now, most of their money comes from the fans, and not a major network or sponsor. This leads me to…
— The playoffs and the Stanley Cup Final, will be played, in some shape or form. There is just too much money to be lost if these games don't happen.
— Speaking of money, what happens to the salary cap next season? Originally, it was reported that next season, the cap was going to go up anywhere to $84M to $88M. The longer this corona virus thing goes, you would have to think the smaller the increase, if there is an increase, on the salary cap come the 2020-2021 season.
— If the Stanley Cup Final is played (as I think it will be) how long into the summer will you take this thing? Do you delay the start of the 2020-2021 season a bit, or will you have these players only getting 4-6 weeks off before training camp? In addition, how long can you delay the draft, especially with scouts sent home and international leagues also taking a hiatus right now?
Again, I don't know what will happen. No one does. All I know is that I'm sure the NHL is working on a contingency and alternate plans.
There is no way I can tell you I'm 100% sure of this, but I think we will at least miss two weeks of the regular season. Worst case scenario, we miss the remainder of it. As we stand right now, across the league, teams have anywhere from 11-14 games remaining to be played. Of the two teams that have 14 games left, both are in the playoff mix, in the Carolina Hurricanes and New York Islanders.
If the NHL was to scrap the rest of the regular season, go to a mini-camp before the playoffs and then hold the playoffs, it wouldn't be fair to just use the teams in playoff position today. As much as I hate to defend the Islanders, they would be screwed. The second wild card in the Eastern Conference, in the Columbus Blue Jackets, currently have 81 points in 70 games played, while the Islanders, outside-looking-in, have 80 points in 68 games played.
If you're the Islanders, you have a legit gripe if the regular season is ruled to be over and you're out of the tournament. Of course, the NHL could determine playoff teams based off their winning percentage, which would mean the Islanders would be in and CBJ would be out. However, how is that fair to Columbus? And let's not forget year end awards either – if CBJ makes the playoffs, John Tortorella will be a favorite to win the Jack Adams. If CBJ misses the playoffs, he won't be a candidate. Again, so many different variables about the unknown.
Obviously, I'm a Rangers fan, so you probably know where I'm going to go next.
If time becomes a major issue, as it looks like it will be, I would propose expanding the playoffs. And this isn't new or me reacting to the corona virus "pause". I've been saying the NHL should expand their playoffs for years. After all, you once had four teams out of six make the playoffs. This later grew to 16 of 21 teams making the playoffs. Today, it's now 16 of 31 teams qualifying for the tournament.
Expanding the playoffs isn't new in sports. Major League Baseball has recently done this, by including a single game elimination game in each league, meaning four more teams get a crack at it.
As mentioned above, the NHL makes the most of their money on the house. It would benefit everyone involved in the NHL and the people that need the NHL, if the playoffs expanded. EVERYONE. The fans, the players, the media, the popcorn vendors, the bar owners, the TV networks, the people who sell merchandise, beer guys – EVERYONE. More hockey is more money.
At the same time, you don't want to water down the regular season either, and make it meaningless. That's always been a criticism about the NHL and their regular season.
Here's my proposal, using the current teams and standings:
Give the divisional winners a bye, like they do in the NFL. Those teams would be the Bruins, the Capitals, the Blues & the Golden Knights. Obviously, you can't have these teams waiting a week to play, as it may give their opponent an advantage. There is something about rust vs continual play in the playoffs.
From there, expand the wild card to four teams. In the East, in order, you would have Carolina, Columbus, the Islanders and the Rangers. In the West, you would have Winnipeg, Vancouver, Nashville and Minnesota.
During "WILD CARD WEEKEND" (I would totally rip off this idea from the NFL and hold these games on a Saturday and Sunday, when most people are home) I would pit the wild card teams against each other, in SINGLE ELIMINATION GAMES, based on their finishes. In this scenario, that means you would see:
CAR vs NYR
CBJ vs NYI
WPG vs MIN
VAN vs NSH
From there, the two division winners would get the wild card teams. For the sake of argument, let's say the Rangers, the Islanders, the Wild and Nashville all won. In the other first round match-ups, I would keep the divisional 2 vs 3 seeds paired together, as under this system, it really puts a focus and gives an advantage to the team that wins the division. I also like the idea of first round divisional rivalries. I mean, if this were to happen today, everyone would go nuts over a Calgary vs Edmonton BATTLE OF ALBERTA series. Philly vs Pittsburgh wouldn't be shabby either.
That means after wild card weekend, we'd see this:
BOS vs NYR
WSH vs NYI
TOR vs TB
PHI vs PITT
STL vs NSH
VGK vs MIN
EDM vs CGY
COL vs DAL
If this were to happen, you just gave four new markets a playoff game and increased business. If you were to use this system next season, it would really put an emphasis on winning your division, keep divisional rivalries alive and keep regular season attendance up, as more teams would have a chance to make the playoffs.
You can send my check in the mail Mr. Bettman!
As mentioned, I don't see a full 82 game season schedule being played at this point. The NHL could go right to the playoffs or knock off a few games. Again, I know this is getting old, but no one knows.
What will be a shame, is if the season is over or if the season is shortened, many Rangers, who are having career seasons, will have their stats stunted. Take a look:
— Panarin is at 95 points. He would've most likely hit 100 or even 110 points.
— Zibanejad is at 41 goals and playing his best hockey of the season. While 50 goals may be a stretch, it wouldn't have been impossible either.
— Strome has 18 goals and 59 points. He most likely would've hit 20 goals and 60 points. Then again, after that game on Wednesday night, maybe not!
— Tony DeAngelo, having the greatest offensive season by a defenseman since the days of Brian Leetch, has 53 points. He may have hit 60.
— Buchnevich is sitting on 16 goals and 46 points. He may have hit 20 goals and 50 points.
— Fox, who would've been a major candidate for the Calder, if it weren't for Makar, is sitting on 8 goals and 42 points in his rookie season.
— Igor Shestyorkin is 10-2 and would've had a shot for 15+ wins, in a season where he won't even be considered a rookie in.
And then, of course, away from the stats, is Henrik Lundqvist.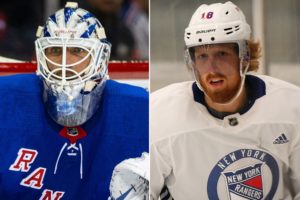 If the regular season is over, that brings up the question about the futures of Marc Staal and Henrik Lundqvist, the two most tenured players on the team and the two players with not ideal contracts.
The easy thing to look at first is Marc Staal. I don't see him going anywhere. Unlike a large majority of Ranger fans who want Staal gone, I have no problem with Staal here for one more year. Put it this way – whose spot is he taking right now? Nobody's. You can't say the same about Lundqvist.
Furthermore, I don't buy all the negativity on Staal's game. While he isn't what he was since his injury; ever since Girardi and McDonagh went to Tampa, Staal has been the best defensive defenseman on the team. He's also a leader in the room and on the ice.
During this season, we saw Libor Hajek get a crack. It didn't work out and he's struggling in Hartford right now. Come next year, you may possibly have K'Andre Miller and Yegor Rykov competing for a spot on the left defense. With Lindgren somewhat solidified in his role, that means Miller, Rykov and Hajek will be competing with Brendan Smith and Marc Staal. It's not a bad problem to have. As we've seen, Smith is versatile and can move to the wing as needed. And really, who knows if Miller will be ready for the NHL in year one either.
In any event, I don't see a Marc Staal buy-out or trade. It wouldn't shock me if he finished out next season here and then either retired or goes to play with one of his brothers, on a team-friendly one or two year deal.
Obviously, as has been the case all season, Lundqvist is the odd-man out.
If you know me, you're a regular reader of this blog or follow me on social media, I don't have to give you my thoughts on Henrik Lundqvist. You're well aware. In fact, I won't play my "greatest hits" here either. All I'll say is this – today, all over social media, I saw people pondering if Lundqvist has now played his last game as a New York Ranger. The response from the CULT OF LUNDSWISS was that "THE RANGERS SCREWED HIM", "EFF DAVID QUINN" and "It's not fair he won't get a proper send-off."
I've talked about this stuff in the past too – I totally get where the Cult of Lundswiss is coming from, as most of them are young fans and never knew anyone else in net, until now.
Fan-wise, I was 13 years old when Don Mattingly retired, who was my favorite athlete ever. There's a lot of similarities with Lundqvist there, as Mattingly never won a championship either. Let's just hope the Rangers rip off a stretch of Cup wins when Lundqvist retires, as the Yankees did when Mattingly retired!
When I see all the talk about how "LUNDQVIST DESERVES A PROPER SEND-OFF", I'm reminded of Bernie Williams, a multiple time champion for the Yankees and a class act in every way. While Yankee fans knew what was going on, and we had to suffer with the Yankees signing ex-Red Sox players to play centerfield, Bernie never had that proper send-off. In fact, it would take years, before Bernie ever made an official retirement announcement. For as great as the Yankees are at honoring their history, they waited years later, until honoring Bernie. Even to this day, when Yankee fans talk about the most recent glory years and the "Core 4", Bernie's name is often forgotten.
Truth be told, I was furious with how Bernie left. I thought he deserved better. So I can see why the Cult of Lundswiss is irate too. However, these teams don't owe these players anything. It's a cold lesson of reality and business. Plus, unlike the other three major sports, where you can sub in and sub out; you don't have that luxury as a goalie, especially for an over-the-hill goalie on a team trying to chase a playoff spot. Harsh but true.
If the regular season is canceled, Lundqvist may have played his last game, not just as a Ranger, but in the NHL completely. After all, even if Lundqvist was a $1M cap hit, who is signing him? His best bet is probably going back to Frolunda in Sweden, and having his retirement tour there. Against weaker competition (after all, Lias Andersson has been looking good lately in the SHL) Lundqvist would shine much more there, than he would in the NHL during the 2020-2021 season.
As Lundqvist and John Davidson have both said recently, there will be a time and a place, where both parties talk about the future. That time will be whenever the Stanley Cup Final concludes, and yes, once again, I think a SCF will happen!
I'll also add this – if the Rangers somehow make the playoffs this season, who in their right mind would carry Lundqvist on the playoff roster? Would Lundqvist even accept a "black ace" role?
At this point, all I have to say is this, with full credit to Jim & Eddie of the Blueshirt Underground Show: "HANKS FOR THE MEMORIES!"
And oh, speaking of BSU, with no hockey in the near future, you can watch their shows on YouTube now. Here's the latest one:
Moving forward, as we're almost at the end here.
On Friday afternoon, I tweeted out the following:
If the @MSGNetworks @RangersMSGN had any brains, they would show classic Ranger games in the time slots of the games that are canceled. Give me the Giacomin return game! #NYR #playlikeanewyorker

— BlueCollarBlueShirts (@NYCTheMiC) March 13, 2020
An hour later, the M$G Networks announced the following: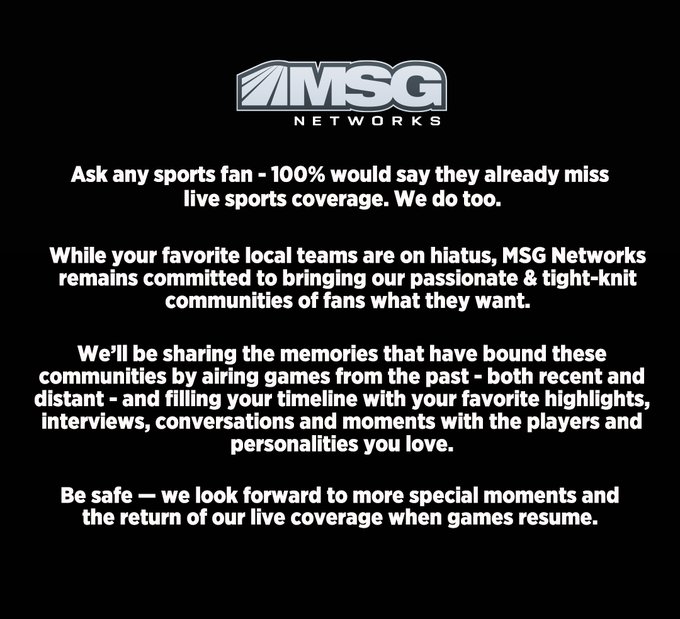 Cross your fingers – maybe we will get that Giacomin return game, a game I've been wanting to see, in full, for such a long time now! Now if only the Rangers would follow suit and retire Frank Boucher's #7 jersey!
And before hitting the final segments of this blog, I want to say this. I don't know how long this "pause" will be. However, I'll still be doing blogs here, so feel free to subscribe for the latest updates. While there won't be much news going on, until the NHL announces their return, I'll try to do book reviews and maybe sneak in a Delorean blog. I thought for humor, during these bad times, I would review the Rangers vs Stars game, where Vally gave up 10 goals. If anyone has a link or DVD of that game, feel free to share it. I promise, I'll make that blog entertaining for you!
In a hockey news item and with the league locked down, the NHL ruled on the dirty Lemieux hit on Donskoi:
Following a hearing today, the DOPS has determined that Brendan Lemieux will be suspended for his hit on Joonas Donskoi Wednesday night. The precise parameters of the suspension will be determined and announced once resumption of play guidelines have been established.

— NHL Player Safety (@NHLPlayerSafety) March 13, 2020
In other words, Lemieux can't serve his suspension during this corona virus.
Almost done here!
Since some of you have wrote in to me, asking for me to bury Hermtrans whenever I can, the following screenshots were sent to me today:
Hermtrans is the worst. How do people go thru life all the time, looking to be offended? @Panger40 pic.twitter.com/S6IU9AZxfR

— BlueCollarBlueShirts (@NYCTheMiC) March 13, 2020
Currently, we have the biggest epidemic in the world going on today, since the days of the Black Plague, yet Hermtrans is using this virus to promote his "wokeness" and fake outrage. Seriously! Even I made the same joke Darren Panger made, except I said "I would think Netflix stock is through the roof right now." I just don't get these people who have to be social justice warriors all the time. I hope they take the time to stop, take a breath of fresh air… and inhale the corona virus!
As I close here, do you want to know why I have faith in the NHL and every other sports league returning sooner than later? Las Vegas baby! Right now, Vegas is being killed. Tourism is way down. There are no sports to bet on. Money is tight, with jobs going dark. People don't want to be around other people. While Vegas has enough money to sustain this down time, a whole city could be crippled if this corona virus thing goes on past a month.
You know what's really funny? With no sports to bet on, I've seen videos on social media of people betting on video game sports simulation. In one video, I saw a bunch of guys play NBA 2K, had two computer teams play against each other and bet on the winner. Talk about being a true degenerate. And hey, if this corona virus crap goes on for an extended amount of time, I could see Vegas hiring athletes to play video games and asking the locals to bet on it. Don't sleep on that idea either!
That about wraps up this manifesto. As mentioned, I'll be back, as we all ride out this break together. If you got any topic suggestions, feel free to chime in. It could be a boring few weeks here.
As always, thanks for reading and… cough-cough, sniff-sniff, ACHOO…
LET'S GO RANGERS!
Sean McCaffrey
BULLSMC@aol.com
@NYCTHEMIC on Twitter