Greetings and salutations everyone and welcome to another blog here on BlueCollarBlueShirts.com. Whew.
One more time – "Whew."
As repeatedly mentioned on this site following the Rangers' malaise from last week, where the salary cap, playing short-handed and waiting for the arrival of Patrick Kane both distracted and stunted the club; heading into Thursday night's game at the "Poutine Palace" – there would be no more excuses.
Simply put – the Rangers had to win this game.
While this game wasn't a "MUST WIN" or anything of the sort – a loss would've been both extremely concerning and deflating – and had that been the Rangers' fate on this night – then there would have been a ton of hellfire and brimstone raining down on the streets of Rangerstown, USA right now.
And even following the 4-3 shootout win?
There's still a lot of cause for concern, but where as previously mentioned on Tuesday night on this site – these final nineteen games is the time to figure things out and try new things.
But again, a loss would've been inexcusable.
End of story.
---
Prior to tonight's tilt, the Rangers had the previous four days off, and where everyone and their mother who is associated with this team, all said that the extra practice time was a benefit.
By the end of the game, during the post-game interviews, the word "rusty" was used.
Interesting!
In a way, the extra practice time was beneficial for the Rangers' power-play (2-4 tonight – but where they also gave up a short-handed goal and took a penalty too) – but that certainly wasn't the case for many on the team – especially while at full-strength.
And while the Rangers are still without both Ryan Lindgren and Tyler Motte; for the first time in a long time – they finally dressed an orthodox line-up of 12F/6D/2G.
Over on the other side, the Canadiens, spearheaded by former Blueshirts g.m. Jeff Gorton, and coached by another member of the alumni too, Martin St. Louis; no other team in the NHL has lost more man-power than the oldest team in the league this season, where that total is now up to 511 games. (That figure does include Carey Price, who hasn't played a game this season – and where it's questionable if he'll ever play again.)
The heralded Habs, now enduring a rebuild just less than three-years following their pandemic-influenced 2020 Stanley Cup Final run; the tenants of the Bell Centre practically skated an AHL team tonight.
No joke, for most of this game, I was saying, "WHO?"
While the Rangers are currently dressing a line-up that you usually only see in fantasy leagues or in video games; conversely, the young, inexperienced and not NHL-ready Canadiens didn't look like that at all. In fact, it was the lottery-bound squad that looked like a Cup contender tonight.
There were many times where the home team could've put the visitors away; but on Thursday night, it were the Rangers who received the majority of the "puck luck" and fortunate bounces. Without these breaks, there would be more panic in these words.
I know that the cliches are "a win's a win" and "two points is two points," but for a powerhouse like the Rangers; they were nearly upset by the Mighty Mouse Montreal team.
Praise to the hockey gods – the Rangers did win – and yes – that's all that matters – even if this was the "fugliest" victory of the season.
Almost equally as important, is that following the defeat of the Habs – we can now celebrate Kane's first two points as a Ranger, a decent power-play, a better penalty kill, and of course, the captain himself, Jacob Trouba.
Had the result gone the other way, and as it easily could have had – then we'd be talking more about Miller's miscues, Kakko's conniptions, and sadly, the struggles of CZAR IGOR too – where as previously mentioned on this site – I'm hearing many Ranger fans, including my friends, now refer to the Blueshirts' back-stop as "THREE-GORE."
Ouch.
I don't want to wade too much into the waters of negativity tonight – after all – I always preach my "glass half-full" optimism to you on this site. However, I do have to dip my toe in too – because ignoring a lot of what took place would both be erroneous and "fake news."
That said, as talked about on this site for the past week – I do have an early flight to catch to Buffalo on Friday morning – so let's get to the GAME REVIEW as fast as possible – and that's where I'll discuss all "The Good, The Bad and The Fugly."
However, up first – the pregame news & notes – including some bizarre headlines made by men formerly associated with our beloved Blueshirts.
---
It's been a busy week for some recent members of the Blueshirts' alumni.
Following a trade deadline where Vladislav Namestnikov was dealt twice and eventually landed in Winnipeg, and where Jack Johnson was reunited with Alexandar Georgiev in Colorado (and not to mention that former goaltender, Cam Talbot, after beating the Rangers last Thursday night, is now out for the next 3-4 weeks with injury); two of the more "infamous" members from the last regime, David Quinn and Tony DeAngelo, made headlines.
On Saturday March 5th, during a game between DQ's Sharks and the Washington Capitals, the former Rangers' bench boss topped his infamous "RABBIT EARS" rant in Edmonton from many years ago:
Sharks coach David Quinn was ejected after some choice words for the refs 🤬 pic.twitter.com/QRQBuRalY7

— B/R Open Ice (@BR_OpenIce) March 5, 2023
---
Two days later, the NHL "rewarded" DQ's four-letter fury with a $25,000 fine:
Not to be outdone, former Rangers' rearguard, Tony DeAngelo, whose final days in New York began after slamming a penalty box door in front of DQ back in January of 2021, "trumped" his former coach on Tuesday, March 7th:
Tony DeAngelo spears Corey Perry and sparks a ton of mayhem, eventually getting thrown out of the game#FueledByPhilly | #GoBolts pic.twitter.com/h8df9xv1i1

— Hockey Daily 365 l NHL Highlights (@HockeyDaily365) March 8, 2023
---
The NHL's Department of Player Safety, which is more erratic than a drunken teenage driver, suspended DeAngelo for two-games following this lowly and disgusting play – where for #77 – he just can't stay out of trouble.
And leave it to DeAngelo to turn Corey Perry, a repeat offender of all things vile, into a saint.
Put it this way – had any other player in the league did what DeAngelo did to Perry – then there wouldn't be that much of an outrage – and who knows – perhaps this suspension would have only been one game too!
However, DeAngelo is DeAngelo, and since he simply can't keep his name out of the news – if anything was shocking about this suspension to me – then it's that I'm surprised that it was only for two games.
Perhaps similar to DeAngelo's reputation is Perry's own reputation throughout the league – and had DeAngelo nicked a superstar's nuts, such as a Connor McDavid or a Sidney Crosby – then maybe this suspension would've been five games – if not double-digits.
As mentioned previously on this site, while the act of spitting carries a three-game precedent (thus meaning K'Andre Miller's suspension was fair and warranted); if you're David Quinn, you're better off just spitting and spearing an official in the nuts!
And if you're Miller and/or DeAngelo – then you're better off cursing someone out for over a minute – and eat the $25,000 fine – rather than losing more money via suspension.
It's also being reported by the world renowned Rangers' fiction writer, the Dr. Seuss of his generation, Adam Herman; that DeAngelo only committed this offense in order to "STEAL" Miller's thunder! (I kid, I kid!)
---
Following the Rangers return to the practice rink on Tuesday (and as fully recapped here: https://bluecollarblueshirts.com/3723/ ); a day later, Wednesday, the team took to Tarrytown one more time, prior to boarding their afternoon flight to Montreal.
Here's what "THE TURK" had to say on Wednesday:
---
Gallant didn't really say anything of note on Wednesday – as he, and his players too – pretty much said everything that needed to be said on Tuesday.
If there was anything to note, then it was that Patrick Kane, who was also interviewed the day before, compared Gallant's practices and style of coaching to three-time Cup champion, coach Joel Quenneville.
High praise if I say so myself!
Come Thursday, game day, the Rangers held a morning skate.
Following it, and once again, Gallant held his daily "TURK TALK." Here it is:
---
The head coach reiterated what he had previously said, but also added that both Tyler Motte and Ryan Lindgren wouldn't be available against the Canadiens – but didn't rule out either of them for the next two road games (Buffalo and Pittsburgh).
Furthermore, "THE TURK" also said that CZAR IGOR would be getting the nod in net.
---
Here was the Rangers' line-up from Thursday night:
FIRST LINE: Kreider/Mika/Tarasenko
SECOND LINE: Panarin/Trocheck/Kane
THIRD LINE: Lafreniere/Chytil/Kakko
FOURTH LINE: Vesey/Brodzinski/Goodrow
FIRST PAIR: Miller/Trouba
SECOND PAIR: Mikkola/Fox
THIRD PAIR: Harpur/Schneider
STARTING GOALIE: CZAR IGOR
BACK-UP GOALIE: THE HALAKNESS MONSTER
---
BOX SCORE time.
The following graphics and information come from ESPN.com:
SCORING:
SHOOTOUT:
PENALTIES:
TEAM STATS:
GOALIES:
| | | | | | | | | | | |
| --- | --- | --- | --- | --- | --- | --- | --- | --- | --- | --- |
| SA | GA | SV | SV% | ESSV | PPSV | SHSV | SOSA | SOS | TOI | PIM |
| 33 | 3 | 30 | .909 | 24 | 4 | 2 | 0 | 0 | 65:00 | 0 |
| | | | | | | | | | | |
| --- | --- | --- | --- | --- | --- | --- | --- | --- | --- | --- |
| SA | GA | SV | SV% | ESSV | PPSV | SHSV | SOSA | SOS | TOI | PIM |
| 26 | 3 | 23 | .885 | 20 | 2 | 1 | 0 | 0 | 65:00 | 0 |
---
Come 6:30PM, I tuned into the M$GN, only to be disappointed when I saw that the seven-foot jackass was there, as apparently, "The King of Commentary," Henrik Lundqvist, is doing more TNT gigs these days.
And really, who can blame #30?
After all, I much rather work with, and hang-and-bang around with, the TNT crew, instead of having to listen to Vagistat drone on about his useless homemade arts & crafts, charts & graphs, ever again.
In other words – I didn't watch a lick of the M$GN pregame show – but I was told by several readers that the man who must buy ten bottles of CVS hair-dye a week was absolutely brutal – where as usual – he talked about his own career, rarely talked about the two teams at hand and then closed with a lengthy segment promoting his useless ANALytics.
While Vagistat was putting M$GN viewers to sleep; I opened my "OH JOE, WE'RE ALL CAESARS JOE" app, and placed the following wager: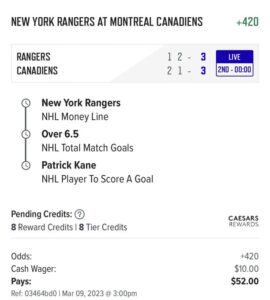 Come 7PM, and now returned to M$GN – I was absolutely shocked, bewildered and amazed – Sam Rosen and Joe Micheletti actually PRAISED the Rangers – and better than that – DIDN'T compliment the other team!
Buy a lotto ticket!
Rather than performing intimate fellatios on every Canadien known to man, and working in some love for the Devils' Jack Hughes too; instead – the two hometown announcers zeroed-in on the home team!
Maybe that's why the Rangers didn't look so hot tonight! (I kid, I kid!)
While Sam & Joe would later personify "you can't teach an old dog new tricks" and "old habits die hard," especially during the final frame; for the most part, I thought they called a good game – and where not once – did I ever question their allegiance – and as I often do on this site!
GAME REVIEW time!
---
FIRST PERIOD:
Prior to puck drop, we heard from four different gambling outfits (I'm not making this up), where all four of them told us to "responsibly" wager on this game – but didn't tell us that we didn't have to bet on the game either!
I bring this up only to tell you that the Rangers were -310 favorites tonight – and -220 to win this game in regulation.
The former hit, the latter did not.
And when it comes to the former, and much like "pimpin'" according to the WWE's "Godfather" – this win wasn't easy.
And yep, this too – after Lundqvist told me that I was a "Caesar;" I placed my daily bet of the Rangers to win by a final score of 4-0.
At least I got the four goals for right!
The zero against? That was shot to shit at just the 35 second mark tonight, as following a Chytil faceoff loss (33.3% at the circles and where his line only started because Lafreniere is from Montreal – as Gallant is always keen to handling the little-yet-big things correctly); Fox coughed up the puck and BOOM – Kaiden Guhle (I never heard of him before tonight either) cleanly beat the 2022 Vezina Trophy winner, on a shot that CZAR IGOR has to stop.
1-0, bad guys, just like that – and before Sam and Joe could talk about Patrick Kane during game-time.
The Rangers, and thankfully at that, would respond.
Following a Tarasenko shot that was deflected wide at the 1:40 mark (the former Blue's performance may get swept under the rug a bit with all of the other headlines tonight – but don't get it twisted – despite not scoring – he had another strong game as a Ranger); at just the 2:53 mark, Guhle, who had previously scored, was now in the penalty box after slashing Jimmy Vesey.
Call them the first power-play unit, call them the 1 or 1A power-play unit – just don't call them late for dinner – this quintet immediately scored into their man-advantage:
looks like a POWER PLAY GOAL FROM LAFFFY!!!

it's a tie game at 1 pic.twitter.com/47vnuMiETm

— Rangers on MSG (@RangersMSGN) March 10, 2023
---
1-1, as Lafreniere scored for his third consecutive game, following a Fox blast from the Habs' blue line.
And this too – someone is learning from Chris Kreider these days!
Lafreniere, who played nearly 200 games without a power-play goal, is now picking them up in bunches – and by emulating his left-wing peer, Chris Kreider.
Once again, there was the 2020 first-overall pick, playing tonight in front of his friends and family, positioning himself in front of the goaltender – and then being rewarded for his deft deflection.
And yep – this was Lafreniere's finest game played in his hometown too!
That said – with a borderline AHL goalie in net, Sam Montembeault (SM for the rest of this blog) – it took the Rangers some time to send clean shots his way – as rather than trying to "swiss cheese" SM – instead, the Blueshirts kept on looking for tips and deflections on every play.
Jacob Trouba would later buck that trend.
As we crossed the 5:30 mark, CZAR IGOR, who was shaky all game – but to his credit – did come up big when it mattered most – where yes, and this is true too – wouldn't have needed to come up big had he made the easy saves – made a pair of denials.
Following those early saves, Harpur, who in my opinion, should be Schneider's partner once Lindgren returns, broke up a Montreal odd-man rush – one of many on this night.
Down to 12:38 remaining, CZAR IGOR stopped a Canadiens' odd-man rush himself and one of the 3 x 2 variety to boot.
A minute later, Barclay Goodrow, who along with Vesey & Trouba, was an absolute stud on the penalty kill; crushed Gurianov so hard (HOW HARD WAS IT?), that his shell popped off and fell to the ice.
In game where each team seemed hellbent on creating as many turnovers as possible; at the half-way mark of the period, Trocheck forced one himself in the neutral zone.
Come 8:48 remaining, Montreal took one of those lovely too many men on the ice penalties.
The second Rangers' quintet took to the ice, where of note, Adam Fox was the point man of both starting units. Trouba would later anchor the next unit, and where I should also mention that the forward groups all remained the same.
Each power-play unit received a minute each here – and had several scoring chances come up empty too.
In other words, you couldn't knock the hustle and effort, as this was a good power-play – they just didn't score here – and where all of the "name-brand players," Panarin, Kreider, Fox, Mika Kane, Tarasenko et al, all had "GOOD LOOKS!"
Down to 5:00 remaining, and as much as it pains me to say it, this much was true – you never felt confident whenever a shot was sent Igor's way. Instead of beaming with pride; you took a deep breath and expected the worst while hoping for the best.
What a turn of events – and yep, I don't have to tell you this – CZAR IGOR needs to figure this all out prior to the playoffs. Once again, he finished another game with three or more goals allowed and with a save percentage of under .900.
Sam & Joe, who as mentioned, didn't lay it on too thick whenever talking about the Habs tonight, did praise Nick Suzuki with 5:00 to go. Two seconds later, the Habs' captain got right to Igor – but #31 wouldn't let the two mushes curse him.
Fifteen seconds following that and now in the other end; SM made a highway robbery save on the Russian, VT91.
Come 3:20 remaining, Panarin had a clear-cut breakaway to the net, but for whatever reason – he slowed down, let the Habs catch up and then turned over the puck. Mind-boggling.
With under three minutes remaining, I said the following on the Tweeter machine:
Micheletti mentions SM has won his last three games against #NYR and without hesitation, Belzile beats Igor after a Rangers' o-zone faceoff loss. That's on Igor, just not making the saves we're used to seeing. 2-1 bad guys, 2:54 to go.

— BlueCollarBlueShirts (@NYCTheMiC) March 10, 2023
---
Come the playoffs, I hope Sam and Joe are muzzled, or that someone from the production truck cuts their microphones whenever they start praising the Rangers' opponent!
As said, following Micheletti's praise for the Habs' netminder – BOOM- just seconds later – the Canadiens' won a faceoff in their own d-zone, marched up the ice and BOOM AGAIN – the soon-to-be 32-year-old, Alex Belzile, beat CZAR IGOR.
2-1, bad guys.
Did I mention that prior to this season, Belzile, who has spent his entire professional career in the minors (AHL & ECHL), had only played in one NHL game? His twelve games played from this season are the only reason why he has thirteen games played in the show throughout his career.
Much like the first goal allowed, although to a young rookie – this second goal, given up to an AHL-lifer – was inexcusable.
Now under a minute remaining, Kane and Panarin, still trying to find their chemistry, almost hooked up for a tally, but #88's shot hit the side of the net and post.
Down to 27 seconds remaining, CZAR IGOR made a flashy save on Gurianov – where had this sure-fire shot went in – I shudder to think about it!
And that's what's so maddening about my favorite goalie this season.
He'll make 7895678678679696 absolute robbery saves during a game – but will also give up one or two of these shitty little stinkers, shots he should've stopped and goals that force the Rangers to play while trailing on the scoreboard.
2-1, bad guys, after twenty.
Here's what I said at the time:
2-1, bad guys, after 20. 1P Thoughts:
— SOG 12-9, Hits 5-4 MTL; FOs 8-8
— Feels lke #NYR just want tip and deflection goals rather than trying to beat a borderline AHL goalie
— No excuses tonight
— Igor continues to struggle
— An even-strength goal would be nice.
LGR!

— BlueCollarBlueShirts (@NYCTheMiC) March 10, 2023
---
SECOND PERIOD:
This was the best Rangers' frame of the game – and it was the last time, prior to the shootout, where they'd beat an AHL goaltender.
Following a nauseating and puke-inducing M$GN intermission, where Vagistat's hair was brought up and where the worst Blueshirt goalie of this century went on-and-on when talking about men's knees; Rosen finally asked his famous question, "SECOND PERIOD, WHAT DO YOU LOOK FOR HERE JOE?"
I'm surprised that Micheletti didn't wind-up his right hand, land it on the back of Rosen's head, and respond with, "SOME DAMN GOALS YA SENILE OLD COOT!"
Following Montreal's early strike from the first period, it was the Rangers turn to respond, and as Trouba did at just the 48 second mark:
patience from Trouba = a GOALLL😤 pic.twitter.com/VyDZlXrD6X

— Rangers on MSG (@RangersMSGN) March 10, 2023
---
2-2.
This was the most uncharacteristic goal of Trouba's career – but I'll take it – and now I expect more of it!
In what became Kane's first point as a Ranger (secondary assist); Trouba took a pass from Panarin and then stalled, stalled & stalled, and for good measure – whistled Axl Rose's part from "Patience" too – and then sniped a puck from the right circle past SM.
Who does Trouba think he is? Doug Harvey?
WHAT. A. GOAL. And one that we've never seen before from Trouba either!
But of course, right after the tying tally – the Habs marched right down the ice – but unlike Ranger opponents before them – didn't score on their just-missed one-timer.
Whew.
From this point on, and really, this is a generality statement about this whole game too – every Rangers' zone exit was a hairy adventure – where fingernails were gnawed at and chain-smokers destroyed their lungs.
And this too – Trouba was the MAN.
Aside from his one goal and one assist – Trouba was blocking shots, getting his stick into Montreal passing lanes and hitting whatever he could.
Following a poor start to this season when playing injured (no need to recap all of that tonight – just check out the archives of this site for more); "The Great Eight," now 100% healthy, sure is playing like it.
Better than that – he's a big reason why the Rangers have been so hot in 2023, sans the two-weeks of cap created problems.
You just hope that he can rub off on his partner, K'Andre Miller, who I'll talk more about during the overtime.
As the Rangers continued to play what my Latino friends would refer to as "SLOPPY PAPI HOCKEY;" down to 13:10 remaining, Trouba, who had already prevented a few Montreal "GOOD LOOKS" at this time, almost scored his second – but SM made the stop – while affording another rebound – one that the Rangers couldn't cash in.
It should be mentioned that Trouba put five pucks on net tonight. One went in, the other four led to rebounds.
Come 11:20 remaining, and following another Chytil turnover (he's cold as ice these days); Schneider broke up a Montreal breakaway.
As we approached the half-way mark of the game/period, you could see Kane gearing up – but all of his scoring chances were either saved or deflected wide.
Following another Trouba shot block with 9:29 remaining; a minute later, Chytil tried to set-up Kakko – and forced a pass into traffic.
For as good as Lafreniere has been lately – the same can't be said about his linemates. However, we've seen this trio click before – and many times at that – so I wouldn't throw in the towel on them either. It will come again – and hopefully during the playoffs too!
Now down to 7:01 remaining, a pivotal point of the contest, as Anthony "Not the Rocket" Richard tripped Vesey while #26 was behind the Canadiens' net.
Just twenty-one seconds later – a GOAL – but not a power-play goal.
Instead, Josh Anderson, Larry Brooks' favorite player, demolished CZAR IGOR on his two-vs-one odd-man rush short-handed goal.
3-2, bad guys.
Of the three goals that CZAR IGOR allowed – this was the one you couldn't pin on him – even if we have seen him make these saves before – and as he'd later do during this match.
This goal was the end result of a brutal Patrick Kane turnover. As #88 was dancing with the puck from the half-wall, he lost the handle and bada-bing, bada-boom, the Habs took the lead in the room.
But don't fret yet – Kane, who apologized to his goalie following his gaffe – would immediately redeem himself, as he did here:
SHOWTIMEEEEE!!! KANE'S FIRST GOAL AS A RANGER!!

IT'S A POWER PLAY GOAL🔥 pic.twitter.com/DcDOyCKjBZ

— Rangers on MSG (@RangersMSGN) March 10, 2023
---
3-3 – Kane's first goal as a New York Ranger!
Following the Rangers' fifth SHG allowed of the season, where it feels like all five of them have taken place during the past thirty days; we had our first true "Patrick Kane Moment," as the future Hall of Famer wristed the rubber past SM.
While this wasn't the game-winner – this goal did feel like the one Tarasenko that scored against Philly (a game-winner) – as this was the first time where we saw Kane change a game.
Assisting on the tying goal were both Panarin and Trouba, where "The Breadman" picked up a three-point night, while the captain beefed-up his point totals by two.
Right after this goal – the Rangers, now lifted by Kane, were motoring – but could never score. But it wasn't for a lack of trying.
With 3:50 remaining, Lafreniere almost scored his second goal, but at the last second, a Habs' defender got a piece of it. (Sorry – I can't recall the name – as there were so many players that I wasn't familiar with tonight – and I can admit that to you unlike others!)
A few seconds later, with 3:27 remaining and with the Rangers continuing their pressure; the Canadiens air-mailed a puck over the glass – a DOG penalty.
This Rangers' power-play was soon negated with 41 seconds remaining on the man-advantage, and with 2:07 left to be played in the period, as Lafreniere had hooked Rafael Harvey-Pinard – another player that I'm not too familiar with – and one who has a name that sounds like he could be a serial killer.
As Rosen was telling us how the Montreal power-play sucks, how they were 1-18 in their last six games and then wiped his pale ass with the Canadian flag; once the 4×4 was over, just seconds into the Habs' power-play – <DING> – as the Canadiens hit the post.
Thankfully, the Rangers would kill off this penalty and we remained tied at 3-all after two periods.
Here's what I said at the time:
3-3 after 40. 2P Thoughts:
— Trouba is my first star so far
— Nice to see Kane get mad at himself – and then redeem himself too
— SOG 23-17, FOs 21-16 #NYR ; Hits 14-13 Habs
— NYR PP 2-4, the goals matter, but the SHG and then taking a penalty hurts
— FINISH THEM!
LGR!

— BlueCollarBlueShirts (@NYCTheMiC) March 10, 2023
---
THIRD PERIOD:
From this point on, the remainder of this game was frustrating, aggravating, infuriating and maddening – that is until Mika Zibanejad scored during the shootout – and CZAR IGOR then made the ensuing and final save of the gimmick contest.
Again, go back to what I said at the top of this.
The Rangers had every advantage in the world tonight, yet here they were, against a team hoping to add Connor Bedard to their ranks next season, being out-matched in every which way.
Rosen's first words of this period?
"OH JOE, BOTH TEAMS SCORED DURING THE FIRST MINUTE OF EACH PERIOD! WHAT WILL THEY DO FOR AN ENCORE HERE JOE?"
As I remarked at the time to my neighbor, friend and fellow road-tripper, "TEN O'CLOCK TOMMY" – "the Rangers won't score again."
Thankfully, neither did the Canadiens.
Following a Mika faceoff loss to start the period; just 41 seconds in, Kreider tried to hit a member of the home team – and missed.
As the Bell Centre, keenly aware of the 2014 Eastern Conference Final, booed CK20 as he came up gimpy and skated to the Rangers' bench; Rangers' trainer, Jim Ramsey, quickly attended to the longest-tenured Blueshirt.
Kreider, in all, would only miss two shifts. (He never went down the tunnel either.)
Once returned to play, Miller, who was absolutely rusty and horrid tonight, turned over the puck in the o-zone.
Following a strong save made by SM on Lafreniere – Chytil couldn't pot the puck on an easy rebound.
Down to 16:00 remaining, it was woefully obvious that both Kakko and Miller had confidence issues – as neither would shoot the puck. Combined, these two finished the game with no shots on goal. During this particular sequence, these two just passed-passed-passed, until they eventually and predictably turned over the puck.
Immediately after this turnover, Harpur broke up another Montreal breakaway. One more time for the people in the back – I think #5, and not #77, should be with #4 once #55 gets back.
As we hit 15:00 to go – you wanted to strangle Kakko.
Once again, the Finn refused to shoot – DESPITE BEING ONE FOOT AWAY FROM THE NET.
Rather than shooting, Kakko fired a puck back to the blue line – another turnover – and one that CZAR IGOR would have to put an end to, as #31 bailed out #24 following a snappy glove save made on Rem "What's The Frequency?" Pitlick. (I wonder how many people will get that REM reference!?!)
As we reached ten-minutes remaining, the Rangers had an abundance of issues whenever trying to get the Habs out of their zone. Kane would turn over a puck, but once again, would redeem himself by forcing a turnover on his own.
Come 9:15 remaining and after another TURNOVER; there was CZAR IGOR, making his best save of the game, when he absolutely stoned Anderson.
This was Igor's redemption moment, as after being beat by Anderson earlier – Shestyorkin came up with the monumental breakaway denial here.
Right after this – Mika almost scored – but Kreider, perhaps looking for a deflection – blocked the puck rather than tipping it into SM's vacated net.
With 4:35 left to be played in regulation; Kane slashed Johnathan "WHO?" Kovacevic – as the Habs' defenseman, all of four NHL games played during his career, drew the greatest American born player for a home team power-play.
Despite MSL using a timeout to find a game-winner; that dream wouldn't be realized, and the former #26 of the Rangers can thank the current #26 of the team, Jimmy Vesey, along with Trouba and Goodrow, for that.
The Rangers' PK did their job, and so did Igor with under a minute remaining – where for the final five minutes of regulation (and then into the overtime too) – felt like it was Montreal's to lose.
3-3 after 3.
Overtime would be needed.
Here's what I said at the time:
3-3, OT will be needed. Thoughts:
— The second Sam said both teams scored in the opening minute of the first two periods, I had a feeling no goals here.
— SOG 30-23, FOs 26-24 #NYR; Hits 19-all
— This is not a game where the Rangers should've needed OT in.
LGR

— BlueCollarBlueShirts (@NYCTheMiC) March 10, 2023
---
OVERTIME
No joke – this was the worst Rangers' overtime of the season – sans the one where Miller was beat just twenty seconds in earlier this season. (That game is escaping me and I don't have the time to look it up right now.)
And just like that game – Miller was an absolute trainwreck here.
And to be clear – what I'm saying now isn't 20/20 hindsight, as following a shift from Mika/Kreider/Fox, I said the following in real-time:
Miller/Panarin/Kane second trio – I would've went with Trouba over Miller #NYR

— BlueCollarBlueShirts (@NYCTheMiC) March 10, 2023
---
I am not exaggerating as I write these words – Miller tried to give away this game three times.
Despite having the previous ten days off, the current top LD of the team (since Lindgren is out) couldn't change – despite having some opportunities.
As his shift went from 1:00, to 1:30, to 2:00 and eventually near 3:00; #79 was huffing-and-puffing while the Habs tried to blow CZAR IGOR down.
The Habs had three chances to put the game to bed, but between CZAR IGOR and some bad puck-luck – they couldn't come up with the game-winner.
Their best chance to end the game with their hands raised is when Miller, completely gassed, decided to change as the Habs were entering the zone.
Montreal, now with no Ranger defenseman in sight – hit the post.
What's that word again?
Oh yeah – "Whew."
If that wasn't enough; once the Rangers finally recovered and with 1:27 remaining – Fox was boxed for holding.
Behind Trouba, Mikkola and Mika – the Rangers' PK survived – but it wasn't easy – as right away – and once again – the Habs hit the post so freakin' hard (HOW HARD WAS IT?), that the puck ricocheted sky-high and then hit the top of the netting behind CZAR IGOR.
Following one of the worst overtime periods that I've ever seen, where CZAR IGOR closed the five-minutes of bonus hockey with two more saves, a shootout would be required.
And before going into the shootout – keep this in mind – CZAR IGOR did make some nice saves tonight, but at the same time – my ears are still ringing from all of the iron that Montreal hit.
---
During the first inning of the gimmick contest, Pitlick went extremely wide on his attempt. In a response, Gallant strangely called upon Kakko – who as mentioned – hasn't been hot at all – and again – this was a game that the Rangers could ill-afford to lose.
Kakko's backhander was then denied.
(I also believe that Gallant used Kakko here in an attempt to get the Finn's confidence restored.)
Now into the second inning, Suzuki got too cute and went wide before Igor's left skate could kick the puck away.
Zibanejad, one of the team's better forwards (you may have heard), then beat SM.
The Rangers, now one save away from winning, got that stop from CZAR IGOR, as the goaltender said "NYET NYET" to Belzile – where let's face it – the fact that Belzile was being used here speaks volumes.
1-0 in the shootout.
4-3, GOOD GUYS, your final.
Whew.
---
Here's your favorite coach and mine, "THE TURK," following the win:
---
Here's Patrick Kane, who was given "The Broadway Hat" for the first time in his Hall of Fame career:
---
I will say – Gallant was much more calmer than I was – both when watching and writing about this game!
And just to put this win into perspective – take a look at the other scores from around the Metro on Thursday night – and the current standings too:
---
Up next: a day off for the Rangers, followed by back-to-back afternoon tilts in Buffalo and Pittsburgh.
As mentioned all week on this site – I'm attending both of these games.
In other words, I won't be "live-tweeting" either game for the purpose of blog notes – but I'll post pictures on my @NYCTHEMIC tweeter account.
I'll also post all of my pictures on this site following each game – but I can't promise GAME REVIEWS either.
And damn that "Daylight Savings Time" too!
I don't have my 5:00AM train tomorrow – but I do have a flight to catch at 6:30AM.
Enjoy the weekend and as always, even for as "bleak" as this win was tonight…
"LET'S GO RANGERS!"
PLUGS TIME!
---
My first plug of tonight's blog – the mandatory plug for my book, "The New York Rangers Rink of Honor and the Rafters of Madison Square Garden."
As mentioned previously, the book is now available in hardcover, in paperback and in Kindle formats. To purchase a copy of the book, visit this link:
https://www.amazon.com/Rangers-Rafters-Madison-Square-Garden-ebook/dp/B09CM5N2WD
For those still looking for signed paperback versions of the book, I have re-ordered more copies. I now have a few signed copies for sale at $25 a pop (includes shipping price) through me directly. Here is all the information on that:
---
My four-volume set of books, "One Game at a Time – A Season to Remember," is a game-by-game recount of the Rangers 2021-22 campaign.
My second title as an author, "One Game at a Time – A Season to Remember," is now available in eBook, paperback and hardcover formats.
To obtain signed copies, visit: https://bluecollarblueshirts.com/onegamebook/
To purchase all four volumes on Amazon, visit: Amazon.com – "One Game at a Time."
---
The greatest volume-set of books on Rangers' history today!
"Tricks of the Trade – A Century-Long Journey Through Every Trade Made In New York Rangers' History," a four-volume set of books that meticulously covers every trade made in franchise history, is now on sale.
All four volumes of the title can be purchased on Amazon.com and are presented in three different formats – eBook, paperback and hardcover.
To purchase Volume I: Conn Smythe (1926) – Craig Patrick (1986), visit Amazon.com
To purchase Volume II: Phil Esposito (1986) – Neil Smith (2000), visit Amazon.com
To purchase Volume III: Glen Sather (2000-2015), visit Amazon.com
To purchase Volume IV: Jeff Gorton (2015) – Chris Drury (2022), visit Amazon.com
To purchase signed copies of all four volumes, visit https://bluecollarblueshirts.com/tricksofthetrade/
---
Here are my last few blogs, in case you missed them:
---
---
---
If you haven't already, subscribe to this blog for the next update:
---
Don't forget to order my new four-volume set of books, "Tricks of the Trade!"
If you don't order through me, all four volumes are now available on Amazon.com
For more details, check out: https://bluecollarblueshirts.com/tricksofthetrade/
Thanks for reading.
LET'S GO RANGERS!
Sean McCaffrey
BULLSMC@aol.com
@NYCTHEMIC on the Tweeter machine