Greetings and salutations everyone and welcome to another blog here on BlueCollarBlueShirts.com. Like the Carolina Hurricanes, I have to preface this blog by saying #TAKEWARNING here, as I'm currently typing this blog up on my cell phone during my dinner-break at work. In other words, there may be typos and formatting errors. However, I think we'll be fine here!
After writing a huge manifesto two nights ago, I was going to take a break for a week. However, with the first round of the NHL playoffs now complete, I felt inspired to hammer out some thoughts.
Make no bones about it – these 2019 NHL Playoffs have been historic. From the two number 1 seeds both being eliminated, to all four wild cards advancing, we've never seen anything like this before. Of course, there was also controversy in one of the 8 series, and unfortunately, as predicted on this blog all season, the referees swung a team right out of the playoffs. More on that below.
Before moving along, here are my last few blogs, in case you missed them:
---
---
---
---
---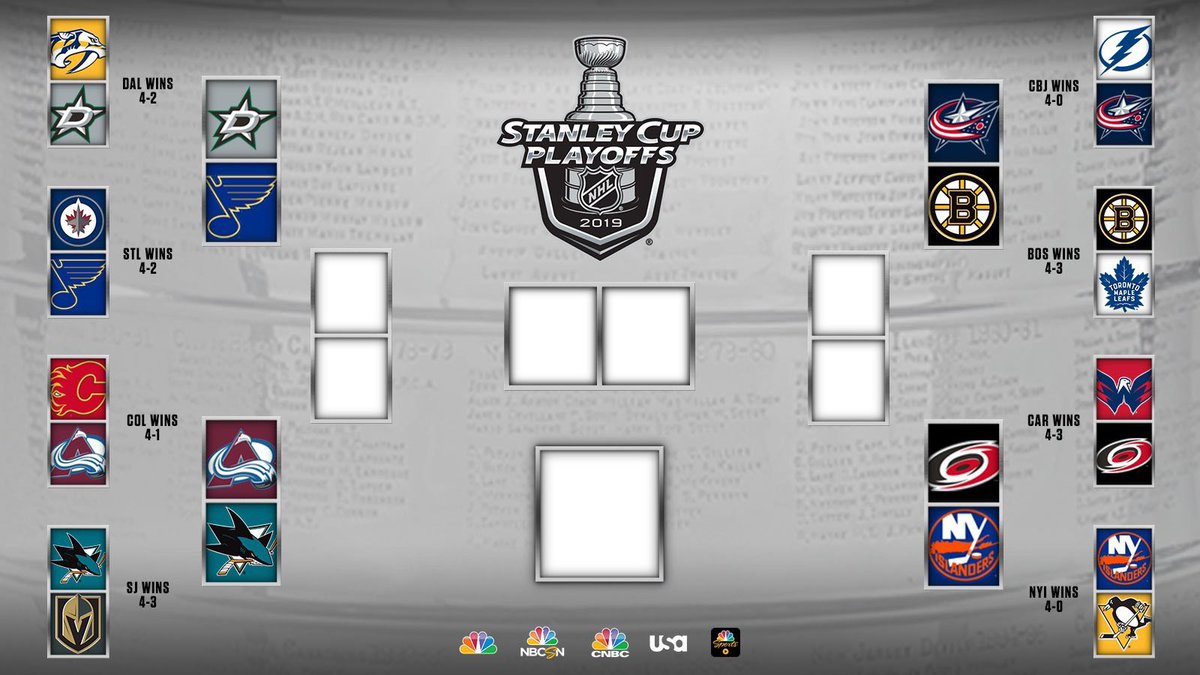 If you take a glance at the picture posted above, as you can tell, only one big market team remains in these NHL playoffs, as the Boston Bruins are still alive in the tournament.
And yes, I know the Islanders play in New York, but I have seen junior varsity high school shuttlecock games get more coverage than the Islanders. When it comes to New York, the Rangers will always be the big market team and the Islanders will always be the little fish. It's also hard to call the Islanders a big market team when they don't even have a true home arena right now.
In perhaps in what is shocking to some, the three Canadian teams that qualified for the tournament, in the Jets, the Leafs and the Flames, all three of these teams from the Great White North have been eliminated from contention. In other words, the 1993 Montreal Canadiens can now pop their champagne bottles like the 1972 Miami Dolphins, as there will be no Canadian team winning the Cup this year.
Going into the second round, Vegas odds-makers have the Bruins as the favorite to win the Stanley Cup, as the Bruins are a 4:1 favorite. However, these playoffs have shown us that being a favorite means absolutely nothing.
I will say, it would be something if the Bruins were able to win the Cup. Can you imagine being a fan of Boston sports? If the Bruins won the Cup, they would join the Red Sox and the Patriots as World Champions. (Sox won the World Series in 2018 and the Patriots won the Superbowl earlier this year.)
Even sicker, for a NY sports fan like myself, the Boston Celtics have a shot at the NBA Championship too. It's not out line to think that all four Boston teams could win a World Championship in a span of 8 months.
If I could only be 18 years old again, when the Boston sports scene was a joke. Fuck the Red Sox!
While I have commented on some of the playoffs on past blogs and on social media, I just wanted to share a few comments on the first round. I'll go series-by-series:
— NY Islanders vs Pittsburgh Penguins- The Islanders, while some had them moving on because of Pittsburgh's age and injuries, I don't know how any people envisioned the Islanders sweeping the Penguins. I don't think this Islanders series win was the biggest upset of the first round, and how could it be with Tampa losing, but it was a minor upset nonetheless. As a Ranger fan, it pains me to say it- the Isles are for real.
---
— Tampa Bay Lightning vs Columbus Blue Jackets – Obviously, this is the biggest upset of the playoffs, if not the biggest series upset in the history of sports. I give all the credit in the world to Tortorella and his team. Yes, Tampa had injuries, most notably to Victor Hedman, but with that firepower and arsenal of weapons, there's just no excuse. Who would've thought that blowing a three goal lead in Game 1 would completely change the series? Speaking of blown leads, these playoffs have been full of them. It's amazing how many teams can't protect not only a one goal lead, but a two goal or three goal lead. Let's not also forget all the 3-2 series leads that were blown too. NOTHING IS GUARANTEED.
---
— Toronto Maple Leafs vs Boston Bruins- Of the 8 series in the first round, I only predicted two of them correctly. This one I was right on the money on, as I thought the Bruins would win this in 7 games. Like Tampa, Toronto has a loaded roster, but couldn't get out of the first round. It's amazing – at the beginning of the season, many people had Tampa vs Toronto as their ECF prediction. It was thought that with all the talent between these two teams, Toronto vs Tampa would become one of the NHL's biggest feuds. The only thing these two teams will feud over now are tee times.
---
— Washington Capitals vs Carolina Hurricanes- The Game 7 between these two teams was the last game of the first round. I couldn't have been more wrong about the Capitals. Going into their series, I thought the Caps would steamroll the Canes. Then, going into Game 7 and with all the NHL powerhouses dropping like flies, I thought the Capitals would cruise to the SCF. Well, give credit to those "Bunch of Jerks", as they pulled off the upset and become the fourth and final wild card team to qualify for the second round. Like other teams in these playoffs, the Caps blew a 3-2 series lead. NOTHING IS A GIVEN IN THIS LEAGUE!
And I want to say this here, while I'm aware of Holtby's hardware and accomplishments, he was shaky all season. He picked a bad time to be shaky in these playoffs, as really, he gave up three soft goals and blew two separate two goal leads, enroute to the Caps Game 7 loss. At least he won't have to worry himself about going to the White House now! (Full credit for the WH joke goes to my buddy Cam from Canada.)
---
— Vegas Golden Knights vs San Jose Sharks – I knew the refs would fuck over a team in these playoffs. I've been saying this all season long, after every apology the NHL issued to the Rangers this season after a phantom, blown or fugazi call. On Monday night, VGK became the latest victims of the officials.
I don't want to go on a long-winded rant on this, as I have already done this on social media. (One cretin even got so upset about my opinion on this topic, that he even banned me from his Facebook group, like a petulant child would! So much for the idea of exchanging opinions on social media. The horror!)
Nuts and bolts here, the refs absolutely swung this Game 7 with their bullshit five minute major call on Cody Eakin. Eakin never touched Pavelski's head. The refs reacted to the play rather than calling the play. Making matters worse, no penalty was even called when the supposed infraction occurred!
Up 3-0, with ten minutes to go, Vegas had this game in hand before this call. That's all that matters when discussing this topic.
As we all know, San Jose took advantage of this bullshit call and peppered VGK for four PPG's. While the call was absolutely horrible and unwarranted, VGK has to be better on their PK. You just can't give up four PPG's. However, since these refs are never held accountable, an NHL playoff series was swung, just as an NFC title game was swung three months ago because of incompetence from the officials.  With refs being immune to fines and suspensions for bad job performance, there's no incentive to get better.
It's a shame, Vegas got screwed. Hockey is tough. Nothing is guaranteed. Vegas couldn't close out a 3-1 series lead. They couldn't win a home Game 6. They gave up four PPGs.
Toss away all the bullshit from the bad call, VGK did tie Game 7 up late and had the same opportunity to win in overtime as San Jose did. The Sharks, with a huge assist from the refs move on, and VGK unfortunately became the first victim of these referees of these 2019 playoffs.
And quite frankly, it's easy to talk about VGK failing on earlier opportunities to close out this series. That said, I'm reminded of the 2017 Oilers, who were screwed when blatant goaltender interference wasn't called. The Oilers never rebounded from that and haven't been competitive since. I don't see Vegas going down that same path, but lives were ruined and a playoff run was kiboshed.
---
— Winnipeg Jets vs St Louis Blues – this was the other series I predicted correctly. The only reason I thought St. Louis would win this series was because of the advantage in net. While Hellebuyck was a Vezina candidate last year, I think for the time being, Jordan Binnington is much better. We've seen it before, a young hot goalie can carry a team to a Cup. We've seen it with Jonathan Quick. We've seen it with Matt Murray. Not one Top 5 salary cap hit goalie has won a Cup in the salary cap era. Perhaps Bobrovsky can change that fact this year.
---
— Nashville Predators vs Dallas Stars – with a veteran core and with a few deadline acquisitions, I thought Nashville had a chance of making a run in these playoffs. However, Ben Bishop was better than Pekka Rinne and Nashville just had no answer for the top line of the Dallas Stars. Going into the second round, for obvious reasons, Mats Zuccarello is my favorite player in the tournament. Wouldn't it be something if he won the Cup and helped the Rangers get another first round draft pick? I can only imagine how many tears Lundqvist would shed if that happened!
---
— Calgary Flames vs Colorado Avalanche – This series caught me by surprise. While Nate MacKinnon may be one of the best pure talents in the league today, I just thought Calgary was the stronger team. Like CBJ and CAR, Colorado clinched their playoff berth very late into the regular season. The disappearance of James Neal will have people scratching their heads for some time. The Avalanche went from a team that potentially could've had the first and second overall picks in the 2019 NHL draft, to becoming a team that could contend for the Cup in the SCF this year. What a story.
---
The second round is now set. Here are the match-ups, with my thoughts and predictions on each series. And before jumping into each series, let me be up front with you – I was 2-6 in the first round. In other words, I have no clue what will happen, which is why these are the most exciting playoffs in sports. ANYTHING CAN HAPPEN. That's why you don't tank. You play to win baby!
EASTERN CONFERENCE
NEW YORK ISLANDERS VS CAROLINA HURRICANES
I hate to say it, but the Islanders have as good of a shot as anyone of winning the Stanley Cup. It would be easy to rule out the Canes here and say they peaked after their double OT Game 7 victory over Washington, but how can anyone think that? After all, it's been "The Year of the Underdog" and there isn't a bigger underdog than the Carolina Hurricanes, a team that has had the misfortune of playing in the toughest division in hockey since re-alignment.
Two things may hurt the Islanders in this series, or at least in the first two games. The Islanders, by the time the puck drops in Game 1, will have been off for ten days. Will there be any rust? Tough to say. For as much as I could see them being rusty, I could also see them chomping at the bit and being ready to tear up a beat-up and tired Carolina team. As much as I understand the "rust factor", it's just hard to see a team led by Barry Trotz coming out flat at this stage in the game.
Quick aside, if you're an Islander fan, you have every reason to be ecstatic right now. Tavares is one and done. You got one of the best GM's in hockey. You got a coach that took a team that no one had making the playoffs, into becoming a team that's now a major threat for the Cup. You also got extremely lucky in net, because absolutely NO ONE had Robin Lehner as a Vezina candidate. What a year for the Isles and their fans.
I don't care what anyone says, including the most die-hard of Islander fans, the Islanders are shooting themselves in the foot by playing this series at Barclays. The Nassau Coliseum is a building made for hockey and the Islanders truly have a home ice advantage there.
Leave it to me to throw out some far-fetched ideas on this blog, but I don't think it's a secret that ALCOHOL leads to rowdier crowds. At the Coliseum, Islander fans can tailgate all day long and come enter the arena rip-roaring drunk. At Barclays, Islander fans may have an overpriced beer or two at Buffalo Wild Wings, rather than downing a 30 pack of Keystone Light in a Uniondale, NY parking lot.
Granted, hockey players aren't worried about the alcohol consumption of their fanbase, but I do think the Isles aren't truly at home at Barclays. How could they be? Furthermore, the ice at Barclays is rated the worst in the league. (I was there when they built that arena and their coolant system was designed for college hockey and not professional hockey.) I don't think the Isles have a true home-ice advantage in Brooklyn.
Mark my words – if the Islanders lose this series, playing at Barclays will be blamed by Islander fans and some of the media.
Perhaps to help increase fan noise at Barclays, the Islanders can get a few more SUV's in the front row and have Shannon Hogan and Butch Goring honk the horn all game long.
The Bunch of Jerks have the better skaters in my opinion, but when it comes to goaltending, Lehner is the hot hand. I'm going to toss out the factor of fatigue, or lack thereof, when making my prediction here. I'm going to go with the goaltending to be the difference in this series, and in 2019, when it comes to goaltending, I'll take Lehner, who is the best Swedish goalie in NY, over Petr Mzarek.
I'll be rooting for the Canes, but as much as it pains me to say it, I think the Islanders take this series in 6.
---
COLUMBUS BLUE JACKETS vs BOSTON BRUINS
Again, what the fuck do I know and really, what do any of us know, but to me, whoever wins this series will go on to the Stanley Cup. Of course, just writing that, that means I jinxed both of these teams. Fade my picks now!
To me, this has the potential of being the best hockey of the second round. You have the Boston Bruins, a team full of veterans looking to make one last go of it. On the other side, you have the Blue Jackets, a team that many left for dead. Rather than tanking and selling off Bobrovsky & Panarin, CBJ doubled-down on themselves, made some moves at the deadline and find themselves 12 wins away from the Cup.
With all four wild cards moving on to the second round, you always have the idea of "they peaked" or "they just won their own personal Stanley Cup". However, with the way these playoffs have been going, I don't know how you could think that at the present moment.
CBJ has had a long break here, but like Trotz and the Islanders, I see Torts and the CBJ being ready to go. Bobrovsky is one of the highest paid goalies in the NHL and you know my feelings on that already. However, if he can stay hot in this series, I can see him stealing a game or two in Boston and CBJ taking care of business at home.
I don't there is a right answer to the question of "What team will be hungrier?" CBJ has that "no one believes in us" mentality, while Boston may be on their last legs before changing the guard. That said, I also find it impressive out of Toronto, Tampa and Boston, that only Boston remains in the tournament.
This is a really tough series to predict, but I'm going to go with the trends and my heart here. CBJ in 7. I'm also looking forward to the prop bet of the series too – who will Brad Marchand kiss?
---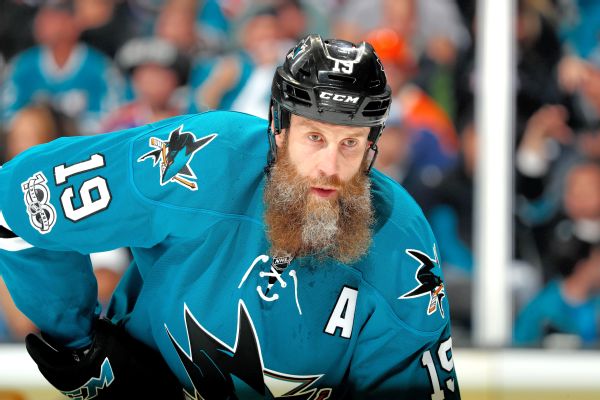 WESTERN CONFERENCE
SAN JOSE SHARKS VS COLORADO AVALANCHE
I have to say two things about the Sharks here. Before the salary cap era, we would see teams make the Stanley Cup Final, lose and then come back and win it the year after. In my opinion, and as mentioned on this site already, we are in the second incarnation of the salary cap era, which began after the 2012 lockout. Previously, in the first incarnation of the salary cap era (2005-2012) we saw only one team lose the SCF and then come back and win it the season after. (The Pittsburgh Penguins.)
In today's era, teams that have lost in the SCF have struggled to return and have not won a Cup. The Bruins haven't been back since their 2013 loss. The Rangers haven't been back since their 2014 loss. The Lightning haven't been back since their 2015 loss. The Sharks haven't been back since their 2016 loss. The Predators haven't been back since their 2017 loss. The Knights won't be back after their 2018 loss.
The Sharks are pretty much the same team, with a few additions and subtractions, since their 2016 run, which ended in a loss to the Penguins. Can the Sharks make one last run, before the older players move on?  They might win this series, but the Cup? I don't see it happening.
On the flip-side, when it comes to winning the Stanley Cup, you need some puck luck along the way. In the case of the Sharks, they got a ton of puck luck after the refs picked up four assists in the Sharks Game 7 win over the Knights. However, Game 7 is over and it's a whole new slate now.
I'm taking the Avalanche to win this series for several reasons. While round 2 is a new slate, the Sharks took a beating in their series with the Knights. As of this writing, I don't know what's up with Pavelski and if he will be able to play. I also think that Erik Karlsson is severely banged up and we won't know the full extent of his injuries until the Sharks season is over.
The Avalanche are a bunch of young guns, with impressive talent in MacKinnon, Landeskog, Rantanen and Barrie. Grubauer, who was a nightmare in net for the Caps last year in the playoffs, has been a stud for the Avalanche thus far during these playoffs. Martin Jones, a fine goalie in his own right, has looked more beatable of the two.
It's a young man's league right now and I just think the Avalanche have the tools and talent to skate around an old, tired and lucky-to-be-there team. It's not to say the Sharks will roll over or anything, but my gut feeling is that this Sharks core has peaked. If the Avalanche can steal one of the first two games, I can see the Avalanche winning a quick 4 or 5 game series.
---
ST LOUIS BLUES VS DALLAS STARS
As a fan of the goaltenders, this series should shape up to be a tremendous battle of goaltending. With me now saying that, expect a series full of 6-5 scores!
Seriously speaking here, I see this series going to 7 games, with a bunch of 2-1 scores either way. The Blues, just like they did in the regular season, will only go as far as Jordan Binnington takes them. If Binnington remains lights out, he can take this series from the Stars.
Talent-wise, to me, Dallas is the deeper team and has a top line that St. Louis can't compare to. It's no secret – the Blues have over-achieved, while Dallas has been a team that has under-achieved for years. Dallas is all-in right now and is the team favored to win the series. For all the praise I'm bestowing on Binnington, you can't forget about Ben Bishop, who has been a beast in the playoffs.
This series may come down to special teams and who does or doesn't convert on their power-plays. That's the only way I see goals coming in this series, as I don't see either of these goaltenders giving up the bad and soft goals that you see a Braden Holtby or Henrik Lundqvist give up on a regular basis.
This is a real tough one. My heart says Dallas, because it's good for the Rangers and I want to see Zucc win. However, my head says the Blues. Flip a coin. Heads Dallas, Tails Blues. And the flip…..
Blues in 7.
---
Like "Vegas Dave", I feel like I have given out 7666969876789689689689689 future bets, which have all been epic fails during these NHL playoffs!  While I don't have a "84637896394687963479639763689768 squared UNIT WHALE PLAY" for you here, my new Stanley Cup prediction is the Blue Jackets over the Blues. Talk about a series that will light up the TV ratings!
In closing here, unlike other bloggers or fans, I am here to tell you that despite watching a ton of hockey, I have no freaking clue what will happen next. It just cracks me up when these analytic nerds act like they know what the hell is going on all the time. Not one of those geeks predicted the first round correctly. As mentioned in my last blog, as Theo Fleury and MSL said, it takes balls and guts to win in the playoffs. In the case of the Sharks, it also takes a little luck too!
I just love watching these games. ANYTHING CAN HAPPEN and that's why the NHL playoffs are the best in all of sports. Whatever happens next will be unprecedented. We are witnessing a historic NHL Playoffs this year, in the YEAR OF THE UNDERDOG. Sign me up for all of it.
Oh, and before signing off here – as much as I love these playoffs, these playoffs will be the worst playoffs of all time if the Islanders win the Cup. LET'S GO YOU BUNCH OF CAROLINA JERKS! #TakeWarning !
As always, thanks for reading and…
"LET'S GO RANGERS!"
Sean McCaffrey
BULLSMC@aol.com
@NYCTHEMIC on twitter