Greetings and salutations everyone and welcome to another blog here on BlueCollarBlueShirts.com. One more to go.
I know what you're thinking right now – "why is this idiot wasting his time recapping a meaningless game?"
Here are my reasons:
— I try to cover everything related to the Rangers on this site, including stinkers, which Wednesday night's game most certainly was.
— Like head coach Gerard Gallant, I'm thinking big picture. My personal big picture? Writing a book covering the Rangers eventual 2022 Stanley Cup Final victory, where I can compile a season's worth of blogs (and the horrible photoshops too!) in one tome.
— Despite this game's final score amounting to nothing, there were some things that came out of it. While perhaps you can just say "forget it and move on," which I wouldn't argue against; at the same time, there were some things that took place that are worth talking about.
— How could I ignore the first ever presentation of the "Mr. Ranger" award, an award in tribute to Rod Gilbert, and a trophy that Chris Kreider became the first recipient of?
In fact, Chris Kreider's "Mr. Ranger" award win is my lede story tonight – just like how last night's top story was Kreider's Steven McDonald Extra Effort Award win.
---
If you haven't seen it already, here's Chris Kreider, after winning the Steven McDonald Extra Effort Award just 24 hours prior, winning the Rod Gilbert "Mr. Ranger" award too:
Congratulations to Chris Kreider!

The first #NYR recipient of the annual Rod Gilbert
"Mr. Ranger" Award! pic.twitter.com/DXgc6eeqUV

— x – Rangers on MSG (@RangersMSGN) April 27, 2022
---
If you care about such things, I'm now 2-2 in my Rangers' year-end award predictions!
Similar to the McDonald win, I thought Kreider had to win this award too.
As noted in the past on this site; a lot of the charity work that Kreider does goes unnoticed, a fact that Adam Graves (who also doesn't look for a pat on the back for all of the philanthropic work that he does) said himself during this M$GN broadcast.
And spoiler-alert: come Friday, you'll see Kreider win another award, when he's named as one of the co-winners of the "Frank Boucher Trophy." Akin to Gallant teasing the media – I think you can figure out the other co-winner!
---
For Chris Kreider, who was visibly emotional after winning the McDonald award on Tuesday night; he was once again overwhelmed after winning another prestigious trophy – as just like the McDonald award, the "Mr. Ranger" trophy will now become an annual Rangers' presentation.
As Gilbert's widow Judy said during the ceremony, and as both Adam Graves and Henrik Lundqvist would later say during the broadcast – no one deserved this honor/award more than Kreider.
Not only is Kreider experiencing the best individual season of his career – he's just as good off of the ice too.
Whether he's working with the Garden of Dreams, making non-publicized appearances at youth hockey rinks, or making hospital visits with sick children – Kreider embodies the legacy that Gilbert left behind.
For all of the silliness that we all enjoy, where admittedly, I promote some of it on this site – it's always nice to see these athletes give back.
All of this goes back to the early days of Rangers' history. It's something that's been passed down from generation-to-generation.
Whether it's Rod Gilbert, Adam Graves, Henrik Lundqvist, or in this case, Chris Kreider too – these guys really take the time out to better the community that made them.
Somewhat as impressive, is that outside of Kreider – none of these men listed above were born in America. Furthermore, none of these men are native New Yorkers either.
These men, and others, have all adapted to their newfound home and city.
Whether it was during their careers or after their playing days – they have all continued to help the city that brought them fame, fortune and recognition.
It's always nice to experience amazing moments, especially a real one like this.
Congratulations to Chris Kreider, a guy who truly "gets it," and like the players before him – has set an example for future generations of Rangers to come.
Now just give him the damn "C" on his sweater!
---
Segue-way alert!
So that's Chris Kreider, a "CK52" who had his odds of catching Jagr's franchise record of 54 goals dampened tonight.
At this time, let's get into the news, interviews and everything else – where for the first time this season on the second half of a back-to-back set, there's a lot to discuss.
---
As covered on this site last night following the Rangers/Canes game, when head coach Gerard Gallant said that he'd be changing his approach for these final two games of the regular season; "The Turk" will now be resting his regulars.
At 10AM Wednesday morning, and with the Hartford Wolfpack missing the Calder Cup Playoffs, the Rangers brought Zac Jones back into the mix. Also on Wednesday morning, and during a somewhat rare occurrence following a game the night before; the Rangers held an optional practice/pregame skate, where we got a sense of what Gallant's line-up would be once the clock hit 7:30PM.
I'll let the man speak for himself. Here's the head coach, following the Rangers' morning skate:
---
In my eyes, I thought Gallant beamed positivity and optimism, as if he were Willy Wonka pumping out chocolate bars.
Right away, the head coach said that both Artemi Panarin and Andrew Copp are fine, but weren't going to play.
As he said last night, Gallant will be protecting his regulars and wants a completely healthy line-up for Game 1 of the playoffs. I think this should make sense to everyone, even for the biggest simpletons (the analytical community) around the streets of Rangerstown, USA.
When it comes to Friday night, Game 82 of the regular season, the finale; Gallant said he'll worry about that game against Washington once the game with Montreal was over. After all, Gallant's motto this season is "one game at a time." (More on this at the end of tonight's manifesto.)

Gallant also made it clear – if Copp and Panarin remain scratches on Friday, it means nothing. Both will be ready to go, and at 100% too, come Monday or Tuesday, when the Rangers host either the Penguins or the Capitals.
"The Turk" also said that he'd be scratching two regulars of his forward group, but wouldn't say who.
At the time, most speculated Ryan Strome (the center of the Panarin/Strome/Copp second line) and Barclay Goodrow, who fought the night before. At least that was my own speculation! Instead, both Goodrow and Strome played, while Mika Zibanejad and Chris Kreider became the healthy scratches. (See, I don't predict everything correctly, including my silly 4-0 prediction for this game too!)
Defensively, Gallant said that Zac Jones would be playing, but again, wouldn't say for who.
At the time, and as I said on social media on Wednesday morning, I thought we'd see Jones and Libor Hajek in for Adam Fox and Ryan Lindgren. That's what wound up happening, but I didn't expect that Jacob Trouba would be a healthy scratch too.
As far as what Gallant would confirm, the head coach said that we'd see a line of Lafreniere/Chytil/Kakko for the first time this season, where most assumed that this newly formed line would be receiving second line minutes. (Technically, they were the "first line" tonight, but it was the mish-mash line of Goodrow/Strome/Vatrano who earned more ice time.)
Gallant also said, and as I predicted on this site on Monday – Kakko could've played on Tuesday night, but the head coach didn't want to rush a returning player and force him to play back-to-back games. Again, BIG PICTURE!
Speaking of Kakko, here's what the Finn had to say for himself on Wednesday morning:
---
Kakko, who was in a good mood, made a funny joke during his interview.
When asked about what his injury was (it was obviously his knee), #24 replied with "lower body," a response that garnered some laughter.
As you'd expect, Kakko was upset with missing time, especially since he was just coming off of a wrist injury, an injury that previously cost him 31 games. However, Kakko said he maintained a positive outlook, did what the trainers told him to do, hit the gym, and continued to skate.
If there was anything truly to be attained from this short chat, it was that Kakko was happy to be back and was ready to go.
---
Outside of Gallant and Kakko; both Julien Gauthier and Zac Jones also spoke to the media on Wednesday. You can find their interviews on the Rangers' YouTube page, as not much came out of those interviews.
Plus, and no offense to either player – barring multiple injuries – we won't see them in a Rangers jersey once the calendar turns to May.
Martin St. Louis, who will always have a special place in Rangers' history carved out for himself; now in his new role as the head coach of the Montreal Canadiens, also spoke to the media.
Here's his lengthy pregame interview:
---
The Hall of Famer, #26 himself, spoke about his time with the Rangers. Some of the things that MSL said were things he's previously said in the past, including about his arrival to New York, where he said on Wednesday, "I was just trying to validate the trade."
After talking about how well the Rangers have been playing; MSL praised his former teammate, and the only holdover from MSL's brief tenure in New York, the unofficial captain, "CK52."
On Kreider, MSL said:
"I think Chris has evolved as a player. I think Chris always had the fastball, coming down the wing and getting behind. I think he's learned a few other pitches now. He's controlling his speed better. His speed allows him to process the game probably a little bit better and he's getting to the right areas. He's always been very good in front. He hasn't lost that. What Chris does better now, than he did in the past, is he manages his game way better from blue line to blue line."
It's just a shame that the Rangers couldn't bring MSL into the fold, as the Hall of Famer still maintains a residence in Connecticut. However, it wasn't for a lack of trying, as MSL wanted to focus on coaching his kids instead, and you can't blame him for that.
As MSL previously told Elliotte Friedman of SportsNet – he just couldn't say no when being offered the bench boss job of the historic Montreal Canadiens. Plus, his kids are much older now than they were in 2015 – the final year of MSL's career.
(Previously, the Rangers had asked MSL multiple times if he was interested in a role with the club, where he had his pick of working in Hartford or as the Rangers' power-play consultant. He was never offered a head coaching gig with the Blueshirts, and really, you can't fault the Rangers for that either. In addition, the Rangers are certainly amazing with who they have behind their bench today.)
---
Around 7:05PM, we found out that Mika Zibanejad, Chris Kreider, Adam Fox, Ryan Lindgren and Jacob Trouba were going to join Artemi Panarin and Andrew Copp in the press box.
I was fine with all of this, even if this move lessened and erased individual career milestones.
For Trouba, he won't hit 82 games played this season, which at the end of the day, is a personal and prideful accomplishment. Recently, and of last week – Trouba expressed interest in playing in every single game.
For Mika, he had a consecutive games played streak of over 100 games snapped.
For Panarin, who didn't have a chance of playing in this game anyway – he still remains four points shy of a nice round number of 100.
The biggest milestone threatened was obviously Chris Kreider's chase for 54 goals. Should he play on Friday night, he'll need a hat trick against a tough Washington team. Had he played tonight – who knows, maybe he would've inched closer to Jagr. Hell, with how bad Montreal is, Kreider may have been able to surpass Jagr's 54 goals.
Of course, the two words of "BIG PICTURE" must be reiterated here, where it's not about individual milestones – it's about what's best for the team. Resting his top guys was Gallant's decision, and how could anyone argue against it?
(After the game, and I'll have the video linked for you below, Gallant said all of his players know the task at hand and didn't care about their individual accomplishments/milestones.)
I know that as fans, we want to see these personal milestones take place in front of our eyes, especially Kreider's chase for 55 goals – but to get upset about Gallant's decision is the work of a fool.
I saw no problem with Gallant resting his stars on the second half of a back-to-back set.
The tough decision will be Friday night, which once again, I'll get into after covering this messy Wednesday night affair at M$G.
---
Here's what "The Turk" went with for this "Phil Watson Tribute" game:
FIRST LINE: Lafreniere/Chytil/Kakko
SECOND LINE: Goodrow/Strome/Vatrano
THIRD LINE: McKegg/Brodzinski/Gauthier
FOURTH LINE: Hunt/Rooney/Reaves
Defensively, we had this:
FIRST D-PAIR: Miller/Trouba
SECOND D-PAIR: Braun/Schneider
THIRD D-PAIR: Hajek/Jones
And in net, Alexandar Georgiev
---
BOX SCORE time.
The following information and graphics come from the new world-wide leader in NHL coverage, ESPN.com:
SCORING:
PENALTIES: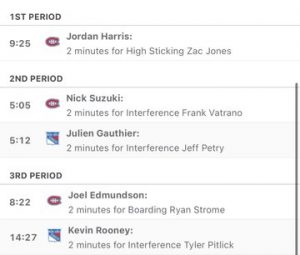 TEAM STATS: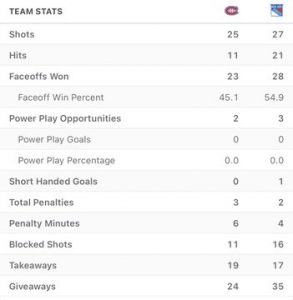 GOALIES:
| | | | | | | | | | | |
| --- | --- | --- | --- | --- | --- | --- | --- | --- | --- | --- |
| SA | GA | SV | SV% | ESSV | PPSV | SHSV | SOSA | SOS | TOI | PIM |
| 27 | 3 | 24 | .889 | 22 | 0 | 2 | 0 | 0 | 60:00 | 0 |
| | | | | | | | | | | |
| --- | --- | --- | --- | --- | --- | --- | --- | --- | --- | --- |
| SA | GA | SV | SV% | ESSV | PPSV | SHSV | SOSA | SOS | TOI | PIM |
| 24 | 4 | 20 | .833 | 20 | 0 | 0 | 0 | 0 | 59:51 | 0 |
---
Henrik Lundqvist, for the first time this season, was back behind the desk for a Rangers' back-to-back set.
Unfortunately, so was Sieve Vagistat, who within thirty seconds, it felt like his mouth put in an eight-hour shift. He just never shuts up.
(That's an old Mr. Roper joke from "Three's Company!" And unlike Jack Tripper's rouse, I don't think that Vagistat has anyone fooled either. I kid, I kid! I just need something to entertain with you tonight after this sordid game!)
The M$GN opened up by showing us Gallant's pregame presser, where I always chuckle whenever Gallant tells the transcribers, "I know my line-up, but I'm not gonna tell you."
(Of note: Gallant never does this with Larry Brooks around – he only does this with the clueless and young members of the beat.)
After Vagistat raved about the new line of Lafreniere/Chytil/Kakko (no points tonight, more on this to come); Lundqvist talked about what this game meant for the "black aces"/"fringe guys," where those are my words and not his. Lundqvist was just talking about the opportunity afforded to the non-regulars, where as we'll soon get into – I thought most of them blew it. Only Zac Jones stood out to me.
Lundqvist (where yep, it shocks me too that he says what I say on this site and on social media) jumped right ahead to Friday night, where he wasted no time and asked, "what's Gallant's line-up for Washington?"
And with how horrible this game was tonight (no joke, during every intermission segment, and during the post-game too, Lundqvist repeatedly mentioned how horrid this game was) – Lundqvist had every right to look ahead to Friday.
Unfortunately for the fans who paid real money for this regular season game – they got burnt.
Conversely, Lundqvist got paid. However, both the fans and Lundqvist were right – this game stunk like the bench that Vagistat always used to sit on. Even worse – it stunk like the splinters that Vagistat had to pull out of his five-hole!
Once going to Dave Maloney, the former captain provided us with this hard-hitting analysis – "Zac Jones has wonderful feet," which I guess is a nice factoid for the foot-fetishists out there. (I know what Maloney meant, but just go with it for the joke! I told you, I'm trying to find some humor in this game!)
---
In a real segment; Henrik Lundqvist, on behalf of the Garden of Dreams, presented some kid named Michael Walters with a check for $40,000, where the money will be used for Walters' college education. Walters was at a loss for words.
After Lundqvist gave Walters the check, Walters' mother then entered the studio. She was sobbing tears of joy, as she was shocked about what had just happened. This was a pure feel-good moment, a moment only ruined by Vagistat, who then had to talk over everyone. Vagistat then gave the kid a book bag and a Knicks hat.
As the segment was closing, Walters' mother continued to express her gratitude, while her son looked into the camera and repeatedly said "thank you." Again, a great moment.
The next segment saw Lundqvist talk about Martin St. Louis, where #30 said of his one-time teammate, "I love that guy, he had the 'it' factor."
Not to be outdone, Vagistat went back into his ME ME ME commentary, talked over Lundqvist, made Lundqvist lose his train of thought, and added nothing. Again, he has to be related to someone and/or has bad pictures of an M$GN executive.
After Lundqvist waited for Vagistat to finish up his useless act, where no one is better at it than the Clear-Sighted-ANALytical one himself; #30 then talked about the passing of MSL's mother, the 3-1 series comeback over Pittsburgh, and playing with Marty.
As the studio segment was winding down, and in preparation for the "Mr. Ranger" presentation; Lundqvist talked about his relationship with Rod Gilbert.
Lundqvist said just thinking of Gilbert made him smile. Unfortunately, Lundqvist would soon frown as Vagistat talked over him and basically said, "I ONCE HAD A CONVERSATION WITH GILBERT TOO! LOOK AT ME! PLEASE LET PEOPLE KNOW THAT YOU KNOW WHO I AM MY KING!"
Once wrapping up with Lundqvist and his side-kick, "The Amazing Chartboy;" we then went to Sam and Joe, who basically said the following on repeat all game:
"OH JOE, THEY WORK HARD JOE!"
"LOOK AT THESE YOUNGSTERS JOE!"
"THEY REST HARD JOE!"
"JEFF PETRY CAN'T SCORE FOR HIS LIFE JOE!"
"MONTREAL PLAYS HARD JOE!"
And you get the rest.
After that, it was the "Mr. Ranger" ceremony and a trumpeter who did a good job while playing both the Canadian and American national anthems.
And oh yeah – the Rangers also put up a graphic for about ten seconds or so, in honor of Guy Lafleur.
The Rangers ignored Lafleur's passing for a week, where I thought they were just going to do something big tonight with Montreal as their opponent. They didn't. We didn't even get a video. Just a "RIP" message and that was that. A week for that? Pretty classless, but I'm not surprised. This organization just has no respect for their history, outside of a few key guys.
Seriously a two-billion dollar organization, and we couldn't get a Lafleur video package? For shame, for shame.
GAME REVIEW time.
---
A general statement before getting into everything.
Yes, this was a meaningless game for the team and their spot in the standings. However, it wasn't meaningless for the kids, nor was it meaningless for the non-regulars, players looking to prove their worth to Gallant.
It also wasn't meaningless for goalie Alexandar Georgiev, who was looking to win his eight straight game of the season.
This game was also extremely boring, where about five minutes into it, I tweeted this out:
I think I have tonight's blog opener already:

"On a night where Chris Kreider won the first ever Rod Gilbert Mr. Ranger award, an award in honor of #7, the Rangers (insert "won" or "lost" here) their seventh preseason game. The real games begin next week. #NYR

— BlueCollarBlueShirts (@NYCTheMiC) April 28, 2022
---
By the time the first period was over, I also tweeted this out:
Example #676768687678 of fans getting screwed:

This #NYR vs Montreal game was scheduled prior to Christmas & was "flex-priced." Would've been a hot ticket. Instead of a loud house with all the top players, fans pay full value for what's essentially a meaningless preseason game.

— BlueCollarBlueShirts (@NYCTheMiC) April 28, 2022
---
Really, this is one of my biggest takeaways – the fans got screwed.
Unfortunately, there's nothing you can do about it, but for the average fan, who may only go to one game a season – this was not the game to go to. It just sucks for those people, people who paid high prices for what was basically the Rangers' seventh preseason game of the season – a preseason game played at the end of April.
Another one my takeaways – outside of Jones, of the non-regulars, no one helped their cases tonight.
Julien Gauthier remains awful. His shooting percentage remains lower than my BAC. The guy couldn't score with a fistful of $100 bills in a whorehouse full of Vagistat's.
For a player that was once described as a "poor man's Chris Kreider;" it feels like the only chance Gauthier will ever get at taking the ice at M$G again, is if he drives the Zamboni around. And if he drives a Zamboni in the same fashion that he shoots the puck – then someone is going to have the fish the Rangers' Zamboni out of the East River.
Just like players who have preceded him, and those who will follow – Gauthier needs a change of scenery.
I can't imagine drinking with him either. I just envision shot glasses being lined up, and #15 dribbling them all over the bar and never getting them into his hole.
"BUT HE WORKS HARD JOE!"
Lastly while on Gauthier, do you know how bad he's been? (HOW BAD IS HE?) He's so bad, that even when Sam Rosen and Joe Micheletti do their reverse jinx mush nonsense with him, he still can't score.
And if you need evidence of how strong the Sam and Joe "reverse curse" truly is, just talk to Jeff Petry.
After basically reading Petry's last rites on-air, the defenseman immediately scored after the bumbling duo buried him. For good measure, Petry would then score the game winning goal, with just 30 seconds remaining in regulation.
OH JOE!
---
One last time before getting into the meat and potatoes – I know what this game was. It's just a shame that none of the kids or non-regulars took advantage of their ice time tonight – except for Zac Jones, who led all Rangers in the TOI stat with a career-high of 22:55.
And when you needed the third-longest tenured Ranger on the team to make a save? Georgiev didn't have it tonight.
Let's blow through this game review, where if you're still reading these words – thank you. You have to be the hardest of the hardcores to be reading this, because after all – who wants to relive this shit show snoozer?
---
In a contest featuring Alexandar Georgiev vs Sam Montembeault (where from this point on, I'll refer to him as SM – as his last name wreaks havoc on my spell checker); it was actually the Canadiens' goalie who saw a bulk of the action.
While I don't want to get on Georgiev all-night (I have Gauthier and Vagistat for that); needless to say, he was as inspiring as this game itself.
At times, he looked like a "Make a Wish" kid in net, a kid who had received his dream of playing for the New York Rangers. And perhaps the Rangers would've been better off with that kid in net on this night.
The first period was a chore to watch, where really, it was all about getting to the end of the game without anymore injuries. To their credit – Gallant's Gang accomplished that.
After Georgiev fell down in his own net (Micheletti said maybe a rut was there, but I think he just tripped); McKegg intercepted a puck, a puck that could've been a goal the other way.
Once his line returned to the ice for their third shift; Frank Vatrano made an individual effort to keep a puck in the zone and then had two shots denied by SM. At least Vatrano shoots – something that Lafreniere, Chytil and Kakko should take notice of.
Georgiev, who did receive a lot of luck along the way; was soon caught out of position at the eight minute mark, but with Montreal being Montreal; they couldn't make him pay – yet.
As Sam and Joe would not shut up about the Pitlick cousins on the Montreal roster; Georgiev stopped Rem Pitlick from two feet away – perhaps Georgiev's best save of the game. And Pitlick's first name of "REM" was fitting for this game, as this game sent Ranger fans to their pillows.
In our first display of Jones maximizing his minutes and seizing his opportunity; with 10:35 to go, he broke up a three on one Montreal odd-man rush, where during the process, he drew Jordan Harris for a high-sticking call.
The Rangers' power-play, 0-3 on the night, wasn't so hot here. For whatever reason, Gauthier was on the PP1 unit.
I'll say this much – there's no way Gauthier can cry his French eyes out to the French-Canadian media anymore. (Earlier this season, he whined about his lack of playing time to the Francophile scribes.) Gallant gave him every opportunity tonight and Gauthier "mairded" the bed.
K'Andre Miller, one of the best regulars on the ice tonight, was the best player during this Rangers' power-play, but there wasn't much doing.
After Sam and Joe poured their hearts out over Montreal's bad season, where the hometown broadcast duo recited their "Ode to the Habitants;" with 6:33 remaining, Barclay Goodrow, excellent on this night, stripped a Montrealer in the d-zone and thwarted a Canadiens' attack.
"OH JOE, GOODROW WITH A STRIP JOE! MONTREAL IS KNOWN FOR THEIR STRIP CLUBS JOE!"
(Okay, Sam didn't really say that, but it would've been great if he did!)
What Sam and Joe did talk about here were the Tampa Bay Lightning, and for no inexplicable reason.
"SAM, THE TAMPA BAY LIGHTNING ARE ABSOLUTELY FABULOUS, THE BOLTS ARE JUST FABULOUS SAM!"
As you were just waiting for this period (and game) to end; Braun turned over the puck to Pitlick, but Miller, the best d-man on the ice tonight, broke up a potential breakaway.
Following this, and approaching two minutes remaining; we saw the 13/72/24 line refuse to shoot the puck – a common occurrence for them tonight.
Another common occurrence? Georgiev getting beat for bad goals during the end of all three periods.
To be fair, it's tough to bag Georgiev entirely for the game's first goal; but at the same time, we've seen him make this save before.
With just 75 ticks remaining, and with the Rangers struggling to get the puck out of the d-zone; Ryan Poehling, all alone and untouched, scored an easy one from a few feet out, after receiving a solid pass from William Lagesson.
1-0, bad guys.
While I thought this was the least offensive of the four goals Georgiev allowed; it still amazes me that he can have these lights-out games, including his best one, the game against Carolina; and then have a dreadful showing like he did tonight. Even during this game, he'd make a bunch of tough saves; but right after them, he would then do his "Sieve Vagistat Does Dallas"act.
And yes, while Georgiev didn't have the best help available tonight; you can't blame his teammates for all of the goals allowed either.
(And for a meaningless game, I sure have a lot of shit to fling tonight! These recaps are therapeutic for me, as I cleanse my system after a loss!)
For good measure, and with twenty seconds remaining, Julien Gauthier went to the net – and you know the rest.
1-0, bad guys, after twenty minutes.
---
Following Lundqvist trashing the slowness and low energy of this game (the only time the crowd at M$G woke up was during the third period); we returned for the second period.
(Also worth mentioning? During the first intermission, Dave Maloney interviewed Chris Kreider. Kreider praised both Graves and Gilbert and talked about what these two Ranger legends mean/meant to him.)
As Sam and Joe ran down the Pitlick family tree; 69 (nice) seconds into the middle frame; Georgiev stopped one of the Pitlicks'. Right after that, Strome then snuffed out a Suzuki try.
Again, as you were just waiting for this game to end, while also thinking that the Rangers would never score; just 4:15 into the period, this happened:
that's Reavo's 5th on the season!

1-1 #NYR pic.twitter.com/HHlHYLKnkW

— x – Rangers on MSG (@RangersMSGN) April 28, 2022
---
1-1, and some sign of life out of the GOOD GUYS!
This play all started with Braden Schneider bringing the puck into the zone, dodging some Montrealers, and then getting the puck into the middle. While this was a broken play goal (Schneider, who set the whole thing up, didn't get an assist here – Nemeth and Rooney did); the Rangers' fourth line kept battling and were then soon rewarded.
Upon replay, we saw that Reaves, who "muscled" the puck towards SM rather than shooting it cleanly; had his try bounce off of Dvorak. In either event, a good goal for the good guys!
Less than a minute later, Suzuki was boxed for blatantly taking down Vatrano at center ice. The Rangers were going on their second power-play. Unfortunately, just six seconds later – Gauthier took an interference call himself after the faceoff.
For Gauthier, this is his second consecutive o-zone penalty in as many games.
While I thought this call was extremely soft and not a penalty at all – he still put himself in the position to be nailed. Gallant was irate about this penalty, but I'm not sure if the subject of his frustration was Gauthier, or just the bad call itself.
Once returning to full strength, and following a few easy saves for the goalies; with eleven minutes remaining, the Rangers had doubled-up the Habs in the SOG statistic, 14-7.
As we crossed the half-way mark of the period and game; Hunt put forth some strong work, when he forced a turnover, kept a puck deep and put a SOG – a save for SM.
With not much going on; with 5:30 to go, Gauthier went to the net again and you know the rest.
As we hit 2:17 to go, this period was all Rangers, as SM made stops on Vatrano, Lafreniere, Hunt and Braun. The final 2:17 would then belong to Montreal.
With 1:35 to go; Rosen's dreamboat, "REM" Pitlick, hit the post. A few seconds later, Georgiev, who otherwise didn't have much work in this period, came up with a pair of "HIGH DANGER" saves! (I always get a kick out of how the ANALytical community goes bat shit over the phrase "HIGH DANGER!")
Then, with 8.8 seconds to go, and I'm not making this up – we had Sam and Joe tell us how much Jeff Petry sucks and how his family should disown him. (Okay, maybe I am making this up, but Sam and Joe were burying Petry for his bad season.)
On cue, Petry then scored after a wrister from the area known as "Ovi's Office." 2-1, bad guys.
Georgiev probably should've had this one too, but this was a good shot. Plus, the Rangers couldn't get the puck out of the zone. It hurt them.
2-1, bad guys, where both Montreal goals were scored during the final seconds of a period. They'd soon get one more to complete the trifecta.
---
Following a second intermission interview with Adam Graves, as #9 raved about both Gilbert and Kreider; we returned for the final twenty minutes of regulation, where admittedly – at least the Rangers made a game of it.
As Sam Rosen rattled off Ranger third period stats, as if these previously accumulated stats had anything to do with the roster on the ice tonight; the 13/72/24 line had issues connecting on passes again. You'd think they'd be better with their passes, since that's all they do – or at least did tonight, in their first game playing together.
4:15 into the period, the Rangers re-tied the game:
Frank with an absolute rip!

2-2 #NYR pic.twitter.com/ztviT2sMaG

— x – Rangers on MSG (@RangersMSGN) April 28, 2022
---
2-2, as the Ranger veterans erased Montreal's lead for the second time.
On this goal, Goodrow was absolutely fantastic, as he forced a turnover at center ice, and "THE RIFLE," Frank Vatrano, then made short work of SM, with an absolute rip-job of a shot. For Goodrow, who already has set career-highs in goals, assists and points this season – this was 19th apple of the season. He'd soon pick up twenty.
Following the goal, this is when M$G took notice of the game in front of them, where to be fair – they didn't have much to get excited about anyway.
In another example of 13/72/24 preferring passing over shooting; Lafreniere found Kakko wide-open during a rush, but rather than shooting, Kakko passed the puck behind him to Chytil instead – a turnover and no SOG during this odd-man scoring opportunity.
And to be clear – I'm not slamming any of these guys, using the word "bust," or anything as drastic as that. I'm just saying the results weren't there tonight.
In a way, I also think that I was proven correct in regards to my past opinions about this line – they need a veteran like Goodrow on it. Chytil can't carry it and Kakko & Lafreniere do better when Goodrow is with them.
Following this play, Georgiev stopped Poehling, in a save that I couldn't believe, as the Canadien was one foot away. It's why it's baffling that Georgiev can make save like this, then get beat on shots he should've easily stopped.
With 11:37 remaining, the Rangers had a chance to score the go-ahead goal, after Edmundson blatantly boarded Strome. However, the Rangers' power-play couldn't capitalize and we saw a lot of the same stuff that we saw during the previous fifty minutes of action – Gauthier being stopped, Chytil shooting wide, too much passing and etc.
(Again, not your normal Rangers' power-play unit here, but at the same time, these guys didn't take advantage of their newfound ice time.)
With 7:52 to go, Mike Hoffman seemingly put the game away, as he beat Georgiev. 3-2, bad guys, on a shot that Georgiev should've stopped.
Just over two minutes later, and with 5:33 to go; Georgiev continued his "Jekyll and Hyde" act, when he made a save while being screened by two players. However, the Rangers went back on the PK, following Rooney interfering with Pitlick.
Down a man, you thought this game would be over, but there was Barclay Goodrow, once again, this time on the PK:
STROMER ties it on the kill!

3-3 #NYR pic.twitter.com/Gk7hLn5jHc

— x – Rangers on MSG (@RangersMSGN) April 28, 2022
---
3-3, a tying goal for the Rangers' penalty kill!
Goodrow, who would've been named the game's first star had the Rangers won; forced a turnover, beat out a Montreal triple-team and then Ryan Strome, a #16 who has been mocked for missing many empty nets this season, blasted a puck past SM.
WOW!
Give the Rangers this much – they erased three leads tonight. They wouldn't erase a fourth.
After more passing to nowhere out of the 13/72/24 line; with two minutes to go, Montreal retrieved possession of the puck and then kept their attack going for about forty seconds or so.
With the Rangers top veteran line now on the ice, they went into Montreal's zone with under a minute to go.
Vatrano, a shooter, must've caught whatever Kakko, Chytil and Lafreniere had, and rather than shooting, he forced a pass back to the blue line to Schneider. The puck took a hop and a skip past #45, which allowed Montreal to rush into the Rangers' zone.
While Schneider was able to deny a breakaway; he and his teammates couldn't get the puck back. Then, with just 30.8 seconds to go, the bubble was popped, as there was Jeff "OH JOE HE BLOWS JOE, HE FATHER FINKIN' SUCKS JOE" Petry for the game winner.
Of all four goals that Georgiev allowed, this was the worst, and not because it was the game winner. Petry shot from a bad angle and Georgiev let it get by him. Brutal.
4-3, bad guys.
For good measure, the Rangers lost the faceoff that followed, and would receive a temporary lease on life when the Habs iced the puck with 5.3 seconds to go – which is when Georgiev was finally pulled.
Nothing good came out of Gallant's timeout, and the final score held as 4-3, bad guys.
Again, one more time – a meaningless game, but this was a game the Rangers easily could've won.
With the loss, this is the first time the Rangers have lost three consecutive regulation games in a row this season – although you can put an asterisk on this one.
It's also a loss that didn't bother Gallant, nor should it neither.
Here's the head coach after the game:
---
Based on what Gallant said, it sounds like the Rangers are practicing tomorrow.
Gallant is now faced with his toughest decision yet – who does he go with on Friday?
As noted last night, a Rangers loss to Washington could mean they'll see them next week. A win over the Capitals could mean a first round match-up with Pittsburgh.
In addition to the fact that the Rangers could determine their first-round opponent; Gallant must also decide to "rest 'em and risk rusting 'em" or letting his top players play.
With the playoffs not scheduled to begin until Monday or Tuesday night; how long does Gallant want his players to be idle?
Even CZAR IGOR – do you want him off for a week, and risk throwing him off his groove? Do you have him split the game with Georgiev?
I see both sides of the coin here, and I'm not sure what the right answer is. Either way, I'll stick to my tried and true motto of – "IN TURK WE TRUST!"
One game to go.
PLUGS TIME!
---
My first plug of tonight's blog – the mandatory plug for my book, "The New York Rangers Rink of Honor and the Rafters of Madison Square Garden".
As mentioned previously, the book is now available in hardcover, in paperback and in Kindle formats. To purchase a copy of the book, visit this link:
https://www.amazon.com/Rangers-Rafters-Madison-Square-Garden-ebook/dp/B09CM5N2WD
For those still looking for signed paperback versions of the book, I have re-ordered more copies. I now have a few signed copies for sale at $25 a pop (includes shipping price) through me directly. Here is all the information on that:
---
Here are my last few blogs, in case you missed them:
---
---
---
If you haven't already, subscribe to this blog for the next update:
---
Up next: Game 82, at home, against the Capitals.
As always here, thanks for reading and…
LET'S GO RANGERS!
Sean McCaffrey
BULLSMC@aol.com