Greetings and salutations everyone and welcome to another blog here on BlueCollarBlueShirts.com. Just like it was during the 2021 regular season; now, during this current off-season, there's still never a slow news day in Rangerstown, USA. In other words, throw on the sweatpants, bust out your favorite beverage, sit back and allow me to catch you up on everything. In addition, I'll even toss in a final 2021 season report card to boot! And for you people who read these manifestos on the throne (more people than you think have admitted this to me) – don't forget to clean up after yourself once you're finished reading all of this!
Prior to this season, during the season and now here in the off-season – it feels like you need the chalkboard from "Good Will Hunting", in order to keep track of everything. You may also need the brain of Will Hunting as well! And isn't it amazing Suzyn, that how just a few days ago, that James Dolan asked both John Davidson and Jeff Gorton – "how do you like these apples?" Incredible!
After Saturday's finale, the Rangers, on Sunday, took a time-out on Mother's Day. Once the weekend was over, on Monday, some of the Rangers met with the media for their end of the season interviews. Many Rangers were interviewed today, and during a time-span of 10:30AM through 4PM. Unfortunately, with all of these interviews being conducted through Zoom – we didn't get a Dan Boyle moment this time around! "Where's that Brett Crygalis guy?"
While many of the Rangers biggest names talked to the media on Monday, the biggest no-show during all of this was the currently injured Artemi Panarin.
It remains to be seen if Panarin gives the media an interview or not, before either returning to Russia or going back to wherever he was hiding out during the time of his "KGB" incident. That said, for the present moment and after all of these interviews which were conducted on Monday; it did come off like Panarin was ducking the media today. After all, all of the other currently injured big name Rangers, (Chris Kreider, Jacob Trouba and Ryan Lindgren) all met with the media on Monday, while Panarin was MIA. And as I'll soon get into when I recap the K'Andre Miller media call, I don't blame Panarin for taking a pass on all of these festivities.
If the countless Rangers interviews from Monday weren't enough to quench your news thirst, we had even more Rangers news take place. During these "meet the press" sessions, it was reported that in his first move as team president and general manager, Chris Drury re-signed Ryan Lindgren to a three-year deal, a contract worth $9M overall and which carries an AAV of $3M per season. (The contract is back-loaded, meaning Lindgren will get $2M in year one, $3M in year two and $4M in year three.) Of note, once again, it was a Canadian reporter, in Elliotte Friedman, who had the scoop first, despite the entire NYR media beat talking to the Rangers all day. Funny how that always happens.
But wait Walmart shoppers, there's more!
In what I'd consider to be minor news, it seems that none of the current big name Rangers will be participating in the IIHF Worlds Tournament this year. I'll break this all down tonight, but I'll say this for now here – I don't blame any of these players. I'm fine with these players taking the spring and summer off, and I'll explain why below.
In addition, and as I write these words early Tuesday morning; there hasn't been a decision made yet on the future of David Quinn. As talked about on Saturday, I really don't think we'll know anything about DQ until Tuesday afternoon the earliest or Wednesday night the latest. Either way, sometime this week, I do think we'll find out if DQ is returning or not. As mentioned previously, I'm fine with whatever decision is made.
And oh – in some non-Ranger news, (then again, I guess you can consider this to be Rangers news, which is why I'm covering this in the first place) Jack Eichel had a very explosive interview in Buffalo on Monday. More on that to come.
Tonight's manifesto will cover all of the Rangers news from Monday. After that, and in our main event, I have my Final Report Card for this 2021 season, where I grade every Ranger and comment about everyone. And spoiler alert – Adam Fox is my highest graded Ranger.
Lastly, before rifling through all of the news and the report card, just one quick plug here. If you missed my blog recapping the final game of the 2021 season, here you go:
---
I'll try to recap all of the news chronologically here. Up first, prior to the Rangers bevy of zoom calls, the Rangers announced that Adam Fox won the team's MVP award for this 2021 season. For Fox, who without question, will at least be a Norris Trophy Candidate, if not the winner; Fox completes his hat trick of award sweeps, winning the Steven McDonald Award, the Frank Boucher Fan Trophy and the Rangers Team MVP award, for all of his work during this tumultuous 2021 season.
Like you guys, I've been raving about Adam Fox all season, where the only question that's left to be answered regarding him is this – "can he continue to play like this next season and in the seasons beyond?" I think he'll only get better and I still can't believe that he's only played in two shortened seasons, as it already feels like he's a seasoned NHL veteran of 300+ games. What a great start to a career, if I say so myself.
I mean really think about it. Fox has only played in 125 career games, yet not only is Fox emerging as one of the best defensemen in all of the NHL, he's also the only consistent Ranger on this team. Even the great Artemi Panarin was exposed a bit by the Islanders this season.
For Ryan Lindgren, he follows the "Jesper Fast Era", as the first person to win the heralded "Players' Player Award" since Jesper Fast, a Jesper Fast who won this award during the last five consecutive seasons. To me, I have no issue with Lindgren winning this award, although I would've given this award to Brendan Smith. That said, Lindgren was very deserving of this award and Smith, like Lindgren, would ultimately win an award on Monday too.
In an award that the media votes on, and an award which honors the once longtime Rangers PR director John Halligan, (the award was renamed in Halligan's honor, after Halligan's passing in 2010) Brendan Smith won "The John Halligan Good Guy Award". This award is basically given to the player who is best at tolerating the media's bullshit and gives the best quotes. If there were two players who deserved this award, it were both Brendan Smith and Ryan Strome, two players who never shied away from the media during bad times and always produced eye-opening quotes.
With all three of these awards announced, I think everyone who voted on these awards got it right, as there's no bone to pick with any of these announcements.
To read the Rangers full press release on these awards, check out: https://www.nhl.com/rangers/news/2020-21-team-award-winners/c-324539054?icmp=int_web_nyr_dl
---
As a general statement here, before getting into the highlights of these media calls, there was a ton of fluff during these calls. When listening to these calls and while reading the transcripts of these calls, a lot of it felt like one of those old high school SAT problem solving questions, where you had to know what information to filter out, what was meaningless and really, just find the pertinent information. In turn, I'm just going to give you the stuff that stood out to me, as a lot of what was said was basically white noise and filler material. ("We got to be better, we aren't happy about our season being over, we will be better next season, we want the playoffs and blah blah blah".)
Lastly, before recapping the highlights of these calls, I want to mention that as of this writing, the Rangers YouTube page haven't uploaded any of these interviews. However, you can find clips of these interviews on the Rangers Facebook and Twitter pages. And as I'll get into with the K'Andre Miller call, a controversial question that was asked of him wasn't uploaded at all. This wouldn't be the first time the Rangers don't give you the entire story and I'm sure it won't be the last time this happens either. Hell, we still don't know 100% what went down with JD's firing!
And oh, like Panarin, Rangers head coach David Quinn wasn't made available to the media. Take that for what it is, and I'm not suggesting anything here either way. For all we know, Drury may say later this week that DQ is coming back and then DQ may talk to the media. Then again, we may have heard from DQ for the last time, while as the head coach of the Rangers.
Let's get into it.
---
RYAN STROME – Strome's most interesting quote was when he was talking about this season in general and when he said, "It was certainly bizarre. I think we dealt with a lot of things, some things that the media might not even know about."
Strome never explained what those things were. It should be mentioned, and for whatever it's worth, that Strome was the closest player on the Rangers to both Tony DeAngelo and Brendan Lemieux.
If there was anything else worth your time here, it was that Strome didn't answer a question regarding the future of DQ.
---
CHRIS KREIDER – Kreider looked visibly annoyed that he had to deal with the media on Monday, where he showed as much life as Sharon Stone did at the end of the movie "Casino." (Yes, that's two "Casino" references in back-to-back blogs!)
Kreider said his injury, an injury which ended his season, was a back injury and said that he was frustrated that he couldn't finish the season out.
Kreider also said, "Talk is cheap. It's something that we've talked about and said that we want to to do it for a while. And now, we've got to act on it and get ready through the course of this summer to show up and be ready to do that."
I've been saying this all season – the Rangers always talk the talk, but never walk the walk. Kreider is one of the biggest offenders of this.
Of note, no media member asked Kreider about his streaky play and how he rarely backed up his talking from this season. After all, the media, and as explained 786786696 times before on this site, are all walking on egg-shells. Really, only Larry Brooks can say whatever he wants and not have to worry about his job security and/or access.
---
JACOB TROUBA – Trouba never revealed if he had a concussion or not, nor was he asked directly about his injury. All Trouba said was that "my head feels fine", and that he'd be 100% in a week or two. In addition, Trouba said he was trying to return to the ice, but once the Rangers were mathematically eliminated, the team told him not to push it. Makes sense to me.
---
MIKA ZIBANEJAD – Obviously, the big talk was about Mika's disappointing first half of the season. Previously, Mika didn't blame COVID-19, and during this call, he explained why when he said the following:
"The support from the guys, from my fiancé, from my family. It was a unique situation having COVID and having one practice before the season. I tried to tell myself that it wasn't that, I was feeling fine but it wasn't easy. I didn't really feel up to speed after that and it took me a while to kind of get back just physically and mentally. I didn't want to have an excuse or whatever. I think that was a reason I didn't talk about it as much as people asked me about it."
I understand why Mika didn't want to use COVID-19 as an excuse. However in this quote, and as we all thought at the time – his battle with COVID-19 did impact his start.
As talked about at the time, I thought he should've taken some time off while fighting the lingering effects of the virus. Perhaps if he did, he would've made a full recovery, rather than doing nothing in the first half of the season. Had Mika rested, maybe he would've been at 100% for the majority of the season. That being said, this decision was Mika's to make, even if the team should've been more aggressive in asking Mika to take a time-out here, at least in my opinion.
In addition, Mika, like Strome, didn't give an answer regarding DQ's future with the team. While speaking on his own future, Mika said the following:
"I love it here. I love the team. I love the city. I love the guys here and I want to win here. It's obviously not just up to me, so we'll take it as it goes."
As talked about previously, and as I'll get into later on in the Eichel segment, Mika will be an unrestricted free agent at the end of next season.
---
BRENDAN SMITH – Brendan Smith, now an unrestricted free agent, expressed a desire to return to the Rangers and even said he didn't mind if he was used in a limited capacity. If you got anything out of this, it was that he believed in the team and wanted to be part of the future. Perhaps he will take a lesser offer from the Rangers than a better offer elsewhere, but that remains to be seen.
Smith also said that he didn't think the Rangers "under-achieved". I'm not so sure if I agree with that, and as explained on previous blogs. Of course, Smith was being a team-guy when he said this, so I don't fault him for saying this either.
---
ADAM FOX – Fox, and as you'd expect, was very diplomatic and humble about all the praise and awards that he's won this season. Fox also said the following about the team's future:
"I think our goal and every season is to come in and try to compete for a Stanley Cup. I think guys in the room understand that. Going into next year, that'll be the expectation."
I'm fine with those expectations! And if Fox can win the Conn Smythe while winning the Cup? Then you can bring on all of the Leetch comparisons!
---
RYAN LINDGREN – The big news here was that on Monday, Ryan Lindgren re-signed with the Rangers and as talked about at the top of this blog. Here's Lindgren talking about his extension/new contract:
Lindgren also talked about the team's physicality issues, but did say he was proud of the way the team responded in the Rangers final game against the Capitals.
As far as my personal thoughts on Lindgren's extension, I thought this was a win-win for both parties. I also think that the Rangers came out like winners here. I believe that you can even argue that Lindgren deserves more money, especially with Lindgren being part of the top pair of Rangers defensemen. In either event, I'm happy to see this deal done and it's a win all around.
---
KAAPO KAKKO – Kakko's most telling quote was this:
"I think I can score goals, I can get some points, I think I'm good in the offensive zone. Hopefully, next season, my goal is I'm going to be on the second line, get more ice time, get more points, that's my job."
In my humble opinion, it would be better if Kakko knew he could do these things, rather than thinking about doing these things.
In addition, I didn't get the "second line" comment, but I guess since Panarin plays there, maybe this comment was lost in translation. In other words, I think Kakko was talking about being a regular member of the top six and I won't dissect this any further than that.
---
ALEXIS LAFRENIERE – I thought Lafreniere gave the most honest interview of the lot of them, where now I envision one day seeing Lafreniere winning the John Halligan Award – just like one of his mentors, in Brendan Smith.
Lafreniere was truthful throughout, saying that he wasn't happy with his slow start, how tough it was leaving his family and how he was happy about his second half of the season. Of the Rangers who were asked about DQ, only Lafreniere answered, when he said this:
"He [DQ] helped me a lot, for sure. Just getting here as a 19-year-old, you need people to help you and he was one of the [people] who really helped me throughout the season."
Of course, contrarians may respond to this by saying – "what else is Lafreniere supposed to say?" Plus, it's not like Lafreniere has ever played under any other NHL head coach either. And yes – DQ should be bending over backwards with his #1 overall pick.
Closing out the interviews was K'Andre Miller, whose interview drew a ton of criticism from Ranger fans, not because of what Miller said, but because of one of the questions that were asked.
---
K'ANDRE MILLER – Before getting into the "controversy", I thought it was telling when Miller said this, when talking about his physicality or lack thereof:
"That was a huge part of last season. For me to train and really develop my body and getting bigger and stronger and more comfortable with my body. I'm doing whatever I can to improve this off-season."

If there's one takeaway here, it's that Miller knows that he has to have a more physical aspect to his game. I hope we see it next season.
The controversial question was when one of the NYR media members, (and at this time, we don't know who it was) asked Miller about the racist remarks that took place during the time of his signing, from nearly over a year ago. In response, Miller said:
"I don't got anything right now, come back when we get back and I'll have something."

To me and to other Ranger fans, this felt like a reporter looking for a race-bait/click-bait story, in an attempt to use Miller as the subject of that politically incensed story. There was no reason to rehash this at all. That incident (remember how the Rangers said they'd get to the bottom of it?) was the result of a bot, and most likely wasn't an individual making those comments. Furthermore, this incident didn't take place during this season either, and again, why even bring this up, unless the intent was to remind Miller that he's black?
Yes, what happened at the time was a story and a bad one at that. That said, I just don't see the point in bringing this up, where I'm to believe whoever asked this question had an agenda and a click-bait story in mind.
When it comes to Miller, he talked about what I wanted to hear about – his new focus on becoming more physical. Black, white, straight, gay, Republican, Democrat, whatever – all I care about are these guys getting better and winning the Stanley Cup. And really, (and I hope we find out who asked this) again, what was the point of this question? To sell racial nonsense?
I also want to add here, NOT ONCE, did I see any Rangers fan bring up Miller's race on social media this season. It's why I'm led to believe, and why others are led to believe, that the entire zoom call incident was the product of a bot and not a fan. After all, anything can be tracked/traced these days, and if it was an individual doing this, the police would've very easily been able to find out the culprit behind this.
And yes, just talking about this stuff is a waste of time. End of the day, the only thing I care about, regarding "THE PRAYING MANTIS", is that Miller toughens up and unlocks his potential with his size. If he can start steam-rolling guys and inducing fear into players, like a modern day Zendo Chara, that would be HUGE for the Rangers and for Miller.
This wraps up the player interviews from Monday.
---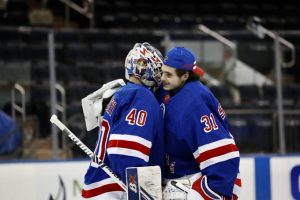 In news which was first reported by Larry Brooks, and then confirmed by the North American Rangers themselves; Adam Fox, Jacob Trouba, K'Andre Miller and Alexis Lafreniere will not be participating in the 2021 IIHF World Juniors Tournament, which this year, will be held in Riga, Latvia. And after those Panarin accusations from earlier this year, fake news where Riga was the setting, I doubt Panarin will be there either.
In more news from Monday, the Russian/KHL reporter, in the great Gillian Kemmerer, reported that neither Alexandar Georgiev or Igor Shestyorkin would join the Russian national team either.
As far as who is participating in this year's tournament, the Rangers announced that Filip Chytil and Libor Hajek will be representing for the Czechs. Zac Jones, Kevin Rooney and Colin Blackwell will be representing the good old USA, where for Jones, this is valuable experience; where for Rooney and Blackwell, this is a chance to boost their profile around the league.
In my opinion, I don't blame any of these high profile guys for declining invites to this tournament. All of these guys are coming off of a crazy season, where many of these guys haven't seen their families for some time. In addition, with COVID-19 restrictions, who wants to deal with all of that? While I get the urge for wanting everything to be normal, this 2021 Worlds Tournament will be anything but that.
Despite what others may say, and as talked about before, this 2021 season WAS the wildest season in all of New York Rangers history, and that includes that 1975-1976 season. These guys have been through a lot. To hop on a plane and hole up in hotels for another month; well that doesn't seem appealing to me, and apparently, that's not appealing to these guys too.
I should also mention, that I haven't seen one Ranger fan disagree with these decisions. It should also be noted that here in New York, and in America in general, the majority of fans don't care about the IIHF Worlds Tournament to begin with, as the tournament is bigger for Canadian and European fans. For better or for worse, outside of "The Miracle on Ice" team, international hockey is never big for American fans.
While mentioning Igor here, while an injury wouldn't impact the Rangers re-signing him this off-season, he is a restricted free agent. There's no reason for Igor to risk his health in this this tournament. And speaking of RFA's, joining Igor on the RFA list are Julien Gauthier, Libor Hajek, Pavel Buchevich, Filip Chytil and Brett Howden.
I know this blog is long enough already, but real quick on this topic, like the re-signing of Lindgren, it's a slam-dunk that the Rangers will reach a deal with Igor. After that, it's anyone's guess. I can see the other players on this list either being exposed to Seattle, with Howden most likely being the one to go, in the event that Seattle doesn't land Keith Kinkaid; while players like Buchnevich and Chytil could be moved this off-season. I'm not saying that Buchnevich and Chytil will be moved. All I'm saying is that if they were to be dealt, I wouldn't be surprised either – and really, how could anything surprise you now, after all the bombshells from this season?
Speaking of bombshells which took place in New York, and in our last news item before getting into the report card, Jack Eichel's name is back in the news.
---
While the Rangers were talking to the beat reporters on Monday, over in Buffalo, Jack Eichel spilled his guts, where if you believe that the Rangers should land Eichel, perhaps Eichel made things easier for the Rangers, as Eichel drove his trade value down. In other words, it is very obvious that Eichel wants out in Buffalo and the Sabres may be forced to take less of a haul in a return for him. As they say, we'll see.
Here's Eichel's 25 minute interview with the Buffalo media from Monday:
You really have to watch the whole interview to get the full impact of what Eichel said, but during this interview, Eichel suggested that the Sabres wouldn't let him get surgery, basically said he was sick of all the losing and the situation in Buffalo, said there was a disconnect between him and management and without directly saying it, pretty much said – "TRADE ME NOW!"
I've talked about the Eichel stuff before – I see why an Eichel trade to the Rangers could work and I see every reason to stay away.
If there's anything that any fan of the Rangers should take away from Eichel's interview; it's that the Eichel to Rangers rumors were only intensified today, where these rumors will not be put to bed until the Sabres trade Eichel elsewhere, Eichel says he wants to be back or this – the Rangers and Eichel make the rumors a reality.
It should also be stated that for the Rangers to make such a deal, that unless Buffalo is going to absorb some of Eichel's cap hit, that the Rangers will have to ask Mika Zibanejad to waive his NMC or trade Ryan Strome. With a $10M AAV, Eichel, who said that he needs surgery, would come with a risk. Of course, you can say the same thing about Zibanejad too. More on this story in the future.
---
To bring you up to speed, on February 17th, I released a "Progress/Regress Report", looking at every Ranger at the 25% mark of the season. You can read that blog here: https://bluecollarblueshirts.com/21721/
On March 18th, I released my Mid-Season report card, which can read by clicking this link: https://bluecollarblueshirts.com/31821/
With the 2021 season now over, it's now time for the annual Final Report Card here on BlueCollarBlueShirts.com, where I'll look at every Ranger from this 2021 season.
Before busting out the red pen, let me give you the usual rundown here and my grading system.
Here are the parameters I used when handing out these grades:
Offensive stats
Defensive play
Special teams play
Salary cap hit (Meaning that I look at what players are being paid and what they are supposed to contribute to the team. In other words, I expect more out of Chris Kreider, Jacob Trouba and Mika Zibanejad than I do from guys like Kevin Rooney, K'Andre Miller and Colin Blackwell.)
Value/role to the team
Players who have played less than five games or who are no longer with the team have been excluded from this report card. These players are Morgan Barron, Brendan Lemieux, Jack Johnson, Johnny Brodzinski, Tim Gettinger, Tony DeAngelo, Justin Richards and Tarmo Reunanen.
While I do think all of you guys and gals know this, I feel I have to say the following again anyway – all of this stuff is 100% my opinion. While I include facts and stats into what you're about to read, at the end of the day, all of this are just my opinions. These aren't the end all, be all rankings. However, all of this just gives you a feel of how these players did – at least from my point of view.
Without further ado, let me present to you, the following – "The 2021 Season Final Report Card".
---
FORWARDS:
COLIN BLACKWELL
GRADE: B+
For Colin Blackwell, he had a career season, where during the first 75% of the season, he was one of the most talked about Rangers.
In a "do they or don't they?" type of situation, the Rangers held on to Blackwell during the trade deadline, where some may wonder if his ice time should've been given elsewhere and/or the Rangers should've flipped this asset at his peak. That said, it was easy to see why the Rangers retained him, especially when the team was flirting with the playoffs.
Blackwell ultimately finished the season with 12 goals and 10 assists, which going into this season, was more points than anyone could've ever envisioned Blackwell producing. Like many Rangers, during the last few weeks of the season, Blackwell kind of faded, which was due to tough competition, Kravtsov joining the team and because of all the injuries.
During the mid-season report card, I said this:
"However, since Blackwell is this season's version of Jesper Fast, which means that he can play on any line, Blackwell may find a home on the fourth line, where I'd assume his production numbers would then drop."
That's pretty much what happened for Blackwell, although as the Rangers suffered injury-after-injury, Blackwell would return to a patch-work Rangers top six.
Blackwell had a great season for the Rangers, but is he part of the future? Like many Ranger questions this off-season, it's easy to see both sides of the argument. In any event, Blackwell did a good job in his role and exceeded all expectations.
---
PAVEL BUCHNEVICH
GRADE: B+
Buchnevich had a career year for himself, where he finished second on the team in goals (20) and fourth on the team in points (48). Buchnevich, especially when many of his teammates were going down with injury, strengthened his cause for the Rangers to bring him back next season.
I know I've said this before, but it's worth reiterating – it feels that after all of his development, Buchnevich is now entering his prime. He was good more games than not, even if he did miss a ton of wide-open nets this season.
When motivated, Buchnevich was one of the better players on this roster and his chemistry with Mika Zibanejad was apparent when Mika woke up from his first-half slumber.
---
FILIP CHYTIL
GRADE: C-

I know he's young, but the "young" excuse really doesn't carry as much weight as it used to, considering all of the younger players on this team. That said, it is easy to forget that Chytil is still a young player, when compared to his teammates.
Of all Ranger centermen, and on a team where not one center had a face-off win percentage of 50% or higher; Chytil was the worst of the lot, finishing with a face-off percentage of 42.8%. Chytil also finished the season with eight goals, and could've very easily hit double-digits, had he been able to finish off a goaltender or two, during his many numerous opportunities.
I said this earlier this season, and I'll say it again here – I'm not convinced that Chytil is a true center. It may be time for the Rangers to rid themselves of everything from that 2017 NHL Draft, as they did with DeAngelo, Stepan, Andersson and Raanta, rather than trying to force the issue with Chytil.
I know Ranger fans are very attached to their own guys, but I feel you can find a better third line centerman during this off-season. It may also come down to that you only have so many spots on a roster. That said, I'm not writing Chytil off either, as the potential is there. However, on a team that is stocked with wingers, Chytil may find more success elsewhere. For a team that needs "roster stew", Chytil may be too much salt.
---
PHILLIPP DI GIUSEPPE
GRADE: C-
Earlier in the season, PDG was very noticeable in games, and had a few games where he led the team in SOG and blocked shots. In the second half of the season, where the Kravtsov call-up drastically diminished PDG's playing time, PDG was not as noticeable.
PDG turns 28 years old next season, and I just don't see him coming back. One goal in 31 games, combined with the fact that he doesn't bring anything extra to the team, makes him expendable. That's business, and nothing personal.
---
JULIEN GAUTHIER
GRADE: C
Similar to PDG, Gauthier's playing time was slashed with the Kravtsov call-up. For a north-south player, Gauthier, who did have some impressive games, only finished up with 2 goals in 30 games played. I think Gauthier may become a victim of the depth of wingers on this team, because he'll never break into the top six. Plus, it seems like that if he remains with the team, he'll be on a fourth line grind line at best. I just can't see Gauthier breaking the proverbial "glass ceiling" here.
For whatever reason, and I don't know if the term "dog-house" is 100% accurate here; DQ soured on Gauthier the second Kravtsov was called-up. At one point, Gauthier didn't play for a month, and it's very likely he wouldn't have played the rest of the season, had the Rangers not had their injury issues.
In addition, for a guy who didn't play a lot, Gauthier's +/- stat of -6 isn't very encouraging either.
---
BRETT HOWDEN
GRADE: C-
I suspect that we've seen Howden's last game as a Ranger, even if his face-off percentage was the highest on the team, at 46.6%. In 42 games this season, while Howden isn't here for his scoring, he only scored one goal, which was an empty net goal.
By now, you all know the book on Howden, where he was a big piece in the McDonagh/Miller trade, and was hoped to become an offensive threat. Instead, Howden became offensive offensively and was turned into a fourth line grinder and PKer. With the mission being to make the playoffs next season, and with the emergence of Morgan Barron, it's very easy to see Howden in Seattle or elsewhere next season.
Yes, you need a strong fourth line checking center, but Howden was put into this role because of the Ranger roster issues, rather than Howden truly filling this need.
---
KAAPO KAKKO
GRADE: C
Of the Rangers youthful trio of lottery picks, which includes Kravtsov, Lafreniere and Kakko himself; I was the least impressed with Kakko, a Kakko who is now a veteran of over a 100 career games and had more ice time than his two lottery pick counter-parts.
Kakko finished his sophomore season with 9 goals and 8 assists, where really, these are pedestrian numbers, when you take into account that Kakko was the second overall pick of the 2019 NHL Draft. For all the talk about how Kakko has become better defensively, for whatever reason, he never played on the PK this season. And yes, if you want, you can blame DQ for that. After all, it's not like Kakko said, "please, no PK DQ!"
In the case of Kakko, I think fans want to will him into being this superstar player, but the expectations may exceed reality.
I don't know if Kakko is the second coming of Jimmy Vesey here, but outside of a handful of games, Kakko, who was drafted to score, rarely did. It just felt that whenever you talked Kakko this season, there were a lot excuses to be made. At some point, he has to start playing as a second overall pick, which hopefully, begins next season.
If there's a positive takeaway here, when Kakko looked good – he really looked good. Like most of these guys, Kakko needs to find a way to be consistent. When he's driving to the net, he's great, but when Kakko is hanging out at the perimeter, Howden served more of a purpose than Kakko did for the Rangers.
---
VITALI KRAVTSOV

GRADE: B+

We finally saw the long awaited NHL debut of Vitali Kravtsov this season, and it was extremely encouraging. In 20 games, Kravtsov had two goals and two assists, but also finished up with a +/- stat of -6. Unlike others on this team, I wouldn't worry about Kravtsov's numbers that much, as he joined the team during a turbulent time, where the ride just got even rockier, as the Rangers got to their finish.
Unlike the starts that both Lafreniere and Kakko had, Kravtsov looked like he was ready, which granted, could be because he's older and more experienced. That said, there was never one moment during Kravtsov's season where he looked overwhelmed or outmatched. Kravtsov was great on both sides of the puck, where he showed his offensive awareness and his defensive prowess.
For Kravtsov, he has to take it one step further next season and it would be beneficial if he was in the top six more often. I think everyone should be happy with what they saw out of Kravtsov this season, which is not something I can say about the next guy on this report card.
---
CHRIS KREIDER
GRADE: C-

Kreider did finish third best on the team in goals, with 20, but if it weren't for two hat tricks against crappy teams, Kreider's numbers would look horrible.
It may be a new contract for Kreider, but it's the same old story – he's streaky, and when he's cold, he's cold and when he's hot, he's hot. Let's also not forget that for a guy that crashes the net, it took nearly 20 games for Kreider to draw a penalty this season.
For a guy who is supposed to be a team leader, and where many, myself included, thought he should've got the "C" on his sweater entering this season, Kreider has stopped all of that talk. At the present time, I hope the Rangers give the "C" to Fox.
Kreider has all the potential in the world, but now at 30 years old, he is what he is. I think he can help a Cup contender, but I don't think he'll ever be the catalyst for a Cup contender.
Similar to Mika Zibanejad, most of Kreider's production took place against the three bottom feeders of the division. That shit won't fly in the playoffs today, where admittedly in the past, Kreider has a decent track record.
---
ALEXIS LAFRENIERE
GRADE: B

After a slow start, Lafreniere really adjusted well in the second half of the season, where it was obvious that he was more comfortable and had found his footing in the NHL. Lafreniere, who took a while to get his scoring going, ultimately finishes his rookie campaign with 12 goals and 9 assists.
If you look at Lafreniere's first 28 games when compared to his last 28 games; I think Lafreniere was a hesitant a bit early on, perhaps abiding by some "rookie code", where he deferred during some scoring opportunities by passing. Once the second half hit, Lafreniere seemed more confident, and in turn, not only put more shots on goal; but also scored more goals as well.
You all know the deal – there's never been another #1 overall pick in NHL history, that endured the wackiness that Lafreniere did this season, and that doesn't even include all the pandemic influenced things either!
While some may have been concerned about Lafreniere early into the season, by the end of it, you were left waiting to see what Lafreniere would do next. The best is yet to come for sure. I have complete faith in Lafreniere becoming a force in this league.
---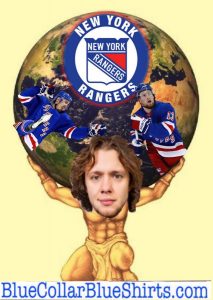 ARTEMI PANARIN
GRADE: A–
Why not an A or A+ for the team's top scorer, (58 points) and the guy who logged more assists (41) than any other forward on this team? Simple – the Breadman didn't show up when it mattered the most.
In four games against the Islanders this season, Panarin didn't log one SOG. In three second half of the season games against the Islanders, which were all "must-win" games; Panarin was shut down completely and looked absolutely lost. That's why I gave Panarin an A-, where despite a fake news scandal this season, Panarin remained a point-per-game player throughout.
Without question, for the Rangers to make the playoffs next season and to have any success in the playoffs, Panarin must dominate. If he has these games like he did with Carolina in the bubble last season, or with the Islanders this season – it's tough to envision the Rangers making much noise.
I know, I know, I know – how do you criticize the team's best offensive player and perhaps the greatest free agent signing in all of team history? That said, Panarin was more prone to turnovers this season than last season and perhaps due to unselfishness, does show a tendency to over-pass rather than shooting himself.
If there's anything I'd like to see out of Panarin next season, aside from lighting up the Islanders, it's to adapt a shoot-first mentality. No one is a better shooter on this team than Panarin, but I think Panarin, despite his status as the team's best scorer, left many points on the table. This might sound outrageous, but Panarin very easily could've been a two-points per game player this season.
---
KEVIN ROONEY
GRADE: B+
For a fourth liner, Rooney finished with 8 goals and 6 assists this season, and to go back to my point on Kakko – was better in his role than Kakko was in his. The same would also apply to Kreider, as I thought Rooney did much more in his role than Kreider did in his.
When you look at Rooney's role on the team, what more could've you asked for? He scored goals, he was a key part of the Rangers successful PK, and unlike many on this team who finished with a negative +/- stat, finished with an "Even-Steven" +/- stat of 0.
When it comes to the Rangers fourth liners, it's very easy to make the argument that Rooney should be on this team next season. He was also one of the team's better face-off men, where at one point, DQ was using Rooney to take big zone face-offs against the elite centers of this division.
---
RYAN STROME
GRADE: B+

During the mid-season report card, I had Strome with an A- rating, but as you can tell from this B+ rating, Strome took a dip in play during the second half of the season.
While Strome wasn't "bad" or anything like that, despite missing about 7867867896 vacated nets this season, Strome had 10 goals and 22 points after 28 games played. In the next 28 games, Strome only scored four goals to close out the season.
Strome ultimately finishes this season third best in the team in assists (25) and points (49), where had he replicated his first half of the season, he would've finished second best in both departments.
Without a question, Strome earned his money this year and even better, really grew as a veteran presence for a team that was hit by blow-after-blow, as if the Rangers were in a 15 round heavyweight prize fight. That said, Strome's faceoff percentage of 43.2% was a team low, and it's very apparent that all of these Rangers centers need a face-off coach during the off-season.
Strome, along with Mika and Lafreniere, played in all 56 games this season and was heavily relied on. At the end of the day, Strome did his job and also shed the "STROME NEEDS PANARIN TO HAVE SUCCESS" nonsense.
---
MIKA ZIBANEJAD
GRADE: D+
I've talked endlessly about Mika Zibanejad this season, where I don't have much more to add here. Yes, Mika finishes as the team leader in goals (24) and was second in the team in points (50). However, if you've been reading these blogs all season, you know what I'm going to say next – Mika rarely showed up against top teams this season and 95% of his stats are bolstered by the big games he had against the shit teams of the division, in Philly, Buffalo and New Jersey.
While I think the COVID-19 excuse is valid, when explaining Mika's poor performance in the first half of the season, that excuse is not valid when it comes to the big games against Washington, Boston, Pittsburgh and ugh, the Islanders. For someone who is considered to be an "elite" centerman by many, Mika's 46.3% face-off percentage is not, and that number takes an even bigger dip if you're only talking about zone face-offs.
Mika's biggest strength this season was on the PK, just like Rick Nash in his final seasons with the Rangers.
Again, while Mika does have good numbers, if you watched the games, you know why those numbers are what they are. Even as a team leader, and as one of the best scorers on the team, you could chalk up Mika's season as a COVID-19 impacted season, where Mika failed to capitalize on the huge 2019-2020 season he had.
What happens next with Mika, will be one of the biggest questions the Rangers will have to answer this off-season.
---
DEFENSEMEN:
ANTHONY BITETTO
GRADE: C+

Bitetto had a solid start in the first half, but the second half of the season wasn't too kind to him and for several different reasons, including injuries, his games against the Islanders and the Rangers looking to get a look at other defensemen.
We all know that Bitetto is the local kid, but I think this was a one-and-done season for Bitetto with the Rangers, as the Rangers are stacked at the position and have better options. At least Bitetto scored a highlight reel goal this season, his only goal in 2021, which is something you can't take away from him, even if the Rangers may take away Bitetto's sweater from him.
In a word, Bitetto was "serviceable" this season, but at least he has a clip that he can now show to his newborn child one day.
---
ADAM FOX
GRADE: A+
I've talked so much about Adam Fox this season and on this blog already, where really, what else is there left to say but this – are you going to argue with me about this grade? I didn't think so! I can't wait to see how his career develops and let's hope that he wins the Norris!
Seriously, without Adam Fox, the Rangers probably finish in seventh place this season.
---
LIBOR HAJEK
GRADE: B-

I had Libor Hajek at a C+ during the mid-season report card and I think it's worth bumping him up a half a grade here, as Hajek, who got more playing time in the second half of the season, was pretty decent. Yes, Hajek isn't going to join the rush and put up goals like Fox, but that's not his job either.
Like others on this list, I don't know what Hajek's future is, due to the Rangers stockpile of talent at Hajek's position. I will say, if he is brought back, it wouldn't bother me, as Hajek improved as the season went along.
It should be mentioned, while defensemen routinely get burnt around the league, more times than not, you didn't notice Hajek, which for a defensive defenseman, is a good thing.
---
ZAC JONES
GRADE: B
For someone who less than two months prior to his debut, said he wasn't ready for the NHL; Jones looked solid in his ten games this season. You could really see Jones improving game-by-game.
After a slow first game, Jones just got better and better, and as he says, still hasn't even grown into his body yet. You can see the potential he has, and even with ten games, by the end of it, and in games against a Cup contending team in Boston, Jones held his own. With four assists in ten games, that's not too shabby. Neither is his NCAA championship.
---
RYAN LINDGREN
GRADE: A–
Lindgren was the second best defenseman on this team this year, and without question, the toughest defenseman on this team too.
If there was any knock about Lindgren this year, it was that when he was separated from Fox, which took place after the Trouba injury, Lindgren's game took a hit, where really, all of that is explainable – Lindgren's partners weren't as good, Lindgren didn't have time to create chemistry with his new partners and Lindgren was forced to cover up for a lot of his partner's mistakes.
Fox and Lindgren should be the future of this blue-line for sometime now, and if the Rangers ever win the Cup with this new core, Lindgren will be a major factor.
If there is anything Lindgren needs to improve on, it may be his scoring, even if that's not his game. Lindgren only scored one goal this season, where even DQ brought up Lindgren's lack of scoring, after Lindgren picked up his first and only goal. That said, I'm not concerned about Lindgren's goals, as he is a great defensive defenseman, and at one point this season, led all Rangers in even-strength assists.
---
K'ANDRE MILLER
GRADE: B-

This is a tough one. On one hand, Miller is a rookie. On the other hand, it seemed that Miller not only hit a rookie wall, but barrelled into it, as if he were Billy Joel behind the wheel. For a rookie that came out of the gate hot, (and let's not forget that during the first half of the season, it was Miller, and NOT Igor or Lafreniere, that was the Rangers Calder candidate) Miller petered out as the Rangers got to the finish line.
I kind of wanted to go C+ here, but I had to keep reminding myself that Miller was only a rookie and like Lafreniere, didn't have the ideal scenario going into this season. It's been reported that Miller hasn't seen his family in nearly a year and all of this COVID stuff impacted him.
Miller showed us what he was capable of this season, but he's going to have to do better next season. As he even talked about during his exit interview, Miller is going to have to find a way to use his size too. It's great that he can break up plays with his stick, but once teams start to fear a large 6'6″ defensive brute, Miller will then become a driving force for Rangers success.
---
BRENDAN SMITH
GRADE: B+
I've talked a lot about Smith on these blogs, where even now, it's still amazing that when you think of the Brendan Smith from two years ago, that his season was ended in Hartford after an unnecessary fist-fight with Vinni Lettieri. In the two seasons since that fight, Smith has turned into one of the most versatile and jack-of-all-trades Rangers for DQ. He's also emerged as a team leader, where many, including Kakko and Lafreniere, have praised Smith for taking them under his wing.
Smith, like last season, had another impressive season considering his role on the team, where now, I would venture to guess like myself, the majority of Rangerstown, USA would like to see Smith brought back, as long as he's willing to accept less years and money than the contract he just completed.
There's so much to like about Smith right now, both on the ice and off the ice, where he really had a mini-redemption story during these last two seasons. He's also the team's "go to guy", when it comes to fights, as was apparent in Smith's tilt with the heavyweight Tom Wilson.
---
JACOB TROUBA
GRADE: C-

Trouba's grade is low here, because I account salary cap hits into my grading. As talked about all season, not only is Trouba NOT worth $8M a season, with Trouba getting this monster money, what's Fox worth right now? $100M? If you're Fox's agent, you probably can't wait to get to contract talks with the Rangers.
I thought Trouba had a terrible first half of the season, but as the season went along, Trouba got better, as he was blocking shots and laying the body. However, all of Trouba's high and wide shots, which seem be an ode to Scott Norwood, can be infuriating. If there's one thing Trouba needs to work on during the off-season, it's his shooting accuracy. Get the puck on net – that's when good things happen.
No matter how good someone is defensively, 2 goals in 38 games for $8M a season is not good, especially when both of those goals were scored against a Flyers team playing their worst hockey of the season. And for what it's worth, I don't think Trouba is "injury prone", as others have suggested.
---
ALEXANDAR GEORGIEV
GRADE: C+
You guys all know that I'm one of the biggest Georgiev fans out there, but I thought this season was a step back from the two seasons he had prior to this one.
The greatest thing about Georgiev's season is that he continued to own the Islanders. In must-win games against them, Georgiev showed up even when the team in front of him didn't. Georgiev also had solid games against another Rangers rival in the Flyers, where as the back-up goalie, Georgiev did handle his business against bad teams too.
As far as why I went C+ instead of B- or B, Georgiev is making a lot of money as a back-up goalie. If he was still on a six figure or a $1M contract, it would be easier to bump up his grade. With a 2.71 GAA, Georgiev had the worst GAA on the team. And unlike previous seasons, Georgiev, like the two other goaltenders, started against a wide array of competition, rather than having one goalie play all the bad teams and Georgiev playing against all the good teams.
An 8-7-2 win-loss record could've very easily been 12-5, but Georgiev's first half struggles with breakaways, and his inability to win the majority of overtime games played, hurt him. And heck, if Georgiev played the puck better, Tony DeAngelo may still be here too.
I know that Georgiev vs Kinkaid is a topic for this off-season and possibly next season, but I see Georgiev back and playing better in 2021-2022.
---
KEITH KINKAID

GRADE: B+
For a goalie that was never supposed to play one game for the Rangers this season, Kinkaid played admirably and really stepped up to the plate when Igor had his groin injury. I was glad when Kinkaid was rewarded with the last start of the season, where ironically, after a non-contact injury himself, Igor had to finish out the game for Mr. Kinky.
Kinkaid played Boston well, where he should've had a 2-0 record against them this season. (Igor's two GA in the last game of the season took a win away from Kinkaid.)
If you thought that by the end of the season, Kinkaid would lead all NYR goalies in GAA with a 2.59 GAA, then go buy a lotto ticket.
While we all know that Kinkaid was signed to be exposed to Seattle, if Seattle goes after a Rangers forward instead, Kinkaid will remain as a solid alternative and insurance policy for the Rangers.
---
IGOR SHESTYORKIN

GRADE: B+
I will admit, this grade is HIGHER, and not LOWER, due to Igor still being on a rookie contract and that officially, this was Igor's rookie season.
Unlike last season and unlike the previous games I've seen out of Igor in the KHL and in the AHL; there were many games that Igor started this season, where he just gave up one of these "how the hell did that go in?" type of goals.
I don't know if it's the "Curse of Lundqvist" or something like that, but Igor was also prone to giving up those early and late goals too.
When it comes to Igor's numbers, which saw him finish 16-14-3, with a 2.62 GAA and a team high .916 save percentage, I really don't put much stock into those numbers. There were many games this season where the Rangers were blanked in, which erased a great performance out of Igor. Then, towards the end of the season, when the Rangers were beat up, Igor pretty much had to root for a 0-0 regulation final and a shoot-out win, in order to win games.
I still think Igor will be the second goalie in all of Rangers history (Dave Kerr being the first) to win both the Vezina and Stanley Cup for the Rangers. Due to his age, I don't know if this was a true "learning experience" for Igor, but I do think this experience will be valuable for him, come next season and in the years beyond.
For the Rangers to make the playoffs next season and in their quest for the Cup, there are three players that must dominate – Adam Fox, Artemi Panarin and Igor Shestyorkin.
---
As I always say when wrapping up any report card on this site, all of these grades and thoughts are just my opinions and not the end all, be all. This just gives you a gauge of how I thought these players did, nothing more, nothing less. It's okay if you disagree with what I said and want to call me out on it.
Despite going over the 10,000 word mark tonight, there's still so much to get into when talking about this season as a whole. There's also the DQ stuff and what to do there. I'm on record – I'm completely 50/50 on DQ. Rather than wondering who should be coaching this team next season right now, I'll wait until Drury makes his decision, which should come later this week, if not by the time you're reading these very words.
And if DQ is fired? Then I'll talk about the Rangers coaching options for next season.
For those looking for more on the Rangers 2021 season, our good friends at "The Blueshirt Underground Show" returned on Monday night, where the hosts "sat shiva" and broke down the entire season. To watch their informative two hour episode, an episode which even featured the "great" Cutter going all Weird Al during a song parody, click the play button below:
If you haven't already, subscribe to this blog for the next update:
---
I feel that the Rangers news won't stop, until the two drafts are completed! Never a slow news day!
Stay FABULOUS my friends.
Until then, and as always here, thanks for reading and…
LET'S GO RANGERS!
Sean McCaffrey
BULLSMC@aol.com
@NYCTHEMIC on Tweeter