Greetings and salutations everyone and welcome to another blog here on BlueCollarBlueShirts.com. For better or for worse, the David Quinn Era is now over and somewhat officially, so is this rebuild.
While you can rightfully argue that the rebuild was officially kaput a week ago, when James Dolan fired both Jeff Gorton and John Davidson; prior to Wednesday morning, David Quinn was still the last thread of the rebuild. On Wednesday morning, Chris Drury attended to that last and loose thread of the rebuild, with his firing of DQ. Yes, the Rangers still have young talent as a result of the rebuild, but the expectations have now changed. Come next season, someone new, or perhaps someone "old", as I'll soon get into, will be behind the Rangers bench. Whether that person has "SWAGGER" or not is yet to be determined.
If there's anything that bothers me about the DQ firing and just the current Rangers hierarchy in general; it's the fact that somehow and someway, Glen Sather is still collecting paychecks from the organization. It's why today's bad photoshop features Sather as DQ's executioner, rather than Drury as the man laying the blade across the neck of DQ. While the picture is made to get a laugh and/or a rise out of you, the truth of the matter is that it was Chris Drury making the call here, even if he did run his decision by Glen Sather first.
As talked about last week and during my last blog here, I wanted to wait to dissect David Quinn and the Rangers head coach position until a decision was made. In addition, as predicted on this site once the Gorton and JD firings happened, I figured Wednesday, May 12th, would be D-Day for DQ. And that's what we saw on Wednesday morning, as Drury wasn't going to let this decision drag on for weeks on end.
While I didn't know for sure what was going to happen, I just figured we'd hear something on Wednesday. And really, and as I'll soon get into, DQ did deserve one more year, (at least in my opinion) but you can't second-guess Chris Drury with this decision either. M$G is now Chris Drury's mansion, and he gets to decide how to staff it – his friendship with DQ be damned. As they say, "it's not personal, it's business." Like many things that took place during the DQ era, his fate here was out of his own control.
There's so much to get into tonight, as we look at everything DQ, what happened, what's next, his tenure and everything else related to the head coach position. However, before getting into this blog full of "SWAGGER", a quick plug for my last tome on this site, which covered the player exit interviews and included the "2021 Final Season Report Card". You can read that manifesto by clicking the link below:
---
Like any high-profile story, let's start at the top.
On Wednesday, and at around 11:30AM, the Rangers tweeted out the following:
A few moments later, the Rangers ran the following press release on their website:
https://www.nhl.com/rangers/news/rangers-announce-changes-to-coaching-staff/c-324617982?icmp=int_web_nyr_dl
New York Rangers President and General Manager Chris Drury announced today that Rangers Head Coach David Quinn, and Assistant Coaches David Oliver, Jacques Martin, and Greg Brown, have been relieved of their coaching duties.

"I would like to thank David Quinn, David Oliver, Jacques Martin, and Greg Brown for all of their efforts and dedication to the Rangers," Drury said. "I wish each of them the best in their future endeavors. We will begin our search for a new head coach immediately."

Quinn served as Rangers Head Coach for three seasons (2018-19 – 2020-21) after being named the 35th Head Coach in franchise history on May 23, 2018. During Quinn's three seasons with the Blueshirts, the team posted a 96-87-25 record in 208 games.

Oliver and Brown each served as Assistant Coach with the Rangers for three seasons (2018-19 – 2020-21) after joining the coaching staff on July 17, 2018. Martin served as Assistant Coach for the 2020-21 season after joining the coaching staff on August 31, 2020.
---
There's a lot to unpack here, where I'm sure that by now, you all have your own opinions on this. As someone who is very opinionated about this team, hence this site's existence in the first place, the topic of DQ as head coach of the Rangers is a topic that I've been on the fence on for some time. I see why the "FIRE DQ" crew existed. I see why people praised DQ. I see why people thought the Rangers should move on, but I also see why people thought DQ should stay. That all said, this was Drury's decision to make and I 100% understand and support it.
Before doing all the pros and cons about this move/firing, let's get the easy stuff out the way first, the shrapnel if you will, and that's the fact that DQ's coaching staff was fired on Wednesday as well.
When it comes to David Oliver and Greg Brown, their firings should surprise no one. These were DQ's hires and they've been with DQ for sometime now. If DQ was coming back, then they would've came back. Now that DQ is gone, so are they. No shock here.
The firing of Jacques Martin is moderately surprising, just because he did help turn the Rangers defense around. While of course, a new head coach should be able to select their own staff, I'm surprised that the Rangers didn't keep Martin around, if not only for the next head coach to decide if he wants to keep Martin around or not. Instead, this firing is a "mercy kill", as Martin is now fired at the start of this off-season. If Martin doesn't just want to collect checks from the Rangers, Martin should very easily be able to find a job elsewhere in the league. In fact, I expect Martin to land elsewhere, before DQ or his long-term assistants do.
To be clear here, I'm not saying that the Rangers should've retained Martin for next season. All I'm saying is that because Martin did a good job this year, whoever the next head coach of this team may have seen value in a Martin return. That's all.
It should also be stated here, that the Rangers goaltender's coach, in Benoit Allaire, will be back next season, as he basically has his job for life. We all know the value in Benoit Allaire and what he brings to the table. I'm sure whoever the next head coach of this team will be, like Drury himself, will also want Allaire back too. While I don't think Benoit Allaire's job is an issue, I'm of the assumption that whoever the Rangers hire to replace DQ, that person will have to be a fan of Allaire's as well. In other words, I don't see the Rangers hiring a head coach, only for the team to replace Allaire later on down the line. Allaire is safe.
---
As I now get into this decision, I have to say this – isn't it amazing Suzyn, that just eight days ago, we were tunnel-visioned on the Tom Wilson story? Now eight days later, JD is gone, Gorton is gone and everyone on this Rangers coaching staff, sans Allaire, is gone too. Of course, the person who should've been gone a long time ago, in Glen Sather, is still here. Dolan's infatuation with Glen Sather will always be baffling to me.
It should also be mentioned, reiterated and restated, that those three end of the season losses to the Islanders changed the Rangers trajectory and their fate. Had the Rangers won one of those games or at least shown life in any of those losses, it's very likely that JD, Gorton and DQ would still be here. Instead, and as talked about to death on this site already, the Rangers lost all three of those games, and by a cumulative score of 13-1. It were these losses that put James Dolan over the edge, and as talked about before – I don't blame him.
Even more amazing Suyzn? When you look at the two craziest seasons in all of Rangers history, even if they were both different and in their own way, in the 1975-1976 season and this 2021 season; losses to the Islanders were the catalyst for all of the changes and craziness in Rangerstown, USA during these points in time. (JP Parise's overtime goal in the 1975 playoffs, which led to the end of the Emile Francis Era and the three Islander losses from this season, which led to the end of what I'm now dubbing as "The Rebuild Era".)
If that doesn't amaze you enough Suzyn, (and by now, I hope you understand all these Suzyn references is my ode to Yankees announcer John Sterling) how about what DQ said, during what is now his final zoom call as head coach of the Rangers:
#NYR David Quinn on if he needs a break: "Do I ever."

— Mollie Walker (@MollieeWalkerr) May 8, 2021
If DQ is a glass-half full person, well now he has his break! Even better, it's a two-year paid vacation for him, should he choose to take the next two seasons off from coaching.
---
As I've said all season, as I said earlier on this blog and as I'm saying again – I have been 50-50 on DQ during his entire tenure, and that goes all the way back to May 23rd, 2018, when the Rangers first hired him. And as mentioned on previous blogs, I hated the firings of both John Tortorella and Alain Vigneault. Now, with DQ joining Torts and AV, with the title of "ex-Rangers head coach" next to his name, I am still 50-50 on him, rather than being either pissed or happy about it. In a word, I'm "indifferent" on all of this.
Ironically, and as I'll get into later; while I didn't like the firing of AV, once it was done, do you remember who I was campaigning for at the time? I'll tell you – Patrick Roy. Less than three years later, it's being reported, that due to his friendship with Chris Drury, the former Jack Adams' winner in Patrick Roy, is now being considered for the job. Whether or not that happens is a different story, but it should be said, that just like how the 1990's Rangers loved their 1980's Edmonton Oilers, where Dolan still has a boner for Sather today; in the 2000's, the Rangers also love their 1990's Colorado Avalanche. Hello Chris Drury!
When a new Team President and General Manager joins a team, it's expected that changes will be made, especially with the head coaching staff. Whether Dolan was telling the truth or not, regarding giving Drury full control over the Rangers coaching staff – well that is another story. Perhaps Drury was sincere when he said he wanted to hear from the players during their exit interviews. Then again, maybe Dolan hired Drury with the condition that Drury would be the one to can DQ, no matter how much the players praised DQ. Who knows? All we know for sure is that DQ is gone.
After the craziness from last week, once JD and Gorton were fired, it really made no sense to keep DQ too. The Rangers very easily could've fired DQ at the same time, and had either Jacques Martin or Kris Knoblauch coach the last three games of the season. Maybe Drury, who is friends with DQ, wanted to let DQ finish out the string. Maybe Drury wanted to see how the Rangers would react to the firings of JD and Gorton. However, and perhaps even more likely, maybe Drury was just so overwhelmed with all of the news from last week, that he just needed to take a deep breath and then fire DQ after the three meaningless games. After all, it didn't matter who was behind the bench in those last three games, especially when the Rangers were the walking wounded.
When it comes to this decision to fire DQ, I'm fine with it. It's probably the right one and at the very least, you can't argue with Drury for wanting to find his own head coach. That said, there's nothing you can tell me that will make me think that DQ didn't get the short end of the stick here, as I'll now explain.
When you dive through Rangers history, there was never one coach that had to go through what DQ did. And I'm not talking about the pandemic here either.
For over ninety years of franchise history, the Rangers always had one goal – win the Stanley Cup. It didn't matter how bad they were, how much money they spent, how the circus kicked them out of their own building during playoff time or what – the goal was to always win the Cup, even if they were sometimes behind the eight-ball. And yes – I'm fully aware that goals and reality are two different things!
"The Letter" from February 2018 changed all that. For the first time ever, the Rangers, the biggest market in the NHL and the most profitable team in the league to boot, were going to tear down the empire. The Rangers were going to adopt a small market mentality and rebuild. Enter David Quinn.
When DQ replaced AV, DQ was the first coach, in all of Rangers history, tasked to develop players and where winning the Stanley Cup wasn't the primary goal. In fact, not making the playoffs would help the team, as over time, by missing the playoffs twice, the Rangers landed the #2 overall pick of the 2019 NHL Draft and the #1 overall pick of the 2020 NHL Draft.
While no one signs up to lose, DQ, because of his college background, was hired to groom young boys rather than lead an army of men. In essence, DQ was the chairman of the finger-painting and juice box committee, while Ranger coaches before him, like John Tortorella, Mike Keenan and others, were grizzled war veterans, with all of them having badges sewn onto their custom-made suits as well.
---
DQ was never put into a position to win, nor was he given the best tools. Rather than using power saws and log splitters, DQ was given a Fisher Price shovel and pail. Yes, coaching the Rangers, an Original Six team, was a great thing for DQ, but he was never set up to succeed, nor was winning ever the priority. Prior to DQ, that was never the aim. Now with him gone, the Rangers have tossed that aim into the trash.
In DQ's first year with the Rangers, despite being asked to make chicken salad out of chicken shit, he had the team flirting with the playoffs. However, come the trade deadline, Gorton stripped him of Kevin Hayes and Mats Zuccarello. And yes, I could make a Lundqvist broken heart joke here, but I'll behave myself. That said, and seriously speaking here, Lundqvist was never the same player after that, as he lost his little sidekick. For a rookie coach, he lost a great player in Zuccarello and had to deal with an emotional star player.
With two of his top six forwards gone, DQ's Rangers limped to the finish line. However, come the draft lottery, and after a Kevin Shattenkirk buy-out, a Kevin Shattenkirk who was DQ's buddy, the Rangers would eventually land Kaapo Kakko during the 2019 NHL Draft.
As the Rangers entered the 2019-2020 season, DQ, through no fault of his own, would have two Swedish messes on his hands. One was Lias Andersson, the textbook definition of the word "BUST". The other was Henrik Lundqvist, who didn't fit this rebuild at all and because of the two younger goalies that were outplaying him, in Alexandar Georgiev and later Igor Shestyorkin. Lundqvist would eventually be relegated to third string status.
Moving on from Lias Andersson was easy. Trying to handle a dicey situation with one of the biggest fan favorites in all of franchise history was not. If you recall, and as Lundqvist was riding the pine more and more, it would be DQ who would have to deal with the media questions. Not Gorton. Not JD. Not only was DQ trying to keep his preschool roster in order, at the other spectrum, DQ also had to deal with Old Man Lundqvist. For a college coach with no previous NHL coaching experience, this was a lot to throw at DQ.
While DQ was dealing with his struggling Kaapo Kakko and others; DQ struck oil not only with the Artemi Panarin signing, but with Mika Zibanejad having the best season of his life. This Rangers 1-2 punch were the most productive pair in the league once the calendar flipped, with Mika being the league's top goal scorer from January through March. Then the pandemic happened.
If you're a regular reader of these blogs, I don't have to sell you on my knowledge of Rangers history. If you're new here, take me at my word when I say this – outside of Frank Boucher dealing with World War II and the aftermath of that War, no Rangers coach had to deal with an event like this. You can bring up 9/11/01 here if want, but even then, that was a singular event, and didn't last for years, like World War II or like this pandemic currently is.
(Please, don't twist my words around. I am not downplaying 9/11/01 all. I'm just saying that for as bad as 9/11/01 was, Americans and New Yorkers quickly rebounded. While 9/11/01 was an international incident, it didn't effect the entire world like World War II and this pandemic did. I hope I'm wording this right, because while I like to joke and have my fun on this site, I am not joking or trying to sweep 9/11 under the rug at all.)
Without question, the pandemic stunted and cooled off the Rangers. Whether or not the Rangers would've qualified for the playoffs, had the pandemic not happened, can be debated. What can't be debated was that in August, when the league reconvened and held their playoffs, the Rangers were the worst of the 24 teams in the bubble. The great vibes and emotions from the season were now flushed down the toilet after their series sweep to Carolina. However, this sweep wound up not being the end of the world, because it led to this:
As the pandemic continued, DQ remained behind the bench for the 2021 season. For a coach that was brought here to groom and develop talent, now in his third season as head coach, DQ didn't have a preseason and would have his practice time drastically slashed. Instead of working with kids one-on-one at practice, many of the baby-faced Rangers would have to learn, trial by fire style.
If you break it all down, DQ's first year saw him tasked to start from the bottom and work his way up. DQ's next two seasons were shortened by the pandemic. There's just no way you can say that DQ had a fair shake here, even if you agree that he had to be fired.
Maybe I sound like a "FILTHY DQ APOLOGIST", as one person on Twitter accused me of. While I find that funny, I also am looking for the truth here, and the truth is that we never got to see DQ coach a true NHL roster for a full NHL season. Who knows how DQ would've done in Year Four, had he been retained? Had DQ remained, this upcoming 2021-2022 season would've been his first season where winning was the goal and where he would have a team built to compete. For DQ, like many things for the Rangers this season, it's another "what if?"
It's also a "what if" that Drury wasn't going to gamble on. After all, had the Rangers came out flat under DQ next season, Drury would've been under the microscope for not making the move that he made on Wednesday.
As described here, I would've had no problem with DQ coming back. I see every reason why he deserved to be back. Conversely, I see every reason for the Rangers to move on, where really, Drury had to do what he did.
---
During his tenure with the Rangers, DQ often spoke about wanting to adopt a "north-south" game, rather than a fancy pass "east-west" game. That message was never received by his players. At his position, it would've been tough for DQ to punish players, as if he was a seasoned veteran NHL coach, like a John Tortorella. I mean really, what was DQ supposed to do? Bench Panarin? Bench Mika?
On a side-note, while this firing may have been coming anyway, it had to hurt DQ when Alexis Lafreniere was the only player speaking positive of DQ during the player exit interviews with the media. Collectively, Mika, Kreider and Strome, all went out of their way to not answer questions about DQ this past Monday. You have to wonder what these players said to Drury on Monday too, a Drury who saw all of this up close and personal, when he was behind the Rangers bench during DQ's bout with COVID-19.
Another side-note? I don't buy the stuff about the Rangers playing better under Knoblauch than they did for DQ. I think the Rangers caught the Flyers at the right time, and prior to the Tom Wilson garbage, the Rangers had a favorable recent history with the Capitals. Just my two cents.
I know many of the criticisms which are out there about DQ and it's tough to argue against them. Without question, this team DID have too many slow starts. This team was horrible in one-goal games. Is that all on the coach? I think some of it is, but at the same time, if a head coach needs to tell you to wake up against a rival that you've already seen 5-6 times before, then what are you even doing here?
Maybe there was a disconnect between the team and DQ. Maybe that's why DQ didn't feel confident in naming a team captain, rather than just relying on veterans, veterans who may have back-stabbed him to Drury for all we know. And while this does go on in other places around the league, it always felt that DQ was the face of this team and the go-to guy. In addition, it also felt like DQ cared about winning and losing the most, where maybe that's part of the disconnect too.
However, when I look at this season, and with all of the drama that went down, outside of the Tony DeAngelo stuff, what was DQ's fault? Certainly not the Panarin incident. Certainly not the injuries to his top guys. Certainly not Mika's issues with COVID. Certainly not the Tom Wilson stuff. And it wasn't DQ who picked the players for his team – that was Gorton and JD.
It's funny, as I write and proof-read these words, I guess I wasn't 50-50 on DQ after all. While I don't mind the firing, I guess I thought he deserved a chance. Of course, new management means new coaches and that's what's taking place here. You can't fault Drury here at all.
One theme I repeated throughout this season, when trying understand the "FIRE DQ" lynch mob was this – if DQ was fired tomorrow, would any team in the NHL pick him up? I didn't think so then and I don't think so now. I also believe that DQ never really was in an ideal position to reach his maximum potential either. As far as what's next for him, who knows? If he wants to become a head coach in the NHL again, I'd suspect that he'll need to go back to the college level or spend more time as an NHL assistant, more time than he once did in Colorado. (See, it all goes back to the Avalanche!)
If there's anything I didn't like, it were fans celebrating this firing, as if they were greeting soldiers returning home. Many fans lost their jobs during this pandemic, and while I get that sports are an escape, it does seem crazy to be doing cartwheels and backflips over this news. And let's face it, whoever the Rangers hire to become the next coach, half of these fans will still be bitching and saying how the Rangers hired the wrong guy. Sometimes, like the Rangers themselves, you can never win.
Whatever the event, DQ is now done and his record with the Rangers finishes up at 96-87-25, where really, that is pretty decent, considering all the conditions DQ had to endure here.
Up next for the Rangers, finding their next head coach, a decision I see being made by the end of this month. As far as who to hire, it's anyone's guess. At this time, let's take a quick look at the candidates.
---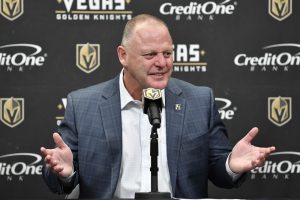 When it comes to the NYR beat reporters, Larry Brooks is number one and whoever is second is about 78678669766 steps below him on the ladder. Whether it's the return of Glen Sather or what, recently, Larry Brooks has been killing it on the New York Post, where Brooks has made all of his peers look like inferior Tweeters. Brooks has had all the exclusive news and interviews throughout these past two weeks. Brooks has been so on the money lately with his reporting, that you now have his competition copying and pasting quotes from his stories. That's how dominant Brooks has been lately.
I say all of this, because according to Larry Brooks, Gerard Gallant is the favorite to succeed DQ right now. While there are other names to consider, I would be hard-pressed to attempt a denial of any news report coming from Brooks at the present moment.
As far as who else rather than Gallant, and I think this is more of fan thing than anything else, you keep hearing the names of John Tortorella and Mark Messier. I think you can completely rule out Messier, because once again, if you read the stuff that Brooks is writing, the Rangers want a veteran head coach. With many Jack Adams' winners available, it's hard to see the Rangers going with a head coach that has no head coaching experience.
While on the topic of potential rookie head coaches being ruled out, I think the same applies to Kris Knoblauch. While Knoblauch does deserve an interview, it would be DQ 2.0, in regards to hiring a coach without an NHL track record.
Personally, I'd like to see Tortorella, just for the drama, the stories and the feud with Brooks. Torts usually comes in hot and he did great work with Columbus. (Check the archives of this site – I wrote three weeks ago in-depth about why I think Torts would work.) I know how Columbus did this year, but as mentioned three weeks ago – Columbus is the Winnipeg of America, and no one wants to play there. Torts won't have that problem in New York.
For some reason, Bruce Boudreau's name keeps coming up. I don't see how that would be a fit at all, and I'm ruling this out completely. Yes he has the experience, but come on, no way here.
Similar to Boudreau, other veteran coaches such as Mike Babcock, Rick Tocchet and Claude Julien have popped up, where really, I think these names have popped up just because they are available. I think Babcock, unfortunately because of this cancel culture society, is out. I don't see why anyone would want Tocchet, as that would feel like a retread/hitting up the old boys club. Julien, while good, scares me, if only because there has to be a reason why he was fired twice and in such a short time. That same thinking applies to Gallant, as I still don't understand why Vegas fired him. However, I think Gallant has done more recently, and with less, than what Julien recently did.
While I'm on Team Torts, even though I know it won't happen, I think chasing Gallant are Bob Hartley and yes, Patrick Roy. Both Hartley and Roy have Colorado connections with Drury, and both have won the Jack Adams' too.
From what we know, Drury wants a veteran coach. That would help Hartley's case. If Drury doesn't want to hit the coaching carousel, and wants to do something different, Roy could be that guy as well.
Outside of Boudreau and Messier, I wouldn't rule out anyone, that is – except for any college coach without NHL experience.
All we can do is wait and see what Drury does. Either way, I'll support whoever he hires, as long as it's not Bryan Trottier.
In other Ranger news, on Tuesday 5/11, Jeff Gorton released a statement.
---
As you'd expect, this statement was pretty much fluff and not much was said. Like JD, Gorton is a professional and he wasn't going to say anything controversial or explain what happened behind closed doors. Like DQ and JD, the best of luck to Gorton moving forward.
For readers looking for more news, opinions and takes on the David Quinn firing, on Wednesday night, our buddies at "The Blueshirt Underground Show" returned, with a special episode. I also must tip my hat to Joe C., who admittedly, blows my photo distortion skills out of the water!
To watch the show, visit:
If you haven't already, subscribe to this blog for the next update:
---
I hope all of this didn't come off as disjointed tonight. As I write these words, I'm sick, but not with corona. I got a three year old's flu, as my nieces coughed in my face a few days ago and now I'm typing this up in bed, and like them, may start watching "PJ Mask" and "Pete The Cat" episodes while drifting off to sleep!
Stay FABULOUS my friends.
Until then, and as always here, thanks for reading and…
LET'S GO RANGERS!
Sean McCaffrey
BULLSMC@aol.com
@NYCTHEMIC on Tweeter