Greetings and salutations everyone and welcome to another blog here on BlueCollarBlueShirts.com. In a rarity for the Rangers here in 2021, things have somewhat calmed down a bit. That being said, it's only a matter of time before the Rangers news kicks up again.
When you look at the current state of Rangerstown, USA right now, the lingering smoke still remains, but the fires are starting to peter out. As a result of all of the bombshells from over the last two weeks, "The Rebuild Era" is complete and "The Reconstruction Era" is now upon us. While obviously this isn't America in 1865, nor am I trying to compare the 2021 New York Rangers to the Civil War, what is known is this – whatever the Rangers do, and specifically, whatever Chris Drury does next, these decisions will shape up the future of this team and for many years to come. In fact, with Drury firing David Quinn, fair or unfair, Drury has already fired off the first shot from his "Union Blueshirt" musket.
Tonight's blog, which ironically, I'm starting late into the night on the date of May 17th, 2021 – you know, the date that should've been the two-year anniversary of John Davidson's tenure as team president of the New York Rangers; will be my final blog, in regards to recapping the 2021 New York Rangers. I'm aware that by now, you already know all about the trials and tribulations from this season. That being said, here tonight, I really wanted to take a deep dive at all of the many "WHAT IF" questions from this season, "WHAT IF" questions that I alluded to all season long on this site. In short here, I want to give one final eulogy on the 2021 New York Rangers, throw the final piece of dirt on the coffin and then go forward with my life!
In this manifesto, not only will we review the 2021 season, but we'll also take a look ahead at this current off-season as well. New Rangers General Manager and Team President, in Chris Drury, will most likely have many sleepless summer nights from Memorial Day to Labor Day, as Drury tries to figure out the correct course of action with the Rangers. His job and livelihood is dependent on doing so. One bad move and like his predecessors; Drury will then feel the wrath of Big Shot Jimmy D.
As you may know, general managers are always criticized, despite no general manager ever batting 1.000. The irony about Chris Drury in his new role, is that the team is looking for veteran leadership, both on and behind the bench. In turn, it will be the rookie general manager, in Chris Drury, looking for these veterans. Isn't that amazing Suzyn?
And as usual here, before getting into the meat and potatoes of tonight's blog – the PLUGS segment.
I'm sharing my last three blogs with you below, because these three blogs covered my previous thoughts on the 2021 New York Rangers and I don't want to go into repeat mode tonight:
---
---
---
Before juking and jiving here, I have to say this – the two playoff games between the Capitals and the Bruins and the three playoff games from Sunday (Islanders/Penguins, Golden Knights/Wild and Panthers/Lightning) were absolutely incredible. No joke, all of these games were games that you'd show a casual fan, or to someone who isn't into hockey, in an attempt to get them into hockey. I really enjoyed every single one of these games, outside of the fact that the Islanders won their game! That out of the way, a Cam Talbot 40+ save shutout? Even better! King!
When watching all of these playoff games, all I could think to my deranged self, was that the Rangers are kind of fortunate that they didn't make the playoffs this season. This statement coming out of the mouth from a self-professed die-hard Rangers fan – well yes, that does sound like sacrilege and like pure blasphemy. After all, I had the red, white and blue Ranger pom-poms out all season, in my quest to see the Rangers make the playoffs!
However, the fact of the matter here is – had the Rangers made the playoffs, they would've been exposed more so than they were last year, during the bubble series with Carolina, and as they were exposed in the team's final three games with the Islanders, from this 2021 season. Yes, the playoffs are a new slate, but had the Rangers qualified, I imagine their brand of hockey would've been equivalent to nails on a chalk board, and that the Rangers would've been erased in four games as well.
If you watched any of these playoff games, then you know that hitting, physicality, aggressiveness, north-south play, and top stars showing up were on full display. These are all areas where the Rangers were lacking in during this 2021 season. Yes, part of that was due to design, but at the same time, that's part of the reason why Jeff Gorton, John Davidson and David Quinn aren't here anymore either. Again, whether that's fair or not, that's up to you, but at the end of the day, James Dolan had lost his patience.
Quite frankly, like it or not, and many do not like this – James Dolan has the final say over this team. And after Dolan's recent decisions, he will either get a ton of credit or a ton of derision, during the course of the upcoming season.
---
As talked about all season on this site, especially when recapping the Ron Duguay "Up in the Blue Seats" podcast, where Duguay was preaching this from day one – the Rangers had no grit, toughness, or guys who got mad about losing, especially after when the team exiled Tony DeAngelo and then traded Brendan Lemieux away. The topic of physicality, among many in the NYR media, only became a thing after the losses to the Islanders. Even Duguay's co-host, in New York Post reporter Mollie Walker, didn't notice this, despite Duguay pontificating on this repeatedly, until it was too late.
Just go read any game recap that I wrote from this season, and check the M$GN pregame show reviews. All season long, Steve Vagistat would ramble on and on about silly made-up stats, expected charts, and all of this other foo-foo nonsense – complete junk which had nothing to do with the game being played on the ice.
Even worse, whenever Vagistat wasn't finger-blasting himself to his arts and crafts projects, Vagistat would then talk about his legendary 46 game career. However, after the losses to the Islanders, Vally gave us a break from his spreadsheets and phallus shaped objects, pulled his head out of his freshly "My Shiney Hiney" bleached five-hole, and then talked about the Rangers from an "eye-test" perspective. Even the seven foot walking heat map had to admit what his former colleague and what yours truly were saying all season – the Rangers weren't tough and were a one ingredient stew. There was just no roster diversity to this team, and at the end of the day, that cost Gorton and JD their jobs.
Now, with the season over and with all of the firings to boot; everywhere you go, everyone is saying what Duguay said and what I said all season long. The toughness issue must be addressed. Just go watch any of these playoff games, and you'll see thunderous hits all over the place. You'll see players throw down anytime, and against any opposing player that even comes close to a team's goaltender. You'll also see players drive to the net and shoot the puck, rather than making 76786786868687687 cross-ice passes a game that go nowhere. And if a net is vacated, the opposing team is scoring on it, rather than shooting high and wide.
And unlike the Rangers fat cats, in Mika Zibanejad, Artemi Panarin, Jacob Trouba, Ryan Strome and Chris Kreider – the top stars in these playoff games are showing up for their teams in these big games which count.
For all of the talk about the Rangers lack of "grit" or whatever adjective you want to use here; one can not forget how the Ranger fat cats usually saved their fancy feast dining against bad teams, but wouldn't even look at their food bowl against the top teams. Whether it was Mika going ghost against good teams, Kreider's never-ending cold streaks, Strome only scoring four goals in the last 28 games of the season, Trouba doing his best to pay tribute to Scott Norwood all season or Panarin not logging one shot on goal in four separate games against the Islanders – the bottom line is the fat cats were disappointing. There's no way around it.
---
In wrapping up on what I've seen so far from the playoffs, yeah, the Rangers would've been embarrassed. Of the four East division teams, perhaps the Rangers could've got away with playing patty cake with the Penguins, but as was the case during the regular season, the Penguins would've ultimately knocked off the Rangers.
When you at the three other teams, in the Caps, Isles and B's, these three teams would've ate the Rangers alive. These three teams would've created havoc for Rangers trainer Jim Ramsay as well. Truth be told, had the Rangers snuck into the playoffs, I wouldn't have been surprised to see them get swept, and lose by a cumulative score of 22-3, where giving the Rangers three goals could be considered as me being generous.
While we know that Dolan is aware, if there's any HOT TAKE coming out of these early playoff games, it's this – Chris Drury better be aware of what a playoff team looks like. That being said, you guys all know that I love history. As the old adage goes, "those who don't know history are destined to repeat it." Before looking into the future, which is the 2021-2022 season, let's now look at history, as this 2021 New York Rangers season is now history.
---
Like any season, you have to look at what happened in the off-season prior, when looking at the end result of said season.
As you all know by now, prior to the pandemic, the 2019-2020 New York Rangers were one of the hottest teams in all of the NHL, with the Mika Zibanejad and Artemi Panarin 1-2 punch being the fiercest combination in hockey. Then the pandemic happened and you know the rest – the Rangers returned to play in the bubble, where the Rangers lost every single game. It should also be mentioned, that outside of being swept by Carolina, the Rangers also dropped an exhibition game to the Islanders too. In turn, the Rangers finished 0-4 during their limited summer games. An impressive second half of a season concluded with all of the excitement of a mouse fart in church.
With JD and Jeff Gorton running the show, and now with the benefit of hindsight, we can say that this duo failed a bit when constructing a playoff competing roster. Of course, while the playoffs were never preached as the end all, be all, it seems that no one told James Dolan that. It's hard to bury JD and Gorton for staying the course, but obviously, there was a difference of opinion here between Dolan and his front office.
That said, and in defense of Dolan here, when you're shelling out all these huge deals to Jacob Trouba, Artemi Panarin, Chris Kreider and Mika Zibanejad – making the playoffs should be expected, especially when you consider the fact that more than 50% of the league's teams qualify for the playoffs.
Conversely, in defense of JD and Gorton, no one predicted a pandemic either, a pandemic that would then go on to flatten the salary cap. And as noted on past blogs, it's not like the Rangers knew they were going to win the draft lottery either, when they won the Lafreniere sweepstakes. If the Rangers had known that, it's very likely they wouldn't have re-signed Chris Kreider, or at the very least, give him the deal that they did.
---
I already recapped the entire Jeff Gorton era, where I looked at every trade, move and signing. You can read that blog here: https://bluecollarblueshirts.com/4621/
With the pandemic in full swing, and with news of the cap staying flat for the next several seasons; during the off-season, Gorton traded Marc Staal, opted not to re-sign Jesper Fast and bought out Henrik Lundqvist. At the time, while the Staal trade was a good one from a salary cap perspective – the Rangers lost a real leader. As I said when the trade first happened, I thought that Tony DeAngelo would be the most effected. Who knew how right I would be? (In addition, after the trade, Tony DeAngelo said as much during his "Watch Your Tone" podcast.)
When it comes to Jesper Fast, I didn't think moving on from him was a big deal at the time, nor do I think it effected the Rangers at all in 2021, as I write these words today.
As far as the Lundqvist buy-out goes, just check out the archives of this site, as I don't want to go through all of my "Greatest Hits" here. At the end of the day, the Rangers should've traded Lundqvist after the 2014-2015 season, and like I said at the time. Lundqvist's value, during this gross seven year contract, was never higher than at that moment.
It should also be mentioned, that when the Rangers released "The Letter", the Rangers were fine with Lundqvist hanging around, even if that meant stunting the rebuild. The Rangers had no problem moving anyone and everyone else. Even the most diehard "Cult of Lundqvist" member, must admit that keeping Igor on the sidelines and in Hartford, as the Rangers would later do, made no sense for a team rebuilding.
Push comes to shove, this can't be denied – rather than getting anything back for Lundqvist, the Rangers just added $5.5M of dead cap space to their books during the 2021 season, while Dolan shelled out $8.5M in real money for Lundqvist to go to Washington. And as mentioned on previous blogs – the Rangers led the league in dead cap space money this season, and that doesn't even include paying DeAngelo to sit after only playing in six games this season. Both the Lundqvist and DeAngelo contracts were botched by Rangers management, and in both cases, Rangers management handled these assets poorly. (Like Lundqvist, it seems like DeAngelo is heading for a buy-out too.)
Yes, the pandemic and the salary cap effected what JD and Gorton could do in the off-season. While Gorton was fortunate that Carolina took Skjei's contract off of his hands during the 2020 trade deadline, and that Detroit took Staal's contract off of his hands too; it was Gorton's own mess that he was paying Lundqvist and Shattenkirk huge money not to play for the Rangers during the 2021 season. That's on Gorton and not on Dolan, JD, DQ or anyone else.
And yes, even though Sather was the one who gave Lundqvist that ridiculous contract, Gorton should've had the "come to Jesus" talk with Lundqvist in February of 2018, which was the month of "The Letter". Rather than letting Lundqvist make the decision to stay, like Ryan McDonagh, like Rick Nash, like Kevin Hayes, like Mats Zuccarello, like JT Miller and like everyone else – Gorton should've told Lundqvist to either waive the NMC or take a seat upstairs, thus forcing Lundqvist's hand.
---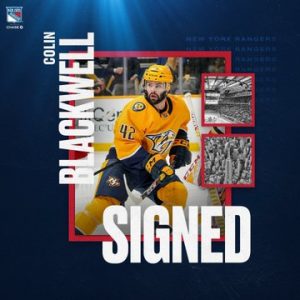 After the 2020 NHL Draft, which netted the Rangers Alexis Lafreniere, several days later; Gorton went on a free agent signing spree, where he basically only signed Americans, Americans who grew up in the tri-state area. It was obvious that with the uncertainty of the pandemic, Gorton wanted to sign local players who could attend the Rangers training facilities and optional practices.
These flurry of signings saw the Rangers land Colin Blackwell, Keith Kinkaid, Kevin Rooney, Anthony Bitetto, Anthony Greco, Johnny Brodzinksi and the much talked about Jack Johnson.
Again, depending on your own personal perspective, as opposed to looking at all of this through the eyes of Dolan or through the eyes of a rebuilding front office; I think that either way, these signings were more good than they were bad. Blackwell, Kinkaid and Rooney were solid for the Rangers all season. And as talked about to death on this site, the Jack Johnson signing was a low risk/high reward signing. That said, I always thought Johnson was signed as an insurance policy, and not as one of the team's top six defenseman. Of course, with the Rangers finish this season, one could argue that Johnson's over $1M in salary could've been used to add a sandpaper type.
To be clear here, not signed during all of these moves – a tough guy, a grit guy, or an enforcer. Perhaps Gorton once thought that DeAngelo and Lemieux would carry that load, in addition to Brendan Smith. Again with hindsight, this would seal the fate of this front office, where again, whether that was fair or not.
While you can talk about the decisions to move on from Staal, Fast and Lundqvist; to me, this is your first WHAT IF of the Rangers 2021 season – WHAT IF Gorton signed or traded for a tough guy last off-season?
And when it comes to DeAngelo and Lemieux, these two, along with Ryan Strome and Alexandar Georgiev, were the Rangers top four restricted free agents of the past off-season. All four would re-sign with the team, but as you know, DeAngelo and Lemieux's time with the Rangers would soon end.
---
Ready for WHAT IF number two? WHAT IF David Quinn wasn't a coach out of the college ranks? While I've been very complimentary of DQ on this site, and definitely more so than others, this fact can't be disputed – DQ never had tolerance for any player who spoke his mind.
I know I've talked about both the DeAngelo and Lemieux situations on this site to death, but these two players challenged DQ, and in turn, both would find themselves removed from the team. This leads to another WHAT IF – WHAT IF Jeff Gorton challenged DQ a bit? Instead of telling DQ to try to repair his relationship with Tony DeAngelo, you know, the fourth highest scoring defenseman from the season prior, Gorton allowed the situation to fester, boil and overflow the pot. In turn, Gorton made his ultimatum, where he said Tony DeAngelo would never be a Ranger again. This leads to two more WHAT IF's questions, our fourth and fifth WHAT IF's questions of this blog.
The fourth WHAT IF? WHAT IF Jeff Gorton didn't make this ultimatum? At the very least, Tony DeAngelo would've then been a tradeable asset. In a best case scenario, DeAngelo may have never left the team.
Our fifth WHAT IF? WHAT IF Alexandar Georgiev allowed Tony DeAngelo to play a puck against Pittsburgh, rather than playing the puck and turning it over himself? Surely, the fight then never happens. Maybe DeAngelo's temper would've hurt him later on in the season. That said, we can deduce that at the very least, that had this play not happened, DeAngelo would've played more than six games this season.
At the end of the day, the DeAngelo situation was massacred by both DQ and the front office. As mentioned all season, this could've all been avoided, as Gorton allowed his ego to get in the way during all of this.
And in our last WHAT IF regarding DeAngelo, WHAT IF DQ didn't act like a sissy over a slammed door in a 4-0 game/losing effort? DQ preached swagger, being physical, and playing angry all season, and when one of his players did so, DQ punished him for it. What kind of message did that send to everyone else? Maybe that's why the Rangers looked like Terry Schiavo on ice, during the final three games against the Islanders.
---
Our seventh WHAT IF question is a tough one – WHAT IF Mika didn't have COVID-19? This leads to a follow up WHAT IF – WHAT IF Mika took time off at the beginning of the season, rather than trying to play while not at 100%? Perhaps had Mika rested, his first half of the season wouldn't have been as useless as tits on a bull. (Although Vally may find some use on such said bull. Micheletti may find this bull to be FABULOUS as well!)
I've talked so much about Mika this season, including during the report card blog, that I won't rehash everything here. That being said, I'll hit the highlights here – Mika was terrible during the first half of the season, got lucky the Rangers played the Flyers on the Flyers worst night in their franchise history and then beat up the Flyers again. By the time the season was over, Mika was able to post respectable numbers, due to his second half dominance over the worst teams of the division, while doing absolutely nothing against the four playoff teams of the division. That my friends, is what you call a paper champion.
WHAT IF question number 9 – WHAT IF Mika could score on the power-play? WHAT IF question number 10 – WHAT IF Mika scored on one of his 78567896789689789687678689689 chances during one-goal games this season? After all, the Rangers, in nearly 25 one-goal games this season, only won five of them. Five of twenty-five. As in 20%. NOT GOOD.
This leads us to WHAT IF question number 10 – WHAT IF the Rangers had won even as little as 40% of these one-goal games? It's likely the Rangers, in a season full of four-point games in the standings, could've snuck into the playoffs, where yes, it also would've been very likely that the Rangers would've had their asses kicked in the playoffs too. That said, had the Rangers snuck into the playoffs, the front office hierarchy and DQ, would've most likely returned for the 2021-2022 season as well.
And speaking of low percentages, I won't get started on another one of my face-off rants, as the Rangers finished this season with an all-time historically low face-off win percentage, ever since the NHL first started to track said stats. SAD!
---
Ready for a slew of WHAT IF questions, and all related to Artemi Panarin? Here you go:
— WHAT IF Artemi Panarin recorded at least one SOG in the Rangers final three games with the Islanders?
— More notably, WHAT IF the "KGB" fake news allegations never occurred? And to add to this, WHAT IF Panarin's family didn't still live in Russia? Had Panarin's family been living in North America, it's very likely Panarin wouldn't have taken all the time off that he did, as he wouldn't have had to worry about how this situation was going to effect his family.
— How about this one? WHAT IF the Rangers, in both DeAngelo and Panarin, didn't make their opinions on politics known? While everyone is entitled to express themselves, without question, the DeAngelo stuff never happens. Additionally, Adam Herman, the little weasel who canceled himself, would've never had the chance to make up his report full of fiction and lies, which led to his own self-cancellation and JD burying him to the world. In Panarin's case, if Panarin didn't publicly lend support to Navalny, the Nazarov accusations, whether they were influenced by Putin or not, don't happen either.
And in our 15th WHAT IF question, WHAT IF Panarin was able to take over games like he did in the season prior? For all the talk and criticism about Mika and Kreider, one can not ignore Panarin not showing up in many big games this season either. No one is questioning Panarin's worth to this team, but he shouldn't get a free pass here, while Mika and Kreider, and to a lesser extent Trouba, take all the blame. Panarin was just as guilty as his fellow fat cats.
Speaking of Kreider, let's look at him now.
---
Let's rapid-fire the WHAT IF's with Kreider:
— WHAT IF Kreider wasn't streaky? Can you imagine how great a consistent Chris Kreider would be?
— WHAT IF Kreider was able to draw a penalty during the first 20 games of the season? Surely, it would help the Rangers power-play.
— WHAT IF Kreider didn't roam around aimlessly on many power-plays this season? While Kreider did collect a bunch of PPG's, (many against inferior teams) had Kreider always stayed in the goalie's paint during every Rangers power-play, maybe Kreider would've then racked up more points on the power-play.
The Rangers, who drew more power-plays than any other team season, finished 14th place in the league, in power-play success percentage, at 20.67%. Buffalo, who had far less power-plays than the Rangers, finished in 12th place, at 20.98%. That's telling. So yeah, here's another WHAT IF – WHAT IF the Rangers power-play finished top ten in the league? A few more PPG's could've been the difference between the playoffs and playing golf right now.
In our 20th WHAT IF question, WHAT IF Chris Kreider was given the "C" this season? With the team without a captain, Kreider, who many pegged as the leading candidate to wear the "C" this season, just gave the media many cliches all season long, where Kreider, like everyone else on the team, pretty much talked the talk, but very rarely walked the walk.
---
Switching gears here, WHAT IF the Rangers retained Lemieux, rather than trading him off? While the Tom Wilson incident may have still happened; surely, had Lemieux still been on the roster and dressed in the game, he would've picked a fight with Wilson.
Instead, without Lemieux, Ranger fans were forced to watch the Rangers take a beating, like a beach bully kicking sand in the face of some unsuspecting twerp. Right after Lemieux was traded, it felt like the Rangers became the softest team of the division. I'm of the belief that had DeAngelo and Lemieux been with the team during the Tom Wilson game, things would've played out differently.
In some more WHAT IF's, how about these:
— WHAT IF the Rangers didn't have a ton of games, where they came out flat and like shit? While the Rangers would fight back in some of these games, the result was the same – a loss.
— WHAT IF the schedule were different? Early into the season, the Rangers had to play Boston, Pittsburgh and Washington a lot. It wasn't until the mid-point of the season, where the Rangers would get the bulk of their games with the Devils, Sabres and Flyers.
When it comes to particular losses that were very bad, and I'm going to exclude the Islander losses here for now, WHAT IF the Rangers had won these three games:
— 2/16/21, which was a 5-2 loss to the returning-from-Covid New Jersey Devils. This to me, was absolutely the most embarrassing loss of the season. It was completely inexcusable and if DQ was fired after that game, I would've been fine with it.
— 3/7/21, a 5-1 loss to the Penguins & 3/9/21, a 4-2 loss to the Penguins.
At the time, the Rangers headed into Pittsburgh on their first three-game winning streak of the season, which like every win streak of the Rangers 2021 season, were the end product after wins over the Sabres, Flyers and/or Devils. Just as the Islanders would later do to the Rangers, the Penguins exposed and pummeled the Rangers during this two-game set. To me, and as talked about when these losses first took place – this was the turning point of the season. Had the Rangers won these two games with Pittsburgh, the Rangers would've had a playoff berth at the time, a playoff berth the Rangers often came close to sniffing, but could never attain.
In our 25th WHAT IF question, WHAT IF the Rangers showed up in ANY big game this season? Whether it was in "must-win" games against the Penguins, Islanders or Capitals, the Rangers always got rocked. This is why there was a FIRE DQ fan club all season. It's also why the top stars should be called out too.
---
In perhaps the biggest WHAT IF question of the season, WHAT IF the Rangers showed like they gave a damn in their games against the Islanders? The Rangers got "Pulp Fiction'd" in all three of their "MUST WIN" end of the season games against the Islanders. As a result of all of this losing, this led to the mass exodus of the front office and to one of the biggest Ranger off-seasons of this century. For a season that was unprecedented, due to the pandemic – the Rangers closed off the craziest season in all of franchise history, a franchise history that's nearly 100 years old, with a lot of concern and uncertainty. What lies ahead is anyone's guess.
I mean, the Islanders absolutely owned the Rangers this season. The first loss to the Islanders set the tone for what was to come. It was also in that game where the DeAngelo exile first started. By the end of the season, the Islanders knocked the Rangers out of the playoffs for good, forced Dolan to get rid of a fan favorite in John Davidson and in turn, ended "The Rebuild."
Want your 27th WHAT IF question of this blog? WHAT IF the Rangers waited until the end of the 2018 Stanley Cup Final to interview Barry Trotz, rather than concluding their head coach job hunt prior to the Conference Finals? Had the Rangers waited, perhaps they, and not the Islanders, would've landed Trotz and this would've set off a butterfly effect with many different things occurring. After all, had this happened, we would never have DQ using the word "SWAGGER", as much as Micheletti uses the word "FABULOUS".
---
I wanted to keep all of these "WHAT IF" questions to major story-lines. I guess you can mention Lafreniere's early struggles, but as talked about in the past, he had the toughest conditions of any number 1 overall draft pick, and in all of NHL history. And by the end of the season, he left you wanting more. To worry about Lafreniere – well that would be pointless, at least to me.
When it comes to the other young players, Miller hit a rookie wall. It happens. He hadn't been home in something like nine months. Based on his exit interview, he knows what he has to do next.
You could also talk about the goaltenders, but Igor was a rookie, and I never felt the goalies, outside of injuries, were ever a major issue this season. While you would've liked to see them carry the team to wins, when you get shut-out six times, (after not being shut-out once last season) it's tough to win games. In addition, when the Rangers became the walking wounded, and were forced to dress more rookies, the result of that was the goalies having their numbers beat up.
In our final three WHAT IF questions, which will bring us to a round number of 30, I present to you the following:
— WHAT IF the Rangers had a preseason and a normal season? With more practices, DQ wouldn't have been forced to test players, with the "trial by fire" method.
— WHAT IF Adam Fox wasn't Adam Fox? Without Fox, the Rangers may have fell to seventh place in the standings.
— Last but not least, WHAT IF James Dolan didn't have a severe and giant burning erection for Glen Sather? Dolan's love for Sather has ruined this franchise for over twenty years now and it still continues on to this very day. Someone needs to "Bobbitize" this raging hard-on for Sather.
---
When it comes to this off-season ahead, I've talked about some of the things that will be on Drury's check-list already. Check out the plugs section for more. That said, obviously, the first thing to do is find a new coach and then put together a roster that suits both Drury and whoever this new head coach will be.
After finding a head coach and trying to figure out who to trade and who to sign, the Rangers must also address the Seattle expansion draft. To me, the odds-on favorites to be selected by Seattle are Brett Howden and Keith Kinkaid. (Seattle can only choose one player from the Rangers, but these are the two that are neck-and-neck to be selected, at least in my blood-shot eyes!)
As talked about previously with Kinkaid, you could make the argument that you should expose Georgiev instead. In fact, I talked about this in-depth on April 8th, and you can read that blog here, a blog where I suggested that if Henrik Lundqvist was 100% and physically able, it would make sense for the Rangers to bring in Lundqvist as the back-up goaltender for the 2021-2022 season: https://bluecollarblueshirts.com/4821/
If you're a regular reader on this site, you know this already – if someone says something first, has a better joke, or whatever, I credit them, whether they be another blogger, a podcaster or a fan.
And when it comes to the news, I always credit the reporter who broke the news, rather than doing the Vince Mercogliano stuff, the stuff which I talked about last blog, whenever Vince tweets out, "I can now confirm", after Elliotte Friedman and/or Larry Brooks breaks a story. Like anyone needs Mercogliano's confirmation about the stuff that Friedman and Brooks is putting out there. Maybe Mercogliano should try to break a story himself once in a while. It wouldn't hurt!
I say all this, because during this past weekend, Larry Brooks, on the New York Post, pretty much re-wrote my "Georgiev Out? Why A Lundqvist Return Would Make Sense" blog. Instead of using Lundqvist, and really this surprises me, since Brooks is obsessed with Lundqvist, Brooks used the name of Pekka Rinne as a substitution. In any event, the European goaltender of choice doesn't matter here. The point is that Georgiev, especially now with the cap staying flat, is overpaid as a back-up goaltender. You can find a better option for less money, and as a bonus, if you can get someone who can provide some veteran leadership, that wouldn't hurt either.
As talked about during that April 8th blog, while Lundqvist was never a true team leader during his first go-around, and the mentor shit was just that – shit, as Lundqvist always wanted to be the starter/the man; now, and especially after his life-altering event, Lundqvist would be a great sounding board for Igor Shestyorkin. Of course, Lundqvist would have to be 100% healthy and cleared for this scenario to happen, which is why Brooks is suggesting Rinne here and begging for Drury to put Lundqvist in the front office.
In my eyes, and from what Lundqvist has previously said during his public interview with Kevin Weekes – Lundqvist wants to be back and he will do everything under his power to return to the ice. I kind of see this happening and despite what you may think, I'm all for it. (A six figure deal or a $1M deal for Lundqvist is 78678785567858585765685685685685 times better than a $8.5M deal for Lundqvist. In addition, this health scare puts a new perspective on things for Lundqvist, where unlike before, he would be happy to be a back-up goalie and help an up-and-coming star.)
And oh, since I was talking about the playoffs earlier – for all of you people who say that Lundqvist is a slam-dunk HOFer and the best goalie of his generation, can you please put that stuff to bed? It's Marc-Andre Fleury that's the slam-dunk HOFer and the best goalie of his generation. To suggest otherwise is homerism!
---
I talked about this last blog a bit, but of all the players the Rangers could go after during this off-season, to me, the apple of my eye would be Matt Tkachuk, from the struggling and perhaps soon-to-be rebuilding, Calgary Flames.
Without question, the Rangers need a top six guy who can change the make-up of this team and provide flavor for this roster stew. Trying to add marginal fourth line tough guys is a fool's errand. The Rangers need their own Tom Wilson. The Rangers need their own Brad Marchand. The Rangers need their own Islanders identity line. Loading up on fourth line guys, all making six figures – well that won't cut it. You have to pay here.
I know I brought this up before, but I have to say it again – you have to give up something to get something. The Rangers, when compared to food, are just one flavor. You can say they are all chocolate, all vanilla or all strawberry, but whatever flavor you use, the bottom line is that they are just one flavor. They aren't your local Dairy Queen, (yes, I used Dairy Queen because of their DQ initials here!) where you can sample many different flavors. The Rangers are just flavor, a flavor, where if you were to taste the Rangers, may taste like dog shit.
Simply put, the Rangers, and I think they will, have to make some kind of monumental trade this off-season. To me, I would look no further than Matt Tkachuk, a Matt Tkachuk that won't be pried away from Calgary with ease. You're not going to just give up draft picks and a Filip Chytil for him. Instead, I think the Rangers are going to have to give up someone major for him, and to me, that player would be Kaapo Kakko.
And to side-track a second here, if you're in the "THE RANGERS MUST TRADE FOR JACK EICHEL" camp, that means see ya Ryan Strome or see ya Mika Zibanejad; providing the Rangers can talk Mika into waiving his NMC, another one of these disastrous NMC deals that Gorton gave out, as if they were a fortune cookie after a Wu-Flu meal at a Chinese restaurant.
---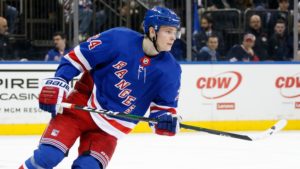 As I write these words, I know there are many people, whether it be bloggers, podcasters, fans or reporters, all doing the Eliot Ness "UNTOUCHABLES" stuff. I know this stuff comes off as rudimentary and obvious, but let me get it out there. The only untouchable Rangers are the following: Artemi Panarin, Alexis Lafreniere, Adam Fox, Ryan Lindgren, and Igor Shestyorkin. That's it. Anyone else is fair game, although due to these disgusting NMC's that are all over the place, it would take a miracle to unload players and contracts like Mika Zibanejad, Jacob Trouba and Chris Kreider.
We all know that the Rangers will be looking to add size and toughness this off-season. While Matt Tkachuk would be the player I'd zero in on, there could be others, whether it's Kurtis Gabriel, one of the Isles from their identity line (who I don't see jumping) or maybe even Ryan Reaves. (Of note, I'm not petitioning for anyone here, outside of Tkachuk. I'm just giving you an example of what else is out there.)
In any event, for the Rangers to beef up their roster, they'll have to get rid of one of their ordinary vegetables, whether it be Chytil, Kakko, someone from their deep prospect pool or someone else.
This all being said, who the Rangers target won't be decided on until they land their head coach. Who that will be is anyone's guess, even if Gerard Gallant is rumored to be the favorite.
Lastly, as I really want to save the big deep dive on the off-season after the Rangers name their head coach; it should be interesting to see how this future head coach views the Tony DeAngelo situation. While Larry Brooks is reporting that DeAngelo's status is unchanged, he's also politicking for the Rangers to sign Pekka Rinne too! I would never question the reporting out of Brooks, but I do question some of the stuff that he writes in his editorials, editorials that are often contrary as time passes by. (During the 2018-2019 season, I think Brooks wrote something like five different articles, where he flip-flopped on if the Rangers should trade Kevin Hayes or not. However, when it comes to NEWS, no one is better on the beat than Brooks.)
Maybe Gallant, Torts, or whoever, unlike DQ, would appreciate someone like a DeAngelo, a DeAngelo who provides spunk and fire. After Gorton forced James Dolan to spend millions and millions of dollars for players to compete elsewhere, perhaps Drury will be more careful, in regards to spending other people's money. If there was ever a reason to get rid of Gorton, it was his reckless spending, where if you owned the Rangers, you most likely wouldn't have been thrilled with Gorton spending your money like a drunken sailor, especially during this pandemic which severely impacted the wallets of every NHL owner.
---
As we get to the end here, and as talked about during the last two blogs on this site, I have a bad case of the flu, a flu which is not COVID related. As a result, I'm on a bunch of different medications, so if there are any typos, grammatical errors and/or run-on sentences all over the place, blame the medications and the whisky for that. (I'm old school – whisky cures all coughing fits!)
As mentioned, once the Rangers land a coach, I'll then really explore what's next. There are many things the Rangers can do right now, but it is my belief that whatever course of action Drury decides on, it will be influenced by whoever his head coach will be. For right now, anyone telling you what the Rangers will do or doing the "RANGERS MUST DO THIS" doomsday stuff, well that person is just selling you BS with their click-bait.
One last plug before I go home here, where then I'll try to navigate myself out of the never-ending "Army of Dead" ads that are all over the place. Seriously, I think the UFC on Saturday night, ran about 34763647867863786348796 different ads for whatever "Army of the Dead" is, and that's not an exaggeration!
On Monday, 5/17/21, our pals at "The Blueshirt Underground Show" returned with a new two-hour episode, where they did their season-end report card show. While I plugged my report card blog earlier tonight, you should check out BSU's report card too, as they used different parameters than I did, when covering all of the players that the Rangers used this season. That being said, I pretty much agreed with BSU co-host Eddie G., when he critiqued the grades that co-host Jim S. were giving out – if everyone is a B or better, how come the Rangers failed to make the playoffs this year?
And while on Jim S. and his takes, I thought he made a great point during the show, when he mentioned that he was sick of Kakko and Lafreniere always being lumped together. To his point, it did feel like Kakko and Lafreniere were often put together on the same line and/or judged under the same microscope, as if they were Siamese twins. As I've said in the past, Lafreniere blows Kakko out of the water, and as Jim S. said on the show, if Lafreniere is better, let him do his thing, without worrying about whatever Kakko is doing. Yes, both players are lottery picks and are Rangers, but that's where the comparisons end.
To watch the show, click the play button below:
If you haven't already, subscribe to this blog for the next update:
---
I'm not sure when I'll be back, but I'm sure I'll have something up later this week.
Stay FABULOUS my friends.
Until then, and as always here, thanks for reading and…
LET'S GO RANGERS!
Sean McCaffrey
BULLSMC@aol.com
@NYCTHEMIC on Tweeter