Greetings and salutations everyone and welcome to another blog here on BlueCollarBlueShirts.com. Still celebrating?
Tonight's blog is a double main-event, where I'll recap/review the latest episode of Ron Duguay's "Up in the Blue Seats" podcast. As I always say whenever I review this podcast, the Larry Brooks segments remain the most intriguing. For Ranger fans wanting the latest news on the team and from somewhat an insider's perspective, Brooks is usually the guy. I found what he said on this new episode to be very interesting, as Brooks continues to push the youth narrative. You can read all about it as we move along here.
Our second main-event tonight is the annual "Mid-Season Report Card". As we all know, this season is like no other. Rather than having 41 games to analyze and assess, we have 28 games. In addition, with the schedule being what it is, the Rangers being in a tough division and how the COVID-19 pandemic has effected the roster at various points in the season; simply stated, the Rangers have had a lot of curveballs thrown their way.
As you look deeper into everything we've seen this season, when you think about the self-inflicted drama (Tony DeAngelo) and the stuff the Rangers had no control over, (the Panarin fake news allegations) all of this stuff has made this 2021 season become one of the weirdest seasons in Rangers history, if not the oddest. And we still have half a season remaining!
You guys know about my affinity for Rangers history. When I look back at the first half of this season, I was trying to think of a season that would be comparable to this one. I think most fans would immediately go to the lock-out shortened seasons, but even then, those lock-out seasons were a different animal. In an attempt to find a season comparable to this current season, I guess you could look back at those seasons during World War II, where the roster was absolutely decimated, due to the players serving for their respective countries during war-time.
I bring up the World War II seasons, because during that time, the entire world, and in every facet imaginable, was impacted by that war. The coronavirus, while being something completely different than war, it is similar in the fact that it has impacted the life of every person on the planet. That said, it's not like the Rangers talent core was taken away from them this season. However, what is relatable, is that the Rangers didn't have a real training camp or pre-season. For the talent the Rangers have, especially the young talent, they are all learning on the fly. Of course – every other team in the league is playing under the same conditions.
As I think about the World War II seasons vs this pandemic-plagued season, I'll leave you with this. At least you won't see the head coach come out of retirement and play for the team, as a then 42 year old Frank Boucher had to do during the 1943-1944 season. (You had to know I was going to work in Frank Boucher's name into this somehow! Retire his number 7 already!)
And really, can you imagine if DQ had to suit up for the Rangers during any of the times a Ranger made the NHL's COVID-19 list? The "FIRE DQ" crew would become the "SCRATCH DQ" fan club and very quickly at that!
Speaking of DQ, we found out on Thursday March 18th, that Kris Knoblauch will remain behind the bench during the upcoming two-game set against Washington. I'll have all the latest news recapped in our final segment of tonight's manifesto.
However, as usual, before getting into the meat and potatoes of this blog, the PLUGS segment, where I'm only going to plug last night's blog. In fact, I may just plug last night's blog for the remainder of the season and even into next season! After all, it's highly unlikely that we'll ever see a game like that any time soon!
If you missed it, here's my recap of last night's glorious 9-0 spanking of the Flyers:
---
On Thursday afternoon, "Up in the Blue Seats" returned with their 48th episode. To listen to the show, click the links below:
Up In The Blue Seats Podcast: @RonDuguay10 & @MollieeWalkerr talk about the Rangers 9-0 win, Mika's record-tying night & also speak with former Rangers winger @MattBarnaby3636.

Apple: https://t.co/ilcm8RjEal
Spotify: https://t.co/Bveqd1z7VG pic.twitter.com/FMybzkeLAt

— New York Post (@nypost) March 18, 2021
---
Mollie Walker introduces us to the show with these four words – "New coaches, no problem." Walker brings up the Rangers "clobbering" of the Philadelphia Flyers, a clobbering that none of us will forget any time soon. Walker runs down some of the history from that 9-0 win. After that, Walker previews everything that we'll hear on today's episode.
As the usual theme music of "Up in the Blue Seats" plays, producer Jake Brown welcomes us to the show, where as usual, he gives us our second introduction of the podcast. Brown also asks us to rate and review the show. Done and done.
Ron Duguay says it's exciting to be on the podcast today, especially after last night's historic win. Duguay says before breaking down the game, he wants to talk about his buddy Matt Barnaby, a Matt Barnaby who is the featured interview of today's show.
Of note, the last time I saw Barnaby on someone's podcast, it was during an episode of "The Blueshirt Underground Show". On that episode of BSU, Barnaby seemed like he was celebrating St. Patrick's Day himself! His "interview" with BSU lasted about 90 seconds or so, as Barnaby did it while rolling around on a cart on a golf course. Due to weak WiFi/signal issues, Barnaby was disconnected, where BSU fans and the hosts still make jokes about this epic appearance to this very day. While BSU and their fans had every right to be disappointed, as usual, BSU spun a negative into a positive, where everyone just laughs about it. (And to be clear, this was 100% on Barnaby and not on BSU.)
Duguay says Barnaby is a character. I figured that one out pretty quickly, especially after seeing that previously described Barnaby appearance on BSU! Duguay says Barnaby is a big Sabres guy, so it should be fun to hear his take on all the drama there.
Duguay goes back to the win over the Flyers, asking what the heck happened in regards to DQ-19. (I'm joking with DQ-19, Duguay didn't say that.) Walker says two hours before the game, she got an email while inside of MSG, and when she saw the headline of "Statement from the New York Rangers", she pretty much had the attitude of, "oh crap, I drove here for nothing." Walker then recaps everything that was covered last night, in regards to the coaching staff.
Walker brings up how Fox and Buchnevich were on the fugazi (my word, not hers) COVID-19 list on Monday, and after a false positive, they were right back on Wednesday. I use the word "fugazi" here, because there are way too many false positive results around the league and it's costing teams wins. There just has to be a better way. Walker then says exactly what I said last night, and what I'm saying here, in regards to the Rangers missing Fox & Buchnevich on Monday night. Had the Rangers had these two in the line-up, and in an overtime game, maybe the Rangers win that game. Heck, maybe they win it in regulation.
Walker says that during Buchnevich's interview last night, he wasn't exactly a "happy camper". Poor Captain Happy! Walker said Buchnevich tried to stay level-headed and how he was pissed about being on the COVID-19 list. Walker says she doesn't blame him, and says Buchnevich doesn't even know why he was on the list to begin with. Walker mentions that Buchnevich said he has the COVID-19 anti-bodies.
Brown chimes in and goes back to the 9-0 win, where he mentions that Mollie was having a field day chomping down on all the eats at M$G. Brown says that one man just exploded. (On previous episodes of this podcast, Walker has broken Duguay's balls about Duguay always predicting that "TONIGHT'S THE NIGHT FOR MIKA", so when this topic came up, I couldn't wait to hear these two banter about Mika's historic game. Unfortunately, we didn't get any such bickering.)
Walker talks about all the big stats that Mika posted and brought up how Mika now finds himself in company with Bryan Trottier, for most points in a single period. It's brought up how Duguay played against Trottier in that game. Duguay says he remembers that game very well, as it was on 12/23/78, which was two days before Christmas. Duguay says at the time, there may have been some partying going down and how everyone was excited to get home for the holidays. Duguay says the Islanders had a different approach, as they were serious and all business. Duguay says all he could think during that game was "end this game now." This then spins into an impromptu interview with Bryan Trottier, a person who I admittedly am not a fan of. (Nothing personal here, but Father Fink the Islanders and Trottier may be the absolute worst coach in all of Rangers franchise history. And yes, I'm being funny/dramatic here, as I'm sure Trottier is a nice guy in real life.)
Trottier jumps on the horn and sounds cheery while saying hello to Duguay and Walker. Brown asks Trottier for his thoughts from that 12/23/78 game. Just what this podcast needs – an Islander legend recalling glory against the Rangers! What's next, 30 minutes with Steve Valiquette talking about "EXPECTED" stats?
Trottier says the NYR/NYI rivalry brought out the best in both teams at that time. That's certainly true, as really, the Rangers gave the Islanders their hardest games during that Islander dynasty. Of course, the Rangers were on the wrong side of all of that history, but the Rangers did push the Islanders. Ugh, I feel queasy just thinking about all of this!
Trottier recaps his memories from the rivalry and from his huge game. Trottier talks about the great teammates he had. Trottier says he didn't want to rub salt in the wound, but because he had this type of game against the Rangers, he was smiling ear-to-ear. Trottier says the Rangers were on the short-end of the stick of that game, but it was 9-4, as opposed to the 9-0 shut-out the Rangers got over the Flyers.
Duguay says in that era, if you played the Rangers around Christmas time, there was a good chance that the team was out partying the night before. Duguay says Trottier made the Rangers look bad in that game. You don't say.
Duguay says that Trottier played with Clark Gillies and Mike Bossy. Duguay asks Trottier if he ever singled out either of his linemates, when trying to create offense. Trottier says Gillies always wanted the puck and made himself available. Trottier says Bossy was a pure sniper. Trottier says it was fun and great playing with those guys. Trottier says Gillies was the "big brother" of that line, in an era where there were a lot of big hits and fights. Trottier says Gillies made it clear to the opposing teams that there would be hell to pay if you went after Trottier or Bossy.
Brown thanks Trottier for his time and calls Trottier a friend of the program. This brief interview was just to compare Trottier's night to Mika's night. We didn't get any questions about Trottier's time as HC of NYR.
Up next is the Larry Brooks segment. Walker mentions that Brooks has received his COVID-19 vaccine. Walker gets right into it with Brooks, asking Brooks about his most recent column, where he said the second half of this 2021 season has to be all about the future of the 2021-2022 season.
Brooks says the growth of this team needs to manifest. Brooks says prior to last night, it looked like the future was far off, but after the win over the Flyers, the Rangers now look like they are putting it all together. (As I said last night, it was one great game against a team having one of their worst games in their 50+ years of existence. You just can't forget about the 27 other games that preceded the 9-0 smackdown of Philly.)
Brooks says he's completely aware of people having short-term memory. I guess he hangs out with Sam Rosen. Brooks says this team's future depends on accelerated progress, mentioning Lafreniere, Kakko, Chytil, Fox, and Lindgren by name. Brooks says the young guys need to be placed in situations where they accept more responsibility, Brooks is then careful to mention that he's not criticizing David Quinn here at all. Brooks says he agrees with DQ, that players need to earn their ice time. Brooks just wants to see these young guys get power-play time and get the opportunity to shine.
Brooks says a playoff push is fine, if it's the young guys driving it. Brooks says trying to make a playoff push with guys who won't be here for the long-term is not the best road to go down.
Walker asks Brooks about Julien Gauthier. Brooks talks about how in the game where Gauthier picked up that goal off of a power-move, how later on, he would take three penalties in the same game. (Don't get me started on Giroux's Ric Flair sell-job again!)
Brooks says while Gauthier's goal was great, Gauthier was also in the box for two PPG's, which led him to wonder, "how can this guy ever play?" (Not mentioned by Brooks here, is that Fox and Buchnevich, two of the key NYR PKers, were on the fugazi COVID-19 list.)
Brooks said he was disappointed to see Gauthier scratched on Wednesday. Brooks says he'd rather see DQ try to push Gauthier for scoring, rather than punishing Gauthier for his penalties. Brooks says he thinks Rooney has been a very dependable player this year, and says the same applies to Blackwell. Brooks says he'd rather see Gauthier play over Blackwell and Rooney, since Blackwell and Rooney are most likely one-and-done Rangers. Brooks adds that he just wants to see Gauthier play for a stretch of time, without worrying about being scratched. (Gauthier recently said the same on Tuesday, 3/16.)
Duguay says he likes Gauthier's game, although he'd like to see him play with a little more of an edge. Duguay then switches gears and starts talking about Ryan Strome. Duguay says he thinks Strome is coming into his own. Brooks agrees. Brooks says in some ways, Strome is having a better season than last year. Brooks says despite Strome's great play, he's not sure if Strome will even finish the length of his current two-year contract with the Rangers. Brooks says Strome makes the Rangers better now, but doesn't think Strome is the future of this team. Brooks says he'd rather see Chytil get Strome's minutes.
Duguay asks Brooks to explain the 9-0 pasting of the Flyers. Brooks says he was there for that 1971 12-1 win over the California Seals. (As mentioned repeatedly throughout this site's history, if anyone has a FULL LENGTH copy of that game, hit me up. I'll pay cash for it!)
Brooks feels that AV must've been in tears. Brooks says the Flyers stopped playing. Brooks hopes this game does wonders for Mika. Brooks says that Panarin has returned with no issues. (Which is why he should've returned earlier, rather than sitting out a game once returning to the team.)
Brooks says this season has been a slog. Brooks says this season hasn't been too enjoyable for the players, but was happy to see these guys get a game like that. Walker says Panarin is underpaid. Wonder how she feels on Trouba? This then wraps up our time with Mr. Brooks.
Up next is an interview with former Ranger/NHLer Matt Barnaby. Walker says Barnaby is always willing to be interviewed. I guess you have to catch him at the right time!
Walker says Lindgren is the closest thing the Rangers have to an enforcer. Walker asks Barnaby how important it is to have a player like Lindgren around. Barnaby mentions he's known Lindgren for a long time, mentioning how his son was born the same year as Lindgren (1998) and how he played in the same leagues and teams as Barnaby's son. Barnaby says you need toughness to win and it's important to have guys like Lindgren and others like him. Barnaby says bigger teams will always out-muscle the smaller teams. And he's 100% right – after all, look at who wins the Stanley Cup every year. There's not one team made of just skill-set guys to ever win it.
Barnaby mentions how he lives in Ottawa and how Brady Tkachuk is always involved during scrappy plays.
Duguay then asks Barnaby about his days with the Rangers, and says how he and many fans (I'd be one of them) think that the Rangers don't have toughness and leadership. Duguay also asks Barnaby what was it like playing with Mark Messier and Eric Lindros? Barnaby says it was awesome playing with those guys. Barnaby says of any "celebrity" that's he ever met, he was never more nervous than when he first met Messier. Barnaby says he couldn't believe he was in the same room as Messier. Barnaby mentions that both Mike Richter and Brian Leetch were leaders too, although they were quiet leaders.
Barnaby says the reason his Ranger teams didn't have success is because some guys didn't play to their roles. Barnaby says leadership was never an issue when he was with the Rangers and says Messier was the reason why.
Walker changes topics and asks Barnaby about his famous feud with Lyle Odelein, an Odelein that Barnaby always referred to as "Cornelius". Barnaby laughs and says the feud started right away, dating back to the days where Barnaby was with Buffalo and where Odelein was with Montreal. Barnaby recollects his first fight with Odelein and how the two just hated the sight of each other. Barnaby mentions that even though the jerseys may have changed, these two always waged war on the ice. Barnaby then talks about the genesis of the "Cornelius"/"Planet of the Apes" comments. Barnaby says Odelein once said that Barnaby's wife wasn't that great looking. Duguay says "ouch". Barnaby says he's now divorced, so now he kind of agrees with Odelein, a comment which gets a chuckle out of everyone.
Walker says she hopes Barnaby's ex-wife doesn't listen to this. Barnaby says his ex-wife only looks for him on the first of the month. This is hilarious, although the kids of Barnaby may not agree! Duguay says this is the kind of stuff we miss in the game today – the entertainment value/aspect.
Duguay asks Barnaby about Buffalo and brings up the Eichel trade rumors. Barnaby says you can spend a lot of money, but you have to spend it wisely. Barnaby thinks the owners are too involved and need to stay in the background. (I guess not many people can be a George Steinbrenner!)
Barnaby says when you fire three coaches in a span of 18 months, it can't all be on the coaches and general managers. At some point, you need to look at the owners. Barnaby says he's friends with current Sabres GM Kevyn Adams, but thinks he's above his head with this job. Barnaby says Pat Lafontaine should've never been fired. Barnaby says Eichel is going to eventually want out. Barnaby says Buffalo fans deserve better and brings up previous points I've made on this site, in regards to the city of Buffalo and hockey TV ratings.
Walker asks Barnaby if he thinks fighting is good entertainment value. Barnaby says he doesn't want to see the old days come back, mentioning his 22 year old son again and saying that he doesn't want to see his son and others having to fight for their life every night. Barnaby says physicality will always be a selling point for the NHL, but doesn't think you need fights every night either. Barnaby then goes on a tangent about the new ESPN TV deal and thinks it's a great deal for the NHL.
Duguay asks Barnaby if he's been following the junior hockey league in Canada right now. Duguay says he follows it, and doesn't think the program is the same when compared to the 70's, 80's and 90's. Duguay thinks we don't see the old prototypical tough guy Canadian player as much as we used to. Barnaby agrees and thinks it's the result of a trickle down effect that starts at the NHL level. Barnaby says everyone needs to skate well these days or they won't make it and/or last. (This explains the career of Dylan McIlrath.)
Barnaby thinks YouTube and the world getting smaller has changed the game too. Barnaby mentions how much hockey any fan can watch these days, but he feels the younger generation watches highlights and clips rather than watching full games. He thinks younger players grow up looking to emulate the stars and don't watch 60 minute games like players from his generation did. This is an interesting and valid point.
Duguay brings up some sportsbook (Bet99) that Barnaby is working with. Barnaby says he loves gambling and poker. Barnaby says he's really into sports betting and mentions he's a NY Jets fan. My sympathies. Barnaby mentions how he crunches lines, trends and the numbers. Like any "sharp", Barnaby says he always looks for the best value. Barnaby laughs and mentions how the Rangers covered the puck-line against the Flyers!
Barnaby gives valuable advice to people like Craig Carton – don't bet money that you don't have. Gambling is supposed to be fun and a way to play around with disposable income. Barnaby says "gamble responsible."
Brown mentions he loves the Jets and gambling. Brown and Barnaby talk about Sam Darnold vs DeShaun Watson. Walker says Watson might not be the best guy to go after right now, as Watson is now the 786786678967896896678th NFL player to be in trouble. Brown, who really isn't a hockey guy, mentions how tough it is to bet on hockey and thinks it's the toughest sport of the major four sports to bet. Brown would be right here, as he adds that trying to predict a hockey game is a "crap-shoot". To Brown's point, who had the Rangers winning 9-0 on Wednesday?
Barnaby says it's difficult, especially when trying to find value. Barnaby explains the difference between betting the puck-line and betting on a winner out-right. Barnaby says a lack of empty net goals has been killing the puck-line this season. Barnaby is like me – he thinks it's easier to bet the over-under in hockey. (As you know, I've been tracking my over-under NYR bets for the last three seasons on this site.) Barnaby says you really need to scout the goaltenders when betting hockey. Walker mentions how the NHL needs to fix their injury information policy before the NHL can really attract serious interest from gamblers. I've said that so many times on this site that I fist-pumped when Walker said that. This then concludes the Barnaby interview and the show.
---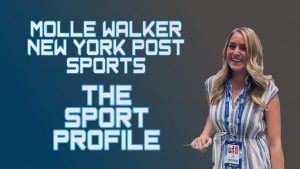 All in all, another solid episode of "Up in the Blue Seats", although I could've done without Trottier! The Barnaby interview was entertaining and I thought he made a lot of good points as well.
Mid-Season Report Card time!
---
On February 17th, I wrote a blog entitled, "The New York Rangers Progress/Regress Report". That blog looked at the Rangers at the quarter-pole mark of the season. In an attempt to save time and not be too repetitive, I suggest you check that blog out here: https://bluecollarblueshirts.com/21721/
Since writing that blog, where I gave mini-profiles on every player on the team, the Rangers have played 14 more games, for a grand total of 28. And while a month is not that long of a time period, the Rangers have had many changes and obstacles since February 17th.
For starters, Artemi Panarin missed nine games. In other words, while his point-per-game total remains high and is tops on the team, as you'd expect, had Panarin played in those nine games, his overall production numbers would be higher. Upon his return after his dilemma, Panarin picked up right where he left off. He's still the best forward of this team, but due to all the time missed, there was just no way I could grade him above Adam Fox.
Chris Kreider, who had a horrendous start to this season, picked up his game big time since the quarter-mark of the season. In the last month alone, Kreider has picked up two hat tricks and more times than not, was the best Rangers forward when Panarin was out of the line-up. No player has improved more than Kreider did, both numbers-wise and from the "eye-test" perspective than Kreider. Of course, you're not really looking for "improvement" out of Kreider, you're looking for "consistency."
Mika Zibanejad threw the biggest of monkey wrenches into this "Mid-Season Report Card". Let's face it – had Mika had a game on Wednesday night that was the same as his previous 27 games, he would've easily got an F- tonight, despite all the great work he does on the penalty kill. After all, Brett Howden gives you the same thing defensively and is better on face-offs too. Plus, Howden doesn't allow the other team to go on multiple breakaways and odd-man rushes every game, as a result of shooting high and wide. That said, it's extremely unlikely that Howden ever has a game that Mika just had against the Flyers, and really, Mika's issue hasn't been getting chances – his issue has been converting on these never-ending chances.
In any event, I can't give Mika high marks just because of one good game. As I said last night, all I can do is hope that this is the catalyst for something greater, rather than this game being one singular highlight of his season. Only time will tell.
Two of the harder players to grade here were the two first round draft picks, in Alexis Lafreniere and Kaapo Kakko. By now, you know the story on both players and how this weird season was going to hinder their development.
While both of these guys entered the league with high expectations, there also needs to be a grace period. That said, you are seeing other rookies and young players light it up around the league, where sometimes, especially with Kakko, since he's closing in on 100 NHL games played, (he's currently at 87 GP) you're just waiting for the light bulb to go off. If you get anything out of this, while you might be disappointed about their lack of production in the first half of this 2021 season, ultimately and hopefully, their careers will be judged more positively in the future, as a result of a larger sample size.
---
Let me give you the usual rundown here, before giving you the grades.
Here are the parameters I used when handing out these grades:
Offensive stats
Defensive play
Special teams play
Salary cap hit (Meaning that I look at what players are being paid and what they are supposed to contribute to the team. In other words, I expect more out of Chris Kreider, Jacob Trouba and Mika Zibanejad than I do from guys like Kevin Rooney, K'Andre Miller and Colin Blackwell.)
Value to the team
Players who have played less than five games or who are no longer with the team have been excluded from this report card.
While I do think all of you guys and gals know this, I feel I have to say the following again anyway – all of this stuff is 100% my opinion. While I include facts and stats into what you're about to read, at the end of the day, all of this are just my opinions. These aren't the end all, be all rankings. However, all of this just gives you a feel of where these players currently are at, at least from my point of view.
Without further ado, may I present to you the "Mid-Season Report Card".
---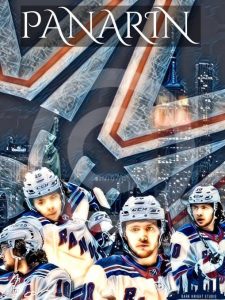 FORWARDS:
COLIN BLACKWELL
GRADE: B
Of all non Ranger forward fat cats on this team and regular forwards in the top six, (with those players being Kreider/Mika/Panarin/Buchnevich/Strome) Blackwell leads that non fat cat group in scoring (6 goals) and points (10). Blackwell has a been a nice surprise for the Rangers this season, although at the end of the day, I'm not sure what his future is with this team.
Looking ahead, with Kratvsov set to join the team and with younger guys needing more ice-time, Blackwell may find himself as a healthy scratch more times than not. However, since Blackwell is this season's version of Jesper Fast, which means that he can play on any line, Blackwell may find a home on the fourth line, where I'd assume his production numbers would then drop. In any event, Blackwell is one of the rare consistent players on this team and one of the good stories of this season.
---
PAVEL BUCHNEVICH
GRADE: B+
A B+ grade may be considered low for Buchnevich, considering that he's tops on the team in points (26) and second overall in goals (10). In addition, Buchnevich is also a solid PKer. However, like many on this team, Buchnevich can be inconsistent and have stretches of games without points. That said, Buchnevich has been heating up lately and of all Rangers, he's the one to watch as we approach this year's trade deadline.
With Buchnevich set to be a RFA this summer, the Rangers fighting a flat salary cap, too many players who do the same thing and in the event that Kravtsov can produce; the Rangers could ship Buchnevich out during the trade-deadline, as that will be the time where Buchnevich will have his most value to a trading partner. Of course, the Rangers could always re-sign him, if they see fit. Maybe I'm looking too much into this, but I think whatever Kravtsov does will influence what the Rangers do with Buchnevich.
---
FILIP CHYTIL
GRADE: B-
Chytil, like many of the younger players on this team, can go games without points, but of all the young forwards on this team, you have seen more promise out of Chytil than anyone else. Chytil gives you hope for the future, where all you can do is hope he continues to develop and eventually emerges as the true number two center of this team. I don't know if Chytil is 1C material or not, but at the very least, he should make it to the top six. Due to an injury and a bout with COVID-19, Chytil has four points and four assists after 14 games played. I maintain the best is yet to come. After all, with these numbers, in a regular 82 game season, Chytil would be on track to surpass the 20 goal mark.
---
PHILLIPP DI GIUSEPPE
GRADE: C-

Similar to Blackwell, I don't know what the future holds for PDG. With a lot of skill set wingers and young talent needing ice time, PDG, like Blackwell, will soon find himself fighting for time on the fourth line. While there have been games where PDG has been extremely noticeable, the 27 year-old is still sitting on one goal after 23 games played. And really, is PDG a player the Rangers are going to feature or push moving forward? In addition, it's not like PDG is an enforcer, agitator or a tough guy type, where he could fill a role for this team either. I think this may be the last season we see PDG as a Ranger.
---
JULIEN GAUTHIER
GRADE: C+

I have raved a lot about Gauthier in recent weeks, but similar to Kakko and Lafreniere, I think the best is yet to come for the 23 year old. Unlike PDG, I do see Gauthier having a spot on this team moving forward, even if it's only on the third line. You can see what Gauthier brings to the table, and you can see him coming on recently, as his two goals this season were scored within the last two weeks. Of course, he will have to limit the penalties moving forward, as with 14 PIM, of all NYR forwards, Gauthier ranks third overall, behind Lemieux (46) and Kreider (19). Lemieux has his role. Kreider is untouchable. For Gauthier to become an every day player, this is one area of his game he'll have to work on. That said, the future looks bright.
---
BRETT HOWDEN
GRADE: C+

Howden, like many on this team, has not lived to offensive expectations, as Howden has 0 goals in 27 games played. In fact, Howden's lack of scoring recently led DQ in snapping Howden's consecutive game played streak, which was at 113 games. Howden's offensive woes gets a lot of talk out of Ranger fans. However, as I've been saying all season, people ignore that he's just a PKer and the top face-off man on the team right now. Nothing more, nothing less.
Admittedly, when Howden first joined this team, everyone thought that Howden might be a regular 2C and could score goals. Sometimes, things don't go according to plan. As a fourth line checking center, Howden has been fine, and if you accept that's all he is, Howden has been solid in this role. However, moving forward, if the Rangers want to give Morgan Barron a chance, Howden will become the odd-man out.
---
KAAPO KAKKO
GRADE: C-

I can hear it now – "CAN YOU BELIEVE THIS IDIOT GAVE HOWDEN A BETTER GRADE THAN KAKKO?" However, as noted at the top of this, I judge players based on their role with the team. I expect more out of a #2 overall draft pick, and a guy who has spent more time in the top six than not, to outproduce a fourth line center.
Put it this way, Kakko has two goals and two assists for four points. Howden has zero goals and four assists for four points. Yes, Kakko has a fan club and we all want him to do well. However, if Kakko can't get over the hump eventually, he may have a career path like another player every Rangers fan once went crazy about, in a one Jimmy Vesey, a Vesey who is now with his fourth team in a three year time span. I'm not saying this is what will happen with Kakko, but at some point, the scoring has to come. Trying to find things to defend Kakko's lack of goals is a fruitless task. Bottom line – Kakko was drafted to score. He wasn't drafted to chip pucks, look great on a chart or anything else. We need to see the goals.
---
CHRIS KREIDER
GRADE: B+
I was tempted to go A- here, but I just couldn't forget Kreider's poor start to the season. That said, he's now playing his best hockey of the season right now, where due to his two hat-tricks, Kreider leads the team in goals, with 14.
It's all coming together for Kreider again, who at times, can be the most frustrating player on this team. Kreider is scoring goals, he's screening goalies, he's streaking to the net and he's also playing on the PK. Of all the Ranger skill set guys and wingers, Kreider brings something to the table that the rest of them can't, and that's his physicality and his ability to crash nets. He just needs to do this more consistently. After a stretch of nearly 20 games where Kreider didn't draw one penalty, Kreider, due to his brash ability to get to the net, is now drawing penalties more frequently too.
---
ALEXIS LAFRENIERE
GRADE: C-

Don't look at this grade and think I'm writing off Lafreniere. I'm not in the "HE'S A BUST" camp at all. However, expectation levels are high, and with only four goals, the assumed Calder Trophy winner going into this season has been anything but. As said earlier, the first half of his first season probably won't mean anything in the future and long-term. However, for right now, for a guy playing top six minutes on most nights, Lafreniere hasn't found his scoring touch yet. Of course, as many of us have suggested, it's probably time to give Lafreniere time on the PP1 unit, in order to boost his goal scoring and confidence. I think what adds to some early disappointment is that the Rangers have never drafted a forward like Lafreniere and I think many of us expected the world right out the gate, despite Lafreniere not having ideal conditions when beginning his career.
---
BRENDAN LEMIEUX
GRADE: B-

For his role on the team, Lemieux has been solid. As usual, he leads the team in PIM, but that 46 PIM is a tad inflated, due to late game penalties where the referees just give him ten minutes to get him off the ice. Is Lemieux the most skilled guy on this team? Far from it. However, he does provide in his role on this team. You never see Lemieux take a night off. With two goals and four assists, those aren't bad numbers for a guy who spends most of his time on the fourth line. Lemieux is also part of the highly ranked Rangers PK as well.
---
ARTEMI PANARIN
GRADE: A

The only reason Panarin doesn't have an A+ here is because of all the time missed and because the Rangers power-play has had issues. Panarin has also been more turnover prone this season than last season as well. That said, he's still one of the top players not only on the Rangers, but in all of the league. Put it this way, despite playing 10 or 11 games less than every other regular skater, Panarin is still second on the team in points, with 24. By the time this weekend is over, he could reclaim his spot as the team's top scorer. There are two players on this team that the Rangers can't be without. Fox is one of them. Panarin is the other.
---
KEVIN ROONEY
GRADE: B
Rooney, like PDG and Blackwell, may not have a future with the Rangers, but he's played admirably this season. In a league and on a team where "ageism" is a thing, Rooney is 27 years old. Despite Rooney's five goals and three assists, the Rangers will most likely look for younger and better help in the off-season. Perhaps Rooney's future is a journeyman for a contender, as Rooney has been solid on face-offs and on the PK, which is what any Cup contender would want out of their fourth line center.
---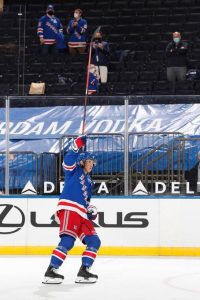 RYAN STROME
GRADE: A-

You might think this grade is too high for Strome, but I don't think it is. When Panarin left the team, Strome found himself flanked by Chris Kreider. It was there when Kreider started to find his game again. Strome's 10 goals ranks third on the team. In addition, Strome's 22 points also rank third on the team too. Is Strome perfect? Of course not, as he has had some nights where he gets absolutely massacred at the face-off circle. He's also part of the poor Rangers power-play. For all the criticism out there about Strome, I think 99% of it is unwarranted, as just like Brooks said on "Up in the Blue Seats", I think Strome is having a better season than he did last season. He's also proven that he's not a "product of Panarin" either, as Strome picked up several multi-point games without the Breadman.
---
MIKA ZIBANEJAD
GRADE: D

One last time – one good game doesn't make a season. I'll spare you from my "Greatest Hits" and repeats on Mika here, as you all know them by now. All I'll say here is that I hope this grade is much better, come "Final Report Card" time.
---
DEFENSEMEN:
ANTHONY BITETTO
GRADE: B-

I know I've said this a lot already, but like others, I don't know what the long-term future is for Bitetto, a Bitetto that's been out for the last couple of weeks with injury and a Bitetto that's now in Hartford on a rehab assignment. When this team is 100% healthy, Bitetto won't play. Moving forward, you are more likely to see Tarmo Reunanen get more chances to play than Bitetto. In his nine games with the Rangers, Bitetto has been serviceable and even picked up a highlight reel goal. However, this is a numbers game, with age being one of those numbers, and it's easy to see Bitetto being phased out, especially if the Rangers have no shot at making the playoffs, where veteran experience won't be needed.
---
ADAM FOX
GRADE: A+

If you've been following me all season, you know I can't say enough good things about Adam Fox. Not only does he log the most amount of minutes in every game he plays (sans the 9-0 rout against Philly for obvious reasons) Fox is also on the first PP unit and the first PK unit as well. Some may want more goal scoring out of Fox, as he only has two goals, but Fox does have 14 assists. Fox is a key leader on the Rangers penalty kill, where with him, the Rangers have ranked second in the league. He does it all and has been the most consistent Ranger all season.
---
LIBOR HAJEK
GRADE: C+

Quietly, Hajek has played in 18 games this season, where at the beginning of this season, you'd wonder if he'd even play at all. While Hajek is prone to defensive lapses, he hasn't been that bad either. He just hasn't stood out, especially with only 1 goal and 1 assist. I think the Rangers are willing to invest time into him, but there may be better options. To Hajek's credit, it's not a bad thing if you don't stick out as a defenseman, because that usually means you're doing your job.
---
JACK JOHNSON
GRADE: D

I could be wrong (wouldn't be the first time) but I think the Jack Johnson experiment is now over. As we all know, Johnson was a low risk/high reward signing and it hasn't worked out. Again, his age, poor play and the fact that the Rangers have better options means that this will be a one-and-done season for Johnson and the Rangers. Earlier this week, Johnson was waived by the team and placed on the taxi squad after clearing waivers. The only way I think you'll see him suit up again, is in the event of injury/COVID to a starting defenseman.
---
RYAN LINDGREN
GRADE: A

Some may say that Lindgren is the "Robin" to Fox's "Batman", but really, these two sophomore defensemen are both Batman's. One of the best top duos in the league, Lindgren and Fox complement each other perfectly, like peanut butter and jelly. Surprisingly, until recently, Lindgren led the Rangers with the most amount of even strength assists, which you wouldn't think would be the case, due to Lindgren being more of a defensively oriented d-man. Lindgren is still looking for his first goal of the season, but even if it doesn't happen, it won't matter. For a guy who was thought to be a "4A" guy or a player clawing for a third pair defensive spot, Lindgren has shattered all expectations. Like Fox, there have been NO signs of a sophomore slump at all.
---
K'ANDRE MILLER
GRADE: B-
I would've went higher for Miller here, but recently, Miller has had games where he's had horror shows defensively. That said, he's only a rookie and he has impressed more times than not. There have been many games this season where Miller was shutting down the top players around this league, in guys like Crosby, Malkin, Eichel and "The Perfection Line". While I know the "LONG STICK" talk gets old, it's true, thus earning Miller the "PRAYING MANTIS" nickname. The future is extremely bright.
---
BRENDAN SMITH
GRADE: B
I'll say what I've been saying about Smith for a while here – Smith has turned it around ever since that fist-fight with Vinni Lettieri, where he does anything asked from him by DQ. I know many think it's cool to poop on Smith, but Smith has emerged as a team leader and gives it his all every night. Smith also plays tough, and while yes, he's prone to making bad plays, there's not one defenseman in this league that's perfect 100% of the time. I'll even add this – with Smith's contract expiring this season, I wouldn't mind bringing Smith back, as long as it's on the cheap and with the idea that he will be rotated in-and-out of the line-up. However, with all the intangibles Smith brings, he may find a better offer elsewhere.
---
JACOB TROUBA
GRADE: D

Trouba does some things well, where during many games this season, Trouba has led the team in hits and blocked shots. However, you can't ignore his disgusting contract and the fact where it seems that 99/100 times, every shot Trouba takes hits the glass or the boards. As I've said all season, Fox makes Trouba look worse and in every way possible. If Trouba is worth $8M a season, what's Fox worth? $64M? At least Trouba joined the scoring party with his "A-Rod" goal against Philly on Wednesday, his first goal of the season.
---
GOALIES:
ALEXANDAR GEORGIEV
GRADE: C+
It's been a mixed bag for Georgiev this season, as he has the worst GAA and save percentage of the three goalies, but he also has two shut-outs. (Igor has 0, Kinkaid has 1.) In addition, talk about a way to bookend this first half of the season – in Georgiev's first game of the season he got a shut-out, and in the final game of the first half of the season, Georgiev got a shut-out. Georgiev also has the best win/loss record on the team, at 5-4-2. That said, that number is a little fugazi, as Igor had a loss pinned on his record when playing in that game when Georgiev had to go to concussion protocol.
As I've said ever since it happened, I think Georgiev's game nose-dived after Ritchie sat on his head. Even with the rout against Philly, Georgiev was tested and did have to make 26 saves, including a highlight reel save on Nolan Patrick. Maybe he's feeling better now. Maybe Kinkaid sneaking up behind him woke Georgiev up. Whatever the case, prior to the game against Philly, Georgiev was enduring the worst slump of his career. Hopefully he's snapped out of it.
Lastly, of the three goalies, and while this means nothing outside of it being a fun fact, Georgiev is the only goalie with an assist to his name, as a result of the Adam Fox coast-to-coast goal from a few games back.
---
KEITH KINKAID

GRADE: B+

I'm not saying that Kinkaid is better than Georgiev or on the same level as Shestyorkin, all I'm saying is that according to my grading system, Kinkaid has earned this grade. Kinkaid has played five games this season, where he has logged a GAA of 2.32, as opposed to Igor's GAA of 2.31. Kinkaid also has a shut-out, a shut-out which has eluded Igor during his career so far.
Had Kinkaid had a solid start in his last game played, I would've entered A- and A territory with his grade. Keep in mind that Kinkaid is making under a million bucks and wasn't even supposed to be on the ice at all this season for the Rangers. For a goalie that was only signed to leave exposed during the Seattle expansion draft, more times than not, Kinkaid has been solid during his limited appearances. Even with the bad start, Kinkaid has been better than expected, where for a brief moment, we almost had another three goalie controversy in New York.
---
IGOR SHESTYORKIN

GRADE: B+

After a rocky start to the season, Igor rebounded and prior to his injury, was playing his best hockey of the season. Of course, it does seem that Igor is prone to giving up one "how did that happen" goal a game, despite making a dozen or so FABULOUS saves prior to giving up that goal. While shut-outs aren't truly a defining indicator of how a goalie is doing, Igor is still looking for his first NHL shut-out. Technically, Igor is an NHL rookie, despite being 25 years old and having played in some games last season, where you can say that he looked better last season than this season.
Igor's 6-7-1 record doesn't really speak to his level of play this season, as there have been many games where he has gotten no run support and had that previously mentioned one fugazi loss pinned to his record. After having his save percentage flirt at the under .900 level, Igor has boosted it back up to .921.
Again, you know the deal. The key is the future. Moving forward, and once he's able to return, it's time to let Igor start 8-10 games in a row and see how he does. One day, the Rangers will be a playoff contender again and when that day comes, Igor has to prepare to win 16 games. I understand rotating goalies in this short season, but with all of this time off, it's time to give Igor the keys and see where he can take this car.
---
I hope you enjoyed the "Mid-Season Report Card". As said, all of this are my opinions and not the end all, be all.
Let's wrap this manifesto up by quickly looking at the news.
With the Rangers playing in Washington on both Friday and Saturday night, it was revealed on Thursday that David Quinn and his coaching staff will not be making the trip. Kris Knoblauch will remain as the team's head coach until "DQ-19" can return.
Here's Knoblauch's press conference from Thursday, where I thought he came off well-spoken and a bit more subdued than DQ:
All I have to say here, is if the Rangers can sweep Washington this weekend, thus putting the Rangers 3-0 under Knoblauch (as mentioned last night, all of these game results officially go on DQ's record) and if the Rangers lose in DQ's first game back; well prepare for the shit to hit the fan, as if it hasn't already been flying around by the "FIRE DQ" crew.
I come from the pro wrestling world, where I always enjoyed booking and writing drama and comedy. While I never root for the Rangers to lose, should this scenario above play out, I'll have my popcorn ready and watch Ranger fans go nuts about this.
Conversely, if the Rangers lose these next two games and then win a couple when DQ come back, which is a scenario I'm not rooting for, since I don't want to see the Rangers lose; that would be interesting too, although definitely not as interesting as the first scenario.
Line-up wise, it's already been announced that Georgiev is starting, and as he should. Igor is also skating too, where he may be available to return on Saturday.
As far as the line-up/skaters go, I'd expect the same line-up from Wednesday night. After all, how can you change anything after one of the greatest wins in franchise history?
If you haven't already, subscribe to this blog for the next update:
---
Wow, this went longer than originally intended!
I'll be back tomorrow night, with a NYR/WSH recap/review.
Until then, and as always here, thanks for reading and…
LET'S GO RANGERS!
Sean McCaffrey
BULLSMC@aol.com
@NYCTHEMIC on Tweeter