Greetings and salutations everyone and welcome to another blog here on BlueCollarBlueShirts.com. Are you ready for the greatest playoffs in all of sports?
Off puck drop here, as I said at the end of the last blog I posted on this site, I'm still under the weather, as the result of my sick nieces coughing and sneezing in my face. While I don't have the corona, (and I wish I was drinking a Heineken right now) I do have some sort of bug. In turn, I apologize for any typo or grammatical error that you may find today, as I'm currently typing this blog up on my dinosaur laptop and while in bed. However with that being said, and forever a trooper, I just wanted to post something on the site, and as I traditionally do, prior to the playoffs commencing.
Our two main events of today's manifesto will be the previously mentioned Stanley Cup playoffs, where I'll quickly preview each series and give you my picks for all eight of these first round match-ups. I'll also give you my Stanley Cup Final pick too. Our other main event today will be a recap of the season two finale of Ron Duguay's "Up in the Blue Seats" podcast, where really, this was another "must listen to" episode for any Rangers fan.
As far as the Rangers go, and before getting into the plugs section, there are some light news and notes regarding the team. On Thursday May 13th, Brian Leetch, and under his own volition, left his job as "Hockey Operations Advisor" with the Rangers. As usual, this story was first reported and broken by Larry Brooks, leaving his peers to once again copy and paste his reports. Of note, I always get a kick out of beat reporter Vince Mercogliano, who usually tells us that he can "confirm" whatever Brooks or Elliotte Friedman reports. Like these reports needed Mercogliano's confirmations! Maybe Mercogliano can confirm to you how ill I feel, as my stomach currently feels like the insides of a Penn Station toilet, sans the discarded heroin baggies!
As Brooks reported, this was Leetch's fourth season in this role. In addition, Leetch was very good friends with David Quinn, as the two have known each other since high school. That said, the new GM and former Rangers captain, in Chris Drury, asked the other former Rangers captain, in Brian Leetch, to remain in his role. Leetch refused. What Leetch does next is unknown.
What is known, is that Mike Grier has replaced Leetch in the role of Hockey Operations Advisor. Again, this story was broken by Larry Brooks, a Larry Brooks who must share cigars and old fashions with Sather on a daily basis. No joke, it's like Sather is viagra for Brooks, as Brooks has been at full attention during these past two weeks, for perhaps the appropriately named New York "Post".
If anything, it's kind of amazing, that how in less than 24 hours after Leetch resigned from his position, how Drury and Sather had Grier lined up. Grier has connections to both Drury and Sather, as Grier played with Drury at Boston University and with the Buffalo Sabres. The two were also part of the 2004 World Cup USA team. When it comes to the Senile Sather connection, Grier was in Edmonton while Sather was there too.
So to recap, in the last ten days, out are John Davidson, Jeff Gorton, Brian Leetch and David Quinn. In are Chris Drury, Glen Sather (who never left but now has more power) and Mike Grier. Woof.
In our last piece of Rangers news, it's being reported (by Brooks once again, as we await confirmation from Mercogliano!) that not only has Vegas given permission for the Rangers to talk to Gerard Gallant, but that meeting between Gallant and Drury may have taken place by the time you read these words. As talked about on a prior blog, Drury is Team USA's GM, while Gallant is Team Canada's head coach for the upcoming IIHF Worlds Tournament, a tournament that has never been weaker. Despite his status as Team USA's GM, Drury is not traveling to Riga, Latvia for the tournament, while Gallant obviously is.
Rather than waiting for Gallant to return from Latvia, Drury will be interviewing Gallant either on Friday or Saturday, prior to Gallant's Sunday departure from JFK airport. As Larry Brooks hinted in his report, and as you'll see in the "Up in the Blue Seats" podcast review; there's obviously two ways to go about this. If Drury and Gallant hit it off, maybe Drury stops the job hunt right there. While it would be in the best interest for Drury to talk to everyone, including Tortorella and the other candidates that are out there, maybe Drury will want to snap Gallant up before another team has a chance. Of course, on the other hand, Drury and Gallant may not hit it off, and Drury may talk to other people while Gallant is in Latvia. As they say, we'll see!
At this time, before getting into our two main events, up first and as usual, the PLUGS segment!
Here are my last two blogs, in case you missed them:
---
---
On the morning of Thursday May 13th, the New York Post sponsored "Up in the Blue Seats" podcast returned, in what's now being dubbed as their season two finale. To listen to the show, click the links below:
Up In The Blue Seats Podcast: @RonDuguay10 & @MollieeWalkerr react to the David Quinn firing, discuss potential coaching replacements with @NYP_Brooksie & former Ranger Brandon Dubinsky talks Tortorella.

Apple: https://t.co/z2uFZux24M
Spotify: https://t.co/ks4v3vL8iF pic.twitter.com/dzDcTBjc3V

— New York Post Sports (@nypostsports) May 13, 2021
---
Mollie Walker opens up the show by saying "the Rangers purge continues", in reference to the firing of David Quinn, from the morning of Wednesday May 12th. Walker then talks about all of the house cleaning that Chris Drury did on Wednesday too. After talking the current news, Walker then previews what we'll hear on today's episode.
With some ads out of the way, we get the familiar intro music of the program and go to producer Jake Brown. Brown mentions that this is the season two finale of the podcast and asks us to rate and review the show. Done and done. Brown says that despite this being the season two finale of "Up in the Blue Seats", once big news hits, the podcast will return with bonus episodes. At this rate, "Up in the Blue Seats" may not be taking a break, as there seems to be Rangers news everyday!
Brown, like Walker just did, then previews what's on today's episode.
Duguay says this is the last show for a while but he doesn't want it to end. Duguay then brings up all the craziness going on in Rangerstown, USA. Duguay talks about the DQ firing a bit, then congratulates the individual award winners, in Fox (MVP), Lindgren (Players' Player) and Smith (John Halligan). Duguay says that Brandon Dubinsky will be on the show today and how Duguay can't wait to ask Dubinsky about John Tortorella, since Torts is one of the rumored names to replace David Quinn.
Duguay switches gears a bit and asks Walker about her Mother's Day. Walker brings up how Duguay and Brown sent Mrs. Walker some flowers. Walker says Duguay made her mother's year. Duguay asks if Mrs. Walker is around, as Mollie Walker still lives with her parents. Walker says her mother is at work. As mentioned previously, Mrs. Walker and her fandom of Duguay is an on-going bit on this show. This then turns into some silliness, as Walker jokes that her mother would've been fine without Jake Brown's name being on the card with the flowers. That was pretty funny.
Duguay praises Walker's work this season and Brown says Walker deserves the rookie podcaster of the year award. Duguay asks Walker where does she want to start today with the news, and Walker brings up the DQ firing. Walker feels that had DQ been retained, it wouldn't have bode well for anyone. Walker says it wouldn't have been a good thing if DQ entered next season on the hot seat. Walker says Dolan wanted a culture change, and once he said that, she figured DQ would go bye-bye.
Duguay says for as much as he wanted to see the Rangers in the playoffs, they weren't built to be a playoff team, nor would've made much noise had they qualified. Duguay says he wonders if DQ was really responsible for that. Duguay says he liked Brendan Lemieux and wonders what led to his trade. Duguay says it was a bad sign when Lemieux was happy about his trade.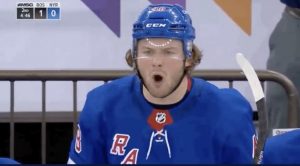 Duguay then turns this into Torts talk, and chuckles when he brings up his name. It should be mentioned that on a past episode, when Duguay tried needling Brooks about his feud with Torts, Brooks clammed up and said he didn't want to talk about it. Man, oh man, I hope Torts comes back, if only just to reignite this legendary feud!
Walker laughs too and says she knows everyone wants to know what Brooks thinks about a Torts return! Walker thinks it would be detrimental to bring Torts back. Walker feels this young team will fall apart under Torts. Walker says you need to find someone in-between how nice DQ was and someone like Torts. All of this talk sounds very "millennialish", as Walker makes Torts out to be some sort of monster, where she may as well have called him "Tortszilla" – with Torts terrorizing Japanese people in the streets of Tokyo.
Duguay says he likes Torts and how Torts uses fear to motivate players. Duguay says crying isn't allowed in hockey, which makes Walker and Brown laugh. Duguay says while Torts has gotten softer over the years, he's still the same guy. To that I say, does anyone remember Tom Coughlin?
Duguay talks about other candidates and brings up Gerard Gallant. Duguay says Gallant did a great job in Vegas.  Duguay says Gallant is a tough guy but is very likeable. Duguay mentions that he once played with Gallant in Detroit. As far as another candidate, Duguay says he keeps hearing the name Rick Tocchet and mentions that he doesn't know Tocchet like how he knows Gallant. Duguay says that Tocchet is a silent leader and that's kind of what you want. Duguay then says, don't expect to see Mike Keenan back!
Walker says she wants to do some report card stuff with Duguay and asks him to grade the Rangers. (Of note, you can find my report card in the PLUGS section of today's blog, where I grade every player, instead of just the team as Duguay and Walker did here.)
Duguay says he's giving the team a grade of a B and explains why, including how COVID and the Panarin KGB situation hurt the team. Duguay says he thought DQ did a good job too. Walker says Duguay is a generous grader and is too nice. Walker says she would give the team a grade of C+/B-, which is kind of wishy-washy. Walker says you can't ignore the Rangers poor start from earlier in the season, and even with Mika-19, the other fat cats didn't do much of anything. ("Mika-19" and "fat cats" are my words and not Walker's words.) Walker then talks herself into giving the Rangers a grade of B-. So after calling Duguay generous with his grading, she settled for half a grade less. Go figure.
Jake Brown then jokes about Walker's fan-girling of Zac Jones, since the two went to the same college. Walker says she wants it to be made clear – she and Jones didn't go to UMASS together. Brown says he's sure there were some fraternity/sorority parties that the two attended, which was pretty funny. Again, this is just another example of all the co-hosts finding their groove/chemistry and having fun with each other. Nothing wrong with a little playful banter!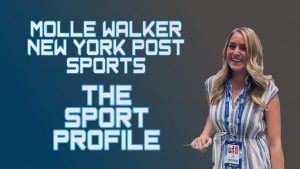 Brown then asks Walker and Duguay about some names the Rangers should look at this off-season. Duguay brings up how Eichel is the talk of the town, but mentions that he's not sure if Eichel is the right fit. Duguay says he wouldn't make a play for Eichel. Duguay says the Rangers need to find a leader and someone who plays angry. Wasn't DeAngelo that guy?
Walker says she's not going to float any names out there, but does mention that the Rangers need to find some veterans who play physical. Walker also feels the Rangers need more balance and calls out Kakko and Kravtsov by name, and says they need to gain muscle. Walker then says the Rangers need a Wayne Simmonds type on the team and calls out Mika and Kreider for not being true leaders. Jake Brown then chimes in and says that Ovechkin is a free agent. Walker replies with, "that's our NHL insider". That was pretty funny.
Duguay then brings up the name of Mark Messier and asks Walker if he fits in somewhere. Walker laughs about Messier's interview on the Michael Kay Show. Walker feels that Messier has an outdated outlook on the game. I'll take Messier's outlook on the game than Walker's. Walker doesn't see Messier as the head coach. Brown brings up the "alley" quote from last week to Walker, which the two millennials laugh about, as if Messier was Abe Simpson, standing on his front lawn and shaking his fist in the air.
Of note, Duguay was silent as his two co-hosts were trashing Messier here. From listening to every single one of these episodes, when Duguay goes silent, it usually means that he disagrees with what's being said. Just an observation, as sometimes you can see the generational gap among the co-hosts.
After basically calling Messier, you know, the guy with six Cups and one of the most important Rangers of all-time, a dinosaur; we go to the other Hall of Fame dinosaur, in the one and only Larry "I think that's Glen calling me" Brooks.
Walker says the news has been crazy lately and how Brooks has earned a vacation. As talked about last blog, when it comes to the NYR beat reporters, Brooks is #1 and #2 is about 878967676786786796 steps below Brooks on the ladder. While I would assume Sather's return/having more power during this last week is the result of this; the bottom line is that it has been Brooks landing all the exclusives left and right, while his peers from the Athletic, LoHud and other NYR outlets, are all forced to copy and paste the news that Brooks has been breaking. "Good period?" Confirmation on this anyone?
Walker asks Brooks the point blank question of, "why was David Quinn fired?" Brooks says it's because the Rangers felt like they needed a veteran NHL head coach with a track record. Brooks says while he holds the players accountable, you also have to hold the coach accountable too. Brooks says personally, this is very sad for him, as DQ is a nice guy and is someone who you want to be related to. That last line was weird. And of course, perhaps DQ was too nice and transparent with the press, but as the old adage goes – "nice guys finish last."
Brooks says in four decades of writing about the Rangers, DQ was the nicest guy he's ever met. Brooks says he's very sorry that DQ won't be back. Brooks says he thinks DQ did a good job for what he was supposed to do here. Brooks then mentions all the criticism about DQ and says that he was fine with how DQ doled out the minutes/ice time. Brooks says maybe DQ was too tough at times on players like Kakko, but says he's not privy to what goes on behind closed doors.
This was all confusing because Brooks was just telling us how nice DQ is and how he wants to sleep in the same bed as him, and then Brooks says DQ was too tough. Brooks also says he's not privy to what goes on behind closed doors, but for the past week and a half, Brooks has been telling us every single thing that has been going on behind those said closed doors.
Brooks talks about how DQ has relationships with players going back to ten years ago. Brooks says the failures of the top players on the Rangers falls on DQ. So I guess DQ was responsible for giving Mika COVID-19? Brooks says there was a disconnect between DQ and his top players, especially on the power-play, when the PP1 unit would rarely change. Of course, while Brooks is correct here, what is DQ supposed to do? Bench Panarin? Bench Mika?
Brooks said the three losses to the Islanders were watershed events. Brooks said those three losses were similar to the losses to Carolina from the bubble. Brooks says there were too many bad games, and bad games where the Rangers had no chance in. Brooks says when you look at the Ranger losses from this season, the losses looked much worse in the second half of the season than they did in the first half of the season, which is true. Brooks says this all falls on the head coach.
Walker then plays it coy, and says, "so, you're hoping that John Tortorella comes back?" and with humor, trails off. Brooks reiterates what he said in a recent column of his, and says, if Torts comes back, he and Torts will purchase the rights to their own material and stream everything on their own YouTube channel. Brooks says he and Torts will get paid this time for their warring, rather than giving it away for free. At least Brooks has a sense of humor about this, as he also adds – "if anyone is going to cash in on our foolishness, it will be us."
After the Torts jokes, Walker and Brooks get serious, where Brooks feels that Gallant is the front-runner to replace DQ. Brooks runs down Gallant's traits and personality, traits which are opposite of DQ. Brooks then mentions that Gallant doesn't coddle young players. Brooks says no matter who the Rangers hire, they will need a strong support staff around him.
Brooks thinks it's the wrong time for a Torts reunion, mentioning that he thinks that Torts would've had a better chance of returning after the AV firing. I wouldn't agree with this at all. Brooks then gives us his boring cliche of "Torts breaks players down and rebuilds them in his own image." (Hilariously, Mercogoliano used this same exact cliche word-for-word in a recent article too. Where's the creativity folks?) Brooks says while that may have worked in the past, it wouldn't work on these soft guys like Mika and Kakko. Walker says it would be entertaining as hell if Torts returns.
Brooks then adds that Bob Hartley should be considered. Brooks says he wouldn't recommend Mike Babcock. Brooks thinks if Drury and Gallant connect, then it won't be a long decision. Brooks said the mandate is clear – make the playoffs and Drury will have to find the best coach possible. Brooks then mentions what I said last blog, saying DQ had to go, because if the Rangers started off slow or had a bad losing streak, then everyone would've been up in arms about DQ.
Duguay, who had been silent for about 12+ minutes at this point, chimes in, and asks Brooks about Rick Tocchet. Brooks thinks that Tocchet has the same qualities as Gallant, but doesn't have the track record that Gallant has.
Duguay says whoever the coach is, that coach is going to want to bring in some of his own players. Duguay then asks Brooks, what free agent should the Rangers go for? Brooks brings up Matt Tkachuk, but like everyone else, says that Tkachuk is probably not attainable. Brooks also brings up Johnny Hockey as well. Brooks says how he and Duguay have talked all season about how the Rangers need help physically and strength-wise and how Tkachuk would solve a lot of problems. Brooks then says that Zach Hyman could be an interesting addition too.
Brooks talks about the Rangers homogenous issues, and says to solve them, the Rangers are going to have to trade a player that they don't want to trade, where Brooks hints that player will be Kakko.
This then wraps up the Brooks segment, as Brooks then thanks everyone for all of their work during season two.
Closing out the episode and season two, is former Ranger Brandon Dubinsky.
Walker recaps all of Dubinsky's accomplishments, both with the Rangers and in Columbus. Walker asks Dubinsky about Tortorella and asks him about five different questions all at once, while asking Dubinsky about his now former coach.
Dubinsky says he learned a lot from Torts. Dubinsky said he had a rocky finish with Torts in NY, but said they had a few good seasons together in Columbus. Dubinsky says he thinks Torts is better suited for a veteran team rather than with a team full of young players. Dubinsky says with NYR not having a captain or any real leaders, it would be tough for Torts.
Walker talks about the Rangers line brawl against the Capitals and compares it to the Rangers line brawl from 2012. Dubinsky recaps what led to the 2012 line brawl and how he was roommates with Stu Bickel. Dubinsky says how Bickel told Dubinsky that he'd avenge him after a hit in the game prior. Dubinsky says everyone loves to see teammates defending each other, especially whenever a star player gets hurt.
Duguay talks about the Rangers not having a captain and the worth of a good captain. Dubinsky says it's tough finding the right guy and it shouldn't always just be the best player. Dubinsky says a good captain is someone that you just naturally follow and listen to. Dubinsky says ironically, that person for him was Chris Drury.
Duguay says a good captain is someone who will take on the opposing captain. Duguay says he enjoyed how Dubinsky went after Sidney Crosby. Duguay brings up Dubinsky's tweet of Ovechkin vs Crosby. Dubinsky talks about how that all came to be. Dubinsky says both Ovi and Crosby are future HOFers, but how he'd rather play with Ovi than Crosby.
Duguay then talks about the playoffs and asks Dubinsky for his SCF prediction. Dubinsky says he'd like to see Colorado make it. Dubinsky says he sees Tampa repeating in the East.
Walker then asks Dubinsky about Drury. Dubinsky says Drury is a natural leader. Dubinsky says Drury is an even-keel guy and will be good at the job. Dubinsky talks about how COVID really effected every player in the league this year. This then wraps up the Dubinsky interview and the show.
---
All in all, another solid edition of "Up in the Blue Seats", where once again, the Larry Brooks segment was the most informative and most eye-opening – especially now, with Larry's old buddy Senile Sather back in the saddle.
For whatever reason, and has been the case since Walker joined the show, the alumni interview was less than nine minutes long. While I enjoy the banter between Walker and Brown, I could go without that if it would mean that the alumni interviews would run longer. I know that 45 minutes is your ideal running time for a podcast, but I wouldn't mind an hour, since "Up in the Blue Seats" always lands great guests. Just a suggestion for season three, as very often this season, you get hooked during these alumni interviews and as you're really getting into it, Walker then says to the guest, "we'll have you back on the show next season."
While on Walker, I enjoy the "panel feel" she provided this season, and you could feel the chemistry between her, Duguay and Brown all season. The three of them had that "morning drive-in radio" vibe more and more, as the season went on. It's good listening. That said, there were times where she took most of the "ice time" on these episodes, where she should've deferred to Duguay on some things. Just an opinion.
I'm glad to hear that the podcast will return for bonus episodes during the off-season, as I'd like to hear what Duguay and Brooks think about whoever the new coach is, the expansion draft, whatever trades that will be made and etc.
I found "Up in the Blue Seats" to be valuable all season and I'm looking forward to season three.
---
As mentioned at the top of this blog, I'm still not feeling so hot, but I wanted to get something up about the playoffs, before the commencement of the playoffs on Saturday evening. Unlike previous years, I'm not going to go in full detail with my first round predictions, but I will do so in the second and third rounds, and of course, in the final round as well.
I do want to plug here, a Stanley Cup Playoffs preview blog from our buddy The Esquire. Outside of his take on the Sunshine State Series, I pretty much agree with all of his picks. You can read his very detailed playoff preview blog here: https://theesquire212.wordpress.com/2021/05/13/2021-nhl-stanley-cup-playoffs-first-round-prospectus/
Without further ado, let's get into the quick and dirty, as I present to you my 2021 Stanley Cup Playoff predictions!
EAST DIVISION
The Penguins over the Islanders in six games.
Granted, I am 100% biased and I am an Islander hater. To be fair, I'm also a Penguins hater too, but my hate does run deeper for the Islanders! That said, I just think the Penguins are hungrier and I buy all of the Sidney Crosby talking points. The key to this series will be goaltending. If Seymon Varlamov can hold the Pens top guns off of the board, then the Isles will be able to steal one goal games and the series from the Pens. However, I see the Pens breaking through and I just don't think the Isles are the same team from last year, due to the injury to Anders Lee.
---
The Capitals over the Bruins in six games.
This is the money series in my eyes. You have the Chara storyline and you also have the two most love-to-hate players in this series, in Tom Wilson vs Brad Marchand. You also have two teams built to win now, where the Bruins may be on their last legs here, while the Caps specifically went after Peter Laviolette to get Ovechkin and company Cup number two.
Both of these teams can score goals, and many of them. Conversely, both teams have hit or miss goaltending. Which Rask will show up? Do the Caps have a starting goaltender, or do they alternate between Vanecek and Samsonov?
While I think Boston has the best line in this series, the Caps are deeper, hence why I'm going with the Caps in six.
---
WEST DIVISION
The Avalanche over the Blues in five games.
Yes, the Blues have the better goaltending, but if the Avalanche can't handle business here, they will become just as big of a bust as the 2018-2019 Tampa Bay Lightning were/are. Yes, Binnington has the history and so do his Blues, but this is Colorado's year to make a run. After all, they are the Vegas favorite to win the Cup:
While being the favorite of gambling outfits doesn't necessarily equate one into winning Stanley Cups, there's a reason why the Presidents' Trophy winners are the odds-on favorite. The Avalanche are the deepest team in the league and it will be a shock if they don't handle the inferior Blues and with ease.
---
The Golden Knights over the Wild in six games.
I would love to be bold here, and do my Cam Talbot fan-boy stuff, talk about Zuccarello, rave about the likely Calder winner in Kaprizov and bring up the fact that the Wild actually won the eight game season series between these two teams, but I'll spare you. After all, the playoffs are a different animal and VGK are built to win now, while the Wild's best years are ahead of them.
I think if the Wild drew Colorado in the first round, they'd have better odds of advancing into the second round. As a dog against Vegas, a Vegas team that has flirted with the Stanley Cup in every year of their existence, I think it's the same old story for the Wild – a first round exit.
While the Wild were one of the better success stories of this season, when you look at each team's offense, the defense and the goaltending, the Knights have the advantage in every department. The Knights have been knocking on the Stanley Cup door for some time now, and I ultimately see them returning to the Stanley Cup Final this year as well. That said, the Wild have handled Vegas well all season and if they can continue to do so, the Knights will crap out in Sin City.
---
NORTH DIVISION
The Maple Leafs over the Canadiens in five games.
Vegas insiders have the much maligned Leafs as the team with the third best odds to win the Cup this season. That seems very risky, considering all of the Leafs failure since 1967, which ironically, was not only the last time that the Leafs won the Stanley Cup, but the last time they played the Canadiens for the right to win the Stanley Cup too.
I think the Canadiens fourth place finish was because of the failures of the other teams in their division, rather than anything else. Whether it was Calgary's collapse, Vancouver's issues with COVID or Ottawa still rebuilding, I think the Canadiens are a playoff team simply because of the misfortune of the bottom three teams in their division.
The Leafs should waltz into the second round. If Carey Price is able to play at 100% and steal game one, there will be a lot of shakiness in those Leafs. Whatever the event, I see the Leafs taking this series, where in the second round of the North Division playoffs, I'd expect every game to hit the over in total goals!
---
The Oilers over the Jets in six games.
I think this is the year that the Oilers make it to the Conference Finals, as not only do they knock off the Jets – I see the Oilers winning a high scoring affair with the Leafs too.
To be frank and upfront with you, I can't tell you that I have watched much of the Jets this season. I have watched a lot of the Oilers, so maybe my opinions on this series is rooted in that as well. I just see the Jets having already peaked, where conversely, I think it's time for the Oilers 1-2 punch of McDavid & Draistaitl to take it to the next level.
Of course, I don't see the Oilers knocking off the other top seeds around the league, just because the Oilers goaltending leaves much to be desired. However, even against a great goalie like Hellebuyck here, I see the Oilers moving on.
---
CENTRAL DIVISION
The Hurricanes over the Predators in five games.
I kind of want to say that the Canes will sweep the Preds, but sweeps are tough to accomplish. Then again, this Canes team did sweep my beloved Rangers last year!
We've seen the Canes progress for the last three seasons, where now, this is where they make their move. While I don't see them beating Tampa, it wouldn't surprise anyone if they did.
The Predators are just lucky to be here, and they are just happy to make the playoffs. The Canes will easily dispose of the Preds here, where it's all about how the Canes show up against whatever team comes out of the Florida fracas.
---
The Lightning over the Panthers in seven games.
This will be an explosive series, as these two teams, which are about a 2.5 hour drive away from each other, will meet in the playoffs for the first time ever. While there isn't bad blood between these two rivals, like great feuds of the past in Rangers vs Islanders, Boston vs Montreal or Colorado vs Detroit; this series should create some nastiness.
The Panthers may have been better this season and do have home ice, but it's expected that both Nikita Kucherov and Steven Stamkos will return for the playoffs and at 100%. That's a game changer if I say so myself, especially since Aaron Ekblad won't be returning to the Panthers.
Even if the Bolts weren't getting back Kucherov and Stamkos, Sergei Bobrovsky has looked horrible more times than not during the playoffs. Andrei Vasilevskiy, a perennial Norris candidate and winner of the award, coupled in with his great performance from last year, enroute to Tampa's Stanley Cup victory, is much more of a threat in net.
It was a good year for the Panthers, but I think the cats get declawed here.
As far as the Stanley Cup Final goes, the NHL is re-bracketing the final four teams once the division winners are set. Once we get to that point, I'll give out my predictions for the Conference Final Round. However, as far as a Cup pick? I'm sticking with what I said back on 12/31/20…
---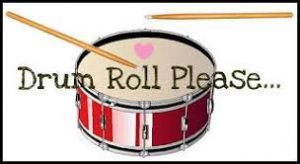 I've been saying it ever since the Bolts circumnavigated the salary cap with their Kucherov shadiness – the Bolts repeat and win two straight pandemic Cups.
If you haven't already, subscribe to this blog for the next update:
---
I'm sure I'll be back sometime next week. Until then, it's fluids, whisky and Nyquil for me! Sports-wise, the NHL playoffs start on Saturday night, where also on Saturday, you have the Preakness and a UFC PPV. What a great day to be trapped home in bed!
Stay FABULOUS my friends.
Until then, and as always here, thanks for reading and…
LET'S GO RANGERS!
Sean McCaffrey
BULLSMC@aol.com
@NYCTHEMIC on Tweeter