Greetings and salutations everyone and welcome to another blog here on BlueCollarBlueShirts.com. Did you miss me?
It's been nearly a week since I last checked in with you on this site. In that time, not much has happened in Rangerstown, USA, outside of John Davidson returning to his former role as Team President of the Columbus Blue Jackets. When it comes to the Rangers, as fans, all we can do is await the news of whoever the next coach will be.
When it comes to the state of the NHL right now, I've currently been drinking a big bottle of "Haterade"; as the only thing I want to see in the first round of the NHL playoffs is a nice fat elimination of the Islanders. Unfortunately, this bottle of "Haterade" isn't one of those small 8 oz bottles; as the Islanders are currently tied with the Penguins, 2-2, in their first round best of seven series.
With the Islanders playing well, I feel like my "Haterade" is now in one of those five gallon jugs, those big orange jugs that you see on the sidelines during any NFL game. It's my hope, that just like a victorious NFL team, that this proverbial five gallon jug will soon be dumped over the head of Pittsburgh Penguins head coach Mike Sullivan, after a first round series win over the Islanders. However, as they say – don't hold your breath.
Since the last time I left you on this site, I've continued to hammer away on my New York Rangers "Rink of Honor" book, a project that has taken a life of its own. Before I can even submit this book to my editor, I have to proof-read everything and then proof-read everything again a few more times. With a book that's now at 600 pages, as Alain Vigneault used to say – "it's a pro-cess". I mean, just imagine yourself reading a book and then re-reading that book several times over, while looking for typos and grammatical errors. It just makes your eyes go batty and cross-eyed, and as mentioned previously, everyone is their own worst self-editor. And of course, 600 pages is too long, so I'll have to carve this down, in order to protect the trees and the environment.
Seriously speaking here, I can't tell you how many times I've written a paragraph, whether it's in this upcoming book or during one of these blogs on this site, where my fingers go faster than my brain and I omit simple words while writing, words such as "the" or "and". I mean just think about it – how many times have you written a short text message, where you either omitted a word or spelt something wrong? And I'm not even talking about the "ducking" auto-correct here either!
When it comes to the 2021-2022 New York Rangers, nothing has changed since the last time I left you. When I look at what other NYR reporters, bloggers and podcasters are putting out there, it's basically all click-bait filler, such as "THE RANGERS MUST DO THIS" and "THE RANGERS MUST DO THAT". Outside of shaking up the roster, who knows what the Rangers will do, at least when trying to look at specific moves?
As I said last blog, while the Rangers will most certainly make some moves this off-season, at the end of the day, until the Rangers announce whoever their coach will be for the 2021-2022 season, it's truly tough to predict who is in and who is out. You have to figure that whoever becomes the next coach in franchise history, that said individual will want a say over his roster and will try to get his hands involved with the "Blueshirts Blueprints".
In tonight's manifesto, I'll take a look at JD's return to Columbus and all the latest in Rangerstown, USA. Elsewhere, I'll take a look at the latest events when it comes to the Stanley Cup Playoffs. After all of that, I'll get to the main event, which is a look at the top five general managers in the 95+ year history of the New York Rangers.
However as usual in this space, before getting into everything, the PLUGS segment of tonight's tome. Here are my last few blogs, in case you missed them:
---
---
---
---
By now, I'm assuming that you've heard the news already – John Davidson, two weeks after his dismissal by James Dolan and the Rangers, is back at his former post, where he's now once again the team president of the Columbus Blue Jackets.
As far as the Rangers go, outside of potential trades in the future with a familiar face as a trading partner, this news doesn't effect them. That said, for the sake of prosperity here, here's the official announcement from this past Thursday, which was made by the Blue Jackets themselves: https://www.nhl.com/bluejackets/news/cbj-announce-return-of-john-davidson-as-president-of-hockey-operations/c-324856044
When it comes to this news, I'm happy for JD. His family lives in Columbus and his daughter was extremely ecstatic about her father's return to "The Buckeye State". After Dolan fired JD, JD very easily could've retired, considering that he's 68 years old and due to the fact that he's a big family man. JD could've lived out the rest of his life solely as a proud grandfather, which according to John Davidson's daughter – it's a role that he's been perfect at.
Let me reiterate this one more time before continuing here – I'm happy for JD, good for him and all that other rah-rah happy horseshit. If he wants to work, which apparently is the case here, there's no place better for JD than Columbus, especially with his immediate family living there. That said, with JD's return, I think Columbus may as well rename themselves as the "Columbus Cuck Jackets."
As talked about repeatedly on this site, especially after JD first left Columbus over two years ago to take the job with the Rangers; in JD's original contract with Columbus, he had an out-clause in that contract, where if a job ever opened up with the Rangers, JD could contractually leave Columbus, and with no questions asked and/or penalty.
Put your fandom of JD and the Rangers aside here. Can you imagine if the Rangers hired anyone, whether it be a player, a coach or a front office member, where that person could leave at any time, if a better job opened up elsewhere? Such a clause would be blasphemy. As Ranger fans, we'd be questioning that person's intent, desire, willingness and dedication to the Rangers. Over in Columbus, you know, the Winnipeg of America, no one batted an eye over this clause, a clause that pretty much stated that Columbus was a second rate organization.
And I don't care what JD is currently saying about Columbus, in regards to how Columbus is a great city to live in and a great franchise to play for. If Columbus was so great, JD wouldn't have ditched them when the Rangers came calling. To JD's credit, he's a great politician, and all his sweet noise about Columbus right now is very hollow to me.
I mean really, even if you're not a Rangers fan, would you want ANYONE running your team, that had eyes on a job elsewhere? And heck, if you're an independent business owner, would you want any employee who always has greener pastures in mind?
In short, what I'm trying to say here is that Columbus was always a stepping stone job for JD, and not the final destination. Maybe I'm being too much of a "close-minded New Yorker" here, but really, from what JD has said and done, it truly makes Columbus look like a side-piece. It's like an ex-wife taking back her former husband, after her husband left her for a pretty young thing and after the pretty young thing got sick of old-timer balls.
And with JD back in Columbus, this is the equivalent of a guy turning down a bad looking girl, as this guy awaited the answer of your proverbial "dime piece". And once this proverbial hot chick said "no way Jose" (or "no way JD" in this case), this guy then went to the bad looking girl, and begrudgingly said "okay", as he accepted his fate and took this dog to the prom. I know this all sounds crude, boorish, puerile and reeks of male chauvinism, but you know what I mean here when using this analogy. I don't know a better way to describe all of this, outside of saying that JD lifted up the skirt of the Blue Jackets here and said, "eh, you might not be the girl of my dreams, but I just want to get laid. Let's go honey!"
---
If I were a fan of the Blue Jackets, I wouldn't be happy about this news, and for many reasons, such as:
— JD already bailed on us for greener pastures.
— JD's reputation may be pumped up a bit, due to the fact that he's a nice guy and likable. After all, has JD ever won a Stanley Cup? No.
— In JD's two prior stops as Team President, his teams got better and finally won after he left. Whether it was St. Louis winning the Cup under new management or CBJ pulling off the biggest upset in the history of the Stanley Cup playoffs, when they swept Tampa during the 2019 playoffs, JD's former teams were better without him than with him. (And yes, JD was there for the CBJ sweep of TBL, but like everyone else, jumped off the sinking ship like a rat.)
— JD had no intention of rejoining Columbus, until after he was kicked to the curb by James Dolan. This is the equivalent of a local playhouse theater actor, leaving for a shot at Los Angeles, only to fail there and then return to "The Suffolk County Community Theater" after busting out. Again, and as I've said previously on this site, while I understand the firing, where at the same time that I don't think JD had a true fair shake; this does come off as a small market guy not being able to hack it in the big city, fair or unfair.
— Lastly, if you're a CBJ fan, this all feels like going backwards and taking the Rangers discarded sloppy seconds. For a franchise where not many want to play for in the first place, JD, like a scolded dog, ran back to his old digs, only after being spanked by an unruly master.
---
One more time – this is great for JD, but I don't see how this is great for CBJ.
When it comes to the facts, after bringing back JD, CBJ also re-signed general manager Jarmo Kekalainen, in a move where CBJ committed to Kekalainen. Columbus, a franchise that has seen free agents and pending free agents run elsewhere by the boatload, including to the Rangers; (Rick Nash, Artemi Panarin, etc) are also looking for a new head coach, after John Tortorella and the organization mutually agreed to part ways. And wouldn't it be amazing Suzyn, if Torts returned to NY? Oh baby!
If you're looking at this through Rangers glasses, which I am, there is no shot of a Gorton/JD reunion in Columbus, with Kekalainen now having his contract extended.
In JD's press conference from Thursday, JD didn't rule out David Quinn as the next head coach of the CBJ, but it felt like JD said this in an attempt to be polite and to be politically correct. While DQ may be on JD's short list, I don't think that's the end game for Columbus. That said, I wouldn't mind seeing this either, as it would be entertaining!
When it comes to what JD said about his tenure with the Rangers, JD said the following this past Thursday:
(The following transcript comes from NYRangersNews.com, where you can read JD's entire transcript at this link: https://nyrangersnews.com/2021/05/20/what-john-davidson-said-about-the-rangers-on-thursday/#more-184509)
— "It's been very interesting, to say the least. I planned to be in New York for a long time and the club was really coming along. They have a lot of future and I think they are going to be very, very good. It was a bit of a shock when Jeff Gorton, the GM, and myself were let go. The owner, Mr. Dolan, who is a good man has every right in the world to do what he wanted to do and this is what he decided to do. You kind of go into a bit of a shock and the emotions go up and down and back and forth and then you try to figure out what you want to do."

— "I was disappointed and I think I have every right to say that, along with Jeff Gorton the GM who was let go with myself. The key is, if you get knocked down a little, get back on your feet and don't feel sorry for yourself. I certainly enjoyed my two-years in NY with the Rangers. It's a first-class organization with some great players there, there is a lot of good things happening. I had a talk with Mr. Dolan who is the owner and boss of MSG, a very respectful conversation and we decided to part ways. When that happens it's a blow because no one gets used to something like that, but once you gather and sit in the backyard and talk your way through these things with your best friends and things along those lines, some things start to point in the direction. I was in a position where I could just retire, I could do this or that or go to another team, but it's the right fit for us, the right fit for me, my family. We can't tell you how much we enjoyed Columbus when we were here."

— "I think when you go through something like that you have a feeling that something is going to happen. I will say that Mr. Dolan and I had some conversations, I wanna be as respectful as I can, I don't want to get into any private discussions that we had because they are between Mr. Dolan and myself. All I can say is that changes were made, I'm very, very happy and fortunate to be in Columbus. I think that Jeff Gorton and myself weren't, when you look at it, that team has a chance to spring ahead very quickly, they are in good shape. I'll leave it at that."

---
As talked about previously, I was fine with Dolan's decision to move on from JD. It is what it is. I understand that JD is a fan favorite and probably didn't deserve to be fired. After all, in two COVID impacted seasons, how can you really 100% judge anyone? That said, and as outlined before, perhaps JD was too patient with the Rangers progress, but at the same time, is that his fault or Jeff Gorton's fault – the same Jeff Gorton that started this rebuild and wanted to see it all the way through?
From what's out there, it's been rumored that Dolan wanted Gorton out and when JD didn't agree with that decision, that led to JD's dismissal too. It should be stated, this is all RUMORED and not fact, at least not yet to our knowledge.
In any event, the best of luck to JD, where I do think that his reputation may overshadow what he's actually accomplished. Sometimes, the heart takes precedence over what the eyes truly see, which may sum up JD's tenure as team president of the Rangers. That said, however you cut it, I think this makes CBJ look completely second rate and second tier here. CBJ just seems too willing to take someone who had eyes on a different prize in this case. Don't agree with me here? That's fine, but I'd love to hear why you would think otherwise.
---
As far as any other Rangers news, outside of the fact of Alex Ovechkin pulling a "Tony DeAngelo" at the end of Game 3 of the Caps/Bruins series, where Ovechkin blasted his goaltender for wrongly playing a puck as DeAngelo once did to Georgiev; (Samsonov didn't dare swing at Ovechkin though!) there's not much, outside of the Rangers sharing some media of the team supporting Dolan's other team, in the playoff bound New York Knicks. I gotta say, I thought these pictures were very telling. Even more telling? Phil Jackson lasted longer in his role than JD did. SAD!
If you're a regular reader here, you know this already – I don't care about political correctness. If there's any -ist you want to accuse me of, call me this – a "realist".
A few years back, the NBA tried to market short-sleeve jerseys over their traditional tank tops, in an attempt to boost jersey sales to their white male fans. While the NBA is predominately a league made up of many black American players, a large portion of their fan base are middle-aged white Americans, white Americans who don't necessarily look great, at least not from the cosmetic sense, in tank tops – tank tops that either expose the grandma arms or spaghetti thin arms of these white fans. After all, no one wants to see David from Connecticut and his 6 inch pythons in a tank top. And if you don't believe what I'm saying here, just Google this.
And yes, I'm talking in stereotypes and in generalities here. If you have a problem with that, I'm sure someone in the cancel culture world will accept your application.
When I saw the Rangers wearing their Knicks threads, all I could think of was how the NBA once marketed short-sleeve jerseys to their white fans.
I mean look at Mika Zibanejad here. For a player that has no toughness, outside of looking like a Knicks fan doing Jesus "cosplay", he looks like a young child here.
And how about this picture:
For all the jokes about Chris Kreider being "Casper" or being a "ghost", no one looks more ghost-white than Alexis Lafreniere here. Due to my own whiteness (Irish-American skin doesn't tan or get brown – it gets lobster red in the sun) maybe that's why I subconsciously got tattoo sleeves on my two arms! Maybe Lafreniere should do what Grabner did, and sleeve up his arms too:
And I 100% admit this – this is only a story due to a slow news day! As I've said since day one on this site, I don't care about skin color, religion, sexual orientation, politics or whatever other character trait you want to use here – all I care about is winning!
For those looking for more Rangers news, let me give you some real, yet "fake news", in regards to the Rangers head coach job search.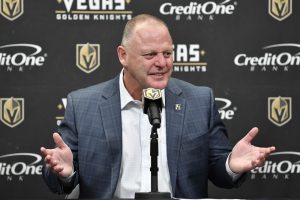 For the conspiracy theorists that are out there, such as Steve W. and the others, over in Latvia, which is currently hosting one of the weakest IIHF Worlds Tournaments in all of recent history and because of the pandemic; Team Canada, which has Gerard Gallant behind their bench, are  0-2. Conversely, Team USA, coached by Fred Flintstone himself, in Jack Capuano, are 1-1.
I'll say this once just to get it on record – I don't think whatever happens in the IIHF Worlds Tournament (as mentioned on past blogs, Chris Drury is the GM of Team USA) will have any impact on what the Rangers do. That includes both the head coach position and the roster, as several Rangers, such as Colin Blackwell, Filip Chytil, Kevin Rooney, Zac Jones and Libor Hajek, are playing in the tournament.
This tournament has been heavily impacted by the pandemic, where it's tough to get a true feel on anyone, which as I'll soon get into, is something you can also say about the 2021 NHL draft.
Let's talk the Stanley Cup playoffs now.
---
As I write these words, the Washington Capitals have been eliminated from the 2021 Stanley Cup Playoffs. I am completely shocked about this news, but as a MUSH, I guess I shouldn't be too surprised about these events! Additionally, can you imagine how Zendo Chara feels right now?
For a franchise that won the Stanley Cup three years ago, and during this past off-season, added both a future Hall of Fame coach in Peter Laviolette and a Hall of Fame defenseman in Zendo Chara; (and there was also that whole Henrik Lundqvist thing too) I can't believe that the long-in-the-tooth Boston Bruins easily disposed of the Caps in five games. While there were overtime wins along the way, five games is five games and it only took the Bruins five games to knock off the former Cup champs.
I'm a hockey fan, where admittedly, I have my biases and sometimes can't separate my biases from reality. If there's any team that continues to prove me wrong year-in and year-out, it are the Boston Bruins, that despite no matter what, continue to produce long playoff runs. No matter how old the Bruins get, the coach behind the bench or the roster turnover – the Bruins always seem to be in the running, much to my dismay.
That said – for a team that's as loaded as the Capitals, I can't believe they are done. I will say, had the Caps handled business in the regular season, and had finished in first place, I think they would've had a much easier time with the Islanders than they did with Boston. Of course, I'm a self-admitted Islander hater, so who knows? In addition, that's why the Stanley Cup playoffs are the best playoffs in all of sports, because you can watch every game and during every night of the regular season, but come playoff time, you never have a clue on who is going to win it all. What a time to be alive!
---
With the Capitals season now over, there are three players that will be of interest to the Rangers – Zendo Chara, Henrik Lundqvist and Alex Ovechkin. While crazier things have happened before, I don't see Ovechkin leaving Washington. I think he finishes his NHL career there. That said, Chris Drury should at least test the shallow waters on Ovechkin, even if it won't happen.
I've talked about Lundqvist previously on these blogs, so I won't go in-depth on this again. That said, if there's a way for Lundqvist to be 100% healthy, and if he's willing to take the veteran minimum in regards to salary, I would have no issues bringing him back. A 100% healthy Henrik Lundqvist at $750k-$1M is better than Georgiev at $2,425,000.
It's been reported that prior to signing the much maligned Jack Johnson, that the Rangers kicked the tires on Zendo Chara. As was evident this season and in the playoffs, Chara, despite his age of 44 years old, can still go, where his size is part of it. And as I said before, while it didn't make sense for Chara to sign with a non-contending team such as the Rangers last off-season, who knows now? That said, I truly can't say I would be up for the Rangers signing Chara now, even though I do think the Rangers should explore all of their options before ruling him out.
Gun to my head, I see Chara returning for another season, but just not with the Rangers.
And if the Capitals overreact and bid adieu to Peter Laviolette, I would 100% give him an interview for the vacated HC of NYR spot.
---
A few more playoff thoughts, and I'll take a look at this series-by-series:
Islanders vs Penguins: I still think that the Penguins can win this thing, but my confidence in them wanes game-by-game. While Crosby has impressed me, especially as a captain who gets involved in every scrum and on the defensive end – where are the goals? I can live with anyone winning the Stanley Cup and during any year – except for the Islanders, a team that's built as well as any team still alive. I will also admit some jealousy here, as Isle fans have rocked the Coliseum in the two games that have been played there. That said, similar to the Rangers after the M$G renovations, come next season, and in a new bougias building that will have the stink of horseshit in the air, I think the Isles will lose some of their passionate fanbase, especially if ticket prices soar to astronomical levels.
In short, the Coliseum, for as crappy and as asbestos laden as it is, the Coliseum has always been a great environment for hockey fans. Truthfully, I'm sad to see it go, as once Belmont opens, that will be it.
Lightning vs Panthers: The Bolts are up 3-1 right now, where I think it's only a matter of time before the defending Cup champs make it to the second round. If anything has surprised me out of these two teams, it's that the hatred between the two Sunshine State teams has been on full display. In turn, this has made for an exciting brand of playoff hockey.
While I did see the Lightning winning this series in seven games, and where now the Lightning may finish the Panthers off in either five or six games; what I thought going into this series has been blatantly apparent – the Bolts, a veteran team that now knows how to win is doing just that. The Panthers aren't there yet and this eventual series loss may be a learning experience for a better future.
---
Hurricanes vs Predators: I thought this would be a four game sweep for the Canes, but after consecutive double overtime wins for the Predators, this series is now tied at 2-2. If anything, and maybe I'm a fool for believing this, I think home ice has played a pivotal role in this series, as both teams have allowed more fans in their arenas than the other teams in the playoffs. With fans not being a factor for over a year now, I think the return of fans have juiced up the hometown players.
While I see the Canes winning this series, anything can happen in the playoffs. For a series where the home team has won every game, for the Predators to have any chance of knocking off the top team of the Central division, they will have to win Game 5, or should I say, at least in my opinion!
---
Avalanche vs Blues: Over in the West division, on Sunday, the Avalanche completed their four-game sweep over the Blues. This doesn't shock me, as this was what was supposed to happen. While some of the games were close, the Avalanche are the Presidents' Trophy winners, and going into the playoffs, were the biggest favorite to win the Cup. They did what they were supposed to do, where ultimately, their Stanley Cup chances will be determined by what happens in round two. For the Avalanche, winning this series was a given and they will only be judged on what happens next.
---
Golden Knights vs Wild: You know I'm pulling for the Wild, due to Cam Talbot and Mats Zuccarello being on the roster; but really, if VGK lost this series, heads would've rolled. While the series isn't over yet, VGK is up 3-1 and with a Game 5 in Vegas on Monday night. Vegas is arguably better than Colorado, but despite their poor record against the Wild in the regular season, Vegas and Colorado were expected to play in the second round, in order to determine the West Division champion.
While I'm still rooting on Talbot, how about Marc-Andre Fleury? One day, he will write an autobiography – after he's been inducted into the Hall of Fame. Has there ever been a goalie with a more unique story than MAF? He just gets better with age, and after being phased out of Pittsburgh, in Year Four of the Golden Knights, remains the team's MVP and the most important figure. Good for him.
---
Leafs vs Canadiens: Obviously, the top story of this series, are the injuries that Leafs captain John Tavares incurred, as the result of an accidental collision with Corey Perry.
As everyone knows, the only way that the Habs had a chance of winning this series, would be behind the goaltending of Carey Price and with the "rogue, bleu and blanc" finding secondary scoring. Of course, the Tavares injury changes things, but after a Game 1 win for Montreal, Toronto tied up the series, and impressively at that, by taking Game 2.
With Tavares most likely done for the playoffs, Montreal's route to the second round is easier. That said, Toronto still has the firepower, and if they can get half-way decent goaltending, should win their first playoff series in over 15 years. This much is known – for the poutine crew to move on, they will have to win at home.
---
Oilers vs Jets: As a result of a Game 3 OT victory, and in a game where down 4-1, the Jets ultimately won by a final of 5-4, the Winnipeg Jets now have a 3-0 series lead over the heavily favored Oilers. WOW.
In this WHA series, where Edmonton has two MVP's in both Draisaitl and McDavid; it's Winnipeg goaltender Connor Hellebuyck and his Jets one game away from the second round. I'm shocked. I really thought the Oilers, despite their goaltending issues, would cruise right past the Jets. Instead, it's not the Oilers lack of superior goaltending that's killing them, it's the fact that McDavid and Draisaitl didn't do much on Edmonton home ice. In addition, when McDavid & Draisaitl finally put up points in Game 3, it's then where Edmonton's goaltending issues reared in its ugly head.
I've overlooked teams from Canada before, and if you need an example of this, just look at the crap I was spewing during the 2017 playoffs, when the Rangers had a second round series with the Ottawa Senators. While I'd be wrong to discount the Jets here, I do think that whoever comes out of that Original Six series, that both Toronto and Montreal would rather take their chances with the Jets than with the Oilers.
Either way, for a team that boasts two MVP's and two of the most entertaining and best players in all of hockey; a Jets sweep of the Oilers is not what's best for the league. However, those are Edmonton's problems and not Winnipeg's, and we may be talking sweep here, come Monday night. Heck, I'm already talking about it, especially after the way the Oilers blew Game 3.
And to earn my "YOU WOULD SAY THAT" reputation (Credit: Mike the Esquire) I should mention, that in the McDavid Era, the Oilers have never gone further in the playoffs, than they did with Cam Talbot, when Talbot set the franchise win record during the 2016-2017 season. Just sayin'!
---
As we close out tonight's blog, and since this is a Rangers fans site, I wanted to close with something Rangers related. I should also add here, while many are doing their draft previews, that is not my forte. My wheelhouse is Rangers history, and if you know anything about my gambling picks, predicting the future is not one of my strengths! As my friends and brother would tell you, my "McMush" nickname is well deserved!
I do want to mention, once we get closer to the draft, I'll reach out to my buddy Danny M., who watches all of these junior leagues, for his thoughts on what should be one of the most unpredictable drafts of all-time, due to the pandemic impacting all of these junior leagues. I'll also plug Steve K., aka "The Draft Analyst", when he posts his manifesto previewing every prospect, a manifesto that usually runs the length of ten of these blogs on this site. Both of these guys are on top of these kids like Jared Fogle on a "Teen Beat" magazine, and yes this is a joke and has nothing to do with their personal lives! I just like bad and dark jokes! Just ask Eddie G. or Jim S., of "The Blueshirt Underground Show", for confirmation!
And as usual, and while speaking of BSU, I'll plug "The Blueshirt Underground Show" when they do their draft preview show. They usually get good guests for those shows, including Steve K. himself.
Of note, I believe BSU will return for a live episode at 7PM on 5/24. Check your local YouTube listings. Again, I have no problem plugging anyone else, especially when they can put out a better product than me, and when it comes to the NHL Draft, simply stated, I'm not your guy. However, if you want to talk Ranger line-ups from the late 1920's, I'm your guy! LORNE CHABOT FOR THE HALL OF FAME!
For my money, no one previews a draft like Steve K. does. In addition while on this topic, for me to pretend to be a draft expert here would be a disservice to you, a waste of my time and I would be selling you shit. It's just not what I'm into. The passion that guys like Danny M. and Steve K. have for these prospects is the equivalent to my passion of all things Rangers history. Unlike others, I have no problem admitting my weaknesses when writing about hockey, and assessing drafts and prospects is one of them. For whatever reason, I just can't get into it, despite the importance of these drafts.
And oh yeah, I'll admit this too – with the Rangers having a .01 percent chance of winning the number 1 overall pick at this year's NHL draft lottery, my interest in the draft, which has always been minimal, is nowhere as strong as it was during the last two drafts.
With Chris Drury now as the Rangers GM, what better time than now, to look at the Top Five General Managers in all of New York Rangers history?
For my money, let me present to you the top five general managers in all of franchise history. And because I feel I have to say this – all of this is my opinion and not the end all, be all. In other words, feel free to disagree.
---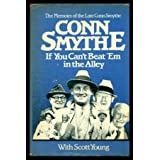 NUMBER FIVE: CONN SMYTHE
Years of Service: April 1926 – October 27, 1926
Arguably, one could argue that Conn Smythe should be higher on this list, but what can't be argued is that Conn Smythe deserves to be on this list.
I've talked so much about Conn Smythe in the past on this site, whether it was reviewing books on him (including his autobiography) or criticizing Mollie Walker on "Up in the Blue Seats", for not knowing the origin of the "if you can't beat them in the alley…" quote. That's not a knock on Walker, but it's my belief that if you get paid to write about the Rangers, it would help if you knew their history. Maybe that's just me.
While Smythe will always be known as the founder of the Toronto Maple Leafs and for his long association with that franchise, when it comes to the NHL, Smythe got his start as the general manager of the New York Rangers. As the team's first GM, Smythe wouldn't last long in the role, as before the Rangers inaugural season began, and after a clashing of the heads with his superiors, he would soon be replaced by Lester Patrick. (Smythe's gambling on the Rangers first game ever played, ironically would lead to the formation of the Leafs, and that's a story I've talked about before.)
As you may be aware of, in 95+ years of Rangers history, the Rangers have only won four Stanley Cups, where you can kind of credit Conn Smythe for two of them. After all, he put together the original Rangers, including the best line in all of franchise history, in "The Bread Line", of Bill Cook, Frank Boucher and Bun Cook. Smythe would also sign one of the best Rangers d-men of all-time too, in Ivan "Ching" Johnson.
If Smythe didn't have a conflict with Rangers management, not only would the course of Rangers history be different – there's also a good chance that the Maple Leafs would've never been founded either. While Toronto was always hockey happy, at the very least, their blue and white color scheme, which aligned with Smythe's paving and gravel business at the time, wouldn't have existed.
When you look at Rangers history, Smythe put together a team that over-achieved in its first year and then won a Stanley Cup in its second year. That said, do the Rangers win the Stanley Cup without Lester Patrick in 1928? Who knows? This is why history has always been so fascinating to me, because one move or action always leads to a chain of events. In any event, Smythe's role with the Rangers can not be forgotten or ignored.
---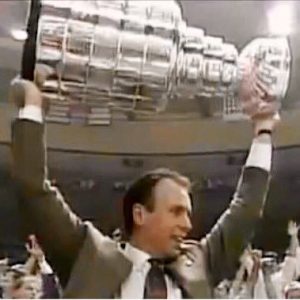 NUMBER FOUR: NEIL SMITH
Years of Service: July 17, 1989 – March 28, 2000
When you're a franchise that only has four Stanley Cup wins in nearly a century's worth of time, and where one man has 75% of the Cups to his name; the other man, who produced the only other Stanley Cup in all of franchise history, has to be included on a list such as this. That man is Neil Smith.
When you look at Smith's tenure as Rangers GM, he will always be remembered for the 1994 Stanley Cup victory. In addition, he's the one that traded for Mark Messier and Adam Graves and also cultivated the "Russian Invasion" of Rangers. And if you're into history, isn't it amazing Suzyn, how the Rangers are currently in the midst of another "Russian Invasion", even if Russian NHLers don't mean the same thing today as it did in 1994?
While many may argue that it was Mike Keenan that pressured Smith into finding the spare parts that helped get the Rangers over-the-top, it was also Neil Smith that listened to his head coach, rather than blowing him off. While Smith would've been blasted had his trade deadline trades during the 1993-1994 season had backfired; you can only talk about the facts and here's the only fact that matters – the Rangers ended their 54 year Cup drought under Smith. As Metallica once said – "Nothing Else Matters."
When you make a list such as this, or any list that features people from different eras, it's tough. Each general manager and each different era has/had its own parameters. Yes, some may criticize Smith for the "Dark Age" era of Rangers, an era that only got darker after Smith was replaced by Senile Sather; the bottom line is Smith delivered a Cup and that's all you can ask for, especially from this franchise with a poor track record in regards to Cup victories.
---
NUMBER THREE: FRANK BOUCHER
Years of Service: February 21, 1946 – April 22, 1955
I'll save you my long-winded spiel on why Frank Boucher is not only the greatest Ranger in all of franchise history, but why he's the most important man in all of Rangers history, as Boucher enjoyed a 29 year association with the club as a player, coach and as the team's general manager.
When assessing GM's, and as talked about, each era is different. In my eyes, no general manager in franchise history had a tougher era than Frank Boucher did, as he took over the team after the fall-out of World War II. As mentioned in-depth on previous blogs, prior to succeeding Lester Patrick, Boucher had to deal with a team with no assets, as Patrick, who thought the league would be suspended during World War II, dealt all of the Rangers prospects and signings away. In turn, Boucher had to deal with many lean years and with players who weren't NHL caliber.
Despite having the deck stacked against him, including having to deal with returning World War II players who by law, were guaranteed their old jobs after returning from war; Boucher built a roster that made it all the way to Game 7 of the 1950 Stanley Cup Final. As was the case during Boucher's tenure as GM, he had the deck stacked against him again, as due to the times, where the circus pushed the Rangers out of M$G come playoff time, (M$G has always been about money, hence the $ sign whenever I type out M$G) the Rangers had to play all seven games of the 1950 SCF on the road. Had a Don Raleigh Game 7 double overtime shot not hit a crossbar, Boucher would've joined his predecessor, in Lester Patrick, as the only man to have played, coached and been the team's GM, to win a Stanley Cup. (And Patrick deserves an asterisk here, as he only played one game in relief, during the 1928 SCF, thus earning him this accolade.)
Boucher would have many trials and tribulations during his time as GM of NYR, with most of it being the result of Lester Patrick, who similar to Glen Sather of today, was an advisor to M$G, where Patrick often undercut his former protege. Ultimately, M$G would side with Boucher, after Boucher pushed for a trade in 1947 of Buddy O'Connor and Frankie Eddolls. This trade would ruin the relationship between Boucher and Patrick, that only was reconciled just before Patrick's death.
Boucher would be proven correct in his assessment of both O'Connor and Eddolls, as both players were part of the 1950 SCF team. In addition, both players would eventually serve as the team's captain.
And yes, all of this stuff takes up a huge chunk of real estate in my upcoming book, so I'll save you the long story here for the book!
Boucher, who didn't accept this job under the best circumstances, nor had the best circumstances during his tenure, tried to step down twice, knowing that the team hadn't won a Cup. Boucher was so well liked and respected, that he was asked to stay on, before mutually agreeing to part ways in 1955, where ironically, his protege, in Murray "Muzz" Patrick, the son of Lester, replaced him. I told you history was fascinating!
---
NUMBER TWO: EMILE FRANCIS
Years of Service: October 30, 1964 – January 6, 1976
When it comes to Emile "The Cat" Francis, he will always have a special place in Rangers history. Unfortunately, he may also have the distinction as the greatest man under Rangers employ, to never win the Cup.
For long-time fans, I don't have to say anything else here. For newer fans, who may have become infatuated with John Davidson just because everyone else was, just imagine the fandom of JD and then multiply it by 100 when talking Francis. While Patrick was definitely more successful and while Boucher had the 29 years, without question, "The Cat" was one of the most beloved men in all of Rangers history.
By doing this blog and working on a book about Rangers history, the one thing that any player that played under Francis has always told me, is this – "I wish we would've won for Emile." To compare to a modern-day Rangers coach, as Francis, like many, doubled up as both the Rangers coach and GM – Francis was the anti-Tortorella. While Francis wasn't opposed to cracking the whip, he had the love, admiration and respect of all of his players, whether it was players he drafted or groomed, such as Rod Gilbert, Ed Giacomin, Brad Park, Jean Ratelle, Pete Stemkowski, Vic Hadfield or anyone else. It was also different during the era of Francis, as he was more personal with his players than the GM's that succeeded him. There's also the Terry Sawchuk story too, as Francis was the man who had to claim his body from the morgue.
There are many things that Francis is known for, but to me, this may be the most important – it was Francis that demanded that the Rangers and M$G tell the circus to "Father Fink" themselves, as Francis wouldn't take the job unless the Rangers were guaranteed to play all of their playoff games at M$G. This changed the culture in NY, and in turn, Francis had one SCF run in 1972 and eight other playoff appearances to his name.
The Francis Era of teams were perennial playoff contenders, but as George Grimm's book says, those Rangers did everything but win. Whether it was Ratelle's injury, Gilbert being a party-type, Bobby Orr, the Montreal Canadien super-teams of the time, the Broadstreet Bullies or an Islander team that ended the era; Francis could never lead the Rangers to a Cup. However, despite this, Francis helped turn the franchise around, and if you lived during his era, you always felt that the Rangers had a chance to win the whole thing.
Similar to Conn Smythe, it were the moves that Francis made before his dismissal in 1976, that helped build the Rangers into a Cup contender in 1979, including the pain-staking and emotional decision of moving on from Eddie Giacomin for John Davidson. Of course, the biggest trade in all of hockey history, a trade made in November of 1975, that sent Brad Park and Jean Ratelle to Boston, in exchange for Phil Esposito, also occurred under Emile's watch. It's a trade that's been dissected by everyone, but it was a trade that did work out for both teams, as both teams would make a SCF run afterwards.
---
NUMBER ONE: LESTER PATRICK
Years of Service: October 27, 1926 – February 21, 1946
I mean really, who else but Lester Patrick here, as the top general manager in all of Rangers history? Not only did Patrick serve the Rangers in this role for the longest amount of time, more importantly, the Rangers won three Stanley Cups under his watch.
While you can argue that Smythe deserved as much credit as anyone for the 1928 Stanley Cup Final win, under Patrick, not only did the Rangers win the Cup in 1928, the franchise also won the Cup in 1933 and in 1940.
Perhaps what gets lost in all of this, is that the Rangers also played in three other SCF's under Patrick, in 1929, 1932 and in 1937. And again – the Rangers didn't have any of these SCF games played at M$G either, due to the circus. And as I'll soon explain, the Rangers also had the biggest disadvantage of any other team in the league during this era.
In nearly 20 full seasons as the team's GM, the Rangers qualified for the playoffs in 15 of those seasons. And contrary to what many believe, there weren't just six teams around at the time, as the "Original Six Era" didn't start until 1942 – after the Brooklyn/NY Americans folded during World War II. This has always been a pet peeve of mine, as many younger and uneducated fans will blow off figures from an older generation, saying "there were only six teams then." Of course, not only is that not true, but everything was different then as well. I know I'm an extremist when it comes to history, but not having respect for people that paved the way always bothers me.
In addition, the Rangers had the biggest disadvantage of any team in the league, due to their status as an expansion team, playing in the southern most location in the league and didn't have first dibs at the top talent of that time – talent that lived in Canada and during an era where teams had first rights based on location. There were no drafts during Patrick's time – teams had rights on players based on a location radius. After teams passed on players, then the Rangers would be able to sign players out of Canada.
Patrick, as the GM of NYR, has 75% of the franchise's Stanley Cups to his name. Case closed. He's the top GM in all of NYR history.
BONUS! Who was the worst GM in all of NYR history? This guy:
For more on Senile Sather, check out: https://bluecollarblueshirts.com/62618/
If you haven't already, subscribe to this blog for the next update:
---
I'm not sure when I'll be back, but I'll definitely be back after round one of the playoffs, with a round one recap and a round two preview.
Stay FABULOUS my friends.
Until then, and as always here, thanks for reading and…
LET'S GO RANGERS!
Sean McCaffrey
BULLSMC@aol.com
@NYCTHEMIC on Tweeter