Greetings and salutations everyone and welcome to another blog here on BlueCollarBlueShirts.com. I'm still in a state of euphoria following the Rangers' Game Seven victory over the Pittsburgh Penguins!
That stated – the Pittsburgh Penguins are now a distant memory for me – or at least until the start of next season.
While I will always remember this monumental first-round victory over the black-and-yellow, and that we should all be currently singing the praises of many players in Rangers' blue; at the same time – the Sidney Crosby memes, checking the Penguins' social media pages for injury updates, Mike Sullivan's crying, talk of third string goalies, and anything else Steel City related should all be shelved – just like the Penguins' 2021-22 season! (Last Penguins' dig, I promise)
The target of Rangerstown, USA today, and most likely for the next two weeks too (I don't see a short series at all), are the Carolina Hurricanes – the same team from Raleigh, North Carolina that former Ranger goaltender, CZAR IGOR's predecessor himself, Henrik Lundqvist, compiled a record of 33-12-1 against during his fifteen years in the Rangers' crease.
While not taking anything away from Henrik Lundqvist – these 2021-22 Carolina Hurricanes aren't your grandfather's Hurricanes, nor are they Lundqvist's Hurricanes anymore neither.
---
Sixteen years ago, and in Lundqvist's rookie year – the Hurricanes, led by then team captain Rod Brind'Amour, won the Stanley Cup, when they defeated the Edmonton Oilers in seven games during the 2006 Stanley Cup Final.
After winning their first championship in all of franchise history; the team, once formerly known as the Hartford Whalers, then missed the playoffs in the two seasons that followed their raising of the most precious silver in all of hockey.
The Canes returned to the playoffs in 2009, where they were then swept by the Pittsburgh Penguins during the Conference Final. After that loss, it would take a long time for the Canes to return to postseason activity.
Up next were nine consecutive miserable seasons of missing the playoffs, a record that only the Buffalo Sabres would go on to demolish. (Presently, the Sabres have missed the playoffs during the past eleven seasons – the league record for playoff futility.)
During a near-decade's worth of malaise in Carolina, the Canes were also very active at multiple NHL Entry Drafts.
The Canes, more times than not, selected very wisely on Draft Day.
Soon joining the roster were Jaccob Slavin (120th overall in 2012), Sebastion Aho (35th overall in 2015), Martin Necas (12th overall in 2017), Andrei Svechnikov (2nd overall in 2018), and Seth Jarvis (13th overall in 2020).
Eventually, these players, along with other Cane stalwarts such as Jordan Staal, Dougie Hamilton (now of the Devils), Jordan Martinook (formerly of the Coyotes), Teuvo Teräväinen (formerly of the Blackhawks), and others – all of them helped to build Carolina's nucleus, a core that has winning written all over it.
In turn, the Carolina Hurricanes, now rebranded as a "Bunch of Jerks" during the 2018-19 campaign (due to their unorthodox "Mickey Mouse" post-win celebrations), and as first quipped by the legendary Don Cherry – a negative moniker that the small market team then used to their advantage (and made millions of dollars off of too via merchandising) – the Canes then surged all the way to the Conference Final in 2019.
(Holy run-on sentence Batman!)
Once there, the Boston Bruins swept the Canes in four games.
A postseason later, during the bubble playoffs, the Canes then swept the Rangers in three games in 2020, where yep – we'll soon get into all of this later tonight.
Following their qualifying round sweep of the Blueshirts; the Canes then squared off with the Bruins once again, where this time – it took the Bruins five games to eliminate the Hurricanes.
Come the 2021 Stanley Cup Playoffs, and now out of the bubble; the Canes knocked off the Nashville Predators in six games during the first round. However, the Tampa Bay Lightning, that year's Stanley Cup champions, would then eliminate the Canes during a five-game second-round series.
Despite the loss, the Canes came out of it for the better – even if that does sound "participation trophy-ish."
---
One of the oldest cliches and theories around this time of the year, playoffs time, is the following – "sometimes you need to lose in order to win."
What this means, is that sometimes you need to gain experience and suffer some heartbreak in order to advance to the next level. In other words – you need battle scars for future wars.
While there is logic and validity behind that; personally, I subscribe to "live in the moment."
After all, as a Rangers fan, and with where my team is today – I have to think like that!
That said, one can't blow off the "sometimes you need to lose in order to win" theory either.
Need proof? Just look at the Stanley Cup champions of recent years. No one personifies this theory more than the current reigning and defending two-time champs, the Tampa Bay Lightning.
After losing a Stanley Cup Final in 2015, and many Eastern Conference Final losses thereafter; in 2020, and following their most crushing playoff loss yet (the 2019 upset allowed to the Blue Jackets) – the Bolts finally won their Cup. And then they did it again in 2021.
Prior to the Bolts, the St. Louis Blues had built a solid core and had never won a Stanley Cup. They finally won the chalice in 2019.
If any other recent team embodies this theory more so than the Bolts, it were the Washington Capitals – where after many never-ending heartbreaking postseasons – Ovi's men finally got over the hump in 2018.
This being said, I don't think that Carolina, of these teams still remaining during these 2022 Stanley Cup Playoffs, is the best example of this theory.
Instead, in my eyes, it has to be the Colorado Avalanche – who despite all of the elite talent that currently compromise their heralded core – have yet to advance past the second round of the Stanley Cup Playoffs.
But if you're looking for an Eastern Conference team "that's due," then yeah – it are the Carolina Hurricanes.
(And not the Florida Panthers, in case you're wondering!)
---
The Hurricanes made all of the right moves during this past off-season, where as we've talked about before – they have now replaced the Tampa Bay Lighting as "Rangers South."
Having previously acquiring former Rangers Brady Skjei and Jesper Fast; during this past off-season, the Canes signed Brendan Smith, Tony DeAngelo, Antti Raanta and Derek Stepan.
I talked about all of this way back when, in August of 2021. You can find that blog here: https://bluecollarblueshirts.com/8421/
If there's one excerpt that I want to share with you right now from nine months ago, it's this one:
In their final and respective seasons with the Rangers, these six men were paid a sum of $23,750,000 overall. In 2021, the Carolina Hurricanes are paying these members of the Rangers' alumni a grand total of $12,400,000 – nearly half of what the Rangers once did.

To me, with all of this broken down in black and white, I don't think this is Carolina solely loading up on ex-Rangers. In my eyes, I think this is Carolina loading up on solid veterans and role players. The fact that these six players are ex-Rangers is just more of a coincidence than anything else.
I still feel this way today.
In addition, I still feel strongly about what I said once the Hurricanes took a chance on Tony DeAngelo.
In August of 2021, I said, "for 1/9th the price of Dougie Hamilton, the Canes will come out smelling like a rose with TDA in their fold."
In turn, DeAngelo set the team's franchise record for most points scored by a defenseman during a single-season. He's now flirting with Canes' playoff records too.
---
Perhaps the biggest move that the Hurricanes made during this past off-season, was when general manager Don Waddell decided to completely shake-up his goaltenders.
Despite a strong and surprising season out of the young and cheap Alex Nedeljkovic; during the off-season, he was soon sent to Detroit. Additionally, veteran goalie James Reimer wasn't offered a new contract.
Now needing both a starter and a back-up; Waddell signed free agent Frederik Andersen. A former Leaf that often received blame for all of Toronto's never-ending first round failures.
Fast-forward to the end of this 2021-22 regular season – Andersen has now completed the best season of his career with the Hurricanes.
Also joining the mix was Antti Raanta, who was coming off four injury-plagued seasons with the Coyotes.
A former Ranger, Raanta was able to rebound this season, where in turn, both Carolina goalies went on to win the 2022 William Jennings Trophy (fewest goals allowed).
And when Frederik Andersen went down at the end of the season? There was Antti Raanta to lift the Canes to a Game Seven victory over the Boston Bruins.
This much is true before we switch gears, and then get into this series preview – the Carolina Hurricanes are a strong team, and a team that has been built for this winning position for some time now.
Between home grown players, a 2021 Jack Adams award winning head coach, wise free agent signings, key trades and a savvy general manger to boot – the Canes, and their fans, have every right to feel that 2022 will be their year.
Enter the New York Rangers.
---
Prior to the Rangers' playoff run, and similar to what I just did with Carolina above, I wrote a "how-they-got-here" piece on the Blueshirts too. You can read that here: https://bluecollarblueshirts.com/5122/
With Pittsburgh now out of the way; the Rangers took Monday off, since their series with Carolina will commence on Wednesday night.
Here is the full schedule for Rangers vs Hurricanes:
While his team was off on Monday, Gallant was not.
Here's Monday's edition of "TURK TALK":
---
As you'd imagine, Gallant is very happy about moving on to the second round.
While he didn't speak too much about Carolina; he also said what you'd expect him to say – they're going to be a tough out, they are a good team and his Rangers will approach this series like any other game – "one game at a time."
From the UPDATE DEPARTMENT, Gallant's team is relatively healthy, where only Barclay Goodrow remains out amongst the regulars.
On Goodrow, Gallant said that #21 hasn't skated yet, but he isn't ruling him out for this series either. Gallant said that while Goodrow won't be around for the first two games of this series – there's also a chance that the two-time Cup champ could return during the latter games of this series.
Obviously, Goodrow would most certainly be welcomed back.
Going into these playoffs, I thought that Goodrow should've been the team's third line center. Now, I guess should Goodrow return, he'll play on the fourth line, with either Rooney or Reaves taking a powder. (I just can't see scratching Tyler Motte at all.)
Gallant was also asked about the Rangers' wretched three games against Carolina from the 2020 bubble.
As noted about 8678678896776 times before this season (and even as recently as last night and now again) – I feel like I'm always 100% in-sync with "The Turk."
Gallant said he wouldn't watch one tape of those three games and then added, "those games don't mean a thing."
Instead, Gallant said he'd be watching the four games that these two teams (and rosters, the most important thing here) played from the 2021-22 regular season.
Let's get into that now.
---
As a refresher, here were the final scores between these two teams from the 2021-22 regular season and with my game reviews of each game attached:
1/21/22 – Game One – Carolina 6 – Rangers 3. (Review: https://bluecollarblueshirts.com/12122/)
3/20/22 – Game Two – Rangers 2 – Carolina 0. (Review: https://bluecollarblueshirts.com/32022/)
4/12/22 – Game Three – Carolina 4 – Rangers 2. (Review: https://bluecollarblueshirts.com/41222/)
4/26/22 – Game Four – Carolina 4 – Rangers 3. (Review: https://bluecollarblueshirts.com/42622/)
---
As you can see (and the final scores don't necessarily reflect how these games were played either), the Canes won the season-series 3-1.
Ironically, the Canes dominated the first two games of this series (both in Carolina), where the two teams traded wins.
The first game was a flat-out Carolina stomp-job, while the second game saw Georgiev having the best game of his life.
It should also be noted, that both of these games took place PRIOR to the NHL Trade Deadline, and that CZAR IGOR didn't play in either of them.
The latter two games at the end of the regular season were both played at M$G, two games where at the time, the Rangers were challenging Carolina for first place in the division. Since Carolina won both affairs, they have the home ice advantage for this series.
It should also be mentioned that while the Rangers lost these two home games, Chris Kreider made history during both of them too.
On 4/12, he picked up his 50th goal of the season. On 4/26, after winning the Steven McDonald Extra Effort Award, he then scored his 52nd goal of the season.
In addition, I should also remind you that the 4/26 game was the contest where both Artemi Panarin and Andrew Copp received injuries in, where both were pulled from the game prior to the tilt reaching the mid-mark of the second period.
Once these two went down, everything changed, and a tied game soon became a Carolina victory.
---
In this second-round series between the Rangers and the Canes, the two top teams of the Metropolitan Division – expect to see a highlight reel of superb goaltending out of both CZAR IGOR and the returning Frederik Andersen.
Just like any other series, special teams will be a major focus, as the Rangers, fourth-best power-play of the league (25.2%), goes up against a Hurricanes' penalty kill that finished the 2021-22 regular season as the top kill unit of the league (88%).
That said – anything can happen in the playoffs. Furthermore, you can't use regular season statistics as an indicator of what's to come either.
Going into the Canes vs Bruins series, I predicted a seven game set. That's what happened – although I predicted that the Bruins would win the series in seven.
Now with the Boston monkey (or to be technical, due to their team name – "bear") off of their back – the Canes will look to return to the Eastern Conference Final.
There were a few things that surprised me about Carolina (and Boston) during the first round.
Aside from the deciding Game Seven – every single one of these games were blowouts for the home team.
In other words, the Canes just came out like crap for three games – all of them on the road – as the home team won every game during this series.
Heading into this series with the Rangers – the Canes are without a road victory during these playoffs.
Perhaps the thing that surprised me the most was the fact that the Canes play in front of the loudest audience in all of the NHL – not bad for a small/non traditional hockey market.
While I'm sure that things have changed since 2018, when I was last in Carolina (when I took in a Rangers/Canes game in Raleigh); during my time there, their arena was half-empty. (Part of the reason for that? The game took place at 4PM on an NFL Sunday.)
Then, once inside of the arena on that date, all of the in-house televisions, mainly where the bars are, had the NFL on – rather than the Canes/Rangers game itself. Not exactly a ringing endorsement.
I guess the "Bunch of Jerks" campaign changed the tide in Carolina.
---
For a team that I've been faithful to since day one; I will also admit that the Rangers have overachieved and have smashed all expectations this season too.
In a way, they are what Carolina was several years back, where the Rangers are hoping to advance further than Carolina ever did. Then again, the Canes have never had a goaltender like CZAR IGOR.
And despite my KING KONG chest beating all season, where I predicted the Rangers to be very good and make noise in the playoffs – at the same time, I never expected these 2021-22 Blueshirts to flirt with the franchise's all-time wins and point totals, which were set by the Presidents' Trophy winning Rangers from the 2014-15 season.
Everyone knows about the top stars in Carolina and the talent that they have.
As Ranger fans, we first took notice of that in 2020 during the bubble, as following over a decade's worth of Lundqvist dominance over the formerly nicknamed "Candy Canes" – Carolina soon swept the Rangers' candy asses themselves.
In other words, and as stated at the top of this – these aren't Lundqvist's doormats anymore.
In fact, and starting with the bubble – the Canes are now 6-1 in their last seven games against the Rangers.
Of course, these aren't David Quinn's Rangers anymore either!
For the Rangers, who have the best possible coach available to them today, a Gerard Gallant who never overreacts, neither following big wins, nor following big loses – they'll have to abide by what's brought them to the dance. They will need their top players to come up big. And it will help if they play some defense too!
While the Rangers were able to hang around and wait for Mika Zibanejad and Artemi Panarin to play catch up; conversely – Carolina isn't Pittsburgh.
Yes, the officiating in this NYR/CAR series should be better than it was during the first round, but keep in mind – Carolina isn't as decimated by injuries as Pittsburgh was.
Simply stated – the Rangers' third line can't be their best line in this series, as they were against Pittsburgh.
---
At this time, I have to get my daily swipe in at the analytical community, but I will get to a point at the end of this – I swear!
Have you noticed how the ANALytical community, and as they always are, have been dead wrong about these 2021-22 New York Rangers all season long? I know I have!
After all, how many times have you heard the following nonsense out of these buffoons:
— DRURY IS CLUELESS!
— THEY NEED BUCHNEVICH!
— THEIR FIVE VS FIVE STATS WILL DOOM THEM!
— THEIR EXPECTED GOAL STATS ARE SHIT!
— THEY WILL BE EXPOSED DURING THE PLAYOFFS!
— GOODROW AND REAVES SUCK!
— GALLANT DOESN'T KNOW WHAT HE'S DOING! HE'S NOT A GOOD COACH!
— TRADE LINDGREN!
— STROME STINKS!
— VATRANO WHO?
— WHAT'S THE POINT IN TYLER MOTTE?
— LAFRENIERE IS A BUST
— IGOR IS THE ONLY REASON WHY THEY WIN!
---
If there is anything these people may have gotten right, which is something that the eye-test will tell you too, it's this – Patrik Nemeth can't play during round two.
While Nemeth was forced to play during round one, this much is true too – Ryan Lindgren's return during Game Five completely changed the Rangers' fortunes against the Penguins.
However, if Lindgren, or anyone else from the blue line, should go down – Nemeth can't be the replacement.
Give Zac Jones a shot. Give Libor Hajek a shot. Tell Ron Greschner to put the sharpies down and suit up. Hell, call up the ghost of Ching Johnson if you have to – but Nemeth can't be Gallant's first option.
Should the Rangers remain healthy, I'd imagine that Justin Braun goes the rest of the way, along with his new partner, Braden Schneider.
Carolina, who has a ton of speed, will wreak havoc on Nemeth should #12 crack the line-up.
In fact, Carolina's speed will be a tall order for the Rangers' defense as is. It's why you have to be happy that you have a goalie like CZAR IGOR in there – where now and after round one, one story-line in Carolina will be about how the crowd in Pittsburgh was able to get to #31 a bit.
If Igor thought the jeering/heckling/mocking was bad in Pittsburgh – it will only get worse in Carolina.
However, he's now had a dose of this, three doses at that, where after two tough outings – he was able to tune it all out and win on his third try.
---
To stay on the topic of crowd noise, you can bet your bottom dollar that Tony DeAngelo will hear the brunt of it from Ranger fans, once the series shifts to M$G.
I don't want to get into the entire story surrounding DeAngelo's Rangers' departure, as I think I've previously written 78967867896796789698 zillion words on the topic; but yeah – he will be the number one heel once his team hits the road.
If there was anything that surprised me this season, it was when the M$G crowd ferociously booed and trolled DeAngelo during his two return appearances.
While I know many fans on the internet hate DeAngelo for non-hockey reasons; more times than not, what you read on the internet isn't what happens in reality.
I do wonder if DeAngelo garnered such reactions because of his pregame quote prior to his M$G return, a quote that was taken out of context, or at the very least – not presented in its entirety.
As you can see from the TSN graphic depicted above, DeAngelo said "I couldn't care less," when asked about a potential negative crowd reaction. There was more to that quote than just those four words, but of course – the media will never let the truth get in the way of a good story! (I recapped this entire story during the 4/12 blog, which is linked above.)
Today, I've already been shown social media postings from Ranger fans who plan on making DeAngelo's life a living hell, even going as far as trying to buy tickets behind the Canes bench, where once there, they plan on holding signs with the word "RACIST" on them.
(Of note: Brad Marchand chirped DeAngelo throughout the first round, where he even called DeAngelo a racist – which again, I don't think is true – but all is fair in love and war and hockey. DeAngelo's response? He made fun of Marchand's huge nose.)
(Also of note, while Ryan Reaves talks a big game; I don't see him, or anyone else on the Rangers, chirping DeAngelo in the manner that Marchand chirped #77. Marchand is just an elite chirper and in a class of his own.)
I don't hide my biases here. I liked Tony DeAngelo when he was in New York. I thought he was a good hockey player and someone who really wanted to help the community. (A lot of his charity work went unnoticed.)
I also thought, whether it was his young age, all of the time off because of the pandemic, or just flat-out immaturity, that whatever it was –  he often allowed himself to get suckered into feuds with Ranger trolls online.
Rather than ignoring personal insults, both directed at him and his family (where at one point he was even doxxed), he fed into all of it. I know it's tough to ignore that stuff, but sadly, that's just part of the job description these days.
The true shame about all of this? Not only was he the most active Ranger on social media – he was arguably the most active professional athlete on social media too.
In turn, and largely because of politics – many Ranger fans made him out to be the second coming of Satan, even going so far into making up stories about him, where as a result, and for the first time in Rangers' history – then Team President John Davidson had to publicly refute these tall tales.
Seriously, you could write an entire book about DeAngelo's time in New York, as a lot of the stuff surrounding him was unprecedented. Hell, if I pieced all of my blogs together from that time, I probably have enough material to fill two books!
Again, I don't want to get into everything about DeAngelo here, because you can just Google "Bluecollarblueshirts.com Tony DeAngelo" or just check the archives of this site for previous numerous articles on him, including full recaps of all of his "Watch Your Tone" podcasts – where yep, people made up stories about what he said on those shows too!
While I thought he got a bum rap in New York – I'm rooting for him to hit the New Jersey boardwalk in two week's time. I hope he has a blast at "Jenkinson's."
When it comes to this series, DeAngelo, who currently leads the Canes in points during the playoffs (one goal and seven assists for eight points overall), I do hope that Ranger fans stay on him.
Of course, I also hope that Ranger fans get loud and go after everyone, including Frederik Andersen while in net!
As Brad Marchand, perhaps the league's best agitator of the past ten years, showed us during round one – it's still easy to get to DeAngelo – even if DeAngelo, like a 1980s WWF heel pro wrestler, enjoys the on ice heat.
DeAngelo, who plays with his heart on his sleeve, will always be someone that I'd want on my hockey team for one reason only – he always lets you know that he cares. You never see him take a shift off. As a result, he's also prone to going nuts when things don't go his way – just as we saw in the series with Boston.
Love him, hate him or if you're just indifferent about him, this much is known – he's playing at a high level right now and he is a crucial piece of the Canes' power-play too. However, he can be rattled, and I'm sure M$G will have their voices heard!
I guess my only point here is this – boo the hell out of DeAngelo, but go after everyone else too!
And oh, in REAL LIFE problems – do I put my Rangers' DeAngelo jersey (and Raanta jersey too for that matter) in the freezer, in an attempt to cool them down? I just don't want to run the risk of "icing" the front of the jersey!
---
As we work our way to my prediction for this series, and while on the topic of defensemen too – while everyone is talking about the ex-Rangers on the Hurricanes, especially that #77 fella; how about this guy – the 2021 Norris Trophy winner Adam Fox.
As you may recall, the Hurricanes traded Adam Fox to the Rangers in April of 2019, where it should also be noted that #23 forced this trade himself. (The Canes didn't want to make this trade but had to.)
At the time, the Harvard educated Fox, who had previously spurned the Calgary Flames, made it well known – he only wanted to sign with the Rangers. And do you really need to hear again that Fox is from Jericho, NY? (I think the M$GN may have mentioned this once or a million times this season.)
Perhaps somewhat ironic? Who first welcomed Fox to the Rangers, despite a competition for the same position? Tony DeAngelo. (Fox has stated this multiple times, including during an episode of "Watch Your Tone.")
In a series where special teams and elite goaltending could decide the series; it will be the two American defensemen starring in the role as the quarterback of their respective power-plays.
While DeAngelo leads his team in points, Fox is second-best on the Rangers. However, Fox has ten points to DeAngelo's eight. Only Zibanejad (eleven points) has more points than Fox.
As far as everything else, including the line-ups, who am I to criticize? I think Gallant has been perfect and as I always like to say – he's there every day. I am not. Plus, he's probably forgotten more about hockey than I'll ever know.
---
My prediction for this series?
Rangers in six games, behind the Vezina and Hart level goaltending of CZAR IGOR.
Yes, maybe this is a homer prediction, but at the same time – I thought that Carolina struggled mightily against Boston.
And while Carolina is the more experienced team and in "win now mode" too, I just go back to what I've been saying all season – I don't see CZAR IGOR losing four games in a seven-game series.
Just to think – while he set franchise records (most saves in a game and most saves in a series) – we didn't really see him at his 100% best against Pittsburgh. I think we'll see his best against Carolina. He's due to steal some games. He's also due for a 4-0 shutout too!
Some quick Ranger news before getting into the rest of the playoffs and league news.
---
On Monday, the Rangers announced that they have signed three of their players to professional contracts, where it's assumed that all three will start the 2022-23 season in Hartford.
If there was any name to truly note here, it's goaltender Olof Lindbom, where the general consensus is that former general manager, Jeff Gorton, went overboard when drafting the Swede so high with the 39th overall pick of the 2018 NHL Entry Draft.
This signing could also foreshadow a possible departure of Keith Kinkaid, an older goalie that really doesn't have a spot with the Rangers, barring injury.
Here's the Rangers' press release on these signings, courtesy of https://www.nhl.com/rangers/news/rangers-agree-to-terms-with-three-players/c-334119882?icmp=int_web_nyr_news_rightrail:
New York Rangers President and General Manager Chris Drury announced today that the team has agreed to terms with the following players: forward Adam Edstrom (three-year, entry-level contract), forward Ryder Korczak (three-year, entry-level contract), and goaltender Olof Lindbom (two-year, entry-level contract).

Edstrom, 21, skated in 43 regular season games in 2021-22 with Rogle BK of the Swedish Hockey League (SHL), notching seven goals and two assists for nine points and a plus-2 rating. Edstrom finished with 74 hits, tied for the seventh most in the SHL. In 13 playoff games with Rogle, Edstrom tallied four points (3G-1A). This season, Edstrom was a part of Rogle's Champions Hockey League title team.

Over the course of four seasons in the SHL, split between Rogle and Mora IK, the 6-8, 225 pound forward has accumulated 14 goals and 15 assists for 29 points in 147 games.

Edstrom also played four seasons in the J20 SuperElit with Mora IK J20 and Rogle BK J20, collecting 19 goals and eight assists for 27 points in 70 games.

Edstrom was originally selected by the Rangers in the sixth round (161st overall) in the 2019 NHL Entry Draft.
Korczak, 19, played for the Moose Jaw Warriors of the Western Hockey League (WHL) in 2021-22 where in the regular season, he recorded a career-high in games played (68), goals (25), assists (54), points (79) and plus/minus (+12). Korczak finished tied for the 10th in the WHL in assists and tied for 15th in points. On Moose Jaw, he ranked first in assists, second in points and tied for third in goals.

The Yorkton, Saskatchewan native has played in parts of five seasons in the WHL, split between the Calgary Hitmen and Moose Jaw. In 200 career WHL games, he has collected 54 goals and 123 assists for 177 points.

Prior to going to the WHL, the 5-11, 172-pound forward skated in parts of two seasons for the Yorkton Maulers U18 AAA team in the Saskatchewan Male AAA Hockey League (SMAAAHL).

Korczak was selected by the Rangers in the third round (75th overall) of the 2021 NHL Entry Draft.

Lindbom, 21, appeared in 27 games with Kristianstads IK of HockeyAllsvenskan in 2021-22, notching 10 wins, a 3.22 goals-against average and a .900 save percentage.

The 6-2, 183-pound goaltender has played in parts of three seasons in HockeyAllsvenskan, posting 24 wins and a .890 save percentage.

Internationally, Lindbom has represented Sweden in multiple junior tournaments, including the 2020 World Junior Championships, where he made one start. In 2017-18, earned a Bronze Medal at the Under-18 World Junior Championships and was recognized as the tournament's "Best Goaltender."

The Rangers selected Lindbom in the second round, 39th overall, of the 2018 NHL Entry Draft.
---
At this time, let's blaze through the rest of the league's news, as I know this blog has gone on long enough already!
Up first, a quick look at the rest of the other second round match-ups.
However, before doing so, I just want to add the following: unless you're a delusional fan of the Toronto Maple Leafs, and as opposed to recent years – we didn't have one first-round upset during these playoffs. (And to even consider the two-time Stanley Cup champs as an underdog was foolish in my eyes.)
Overall, I went 6-2 on my first-round predictions, where of the two series I missed out on – I thought that both Minnesota and Boston would each win their respective series in seven games.
The Minnesota six-game loss, despite their home ice advantage, wasn't an upset. St. Louis was neck-and-neck with them all season.
Boston was the first wild card, and I thought that out of all of the underdogs of the first round, that they'd have the best shot to move on. And at the end of the day, they did go the furthest, as they lost their Game Seven by one goal.
As far as the rest of the first-round, all of the favorites won – even if it took the two Albertan teams seven games each to advance. (For what it's worth, I did predict the Flames in Seven!)
Will this be a new trend moving forward, or will the dogs bite next season? Only time will tell.
Second round predictions time!
---
I'm taking the Tampa Bay Lightning to defeat the Florida Panthers in six games. Why? Easy. I thought the Washington Capitals, all banged-up from injuries and with most of their regulars hurting badly, exposed the Presidents' Trophy winners.
The Washington Capitals, a 100 point team themselves, were the second wild card of the Eastern Conference. If it weren't for their injuries and blown three-goal leads – we'd be talking about the huge upset that they pulled off.
Then again, if my aunt had balls, she'd be my uncle. (I guess that joke doesn't work that well in modern times, as it did so many years ago!)
However, Washington was hurt and they did blow leads. Florida was then able to hold on and knock off the Caps in six games, six games where the Panthers did more scratching and clawing than beasting and feeding.
While the salary cap weakened Tampa's roster this season, they're still the team to beat. Until they get beat, it's hard to envision them losing. And in a goaltender's duel between Sergei Bobrovsky and Andrei Vasilevskiy, I'm going with the guy with all of the hardware in Tampa.
The Panthers were a great regular season team, but as we all know – playoff hockey isn't regular season hockey – especially for a team that relies more on offense than defense.
The Bolts just knocked off a very good Leafs team – despite all of Toronto's issues with choking and curses. I thought they looked more impressive battling back to knock off the Leafs than Florida did in their "David vs Goliath" series.
While this series should be nasty and full of physicality, I think the Lightning strike twice and neuter the Cats.
---
There's another "Battle in Alberta" to be won, where during this go-around, I see the Calgary Flames defeating the Edmonton Oilers in six games.
Similar to my opinions on Florida/Tampa, I wasn't impressed with the Oilers at all during the first round. I feel like they are lucky to even be here, despite a dominating Game Seven performance over the LA Kings.
The Kings, no slouches, should've been disposed of quicker by McDavid's men. And while Calgary went seven games too, I always thought that the Dallas Stars were going to be a tough out. If it wasn't for their goalie Jake Oettinger, maybe they would have been easier to eliminate.
To me, and as I always bring up when looking at these series', the biggest disparity between these two teams is at the goaltending position.
The Flames have a Vezina candidate in Jacob Markstom. The Oilers have an 84 year old Mike Smith.
Ever since Cam Talbot left Edmonton (who was at the peak of his powers during the 2016-17 season, the last time the Oilers made it past the first round), the Oilers haven't had a true number one in net.
Despite everyone and their mother knowing this – the Oilers have yet to address the issue.
The Flames will burn the Oil.
---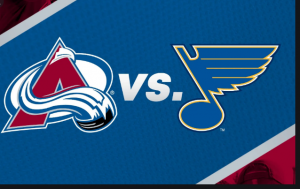 Everyone is all-in on the Colorado Avalanche this season, that is, except me.
I have to stay true to what I said all the way back in September of 2021 – the Leafs won't make it past the first round and the Avalanche won't make it past the second round.
In what I now see as the biggest upset of the playoffs, I see the St. Louis Blues surviving in a seven game set.
I'm just not sold on Colorado.
Whether it's their recent playoff history, their goaltending, their head coach or what – I just can't buy into them like everyone else – and that's despite me knowing all about the "you gotta lose to win" theory.
Maybe since I predicted Minnesota to go all the way to the Stanley Cup Final (oops), that I'm now more impressed with the 2019 Stanley Cup champs, the St. Louis Blues.
The Blues, who still have a ton of carryover from their 2019 team, know how to win. Colorado does not.
Maybe the Avalanche finally get over the hump and piss on their second-round curse. However, and like the Leafs – I'll have to see it to believe it.
---
In our last news segment for tonight, the Islanders announced on Monday that assistant head coach Lane Lambert will be replacing Barry Trotz. Of course, this decision made heads spin, as following Lou Lamoriello's firing of Trotz, he said that his team needed a new voice. In turn, Lamoriello hired a long-time Trotz assistant.
This will be Lane Lambert's, a former Ranger himself (only 18 games), first job as an NHL head coach – and at the "spry" age of 57 years old. Previously, he had been by Trotz' side for the last eleven years, where he served as an assistant coach in Nashville, Washington and with the Islanders.
As a Ranger fan, I'm happy to hear this news. A rookie head coach that will bring nothing new to a losing team. Keep it up Lou!
---
In our other head coaching news story; on Monday, Vegas Golden Knights general manager, Kelly McCrimmon, announced a parting of the ways with head coach Peter Deboer.
This news shouldn't shock anyone, as already during their short existence as an NHL franchise, the VGK have earned bad reputation for having no loyalty. Just ask Marc-Andre Fleury. Hell, just ask Gerard Gallant!
It was wacky when Deboer replaced Gallant in the first place, considering all the great work and success that "The Turk" had in Sin City. It was even wackier when Vegas hired Gallant's arch-nemesis, Deboer himself, to replace him.
And it will be even wackier should Barry Trotz wind up in Vegas, since he was the head coach of the Capitals in 2018, when the Caps ended the Golden Knights' magical and historical 2017-2018 season during Game Five of the Stanley Cup Final.
(I know many people have Trotz as a lock with the Winnipeg Jets, but if you're Trotz, there's much more to work with in Vegas than there is in Winnipeg. And at his age, does he really want to go through a rebuilding process or would he rather coach a win-ready team, assuming that he still wants to coach?)
Deboer, who has been coaching in the league since the 2008-09 season, and with stops in Florida, New Jersey, San Jose and Vegas; is now part of the "old boy's club," meaning that he's had success and tenure. As a virtue of that, he'll most likely become a candidate for other franchises during their own head coaching searches, whether it be Winnipeg, Detroit, Philadelphia, Chicago or elsewhere.
PLUGS TIME.
---
On Monday evening, our pals over at "The Blueshirt Underground Show" returned with a new episode, where like everyone else in Rangerstown, USA – they are very excited.
To listen to the show, click the play button below:
---
My first plug of tonight's blog – the mandatory plug for my book, "The New York Rangers Rink of Honor and the Rafters of Madison Square Garden".
As mentioned previously, the book is now available in hardcover, in paperback and in Kindle formats. To purchase a copy of the book, visit this link:
https://www.amazon.com/Rangers-Rafters-Madison-Square-Garden-ebook/dp/B09CM5N2WD
For those still looking for signed paperback versions of the book, I have re-ordered more copies. I now have a few signed copies for sale at $25 a pop (includes shipping price) through me directly. Here is all the information on that:
---
Here are my last few blogs, in case you missed them:
---
---
---
If you haven't already, subscribe to this blog for the next update:
---
Up next: Game One, Rangers and Canes, Wednesday night at 7PM on ESPN. I can't wait.
As always here, thanks for reading and…
LET'S GO RANGERS!
Sean McCaffrey
BULLSMC@aol.com