Greetings and salutations everyone and welcome to another blog here on BlueCollarBlueShirts.com. As the saying goes, "Not Dead Yet."
After all, these 2021-22 New York Rangers are 5-0 during elimination ("do-or-die") playoff games. What's 6-0? How about 7-0?
---
As I sit here late on a Friday night, and with less than 24 hours to go prior to Game Six; if there is one thing that bothers me after very Rangers' loss, it's this – the way that the fan base always goes to the extremes.
Whether it's cursing out each other, fighting each other in the building, destroying every player on the roster (and the head coach too) that brought the Rangers to this point, or something else – it gets tired real quick.
Worse than that, are the "fans" who doubted this team from day one, and rather than enjoying this unexpected ride – instead, will do the "I TOLD YOU THEY WEREN'T ANY GOOD, HAHAHAHAHA" stuff.
I don't know how these people get any joy in life.
I won't play my "Greatest Hits" here again, but while I predicted that the Rangers would make the Eastern Conference Final all the way back in October of 2021 – it's one thing to predict it, it's another thing to live it.
I'm enjoying all of this – even if the losses suck in the moment – duh.
Whatever happens come tomorrow night, win-or-lose, I still stand firm on this – this has been one of the most likable and excitable teams in all of franchise history.
In fact, I'll go even further than that – this is one of the best teams in all of franchise history, where at the very least, these 2021-22 Rangers are one of the twelve best of all-time.
---
As both an appointed and anointed franchise historian (Stan Fischler calls me "Young Maven" and that's good enough for me!), when you look at New York Rangers history, all 95 seasons of it – obviously, you have to put the 1927-28, 1932-33, 1939-40 and 1993-94 teams on the franchise's "Mount Rushmore."
If you don't know it already, these are the four seasons where the Rangers won the Stanley Cup in.
When you look up-and-down the storied history of the Rangers (and I'm not going to repeat everything that I wrote in my book, a book which is plugged below – as I don't want to once again recount all of the disadvantages that the franchise had endured during their first forty years), there have been more bad teams than good teams.
After all, "only" four Stanley Cup victories in 95 years should suggest as much.
In fact, this franchise has had three extremely long and horrid eras, where only one of them was truly inexcusable. (The Sather "Error.")
After the "expansion" New York Rangers won three Stanley Cups in their first fourteen years of existence; World War II took place. The war not only crippled the league, but it destroyed the Rangers too. It would take a long time for them to become contenders again.
(Again, all of this is covered in my book. Furthermore, this is not to make light of the actual war itself. This is just to say that the war impacted the NHL – just as it did with everything else in the world at that time.)
Behind goalie Chuck Rayner (who like CZAR IGOR of today, was the team's best player – Rayner also won the Hart Trophy this season), the Rangers would make a rare Stanley Cup Final appearance in 1950, where if it weren't for the circus (no home games at M$G – as watching elephants shit was more profitable than hockey at the time) – the Rangers probably would've won the Stanley Cup that year.
Instead, the Rangers lost a crushing Game Seven in double overtime.
The Post World War II era (with the 1949-50 season being the lone exception) was just as bad as the years that preceded it, as despite legendary and Hall of Fame talent leading the way, in guys like Andy Bathgate, Harry Howell and Gump Worsley – these guys never reached a Stanley Cup Final with the Blueshirts.
It wasn't until Emile Francis took over the team on October 30th, 1964, where things really started to change – and a change for the greater good too.
"The Cat" soon turned the Rangers into perennial playoff contenders, where of all of his teams that enjoyed deep playoff runs, it's perhaps the 1971-72 team that's remembered most fondly.
However, and just like Ranger teams before that one – that team lost in the Stanley Cup Final too (Boston in six).
When M$G management put down "The Cat" in 1976, and as mentioned about 896786786666 times before on this site already; what they didn't know then, but what would play out over time, was that Francis, despite blowing up his team after many deep playoff runs, runs that didn't produce a Stanley Cup; Mr. Francis had constructed the first true "rebuild" in all of franchise history.
(Holy run-on sentence Batman!)
Just three years after Francis' firing – the team, with plenty of new faces in the line-up, faces that Francis brought into the fold – including John Davidson in favor of Eddie Giacomin – the Rangers were right back in the thick of things and competing during the Stanley Cup Final.
The 1978-79 team, another "Cinderella" story, was one of the most beloved teams of all-time, where they only fell short to the last great dynasty in the storied history of the Montreal Canadiens.
(The Habs, with this 1979 SCF win, had now won four Stanley Cups in a row. They haven't won back-to-back championships since.)
---
The 1980s were a tough time for the Rangers.
While they made the playoffs during each season except for one (1987-88), they lost to the Islanders four times in a row at the start of the decade, where after three of those Ranger losses – the hated Islanders then went on to win the Stanley Cup.
To this day, no matter what you want to say about the team of today – nothing was worse than the early 1980s. Nothing.
Just think – what if the Islanders had won one Stanley Cup during the past two seasons? Now think how you'd feel if it happened during each year of a U.S. Presidential term. Actually don't think like that – perish that thought!
The back half of the decade eventually became known as the "Trader Phil era," as then general manager, Phil Esposito, pretty much had every player in the league play for him at one point.
And the ones that he couldn't acquire? He was sniffing around for them too! (Including both Mark Messier and Wayne Gretzky, both who'd later become part of a special season themselves.)
It wasn't until Neil Smith came around in the summer of 1989, and later, with an assist from Mike Keenan too, where the Rangers finally snapped their 54 year Cup drought. And prior to that, the 1991-92 Rangers were also beloved, a team that won the Presidents' Trophy that season.
What worked for Smith during the first half of his tenure wouldn't work for him during his second half.
As fans, the media, and professionals of the league all thought that the Rangers could win one or two more Stanley Cups during the "BIG DEAL NEIL" era – they never came.
Not even a 1996-97 season, with Mark Messier and Wayne Gretzky, now reunited on Broadway, could produce a second Stanley Cup for Smith and company.
Despite a brutal five-game Eastern Conference loss to the Flyers in 1997 – this team is also fondly remembered.
Following Smith's firing, which took place prior to the 2000 NHL Entry Draft, we then had the "Senile Sather" era, an era where he got lucky when the Ranger draft scouts of the time favored some goalie named Henrik Lundqvist during the seventh round. (To be clear – Sather had nothing to do with the pick – Smith's scouts and assistant g.m. did.)
After wrapping up the last Dark Age of franchise history (at least at this present time, which covers the years of 1998-2005), there was that fun 2005-06 season with Jaromir Jagr leading the way – but also a season that ended by being swept in the first round by the New Jersey Devils.
A year later, it were the Rangers who did the sweeping during the first round (Thrashers), but following that, they then bowed out during the second round in six games (Sabres).
---
There were three amazing seasons during the "Lundqvist Era," an era that pretty much began when Senile Sather decided to part ways with Jagr.
The 2011-12 season produced a very likable and respected group. This was also the season where Lundqvist won his first and only Vezina in.
As the story goes, many believe that had the Rangers not played in long series' prior to the 2012 ECF – they would've then won it. Of course – coulda, shoulda, woulda.
Two years later, in 2014, the Rangers won the ECF – their first and only of the Lundqvist Era – akin to Francis' Rangers only qualifying for the Stanley Cup Final once.
Similar to the 1979 team, the 2014 squad then lost in five games during the 2014 Stanley Cup Final.
That said, in my eyes, this was one of the most enjoyable seasons in some time, a season that's kind of like the one from today – a new head coach, a great trade deadline (even if I wouldn't have included those two first picks in the MSL/Cally trade), and strong veteran leadership.
And then there are the Rick Nash vs Artemi Panarin comparisons – but now is not the time for that!
No longer the bridesmaid, the Rangers felt destined to be married with the Stanley Cup during the 2014-15 season.
As you know by now, especially now, considering what's going on during these 2022 Eastern Conference Final games – the Bolts upset the Rangers in seven games to win the 2015 ECF.
The 2014-15 Rangers were somewhat like the 1991-92 Rangers – an enjoyable (and dominant) team to watch, but at the end of the day – they let underdogs bite their way through them. (Although it is tough to consider any team with "Super Mario," #66 himself, Mario Lemieux, as an "underdog.")
It's why to this day, I'm still frustrated with the way that the 2015 ECF ended, but nowhere as close to being that disappointed with the 2013-14 team.
Sure, it sucked that the 2014 Stanley Cup Final ended on my birthday, another crushing loss – but when you look back at it, that season was a hell of a ride and a huge win.
---
When you break it all down (and yes, I know I was long-winded when doing so), you have the four Stanley Cup champion teams as your top four Ranger teams of all-time.
Then you can look at the 1950, 1972, 1979, 2007, 2012, 2014 and 2015 teams too.
That brings you to eleven teams.
The 2021-22 New York Rangers? They are right there with these teams – especially when you look at all of the franchise records tied and/or set during this season.
I think what also helps make this team so attractive to fans, is the fact that most of the roster is homegrown.
Prior to this incarnation of Rangers, we lived through guys like John Gilmour, Kevin Shattenkirk, Brett Howden, Cody McLeod, Adam McQuaid, Jimmy Vesey, Ondrej Pavelec, and others.
We also just experienced the most drama-filled season in all franchise history, the 2021 season.
Today, the Rangers have pulled off the biggest 180 in all of franchise history. That's on Chris Drury. That's on Gerard Gallant. That's on the entire team.
Win-or-lose Game Six, and/or the series in general, it don't matter.
This has been one of the best and most enjoyable seasons in the franchise's 95 years of existence.
Speaking of the 2021-22 Rangers, head coach Gerard Gallant, after arriving to Tampa on Friday afternoon, spoke to the media.
Here is Friday's edition of "TURK TALK":
---
Adam Rotter has a complete transcript of Gallant's press conference, a transcript which you can read here: https://nyrangersnews.com/2022/06/10/updates-from-the-rangers-on-friday-8/#more-192720
As far as the highlights, and as you'd expect – Gallant wasn't happy with the Game Five loss – a loss that also marked the Rangers' first three-game losing streak of these playoffs.
However, and as he always does, Gallant preached the importance of "one game at a time," and then reminded everyone that his team has been in this position before, twice before at that.
While it's obvious that Tampa is much better than both Pittsburgh and Carolina; Gallant wouldn't let that fact deter him, nor would he allow that notion to even become a thing. Instead, Gallant was worried about his team, a team that he thought had played well enough to win during Game Five.
Gallant was able to keep his sense of humor throughout this press conference, as he cracked jokes about Colin Stephenson getting so many questions in. "The Turk" also joked about Sammy Blais and said that he would be playing tomorrow. (Again, to be clear – Gallant was joking about Blais – as the topic of #91 has been asked during each press conference.)
Obviously, Gallant, like any of us, knows the stakes at hand. They have to win. That's it.
That said, this really jumped out at me (from Rotter's transcript):
How important is it for the players to remember that these elimination games are fun, "I'm trying to do that too. It wasn't fun last night driving home, trust me…this morning you wake up, get back at it and say we got a big game tomorrow, we're going to Tampa and then you say that you are in a pretty good position, there are three teams left in the NHL playoffs and we're one of them. You gotta be happy with that and look at the bright side of it. You gotta get ready for another game and you can't put your head down and worry about last night because then you are done."
Yes, as a fan – I know how nerve wracking, gas inducing, and maddening these games can be. They take years off of your life!
However, I do think that his point is valid – this should be FUN, not just for the team and Gallant – but for us too.
This is my segue-way in order to give you an update on a story from last night – that disgusting fan attack when a Rangers' fan cheap-shotted a Bolts' fan, a southpaw shot that knocked the Tampa fan out cold.
---
Last night, when I first covered that fan assault, it was a nothing story – although the video started to go viral just as I hit the publish button on my Game Five manifesto.
In fact, when I first shared Kaplan's clip of the assault on my Twitter account, the video had something like six likes and ten retweets. Furthermore, I think the view count of the video only had 98 views at the time.
Fast-forward to Friday morning, and now Friday night, the video is now up to six million views.
It's also the number one story of the hockey world today, where as a current ECHLer pointed out to me on Friday afternoon – that's a shame. (Furthermore, this story isn't just big in New York and in America. It's also the top story in Canada too.)
While of course, this is a major story, and a story that deserves attention – it does take away from what the Rangers and Lightning are doing on the ice.
Rather than talking about the on-ice stuff, we're talking about an off-ice incident, an off-ice incident created by one moronic fan.
(And save me the "of course it's a Rangers' fan" stuff – every fan base has their own special brand of jerks. The Rangers aren't exclusive to this.)
And oh yeah, if you can recall last night's blog (linked below in case you missed it), I gave you a laundry list of reasons on why I hated it.
Another reason why I hated this, one that I forgot to mention originally? This one – beers are already $20 a pop at M$G.
Incidents like this (where people are saying that alcohol was involved) will only raise beer and booze prices, as a deterrent.
Who knows? One day, all alcohol may be banned – although the beer sponsors will fight that one tooth-and-nail.
As a responsible binge drinker (I don't run a sloppy shop here – after all – I do think that these daily 10,000 word missives are error-free despite such indulgence) – it just gives drinkers a bad name.
And yes, I know – this is the least of anyone's worries right now. Again, I'm just saying this is the one thing that I left out of last night's blog.
---
In case you missed it (and how could you at this point?), here's the ASSAULT, and not a "fight," one more time:
Fight at MSG #NYR #NoQuitInNY #Fights #TampaBay pic.twitter.com/xxL9oD1if1

— Scott Kaplan (@ScottKaplanOn) June 10, 2022
---
I don't want to repeat everything that I said last night, but yeah – how could anyone think that they'd get away with this?
Multiple sources first reported on Friday morning that James Anastasio, a 29-year old male from Staten Island, NY, was the attacker. He was quickly arrested by the NYPD late Thursday night/early Friday morning, where he was then charged with with two counts of assault, two counts of disorderly conduct, and two counts of harassment.
Why two counts of each offense?
It was later reported that Anastasio, when trying to flee M$G, fought a "Good Samaritan," a fellow Ranger fan who tried to prevent Anastasio from escaping.
For what it's worth, it wouldn't have mattered if Anastasio had escaped – M$G has facial recognition camera systems installed and he would've eventually been caught anyway.
It's because of their facial recognition software that M$G can enforce their banishment of Anastasio for life too.
While I guess that Anastasio, after his legal issues are all squared away (and he's screwed big-time, between lawyer fees and a possible prison sentence), could one day attempt a return to M$G under a COVID mask or something – he'd have to be an idiot to take such a risk.
Then again, after seeing what he did on Friday, that may not be out of the question either.
Listen, as you know, I'm a silly Rangers' blogger. I'm not a NYPD beat or court reporter.
I'm not going to provide daily updates on this site about Anastasio, that is, unless something is really worth talking about.
In other words, unlike others, I'm not going to post his pictures, his links to his social media accounts, whatever criminal history he may have, or anything else. If you really need that information – well Google is your friend.
---
For what it's worth, it's also being reported that Anastasio and his victim had words prior to the attack. Who knows what was said?
Furthermore, were these two sitting near each other during the game, with this attack being the escalation of it all?
However, at least based on the video, Anastasio wasn't protecting an innocent child or woman here. He went into business for himself, during a moment of weakness and frustration – a moment that will now severely impact his life.
As far as the two victims (the Bolts' fan and the Rangers' fan who tried to catch Anastasio), both seem to be okay.
At one point, there was a "brain bleed" death rumor about the Bolts fan, but that was later proven false.
It was also reported that both victims received medical attention on-site, but did not go to a hospital afterwards.
One could speculate that while Anastasio would eventually have to assume all medical bills; perhaps these people didn't have the money to lay out for an expensive overnight stay at a local hospital. Furthermore, who knows if Anastasio even has the money to pay such exorbitant bills either?
It's crazy how the world works and how one event can impact another.
Had the Rangers won last night, this would've never happened.
While that doesn't excuse Anastasio at all, I'm sure it's something he's thinking about right now.
Kudos to M$G (and the NYPD) for doing their best during a bad situation.
Now it's up to the Rangers to do the same thing on Saturday night!
---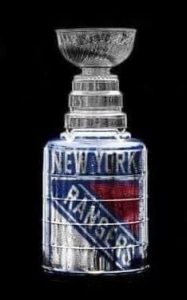 I don't need to give you a Game Six preview or breakdown. You know what's up.
The Rangers won their last two Game Sixes. One more win would be ideal. More ideal would be a huge Tuesday night Game Seven victory.
Let's Go Rangers!
PLUGS TIME.
---
Following Game Five, Ron Duguay, along with special co-host Nick Fotiu, hosted a live episode of "Up in the Blue Seats."
To listen to the show (Fotiu was great), click the link below:
— Ron Duguay (@RonDuguay10) June 10, 2022
---
My first plug of tonight's blog – the mandatory plug for my book, "The New York Rangers Rink of Honor and the Rafters of Madison Square Garden".
As mentioned previously, the book is now available in hardcover, in paperback and in Kindle formats. To purchase a copy of the book, visit this link:
https://www.amazon.com/Rangers-Rafters-Madison-Square-Garden-ebook/dp/B09CM5N2WD
For those still looking for signed paperback versions of the book, I have re-ordered more copies. I now have a few signed copies for sale at $25 a pop (includes shipping price) through me directly. Here is all the information on that:
---
Here are my last few blogs, in case you missed them:
---
---
---
If you haven't already, subscribe to this blog for the next update:
---
Up next: Game Six, Saturday night in Tampa, Florida.
LET'S GO RANGERS!
Sean McCaffrey
BULLSMC@aol.com
@NYCTHEMIC on Tweeter