Greetings and salutations everyone and welcome to another blog here on BlueCollarBlueShirts.com. "WE WANT THE CUP!"
Yes, I know – I sound like a broken record. However, can you blame me?
These 2021-22 New York Rangers, and as I stated from day one – are special.
After tonight's 6-2 domination over the Tampa Bay Lightning, the Rangers are now only three wins away from reaching the Stanley Cup Final.
Let that sink in and don't take it for granted.
One more time – only three wins away from the Stanley Cup Final.
Of course (you don't need to remind me), and as head coach Gerard Gallant always says – "ONE GAME AT A TIME!"
That said, three more wins and it's "OH BABY!"
---
It hasn't been easy for the hard-working, never-give-up, and comeback kids known as the 2021-22 New York Rangers.
Would they want it any other way?
After all, they fell into a 3-1 hole during the first round, and then found themselves in a 3-2 deficit during the second round.
The end result? A 5-0 record during playoff elimination games for CZAR IGOR and company.
That, my friends, doesn't happen often.
Following tonight's 6-2 drubbing of the two-time reigning and defending Stanley Cup champions, the Tampa Bay Lightning; for the first time during this postseason – the Rangers now have a series lead.
While yes, I've been extremely high on this team ever since Chris Drury first took over; at the same time – I never expected the Rangers to post back-to-back blowout wins during these playoffs – much less consecutive blowout wins during a Game Seven and during a Game One of an Eastern Conference Final.
This team, that has flirted with, snapped, and set franchise records all season – the Rangers did it again on Wednesday night at M$G.
As a result of their Game One ECF victory over the Bolts – the Rangers have now won seven consecutive playoff games at M$G – a new franchise record.
They'll get a chance to extend that record to eight games on Friday.
Not too bad for both a general manager, and a head coach too, that were accused (and accused often), by the analytical community, of "NOT KNOWING WHAT THEY ARE DOING!"
But I already did my victory lap after the Game Seven win over Carolina.
I'll spare you from the self-pats on the back tonight. I'll save all of that once the Rangers win this series!
At the end of the day, I guess I just enjoy pissing on the analytical community, and their never-ending incorrect opinions, and only because of this – it means that the Rangers are winning and defying all odds.
---
Another thing that was pissed on tonight, besides the horrible Ranger beat reporters (sans Larry Brooks) and their BOLTS IN FIVE or SIX predictions?
This take, a take that was repeated loudly and often, not only by some of the clowns that pose as reporters on the Rangers' beat, but throughout the hockey community too:
"THE RANGERS CAN'T SCORE AGAINST A REAL GOALIE! THEY ONLY SCORED AGAINST THIRD STRINGERS!"
Fun fact?
With six goals tonight, the Rangers scored twice as many goals on Andrei Vasilevskiy than #88 had given up to the 2021-22 Presidents' Trophy winners, the Florida Panthers, during Tampa's four-game sweep of the Cats.
Heck, it only took the Rangers thirty minutes to piss, like an elderly gent with a leaky prostate, all over that negative narrative, where at the time, they had scored three goals – the same number of goals that Vasilevskiy had afforded to the Panthers during the second round.
What will the Ranger haters, and the always-wrong beat reporters, come up with next?
They miss Pavel Buchnevich? They miss Vitali Kravtsov? They miss Nils Lundkvist?
Enjoy the ride!
---
As predicted during my series preview blog from yesterday; the main topic presented by ESPN throughout the game (especially when the night's victor became evident extremely early), was that Tampa entered Game One with a rust versus rest issue.
While that issue/point was valid – it's also an excuse.
After all, what about the Rangers? They entered this game tired and beat-up. Tampa could've pounced on them. They didn't.
And while Neil Young once famously said, "RUST NEVER SLEEPS;" on this night, at least for the champs, rust most certainly slumbered tonight.
The Rangers, when entering this series, had one major glaring weakness – their success (or lack thereof) at the dots.
Gallant's Gang, who began Game One of this 2022 ECF with a faceoff percentage of only 41% during this postseason (the league's worst, and by far); bucked that trend tonight and won 33 out of 55 faceoffs – good for a winning percentage of 60% – a postseason high for these '22 playoff Rangers.
Even better? The Rangers dominated during zone-end faceoffs too.
Whether it were offensive or defensive draws – the Rangers were better than the champs.
The Rangers had only one weakness tonight, a weakness that they had fully erased by the half-way point of Game One.
That weakness, and a weakness that we've seen before? This one – the inability to get pucks out of the defensive zone.
However, not only would the Rangers overcome this weakness with a Superman amount of strength during the second stanza – they turned the tables too.
The end result? A near two-minute attack in Tampa's zone, where Filip Chytil finished it with his second goal of the game.
This goal put the Rangers up 4-2 at the time, and with just under 25 minutes remaining in regulation.
Once the period concluded, and with the Blueshirts still holding onto their two-goal lead, this much was certain – Igor wasn't going to blow this lead.
Better than that? Artemi Panarin, who was moldy rather than fresh during the previous fourteen playoff games; "The Breadman" baked a goal just thirty seconds into the final frame, a goal which put the Rangers up by three.
Is #10 back to the peak of his powers? I'm not so sure – but tonight was encouraging!
Not even six minutes later, Mika Zibanejad joined the party with a power-play goal, a goal that then put the Rangers up by four.
As was the case starting with Filip Chytil's first goal, a goal which was scored at the half-way mark of the game – the Rangers never looked back.
Yes, the Rangers will still have to earn three more wins, and yes, the Rangers did what they were supposed to do – which was to protect home ice; but if there's one major takeaway from tonight's game, it's this:
The Rangers can beat the Lightning.
One down and three to go. That's all you can ask for.
At this time, let's get into all of the pregame news and interviews, and then into the main event – the GAME REVIEW.
---
I covered all of Tuesday's news here: https://bluecollarblueshirts.com/ecf22/
On Wednesday, game day, head coach Gerard Gallant spoke to the media one more time prior to the commencement of the 2022 Eastern Conference Final.
Here was the pregame edition of "TURK TALK":
---
After pretty much saying everything that needed to be said on Tuesday; 24 hours later, Gallant didn't say much on Wednesday.
However, there are two things to note here, two minor things.
One, Gallant raved about his third line. Who isn't?
Two, Gallant said that while Sammy Blais is skating, he also stated that it would be tough to have #91 rejoin the line-up.
I opined on Blais last night, and is often the case, I was in sync with "The Turk's" line of thinking.
Gallant said that it would be tough to throw Blais, who hasn't played in over six months, into a big stakes game.
While Gallant didn't say this part (I said it last night), it was implied that Gallant had better options right now, options that have chemistry, know the team's tendencies, etc.
And again – this isn't a knock on Blais. It's just the reality after the savage attack bestowed upon him by PK Slewban.
And really – who in their right mind would break-up this line-up right now?
---
Here's what "The Turk" ultimately went with for this "Dan Cloutier" tribute game:
FIRST LINE: Kreider/Zibanejad/Vatrano
SECOND LINE: Panarin/Strome/Copp
THIRD LINE: Lafreniere/Chytil/Kakko
FOURTH LINE: Motte/Goodrow/Reaves
Defensively, we had this:
FIRST D-PAIR: Miller/Trouba
SECOND D-PAIR: Lindgren/Fox
THIRD D-PAIR: Braun/Schneider
And in net, CZAR IGOR.
---
BOX SCORE time.
The following information and graphics come from the new world-wide leader in NHL coverage, ESPN.com:
SCORING:
PENALTIES:
TEAM STATS:
GOALIES:
| | | | | | | | | | | |
| --- | --- | --- | --- | --- | --- | --- | --- | --- | --- | --- |
| SA | GA | SV | SV% | ESSV | PPSV | SHSV | SOSA | SOS | TOI | PIM |
| 34 | 6 | 28 | .824 | 22 | 1 | 5 | 0 | 0 | 60:00 | 0 |
| | | | | | | | | | | |
| --- | --- | --- | --- | --- | --- | --- | --- | --- | --- | --- |
| SA | GA | SV | SV% | ESSV | PPSV | SHSV | SOSA | SOS | TOI | PIM |
| 39 | 2 | 37 | .949 | 29 | 1 | 7 | 0 | 0 | 60:00 | 0 |
---
Come 7:30PM, and you know the deal by now, and how I have two TV's in my man cave already – I tuned into both the M$GN and ESPN pregame shows.
The ESPN pregame show, despite spending half of it talking about the NBA and WNBA – was far superior than the hometown broadcast.
For whatever reason, Henrik Lundqvist wasn't there tonight for the M$GN – a major blow.
As noted about 876786786789689678967896 times before on this site – Lundqvist is not only a natural – he's arguably the greatest analyst in all of the NHL today.
(Did you ever imagine me saying that at the height of my "LUNDQVIST'S CAP HIT SUCKS" stuff?)
(And yep, as noted before – I now look at Lundqvist as a Rangers' legend (as he always was), and I rather remember him as that – rather than worrying about the final years of his contract – admittedly, a major weight lifted for yours truly!)
---
For whatever reason, M$GN has a raging hard-on for back-up goalies on their broadcasts – a boner so hard that it feels like they must've ingested 78967868996786 Viagra pills when coming to this decision.
Back on the panel was Marty Biron, who joined the resident back-up, the worst of the Lundqvist Era, Sieve Vagistat.
I don't think that Biron is truly bad or anything like that; but listening to these two back-ups didn't produce much of anything.
And I know I'm different than most (maybe an age/experience thing, as younger fans tend to gravitate towards Vally) – but I just don't gain anything of value when listening to these two yammer on.
Both Chris Chelios and Mark Messier, of ESPN, and who are also Hall of Famers and Stanley Cup Champions, are just better than Vagistat and Biron.
Put it this way – would you rather hear from a Hall of Fame center and a Hall of Fame defenseman, or would you rather hear from two back-up goalies – including one who will just never shut-up about his "legendary" career of 46 games?
For what it's worth – you rarely hear Messier tell war stories. He doesn't need to be validated.
And it just wasn't about the personalities involved either.
While Vagistat and Biron rambled on about nothing; ESPN showed us the pregame warm-ups and talked about each team's line-up.
As a fan, I rather see shots of the players warming up, rather than listening to meaningless analytics and self-serving made-up terms, such as "Royal Road."
---
M$GN opened up their broadcast by replaying some of Drury's interview from Tuesday.
On the other end, ESPN brought up the histories of both McDonagh and Goodrow.
Not mentioned by either broadcast is what I said last night – Goodrow knows more about Tampa than McDonagh knows about New York.
As has been the case lately (and this isn't a bad thing, but it is noticeable); M$GN, including Dave Maloney, went into repeat-mode – you know – Fox is great, Lindgren is great, Drury's deadline was great, and great, great, great!
These points/opinions/facts are all correct.
It's also a "great" thing when you're constantly raving about everything. And I'm guilty of being redundant myself too – so I'm not knocking M$GN for this at all.
Both broadcasts then echoed the same opinion, an opinion that I also shared – this ECF was going to be the complete opposite of the WCF.
In fact (and I always call myself out when I'm wrong – just as I was dead wrong about Chytil, which I'll get more into later on tonight) – I thought that the fourteen goals scored between the Avalanche and Oilers during their Game One, would be more goals than the Rangers and Bolts would score during this entire series!
Oops – but hey, a 6-2 win? I'm happy to be wrong!
---
Speaking of wrong, John Giannone then quoted a stat from Twitter user StatBoySteven, where Mr. V. came up with this – since 2000, teams that entered a Conference Final after winning a Game Seven, and while facing a team that was coming off of a sweep – were 7-0 during Game One's of a Conference Final.
That stat is now 8-0.
I don't want to bury Ranger fans by name on this site; but if you recall, a few months back, I plugged a podcast that I appeared on, which was hosted by my friend Ricky Otazu. The other guest was StatBoySteven.
I know he's a diehard fan, that people either love or hate (and I know people feel the same way about me – and that's fine – because once you put yourself out there, you open yourself up for both praise and criticism); but as mentioned on this site back then, and as I'm saying again now – I can't take him seriously – at least not when it comes to his opinions on this 2021-22 team.
Whether it's his love for European busts (Lias Andersson, Vitali Kravtsov, Nils Lundkvist, etc) or his "my opinion is better than yours" stuff; what truly drove me nuts, is when he laid out some 98767866786896 point plan to both Ricky and I, where he defiantly stated that the Rangers wouldn't compete for the Stanley Cup until 2025, and how Chris Drury shouldn't do much at the deadline.
As you know already, I was on the other side of the camp on all of this. I don't need to rehash all of that here.
I guess what bothered me (and I always try to be careful, or at least I'm aware of this in my own writings, as I never want to come off as a "know-it-all," or give off of a vibe that "my opinion is better than yours" – as I just like to share my stuff and you can do with it what you will) – was in the matter-of-fact way that Steven stated his opinions.
And let me be clear – he's a diehard fan – I just don't agree with his opinions, where I'm sure he might not agree with mine either! And that's all fine!
At the end of the day, we all want the same thing – the Stanley Cup.
This isn't a humble brag, although I know some may interpret it that way with what I'm about to say next – there are both people from the organization, and family members of players, who read the words printed on this site. (No joke – my book really increased this site's readership.)
Whether they get a laugh or take what I say seriously, I can't tell you; but what I can tell you is that I interact with these people. And if you look at my Twitter – you can probably figure out some of them.
When I first plugged that podcast that I appeared on with Ricky and Steven (I think it was from either January or February of this year), I received two quick responses – one from a family member of a current Ranger, and the other from a family member of one of the alumni.
Both said the same thing to me – "Steve sure thinks his shit don't stink, EH!"
(The "EH" lets you know that both of these people are Canadian!)
I guess what I'm getting at here (perhaps in my moment of "triggeredness") is this – I just don't get how anyone could've dismissed or written off these Rangers, and then give me some 98767867896767896 step plan on how the Rangers would win the Cup in 3-4 years from now.
How can anyone predict that far ahead? Variables are always changing.
It's my opinion (and I know many of you share it too) that you should live in the moment.
And that's what these 2021-22 Rangers are doing!
WE WANT THE CUP!
---
As far as anything else from the pregame shows that was worth noting, it was when Mark Messier had a captain-to-captain talk with Ryan McDonagh.
And yep, as you know by now – McDonagh is one of my favorite non-Rangers in all of the league today, and for all of the obvious reasons.
I thought McDonagh's interview, unlike his game on the ice tonight, was great.
McDonagh praised Ranger fans as incredible and loyal people. McDonagh then mentioned that he's still good friends with Chris Kreider, but for the next two weeks, and outside of the ice – they won't be having any interaction.
After another one of those ridiculous Peter Bongiorno law firm commercials – you know, the guy who talks like Sonny Corleone but thinks he's Tom Hagen; Messier and Chelios agreed – the Rangers would win Game One.
Better than that? Messier's closing comments, when explaining his prediction – "blood is thicker than water."
Come 8:12PM, we went to John Brancy, who once again did a great job with the National Anthem.
It was also nice to hear the familiar sounds of "IGOR, IGOR, IGOR" prior to Brancy taking the microphone.
What a long-winded road to the main event!
GAME REVIEW time! This is going to be fun!
---
FIRST PERIOD:
Ryan Strome had a "Twilight Zone" game at the faceoff circle tonight – and in a good way!
Ultimately, he finished tonight's game by winning six of the nine draws he took – good for a winning percentage of 66.7% – his best of the postseason. In addition, he also won all three of his opening draws of each period.
After a strong shift out of the second line, the first line then came on the ice and wasted no time.
Just 1:11 into the game, this happened:
CHRIS KREIDER GETS IT STARTED

(via @BR_OpenIce) pic.twitter.com/vwEVL5ZN1K

— Rangers Videos (@SNYRangers) June 2, 2022
---
1-0, GOOD GUYS, a pure first line goal!
On this goal, Vatrano got the puck up to Mika. Mika then waited and found Chris Kreider – a "CK52" who was wide open to the right of Vasilevskiy.
Kreider didn't let the moment get to him, as he displayed some patience, and BOOM – then ripped a puck right by the future Hall of Fame goalie.
And for as cliche and as tired as it sounds – yep, scoring the first goal of these playoff games are huge.
Two minutes later, Trouba tried to set-up Rangers' goal number two, but his homerun pass was broken up at center ice. On the same shift, Copp then broke up a Tampa one-timer attempt – a common occurrence tonight, as the Rangers did a fantastic job when breaking up scoring plays – especially during the second period.
After CZAR IGOR stopped Cernak and Cirelli, while the IGOR chants continued to overwhelm M$G; with 14:23 to go, McDonagh crushed Panarin with a clean and legal hit.
Panarin was fine (and later scored too), but it was something to watch out for – especially knowing how he's not at 100% right now.
During a TV timeout, Emily Kaplan (more on her later) reported that Brayden Point, a player that just thrives during the playoffs, is most likely out for the series.
As I said last night – I don't root for injuries.
However, the facts are the facts – you need some luck to win the Stanley Cup.
Not having Point around most certainly helps the Rangers – just like how not having Zuccarello around during the 2015 ECF helped Tampa. Just sayin'.
Down to 13:21 remaining, we had our first scrum of the game, as Perry tried to get too cute with Igor.
As would be the case all game, the Rangers weren't having any of these theatrics. Immediately, both the first line & the third pair charged at Tampa.
For what it's worth, Colton could've been called for a penalty here – but no dice. I'm fine with that, as long as these officials stay like this for the rest of the series.
With 12:41 to go, the Rangers couldn't get the puck out of the zone – a problem that plagued them a lot during this period, and as mentioned earlier – a problem they'd later fix.
However, at this moment, Steven Stamkos just blasted one of the best looking shots that you'll ever see, where his bomb went over the right shoulder of CZAR IGOR.
1-1, where at this point in time – you couldn't blame either goalie for either goal allowed.
With 10:04 to go, Fox had a shot blocked.
On the rebound, Rutta tackled Motte to the ice – no call, where again, if you're not going to call this, make sure you don't call it later on. And to the credit of the officials – that's what happened.
Under ten minutes remaining, the Rangers won three consecutive o-zone draws, where I had to pinch myself to make sure that I wasn't dreaming.
Vasilevskiy made the denials after all of these Blueshirt faceoff wins – but hey, I was just happy to see the Rangers challenge THE BIG CAT – a cat that was definitely neutered tonight.
After Kakko was double-teamed, which then forced the Finn out of the zone; with 7:25 to go, the Bolts went on a 2 x 1 odd-man rush, where at the last second – Frank Vatrano got a piece of the puck with the shaft of his stick. He probably saved a goal here.
Also of note – the Bolts had this opportunity because Trouba fell down.
I wouldn't blame #8 for falling down though, because all game, we saw members of both teams falling down, which is an indication that the ice at M$G sucks – probably because of some concert or another event.
With 5:30 to go, and with the Rangers continuing to win faceoffs; there was a suspect call where the officials blew a Rangers' attack dead, due to a hand-pass. That hand-pass sure looked phantom to me, and a call that then allowed Tampa to change after two consecutive icings.
Nikita Kucherov, who had all seven of his shots on goal denied by CZAR IGOR tonight; had his best chance at a goal denied with 4:00 to go, as #31 made a point-blank denial on #86.
Just seconds later, Trouba saved a goal.
On this play, and with Igor out of his net, THE TROO TROO TRAIN blocked a Stamkos shot, where if he hadn't – would've then put Tampa ahead on the scoreboard.
Now down to 3:11, Filip Chytil, who could do no wrong on this night; #72 drew a hooking call on Hagel.
Drawing this penalty was huge, as not only were the Rangers struggling with getting the puck out of the zone, but this was also a penalty that Chytil drew while in the Rangers' d-zone.
The Rangers' PP1 unit didn't look so hot here, as they couldn't get a SOG and also made three turnovers. They also saw some hairiness out of Nick Paul, who came close to scoring a SHG.
The PP2 unit was a bit better; but with 1:11 remaining in the period, and just one second left on Tampa's kill; Copp had a puck deflected out of play.
Funny enough, once back to full strength, the Rangers had many shot attempts during the final minute of action, with both Trouba and Miller leading the way – but no go-ahead goal – yet.
1-1 after one.
Here's what I said at the time:
1-1 after 1. 1P Thoughts:
— What a rip from Kreider. Stammer too.
— #NYR much better on o-zone draws.
— SOG 11-8 TB, Hits 11-all, Blocked Shots 6-all FO's 12-9 #NoQuitinNY
— Both goalies have been good – as expected
— Just get the puck out of the zone
— LGR!

— BlueCollarBlueShirts (@NYCTheMiC) June 2, 2022
---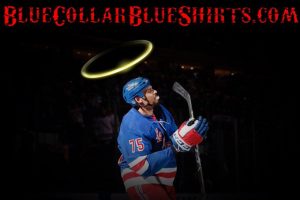 SECOND PERIOD:
This second period was the best Rangers' period of these playoffs – especially when you consider the competition and circumstances.
The Rangers were all over Vasilevskiy for the first few minutes of this period, where after two strong shifts out of the top six – #88 survived – although only temporarily.
As the Rangers continued to win faceoffs, and as Vasilevskiy racked up some saves on Miller and Mika; at the four minute mark, #88 then stopped Schneider and Strome too.
However, this much was evident – after the Rangers allowed lesser goalies off of the hook – that wasn't happening tonight.
In other words – there was never one point in this game where you said to yourself – "shoot the puck!"
Following more saves from both of these elite goalies; with 13:25 to go, Foote got into Lafreniere's face. As we've seen throughout these playoffs – #13 wasn't having any of it.
Sure, Lafreniere isn't scoring goals right now, but if you were only to look at that to assess his game – you'd be wrong. Dead wrong at that.
Lafreniere is having an amazing playoffs, where more times than not – you notice him on every shift. He's constantly pressing the offense. He's also playing well defensively. (He also had two secondary assists too!)
And if there's a scrum whenever the #1 overall pick is on the ice? He's right there in the middle of all of it.
With 12:10 to go, the Rangers regained their lead:
FRANKIE V PUTS THE RANGERS ON TOP 🚀🚀🚀🚀

(via @BR_OpenIce) pic.twitter.com/64i14xSThu

— Rangers Videos (@SNYRangers) June 2, 2022
---
2-1, GOOD GUYS, as Fox set up Vatrano for this rip-job!
And I wouldn't blame Vasilevskiy for this goal either – as up to this point in the game, every goal scored was the end result of wide-open blasts.
Right after the goal, the Bolts took the puck, where Hedman then hit the iron.
Not to be outdone, Vasilevskiy then made his best save of the game, where from his back, he kicked up his left leg and caught a piece of a Panarin-to-Strome one-timer. All of this took place within a span of thirty seconds. WILD.
During a TV timeout, Gallant told Kaplan that he was happy with Vatrano's rifle of a goal. No shit!
As the game progressed, we had a faceoff in Tampa's d-zone, where Cernak got away with a tripping and/or an interference infraction on Copp. No call.
In what should've been a Rangers' power-play (you can excuse some of the other no-calls but not this one); Palat backhanded a puck past Igor, and with 11:28 to go.
2-2 – and the last goal that Igor would afford to the champs all night.
As the half-way mark of the game hit, and as M$G once again supported their goalie by chanting his name; this happened with 9:51 to go:
FILIP CHYTIL CANNOT BE STOPPED

(via @BR_OpenIce) pic.twitter.com/FQL5itHZb1

— Rangers Videos (@SNYRangers) June 2, 2022
---
3-2, GOOD GUYS, a pure third line goal!
On this goal, Lafreniere got the puck to Kakko, and #24, from Gretzky's Office (behind the net), found the fourth longest-tenured Ranger (ESPN said second-longest, but Kreider, Mika and Georgiev were there first) and Chytil soon cashed in.
And since I always tell you when I'm right; let's also wipe the egg off of my face and eat some crow too here – man, was I wrong about Filip Chytil!
While I do think that my opinions were valid about Chytil's regular season; at the same time – I also thought that he should've been traded at the deadline – an opinion that I repeated frequently.
In other words – that's why I'm watching these games from home, while Drury collects a paycheck!
That said, I don't think that even Drury, nor Gallant neither, ever thought that Chytil would explode during these playoffs – at least not at this rate!
However, the Rangers stuck with him, and despite the never-ending debate of center vs winger – here's the late first round draft pick of 2017, Mr. Chytil himself, just lighting lamps as if it were nobodies business.
Lias Andersson who?
I've never been happier to be more wrong about a player – as Chytil is having a MONSTROUS playoffs.
Also of note? With his two assists tonight, Lafreniere is now the youngest player in Rangers' history to record eight points during the playoffs. He'll only extend this record.
Down to seven minutes to go; CZAR IGOR stoned a Killorn breakaway job.
With 5:45 to go, the start of the best possession of this postseason began.
Ryan Reaves kicked it all off by getting a puck into the zone, and then kept it alive while forechecking.
During this time, and after multiple keeps, the Rangers changed their lines twice.
With 4:17 to go, the hard work was paid off:
Filip Chytil, 2021-22 season:

8 regular season goals
7 postseason goals

(via @BR_OpenIce) pic.twitter.com/gUiOiS6MVl

— Rangers Videos (@SNYRangers) June 2, 2022
---
4-2, GOOD GUYS, as there was Filip Chytil, once again, putting a puck past the greatest NHL goaltender of the last few seasons.
So much for the "THEY CAN'T SCORE AGAINST A REAL STARTING GOALIE" stuff – am I right?
The Rangers were just relentless after the goal, where come the final horn of the period – the Rangers were still up by two.
Here's what I said at the time:
4-2, GOOD GUYS, after 40. 2P Thoughts:
— HOLY SHIT!
— COL vs EDM who?
— Buchnevich who? Kravtsov who? We got CHYTIL!
— I wanted #72 traded 876687686 times this season – never been happier to be wrong.
— SOG 25-22 #NYR, Hits 21-20 TB, FO's 22-13 NYR
— FINISH THEM

— BlueCollarBlueShirts (@NYCTheMiC) June 2, 2022
---
THIRD PERIOD:
During the intermission, Emily Kaplan once again interviewed Filip Chytil.
While I joked on social media that we're watching a budding romance develop between the two; what's true is this – Kaplan's interviews with Chytil are reminiscent of Ahmad Rashad always interviewing Michael Jordan during the 1990s!
I have already raved about Kaplan before on this site; but yeah – I love her interview questions. There are no softballs to be found.
This also tells you this, and the most important takeaway here – Chytil is playing extremely well.
If he wasn't, then Kaplan would have no reason to interview him.
---
Since you can never count the Bolts out, it was extremely rewarding, where at the thirty second mark of the period, Panarin pushed one by Vasilevskiy, after a picture-perfect pass out of Copp.
5-2, GOOD GUYS!
Yes, the Bolts are good, but at this juncture – there was no way in hell they were going to score three against Igor.
34 seconds later, Braun was boxed after tripping Colton.
No matter, as the Rangers' PK snuffed out this Tampa one-man advantage, where I should also mention that CZAR IGOR, of his 37 saves, made seven of them while being down a man.
There was also a scary moment during this Rangers' kill, as with 17:48 remaining, Stamkos, while trying to bury a loose puck, got a piece of Igor's head.
To be clear, while I saw some fans suggest that this was intentional – I thought this was accidental. Stamkos was trying to score and wasn't looking to maim Igor.
Igor fell to the ice, where Rangers' trainer Jim Ramsey had to attend to him.
Igor got right back up and then continued to play.
I don't know if Igor was trying to sell here for a call or what (we've seen him do this before); but in the moment, your asshole was sucked into your back teeth.
Nothing against Alexandar Georgiev – but yeah, he's not CZAR IGOR.
In any event, Igor was fine and would then continue to keep the Bolts off of the board.
To show you how rattled Tampa was at the time, and now back to full strength; with 16:00 to go, Kucherov, while wide-open, passed the puck fifteen feet backwards to McDonagh instead.
With 15:23 to go, Killorn held Panarin.
The Rangers' power-play was fantastic here.
During this man-advantage, the Rangers kept feeding Mika, as if #93 was Joey Chestnut on July Fourth.
On his fourth try, Mika then blasted a puck from his usual circle, the one to the right of the goaltender, and scored.
6-2, GOOD GUYS. ROUT ON!
With the final result pretty much determined here, this is when M$G had their fun and started chanting "IGOR'S BETTER!"
I saw some fans criticize this chant, where they felt that M$G were "touching the money."
I liked the chant. Why not have fun during this? It's what it's all about!
I know all about bad ju ju, curses, hexes, jinxes, etc; but that said – I'm fine with fans living in the moment. And heck, maybe it will keep Vasilevskiy rattled too.
Also of note? Despite giving up a touchdown, Vasilevskiy remained in the game.
I thought this was a wise decision, because after all – #88 hadn't played in nine days.
Tampa was going to lose this game, so I thought it was a good idea to allow him to keep working, in an attempt to get back into his groove prior to Game Two.
If the situation were reversed, then I would've been championing for Igor to be pulled – only because he's been playing non-stop.
Since this blog is long, and since 6-2 held up as the final score, let's fast-forward to the end.
With 1:46 remaining, frustration set in on the champs:
Ryan Reaves and Pat Maroon just layered with refs here pic.twitter.com/Ss69UtE9F5

— Hockey Night in Canada (@hockeynight) June 2, 2022
---
Maroon, who if you remember, fought with Reaves after Maroon got cute with Igor during the final regular season game between these two teams – was OWNED by #75 here.
No joke, we had about a three-minute long scrum here, where at the end of it – seven players were kicked out of the game, including Reaves, Maroon, McDonagh, Goodrow, Schneider, Motte and Hagel.
Reaves was the hero here, you know, the guy that the analytical fans want scratched.
Somehow, Tampa got a power-play after all of this – perhaps a gifted power-play from the officials after watching Reaves stand over Maroon – as if he were starring in a remake of "SPARTA 300."
No matter.
Igor made a few more saves while on the penalty kill, and once the sixty minutes of action were completed, the final score read as 6-2, GOOD GUYS!
WHAT A WIN!
WHAT A STATEMENT!
Now do it three more times!
---
Here's Gallant, after the biggest win of the season:
---
Do you believe yet?
I know I do!
---
Three more thoughts before wrapping up, all of a personal nature:
One – some have suggested that I should start a Patreon, or put up some sort of a Paypal/Venmo button, to support this site.
Maybe one day (especially since I'd like to go to one of these playoff games, but I'm not going to drop a grand to do so – as I feel that money is better served for my regular season road-trips/mini-vacations); but for now, I'm having fun with what I'm doing, and at this point – this site is used to push my books instead.
Two – as you may know, I have about 1,800 pages written for my upcoming volume set of books, where I'll be talking about every trade made in all of franchise history – a tall task, and a task that I've shelved during this playoff run.
That book can wait, as I'm enjoying living in the moment.
(Currently, that project is in the year 2005 – so I still have seventeen years to go before completing the rough draft – the first phase of a lengthy process.)
Three – that trades book may become even further delayed, because no matter what happens this season – I think I'm going to try to write a book recapping this entire 2021-22 season – one of the most memorable seasons in all of franchise history.
Maybe I'll cheat a bit with that book, should I attempt it – and just make a compendium of every blog written this season, where I'd then also add new material to it too.)
And should they win the holy grail? Yep, I'm doing that book for sure!
PLUGS TIME.
---
On Tuesday night, our chums over at "The Blueshirt Underground Show" returned with a new episode, where they reviewed Game Seven and previewed the Eastern Conference Final.
To watch/listen to the show, click the play button below:
---
On Wednesday morning, our pals over at "2 Guys, 1 Cup" returned with a new episode, where they too, reviewed Game Seven and previewed Bolts vs Blueshirts.
To listen to the show, click the link below:
Episode 48 is up! We are back in the EFC! Recap how we got here and what it's gonna take to move past tampa. #NYR https://t.co/CSF4LXzNO0

— 2 Guys 1 Cup Podcast (@2G1CRangers) June 1, 2022
---
My first plug of tonight's blog – the mandatory plug for my book, "The New York Rangers Rink of Honor and the Rafters of Madison Square Garden".
As mentioned previously, the book is now available in hardcover, in paperback and in Kindle formats. To purchase a copy of the book, visit this link:
https://www.amazon.com/Rangers-Rafters-Madison-Square-Garden-ebook/dp/B09CM5N2WD
For those still looking for signed paperback versions of the book, I have re-ordered more copies. I now have a few signed copies for sale at $25 a pop (includes shipping price) through me directly. Here is all the information on that:
---
Here are my last few blogs, in case you missed them:
---
---
---
If you haven't already, subscribe to this blog for the next update:
---
Up next: Game Two of the ECF, Friday night at M$G, with a puck drop of 8PM.
The Garden, which was rocking on Wednesday, should be even louder on a Friday night!
LET'S GO RANGERS!
Sean McCaffrey
BULLSMC@aol.com
@NYCTHEMIC on Tweeter