Greetings and salutations everyone and welcome to another blog here on BlueCollarBlueShirts.com. I'm still riding a Rangers high!
As mentioned during last night's Game Seven review blog (you can check it out here: https://bluecollarblueshirts.com/53022/ ), there's no rest for the New York Rangers following their triumph over the Carolina Hurricanes.
Rather than receiving a few off-days to let it all soak in, relax and heal; come Wednesday night, the Rangers will be right back at it, when the Blueshirts host the Tampa Bay Lightning during Game One of the Eastern Conference Final.
And to be clear – you can't moan and groan about the quick turnaround between the second and third rounds.
The Tampa Bay Lightning did their job and easily disposed of the Florida Panthers in a "Battle of the Sunshine State" that never was.
Instead of a see-saw battle; the two-time reigning and defending Stanley Cup champions massacred and neutered the Cats in a four-games.
Just like sweeping fecal matter out of a feline's litter box – the Bolts busted out the broom in their sweep of the 2021-22 Presidents' Trophy winners.
Twelve hundred miles north of Tampa, Florida, over in Rangerstown, USA; the Blueshirts had a more grueling path to the Eastern Conference Final than the Lightning did.
While both teams won their respective first-round series in seven-games, where in addition, both teams came back after trailing (the Rangers from a 3-1 hole, the Bolts from a 3-2 deficit); the Lightning, as mentioned, during the second round, cruised to the Eastern Conference Final.
The New York Rangers, who have made their bread and butter with all of their never-ending comebacks, both during the regular season and during the postseason, did it again in the second round.
For the next 24 hours or so, and perhaps even after the conclusion of Game One too; all you'll hear about is "rest vs rust."
Should the Rangers win Game One of the ECF on Wednesday night, then you'll hear how the Rangers have been battling, are in the moment, and rode their momentum & compete levels from their Game Seven victory.
Should the Lightning win Game One of the ECF on Wednesday night, then you'll hear how the Bolts have been rested, ready, and prepared during their nine days of idleness.
Whatever happens, this much is known – the 2022 Eastern Conference Final is a Champs vs Cinderella story.
In one corner, you have the Tampa Bay Lightning, who are arguably a dynasty/franchise team already.
(Some may champion the argument that the Bolts need to win at least three Stanley Cups in a row. While I won't give that opinion much resistance, at the same time – I'm also aware how hard it is to win one Stanley Cup, much less two in a row. And when compared to previous dynasties – none of those previous teams accomplished their feats in a 32-team league, much less with a hard salary cap installed.)
In the other corner, you have the New York Rangers, where outside of their most hardcore of fans (yours truly included) – no one is giving these underdogs, who have smashed all expectations to smithereens this season, a chance of moving on to the Stanley Cup Final.
In fact, you have more people trying to diminish what the Rangers have done thus far, where their ammo is all about the goaltenders that the Rangers have faced during the first two rounds.
While it's true that the Rangers haven't seen a true starting goalie on the other end of the ice during this run; at the same time, I just find it ironic that I don't hear anyone complaining about and/or belittling Colorado's current situation, where they too, have faced nothing but back-up goalies when reaching the Western Conference Final.
---
Similar to what I said prior to the start of the second round, where I stated that I was done thinking about the Pittsburgh Penguins, Sidney Crosby, and anything else black-and-yellow related; for the rest of these 2022 Stanley Cup Playoffs – I'm now done with the Carolina Hurricanes, Tony DeAngelo, and anything else Raleigh red related.
I'll start thinking about both Pittsburgh and Carolina again, as well as everyone else from the Metropolitan Division, come the start of the 2022-23 season. All I care about right now is Rangers vs Lightning.
At this time, and just like I did before the first-round (https://bluecollarblueshirts.com/5122/ ) and second round (https://bluecollarblueshirts.com/51622/), where I did the "how they got there" bit (including stuff on the opposition too) – I'd now like to take a look at how these two teams reached the Eastern Conference Final.
And since I already covered the Rangers' run (click the links above), my focus is about the histories between these two teams.
Once covering the history, I'll then take a full-dive into this series, with a complete preview and prediction.
After that, I'll give you all of the Rangers' news from their media day, as many people from the organization spoke today. We even got a rare interview out of Chris Drury too!
---
As you're probably aware of already; there is a lot intersection and cross-pollination between the Tampa Bay Lightning and the New York Rangers. However, most of that is recent.
That said, it all started from day one, when the Lightning were first founded in 1992 by former Ranger Phil Esposito.
Esposito (Espo from this point on) will always be known for what he did in Boston, where with the Bruins, he won the Stanley Cup in 1970 and in 1972.
While no one can deny that Espo created his legacy and his path to the Hall of Fame with the Bruins; I think that many people forget that he started his career with another original six franchise, the Chicago Blackhawks.
Another fact that's often glossed over? Espo spent "only" nine years with the Bruins, albeit his prime years.
Conversely, Espo spent fourteen consecutive years in some capacity with the Rangers.
In fact, Espo is the only man in all of Rangers' franchise history to serve as a player, announcer, head coach and as the team's general manager.
And while there is no way I can get into everything Espo-related today (he's covered extensively in my first book, and spoiler alert – I have about 400 pages written about him for my second book, a book that I hope to release sometime later this year, and a book that covers every trade made in all of Rangers' history – a history that now encompasses over 95+ years), this much is true – he's one of the most interesting men to have ever been associated with the Rangers.
To this day, he's not only involved in the biggest trade ever made in Rangers' history, but in all of NHL history.
Only the Wayne Gretzky trade from August 9th, 1988, where "The Great One" went from Edmonton to Los Angeles can compare. And even then – that wasn't truly a "hockey trade," as it was a trade made due to financial reasons.
When it comes to Espo, who along with Carol Vadnais, was traded to the Rangers on November 7th, 1975 for Brad Park, Jean Ratelle and Joe Zanussi; it was his trade that remains as the biggest transaction in all of NHL history.
(Again, I can't cover all of this right now, but I'll have a lot for you about this in my second book. And for time constraints, I can't get into his tenure as Rangers' GM right now! That literally is a book to itself!)
---
In his book "Thunder and Lightning," in interviews conducted after the book's release, and even still to this day, where's he a frequent guest on Seth Kush's Lightning sponsored "Block Party" podcast; Espo makes it clear – he doesn't care about the Rangers. Heck, he doesn't even care about the Bruins.
Instead, he only cares about the Tampa Bay Lightning – a team that he founded and where he served the team as their general manager during their first seven years of existence.
Currently, and has been the case for a while, he now calls Bolts games on the radio.
Since the 1992-93 season, the Lightning's first in the NHL; there have been players to wear both the diagonal R-A-N-G-E-R-S letters and the Tampa thunderbolt on their chests.
However, outside of Phil Esposito, the two franchises didn't really have much in common and major interaction with each other, that is, until 2014.
Prior to that, the biggest link between the two teams was that you had a lot of New York transplants, all living in Tampa, hockey fans that would regularly attend games in Florida – and at much cheaper prices when compared to M$G.
Additionally (and as we'll soon get into), the two teams have only seen each other in the playoffs once – during the 2015 Eastern Conference Final – which admittedly, is one of the worst moments of my adulthood fandom!
---
On March 5th, 2014, and in a trade that I've talked about in-depth 9876786788699769766 times before on this site (and yep – I'll talk about it one more time in-detail in my upcoming book too), the Rangers dealt then captain Ryan Callahan to the Tampa Lightning, in exchange for Tampa's then captain, Martin St. Louis.
In something that I can never let go of, as I'll never understand why this wasn't a straight one-for-one swap; then Rangers' general manager, Senile Sather, also included two first-round picks in the trade.
Ironically, Tampa would trade their 2014 first-round pick, as gifted by the Rangers, to the Islanders. That player turned out to be Josh Ho-Sang. More ironic than that? Tampa would then trade their 2015 first-round pick, as gifted by the Rangers, in another deal with the Islanders. That player turned out to be Anthony Beauvillier.
While Beauvillier has turned out into a nice little player for the Belmont Bozos; at the end of the day – you wouldn't give up your memories and fun when watching the Rangers during these peak years of 2014 and 2015.
As you all know by now, while Ryan Callahan and the Bolts were swept during the first round of the 2014 Stanley Cup Playoffs (Montreal); Martin St. Louis and the New York Rangers went all the way to the Stanley Cup Final.
And I don't think I have to remind you again about the passing of St. Louis' mother either. However, let's just not forget how important MSL was for the Rangers during that run.
After the Rangers (who somewhat like today, were a Cinderella team in 2014), were eliminated in five-games during that year's Stanley Cup Final; they followed up that season by winning the Presidents' Trophy in 2015.
As mentioned many times during this 2021-22 season, as Gallant's Gang flirted with franchise records all season; regular-season wise, the 2014-15 Rangers were the most successful regular season team in all of franchise history, where they won 53 games and earned 113 points – franchise records.
(And yes, these records are a result of the era too, as previous successful teams of franchise history didn't play in as many games, didn't have the "loser's point" as a result of no-ties, etc.)
That said, the Rangers, who steam-rolled their way to the Presidents' Trophy in 2015, were for real.
While 2014 was an opportunity lost, that team over-achieved. They over-achieved big-time at that.
Come the 2015 Stanley Cup Playoffs – the Rangers were the odds-on favorite to hoist the silver chalice.
Enter the Tampa Bay Lightning.
---
During the 2015 Stanley Cup Playoffs, a returning Henrik Lundqvist made his way back to the net, after receiving a throat injury in January of 2015.
The Rangers, in the first-round, vanquished a team that always gave them problems, the Pittsburgh Penguins, in a five-game set. Up next was a thriller, a seven-game series victory over the Washington Capitals, where admittedly, the Rangers made it much harder on themselves, as yours truly, and others, all thought that the Rangers would easily dispose of Ovi's men.
On the other end of the bracket, the Lightning had a Game Seven win to their own name, when they defeated the Detroit Red Wings in the first round. They followed that up by avenging their 2014 sweep to the Habs, when they knocked off Montreal in six games.
Come the 2015 ECF, the Rangers were heavily favored to knock off the Lightning, a team where at the time, featured captain Steven Stamkos, "The Triplets" and a Ben Bishop in net.
In a series that would later become known as "The Bishop Takes The King," the Lightning upset the Rangers in seven games.
I've covered this series extensively, so there's no need to show my scars here; but yeah – the Rangers blew it.
Whether it was Lundqvist giving up touchdowns, the team being unable to score on home ice, or whatever else you want to come up with here – this series was one of the biggest failures in all of Rangers' history.
And yep, for long-time readers of this site – and even before this series was played, I was starting to question the contract of Henrik Lundqvist at the time – a topic that I'm glad is long dead and buried. In the present day, I rather remember him as a Rangers' legend, rather than griping about the salary cap.
In a way, I'm still sick as I type these words, as really, this should've been a Stanley Cup championship for the Rangers – especially knowing how well the Rangers would've matched up with the Chicago Blackhawks in 2015 – a Chicago team that then ousted the Lightning during the Stanley Cup Final in six games.
The end result of this 2015 Eastern Conference Final led to two major events:
— The Rangers had peaked. Their window had been closed. This was even admitted by Glen Sather himself, who went all-in to win, and after failing to do so – immediately stepped down and let Jeff Gorton deal with his mess.
— This began the league ascension of the Tampa Bay Lightning.
---
I covered the Rangers' rebuild, The Letter, and everything else from the last few years already on this site, including when I did my NYR/PIT preview. So there's no need to do that again here.
The Lightning, who built the core of their team through the NHL Entry Draft; after 2015, soon became an NHL powerhouse. However, it would take them five years to finally earn their first Stanley Cup since 2004.
In 2016, the Lightning returned to the Conference Final, where this time, they lost a seven-game set to that year's eventual Stanley Cup champions, the Pittsburgh Penguins.
A season later, a season full of injuries in Tampa; the Bolts missed the playoffs by one point.
Following their 2017 Stanley Cup Playoffs miss; a year later, in 2018, the Bolts once again made it to the Conference Final. However, and just as they did two years prior, they lost a seven-game set; where this time it was another loss to that year's eventual Stanley Cup champions, the Washington Capitals.
During this time, the Lightning, who were gobbling up Rangers as if they were crypto currency, including Ryan McDonagh, JT Miller, Dan Girardi, Anton Stralman and others; always felt like the bridesmaid but never the bride.
However, they didn't let that deter them.
During the 2018-19 season, the Lightning were far and away the most superior team of the regular season, where some believe they were the most dominant team of the modern era.
Behind a record of 62-16-4, the Lightning owned the NHL. Come the 2019 Stanley Cup Playoffs, it felt like they would finally get over the hump.
They didn't.
In what's considered to be the biggest upset in all of NHL history; the Columbus Blue Jackets swept the Tampa Bay Lightning out of the first round.
At the time, many felt that heads should've rolled in Tampa, including the longest-tenured coach in the league, Jon Cooper.
Instead, the Bolts, while embarrassed, didn't blow it up either.
Rather than going into a full blown panic mode; the Bolts learned from their mistakes. They took notice of their flaws.
Similar to the state of the Florida Panthers of today – Tampa realized what works in the regular season doesn't work in the playoffs.
Soon to join the fray were role-players like Barclay Goodrow, Patrick Maroon and others. And for good measure, and keeping the tradition, the Bolts even snagged another bought-out Ranger, Kevin Shattenirk.
In turn, and in the most unique NHL playoffs of all-time, the Tampa Bay Lightning won the "bubble" Stanley Cup Final in 2020.
They won it again in 2021.
No longer the bridesmaid, and after years of frustration, deep playoff runs and that crushing upset to Columbus that changed their trajectory for the greater good; the Bolts had arrived.
Over in New York, after finishing out the end of the Henrik Lundqvist era, which peaked in 2015, and soon led to a complete sweep of the front office; organizationally, and under new management, the Rangers' goal, after missing the playoffs during the past four seasons, was to return to the dance.
This all sets up a 2015 Eastern Conference Final rematch, where the tables have been turned.
The Tampa Bay Lightning are the heavy favorites this time around. They are still the best team of the league, no matter what their regular season record may read. They are the ones with ten consecutive Stanley Cup playoff round wins. They are the ones full of Stanley Cup champions.
The New York Rangers enter this series as the underdog, and just like the Lightning from 2015, have over-achieved.
While saying "just happy to be there" would be erroneous; win-or-lose – this season has been a success for the Rangers.
And perhaps like 2015, where the Lightning were the only team that had a chance of beating the Rangers in seven games; now in 2022, it are the Rangers who may have the only chance of beating the Bolts.
Your history lesson is over. Let's get into current events!
---
Similar to the 2015 stuff; from this point forward, the lede story of this series will be centered around the Russian goaltenders.
On one end, you have Andrei Vasilevskiy, now in his seventh year, and arguably making a case for a Hall of Fame bid too, who has a ton of hardware to his name.
A four-time NHL All-Star, Vasilevskiy has done it all, as he is a two-time Stanley Cup winner, a Conn Smythe winner and a Vezina winner.
And don't even get me started on his insane numbers during Game Seven's and elimination games – league records.
He is the goalie to beat. He is the best today until he's beaten.
As Ric Flair once said, "to be the man, you gotta beat the man. WOOOOO!"
On the other end, we have CZAR IGOR Shestyorkin, who has followed the career path of Vasilevskiy.
Igor, just like Vasilevskiy, started his career in the KHL, dabbled a bit in the AHL, and then took over the team's starter's job from a Stanley Cup Finalist. (Vasilevskiy took Bishop's job, Shestyorkin took Lundqvist's job.)
CZAR IGOR, statistically, was the best goalie of the 2021-22 regular season. He's a lock to win the Vezina Trophy. He may win the Hart Trophy too.
He will now face his biggest test yet in Vasilevskiy, an upgrade over the likes of Casey DeSmith, Louie Domingue, Tristan Jarry and Antti Raanta.
Conversely, Vasilevskiy will now see the best competition of his career this season, as CZAR IGOR is light-years better than both Jack Campbell and Sergei Bobrovsky.
In a series where the over-under line will be -5 on most nights, this Igor vs Vasilevskiy match-up is a wet dream for fans of the goaltenders.
Just like any playoff series at this time of year, especially this one featuring two elite studs in net; for both teams to score, it will have to be as a result of their power-plays, broken plays, and deflections & screens.
I don't think you'll see many soft goals allowed in this series, if any.
That also brings me to comments I've seen from the "Ranger haters," where they all bring up the not-so-elite goalies that the Rangers have seen thus far.
While there were one or two soft goals allowed along the way – for the most part, the goalies who the Rangers have seen haven't really given up bad goals.
Sure, both Domingue and Raanta coughed up one truly bad goal a piece – but so did Campbell and Bobrovsky – and multiple times at that.
To say that the Rangers are only here because of opposing goalies is wrong.
What's correct, is that unlike the Western Conference Final, where high-scoring games should fully be on display; both Igor and Vasilevskiy should make goal scoring during this ECF a strenuous task.
If there's any position, intangible or anything else that's 100% evenly matched, it's at the goaltending position.
---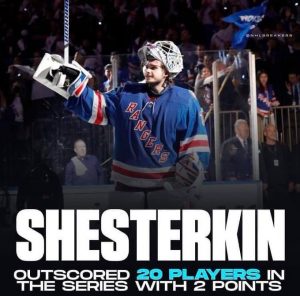 Before getting into the other match-ups of this series, I've been sent a lot of stuff, stuff reminding me of the Rangers' 3-0 regular season record over the Lightning.
As I said during my other series preview blogs, both against both Pittsburgh and Carolina – you can throw all of that out the window.
None of that matters.
However, before explaining why that doesn't matter, here are recaps from those three games:
12/31/21 – Rangers 4 – Bolts 3 (Shootout) – https://bluecollarblueshirts.com/123121/
1/2/22 – Rangers 4 – Bolts 0 – https://bluecollarblueshirts.com/1222/
3/19/22 – Rangers 2 – Bolts 1 –https://bluecollarblueshirts.com/31922/
---
If you notice, NONE of these games were played before the trade deadline.
And even if they were – does it matter, especially after seeing how Tampa decimated the Panthers?
If there's anything you can take out of these games, it's the fact that the Rangers know that they can beat these guys. But I doubt that fact is going to bother Tampa at all.
As we all know – the playoffs aren't the regular season.
---
Away from 2015 and the goalies, there are many other interesting story-lines going into this series, including that the Rangers, and not the champs, are the home team.
The Rangers have played extremely well at home during these playoffs, where as noted, they won't enter Game One as fresh as Tampa. We'll see how rest vs rust plays out during that game; but following it, the series should become more balanced.
While I wouldn't say that these players have an "axe to grind," you also have two players that once played for the opposition.
On one side, you have Ryan McDonagh, the former Rangers' captain, and a defenseman that's long been removed from the organization.
What I'm getting at here, is that outside from Chris Kreider, and to a lesser extent, Mika Zibanejad too – Captain Mac doesn't have any history with these guys.
Furthermore, after two Stanley Cup wins in Tampa – do you really think he cares about the Rangers anymore? His move to Tampa was the best thing to ever happen to him.
On the other side, you have Barclay Goodrow, a #21 who could be the "X-FACTOR" for the Rangers.
Not only are the Rangers' 2-0 since his return; but unlike McDonagh with the Rangers – he knows these Bolts inside-and-out.
McDonagh can't offer any insider trading information on the Rangers. Goodrow can with the Lightning.
Of course, having information is one thing. Executing is another.
Players somewhat similar to Goodow in Tampa are both Patrick Maroon and Corey Perry. And for the heck of it, you can throw Reaves into this too.
For Goodrow, he's looking for his own "Patrick Maroon Trick," as he's seeking his third consecutive Stanley Cup victory. Maroon is now looking for his fourth.
Corey Perry, who first won a Stanley Cup fifteen years ago (2007 with the Ducks), has been in Cup-chasing mode for a while now, as he looks to add a second ring to his hand.
Ironically, it was Tampa that denied him of doing so during the past two years (Dallas and Montreal), where he got fed up and basically embraced the old "if you can't beat 'em, join 'em" philosophy.
Perry, at 37 years old, should draw some attention from the oldest player on the Rangers, the 35-year old Ryan Reaves.
And why am I focusing on this quartet of players? Easy – you need intangibles and role players to win Stanley Cup Playoff games. I'd expect these four to make their presence felt.
And while on this topic of Ryan Reaves, and despite what you may read elsewhere – unless the Rangers fall into a 3-0 hole (and even then, I'm not so sure), I wouldn't expect to see Sammy Blais at all.
Nothing against Blais, but too much time has passed, and not because of any fault of his own.
PK Slewban definitely ruined his season. However, you can't do anything about that now.
While Blais has been around the team, he hasn't been on the ice with the team. I don't think the chemistry would be there. I do think his timing would be off. I also don't think he knows the tendencies of his teammates – at least not in the way that Reaves, Rooney or whatever other fourth-liner you want to name here.
In addition, and after seeing the last two Ranger games – I think you'd have to be an idiot to mess with the lines right now. You go with what took you to the dance. The grass isn't always greener on the other side, and yep – this hypothetical may be moot at the jump, as Blais may not be ready to return anyway.
---
When you look at the superstars of this series, both teams bring the firepower.
(FYI: when reading the stats here, keep in mind that the Rangers have played in three more games.)
Mika Zibanejad, the Rangers' first-line center, has 19 points behind his 7 goals and 12 assists.
Nikita Kucherov, the electric right winger in Tampa, has 15 points behind his 4 goals and 11 assists.
Chris Kreider, the defacto captain of the Rangers to many, has 8 goals and 3 assists for 11 points.
Steven Stamkos, the lifeblood and captain of the Bolts, has 4 goals and 4 assists for 8 points.
And then there are the two defensemen, both former Norris winners, in Victor Hedman (2018) and Adam Fox (2021), two d-men who have been tearing it up during this postseason.
Adam Fox currently has 18 points, behind his 5 goals and 13 assists.
Victor Hedman currently has 10 points, behind his 2 goals and 8 assists.
And while numbers aren't everything, especially since both of these elite d-men play top minutes, and during all situations – just like the goaltenders, these two should be evenly matched.
Another match-up featuring skilled forwards is Artemi Panarin vs Brayden Point.
Point, who just lives for the playoffs, is currently out with an injury. It's assumed that he won't be available for Game One.
Panarin, who is playing through his injury, and despite his Game Seven overtime goal against Pittsburgh; hasn't really lit it up just yet.
If Point misses games, and if everything else should even out – now is the time for the Breadman to start baking.
---
Perhaps the biggest factor of this series is at the Rangers blue-line, where Jacob Trouba, who is a villain everywhere besides New York, has been knocking players out of games left-and-right.
And yes, I know that I said that Goodrow could become an "X-FACTOR," but if that doesn't work out, then Trouba most definitely should.
While I'm not celebrating injuries or even suggesting anyone to do so; this much is true – every member of the Bolts have to be aware whenever Trouba is on the ice. Just ask Sidney Crosby. Just ask Seth Jarvis.
Just like everything else in this series, outside of experience, the Rangers can match the Bolts defensively.
Tampa's top four, of Hedman, McDonagh, Cernak and Bogosian, are strong. Arguably, Fox, Lindgren, Miller and Trouba are stronger.
When it comes to each team's third pair; Schneider and Braun have been serviceable, even if they are the weak link – and as they should be. They just aren't top four guys, where in the case of #45 – at least not yet.
Sergachev (who may also miss Game One with an injury) and Foote (who is stapled to the bench a lot) are perhaps better than Schneider/Braun, but not by much.
Other similarities feature both general managers, Drury and Julien Brisebois, hitting homeruns at the NHL trade deadline.
Both Nick Paul and Brandon Hagel have been nice additions for the Bolts. However, Andrew Copp was the best acquisition of the NHL Trade Deadline. Frank Vatrano, the real winner out of the Florida Panthers organization, has been solid on the first line. Tyler Motte should create headaches for the likes of Alex Killorn and Ondrej Palat.
For some, the most interesting thing to watch will be the Lafreniere/Chytil/Kakko line, a line that more times than not, has been the best Rangers' trio game-by-game.
This line has held their own against the stars in Pittsburgh and Carolina, but those two teams aren't the Lightning.
That said, I think they'll be up for the challenge – as they've been during this entire postseason.
And of course, we have to talk about the bench bosses.
---
In a series that features one Jack Adams winner (and a finalist on two other occasions) in Gerard Gallant, against a two-time finalist himself, Jon Cooper (how he has never won the Jack Adams Award, I do not know); just like most things going into this series – I find the two coaches to be evenly matched.
Cooper has the Stanley Cups and the long tenure. Gallant hasn't won a Cup yet, and all of his head coaching tenures have been short.
However, Gallant seems like a perfect fit for this Rangers team, which really shows you how stupid Vegas was when they canned him – something that most felt at the time anyway. (In other words – this isn't hindsight being 20/20 – we all knew that firing was bad.)
You can't knock the Coop here, but the Turk should come to roost during this series. He's been pressing the right buttons all season.
---
If there is anything I want to personally say right now, before getting into my prediction and the news of the day, it's this – I don't hate the Tampa Bay Lightning.
Sure, I hated what happened in 2015, but in my eyes, that was more about the Rangers failing than the Lightning succeeding – and I'm not trying to take anything away from Tampa here. I'm just saying that the Rangers choked that series away.
Conversely, like the Devils, Flyers and Islanders – I hate the Penguins. I'm also starting to hate Carolina a lot too, between all of their Mickey Mouse celebrations and too-hot-to-trot act.
Of course, both of those teams are in the Rangers' division, the Metropolitan Division. The Bolts are not.
During the past few seasons, and with the Rangers rebuilding; while I wouldn't say that Tampa is my "second team" or anything like that – but I was rooting for them to win.
After all, Ryan McDonagh is one of my favorite players today. I wanted to see him win the Stanley Cup. I've now seen him win it twice. I don't want to see him win it a third time.
Also of note – I've been to Tampa a lot, as I have many friends who live down there. It's a beautiful city, and if you enjoy your pops and belts – there are a ton of good drinking spots to be found! Unlike others, I just have nothing bad to say about the city, nor the team.
I rooted hard for Tampa to win during the last few years. I've seen a lot of them. They are easy to like. They play the right way. They have charismatic players. They are fun to watch.
However, they can be beaten.
Unlike Toronto and Florida, Tampa's previous conquests; I think the Rangers have the intangibles and yep, the goaltender too, that can get them over the hump.
Going back to October 12th, 2021, when I first predicted that these two teams would be the last two standing of the Eastern Conference; at this time, I'm going to take back what I said on that date.
Tampa won't be advancing to the Stanley Cup Final.
The Rangers continue this magical season, and vanquish the champs in six.
And real quick, before getting into the news?
I see the Edmonton Oilers knocking off the Colorado Avalanche in seven games.
Bring on the MARK MESSIER CUP!
---
After a team get-together (no physical practice) on Tuesday, which took place at the Rangers' training facility; Chris Drury, in a rare public appearance, spoke to the media with his head coach by his side.
Here it is:
---
Since I know this blog has gone on long enough already, if you don't have the ten minutes to watch this video, you can find a full transcript of it, provided by Adam Rotter, here: https://nyrangersnews.com/2022/05/31/what-chris-drury-and-gerard-gallant-said-on-monday/#more-192392
I found the press conference compelling. It was nice to see these two get a temporary break and just be able to enjoy this moment.
If there's anything I want to include here, it's some comedy.
Here's Drury, when joking about losing a first-round draft pick last night:
"I did come down after the game last night and was going around seeing the players and Copper looked up at me and said 'sorry about your first [round pick, to the Jets]' which is no problem at all."
Drury, like everyone else, then cracked up hysterically afterwards. Funnier than that? The people who are actually upset about this!
---
The Rangers also had Kreider and Strome & Goodrow and Lafreniere together.
Here are those press conferences:
---
---
These interviews ran long, so you can watch them if you so desire, but the best quote out of these twenty minutes of interviews was this one, when Goodrow was asked about Igor v. Vasilevskiy: "I'll take Shesty all day."
So will I.
PLUGS TIME.
---
My first plug of tonight's blog – the mandatory plug for my book, "The New York Rangers Rink of Honor and the Rafters of Madison Square Garden".
As mentioned previously, the book is now available in hardcover, in paperback and in Kindle formats. To purchase a copy of the book, visit this link:
https://www.amazon.com/Rangers-Rafters-Madison-Square-Garden-ebook/dp/B09CM5N2WD
For those still looking for signed paperback versions of the book, I have re-ordered more copies. I now have a few signed copies for sale at $25 a pop (includes shipping price) through me directly. Here is all the information on that:
---
Here are my last few blogs, in case you missed them:
---
---
---
If you haven't already, subscribe to this blog for the next update:
---
Up next: Game One of the ECF, Wednesday night at M$G with a puck drop of 8PM.
LET'S GO RANGERS!
Sean McCaffrey
BULLSMC@aol.com
@NYCTHEMIC on Tweeter