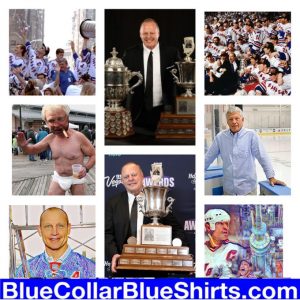 Greetings and salutations everyone and welcome to another blog here on BlueCollarBlueShirts.com. Anything new? Anything old, as in 27 years old? And hell, anything old, as in 39 years old? (Thanks for all the birthday wishes, as I think I have finally gotten back to everyone!)
Oh, and speaking of my birthday, here is a present I made myself at 2AM on 6/13, which includes donations from some of you guys:
The date of June 14th will always be sentimental for Ranger fans, as it was on June 14th, 1994, where the Rangers broke their 54 year old curse and won the Stanley Cup, after defeating the Vancouver Canucks in seven games. In fact, you may have heard about this before! Now, exactly 27 years later, and right down to the date of the last Stanley Cup victory in franchise history; the date of June 14th once again resonates with Rangers fans, as it was on June 14th, 2021 where the Rangers made it all but official – Gerard Gallant will become the 36th man in the near 100 year history of the franchise, to serve the team as the team's head coach.
(And as mentioned 78696782346927364362 billion times on this site, in the present day, the Rangers ignore the dates of April 14th, 1928, April 13th, 1933 and April 13th, 1940, as I guess those are painful reminders of the Rangers futility during the Original Six era and beyond. If I were running things, even in the made-up job of "History Promoter", I'd plug those dates as hard as the Rangers plug June 14th, 1994. I'm sure you know this by now!)
As I write these words to you, the Rangers have yet to comment on this news, outside of confirming this news report of Gallant's hiring. Perhaps by the time you read this blog, the Rangers will have released a statement. However, we do know for a fact, that Rangers General Manager, in a one Chris Drury, has chosen Gerard Gallant to succeed the recently fired David Quinn. It was a fact first reported by Larry Brooks, of the New York Post, at 5:04PM Monday afternoon. After the initial/breaking report from Brooks, this story was later confirmed by both NHL.com and NBC Sports.
A quick aside here if I may.
I know I bring this up every time something big breaks throughout Rangerstown, USA, but it's worth noting here one more time, that whenever something truly big breaks, 90% of the time, it's one of the Canadian reporters/news outlets breaking that news. The other 10% of the time, it's Larry Brooks. Outside of Larry Brooks, NONE, as in ZERO, of the NYR media beat ever breaks news – they just transcribe press conferences, recap box scores and serve their entities as faithful messenger pigeons. It's why I find it funny that other NYR scribes, outside of Larry Brooks, pester their fans for money, especially "reporters" who know nothing about the team's history at all.
Obviously, Gerard Gallant is the top story tonight and not Larry Brooks. However, I have to get the following out of my system – Larry Brooks had this story first, as Brooks continues to knock balls out of the ballpark, ever since the firings of John Davidson, Jeff Gorton and David Quinn. You'd have to be a fool to think this doesn't have anything to do with Glen Sather, who is now back into a prominent position of power with the Rangers. Ever since Sather got here in 2000, Sather has used Brooks to do his dirty work, and in exchange, the cigar chain-smoker feeds Brooks stories as well.
(What I mean by "dirty work" here, is very often during the Senile Sather Era, whenever Sather and a player were heading towards contract negotiations, and wouldn't you know it, but Brooks immediately had an article out, devaluing that player's worth. It's always been a quid pro quo deal between them and a deal that's always been beneficial for both parties. I'm not knocking either man here, as this is just a simple business transaction and the way things work.
And for all of the millennial reporters on the beat, reporters who take paternity leave or cry about politics – relationships are made in the bars, not at a social justice rally or at a pottery class. Just ask Brooks! And before you slam me about my paternity leave comment, go read Phil Esposito's book. Maybe I'm an old spirit who will never accept the pussification of America today. Oh well, I've been called worse! In addition, when it comes to all the interviews I conducted for my upcoming book, all of them were conducted while having pops and belts. Maybe that's why I connect to the older generation better than my peers do! Beer and whisky > kale and cancel culture!)

Anyway, to get back to my original point here, I just found it humorous, how all these other reporters, both from the NYR beat and the NHL beat, would later confirm this news that Brooks broke. Rather than saying, "this story was broken by Larry Brooks"; we had "Insert reporter or entity here" can confirm that the Rangers have hired Gerard Gallant.
To me, it comes off so petty whenever these reporters do this, where ESPN routinely does this in a lot of their reporting, especially when it comes to stories related to the NFL.

If I've said it once, I've said it a million times on this site – I don't think anyone can ever question the veracity of Brooks and his reporting. Disagree with his opinions all you want, but when it comes to his breaking news stories – no one on the NYR beat does it better, nor is as reliable.
Long story short here – Larry Brooks broke this Gallant story, 78634786843 other reporters then confirmed this story and we're still waiting on the Rangers to send out their press release. And oh yeah, I don't expect anything until the early hours of Tuesday morning, as that is when Glen Sather wakes up. Don't expect anything after 12PM, because that is when Glen Sather takes his nap, followed by his dinner at the early bird special buffet!
---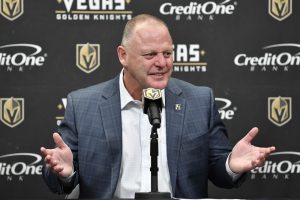 There are three things that we can say with complete certainty when it comes to Gallant. Those three things are:
— He does improve the teams he takes over.
— He's never lasted four years with a team, with his last two firings coming off as extremely suspicious and controversial.
— Ever since Drury fired DQ, Gallant was always the favorite.
While it's probably only a matter of time before we get more details about this story; once again, Larry Brooks, the conduit between Rangers management and the news, stated from day one, that Gallant was expected to land this job. A month later, Gallant will now be installed behind the Rangers bench, starting with the 2021-2022 season.
I'm interested in seeing the news reports and Drury's eventual press conference. Did Drury ever consider anyone else? As talked about for over the last four weeks on this site, outside of Rick Tocchet, it didn't seem like Drury and the Rangers ever considered anyone else, besides Gerard Gallant.
Let's make this clear – Gerard is a good hire. In no way, shape or form is this a "bad" hire. My only point of contention here, as it's been throughout this hiring process is this – why not talk to as many people as possible, if only to get different opinions and viewpoints about the team? Yeah, maybe John Tortorella, Patrick Roy and Bob Hartley (the three men I would've rather seen land this job than Gallant) weren't the right fit in the eyes of Drury, but why not listen to what they have to say? The same would also apply to guys like Mike Babcock, Bruce Gaudreau, Claude Julien and the others.
Again, what I'm saying here is based off of the reports Brooks and the others have put out there. And again, while I'm not trying to bust out the pom-pom's for Brooks here, ever since Sather returned from Banff, Brooks has been money. Moving forward, we'll have to wait to hear what Drury says and maybe the reporters will ask Drury if anyone else was considered. However, from what we know, it's always been a two-horse race, with no long shots considered.
Another question for Drury is this – if Gallant was always the guy, why wait until now? I know that Gallant was over in Latvia for the IIHF Worlds, where he won the gold for Team Canada; but unless Gallant and Drury had a handshake deal in place, why take the risk of another team, like a Buffalo, an Arizona, a Columbus or a Seattle, signing Gallant from underneath the nose of Drury?
In other words, this is a developing story and more news to come!
---
As far as my personal opinions about this hiring, I'm fine with it. As was the case with the firing of David Quinn, I don't really have a strong opinion about this story one way or the other. I know I'm in the minority here, as all over Rangers social media pages, I see fans celebrating this hire as if the Rangers won the Stanley Cup. While I do think Gallant will change things for the better, and I expect him to influence this upcoming draft and free agency period; I still don't think DQ did anything wrong to be fired either, and for reasons as explained previously on this site.
However, DQ is now in the the past, and Gallant is now the future of this franchise.
When it comes to the black-and-white facts, the 57 year old Gerard Gallant has a record of 270-216-51 and also has four ties to his name, during previous stints with the Columbus Blue Jackets, Florida Panthers and Vegas Golden Knights. As far as career highs go, it was the 2017-2018 season for Gallant, as not only did he take the expansion Vegas Golden Knights to the Stanley Cup Final; he also won the Jack Adams Award that season too.
As far as WINNING goes, Gallant, the life-long hockey man who has both played and coached in the league, won the 2021 IIHF Worlds Gold Medal, and as previously mentioned. When it comes to Gallant's days as a player in this league; Rangers fan-favorite, in Ron Duguay, who once played with Gallant, praised Gallant heavily, as the two previously played on the Red Wings together. As a player, it was in Detroit, where Gallant had his best success, even making the 1988-1989 NHL All-Star Second Team.
Simply stated, Gallant, also known as "The Turk", who received that nickname from his childhood days of chasing turkeys around on his uncle's property, and not for anything "Godfather" or mob related; is as qualified as anyone to coach this Rangers team.
As stated, I'm fine with Gallant as the head coach, but I also have a feeling of indifference washing over me. I think for many, he was the "sexy" name, and perhaps the leader of the pack of available names that were out there. I just don't feel this hiring is a monumental thing, as many are making it out to be. Heck, the same people who are doing cartwheels over this news, were the same people who were doing cartwheels when Alain Vigneault was fired and when David Quinn was hired. Ranger fans can be a fickle bunch, and as I'm now saying here, and as many have already said on social media – how long before Ranger fans turn their back on Gallant?
I mean come on, you can all see it. The Rangers could lose their first pregame of the season, and people will be second-guessing this Gallant decision, tell us how they wanted Tocchet and will be irate if some soft European kid doesn't play 60 minutes per game. It's quite frankly inevitable, especially now, with the focus of the franchise more on winning than ever before or at least since the start of the 2014-2015 season. And really, even back then in 2015, James Dolan never muddied up the waters, as he did at the end of this 2021 regular season.
As talked about ever since Gallant's name was first thrown into the mix, my trepidation with Gallant is about his staying power. While I know Ranger head coaches usually don't have long tenures during the Dolan and Sather eras, Gallant is the most peculiar case.
Despite turning teams around, (CBJ) dragging last place teams to the playoffs (FLA) and spear-heading an expansion team (VGK) straight into the Stanley Cup Final, Gallant has never lasted three full seasons in his three previous coaching stints. Why is that? No one has a clear-cut answer. For us Ranger fans, we may soon find out.
When you look for information about Gallant, it's a mixed-bag. Some people say he's a player's coach. Some people say he has no patience for young talent. Some say he's fair. Some say he's militaristic. It seems to all depend on the situation, but whether he clashes with front office personnel or what, as if he were a 1994 Mike Keenan; Gallant can sign all the four-year contracts he wants, but he never lasts that long. Then again, I guess that's a perfect fit for the Rangers, who seem to never have a problem paying coaches and players not to work for them.
Obviously, I'll be supporting Gallant and wish he and the Rangers all the best. I'm just waiting for the aftermath and the news stories to come out of this hiring. While I don't think the Rangers would ever admit if James Dolan influenced this decision or not, (and really, do you think Dolan knew who Gallant was a month ago?) this hiring does have Sather's fingerprints over it.
Of course, Gallant's short stints will be brought up all over the place and in every story you read about him, but he does know how to improve teams. With a focus on winning, it's going to be interesting to see how Gallant politics for free agent players during this off-season and what he does with the roster he has. From what's out there, and from Gallant's previous history, if someone like a Kaapo Kakko is struggling and not listening, Kakko will be benched and not coddled, as he were under David Quinn.
I'm also interested in seeing how Gallant fills out his coaching staff. We know that Benoit Allaire has been retained, but everything else is up-in-the-air. What I did like, and after saying on Twitter that I'd like to see some sort of ex-NYR brought into the fold, (not Mark Messier, since he'd overshadow everything, because the second the Rangers lose one game, people would be calling for Gallant's head and would want Messier to replace him) Rick Carpiniello has bantered a rumor around about Dan Girardi leaving Buffalo and joining Gallant's staff. If you're a regular reader of this site, you know I'm a huge Dan Girardi fan and I'd love to see this.
And in our first "ISN'T THAT AMAZING SUZYN?" moment of tonight's manifesto, isn't it amazing Suzyn, if Girardi does join the Rangers as the coach of the defense, that not only would the Rangers be paying him as a coach, they'd also be paying him as a player, as the Rangers will still have Girardi's dead salary cap hit on the books, as a result of his previous buy-out.
In closing out on Gallant here; as we await the full press conference, the statement and all of the fall-out of these two events, I think he'll make the Rangers better. For how long though? Well that's up for debate. While I am hoping for the best, I am just not as gung-ho as many are and have adopted a wait-and-see approach. That said, when David Quinn was fired, just like Tortorella and just like Vigneault, I was championing for one more year for him. Let's hope I'm doing that whenever the Rangers fire Gallant – who I hope to see become the fourth man in franchise history, to win the Stanley Cup as head coach of the Rangers!
---
Originally, I had no plans on writing anything tonight, but this Gallant news changed things for me. Since I can't just do 3000 words and call it a night, with the date of June 14th having much significance for fans of the Rangers, I figured I'd do a "Where Are They Now?" type of deal, and take a look at the 1993-1994 Rangers.
After taking this trip down memory lane and looking at these guys in the present day, I'll close out with some thoughts on the semifinal round of these 2021 Stanley Cup Playoffs. However, before getting all of that – the PLUGS segment!
Here are my last few blogs in case you missed them:
---
---
---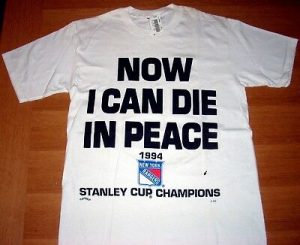 I've written so many words about the 1993-1994 team in the past, that I don't want to go into my "Greatest Hits" here. In the present day, some fans still hold this team in the highest of regards, and as they should. For others, especially younger fans who didn't get to experience this season, they're sick of it – they want their own 1994 team of their own generation and I don't blame them. Hell, I want to see this more than anyone, especially since I was only a kid when the Rangers won in 1994 and have yet to see the Rangers win a Stanley Cup during my adult life.
When it comes to the 1993-1994 season, I was 11 years old, turned 12 on June 13th, 1994, and a day later, the Rangers won the Stanley Cup. I didn't know the history of the team at the time, outside of the "1940" chants, and foolishly thought this would be the first of many Stanley Cup victories in a row for the Rangers. Fast-forward to today, and as I write these words one day after turning 39 years old – I'll settle for just one more Stanley Cup victory!
I know the 1994 Stanley Cup stuff has been done to death, whether it are the Rangers own celebrations (a topic I discussed during the 25th Anniversary ceremony, a ceremony which I attended) or the never-ending 1994 game replays on the M$G Network. Rather than rewriting and going down the weary and broken down memory roads of 1994, I present to you this "WHERE ARE THEY NOW?" feature and I'll look at each member of the Stanley Cup winning team only, (sorry to the fans of Mike Gartner, Tony Amonte and James Patrick that are out there) in alphabetical order. Enjoy!
---
GLENN ANDERSON
MOST KNOWN FOR: The Mike Gartner trade.
WHERE IS HE NOW: Glenn Anderson, who only played 12 regular season games for the Rangers during his entire career, still enjoys a close bond to the franchise – after all, winning the Stanley Cup will do that. Glenn Anderson, who Mike Keenan wanted instead of 2001 Hall of Famer Mike Gartner, played in all 23 Ranger playoff games of the 1994 Stanley Cup playoffs. I mention this, because this was a true skill-for-intangibles trade, trades which are still paying off for playoff teams in the modern day. In other words, screw analytics! In some cases, role players can be more important than pure skill guys. Just ask the Toronto Maple Leafs!
Anderson, prior to the pandemic, routinely appeared at Rangers events, whether they be at M$G or for various charities with working relationships with the Rangers. Anderson, who like Gartner, made it into the Hall of Fame himself (2008) still has a home in New York. Like many of the ex-Oilers that wore Rangers blue in 1994, (7 in total) Anderson also makes appearances for the Edmonton Oilers.
While Stephane Matteau is more famously and fondly remembered; like Matteau, Anderson despite his short tenure with the Rangers, is still a featured member of the Rangers alumni and can get free drinks in any Rangers bar that he walks into.
---
JEFF BEUKEBOOM
MOST KNOWN FOR: His bruising style and being part of the top pair of the Rangers defense.
WHERE IS HE NOW: After multiple concussions ended his career in 1999, Beukeboom got into coaching. After coaching at various minor league levels, Beukeboom became President and part-owner of the Ontario Provincial Junior A Hockey League. Beukeboom would later return to the Rangers organization, serving as the team's defense coach in Hartford and later with the Rangers varsity squad, under Alain Vigneault.
After the 2016-2017 season, Beukeboom was removed from Alain Vigneault's staff, where it was stated by then-GM Jeff Gorton, that Beukeboom would be re-assigned within the organization. We're still waiting for an update on that assignment.
Beukeboom, who did make appearances for the Rangers during his coaching days with the organization, has returned to his native Canada, where he makes public speaking appearances.
---
GREG GILBERT
MOST KNOWN FOR: The only player in NHL history to win the Stanley Cup with both the Islanders and Rangers.
WHERE IS HE NOW: After his one full season and playoffs with the Rangers, and at the tail-end of his career; Gilbert would follow Mike Keenan to St. Louis, where Gilbert finished his career. After retiring, Gilbert immediately got into coaching, where he even coached the Calgary Flames from 2000-2003. After being dismissed as an NHL head coach, Gilbert coached throughout minor league hockey, including in the AHL. Today, he's currently the head coach of the Saint Johns Sea Dogs of the QMJHL, a position he first accepted back on June 19, 2020.
---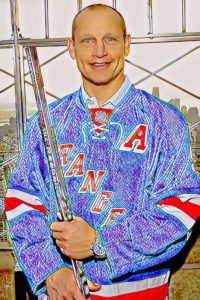 ADAM GRAVES
MOST KNOWN FOR: Messier's protector in the 1990's and a Rangers legend in the current day.
WHERE IS HE NOW: Graves is the most visible player of the 1994 alumni, as he currently holds a position within the organization and is the Rangers face of the "Garden of Dreams" charity. I've probably written 876789678696986 million words on this site, (check the archives) on why Graves deserves a statue outside of M$G. For as great as Graves was on the ice – Graves is even greater as a human being, as much of the charity work he does doesn't even get publicized, a request made by Graves himself. (He's not in it for the notoriety, he believes in the causes he champions.)
Graves, unlike many on this list who also won a Stanley Cup in Edmonton, will forever be a Ranger. Ranger fans can still catch Graves at M$G from time-to-time.
---
MIKE HARTMAN
MOST KNOWN FOR: One of the Rangers "Black Aces", as Hartman was a practice player who didn't play during the 1994 Playoffs.
WHERE IS HE NOW: In his final years of the NHL, Hartman was a borderline NHL player, and after 1995, would bounce around in various leagues. Hartman is also a rare Jewish player that made it to the NHL, where because of his heritage, he would later be inducted into several different Jewish Sports Hall of Fames, including the one in Commack, NY, an honor bestowed upon Hartman in 2012.
In the present day, Mike Hartman has published a short auto-biography, which you can read here: https://www.hartman.academy/mike-hartmans-story
In addition, Hartman runs his own academy for aspiring athletes.
---
MIKE HUDSON
MOST KNOWN FOR: One of the Rangers "Black Aces", who like Hartman, didn't play during the 1994 Playoffs.
WHERE IS HE NOW: After bouncing around the NHL, Hudson would retire from professional hockey, retiring in 1999 after several seasons in Germany. Today, Hudson currently lives in Vancouver, where he owns and operates his own golf store.
---
GLENN HEALY
MOST KNOWN FOR: Mike Richter's back-up, as a result of the Rangers needing to part ways with John Vanbiesbrouck, due to the Florida Panthers expansion draft.
WHERE IS HE NOW: After retiring in 2001, Healy got into broadcasting, where he enjoyed a lengthy stint in Canada, working for both CBC and TSN. Later on, Healy would do spot appearances for the M$G Network. Once getting out of broadcasting, Healy worked with the NHL's competition committee. Now at 58 years old, Healy is the Executive Director/President of the NHL Alumni Association, where many of the alumni have praised his work.
---
ALEXANDER KARPOVTSEV
MOST KNOWN FOR: Along with Alexei Kovalev, Sergei Nemchinov and Sergei Zubov; being one of the first four Russian players to ever have their name etched on the Stanley Cup.
WHERE IS HE NOW: Sans a short return to the NHL after the 2004-2005 lockout, Karpovtsev returned to Russia, where he finished out his playing career in 2008. After retiring, Karpovtsev got into coaching, where he became the assistant coach of the Lokomotiv Yaroslavl team. Sadly, Karpovtsev was part of the September 7th, 2011 Lokomotiv team plane crash, which killed Karpovtsev, 26 players from the team and two other coaches. Of note about the plane crash, it was reported afterwards that the pilot wasn't qualified to fly the plane and falsified documents about his training. Just a tragedy, anyway you slice it.
---
JOEY KOCUR
MOST KNOWN FOR: His fists, as Kocur was the enforcer of the team.
WHERE IS HE NOW: Kocur, who started his career in Detroit, only to join the Rangers at the beginning of the 1990's; would later return to Detroit, where the former Bruise Brother (Bob Probert being the other brother) would go on to win two more Stanley Cups. (1997 & 1998.) After his 1999 retirement, Kocur remained with Detroit, where he won another in Cup in 2002, as the team's video coach.
During the past decade, Kocur, now out of coaching, still lives in a suburb of Detroit, where not only is he the President of the Detroit Red Wings Alumni Association, he's also involved with various charities in the Detroit metro area.
Kocur may have won his first Stanley Cup with the Rangers, but as he even says – he's a Wing for life.
---
ALEXEI KOVALEV
MOST KNOWN FOR: One of the team's top performers during the 1994 Stanley Cup playoffs and one of the first four Russians to ever have their name engraved on the Cup.
WHERE IS HE NOW: Kovalev, who has a long chapter in my upcoming "New York Rangers Rink of Honor" book, and after a career of many ups-and-downs, would eventually retire in 2007, after various stints in the NHL, KHL and in the Swiss league.
While Kovalev doesn't have much association with the Rangers today, he does maintain close bonds with his fellow Russians – as last summer, Kovalev, who is a licensed pilot, took current Russian Ranger, in Artemi Panarin, out for a spin.
Kovalev still lives in Russia, where last year, he was named as the head coach of the Kunlun Red Star, one of the Chinese teams that play in the KHL. Not even a year later, on May 1st of this year, the Red Star decided not to re-new Kovalev's contract. It's been reported that Kovalev still wants to remain in hockey, where it's most likely that he'll remain in the KHL, as opposed to joining a North American based NHL franchise.
---
NICK KYPREOS
MOST KNOWN FOR: Being one of the players in the Hartford/Rangers trade and as one of the "Black Aces".
WHERE IS HE NOW: After retiring from the NHL in 1997, Kypreos immediately got into broadcasting, where he spent many years over at SportsNet, before departing in 2019. In the current day, Kypreos is still active, where he even published his own auto-biography and broadcasts his opinions on YouTube and on other hockey mediums. Of the 1994 alumni, through broadcasting, outside of the "Core Four of 1994" – Kypreos may be the most famous name to the modern day hockey fan.
---
STEVE LARMER
MOST KNOWN FOR: A Mike Keenan guy and a savvy battle-tested veteran, who was part of the trade with the Hartford Whalers on 11/2/1993, which sent fan-favorites in Darren Turcotte and James Patrick, to Hartford.
WHERE IS HE NOW: While Larmer spent the two final seasons of his career with the Rangers, and wrapping up after the abbreviated 1994-1995 season; Larmer is forever a Chicago Blackhawk. Previously, the Blackhawks have honored Larmer, but despite cries from fans, haven't retired his #28 jersey yet. In addition, there have been online campaigns for Larmer to get inducted into the Hall of Fame.
After retiring as a player, Larmer spent seven years as the NHLPA's director of player relations. Today, Larmer, who no longer has an official role in the league, enjoys life in Peterborough, Ontario, where he roots on his 17 year-old step-son, who plays youth hockey. Larmer is also semi-active on Twitter on his @SteveLarmer28 account.
---
BRIAN LEETCH
MOST KNOWN FOR: I think you know all about Leetch, but yeah, the Conn Smythe winner!
WHERE IS HE NOW: Arguably the greatest home-grown Ranger ever, Leetch retired in 2006 – with the Boston Bruins. (Father Fink You Sather!) After retiring, Leetch went on to have his #2 jersey placed in the rafters of M$G and was inducted into the Hall of Fame in 2009.
In retirement, Leetch bounced around with different jobs, including a short stay with the NHL's Player Safety division. Throughout his retirement, and until the recent shake-up in the Rangers front-office; Leetch has retained good ties with the organization, where previously, he served the team as a broadcaster and as a hockey operations advisor. What Leetch does next is anyone's guess, as he hasn't commented on why he parted ways with the organization after the firing of his friend David Quinn.
---
DOUG LIDSTER
MOST KNOWN FOR: Part of the John Vanbiesbrouck trade with Vancouver and as one of the team's five "Black Aces".
WHERE IS HE NOW: After winning the Cup with the Rangers, the defenseman joined Mike Keenan in St. Louis, only to return to the Rangers for three more seasons. Lidster would then ultimately retire in 1999, after winning the Stanley Cup with the Dallas Stars.
Upon retiring as a player, Lidster got into coaching and with various teams, including a tenure as the head coach of the Saginaw Spirit of the OHL. Lidster also spent time in various coaching roles with Team Canada, before joining the Vancouver Canucks as an assistant coach in 2014. Following the 2016-2017 season, Lidster was fired and hasn't returned to an NHL bench since. While he won Cups elsewhere, Lidster will always be linked to the Canucks, where many consider him to be best offensive-defenseman in Canuck franchise history.
---
KEVIN LOWE
MOST KNOWN FOR: One of the seven ex-Oilers to win the Stanley Cup with the Rangers.
WHERE IS HE NOW: After five Stanley Cups and thirteen seasons in Edmonton, Lowe would spend four seasons with the Rangers, where in his second season with the Rangers, he'd be part of the 1994 Stanley Cup team, thus like Messier, won his sixth Stanley Cup. After his time with the Rangers, Lowe returned to Edmonton and retired in 1998.
In his retirement, Lowe continued his association with the Oilers, an association which still lasts today, where he spent time as both the franchise's head coach and general manager. Lowe then left his post as GM, to take a job as the team's President of Hockey Operations. Today, Lowe still remains with the Oilers, where he's an alternate governor. Outside of Edmonton, Lowe has also been involved with Team Canada over the years.
While Lowe technically is a Hall of Famer who played with the Rangers; it was his time in Edmonton that earned the defenseman that honor.
---
CRAIG MACTAVISH
MOST KNOWN FOR: The last helmet-less player in the league and his defensive zone face-off in Game 7 of the 1994 SCF.
WHERE IS HE NOW: After a 1994 trade deadline deal that brought MacTavish to the Rangers, MacTavish became a playoff hero for the team during his short stint with the organization. After the 1994 SCF, MacTavish split time in Philadelphia and St. Louis, where MacTavish, the four-time Stanley Cup Champion, then retired after the 1996-1997 season.
Like many ex-Oilers from their dynasty teams, after briefly serving the Rangers as an assistant head coach, MacTavish returned to Edmonton, where he coached the team for eight seasons, including during the Oilers 2006 Stanley Cup Final run.
After leaving the Oilers as their head coach, MacTavish would move into various front office roles, including as the team's general manager, a scout and as Vice President of Hockey Operations. In 2019, MacTavish coached in the KHL before moving into his current role today, where he now coaches in the Swiss National League.
---
STEPHANE MATTEAU
MOST KNOWN FOR: If I have to tell you, you really need to brush up on your Rangers history! And for those who don't know, just look up "MATTEAU, MATTEAU, MATTEAU!" and Game 7 of the 1994 Eastern Conference Final.
WHERE IS HE NOW: Matteau, who was a Mike Keenan guy, went to St. Louis and after a good stint in San Jose, followed by a retirement in 2003 after one season in Florida; would go into coaching at the QMJHL level.
Matteau, who maintains a residence in Quebec, also has good relations with the Rangers, where he appears on behalf of the organization during various charity events. Both of his children are now playing hockey at the top level, as his son Stefan plays in the NHL, while his daughter Alyson plays in the NWHL.
Matteau, who has been sober for a long time now, could've got a drink and a steak dinner anywhere he went in NYC. His name will always be remembered in the annals of Rangers history – which just goes to show you how big playoff moments will always create legacies. Heck, Matteau's name may illicit fonder emotions for some Ranger fans, than the names of anyone from the Emile Francis Era or Henrik Lundqvist. Winning means everything.
---
MARK MESSIER
MOST KNOWN FOR: If you don't know who Messier is, turn in your fan card.
WHERE IS HE NOW: I don't think I have to break down the end of Messier's career for you, or his post-hockey playing days! If there are three different things that should be noted here, it are these three:
— Messier has had roles with the Oilers, but never could get one with the Rangers. While Messier is perhaps too famous and perhaps "too big" for such a menial job; the Rangers haven't even made Messier an ambassador or gave him some meaningless title, in order to keep him on the payroll. I guess it's easier to get Glenn Anderson and Stephane Matteau to sign autographs and appear at random events than Messier.
— Messier has forever longed for a job with the Rangers, whether it's as the team's general manager or head coach. As admitted by Messier himself, he was in the running in 2013, after the firing of Tortorella. Even as recent as a month ago, Messier, who always follows and has an opinion about the Rangers, was politicking for a GM or head coach position! Of course, the common thinking here is that the Rangers will never offer Messier one of these jobs, as they don't want to get to the eventual day where they'd have to fire him.
— Messier who many consider not only to be the best captain in Rangers history, but in the entirety of team sports, could have a run for his money – that is, if you want to make a serious argument for Bill Cook. Of course, here in 2021, Cook doesn't have any fans who saw him play and the Rangers ignore all of their Hall of Famers and Stanley Cup legends that played, prior to 1994.
Messier, of the ex-Oilers on this list, will forever be an Oiler, but he will forever be a Ranger too. It's his Stanley Cup in 1994 (and his one in 1990) that many Messier supporters will use when making the argument that Messier was more valuable to a Cup contending team, than his best friend was, in Wayne Gretzky.
---
SERGEI NEMCHINOV
MOST KNOWN FOR: One of the four Russian Rangers to get his name on the Cup.
WHERE IS HE NOW: After a career that saw Nemchinov become the first player to win a Stanley Cup with both the Rangers and the Devils, Nemchinov is also one of eleven men to play with the Rangers, Devils and Islanders.
After a successful career which finished off in Russia, with the Lokomotiv Yaroslavl, and a career that ended in 2004, (seven years prior to the plane crash which claimed the life of his friend and teammate in Alexander Karpovtsev) Nemchinov got into coaching. After coaching at both the KHL and Olympic levels, Nemchinov, in 2020, was appointed as the sports director of the Admiral Vladivostok.
Like every Russian Ranger from this team, Nemchinov really doesn't have much an affiliation with the Rangers today, but he did appear at M$G during 1994 Night on February 8th, 2019. That said, if you're looking for a link here, his daughter serves as the team's Russian translator, here in 2021.
---
BRIAN NOONAN
MOST KNOWN FOR: Another Mike Keenan guy, who along with Stephane Matteau, was traded during a 1994 trade deadline deal, which sent the popular Tony Amonte to Chicago.
WHERE IS HE NOW: One of the lesser remembered Rangers from this team, Noonan would return to the Rangers during the abbreviated 1995 season and would then re-join Keenan in St. Louis. Noonan would return to the Rangers for parts of the 1996-1997 season, and would ultimately retire from pro hockey in 2001, after two seasons with the Chicago Wolves of the IHL.
Once retiring, Brian Noonan remained in Chicago, where he coached the Naperville North (Chicago suburb) High School Huskies. Noonan, who has since stepped down from the position, lives a quiet life in Illinois today.
---
EDDIE OLCZYK
MOST KNOWN FOR: The fifth and final member of the "Black Aces" on this list.
WHERE IS HE NOW: If you still watch the NHL today, you know that "Edzo" is part of NBC's top broadcasting team, where Edzo does the color analysis, while his partner Kenny Albert does the play-by-play. In addition, Edzo, who recently published his autobiography in 2019 after a bout with colon cancer, also works for NBC during all of the major Triple Crown horse races.
Upon initially retiring from a playing career in 2000, which saw him in many places throughout the duration of his career; Edzo also broadcasted as a color analyst during Blackhawk and Penguin games, before landing his current gigs.
---
MIKE RICHTER
MOST KNOWN FOR: If you don't know who Richter is, you should be slapped! For the purpose of this blog, I guess his penalty shot save on Pavel Bure, during Game 4, would be Richter's biggest highlight of the 1994 Stanley Cup Final.
WHERE IS HE NOW: Multiple injuries, including a fractured skull, ended Richter's career in 2003. Once the injuries claimed Richter's career, Richter returned to his Greenwich, Connecticut home. From there, after flirting with politics, Richter got a degree from Yale University.
In the present day, Richter enjoys a strong association with the Rangers, where like his fellow "Core Four" peer in Adam Graves, Richter still makes public appearances on behalf of the team. Richter, while not a regular member of the M$GN crew, has been used for specials and other segments during Ranger broadcasts.
The greatest goalie in franchise history, or at least in my eyes, has three sons that all play hockey as well.
---
ESA TIKKANEN
MOST KNOWN FOR: One of the ex-Oilers who won a Stanley Cup with the Rangers and for his "Tikkanese".
WHERE IS HE NOW: Tikkanen not only was an ex-Oiler that won a Cup with the Rangers, he would later follow Mike Keenan to St. Louis. Tikkanen was also a three-time Ranger, who then finally retired in 2005, after the Finnish native called it a career after playing overseas.
Tikkanen, who returned to M$G during 1994 night, in his post playing days, joined the coaching ranks, coaching in both Norway and in Finland. Tikkanen, who lives in Finland today, was rumored as someone who could help Kaapo Kakko, as Tikkanen is very active on social media at his @tikitalk10 Twitter account and still talks about the current Rangers to this very day.
---
JAY WELLS
MOST KNOWN FOR: A strong defensive defenseman.
WHERE IS HE NOW: Wells, who played with six NHL teams during his storied career, with the Rangers being his fourth team; would retire in 1997, finishing up with the Tampa Bay Lightning, long before the Lightning were ever branded as "Rangers South"!
After retiring, Wells got into coaching at both the AHL and OHL levels, most recently serving as an assistant coach for the Saginaw Spirit. In addition, Wells maintains good relations with the Rangers today, where he continues to makes appearances on behalf of the franchise.
---
SERGEI ZUBOV
MOST KNOWN FOR: The fourth and final Russian on this list to have his name engraved onto the Stanley Cup and the highest/best/most productive scorer of the 1993-1994 regular season.
WHERE IS HE NOW: You can discuss the Zubov to Pittsburgh trade forever, but that's not the exercise of this blog tonight! After winning a Stanley Cup in 1999 with Dallas, Zubov remained in the league until 2009, eventually retiring in 2010 after one year in the KHL.
After retiring as a player, Zubov spent time coaching at both the KHL and Olympic levels. In 2019, Zubov was named as the Senior Consultant to Hockey Operations for the Dallas Stars; the team he will forever be linked with, despite his one tremendous season on Broadway. In addition, also in 2019, Zubov was inducted into the Hall of Fame.
---
HEAD COACH MIKE KEENAN
MOST KNOWN FOR: The controversial coach who forced GM Neil Smith to make a bevy of trades, trades which would've been slammed and questioned to death, had the Rangers not won the Stanley Cup in 1994.
WHERE IS HE NOW: After various stops in St. Louis, Vancouver, Boston and in Calgary; in 2013, Keenan joined the KHL, where he won the league's Gagarin Cup, as the head coach of the Metallurg Magnitogorsk. In 2017, Keenan then joined the Red Star, one of the few Chinese teams in the KHL.
In 2018, Keenan revealed he was battling prostate cancer and has been successful in this fight. In the current day, Keenan from time-to-time pops up on various podcasts and in spot appearances on TV.
---
NEIL SMITH
MOST KNOWN FOR: The third man in franchise history to win a Stanley Cup as a GM of the Rangers.
WHERE IS HE NOW: In what's somewhat sad and ironic, it would be the controversial Keenan, a Keenan that already had plans on moving on from the Rangers after his one season, that would be welcome back with open arms before Neil Smith. Thankfully, in 2019, old wounds were healed and Smith was invited back to M$G, where he was part of the 1994 celebration ceremony.
After a brief, and I mean brief stint with the Islanders in 2006, Smith moved into broadcasting, before acquiring the team now known today as the Greenville (South Carolina) Swamp Rabbits, a franchise which also served the Rangers once as an ECHL affiliate. (The Maine Mariners, who are rumored to be joining the Boston organization right now, are the Rangers most recent ECHL affiliate, while the Swamp Rabbits are now the affiliate of the Hurricanes.)
Smith, who had to deal with a public tragedy after the loss of his son, comments on the NHL from time-to-time on social media and also works in broadcasting.
---
Wow, this went on longer than expected, but I had fun writing it. What's ironic here, is as stated, I feel that the topic of the 1994 Rangers has been done to death, revived and then been beaten to death again. It's why I've done something like 15 Delorean blogs on this site (reviews of old games, reviews which you can find here: https://bluecollarblueshirts.com/delorean-blogs/ ) and have avoided doing any games from that era. I must say, writing all of this makes me itch a bit to recap Game 7 of the 1994 Stanley Cup Final, if only to put some positive Rangers talk into my mind!
Of course, I have a ways before getting into that, as I'm still working on this massive book project, which to update you, is still over 600 pages and needs a major trimming and editing. And when it comes to another "Delorean Blog", as mentioned previously, I have received a full length copy of the Eddie Giacomin return game and that is something I'm looking forward to carving out time for.
When it comes to the two Game 1's of the 2021 Stanley Cup semifinals, I'll say this – I'm anxious, but NOT concerned over Tampa's loss to the Islanders. If anything, I think it's a wake-up call. Bolts in five!
As far as Vegas vs Montreal goes, yes it's only one game, just like Tampa vs the Islanders, but Montreal aren't the Islanders. While no team is truly "happy to just be there", obviously a loss for Vegas here would be upsetting and mind-blowing, where for Montreal, it's all but expected. I'm sticking with my Vegas in six prediction, but yeah, you can tell that Vegas is like a shark sniffing blood here and it wouldn't surprise anyone, if Vegas swept the worst playoff team, of all 16 playoff teams, either.
I have one more Gerard Gallant related thing to say before closing out here, but before getting into that, a plug and a subscription request!
Our friends over at "The Blueshirt Underground Show" returned on Monday night with an impromptu episode, as they reacted to the hiring of Gallant. You can watch their show by clicking the play button below:
If you haven't already, subscribe to this blog for the next update:
---
With the hiring of Gallant, the Islanders, who ruined the Rangers in 2021 and started the beginning of the end for John Davidson, Jeff Gorton and David Quinn, now have more fuel – their fans can now troll Ranger fans about Trotz beating Gallant for the Stanley Cup in 2018. Ugh!
For me, the next time I see these two shake hands, I hope it's after the Rangers sweep the Islanders out of the 2022 Stanley Cup playoffs!
Moving forward, I expect the Gallant press release and a Drury press conference on Tuesday, if not on Wednesday, the latest. I'll save all of my opinions on that stuff for later this week, as two blogs in two nights is a lot for me!
Until then, stay FABULOUS my friends.
As always here, thanks for reading and…
LET'S GO RANGERS!
Sean McCaffrey
BULLSMC@aol.com
@NYCTHEMIC on Tweeter