Greetings and salutations everyone and welcome to another blog here on BlueCollarBlueShirts.com. Buckle up, this will be a long one – just like Game 5 was for the Mickey Mouse organization known as the New York Islanders!
And before starting this magic carpet ride, let me get this out of my system 8-0, 8-0, 8-0, 8-0, 8-0, 8-0, 8-0 and for the eighth time – 8-0!
I'm sorry for the long delay between blogs, but with the world re-opening, I've returned to the bars and restaurants and I'm catching up with people I haven't seen in some time. I'm also still working on the book, which as mentioned, has become a massive project. Trying to edit 650 pages to a manageable 300-350 pages is a mission. Plus, throughout the book, I talked about John Davidson in the present tense and now I have to go back and edit everything and talk about him in the past tense. Damn you Dolan!
I'd also like to send out a Happy Belated Father's Day to everyone. I got a kick out of the emails I received, where some of you wished me a "Happy Father Finker's Day." (I'm not a father, but I am a proud uncle of five nieces!)
During my week long sabbatical, nothing went down in Rangerstown, USA – that is, until Tuesday morning, when Gerard Gallant was officially ushered in and installed as the 36th coach in all of Rangers franchise history. That's obviously our top story for today, as I have a full recap and thoughts on Drury's and Gallant's press conference from Tuesday morning. I also have the full video of the press conference for you too.
After talking everything Gallant and Drury, I'll have a special look at the top five and worst five coaches in all of Rangers franchise history for you as well. I'll then close this blog with some thoughts on the Stanley Cup Playoffs (Did I mention 8-0, the worst loss ever in Islanders playoff history?) and other news items going on throughout the NHL.
However, before getting into this mega-long manifesto, up first and as usual, the PLUGS segment.
Here are my last few blogs in case you missed them: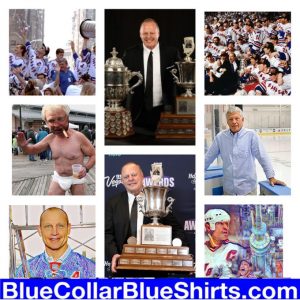 ---
---
---
After it was first reported by Larry Brooks last Monday that the Rangers had hired Gerard Gallant; it would then take 48 hours from that report for the Rangers to make the news official. A week and a day after the initial report from Brooks, on June 22nd, Gallant held his first press conference as the 36th head coach of the New York Rangers.
As far as the reason for the delay in-between the news breaking and Gallant's press conference, it was a rough one. On the very same day that Brooks broke the news about Gallant's hiring, which was back on June 14th, Gallant's sister also passed away. Prior to her passing, Gallant's sister had been battling an illness during the past five years.
Prior to the news of Gallant's personal loss, I speculated that perhaps COVID-19 travel restrictions from Canada to the USA delayed the press conference. From what we saw on Tuesday, I'd venture to guess that had nothing to do with it, as both Chris Drury and Gerard Gallant conducted their interviews from separate locations. If COVID-19 effected anything, it was the fact that this press conference was conducted on a zoom call, rather than in-person.
In any event and before getting into the hockey stuff, my condolences to both Gallant and to his family. These have to be extremely bittersweet and tough times for him right now. Only time heals wounds like these.
When you look at what it's like to be a fan of the Rangers, one of the bad things about being a fan of this franchise, is the fact that this team doesn't need your money or interest. Just based on the facts that the Rangers play in the biggest city in the world and in the biggest media capital of the world, the Rangers will always be profitable. In fact, they are the most profitable team in all of the league today. As they say in the real estate world – "location, location, location."
I bring this up, because Gallant's press conference should've been a pomp and circumstance deal. I'm not saying that you needed fireworks, strippers and dwarf tossing events to celebrate the occasion, (another Leonardo DiCaprio movie reference, as I'm shouting out "The Wolf of Wall Street" here) but needless to say, I thought the Rangers handled this all wrong. Of course, since this fan base is one of the largest in all of the league and because M$G will always make their money due to all the corporations that gobble up season tickets – the Rangers could've held this press conference in a Penn Station toilet, and it still would've drawn mass attention. It even would've drawn more attention than whatever the Islanders are currently doing.
If you're a regular reader of these blogs, you know that I don't like to get into the political waters, because any time you do, you're bound to alienate half of your audience. I know that line sounds like a cop-out, because of what I'm about to say next. However, as I preface what I'm about to say, at the end of the day here, I'm only talking facts and this is a story.
On Sunday June 20th, M$G hosted the Foo Fighters in front of a live and sold out crowd. There was one catch – only fans who had proof of a vaccination were allowed through the doors. I know many Foo Fighter fans were pissed about that, but in my eyes, going to M$G is like going to any store or shop – you have to play by the proprietor's rules. If you don't want to get vaccinated, that's a personal decision, but at the same time, you can't cry foul anytime a business asks you to wear a mask or have your shots. Just go somewhere else.
And talk about the irony and the world in 2021 – the biggest rock band in America, with rock music usually rebelling and rallying against the establishment or "the man", asked their fans to listen to the government and get their jabs. Kurt Cobain's head must be rolling in his grave! Then again, I guess musicians have always been a fan of the needle – just ask Courtney Love!
I say all of this, because on Tuesday, the Rangers held this press conference via a Zoom call, rather than having the media, Drury and Gallant in the same room. As Gallant would later go on to say on "The Michael Kay Show", he still hasn't even met James Dolan yet, you know, the guy who will now sign Gallant's checks. (To be fair, Gallant may be taking care of his sister's affairs right now for all we know.)
I just don't understand how M$G can have the Foo Fighters play in front of 20,000 people, or however many people it was, but the Rangers couldn't host this press conference with the media in-house? After all, most of these NYR media members have talked about getting their vaccinations, so what's the difference between a 50 person or so event at "The Hulu Theatre" inside of M$G, or at some random hotel conference room?
Perhaps the NHL butted in here. After all, despite there being thousands upon thousands of maskless fans at every playoff game, you still have head coaches wearing their silly masks for the purpose of TV, only for these same coaches to take their masks off in the locker room, while traveling with the team, at practice and etc. It's all a pandering exercise for TV, especially since most of these coaches do have their shots already.
If it were up to me, I would've held a grand event for this press conference, which is something I said before it even happened. After watching it, all of feelings on this were validated.
Due to a prior (and previously recapped on this site) incident on a Rangers Zoom call with K'Andre Miller, the Rangers no longer air these Zoom calls live. I don't get that at all. While I understand that some bot wrote disgusting stuff in a chat room, the Rangers very easily could've just aired the video and left out the chat room stuff. I mean really, the Rangers have 786786678989 TV channels, and they couldn't put this on TV live or at least on a 10 second delay? Talk about poor business too – with nothing going on right now, this could've at least popped a TV rating for the M$GN.
Instead, the Rangers only opened up this 10AM press conference to the media and then aired it at 6PM on the M$GN. Fortunately, for thirsty Ranger fans like yours truly, the Rangers also put the press conference up on their official YouTube channel, at around 2PM. It was better than nothing, but I still think the Rangers bungled up this whole thing. That all being said, no one will remember any of this a week from now, and it's about what Drury and Gallant said – and not about the presentation.
If you haven't seen the press conference yet, I urge you that you do. While I'm going to recap the highlights for you, like anything of this nature, I think you owe it to yourself to watch it and then formulate your own opinion. You can read my take or someone else's take for an opinion, but I think fans should make their own opinions on this type of stuff.
Anyways, here's the press conference, courtesy of the Rangers YouTube page:
Adam Rotter, over at NYRangersNews.com, has the complete transcript of the call. To read the entire word-for-word transcript, check out:
https://nyrangersnews.com/2021/06/22/what-chris-drury-and-gerard-gallant-said-on-tuesday/#more-184847
Rather than going through every word which was said, I just want to focus on the stuff that really popped out to me. After all, there were a lot of platitudes and the same old shit that you hear anytime a new coach comes in. Think about it, when was the last time a new coach said, "eh, whatever happens, happens. I'm just happy about the paycheck and I heard the food in Little Italy is FABULOUSO!"
And one last thing about the presentation before getting into what was said – Drury looked like he wanted to be anywhere else and Gallant's video stream had all the quality of an AOL 2.5 CD-ROM.
Let's roll.
---
I want to start with the big stuff first, because as mentioned, a lot of this was fluff.
Here's one of the big quotes:
Is this a shot at David Quinn and his fat cats? Maybe yes, maybe no, but the bottom line is that the Rangers had way too many poor starts to games last season and it was a major issue. This was good to hear.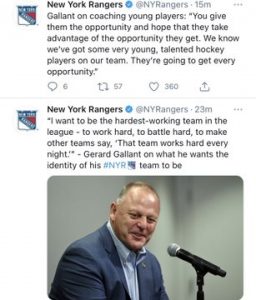 One underlying theme throughout the ordeal was Gallant's message of hard work. Gallant also talked about young players, which got the Kakko and Kravtsov fans happy, especially when Gallant said this:
"You give them the opportunity and hopefully they take advantage of the opportunity and ice time that they get. I don't think young players can sit on the fourth line and get a lot out of that, young players with a lot of talent deserve first, second, third line. You've got to give them an opportunity to play and we know we have some very talented young hockey players on our team, they are going to get every opportunity to play. They've gotta fit in with our program, make sure they are playing every night and deserving of ice time. I look at our lineup and see a talented hockey team. It's a fine line for coaches, you want to develop players but you also want to win every night. That's where we're at right now so we're going to try to win a hockey game and hope that those young players are going to be part of our team winning hockey games every night.

There is not going to be any pressure applied to those kids, but do your job and get better everyday and that is what I've seen when I was in Florida, Barkov, Ekblad, Huberdeau and those type of kids, they need the opportunity to take advantage of it and take a step, you can't rush them too much, but you give them the opportunity to take their steps and when they deserve more you give them more."
Of course, who knows what young players will still be here come the start of the season? Of the recent draft picks, it's my assumption that only Alexis Lafreniere is safe. As talked about on a past blog, I'd trade Kakko, Kravtsov, Miller or any of these guys, if the right deal came my way. (Matt Tkachuk anyone?)
In something that I was glad to see addressed, was Gallant's previous history, where as noted on previous blogs, Gallant never lasts more than three seasons with a team. Here's Gallant on being fired so quickly during his previous stints:
"I still have a hard time going back and looking at it and saying why did I get fired? I think I did a great job in both of those organizations, things happen, it's out of my hands. I come to the rink every day with a smile on my face, I got a great job, great opportunities and you work hard and do the best you can. I don't put a lot of thought into being fired, you try to move on as quick as possible, that helps, but I'm not going to live in the past, I'm gonna move forward and look for my next opportunity with the Rangers, great team, great opportunity, looking forward to that."
Of course, what else would you expect Gallant to say here? I'm just glad he talked about it and hope this run is his longest, and with Stanley Cup hardware to boot!
In something that left me happy and bewildered at the same time, Gallant talked about the topic of physicality as well:
"There is no doubt about it. I had nothing to do with the New York Rangers when I watched that game against the Washington Capitals and they stood up for themselves. Like I said to somebody before, I watched that game from home and after the incident they had the next game and the 5-on-5 brawl and I think the players set a standard right there that they are proud of this team, proud of the guys and going to step up and take care of that stuff. Anytime you get an opportunity like that, leadership like that from your team goes a long way with your players and I had nothing to do with any organization at that time and I felt it was an important step for the Rangers to take that night."
Gallant was talking about physicality being needed here, but I don't know how anyone could've been proud of the Rangers during the Tom Wilson game. After all, after Tom Wilson did his thing, the Rangers did ABSOLUTELY NOTHING. It would take criticism from writers, reporters, bloggers, podcasters, YouTubers, fans and everyone else, and not just only in New York, for the Rangers to respond in their next game against Washington. And had the Rangers not had a return game with Washington following the Wilson incident? The "soft" storyline would remain a top topic of conversation.
As far as anything else truly newsworthy from Gallant's end, he said he hopes to have a coaching staff in place soon, mentioning his former assistant of Mike Kelly by name. So I think it's safe to assume that Kelly will soon be brought into the fold. In addition, during a "Michael Kay Show" appearance, Gallant confirmed that Benoit Allaire was staying and that he'd leave all the goaltending decisions/work up to Allaire, which is the way it's always been done, ever since Allaire first joined the Rangers.
When it comes to Gallant, I basically thought he said all the right things and I'm hoping for the best. If there were any true "controversial" statements made today, they were made by Chris Drury, who I'll now get into.
---
Time will tell us how true this following statement is, but to me, Chris Drury seems like he'll be more like Senile Sather, and less like John Davidson and Jeff Gorton were, in regards to interactions with the media. Whether Drury doesn't like talking to the media, wants to keep his thoughts close to the vest or what, he just never looks comfortable during any of these recent media appearances. That being said, Drury provided more "bombshells" than Gallant did. Let's take a look:
"I just think it was time for a new voice, new coach, new leadership in the room and very confident that Gerard is the person for that job."
This was Drury's response when asked about why David Quinn needed to go. None of the NYR media really pushed Drury on why DQ had to go or if it was fair or not, as this was more about Gallant and with DQ now in the rear view mirror.
When it comes to the current roster and what needs to be done, if anything, Drury said this:
"It's hard not to watch these playoffs, the physicality, energy, effort, intensity that it takes to win and succeed and we are certainly going to have to play that way to have success in the regular season and in the playoffs. We are always looking at ways to improve the lineup and add different pieces and we all want players that are harder to play against and we are no different."
This was the correct answer, but actions will speak louder than words. We'll have to see what happens over the summer.
In one of the quotes that got major play today, it was when Drury was asked about the Rangers needing a captain. Here's Drury:
"I think if we can keep moving this thing forward a big piece of that for me is getting a captain. For me it's a priority, but at the end of the day it's gotta be the right person. I'm not interested in giving it to somebody just to say we have a captain, but I think we have a lot of leaders in our room and leaders that have taken big steps in the last couple of years including the second half of last season. Looking forward to talking to Gerard further about it, we talked about it a little in the interview process and see how it shakes out this summer heading into training camp."
I've talked so much about the captain stuff to death, that I don't want to go into my "Greatest Hits" here. That said, one more time – not since the Boston Bruins teams of the early 1970's, has a team won the Stanley Cup without a captain. And these current day Rangers don't have a Phil Esposito or a Bobby Orr, no matter what you think of Artemi Panarin and Adam Fox.
Rick Carpiniello of the Athletic set off waves, when his interpretation of this quote meant that Trouba would get the "C". I would hate to see Trouba become the next captain of this team. After all, this is the same Trouba who cried about how hard it was to transition to New York, when explaining his poor first season. Of course, guys like Tony DeAngelo and Adam Fox, who both play the same position as Trouba, had no issues at all. It's even sadder when you think that Trouba was paid over 8 times as much as DeAngelo was last season, when DeAngelo finished as the fourth highest scoring defenseman in the league. It's even scarier that Trouba was paid over 8 times as much as Fox was this season, a season where Fox finished up as a Norris candidate. Of course, it's not only about the money, but I don't think Trouba's play on the ice helps him here.
I know fans are still talking about Mika Zibanejad and Chris Kreider as potential captains, but I think that ship has sailed. If Mika or Kreider were ever going to get the "C", it would've been last season. And can you imagine if that happened? Between Mika's issues with COVID (where Mika originally denied having any effects from COVID) and another inconsistent season out of Kreider – all you'd hear right now is how the "C" weighed these players down.
I don't know what goes on in that locker room. However, from what I see on the ice, leaders should lead by example, and very rarely, do I see Trouba doing that. I know people will point to Trouba's work with K'Andre Miller, but for $8M a season, Trouba should be helping guys, just like Panarin makes guys better. And when it comes to Panarin, I don't see him getting the "C" either, just because he doesn't speak English fluently, in a league where all the referees do.
To me, I'm on the Adam Fox train. I want to see Fox as the next captain. Some people will point to his age, but that's hogwash to me. In this new era, captains are getting younger and younger, whether it's Connor McDavid or Gabriel Landeskog. Of note, when it comes to the latter, Landeskog could be a target of the Rangers, assuming Landeskog would move to the middle full-time. Then again, maybe it's time to test Lafreniere out as a center. After all, Lafreniere couldn't be any worse as a center than Filip Chytil was!
I saw some people say that Fox couldn't handle the pressure of being captain. Once again, that's rubbish. The guy is a Harvard graduate, so I'm to assume that he knows how to handle pressure. Plus, Fox grew up as a Rangers fan and forced his way onto this team, spurning both Calgary and Carolina along the way. If anyone knows how important the Rangers captaincy is, it's Adam Fox and not the fat cat known as Jacob Trouba.
And really, I hate to sound so down on Trouba, because it's not like I'm a "hater" of his, but his contract stinks and I want a leader who leads by example on the ice. That's Fox to me.
And while this has nothing to do with anything, I'd be remiss if I didn't mention that the last time the Rangers had a young captain, they made it to the Stanley Cup Final. (Dave Maloney, 1979. Let's just hope Fox doesn't hurt Igor Shestyorkin as Maloney once did to JD!)
Outside of Fox, I wouldn't mind if Ryan Lindgren got the "C", but to me, Fox is now the face of the team. Of course, the Rangers could always look to the outside (Landeskog) for someone. I'm just not sold on any of the Rangers fat cats. These fat cats had their chance to take the reins last season, but very rarely did. With a new young core on the rise, I'd like to see someone from that young core take over.
---
I saved the biggest and most perplexing thing for last here. In fact, before even writing this blog, I got no joke, something like 25 emails and direct messages from you guys, bringing this up too. Here's Drury talking about the playoff expectations for next season:
"I think you saw from the exit interviews, exit meeting interviews that my goal and our hope is that we are a playoff team next year. Is it a mandate? I don't believe so, but I want everyone to come back and know that is where we want to be and with the talent on this team where we should be. I'm looking forward to seeing the guys when they start to trickle back for training camp and getting set for a real good season."
One more time for emphasis – IS IT A MANDATE? I DON'T BELIEVE SO.
If the playoffs aren't the goal or MANDATE, then why the hell were Davidson, Gorton and DQ fired? Based on Dolan's actions and comments to Larry Brooks, it felt like Dolan's mandate is PLAYOFFS OR BUST! You don't fire everyone for not making the playoffs and/or looking like crap against the Islanders and then say you don't think the playoffs aren't a mandate.
I totally understand the philosophy behind "under-promising and over-delivering", which was the approach JD always took. I also get that as GM and Team President, you don't want to stick your foot in your mouth and have stuff blow up in your face either. That said, I would've felt much more confident and much more pumped up if Drury said something like "we are going to be a playoff team and that's our mission." To give such a wishy-washy answer here – well that didn't instill much faith.
As previously stated, actions speak louder than words and we'll see what Drury does. However, this did feel like Drury giving himself "an out" here, rather than making a defining statement about future success.
Maybe I'm over-reacting here, since Rangers news is light right now, but really, how could any Ranger fan listen to or read that, and pound their chests like King Kong? This statement came off like Drury waving a white flag, rather than proudly flailing the Rangers flag over his head. Just one fan's opinion.
In any event, I still eagerly await all of the moves from this off-season and hope for the best.
---
For those looking for more opinions and news as a result of this press conference; our pals at "2 Guys 1 Cup" released their latest and third episode of their podcast on Tuesday night, with special guest Russ Cohen along for the ride. You can listen to their show by clicking this link: https://www.buzzsprout.com/1795578/8748021-episode-3
Of note, you can also find "2 Guys 1 Cup" on all major podcast mediums, such as Apple Podcasts, Spotify, Google and everywhere else. I haven't listened to this episode yet, (I'll listen to it once I finish publishing this blog) but the first two episodes of this new venture were enjoyable and informative.
Let's get into our next segment of tonight's manifesto!
---
With all of the Gerard Gallant hoopla stuff covered, let's now take a look at ten other coaches in Rangers history. In this segment, I'll take a look at the Top/Best Five Coaches in Rangers history and the Bottom/Worst Five Coaches in Rangers history. Fingers crossed, one day, and with a few Stanley Cup victories under his belt – hopefully Gallant will bump someone off of the "Top Five" list.
And oh – if Gallant joins the worst five list one day? That would tell me that Chris Drury will have joined his predecessor, in Jeff Gorton, on the chopping block of James Dolan.
Quick note here: I know I've done the Top Five list before, but since this site continues to get new readers, and because I didn't want a segment just dedicated to Rangers negativity, I am sharing my opinions, one more time, on the best coaches in all of Rangers franchise history. Let's roll.
---
TOP FIVE BEST COACHES IN RANGERS FRANCHISE HISTORY
Number Five: John Tortorella
Years of Service: (2000, 2009-2013)
When Emile Francis removed himself from the Rangers bench for the final time, which was after the 1974-1975 season, Francis finished his Rangers coaching career with 343 regular season games coached and with 24 playoff wins. It would take forty years for any coach to approach those numbers and that coach was the man simply known as "Torts". (After stepping down as the team's coach, Francis would remain with the Rangers as the team's general manager, a role Francis would be removed from in January of 1976.)
Of course, Mike Keenan has 16 playoff victories to his name and won the Stanley Cup during his one season (1994) of a crazy roller-coaster ride as head coach of the Rangers; but when it comes to the years after the Francis Era, it was John Tortorella who provided the franchise with its most consistent success.
As I always like to say on this site, it's tough to compare different eras. In this era, you have more playoff games than ever before, rule changes, ties vs no ties, increased roster sizes, goaltenders with extra padding and many other different factors, including that pesky thing known as a salary cap. That being stated, when you compare Tortorella to some of the coaches that preceded him – Torts' Rangers turned a corner. After surviving the Dark Ages (1998-2004), while the Rangers did taste some playoff success, it was Torts who turned the Rangers into a Cup contender, where many fans are still cursing out the name of Adam Henrique to this very day.
Everyone knows about Tortorella's fiery ways, his passion for defense and low scoring games, but as a motivator, Torts' 171 regular season wins and 19 playoff wins are both fourth best in all of Rangers history. Of coaches who coached 100+ games with the Rangers, Torts' regular season winning percentage of .543 is third best in franchise history. (Emile Francis is first with a .586 winning percentage, while Alain Vigneault is second best, with a .551 winning percentage.)
What led to the firing of Tortorella was that his top star wasn't a fan of his, with that top star being Henrik Lundqvist. Despite Tortorella's style helping Lundqvist win a Vezina in 2011, which was the peak of Lundqvist's career; Lundqvist threatened to become a free agent if the Rangers were to retain Tortorella after the 2013 Stanley Cup Playoffs. In interviews conducted after retirement, both Dan Girardi and Sean Avery also questioned Tortorella's ways, with Avery being one of Tortorella's biggest critics.
I bring this up, because many at the time, including Rangers owner James Dolan and Rangers general manager Glen Sather, didn't want a parting of the ways with Tortorella. However, after Lundqvist's comments, and with other players backing up the Rangers star goalie of the time, Sather told Dolan they had to cut Torts loose and Dolan begrudgingly accepted.
Who knows how history would've played out, had the Rangers not fired Torts? Would've they won the Cup in 2014, the first year after the removal of Torts? We'll never know. What we do know is what happened next.
---
Number Four: Alain Vigneault
Years of Service: 2013-2018
I won't do my "Greatest Hits" here, but yeah – I think many Ranger fans were too harsh on AV during his tenure here and for some reason, still bury the gum chewing head coach in the present day. As alluded to above, some fans believe that AV inherited a winner and that AV took a Tortorella team to the Stanley Cup Final in 2014. However, if you believe that, how do you explain the Presidents' Trophy in 2015 and the numerous deep playoff runs under AV? I'll try to keep my negative Lundqvist opinions to a minimum here, but a better goalie in the 2015 and 2017 playoffs? Who knows what would've happened?
When it comes to coaches in Rangers history, not many men make it to five seasons. In fact, AV was the first coach to coach five consecutive seasons with the Rangers, since the days of Frank Boucher, a Frank Boucher who finished his coaching career in 1948. (Emile Francis had three separate stints behind the bench, but as the team's general manager, would find someone else to coach the team at various times, in order to 100% focus on his GM duties.)
Fun fact: Did you know that AV is tied for first place, in playoff wins, in all of franchise history? Both AV and Lester Patrick have 31 playoff wins to their name. However, AV got his 31 wins in 61 games coached, while Patrick got his 31 wins in 65 games coached. Of course, one could argue that Patrick had a rougher road, as he didn't have these first and second playoff rounds against inferior teams and it took longer for Patrick to get to 31 than it did for AV. Again, it's tough to compare eras, but for AV, it's a great feather in his cap just to have his name in the same sentence as Lester Patrick.
Outside of AV's final season with the Rangers, the 2017-2018 season, the season where "The Letter" was released during; AV's teams always finished with a winning record and a playoff berth. Had the Rangers not decided to change directions with their rebuild, it's very easy to argue that AV would've finished with another winning season and a playoff berth. You could also argue that his team would fail to win the Cup again too.
AV's name is included in every positive top five coaching statistic in Rangers history. As far as his 2018 dismissal, it was all about the rebuild, where Glen Sather and then GM Jeff Gorton wanted to go in a different direction. While AV campaigned that he would be a good person to spearhead a rebuild, Sather and Gorton thought otherwise.
---
Number Three: Emile "The Cat" Francis
Years of Service: (1965-1968, 1969-1973, 1974-1975)
As it were both prior to and during the Original Six Era, and during the heyday of Emile Francis, Francis was not only the team's head coach – he was also the general manager. And I know I've hammered this point home 7896786786786786 times on this site – but it was Emile Francis, who told Rangers and MSG management that EVERY playoff game must be played at home. Prior to Francis, come the playoffs, the circus would send the Rangers on the road, which in turn, is one of the reasons why the Rangers only have four Stanley Cups to their name, despite being around for nearly 100 years.
Unfortunately for Francis, a name that pops up something like 896678778967896 times in my upcoming "New York Rangers Rink of Honor" book; he will forever be known as the guy who did it all but win. It's a fact that still pains his players to this very day, as I can tell you from first hand conversations with players from the Francis Era and from reading interviews with other players from that time, that collectively, their biggest regret is never winning a Cup for Francis. Yes, as both the team's general manager and head coach, Francis had to be tough, but he was also very well liked and respected. As several players (Pete Stemkowski and Teddy Irvine) from that time have told me – Francis was always fair and honest.
For those who knew Francis, I don't have to explain his inclusion on this list. For those who don't know Francis, you will see his name in every positive Rangers coaching statistic, where 9/10 times, his name is no further than third place, including for most games coached (343), most regular season wins (201), and most playoff wins (24).
After World War II, despite one lone Stanley Cup Final appearance in 1950, which was due to the stellar play of Chuck Rayner in net; the Rangers would struggle to get back into the playoffs. It was under Francis, where Francis turned the team into a perennial playoff contender again, with the 1972 Stanley Cup Final being the peak of his run.
Francis not only left the place better than when he found it, he also positively impacted the course of Rangers history.
Francis, who stepped down from coaching on his own accord, would ultimately be dismissed from the team in 1976. Similar to AV, Francis did everything but win and the Rangers wanted to move into a new direction. Ironically, it were the tough decisions that Francis previously made as the team's GM during that season (waiving Giacomin, "The Trade", etc) that helped build the Rangers into a Cup Contender in 1979 – three seasons after his firing.
---
Number Two: Frank Boucher
Years of Service: 1939-1948
By now and for regular readers, you may be sick of my 78678967896789689 Frank Boucher articles on this site, so for newer readers, I'd advise you to check out this link: https://bluecollarblueshirts.com/retire-frank-bouchers-7/
As far as Boucher's coaching legacy goes, Boucher, along with Lester Patrick and Mike Keenan, is only one of three men, to win a Stanley Cup as head coach of the Rangers. Unfortunately for Boucher's legacy, a legacy that is ignored by the Rangers themselves, since Boucher won the Stanley Cup in 1940, followed by 54 Cup-less seasons, the year of "1940" brings on memories of disdain. After all, most Ranger fans weren't alive in 1940 and prior to 1994, the nagging sing-song chant of "19-40", which was perpetrated by Islander fans, brought on feelings of anger and sadness.
In the beginning of his coaching career, Frank Boucher had winning seasons, including winning the Cup in 1940. However, once World War II started, his roster was decimated more than any other team, and as the "southern" most team, playing in a league where draft rights were determined based on location, Boucher was at a major disadvantage. His cause wasn't helped when Lester Patrick, then the GM of the time, sold off the entire farm system, thinking that all of hockey would be canceled during war time. Hockey went on, and Boucher was left with a roster that wasn't at an NHL level. It got so bad, that Boucher had to come out of retirement himself, where he wound up being one of the best players on the team.
I say all this, because that explains why Boucher has 243 losses to his name – the most in Rangers history. Of course, his long tenure adds to his total, (Patrick and Vigneault are second and third place in this department, due to their long tenures too) but he coached the team during one of the worst times not only in franchise history, but in all of world history too.
Just like his predecessor in Lester Patrick, Boucher served in a dual role as both the head coach and general manager, before stepping aside in 1948, where he named Lynn Patrick, Lester's son, as the third coach in franchise history. Ironically, after nearly 30 years with the Rangers, it would be Lester's other son, in Murray "Muzz" Patrick, that would replace Boucher as the team's general manager.
---
Number One: Lester Patrick
Years of Service: 1926-1939
Again, this is something else I'll expand on in my upcoming book, but if it weren't for a fall-out between Conn Smythe and MSG management at the time, Lester Patrick may have never made the jump to the United States and to the Rangers. Instead, Smythe, tasked as the first GM in franchise history, never got to coach or manage his team – Patrick did. Even better – Patrick won, and he won twice, winning the Stanley Cup in both 1928 and in 1933. Not bad for an "expansion" team!
During Patrick's tenure, the Rangers made the playoffs in every single season, sans one – the 1935-1936 season. To go along with his two Cup winning seasons, Patrick's teams made the Stanley Cup Final two more times, where again, the circus may have been the difference between a Cup win and a Cup loss, especially during that era, where home ice and travel were much bigger factors than they are today.
Patrick is easily a slam-dunk number one here, as he also leads the team in most games coached, most games won, most playoff games won and oh yeah – most Stanley Cup wins too!
Patrick, who served the team as a head coach, general manager and as an advisor, would never be fired – just like Senile Sather, a name who appears in the Worst Five List! Speaking of, let's get to that list!
---
TOP FIVE WORST COACHES IN RANGERS FRANCHISE HISTORY
Number Five: George "Red" Sullivan
Years of Service: 1962-1965
It's debatable how much blame you could put on Sullivan himself – after all, most of his tenure coincided with the ending of Muzz Patrick's tenure as GM. Once Emile Francis took over in October of 1964, it spelt the beginning of the end for Sullivan.
Sullivan, like many from his time and like many today, was a former captain with the Rangers, who took over the team after retiring and when Patrick was looking to get away from the bench himself. The Rangers, who really never recovered after World War II and wouldn't do so until Francis fully took over, were a mess under Sullivan.
In fact, among all Ranger coaches who have coached 100+ games in franchise history, Sullivan has the third worst winning percentage of the lot of them, finishing with a .296 winning percentage after 196 games behind the bench. Only Bill Cook (.291% in 117 games) and Alfie Pike (.293% in 123 games) have a worse winning percentage than Sullivan. However, Sullivan lasted longer than Cook and Pike, hence his inclusion here.
Three straight fifth place finishes in a six team league did Sullivan in, where in Rangers history, he is remembered more fondly for his playing days, rather than for his days as the team's head coach.
---
Number Four: John Muckler
Years of Service: 1997-2000
When you have the highest payroll in the league and you can't make the playoffs, you have a problem. Following the "Colin Campbell Era", if you can even call that an era, Muckler helped usher in the "Dark Ages" of Rangers hockey, which only got worse when Glen Sather took over the team in 2000.
Despite having Brian Leetch and Mike Richter under his watch and all the money available in the world, not only did Muckler not win a playoff game – his teams didn't even make the playoffs.
Muckler lasted 185 games with the Rangers, finishing with a poor record of 70-88-24-3 and a ghastly winning percentage of .378. Even Wayne Gretzky couldn't save Muckler.
---
Number Three: Phil Watson
Years of Service: 1955-1959
Despite having a better winning percentage (.473) than Sullivan and Muckler and some playoff games under his belt too, I have Watson ranked third here – solely because of his personality. Put it this way, if the iconic Stan Fischler, who has a kind word to say about anyone, calls you an "asshole", something must be up.
I've talked about Watson a lot on this site. There are so many negative stories, recounts and recollections of him as a coach, that I wish he wrote a book telling his side of the story, like some of the players that he coached did – including Gump Worsley. And really, you can't talk about Watson's coaching days without mentioning Gump. In fact, if you look for the worst coach vs player relationship in all of Rangers history, hands-down, it's Watson vs Worsley.
One last time – Phil Watson is someone who will get a lot of ink in my upcoming book, so the short of the story here is that Gump Worsley, arguably the best, if not at least the most important player on Watson's teams, had a huge feud with Watson and a feud that often found itself as the top story of the hockey media. Whether it was Watson calling Gump fat or Gump saying that Watson will be fired, the Rangers head coach and top goalie of the time could never get along. This feud would spill to the other players on the team, as Watson was very quick to degrade his players to the press after losses, but was also very quick to take credit for himself after wins. (Sounds like Henrik Lundqvist and Jacques Plante!)
Watson, never afraid to bag skate his team, seemed to spend more time fighting with his own players than figuring out ways to beat the opposition. Watson, who got the job due to his friendship with Muzz Patrick (both won the Cup together for the Rangers in 1940) eventually had one incident shooting off his mouth too many, forcing his best friend in Patrick to can him.
---
Number Two: Glen Sather
Years of Service: 2003-2004
Not only is Glen Sather the worst general manager in all of Rangers franchise history – he's also one of the worst coaches too. And when you think about it, it's a shame – as Glen Sather once was a heralded gritty player for the Rangers, whose Rangers legacy in the present day is long destroyed.
I'd also like to be fair to Mr. Sather, as he's often a target on this site. I have talked to many members of the Rangers alumni and all of them have heavily praised Sather to me. He's probably a good guy in real life, but these last 21 years have been miserable with him. It's also funny to me that many members of the alumni tell me that Sather cares about Rangers history, but at the same time, the M$G rafters don't have a spot for "The Bread Line", Francis, Greschner, Johnson, Hextall and others.
With a winning percentage of .367 after 90 games coached, Sather has one of the worst winning percentages in all of franchise history. Of course, his quote of "if I had the Rangers payroll, I'd win the Stanley Cup every year", has blown up in his face numerous times. Ironically, as a GM, his best teams came during the salary cap era.
Between all the losing, and really, where only the salary cap helped Sather's numbers as a GM, it's Sather's big mouth, a mouth that usually has a cigar dangling out of it, that puts Sather's name on this list. A little modesty or had he lived up to his predictions, would've excluded him from this list.
---
Number One: Bryan Trottier
Years of Service: 2002-2003
For Ranger fans, when Bryan Trottier was first hired, it was the equivalent of hiring Jared Fogle to run a children's daycare center. Okay, I admit I'm exaggerating for effect here, but the point remains the same – hiring a legendary Islander to coach the Rangers was a pure act of blasphemy, and another ignorant move by the man known as Senile Sather.
In addition, yes, I excluded Keenan from the Top Five list, due to his short tenure. However, when it comes to the worst coaches in history, it's one thing for a winning coach to leave and another thing for a bust of a coach to not even make it to one full season.
Trottier, who infamously wrote a handwritten letter to Sather for the job, a letter that was actually longer than one of these blogs on this site; got the job, and after finishing with a 21-26-6-1 record, good for a winning percentage of .389, was fired mid-season, with Senile Sather, the man who hired Trottier, replacing him. All of this was part of the Rangers Dark Ages, where again, how Glen Sather still has a job today is one of life's biggest mysteries.
For a franchise that has experienced the lowest of lows and repeatedly at that, there was no circus to blame this time. There was no salary cap to blame. There wasn't a lack of talent to blame. There wasn't a World War to blame either. From strictly a hockey stand-point, both Trottier and Sather represent one of the lowest points in all of franchise history.
While Trottier didn't last as long as the other coaches, his losing, plus his days with the Islanders (Trottier was resented from day one and it only got worse) makes him the worst coach in all of Rangers history.
---
As we wind down, some thoughts on the Stanley Cup Playoffs, if I may!
Since I'm still basking in the glow of the Islanders suffering their worst loss in all of their playoff history, let's start with that series first!
TAMPA BAY LIGHTNING VS NEW YORK ISLANDERS
My original prediction for this series was Bolts in 5, but I have no problem settling for Bolts in 6!
In something that was somewhat expected, this series has been low scoring, that is, until the pivotal swing game that Game 5 was.
After four games, splitting the series and trading wins in each other's arenas; the Islanders and Lightning skated on Monday night, to determine who would be facing elimination on Wednesday, during Game 6 of the series. In what was the best game of the entire 2021 Stanley Cup Playoffs, (or at least in my eyes, the eyes of an Islander hater) the Tampa Bay Lightning "Pulp Fiction'd" the Isles, absolutely destroying them by a final score of 8-0.
If there were any two "negative" things coming out of this Game 5 for Tampa, we have the following:
— Tampa can't carry over any goals into Game 6.
— Matt Barzal, after his cheap shot on Rutta, only got a $5000 fine. Like the officiating throughout these playoffs, the NHL's Department of Player Safety have been equally inconsistent. You don't know what a penalty is anymore and you don't know what determines a suspension anymore. It feels like the penalty calling is done at random (especially in the Vegas/Montreal series) and that the lengths of suspensions are just pulled out of a hat.
When it comes to the positives as a result of Tampa's Game 5 win, outside of the final score, eight total goals and a shutout for Vasilevskiy, we have the following:
— After Game 6, Matt Martin, who missed his brother-in-law's wedding during Game 4, will now be available to pick up Gunnar Esiason from the airport after Gunnar's honeymoon.
— For an Islander team that's accused of being boring, the Islanders were sure enjoyable to watch during Game 5.
— It was very nice of the Rangers to schedule their press conference in between the two Islander losses. Yep, I said it, jinx be damned – Tampa is winning this series in six!
— Too bad the NY Jets, who have been at most of the Islander home games during this run, weren't at this Islanders road game – the Jets could've seen what a touchdown looks like. The Jets could've saw a two-point conversion too!
— How poetic was it that Brayden Point, who should be a heavy favorite to win the Conn Smythe right now, scored the seventh goal, aka the "extra POINT", of the game?
And oh yeah, there was this:
This #Isles fan is not happy with the teams performance tonight. 🤣
🎥 @NHLonNBCSports pic.twitter.com/bSvriduHyl

— BobbyLotsOfNumbers (@TheReplayGuy) June 22, 2021
While this could've been a set-up in an attempt to go viral, (and this video did go viral, as it even made air during the NBC broadcast) I still got a hearty chuckle watching this deformed Islander fan throw a bitch fit after watching his team go down 3-0. Even better, the Islanders hosted their first watch party at the Asbestos Arena and all of these losers had to watch the worst loss in all of Islander playoff history! I know you shouldn't take joy in the misery of others, but we can all make an exception here!
All jokes and bad comedy aside, outside of Game 5, this has been a heated contest. Someone was going to win Game 5, and whether it's by a final of 1-0, 2-1, 3-2 or in this case 8-0, it's still only one win. Now it's time for Tampa to pull a Jon Taffer and "SHUT IT DOWN!"
For as much as I hate the Islanders, you can't put the proverbial fork in them yet. They are a tough out, but out they will be. As talked about throughout the course of the playoffs on this site, Tampa Bay knows how to win now, the ghosts of 2019 have been exorcised and this team is built for the now. To their credit, the Islanders do have a good team, but like Florida and like Carolina, they just don't match up enough to dethrone the champs.
This might sound blasphemous to say and I'm knocking on wood as I write this – even if the Isles, by some miracle, pull off a Game 6 victory in front of their half-breed fan-base, I just don't see the Isles being able to win two in a row against this Bolts team. Maybe they would've in 2019. Not now though.
---
MONTREAL CANADIENS VS VEGAS GOLDEN KNIGHTS
As I write these words to you, Game 5 is being played now and the series is 2-2.
My original prediction was Vegas in six, and I still feel that way.
After Vegas dominated Game 1, which brought out all the "Canadian Division Was Trash" articles; Montreal then won the next two games of the series, with Game 3 being the "Marc-Andre Flub" game. With Robin Lehner in net for Vegas during Game 4, and in somewhat of a role reversal from Game 3, Montreal squandered their chance to go up 3-1 in the series. It's truly ironic how the better team in both Games 3 and 4 lost those games and after uncharacteristic plays in net from both Fleury ("The Gaffe Seen Around The World") and Price (The Pietroangelo goal.)
I've done all my Cinderella stuff on the Canadians previously on this site, but if they ever needed to stick a glass slipper up the ass of the Knights, it was during Game 4, a game they really should've won. Maybe the Canadiens showed us the blue print on how to beat the Knights, but I can't see the Knights being as flustered during the remainder of this series as they were in Game 4.
While I do think the Knights could've won three straight against the Habs had they gone down 3-1; I'm not so sure about the Habs winning two of the next three. Obviously, winning one of three would've been much easier.
Since I consider the Knights Game 1 loss to the Avalanche as a fluke/Vegas on short rest, if anything surprises me about this series, it is the fact that Montreal has played Vegas tougher than Colorado did. Go figure. As I always like to say – that's hockey Suzyn. And yeah – Montreal has totally redeemed the North Division and debunked all the negativity surrounding it.
As mentioned, Game 5 is being played as I write these words, where really, it wouldn't shock me to see this series go seven games either. What's funny, is that while I think Vegas will win and I'd like to see MAF win a Cup in Vegas colors, I find myself pulling for Montreal. I guess we all love a good underdog story. "Rocky" anyone?
---
If you haven't already, subscribe to this blog for the next update:
---
This one was a doozy!
As far as the next blog on this site, I'll be back once the Stanley Cup Finalists have officially been determined. Maybe we'll have some light Rangers news and notes too, such as new assistant coaches and stuff of that ilk.
Stay FABULOUS my friends.
As always here, thanks for reading and…
LET'S GO RANGERS!
Sean McCaffrey
BULLSMC@aol.com
@NYCTHEMIC on Tweeter