Greetings and salutations everyone and welcome to another blog here on BlueCollarBlueShirts.com. We do have some light Rangers news and notes to get into tonight! After getting into all of the Rangers stuff, I'll then give you all of my thoughts and opinions on the second round of the 2021 NHL Stanley Cup playoffs, and what a tournament it has been thus far. However, first and foremost, the Rangers news!
If you haven't heard already, on Thursday June 3rd, the Rangers, now under Team President and General Manager Chris Drury, signed their 28th overall pick of the 2018 NHL Draft, in a one Nils Lundkvist. As previously discussed on this site, prior to their firings, both John Davidson and Jeff Gorton pretty much said it was their plan to ink Lundkvist to a contract during this off-season. In other words, this signing was pretty much expected and now it's official.
As I usually like to do whenever the Rangers make news, let me give you their official press release first and then look ahead with my Proper 12 influenced analysis!
The following press release comes from: https://www.nhl.com/rangers/news/rangers-agree-to-terms-with-defenseman-nils-lundkvist/c-325168278
New York Rangers President and General Manager Chris Drury announced today that the team has agreed to terms with defenseman Nils Lundkvist on an entry-level contract.

Lundkvist, 20, skated in 52 games with Lulea in the Swedish Hockey League (SHL) this past season, registering 14 goals and 18 assists for 32 points, along with 30 penalty minutes. He was named the winner of the Salming Trophy in 2020-21, which is awarded annually to the best Swedish-born defenseman in the SHL as selected by Hockey Hall of Famer Borje Salming. Lundkvist established SHL career-highs in several categories in 2020-21, including games played, goals, points, average ice time (21:24), and shots on goal (156). He ranked fifth in the SHL (ranked second among SHL defensemen) in shots on goal in 2020-21, and he also led SHL defensemen in goals and power play goals (eight) this past season. Lundkvist's 14 goals in 2020-21 were the most by a defenseman in one season as a U21 player or younger in SHL history.

The 5-11, 187-pounder has skated in 166 career SHL games over parts of four seasons (2017-18 – 2020-21), registering 30 goals and 48 assists for 78 points. Lundkvist's 78 career points are the most by a defenseman while in his U21 season or younger in league history, his 166 career games are tied for the most by a defenseman while in his U21 season or younger in league history, and his 30 career goals and 48 career assists are each the second-most by a defenseman while in his U21 season or younger in league history. Over the last two seasons (2019-20 and 2020-21), Lundkvist led SHL defensemen in goals (25), ranked second among SHL defensemen in points (63), and ranked sixth among SHL defensemen in assists (38).

Internationally, the Pitea, Sweden native has represented his country in several tournaments. Most recently, Lundkvist recorded five assists in three games at the 2021 IIHF World Championship. He helped Sweden earn a bronze medal at the 2020 IIHF World Junior Championship and at the 2018 IIHF U18 World Championship, and he also represented Sweden at the 2019 IIHF World Junior Championship.

Lundkvist was selected by the Rangers in the first round, 28th overall, of the 2018 NHL Entry Draft.
---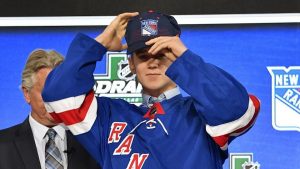 There are a few things to discuss here with this signing. For starters, and for those who don't know, Nils Lundkvist is a right-handed defenseman. Whether that means Lundkvist will be on the right side of the defense or not for the Rangers, well that is unknown of as of this writing. After all, we don't even know who the head coach will be for the 2021-2022 season! While it's highly likely that Lundkvist will be playing on the right side of the defense, who knows what the next coach in franchise history will decide? In other words here, while you can speculate that Lundkvist will be competing for the third RD slot on the roster, you can't say that's a done deal with 100% certainty.
Furthermore, while most assume that Lundkvist will start the season on the Rangers opening night roster, that's not a given either. As you all know by now, the modus-operandi has changed in New York. The rebuild is over. For Chris Drury and for whoever Drury hires to be the team's head coach; for those two men, it's their job to build a playoff team. No one can assume that Lundkvist, who turns 21 years old on July 27th of this year, will automatically start his North American career in the NHL. For all we know, Lundkvist could start the season in Hartford, with the idea of getting him up to the main roster at the mid-point mark of the season, similar to the way the Rangers handled Igor Shestyorkin. I'm not saying that's what will happen, I'm just saying this is a possibility.
When it comes to the Rangers defense, barring injuries or anything else, we know for a fact that three men are guaranteed to be in the line-up on opening night, and those three players are Adam Fox, Ryan Lindgren and Jacob Trouba. To a lesser extent, K'Andre Miller will most likely return to his spot as one of the team's top four defensemen. I just don't include Miller here with the other three players, just because of the rookie wall he hit at the end of the 2021 season. While you could argue that maybe Miller was rushed into the NHL, and under normal conditions, would've thrived better with some time in Hartford first; it's most likely that Miller returns to the Rangers roster on opening night, where he'll be paired with his usual partner in Jacob Trouba.
Again, I just want to reiterate this point one more time – sometimes trying to predict the future is a fool's errand, especially with this franchise and with the state it is in. We don't know who the head coach is. Equally important is that we don't know what Chris Drury will do this summer. While we know what Drury's mission is and how Drury will have James Dolan looking over his shoulder – we just don't know what Drury will do this summer. Short story here – at the present moment, no one knows what this roster will look like, come October 2021.
The only thing we can say for a fact, especially if you've been watching these 2021 Stanley Cup playoffs, is that the Rangers need toughness and someone with a killer instinct. Brendan Smith can't be that guy for the Rangers, as the Rangers really need a top six forward who possesses these qualities. Of course, that's easier said than done.
In addition, and as talked about on previous blogs; with a cupboard full of similar players, someone will have to go in order to give the Rangers more ingredients for a successful roster stew. You just can't eat chocolate every day – you need multiple flavors when building a team. Who goes and who stays is up for debate.
I won't go too deep on this next point, because I've probably written 755667585685 million words on this topic already; but while I'd like to see Chris Drury repair the franchise's relationship with Tony DeAngelo, that's probably not going to happen. While the Rangers would eat even more dead cap space money in the likely event of a DeAngelo contract buy-out, they seem fine with that idea. (And isn't amazing Suzyn, that the Rangers are paying Dan Girardi in 2021, a Dan Girardi who presently serves as an assistant coach for the Buffalo Sabres?)
And yeah, as talked about all season, I didn't like the way the DeAngelo and Lemieux situations were handled, because as a fan and if I were a GM, I'd want emotional players who give a damn about losing. I just didn't see the Rangers caring about winning or losing that much this season, especially during those three final games with the Islanders – games which ultimately led to the dismissal of Jeff Gorton, John Davidson and David Quinn.
In fact, as I've previously said on this site, when it comes to giving a damn about winning or losing, I thought David Quinn showed the most emotion out of anyone associated with the team. (Although you could argue that Dolan sure gave a damn, hence the actions he took during the end of the season.)
I bring up DeAngelo one more time here, because if the Rangers decided to mend fences with him, the Rangers would be adding a strong power-play quarterback to their team and a player that knows the North American game. However, with Lundkvist now signed, there are only so many people who can dress and play, so I think it's safe to assume that Drury will follow the game-plan of his predecessors and bid adieu to DeAngelo when he's able to.
In other words, while Lundkvist will compete for a spot on the Rangers defense, I don't expect DeAngelo to be one of his fellow competitors.
---
In a story that you can try to link with the Lundkvist signing, was that on Wednesday June 2nd, which was the day prior to the Lundkvist signing; the NHL held their 2021 Draft Lottery. The Rangers, as previously talked about, had a 1% chance of winning that lottery. In fact, to prevent myself from going into "repeat-mode" here, let me get the PLUGS segment of tonight's manifesto out of the way, since I previewed the NHL Draft Lottery last time on this site.
You can read that blog, and my last several blogs, by clicking the links below:
---
---
---
In what was one of the most anti-climatic NHL draft lotteries ever, due to the fact that we didn't have ping-pong balls like last year and that only the first and second spots of the draft were up for grabs; the Buffalo Sabres won the 2021 NHL Draft Lottery. As if Buffalo hasn't had enough chances over the years with all of their top ten picks during various NHL drafts, including the first overall pick during the 2018 NHL draft. However, Buffalo has been kicked enough this season, so there's no point in me adding more rubber from the tip of my sneaker on them.
For Ranger fans, this draft lottery was even more anti-climatic, because not even one nano-second into the broadcast, the fate of the Rangers was revealed – the Rangers will have possession over the 15th overall pick of the 2021 NHL Draft. While no one could really expect the Rangers to finish with the first or second overall pick in 2021, as they had done during the last two NHL draft lotteries; it would've been something had they did. You'd never hear the end of it! (And as explained last time, it was much better for the Rangers to win the draft lottery in 2020, rather than in 2021. While Owen Power is expected to go #1 overall, according to the experts who watch these young kids on the regular; Power doesn't have the same potential as Lafreniere had bestowed upon him last year.)
I bring up this #15 overall pick of the 2021 NHL Draft up for two reasons. One, it's a news story, duh! Two, and more importantly, it can be argued that the Rangers should trade this pick, whether the pick is part of a package deal, or straight up for some veteran help.
No one knows what Drury is thinking right now and what players around the league that he's eyeing. We just know that the Rangers can't go into next season with the same cast. This brings me back to Nils Lundkvist.
---
When Lundkvist signed his contract, I saw a ton of reaction, and from both sides of the spectrum. I saw one Rangers fan say that this was one of the best moments of his Rangers fandom, which just tells me that this particular fan has traits either similar to Jared Fogle or is just an idiot. (After all, if you're so jacked up about Lundkvist signing, what's Alexis Lafreniere? Dog shit?)
Conversely, I saw other fans say that the Rangers should immediately trade Lundkvist, which to be fair, is perhaps equally as idiotic. After all, when was the last time the Rangers signed a prospect/first round pick during the salary cap era, and then immediately traded that player? The answer – it's never happened before.
If you want to argue that the Rangers should trade their #15 overall pick of the 2021 NHL Draft, I'm all ears for that. That idea makes sense, especially after everything that has gone down and with the rebuild now over. When it comes to trading Lundkvist, the only way the Rangers will do that, at least in my opinion, is if the Rangers get one of those video game fantasy trade offers sent their way, like McDavid for Lundkvist. In other words, the Rangers aren't trading Lundkvist. (I will admit, the idea of trading Lundkvist is great trolling material, just to see the reactions!)
Going back to the Rangers defensemen for next season, outside of Fox, Lindgren, Miller and Trouba, the Rangers still have Zac Jones and Anthony Bitetto on the payroll. Both of these players primarily play the LD position. The Rangers also have Tarmo Reunanen signed, who like Jones and Bitetto, is a left-handed defenseman. In addition, Chris Drury will have to make decisions on Brendan Smith (unrestricted free agent) and Libor Hajek (restricted free agent), with both of these players being left-handed as well. (Smith can play either position, and can play as a forward when needed, although the Rangers shouldn't have that need next season at all.)
When you look at the right side of the Rangers defense, and assuming DeAngelo is a goner, you have Fox and Trouba. That's it when it comes to Rangers RD at the NHL level. As far as Hartford goes, you will have Braden Schneider, who is probably a year or two away from the Rangers/NHL level.
Again, who knows what the Rangers do this summer? One name the Rangers could explore would be Seth Jones, the much heralded right-handed defenseman in Columbus and a Seth Jones who enters next season on a contract year. This is also the same Seth Jones who has told Columbus that he will be exploring the free agency market in 2022. And if Columbus learned anything from two seasons ago, when they went all in with Artemi Panarin and Sergei Bobrovsky, only for those two players to leave for greener pastures at the end of their contracts; it behooves Columbus to trade Seth Jones rather than letting him walk for nothing, as the Islanders once did with John Tavares. (You may have heard about that story!)
If it weren't for the hard salary cap, a cap that will be flat for the next few seasons; as the Rangers have historically done throughout franchise history, the Rangers would've most definitely been a suitor for Seth Jones. (And the salary cap story is a story I've talked about already and a story that I hate. I don't like the salary cap to begin with. Plus, the NHL just signed a huge TV contract with both ESPN and TNT, where I feel that money should be afforded to the teams. In addition, as long as the no income tax states teams are still at an unequal playing field as the highly taxed states/provinces teams of the league, the system will always remain flawed to me.)
In a no salary cap world, maybe the Rangers would've explored a Jones for Lundkvist trade. However today, especially more so than ever with the salary cap remaining flat, teams aren't trading young and cheap talent for high cap hits. That said, wouldn't it be something if Jones landed with the Rangers, if only because of John Davidson back in his role as team president of Columbus? Can you imagine a scenario, where the Rangers got Seth Jones on the cheap, ala when the Yankees got Giancarlo Stanton for practically nothing from the Derek Jeter led Miami Marlins? Bring on the collusion and conspiracy articles and takes!
The Rangers have a chance here, with a solid and young defenseman, and for the next three seasons, with Lundkvist, as Lundkvist will earn $925,000 per season. This is pretty much the same principle as last year, in regards to Alexis Lafreniere and those people who tried to drum up clicks and podcast listens with their "THE RANGERS MUST TRADE THE NUMBER 1 PICK" arguments.
Like anyone jumping across the pond for the first time, there will be a transition period for Lundkvist. It's hard to see Lundkvist adapting to the NHL game as quickly as Adam Fox did, even if there are some idiots proclaiming  Lundkvist to be "the next Adam Fox".
And for the record, I hate all of these comparisons, including the Leetch/Fox comparisons, because those comparisons set unrealistic expectation levels. I also feel that 99% of the time, these comparisons are made by people who never saw the player they are comparing a young talent to in the first place. In addition, the people currently making the Fox/Lundkvist comparisons have never seen Lundkvist play one game in North America. These are also the same people who once said "LIAS ANDERSSON WILL BE THE RANGERS BEST CENTER SINCE MARK MESSIER!"
So yeah, if you get anything out of what I'm saying here, it is that you shouldn't form your hockey opinions out of stuff said from the people who are under the age of 25, make charts all day and/or live with their parents! After all, these are the same people who whine about hits, fights and toughness all season, only to see all of their junk debunked during the playoffs! Let those mooks stick to their heatmaps, spray charts, hieroglyphics, and spreadsheets. Hello Toronto Maple Leafs!
---
As mentioned, I see a lot unfair and unrealistic expectations being placed at Lundkvist's doorstep right now, which is extremely ridiculous, since no one knows who the coach will be or what the roster will look like. If the Rangers try to make a play for Seth Jones (which would be tough, due to the salary cap and Trouba's NMC) or another veteran RD, the Rangers may take their time with Lundkvist. If you're the Rangers, do you really want to put all your eggs in the basket of a rookie European who has never played the North American game before? At the very least, the Rangers should try to add an insurance policy, even if that means bringing back Brendan Smith. (As talked about ad-nauseam on this site, I'm fine with Smith returning if both parties can agree to a cheap one-year deal. However, what's best for the Rangers here may not be best for Smith.)
At the end of the day, all the best to Lundkvist. I'm down for anything that will help the Rangers get their fifth Stanley Cup in franchise history. Plus, for Lundkvist, he's the Rangers last chance, in their attempt to salvage the McDonagh/Miller for Hajek/Howden/Lundkvist trade. And really, Tampa has already won that trade, due to the Lightning winning the Cup last year.
Whatever the case, this signing by Drury was expected. And speaking of Drury, let's shift gears to the IIHF Worlds Tournament, where Drury served USA Hockey as the team's general manager.
---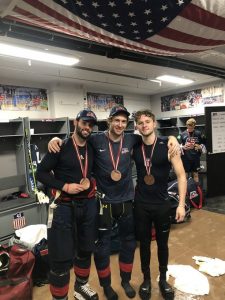 The 2021 IIHF Worlds Tournament has now come and gone, where Team Canada, and after a poor start during the preliminary games, has won the gold. As talked about previously on this site, this year's version of the tournament was one of the weakest yet, due to the pandemic. When it comes to the gold medal and the Rangers, Rangers prospect Braden Schneider was part of the Canadian team. And oh yeah – coaching the Canadians to the gold was Gerard Gallant.
With the IIHF Worlds Tournament now complete, (the medal games were all played on Sunday, June 6th) the Gallant to NYR rumors will heat up even more. Whether or not Drury tabs Gallant to become the next coach in franchise history – well that is still to be determined.
In addition and for what it's worth, despite there being a slew of candidates out there, based on what's being reported, the Rangers only seem to really be interested in Gallant or Rick Tocchet. There seems to be no juice to names such as John Tortorella, Mark Messier, Bob Hartley, Patrick Roy, Mike Babcock and the others. It should also be mentioned that Mike Sullivan isn't going anywhere, as it's been reported that Sullivan will remain in Pittsburgh next season.
If Gallant is to become the next coach in franchise history, I'd expect an announcement this week, as Gallant has been linked to other franchises around the league. I really think you'd like to have a coach put in place before the NHL draft and the free agency period. That said, I'm not sold on Gallant either, just because he was fired so quickly in both Florida and in Vegas, and both under suspicious circumstances. And as I've said before, even with this win for Team Canada, I don't think this effects anything, due to how watered down this IIHF Worlds Tournament was.
In other tournament news, prior to Canada's 3-2 overtime win over Finland for the gold medal, USA Hockey trounced Germany by a final score of 6-1, to take home the bronze. In encouraging news for the Rangers, not only did Colin Blackwell play well, as he picked up goals during many games of the tournament, including in the bronze medal win over Germany; Zac Jones also played well, where Jones, along with Connor Garland and Cal Petersen, was named as one of the top three players of USA Hockey. (USA Hockey voted on the top three players.)
Again, yes this year's version of the IIHF Worlds Tournament wasn't the best, but for a young player like Zac Jones, this is an impressive feat. It caps off an exciting and life-changing 2021 for him, as not only did he win the championship at the NCAA level, he also made his pro debut with the Rangers and took home a world medal. Similar to Lundkvist, Jones will be competing for an everyday spot with the Rangers during training camp, where Jones, due to the fact that he does know the North American game, may have an edge.
To wrap up on all of this, while it's great that both Jones and Blackwell stood out for USA Hockey, the main story here is whatever happens next with Gerard Gallant. The eyes of Rangerstown, USA will be watching.
UPDATE: As I was publishing this blog, the much esteemed reporter in Darren Dreger, tweeted out the following:
Gerard Gallants stock has risen among the teams he's interviewed with (NYR, Sea, CBJ) based on the challenges faced at the Men's Worlds and the Impressive march to the Gold medal.
I'm not surprised that I'm wrong with my take of "whatever happens in the IIHF won't effect Gallant", because after all, no one bats 1.000 with their predictions! However, I'm surprised that teams would put that much stock into that tournament, especially knowing what it is. While I get the logic with what Dreger is reporting, had Canada not won the gold, would've Gallant's name took a hit here? I don't think so. That said, I do understand why Gallant's stock would rise, as that's always the case with anyone who wins. What I'm trying to say here in a round-about way, is that I don't think a loss would've effected anything, but I do understand why winning helps his cause.
---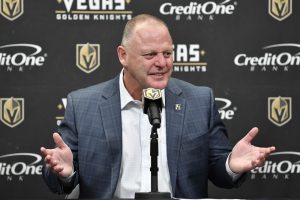 As far as any other Rangers news, that about does it. If there's a "non-story" to mention here, it is the fact that David Quinn hasn't released a statement yet about his firing. In the event that DQ does release a statement, I'm sure it will be similar to the statements that JD and Gorton previously released, where it will be much of nothing and full of platitudes. Like Tony DeAngelo, who did one interview for the New York Post, but never released a "tell-all" statement; it's in the best interest of all of these guys, to stay mum about recent events, where as fans, we'll probably get the full stories as time passes.
Before moving into Stanley Cup Playoffs talk, a quick plug for a new Rangers themed podcast here. Ranger season ticket holders, in Shawn Stein and Jonathan "Roc" Papadimitrio, have started a new podcast entitled "Two Guys, One Cup". You can listen to their maiden voyage by clicking the link below:
Come check our first podcast with my partner @shawn2186 as we talk everything that's going on with our New York Rangers! https://t.co/gqZsIIPqEZ

— Jon Papa-D (@roc1193) June 4, 2021
I listened to the first episode, where I enjoyed it. When it comes to these Ranger fan podcasts, as long as someone is presenting something different, I'll give it a shot. For fans of "The Blueshirt Underground Show", which remains my favorite hockey podcast out of the lot of them; those fans will know "Roc", as "Roc" is a regular BSU caller. For hardcore fans, they may know Shawn Stein from social media. I've met him personally and talk to him from time-to-time, and he's a good guy who knows his stuff. Like anyone else with a blog, a podcast or a social media account, he's opinionated, but his opinions are rooted in facts and the guy is diehard. He's not just spewing shit for the sake of spewing shit.
In addition, when it comes to both co-hosts, as I push this podcast upon you; similar to "The BSU Show", both hosts love the Rangers and hockey. You might not always agree with their opinions, but you can civilly debate with them, where your arguments with them won't turn into, "YOU SUCK, YOU ARE POO-POO, I HOPE YOU GET SENT TO THE SUN, WHERE IS MY CHART?"
I know I sound like the proverbial old man on the lawn shaking his fist here, but yeah, I'm not a fan of the younger generation of Ranger fans! Maybe because I'm old school and talk sports in bars, but when I see these social media arguments degenerate into "YOO ARE A FAYKE FAN" and stuff like that – I just check out. There's just a generational divide, where the younger generation will prop up bullshit fake news charts and expected stats, rather than talking about what actually happened on the ice. I blame Vally for this!
What I liked about the first episode of "Two Guys, One Cup", was that the bulk of the talk was about what happens on the ice. In other words, this wasn't a podcast about charts, analytics and other fake news stats. You could also hear the passion for the Rangers, out of both co-hosts.
It just boggles me, how people could sit through a podcast, as someone reports their findings from their made-up charts and spreadsheets. And while yes again, this is a generational thing, I'm a fan of listening to people from my own age group or from people who are older than me, and have seen a lot, rather than listening to some twenty year old something chart-making female, telling me how evil hitting is and how fighting should be eliminated from the NHL.
Seriously, I recently saw one clip from one of these chart bum podcasts on Twitter, where some woman was crying about hitting in the NHL and then went into her EXPECTED GOALS and HIGH DANGER stats, stats which mean nothing to begin with and mean even less during the playoffs. Again, blame Vally!
All the best to Shawn & Roc on their new project. As Frasier Crane says, "I'm listening".
Let's get into the playoffs.
---
MONTREAL CANADIENS VS WINNIPEG JETS
I predicted the Canadiens to win this series in seven games, and as I write these words to you, the Canadiens are now up 3-0 in the series, after an astounding 5-1 Game 3 victory on Sunday evening. At this rate, I fully expect the sweep.
As you know by now, the most controversial and most talked about topic of this second round, was the hit Mark Scheifele laid upon Jake Evans at the end of Montreal's Game 1 victory. I already said my piece on social media about this hit, but for the people who didn't see it, I had no problem with the hit. That said, I did have a problem with the suspension. That's a lot to unpack, so let me look at the suspension part of this first.
With Scheifele getting a four game suspension, Winnipeg lost one of their best players, if not their best player. No matter how you feel about the suspension, I don't think you can debate this – the NHL has no consistency when it comes to doling out suspensions. Tom Wilson's antics against the Rangers didn't earn him a suspension, despite Wilson having a laundry list of previous offenses. (And I didn't think he deserved to be suspended either, and you can go back and check the archives of this site for my explanation.) Elsewhere, Ryan Reaves got a two game suspension during these playoffs, while Nazem Kadri got an eight game suspension. It just feels like the length of these suspensions are pulled out of a hat and with no rhyme or reason to them.
I don't hide this fact – I like the old time hockey. I like the guys policing themselves. I would've much rather seen the Canadiens go after Scheifele in Game 2, rather than seeing Scheifele in the press box. Bring back the Hanson brothers!
In the case of the Scheifele hit, like any of these "egregious" plays, public opinion has too much power. Anytime a controversial play happens, you have 786786786786896789678967 takes about that play on social media, and you have these new generation of limp-wristed fans, demanding players being kicked out of the league. When it comes to those fans, I don't even know how they got into hockey in the first place. Did they grow up watching figure skating? How would these fans react to Gordie Howe in the modern day? These fans would have Howe in a prison cell!
Since the NHL is a pandering league and wants social media and social justice brownie points whenever they can get them, the NHL is forced to overreact, where hits during this era which are earning suspensions, wouldn't have been suspensions during a different era.
I totally agree that in today's era, we have more information about concussions than ever before, even if Gary Bettman ignores this data. At the same time, the league allows players to suit up in armor equivalent to the armor that the knights at Sir Arthur's table used to wear. In previous eras, players weren't dressed up like Robocop, which in turn, made these players pick and choose when to deliver big hits. In those days, a big hit not only hurt the player receiving the hit, but the player delivering the hit too. In this current era, which has been dubbed as "BIGGER, STRONGER, FASTER"; the NHL allows their players to suit up in gear, where players can hit their opponents without any recourse to their own being.
When I saw the Scheifele play/hit in real time and even with the benefit of replay, I didn't think it was a dirty hit at all. The problem was that Evans landed on his head, which led to his concussion. Had Evans landed on his side, his back or on his chest, there would be no story here, just like how there isn't any story to the 400+ hits the Islanders have laid on their opponents during these playoffs.
When it comes to concussions in hockey, 99/100 times, the concussion is the result of the landing and not the hit. Yes the hit leads to the landing, but more times than not, players don't land on their head like Evans did. To me, while you root for Evans to get healthy and no one wants him injured; to me, it's just an unfortunate "one of those things", rather than a premeditated act of a head-hunter.
I know football and hockey are different sports, but when I saw this hit, it reminded me of a receiver chasing down a corner or a safety during a "pick six touchdown" play. Very often on those plays, you will see a tackle being made in the end zone, after the interceptor has scored. It's just the momentum from speeding up, in an attempt to break up a scoring play, that leads to the contact. In hockey, when you're barreling down the ice at 100MPH, in an attempt to prevent a goal, it's impossible to stop on the dime – contact will be made.
What made the hit look worse, was the fact that Evans slowed down and skated into Scheifele, thus increasing the impact of the hit. Even worse, was that Evans had his head down, so he didn't see the hit coming. I don't see how a fan can be upset with Scheifele, who was trying his best to break up a scoring play. Yes, the puck may have entered the net a nanosecond before Scheifele got there, but again, you can't just stop at the last second. And in the playoffs, where physicality is king, this was a hit that sent a message, where there was no way of Scheifele to know how Evans was going to land. Again, this was just an unfortunate thing that happens in a sport where you always risk injury anytime a player laces up his skates.
At the present moment, after their win over the Leafs, the Montreal Canadiens are this year's Cinderella team. The Jets losing Scheifele has helped Montreal's quest for the Cup. While it was my opinion that the Canadiens would've won the series regardless, right now, with the Canadiens up 3-0, it's only a matter of time before they become one of the final four teams of the 2021 season. Even crazier – the Canadiens may be the first team to get into the third round as well!
As we all know, the Canadiens will only get as far as Carey Price will take them, but what has really helped the Canadiens during these playoffs, is the scoring they've been getting from their fourth line and veteran role players, especially when you look at players like Corey Perry and Tyler Toffoli.
When the Leafs put together their roster last season and were looking to add veteran role players, they went with Joe Thornton and Wayne Simmonds, two solid veterans, but not veterans who have a winning pedigree. The Habs added two veterans who have won Cups before, in both Perry and Toffoli, and now here in the 2021 Stanley Cup Playoffs – these two have turned the tide in favor of the rogue, blanc and bleu.
Of course, with the Canadiens the most likely winner of this series, they will play the winner of the West, where the Canadiens will remain as a heavy underdog against either Colorado or Vegas. While I'd expect the West division winner to make it to the Stanley Cup Final, I wouldn't write the Habs off either. In the playoffs, you need toughness, skill, puck luck, players thriving in the moment and some calls to go in your favor. The Canadiens have been getting all of that so far. In addition, if the Canadiens can sweep, they will be well rested and they won't be as banged up as the team that comes out of the West, as the Colorado/Vegas series has been more hard hitting than the series from Canada.
In some good news, it was reported on Sunday that the Canadian government will allow the winner of the North division to travel to America and will allow either Colorado or Vegas to enter Canada without having to quarantine. That's a big win for the NHL and for the fans of the Canadiens.
Lastly while on this series, I'm glad that the Winnipeg Jets are all but out of it. I've watched nearly every minute of these playoffs, and it's a chore to watch the Winnipeg Jets, due to the Jets having no fans in their arena. And while the Jets have let some fans in recently, their crowd environment feels like a bunch of street show mutes/mimes all hanging out, especially when compared to the rowdy and boisterous crowds in Vegas, Carolina, Boston, Colorado, Tampa and <gulp> the Islanders. Speaking of the Islanders, let's talk about my most hated team next.
---
NEW YORK ISLANDERS VS BOSTON BRUINS
Admittedly, this has been my favorite series of the four of them, just because I have skin in the game, as I'm an Islander hater rooting for them to lose. And to be fair and to convey to you that I can take my biases out of my writing, I'll also admit that I'm jealous of the Islanders right now.
I mean, just think about it, especially if you're a diehard Rangers fan like me. The Islanders have a far superior owner than the Rangers, and a fan-friendly owner at that. Of course, at the same time, you can also argue that Islanders owner Jon Ledecky (along with Scott Malkin) bought the Islanders at the right time. You can also argue that the Islanders have a better hockey man in their front office than the Rangers do, with Lou Lamoriello at the helm. And with no coach in place for the Rangers, it's safe to say that Barry Trotz was better than DQ and may have more hardware than whoever the Rangers bring in next.
As talked about 677867968967896 billion times on this site, your grandfather's and father's M$G is no more. Gone are the days of the rambunctious blue seats. Gone are the days of real fans in the lower bowl, fans who knew every player on the roster and could tell you all of their stats. Gone are the days of beer and pretzels, as they are being phased out for sushi and vegetarian kale smoothies. Also gone in the lower bowl are a sea of Ranger blue jerseys, as they've been replaced by suits and their clients. While there has never been a "tailgate" environment at M$G, as Ranger fans have always resigned themselves for pricey beers at the various bars that surround M$G; many of those bars have gone the way of the dodo bird too.
And if a Rangers player ever tried to replicate the days of Nick Fotiu, and tossed pucks to the crowd – you know there would be some type of lawsuit from some suit or bitch fan, complaining about the injuries that fan received from that puck that made contact with him/her.
When you look at the Nassau Coliseum, which is in its last hurrah, you have one of the loudest buildings in the NHL. You also have that NFL tailgate environment in Uniondale, where you'd have to have your head in the sand, to deny the fact, that on game-day, Islander fans get a bit liquored up in the parking lot on Natty Light and cheap booze, which in turn, leads the Islanders in playing in front of the loudest crowds of the 2021 playoffs.
That said, you have to wonder where these fans are during the regular season, as the Islanders, over the course of the last twenty years, are year-in and year-out, one of the worst drawing franchises in all of the NHL. To their DISCREDIT, their fake fans sure do come out at playoff time! However, one can't ignore how the Florida Panthers and the Arizona Coyotes, two teams from the low drawing sunbelt states, routinely outdraw the Mickey Mouse Islanders.
In addition, Islander games have a perfect level of energy, energy which hasn't been matched elsewhere in the league, with the Vegas crowd coming in second place. All of this makes any beer drinking Ranger fan jealous! Plus, the tickets to these Islander games aren't that bad, especially when compared to the daily four figure prices that Ranger regular season tickets go for. And unlike M$G, there's not one bad seat in the house at the Nassau Coliseum, providing you bring an umbrella to catch the asbestos and water drippings from the ceiling. Maybe the asbestos and dirty water provides grit for these incestuous fishstick fans. Hello Joy Rosen!
That all said – Father Fink the Islanders.
This series is currently tied at two games a piece, where it feels like during the two Islander wins of this seven game set, the Islanders basically play a "David Tyree Catch" type of game, where every lucky thing in the world that can happen does happen for them. (Full credit for the David Tyree catch reference goes to my buddy Mike the Esquire, a Mike the Esquire is 100% correct here.)
Whether it are the Bruins blowing every lead imaginable, Islanders scoring goals off of skates, deflections and other flukish plays; the Islanders always find a way. While Montreal is the Cinderella team of these playoffs, as the Islanders, especially coming off an ECF last year, are built to win now; the Islanders are also finding some Disney magic of their own.
It's my belief that when you look at these four games as a whole, the Bruins have been the better team. They've led longer than the Islanders have, but the Islanders are like that little nugget of shit that won't go down the toilet, no matter how many times you flush. They just don't go away. Throughout these playoffs, whenever a team gets the lead over the Islanders, that team has a hard time finding the insurance goal, as it feels like 99% of the time, the Islanders always find the equalizer.
This series is now a best of three games series, where Boston still maintains home ice advantage, during a playoffs where home ice has truly been a factor, due to the returning and thirsty-for-hockey fans back in the buildings around the league. Even Barry Trotz has praised the Islander crowds as motivation and inspiration, and how could one argue otherwise?
As is the case in any best of seven series that's tied at 2-2, Game 5 is huge. To me, I think Boston has to win Game 5, as being down 3-2, against the Islanders at home, and during a Game 6; well that seems like a tall task for that Boston team. For the Isles, if they lose Game 5, it's not hard to envision the Islanders winning at home and pushing this series to seven games.
I'm heavily invested in this series, solely because of my hatred of the Islanders. That said, this has been the most exciting series to me, as both teams have brought the pop and a strong style of physical hockey. And isn't it fitting for Islander fans, that they have to deal with both Joe "FABULOUS" Micheletti and Pierre "PHENOMENAL" McGuire calling this series?
I would also like to add here, for my two good buddies who are Islander fans – Father Fink Tom M. and Bill W.!
Yes, I'm rooting for Tampa to win the Cup, just because of Ryan McDonagh; but my only goal of these playoffs right now, is to see the Islanders lose, more than seeing any other team win. At this point, with how well the Islanders have been playing, like last year, Tampa Bay may once again become my savior! Let's talk about the Bolts now.
---
TAMPA BAY LIGHTNING VS CAROLINA HURRICANES
There are two ways to look at this series, where the Lightning currently hold a 3-1 lead in. If you're a Tampa hater, you're still talking about the salary cap and Kucherov, while ignoring the no income tax stuff in Florida. You're also probably talking about the referees. If you're someone pulling for Tampa like I am, you're using the same points right now that you used before this series even started – Tampa has too many weapons, Tampa has the better goalie, Tampa has done this before, Tampa knows how to win now and Carolina, who is right there, just can't hang with the best team in the league, despite what the NHL standings may suggest.
Carolina, to their credit, has played Tampa tight, as Tampa took the first two games of the series by identical 2-1 scores. A bad goal allowed to Barclay Goodrow may have determined this series, as without that goal, Tampa doesn't leave Carolina with a 2-0 series lead. After a loss at home to Carolina in Game 3, Tampa would erase two different two-goal deficits in Game 4, thus taking the 3-1 series lead. The Tampa team of two years ago may have folded in that Game 4, but now, this Tampa team usually responds after losses.
I said right after Tampa won the Cup in 2020, said it at the start of the season, said it at the start of the playoffs and I'm saying it again now – I think Tampa repeats this year. Carolina is a formidable opponent, and despite having a rookie goaltender, Carolina has been in every game. Of course, Game 4 is the exception here, a 6-4 win for the Bolts, but at the same time, Vasilevskiy gave up four goals too.
As has been the case with Tampa for some time now, you can't put them on the power-play, and while some will question the officiating from Game 4, all of Tampa's power-play goals did Carolina in.
Maybe Carolina takes Game 5 in Raleigh, but it's hard to envision Tampa blowing a 3-1 series lead. After all, they aren't Toronto. To me, this series is playing out as expected, although I thought Tampa would have one or two blowout wins during all of this.
---
VEGAS GOLDEN KNIGHTS VS COLORADO AVALANCHE
Going into this series, I had Vegas winning in seven games, but after a rocky game one, due to having played a seven game series in the first round, Vegas got destroyed. Poor Robin Lehner, who took the pounding in this game, with a tired team in front of him.
Many people questioned Vegas head coach Peter DeBoer for going with Lehner in game one, but to me, in an attempt to rationalize and explain his decision, I understood it. Perhaps DeBoer knew his team was tired and was accepting the inevitable with game one. Rather than burning his star goaltender out, DeBoer used the formidable Robin Lehner, but it didn't work, as Colorado took game one by a final of 7-1. While the score here is a story, the biggest thing here was the NINE MINUTE power-play Colorado received during the third period, as history was made.
In a game that felt kind of "must-win" for Vegas at the time, Colorado took Game 2 in overtime, by a final of 3-2. Vegas was the better team, but Colorado protected home ice with a win. Everyone, yours truly included, thought this series would go seven and be the best of the lot, but after two games, it were the Avalanche, the most heavily favored team of these Stanley Cup playoffs, going up 2-0.
Two games later, and back on home ice, Vegas tied the series, winning both games at home and in two different ways.
In Game 3, Colorado had Vegas on the ropes. Despite Vegas looking like the better team and once again out-shooting Colorado, Colorado had a 2-1 lead late into the third period. Behind a pair of late goals, Vegas ESCAPED with a 3-2 win and kept the series alive. If Colorado loses this series, they will be kicking themselves over Game 3.
On Sunday night, Vegas, who really has looked like the better team for the majority of the series, despite their issues with scoring; played their best game yet, embarrassing Colorado in Game 4 by a final score of 5-1. For a series that very easily could've been 3-0 in favor of the Avalanche, this series, like the Boston and Islanders series, is now tied 2-2. Unlike the Boston/Islander series, this has been a series where the home team has won every game. If that plays out for the remainder of the series, that would be great for Colorado. However, and as mentioned, Vegas has been better during the majority of the series and they could very easily steal home ice with a Game 5 victory.
As talked about earlier, the winner of this series will travel to Canada in the next round, after hosting their first two games of the third round at home. I wouldn't be surprised to see the winner of this series going somewhere as high as a -500 favorite against the Canadiens. (More likely, Vegas or Colorado enter the series as a -300 favorite.)
The winner of this now three game series will become the favorite to win the Stanley Cup Final. The loser of this series will only wonder "what if?", and their fans will question what's missing.
This series, which started out as the most intriguing series of these playoffs, dampened those hopes after the first two games. Now, this series has really become a series, where either way, I still see this going to seven games.
---
On Monday night, the Islanders and Bruins will skate in Boston, as both teams look to win a critical Game 5. Ninety minutes after puck drop in Boston, Boston's original six rival, in the Montreal Canadiens, will look to close out the Winnipeg Jets at home, during Game 4 of that series.
And isn't it amazing Suzyn, that the Canadian division playoffs started five days after the teams in America started, but it could be the Canadian division deciding their victor before their American counterparts? THAT'S HOCKEY SUZYN!
Before closing out here, can you imagine being a Leafs fan right now, especially with the Habs up 3-0 on the Jets? As talked about after the Leafs loss, during this century, the Leafs never had a better route to the Stanley Cup Final than this year. What could've been for them!
If you haven't already, subscribe to this blog for the next update:
---
That does it for tonight, as in the meantime, I'm still proof-reading my book, which I hope to have out sometime this fall. The proof-reading and editing process has been longer than the actual writing. At 600 pages, I have the chainsaw out, as there's a lot of trimming to do here. In its present form, this book is longer than a Quentin Tarantino movie!
As far as the next blog on this site, if the Rangers announce a new head coach this week, I'll be back. If not, I'll return once the second round of the playoffs are over.
Stay FABULOUS my friends.
Until then, and as always here, thanks for reading and…
LET'S GO RANGERS!
Sean McCaffrey
BULLSMC@aol.com
@NYCTHEMIC on Tweeter