Greetings and salutations everyone and welcome to another blog here on BlueCollarBlueShirts.com. As I write these words, here on June 23rd, we are inching closer and closer to the return of the NHL. I can't wait to see hockey games again. Sure beats watching cornhole on ESPN Ocho!
As I've said on many blogs on this site, throughout this corona virus pandemic, without a shadow of a doubt, the way Gary Bettman, the NHL, the NHLPA, the owners and the players have all handled this unprecedented situation – well it's been pure perfection. Sure, some people will never be happy and that's on them, but during all of this, the NHL has been fair and has been able to adjust to every curve ball thrown their way. (And yes, I know the draft lottery, scheduled for this Friday, June 26th, can be confusing for some, but really, it's an excellent set-up and is fair for every team involved. That's all you can ask for.)
As I'll recap soon on this blog, Bettman, the NHL & the NHLPA; all handled a potential disaster of a situation with true ease. All parties involved have truly been commendable throughout this pandemic. While I don't shy away from my past blogs or what I've written on social media in the past, as I have said a ton of negative stuff about Bettman over the years too; but put that all to the side for now. Bettman has been masterful during these times. When you look at what's going on in baseball right now, Bettman is easily the "Commissioner of the Year", if an award should ever exist! (At least in my humble opinion!) For Bettman, whose legacy has been marred by lockouts and a lost season, Bettman has done everything in his power to prevent another lost year of the Stanley Cup. That's all you can ask for.
In addition to talking about all of the latest NHL return news, I'll have some quick updates on some of the Rangers in tonight's blog. Then, for our main event of tonight's manifesto, I'll take a look at the two best lines in NY Rangers history – the Bread Line & the GAG Line.
However, before rolling up the sleeves, cracking the knuckles and opening up some "blog juice" (Proper 12 Whisky tonight!) as usual, here are my last few blogs, in case you missed them:
---
---
---
---
---
---
When it comes to Gary Bettman, the head honcho of the NHL, who is now in his 27th year as the commissioner of the league, his legacy has largely been a negative one. However, in recent years and looking towards the future, Bettman has the league going in the right direction. Perhaps to compare Bettman to someone else in sports history, you could compare Bettman to someone like the former owner of the NY Yankees, in George Steinbrenner. What I'm saying here, is that when the book is closed on Bettman's run, perhaps his moves in his latter years, will help whiteout some of the errors from his earlier years.
Just think about it for a second here. TODAY, what do most people associate George Steinbrenner with? The Reggie Jackson/Billy Martin feud? The Dave Winfield stuff? To me, while people haven't forgotten those stories, I think most people remember Steinbrenner as the "grandfatherly" leader, of the late 1990's/2000 New York Yankees World Series winning teams. And let's also not forget how Steinbrenner revolutionized baseball for the better, which in turn, during his time, led the Yankees & MLB in record setting profits, attendance numbers and TV ratings.
For Gary Bettman, he has three work stoppages to his name, including the lost 2004-2005 season. Bettman also has that Islander/John Spano fiasco under his belt too. However, here in 2020 and moving forward, Bettman has a chance to redeem himself a bit here.
For starters, Bettman was the first commissioner of the four major sports to bring his league back. Furthermore, his league isn't mired in controversies, whether it be social issues or criminal issues, such as the NFL, NBA or MLB. (I don't want to do another blog on political stuff, but there's never been a standing for a flag issue in the NHL. In fact, both NHL fans and players stand for two National Anthems on some nights! You also don't have felony-after-felony stories committed by NHL players, as compared to the daily news stories regarding the National Felony League, aka the NFL.)
With the NHL geared to make its return sooner than later, Bettman will soon sign the biggest television deal in NHL history. All of this news follows up Bettman's vision, of being the first of the four major sports leagues in America, to get into bed with streaming services. Let it be known, Bettman was the first commissioner of the four major sports, to realize that the world was moving to "cutting the cord" and with the way fans consume sports.
While I'm not here to "white knight" for Gary Bettman, for all of his follies, I do think it's important to also talk about the good moves he's made too. Maybe because we're living in it now, we don't really appreciate what's going on here in the moment. However, if the NHL is to pull off their Stanley Cup tournament this summer without a hitch, that would be a major feather in Bettman's cap and legacy. It will be something that both historians and fans of the future will have to applaud.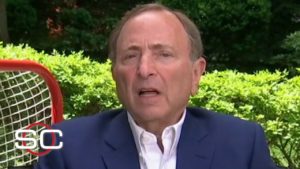 If you haven't already, check out my past blogs for all the updates on the NHL's return and the upcoming plans for the 2020 Stanley Cup Playoff Tournament.
In the latest news items concerning the league, I have a few updates for you.
The website CapFriendly.com broke the following news, on Monday 6/22, via their Twitter account:
We've heard that the NHL and NHLPA have come to a tentative agreement on extending player contracts and work permits for players whose contracts were set to expire on June 30.

We expect that the contracts will be extended to a date in late October or early November.

— CapFriendly (@CapFriendly) June 22, 2020
It should be stated, while there isn't an announcement on NHL.com concerning this news, this news was independently confirmed by the top Canadian hockey reporters on Sportsnet.ca & TSN.ca.
So what does this news truly mean? As I said many blogs ago, when this pandemic first started, I thought that it would be a no-brainer, that Bettman, the players and the owners, would all come to amicable and agreeable terms, in regards to contracts & pending free agents. This news today confirms such an agreement, so Rangers like Tony DeAngelo, Ryan Strome, Brendan Lemieux, Alexandar Georgiev and other pending free agents, will all be eligible for the 2020 Stanley Cup playoffs.
In other news related to this, the NHL has recommended that all of their international players return to North America as soon as possible, as some international players have expiring work visas which expire on June 30th. While nothing has been etched in stone yet, with the way US President Donald Trump and Canadian Prime Minister Justin Trudeau have been working with the NHL, and advocating for the NHL's return; I would expect that all of these work visas will get their extensions. That said, it's better to err on the side of caution, so it makes sense for all of these European and Russian players to return to North America, before the deadline of June 30th.
Obviously, the common theme in both of these news stories, is that the NHL is doing everything in their power to ensure that every current player is eligible to play this summer. Makes sense, right? However, you can't assume common sense anymore – just look at baseball!
The most interesting thing about all of this news, that is, at least of this writing; is that there hasn't been one pending free agent NHLer, to say they are going to sit out the Stanley Cup playoffs, in order not to risk injury or ailment during their contract year. The same can't be said about the NBA, as Washington Wizards player, Davis Bertans, has said he won't return to the NBA for their upcoming playoffs, as he doesn't want to risk injury during his contract year. You can read more on that story here: https://www.nbcwashington.com/news/sports/nbcsports/wizards-sharpshooter-davis-bertans-reportedly-opts-to-sit-out-nba-restart-in-orlando/2340591/
I don't profess to be a big NBA guy. Hell, right now, I couldn't even name 5 players on the Knicks! Once the NBA got rid of the fundamentals and became a 48 minute game of five on five three point contests & a league where superstars choose which cities will win championships, I checked out. However I do know this, despite not really following the NBA anymore – the Stanley Cup playoffs are the best playoffs in all of sports.
When it comes to the NBA, during the last 10-15 years, only 2-3 teams had a shot at winning the whole tournament. When it comes to the NHL, any of the 16 qualifying teams have a shot at the holy grail. As mentioned many times on this blog, just look at last year's Cup playoffs, where both top seeds of each conference won one game combined, and were both bounced out in the first round. It's much easier to predict an NBA Final in the fall, than it is to predict the two last teams competing for the Cup in the fall.
For Davis Bertrans, I can see his reasoning. What's the point in coming back, only to see his team swept in the first round? He is set to make the most money in his life, and you can't risk tearing an ACL. While this definitely takes the sportsmanship out of it, and yes, these guys play a kids game, at the end of the day, it's a business for the players too. These guys have to make as much money as possible, in order to set themselves up for life.
Back on St. Patrick's Day of this year, several days after this pandemic started, I wrote a blog on why TDA is set to become a very rich man. You can read that blog here: https://bluecollarblueshirts.com/31720/
In example #6567556567858578, of why the NHL is better than the NBA, let's take a quick look at this Bertans story. For hockey, let's use Tony DeAngelo as an example of comparison here, since when it comes to the Rangers, he's the biggest free agent in a contract year on the club. After all, TDA just had the best offensive season as a defenseman for the Rangers franchise, since the days of Brian Leetch. TDA has EVERYTHING to lose by playing in these playoffs. And sure, to give you both sides of the story here, in a best case scenario for TDA, TDA could win the Conn Smythe and the Rangers could win the Cup – but let's face it, those odds aren't exactly favorable. (I'm still rooting for it though!)
And it should be said, for any impending NHL or NBA free agent, there will likely be a quick turnaround, in regards to the commencement of the 2020-2021 season. In other words, if any of these players get hurt in their respective tournaments, they could be lost for next season, which in turn, hurts their chances at getting their maximum worth, come the free agency period, of each respective league.
With the NBA playoffs being so easy to predict, business-wise, as said, I totally understand Bertans. For TDA, he's been the most vocal player on Rangers social media, when it comes to being pumped for the season to return. In addition, I think the culture in hockey is much different than in basketball too – people understand Bertan's situation. TDA would be shunned and shamed, if he went the same route as Bertans.
As I've been saying ever since the NHL announced their playoff plans, WHY NOT THE RANGERS? Sure, they may be the Las Vegas odds-makers dogs against Carolina, but are you willing to bet that the Canes handle the Rangers? The Rangers arguably have one of the hottest goaltenders in the league, have an enviable 1-2 punch in Zibanejad & Panarin, will have a healthy and newly motivated Chris Kreider, and have an up & coming defense. And as we know – anything can happen in the Stanley Cup Playoffs.
For TDA, an injury in these upcoming playoffs would be unfortunate. It would also decrease his high monetary value to any team interested in signing him. However, at least based on TDA's interviews and his social media postings, he's jacked to the gills to get back on the ice. Instead of living in fear, like Bertans, TDA is looking to up his game and up his value. As a Ranger fan, and as a hockey fan, you really have to appreciate that.
While we know that the salary cap number will stay flat in the 2020-2021 season, we don't know if there will be amnesty buy-outs yet, to off-set that fact. What we do know, is that the NHL is approaching the final year of their national TV contract in America, and that money will soon increase exponentially, as talked about several blogs ago. What I'm saying here, is that once the TV money increases, so will the salary cap, which in turn means, that all of these soon-to-be free agents, stand to increase their worth, should they shine in the playoffs.
Where Bertans is folding and cashing out at the table, TDA will gamble and still play, and look for a bigger payout. You gotta respect that!
Speaking of another soon-to-be free agent, we have some news on "THE KING OF KINGS", Alexandar Georgiev tonight!
---
On Monday June 22nd, Newsday reporter Colin Stephenson reported that both Kaapo Kakko & Alexandar Georgiev, will fly from Finland back to NY this coming Friday. As shown in a video several blogs ago, both of these men have been practicing together in Finland during this pandemic.
In addition to both men returning to NY before June 30th (when work visas expire) there are two other things to talk about here.
For Kaapo Kakko, due to his Celiac disease and diabetes, his mandatory military service, which every Finnish citizen has to do, has been waived. While I don't think anyone expected Kakko to have to serve, we now know officially that he won't have to do so.
When it comes to Georgiev, it's been reported and stated by the NHL, that every team will be allowed to carry as many goaltenders as they want, for the upcoming 2020 playoffs. In other words, the Rangers will be allowed to carry Georgiev, Lundqvist and the likely starter, in CZAR IGOR! I hope David Quinn really shows some balls here, and keeps Lundqvist in the press box. Maybe Lundqvist can be the new Rangers mascot in Vegas?
Few more quick shots, and then it's the main event of tonight's tome!
---
As mentioned a billion times on this blog, my forte is not with prospects and drafts. As you can see, even with tonight's blog, my forte is with history.
In anticipation of the 2020 NHL draft and the draft lottery this upcoming June 26th, many sites, reporters, podcasters and bloggers, all have released their Top 100, Top 200, Top whatever, prospects of the 2020 NHL Draft. Steve Kournianos, "The Draft Analyst", just released his mega preview of the prospects involved. I originally found Steve's work through his interviews on "The Blue Shirt Underground Show" and have been following him ever since. The guy spends many pain-staking and grueling hours, putting his thoughts on the all prospects together. More power to him. I couldn't imagine spending my waking hours watching pimply faced kids play hockey!
I know I say "as mentioned" all the time, but really, "as mentioned 786786789786 times on this site", I have no problem plugging anyone or anything on this blog. Anyone can click anything they want on the internet. In that same vein, since really, outside of Lafreniere, I have no clue about any of these prospects, here is what Steve has on the prospects:
ICYMI: FREE 2020 NHL Draft Lottery Preview (PDF) https://t.co/UUHMSd2KNb via @thedraftanalyst

— Steve Kournianos (@TheDraftAnalyst) June 19, 2020
In addition, to view Steve's NHL Draft Lottery Preview, you can click this link directly: https://www.thedraftanalyst.com/2020-nhl-draft/free-2020-nhl-draft-lottery-preview-pdf/
I'll tell you what – Steve's preview is as long as one of these blogs!
In other news, which follows up stuff I opined on several blogs ago, Columbus has been ruled out as a potential hub city for the 2020 Stanley Cup Playoffs. "As mentioned" (har har har) it is my belief that Toronto will join Vegas as the other hub/host city. No other city makes more sense than Toronto, for all the reasons previously explained on this site.
And now, drum roll please, the main event of this blog, "THE BREAD LINE" vs "THE GAG LINE" great debate!
---
As I approach my argument on why I believe the Bread Line is the greatest line in NY Rangers history, I will be fair and give you the full disclosure here, that in case you aren't a regular reader of this blog, I've been pushing the Rangers to retire Frank Boucher's #7 jersey for five years. Hell, I have a whole tab on this site dedicated to this topic: https://bluecollarblueshirts.com/retire-frank-bouchers-7/
In the effort of trying not to hide any bias on this topic, as a result of this site and these blogs, I have developed a friendship with Frankie Baird, the granddaughter of Frank Boucher. I recapped our first face-to-face meeting from earlier this season here: https://bluecollarblueshirts.com/boucherbaird/
One more time here – "as mentioned in the past on these blogs", I've recapped everything Bread Line and GAG Line related on this site in the past. Check the archives if you don't believe me! However, I've never really compared the two lines, nor ever looked at "The Greatest Line in NYR History". The impetus for this blog, was that I was recently forwarded something that NY Post reporter Larry Brooks wrote, when he did an article on June 20th, entitled "The Top 12 Lines in Rangers, Devils & Islanders History." You can find that article here: https://nypost.com/2020/06/20/the-top-12-lines-in-rangers-devils-and-islanders-history/
It should be mentioned that Larry Brooks is now 70 years old, here in 2020. The GAG line was formed in the late 1960's, but due to injuries, the line really didn't become a force until the 1968-1969 season. Arguably, the GAG line hit their peak in the 1971-1972 season, when Hadfield had 50 goals and the Rangers contended for the Stanley Cup. (Ratelle also broke his ankle towards the end of that season, only to return in the 1972 SCF, but not at full strength. To this day, Ratelle's injury during this season, is one of the excuses people make for the Emile Francis Era of Rangers, when it comes to that era doing everything, except for winning the Cup.)
I bring up the age of Brooks, because when the GAG Line was hot, Brooks was in the prime of his life. He wasn't alive when the Rangers failed in 1950, a Cup bid that only happened because of the effort of goaltender Chuck Rayner, an effort that led to Rayner winning the Hart Trophy that season. (If the parameters of winning the Vezina used today were used in Rayner's time, Rayner would've won the Vezina too that season.)
The 1950's, up until Emile Francis took over the team in the mid-1960's, where the biggest demand of Francis, upon accepting the job, was that every Rangers home playoff game must be played at M$G (prior to this, the circus took precedence over Ranger playoff games) were just bad times for the Rangers. That means, in his formative years, Larry Brooks lived through all of these dark times, which is probably why the GAG line really made an impact on his life.
When the GAG line started to excel, in addition to having Hall of Famers like Brad Park & Eddie Giacomin behind them, and having perhaps the best third line in Rangers history, in Bruce MacGregor/Pete Stemkowski/Teddy Irvine, also on the same team, at that point in time, Larry Brooks was seeing the best Rangers squad of his lifetime. It should also be mentioned, that when the GAG line came into their own, the Devils & Islanders did not exist either.
Ironically, the man who made me a Rangers fan, my dad (and truth be told, my grandfather helped too, especially with his "code" phone calls, something I've explained before) was born the same year as Larry Brooks. In other words, both my dad and Larry Brooks, were hitting their twenties, when the GAG line were at their peak. That means when it comes to the GAG line, both my dad and Brooks, can understandably be nostalgic about Gilbert, Ratelle and Hadfield. However, for either of them to call the GAG line the best line in Rangers history, well, truth be told, that would be FAKE NEWS!
While I was much younger than my dad & Brooks, when they first saw the Rangers compete for the Cup in 1972, (both men were 22 at the time) I saw the Rangers compete & win the Cup in 1994, at the age of 12. That said, I can 100% understand the feeling of waxing nostalgic. What you grow up with is what you like the most. That applies to music, movies and in this case, sports teams. I'm guilty of this too, and really, I think we all are, especially as we get older and long for better and more simpler times.
Of course, while I would never call myself a Rangers "historian", even if some may view me that way, (some fans even call me a "BOOMER", despite me being born in 1982; which means I missed the start of being a "Boomer" by nearly 40 years!) I do have a strong respect for the history of the NY Rangers. I don't know what it is in me, but because I see no one else besides Stan Fischler talking history, in this new age of blogging/podcasting/social media/whatever, I find myself having a strong duty in keeping Ranger names alive, that otherwise would've been forgotten.
Again, in the effort of full disclosure here, a couple years back, Larry Brooks emailed me, in regards to the open letter Frankie Baird wrote, about wanting to see her grandfather, Frank Boucher, get his number among the legendary Rangers, into the rafters of M$G. Brooks asked me about my involvement in this, and I told him the truth – I'm just a fan who wants to see justice for the greatest and most important man in Rangers history. I haven't heard back since.
In the same time, especially during this pandemic, I've been pushing Ron Duguay's "Up in the Blue Seats" podcast on you guys, after every episode released. On Duguay's podcast, Duguay has had Larry Brooks on the show, where Larry Brooks has strongly pushed for Brad Park's #2 to be retired by the Rangers. (For whatever reason, Brooks ignores Emile Francis, who in his mid-90's, should be honored while he's alive, rather than posthumously.)
As I said then, and as I'll say now, while you can argue for Park for this honor; there is no way he deserves this honor more than guys like the Cook brothers, Frank Boucher, Ivan Johnson, Ron Greschner, Emile Francis, Lester Patrick, Bryan Hextall or even goalies who wore the #1 for the Rangers, in Gump Worsley, Chuck Rayner & Dave Kerr. (I know #1 is retired for Giacomin, but I would put up another #1, and honor Worsley, Rayner and Kerr too, on the same banner.)
Not for nothing, and this may be blasphemous to say, but Worsley, Rayner & Kerr had better careers than Giacomin. Hell, in Giacomin's best season, he was propped up by Gilles Villemure, a fact often forgotten. And unlike Giacomin, despite his legacy here in NY, Worsley, Kerr & Rayner never had vegetables and beers tossed at them by Ranger fans! True story, look it up!
Going back to the article Brooks wrote here, he gave the GAG Line the top honors, naming them the best line in the history of NY/NJ hockey. He also gave a nod to the Bread Line, listing them as the fourth top line in NY/NJ hockey history. I'll say this, and I hate to say it – you had some Islander lines winning four straight Stanley Cups, and making a fifth appearance in another SCF. The GAG line only made one SCF appearance and they lost, badly. Then again, with the infatuation and love affair Brooks has for the Cupless Henrik Lundqvist, even recently trying to compare Lundqvist to the greatness and legacy of Martin Brodeur, I guess I shouldn't be shocked. Sometimes Larry puts his personal feelings in front of facts and the truth.
Do I have to say it here – WINNING MATTERS. You can be nostalgic all you want and have your favorites, but you can't write fiction when the truth is all there. Brooks often finds himself navigating the fiction waters, rather than reporting truths.
I'm not breaking any news when I say this – it's really impossible to compare different eras of hockey history. There are so many variable changes from era-to-era, whether it be travel, equipment, the rules, training and everything else involved. Even a simple thing, such as the schedule, effects an argument as the GAG LINE vs BREAD LINE. In the heyday of the GAG Line, they played 78 game seasons. When the Bread Line played, they played in 44 game seasons. With the rules, the amount of games played and the travel schedule, it's hard to compare stats, straight-up. You can alter stats and try to assume what the Bread Line would've done with 34 more games played per season, but that's assuming the Bread Line would've kept their pace and that they wouldn't have suffered any injuries either.
When you try to compare players, coaches, or in this case lines, from different eras, you have to look at the era these guys played in. This fact is also part of my reasoning about why the 2020 Stanley Cup shouldn't have an asterisk either – you play in the times you're in. No matter what the year or season, each team at that time, has the same chances as any. That's what you have to look at.
When you look at the Bread Line vs GAG Line, the Bread Line won two Stanley Cups. The GAG Line, for as good as they were, won zero. To me, the Bread Line gets the nod over the GAG line here, for the best line in NY Rangers history. There's also two major things to think of here too.
First off, when the Bread Line won their first Cup in 1928, the Rangers were two years old, and had the biggest disadvantage of any team of that era. Not only did the Rangers have to play all their playoff games on the road, because of the circus, they had "last licks" at drafting/signing players, due to the way the rules of player acquisition were done then. (Teams had rights to a player in a 100 mile radius, and as the "southern" most team in the NHL, teams like the Rangers & the Americans (the other M$G team of that time) saw the best players go to hockey hubs of Montreal, Toronto and Detroit. (If you don't know, Detroit sits on the Canadian border.)
Secondly, when it comes to the GAG line, and one last time, I promise, "as mentioned 767867896 times on this site", many Rangers and players in the NHL of that time, blamed Rod Gilbert for not being serious enough to win. Phil Esposito even said that! Gilles Gratton, in his book, wrote about his friend Rod Gilbert shaving him down, rather than focusing on winning. This is why I've been championing Gilbert to write a book for years, as there are so many negative stories out there about him, when it comes to partying vs playing, that I want to hear his side. (And to be clear, I don't blame Gilbert, because he's never spoken out against this. In 2020, he's still considered "Mr. Ranger" and has been a godsend as an ambassador for the franchise, a role he's embraced ever since his retirement. That said, I want the tell-all book from Gilbert!)
I don't hide from my opinions here – winning the Cup is the only thing that matters to me. You may have noticed that, in regards to my opinions on Lundqvist on this site!
That said, let's take a look at the Bread Line vs GAG line, in their respective eras:
— Bill Cook led the league in points, in both the 1926-1927 and 1932-1933 seasons. Cook also led the league in goals in those seasons and also led the league in goals in the 1931-1932 season. (Keep in mind, the year-end league awards, weren't around/or as prevalent as they are today. In other words, no "Rocket Richard" trophies for Cook here, at least not officially.)
— No one on the GAG line ever lead the league in goals or points in their time. Like the Rangers of the GAG Line's era, they were always the bridesmaid, but never the bride.
— All three members of the Bread Line are in the Hockey Hall of Fame. Of the GAG Line, only Gilbert & Ratelle are in the HOF.
— Aside from Bun Cook, who spent the last season of his career in Boston, the Bread Line played together as Rangers for over a decade. The GAG line lasted half that time and eventually saw Hadfield & Ratelle traded off, during a rebuild.
— It's worth repeating, when the Bread Line won their first Cup in 1928, THEY WERE THE EXPANSION TEAM, winning the Cup in their second season. In the GAG's line day, with the Rangers franchise established as one of the "Original Six" teams, the GAG line got to play in the "Expansion Era", with six patsy teams on the schedule during the course of the season.
— Everyone likes to bring up Ratelle's injury in 1972, as the reason why the Rangers didn't win a Cup. In 1928, Rangers goaltender Lorne Chabot was rendered done, after an eye injury. Lester Patrick, 44 years old and the Rangers HC & GM at the time, took the net. In turn, Frank Boucher scored every Rangers game winning goal of that series. And oh yeah – no home games at M$G either, as every SCF game played that year took place on the road, in Montreal. (Again, there was no Conn Smythe award in this era either, as Boucher would've won it in 1928 and Bill Cook would've won it in 1933, under today's parameters.)
— Frank Boucher: 7 Lady Byng Awards. The GAG Line? 1, as Ratelle won it in 1972.
— When Bill Cook retired, he was considered the greatest right winger of all-time. Many people even considered him to be the greatest right winger in all of hockey history, during the playing days of Rocket Richard & Gordie Howe. No one ever made the same association with Rod Gilbert, the RW of the GAG Line.
— The Bread Line's greatest achievement? Winning two Stanley Cups. What is the GAG Line known for? The greatest team/line in NYR history, to never win a Cup.
— Vic Hadfield had the captaincy of the Rangers for three seasons. Bill Cook, the first ever captain, had the captaincy for 11 seasons. And Bill Cook, as an original Ranger, was 31 when he first started playing in the NHL!
— When you look at the playoff and Stanley Cup histories, the Bread Line devours the GAG line in this department.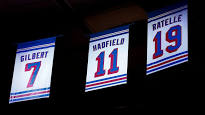 We all know that I pound the Frank Boucher drum the hardest. I admit that. However, Frank Boucher, and many others of his time, all called Bill Cook the greatest right winger in hockey history. How do the Rangers ignore their first captain, to this very day? It's shameful, disgraceful and flat-out SAD!
As like anything else when it comes to history, the people that people alive see or saw (or players in this case) get much more credit than players of ages ago. Let's talk facts here. If fans of Ivan "Ching" Johnson's era were still alive, they would argue that Johnson was better than Brian Leetch! As a generation dies off, so do the memories and fans of players from eras ago.
It's a shame that the Rangers don't take a "Yankees" approach to their history, and bestow honors from every year of their history, rather than pretending the first 30 years of their history never happened. (Check out my blog on the 1940 Rangers for more on this: https://bluecollarblueshirts.com/1940/)
Outside of me, Frankie Baird and Stan Fischler, there is no one campaigning for the Rangers to honor the Bread Line. Instead, the Rangers, and now Larry Brooks, force-feed fans a bunch of bullshit, about how the GAG line were the greatest line in Rangers history. Truth be told, when you really crunch all the numbers and look at all the facts, the Bread Line, by a country mile, had much more success than the GAG line ever did. That's not to take anything away from the GAG line – it's just to appreciate how great the Bread Line truly was.
If you were to flip-flop eras a bit, and had the Bread Line won the two Cups in the 1970's, the Bread Line, here in 2020, would be lauded with praise and with top honors. However, because their prime was nearly 100 years ago, the Rangers thumb their nose at them and at their relatives today. (Everyone knows my friendship with the Boucher family. I've also been in contact with a relative of the Cook family too, and like the Boucher/Baird's, they are displeased with the Rangers erasing them from history, as if the Rangers were a liberal democrat of 2020.)
In conclusion on this, when Larry Brooks wrote his article, I got it. He was going back to a better time in his life, as a hockey fan and when he was a young man full of vim and vigor. However, if you really look at all the information and facts available, no Ranger fan with knowledge in their right mind, could ever consider the GAG line better than the Bread Line. When the GAG's line biggest feat is being known as "the greatest team to never win", how can you put them over a line that did lead the Rangers and won two Stanley Cups? And I'm not bullshitting you here either when I say this – the Bread Line had a much more arduous ordeal to the Cup – twice, than the GAG line ever did. As the GAG name may suggest, the GAG line choked, while the Bread Line baked up the greatest moments in NY Rangers history. (Horrible pun game, I know!)
That wraps up this manifesto.
If you haven't already, subscribe to this blog for the next update:
As far as the next blog, if you subscribe by clicking the form above, you'll get that bad boy delivered to your email box. For our next update, the Ron Duguay, Tony DeAngelo & BSU podcasts are always newsworthy, and they usually drop on Wednesday. I hope Duguay has Mollie Walker of the NYP on again, as she's been money as of late. Providing we get any news from those shows, I'll be back Thursday, work schedule permitting!
As always, thanks for reading and…
"WHY NOT THE RANGERS?!?!"
LET'S GO RANGERS!
Sean McCaffrey
BULLSMC@aol.com
@NYCTHEMIC on Tweeter and the new Parler app.