Greetings and salutations everyone and welcome to another weekend edition of the blog, here on BlueCollarBlueShirts.com.
As I said last blog, even with no games being played right now, there's always things in the news. I mean, I just wrote a 10k word blog on Wednesday night, and here we are again with plenty of things to discuss! And hell, be forewarned, this blog is going to be another Magna Carta of a blog!
In tonight's blog, I'll be looking at the recent comments made by Artemi Panarin. I'll also have a recap of the latest episode of Ron Duguay's "Up in the Blue Seats" podcast. I'll also have thoughts and comments on the latest news items circulating around the league, with the NHL Draft Lottery being the biggest of the stories. Other items discussed tonight will be NHL Seattle, the NHL's approach to training camps, hub cities and the recent letter James Dolan released on the NY Post.
However, as usual on this site, up first –  the PLUGS segment of the blog. In case you missed them, here are my most recent blogs:
---
---
---
---
---
---
Up first in tonight's manifesto, let's start with the head honcho of the NY Rangers themselves, in a one James Dolan. On Thursday, June 25th, James Dolan wrote a letter to the NY Post. You can find the letter from its original source here: https://nypost.com/2020/06/25/let-me-hold-a-benefit-concert-with-fans-tested-for-covid-antibodies-james-dolan/
It should be stated, that Dolan's letter only appeared on the NY Post. For whatever reason, this letter wasn't printed on the Knicks, Rangers or MSG websites or on their respective social media channels.
Here's Dolan's open letter, which was sent to the NY Post:
At Madison Square Garden we have some tough choices to make. We have weathered the shutdown well. However, the future is cloudy and filled with doubt. Will the Knicks and the Rangers play in front of fans? Will there be any tourists to see the Christmas Spectacular? We are not the only one with these problems.

New York City is an ecosystem. Every part of our city is connected in some form to the other. This is especially true when it comes to the sports and entertainment industry. It is Broadway and Lincoln Center, Madison Square Garden, Barclays Center and Radio City Music Hall, all the nightclubs, Citi Field and the USTA, the museums, art galleries, zoos and much more that make up the New York Experience. That experience draws 65 million visitors every year. They come here to dine and be entertained. They stay in our hotels and shop in our stores. They come for the experience. The same experience that makes living here great.

That part of our ecosystem feeds other parts. Real estate, finance, transportation, fashion, education, are all tied to the New York Experience. It is in trouble.

The longer it remains on hold, the more it decays. Restaurants and hotels going out of business. Sports events without fans. Theaters closed until sometime next year. Fine arts coming to a screeching halt. Business and industry conducting their daily work from home and maybe never returning to their offices. Will there be enough of the New York experience left to still draw people to our city? Or, will we be the Chernobyl of the coronavirus pandemic?

We all understand the need to keep everyone safe. Especially those at risk.

But I believe there is a way to safely host an event that will raise money for those in need, help scientists with data, and remind the world of the New York Experience: A benefit concert.

We at Madison Square Garden would love to host this event, and believe it can be done responsibly.

There are already an estimated 2 million New Yorkers who have COVID-19 antibodies and have cleared the virus. To date, it appears no one who has had the virus has been re-infected or passed the virus on.

For anyone who wanted to attend, the Garden would pay for antibody test beginning four weeks before the event. Those who pass will receive an antibody passport and be able to attend the show.

These test results would be shared with health agencies to add to the growing research into the coronavirus.

As we did with the 9/11 benefit show, The Concert for New York City, we would fill the floor with first responders and essential workers for free. All proceeds would go to COVID relief.

The concert would serve as an example of how we can resume our lives and stay safe. Fast-response testing and prescreened customers that do not need to distance are options to explore and test. We must have the will and desire to do so.

Our governments need to understand that the health of the city is not just measured by empty hospital beds. When we finally lift restrictions, how much of New York City will be left? How many more unemployed, homeless and shuttered businesses will there be? How many people will have permanently left the city? As of now, no one is coming here for Christmas.

New York is the greatest city in the world. There is much we can do to avoid the worst outcome to this crisis. We need to be creative, enterprising and open-minded. We came back from 9/11. We can come back from coronavirus.

---
I'm not going to recap all of Dolan's history as team owner here, as I've done quite a job of that, on previous blogs, throughout the last six years on this site. However, that said, in this particular case, I'm with Big Shot Jimmy here.
This corona virus pandemic, which I'm sure is a topic you're sick of ten times over already, is unprecedented. It's also led to terms that you're probably sick of hearing too, such as "social distancing" and "the new normal." That said, this topic is such a slippery slope. Everything Dolan said is true, the economy is going down, great people are losing their businesses & something must be done to help stop the bleeding.
And I know I've talked about this before, but it has to come to a point where things have to get to normal, and people must decide to risk their health. Let everything open. You can choose to stay home. You can also choose to go out and put yourself at risk too. And while I'm no scientist nor profess to have a medical degree, from what I understand, when it comes to the corona virus and fatalities, 99% of corona virus related fatalities occur with people 60 years of age and older. I mean, even with these athletes getting corona virus (athletes who have superior condition than your average Joe Schmo) none of these cases have been fatal.
If Dolan wants to run a charity concert, more power to him. He's had success at this avenue before. It's up to the musicians and concert-goers if they want to attend. At the very least, Dolan could host the concert in front of an empty arena and do a telethon. In any event, good luck to Dolan in getting his idea off the ground. However you feel about Dolan, one thing can not be disputed – his passion for philanthropy.
And while closing out on Dolan here, Ron Duguay, the next topic of this blog, commented on Dolan's letter, when Dugay said the following on his Twitter account @RonDuguay10:
Bravo #jamesdolan for speaking out & showing some leadership that is so well needed in NY city!! His words can be found in nypost today.
On late Thursday afternoon, Ron Duguay dropped his newest episode of "Up in the Blue Seats". You can listen to the show by clicking the link below:
— Ron Duguay (@RonDuguay10) June 26, 2020
As talked about last blog, Ron Duguay's "Up in the Blue Seats" podcast was delayed a day, due to internet/technical issues. However, on Thursday afternoon, as promised by producer Jake Brown, Duguay was back, with one of his longest episodes yet. In this episode, Duguay has on his regular guests from the NY Post, in Mollie Walker (who has been killing it on this podcast throughout this corona virus) and Larry Brooks. (Check out my blog from two updates ago, for more on Larry.)
Duguay has two new guests join the program on this episode as well, with analytics expert Meghan Chayka being one of the featured interviews. You all know my feelings about ANALytics! That said, I went into Duguay's interview with Chayka with an open-mind, even if I despise these analytical nerds trying to prop their stuff up as the end-all, be-all.
In fact, I talked a little about this last blog, in regards to that ANALytic moron who was trashing Mark Messier. Not that I've ever put much stock into analytics in the past,  but when I see these chart-pushing geeks disparaging Mark Messier, well how am I ever supposed to take analytics seriously?
After the interview with Chayka, Duguay has former Ranger Darius Kasparaitus on the show. While I don't think many Ranger fans have a strong affinity, for the man that was once nicknamed by fans as "Kaspar-minus", Kasparaitus and his name was in the news last week. As you recall, Kasparaitus took part of a practice last week, with CZAR IGOR & Alex Ovechkin, on a rink located about 20 miles away from Miami. (I recapped that practice a few blogs ago, and you can find that recap on the main page of this site or in the links included at the top of this blog.)
Off puck drop here, I don't want to sound down on Kasparaitus, but let's not forget he started his career with the Islanders and he played for Pittsburgh; long before coming to the Rangers to finish up his career. And that finish didn't exactly end pretty, at least not for the Rangers & Ranger fans!
Duguay opens up his podcast by bringing on Mollie Walker. The two talk about Vegas as one of the hub cities for the upcoming Stanley Cup playoffs. It should be mentioned, while Vegas isn't 100% confirmed as a hub city, it is believed that Vegas will be one of the cities. After talking Vegas, Duguay & Walker talked about the players coming back from Europe & Russia. This is stuff I talked about last blog, including Igor coming back just in time. (Right before the Florida quarantine.)
At the time that the show was being recorded, producer Jake Brown cuts in, to talk about the Artemi Panarin escrow story. I'll have more on the Panarin/NHL escrow story later on in this blog. Duguay's immediate reaction to this story? "It's big business. There's a big pie, and it's the money pie. I understand all that and let's hope this doesn't get dragged on too long." Duguay has the same feelings as me – these guys will work it out. And once again, as stated on these blogs throughout this corona virus, NHL commissioner Gary Bettman has handled every hurdle with perfection. I think he'll come through here, once again.
Walker & Brown bring up how Panarin is the big money player for the Rangers and how his words will carry some weight. Walker confirms my opinions on these blogs – the majority of these players want to come back. (As recapped last blog, DeAngelo, Fox & Strome have all said they are looking forward to returning too.) Walker feels that there are some things to be hashed out before the NHL continues to announce dates. (To be fair, the NHL has been flexible on all of their dates, something Bettman recently reiterated in his ESPN interview, from two weeks ago.)
After talking the Panarin story, Duguay brings Meghan Chayka, the analytical expert, on to the show. Duguay brings up the fact, that he was first introduced to analytics by Steve Valiquette. (I'll leave my thoughts about Vally to myself, at least for this blog!) Duguay, like yours truly, confesses to being old-school and thought his pairing with Vally on M$G Networks was good, since the two brought different ideas to the broadcast. I definitely agree with that!
Chayka says while she's big into the analytics, she does believe it's good to have a balance between the spreadsheet stuff and the "eye-test", with the latter being the theory I subscribe to. Kudos to Chayka, because really, as you know, I read/watch/listen to everything, and Chayka is the first of these analytical people, to bring up the idea of a balance between the two worlds. Far too often, Chayka's peers believe that only their heat maps, hieroglyphics, moon spot charts, and all that other jazz, means more than the actual stuff happening on the ice!
At this point in the podcast, Duguay lets the cat out of the bag – Meghan Chayka is the sister of the current general manager of the Arizona Coyotes, in John Chayka.
If you recall, when John Chayka was hired in 2016, he was only 26 years old, making him the youngest general manager in NHL history. It's truly amazing when you think about it. Not that my lifestyle has changed too drastically, from the age of 26 to the age of 38 that I am now, but at the age of 26, I was most concerned about slamming beers and playing "joker poker", than anything else! At the age of 26, John Chayka was running an up and coming hockey team!
It should be mentioned, and yes, this is me being anti-analytical here, that during Chayka's run as GM, his team has never finished better than fourth place in their division. Furthermore, Toronto, who also went young at GM and also hired an analytical guy, in Kyle Dubas, the Leafs have had nothing but disappointments – choking twice to the Boston Bruins, in the first round, in both the 2018 and 2019 Stanley Cup playoffs. Just sayin'! (Also worth mentioning, the Leafs also have hired Vally's CSA analytical service and in turn, it's been first round exit after first round exit! I'm just stating the facts, don't shoot the messenger!)
(Oh, and to close on this, in the case of Toronto, let's not forget that they still went out and paid a ton of money to John Tavares, so Toronto isn't exactly playing "Money Ball" here either. And speaking of "Money Ball", introduced by Billy Beane of the Oakland Athletics, how many World Series have the A's won? That's right 0! Oh boy, let me stop myself, as I'm on one of my rants again. I promised to go into this Chayka interview with an open mind!)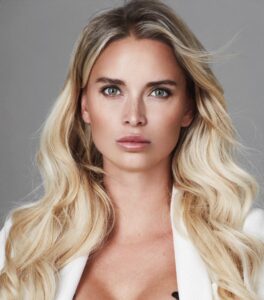 Chayka (who you can follow on Twitter @MeghanChayka) tells Duguay on the interview, that her analytical company has 70 employees. This goes to show you that I've been right on this topic – the analytical field is creating jobs in sports. However, what jobs are being lost at the same time? It just feels that many true hockey men, of eras ago, are going the way of the "dodo bird", while mathematical college graduates are now taking jobs in hockey.
Meghan Chayka brings up that while her brother John Chayka is a GM, Chayka says her goal is to own a team one day. I think that's all of our dreams, as fans of sports! Maybe Chayka can buy the Islanders, and move them to Quebec!
Mollie Walker praises Chayka for her work and asks her more about her field. Chayka brings up the topic of "recency bias". Chayka says numbers don't lie and says it's all about the black and white. Duguay brings up the psychology of players, meaning that not everything can be black and white. Chayka says you have to understand the information, and to her credit, is the first analytical person to say "there are flaws." She even brings up how other players just play better with different teams/rosters. This is where Chayka got my respect. While I will never subscribe to the theory of analytics, at least Chayka, who seems to be one of the leaders of the field, is open to different ideas.
Duguay and Chayka talk about trying to bring more women into sports, and into the analytical field. The talk then moves to the topic of women's hockey, something that Duguay talked a ton about in his interview with Amanda Kessel, from a few episodes ago. I'll save my rant on this here, but will say this one more time – it's going to be tough to jump start women's hockey after the corona virus. (I also believe women's hockey needs to create superstars, use NHL rules and should be played professionally when the NHL is in off-season, in an attempt to generate more eyeballs.  (The NBA & WNBA use this model too.) After all, for NHL fans, who wants to watch a women's hockey game, when your favorite NHL team is playing at the same time?)
Duguay & Chayka then talk about the great women Olympic athletes. Duguay asks Chayka if she's ever been to MSG to see the Rangers. Chayka says she has, and also has some analytics about the upcoming Rangers/Carolina series, as Chayka came prepared for this interview! Chayka also brings up the great work of Adam Fox.
As Chayka continues her discussion about her numbers, Chayka brings up Panarin. Analytics or not, I think it's obvious how big Panarin is for the Rangers! Duguay says he wants Chayka back on the podcast, once the games start up again, especially if Chayka has data on the Rangers. I know that Duguay is an "eye-test" guy too, but like him, I wouldn't mind Chayka back, if only to give a different viewpoint/perspective. It's good to have information from all sides, and it would also spark some good debates, should Duguay press Chayka about analytics vs eye-test.
After the Chayka interview, Duguay brings Larry Brooks on the show. Brooks & Duguay talk about all the latest news in the NHL and their return, including hub cities, safety, escrow/CBA & the talks between the NHL & NHLPA. With the clock ticking, Brooks expects these talks to happen sooner than later. Brooks says while the best case scenario is to play, everyone is still up against the corona virus, a virus that has now seen a second wave and an uptick in numbers in several states/provinces. Talk about needing analytics!
Brooks brings up the traveling restrictions right now and how the talks can effect players coming over from Europe/Russia. Again, I see the UFC running shows with no issues right now, so I don't see how the NHL can't handle this either.
Duguay brings up Brooks' old nemesis, in former NYR head coach John Tortorella. Duguay asks if the feud between Brooks & Torts was real. Brooks says it was and he felt that Torts tried to intimidate reporters. Brooks says he respects Torts, but doesn't know if the feeling is mutual. Brooks says he doesn't like talking about Tortorella. Kind of a snowflake thing to say. Duguay then switches gears and brings up the Hockey Hall of Fame.
When it comes to the HHOF, and who's in and who's out, Brooks feels that John Davidson would be the person to talk to, since JD is one of the members of the HOF board/selection committee, an esteemed group consisting of only 18 people. However, Brooks says the HOF board is kind of like "Fight Club", meaning that the people on that board, don't talk about the HOF & the selection process; at least not publicly.
Brooks is not a fan of the selection process, but says he respects the men who are on the board. Brooks says the bar is set by 18 people. Brooks brings up examples of why the selection process bothers him. One good point that Brooks brings up, is why is Lowe a Hall of Famer this year, but wasn't a Hall of Famer for the last 12 years? For what it's worth, Brooks supports Lowe getting the nod. Brooks also brings up how Lowe helped Sergei Zubov in his years with the Rangers.
At this point, Duguay wraps up with Larry one-on-one and brings on Darius Kasparaitus to join the duo.
Kasparaitus joins Duguay on the show for a near 20 minute interview. Duguay refers to Kasparaitus as "colorful". Duguay brings up Kasparaitus and his heritage/team he plays for nationally. Kasparaitus explains why he's always represented Russia in international play, rather than for Lithuania, where he was born.
Oh, and credit to Kasparaitus too, the guy speaks several languages, and as anyone knows, learning English as a secondary language is no easy task.
Kasparaitus tells Brooks the differences between playing in Russia and the NHL, especially when it comes to hitting. Kasparaitus then moves on, talking about his early days with the Islanders and his first NHL hit.
Kasparaitus says he felt appreciated about being known as a player with a strong style of physicality. While Kasparaitus says his international game was more of a two-way style, he enjoyed the reputation he got while playing in the NHL.
Duguay brings up the topic of fighting with Kasparaitus. Kasparaitus says he wasn't scared of fighting and the differences between fighting European guys against fighting North American guys. This all goes back to all the stuff of needing "Western farmer Canadian types" on every roster. This stuff doesn't show up in the analytics!
The talk then moves to the picture shown above, when Kasparaitus donated the stick to Ovechkin, that Kasparaitus used, when he scored a Game 7 overtime goal in the 2001 playoffs. Kasparaitus brings up the back story and what led to Kasparaitus donating the stick to Ovi's collection. Kasparaitus then talks about his friendship with Ovechkin and how they train together.
Brooks asks Kasparaitus for his thoughts on CZAR IGOR. Kasparaitus mentions he's practiced with Igor several times. Kasparaitus talks about the recent one-on-one battles that Igor & Ovi had in that practice from two weeks ago. Kasparaitus has high praise for Igor.
Kasparaitus supports Lowe going into the HOF, and says the HOF shouldn't only be about numbers. Winning matters. (What a concept, I know! I've only been saying that for years!)
Brooks goes back to the love of his life, in Henrik Lundqvist. (Brooks brings up Lundqvist in every episode that he's on. If Duguay ever had a Penn Station homeless guy on the podcast, Brooks would ask that guy about Lundqvist!) Brooks asks Kasparaitus for his thoughts on Lundqvist, his rookie year, and that 2005-2006 Rangers team. Kasparaitus brings up the ex-Penguins on that team and the coaching style of Tom Renney. Kasparaitus also brought up all the Europeans on that team and how playing in MSG should always be fun.
Brooks and Kasparaitus talk about Jaromir Jagr, and the differences and similarities about playing with Jagr in Pittsburgh and New York. Kasparaitus felt Jagr was more serious in NY, due to his veteran status and age.
Duguay brings up that Kasparaitus is a vegan and asks Kasparaitus if he has any regrets from his days on the road. Kasparaitus says he has no regrets, and mentions his great family life, where he's married with six kids and living in Florida.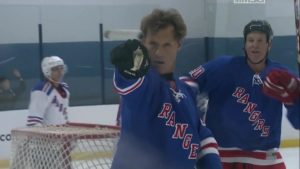 Duguay brings up Kasparaitus and the era he played in, against the guys of today's era. Kasparaitus feels like he would play the same style. Like I always say on these blogs, Kasparaitus feels like it's tough to compare eras. Kasparaitus says as long as you have the competitive spirit, he feels a player from any era would have success.
Brooks asks Kasparaitus for his career highlight. Kasparaitus says it's signing that huge contract with the Rangers! At least he's honest! Kasparaitus, after joking about his contract, brings up the aforementioned Game 7 goal against Buffalo in 2001. Kasparaitus also brings up his Olympic Gold Medal too.
Duguay wraps up with Kasparaitus and says how much he enjoys his friendship with Kasparaitus and how Kasparaitus is one of the good guys.
While I always like Duguay's episodes featuring historical topics or guests, this was a new twist and another solid episode.
Let's now get to the second main event of this blog, all the stuff concerning Artemi Panarin.
---
In perhaps the biggest NHL news story of the week, a story that even trumps the NHL Draft Lottery (we'll get into that soon) are the comments Artemi Panarin made on Thursday. Panarin released the following statement on his social media channels:
— Artemiy Panarin (@artemiypanarin) June 25, 2020
In case that tweet above doesn't come out clear for you, here's the statement from Panarin's Instagram account: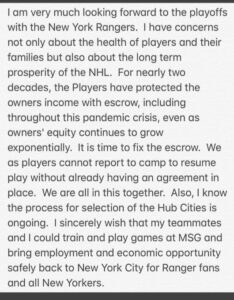 This story might be confusing for some fans, because after all, Panarin's statement focuses on the way NHL players get paid and the contract bargaining agreement (CBA). You also have to understand what escrow is. For those who don't know, escrow is defined as "a bond, deed, or other document kept in the custody of a third party and taking effect only when a specified condition has been fulfilled."
In other words, in any escrow deal, whether it's mortgage or in this case, the NHL players, the players only get paid once a "specified condition has been fulfilled." For the owners, they currently have a 50/50 split on league revenue with the players. More importantly, in relation to this, the owners will not see the profits they were expecting for this season, as a result of this corona virus pandemic. In turn, Panarin is starting another one of those "millionaires vs billionaires" debates. That said, the average contract of a hockey player, is much less than the average contracts of the other three major sports in America.
Just to give some perspective here, according to the Seattle Times, the average NHL player salary is $2.78M. The average MLB player salary is $4.51M. And for those wondering, Panarin is in his own boat here, as according to Forbes, Panarin is the 7th highest paid player in the NHL right now, making $14M a season, with a cap hit of $11,642,857.
I get what Panarin is saying here. He wants to be paid. Let's also talk about what Panarin said just three months ago, at the start of this pandemic.
In March, while doing an interview for Sport.ru, Panarin said the following: (Full disclosure, I'm using Google translate here, so as always with these translations, it may not be 100% perfect and things can get lost in translation too.)
— On the topic of upcoming pay cuts, (and indirectly, the topic of escrow) Panarin said, he was 100% sure that he would be forced to take one. Panarin said if the pay cuts were too big, he was thinking about "sitting out next season."
— While continuing on the talk of paycuts, Panarin said, "Ahh. I think we will have less. If 40 to 60 percent, then why am I doing this at all? Then I will probably skip the next year."
— Panarin then doubled-down, instilling fear into Ranger fans at the time, when he said "there's a job waiting for me in the KHL and I have no issues playing there."
The Panarin and his contract situation has several layers. Obviously, he's playing in a city with the highest tax rate in the league. I know what my tax situation is, as I work in NYC. I can only imagine how bad it is for Panarin, who truth be told, to help off-set his taxes, maintains a home in Florida, which is a no income state tax state. Many athletes and celebrities hold homes in these no state income tax states, just for this reason. Of note, Derek Jeter was one of these people.
Panarin also made sure to stress in the interview, what's the point of playing, if the NHL & the government decided to keep taking money away from him? An understandable concern, as Panarin could make much more money playing in the KHL and not have to worry about the heavy burden of taxes there, as opposed to in NY. And let's look at this through Panarin's eyes too – for any athlete, in any sport, you only have a small window of your lifetime, to accrue as much money as possible, before your time is up. If Panarin is looking to maximize his bank account, between NHL escrow and taxes, what's the point of playing in NY, when he can perhaps make double the money in his native Russia?
When Panarin's interview from Sport.RU was released, Rangerstown, USA was sent into a state of panic. Even the biggest NYR beat reporter of them all, a HOFer at that, in Larry Brooks, immediately followed up with Panarin about his comments at that time. At the time, Panarin blew this Sport.ru interview all off, citing he was being funny and joking around. However, three months later after that original interview, and Panarin is still talking about money. Say what you want, but Panarin wasn't joking around three months ago. He was spitballing about his future. When pressed by American reporters at the time, including Brooks, that's when Panarin did the ha-ha stuff.
While purists of the game may say Panarin's being greedy here, put yourself in his shoes. He's an immigrant in America, giving up his home and familiarity up, to play in America. In the prime of his career, a career that will only amass 20 years, if that, tops; why play for less money, when he can make more money in his home land?
This is a topic that I really can't choose a side on, as I see both sides of it. I get where Panarin is coming from personally, but at this time, the time of this pandemic, Panarin doesn't look good talking about money, especially when there are millions upon millions of Americans unemployed right now. Panarin, a current multi-millionaire several times over right now, is talking about a few million dollars here. For Americans across the country, some are wondering where their next meal, mortgage payment and paycheck is going to come from.
Furthermore, while the NHL and NHLPA have had strong relations throughout this pandemic, Panarin's comments can be received as inflammatory and as a sign of union weakness. And when it comes to player unions, the NHLPA is the weakest union of the four major sports.
While some Ranger fans will back Panarin no matter what, another blogger and friend of this blog, in Scott Esposito, wrote a scathing report about Panarin, which you can read here: https://bluelinestation.com/2020/06/26/new-york-rangers-artemi-panarin-fellow-nhlers-get-clue/
(And be advised when clicking that link above. While I enjoy Scott's work, that BlueLineStation site freezes my computer every time. There are just too many ads and spyware running on that site. That's why I hope you enjoy this site, because you know the motto here, "10K words, no ads, one click!" This blog is a labor of love, a hobby for me, and not a business. Once in a while I'll get a few perks, (Thanks Marc G., but really, this is a not-for-profit blog!))
If you read Scott's article, he sides with the owners, which to fans, could mean that Scott is choosing the side of the billionaire owners, over the millionaire athletes. In the article, Scott brings up personal stories, of people he knows who have lost their jobs during this pandemic. He also closes his article out with this:
"No other hockey league in the world pays players more than the NHL does. If the players don't want to play, let them go get jobs outside of hockey. If the pandemic has reminded us of anything, it's that while we may miss sports, life goes on without them.

As much as I personally love the game, I can't stomach what Panarin and the other players are now griping about. Honor the CBA to which YOU agreed, pandemic or not. Get on the ice and be thankful you've still got a job and are being richly rewarded."
I understand what Scott is saying here. He's choosing sides, but in his writing, I also think he's ignoring Panarin's point-of-view. When tackling a topic like this, you need to look at all angles. And I'm not saying Scott is wrong here either, I just think he's looking at this in black and white terms; and unlike analytics, not everything is black and white.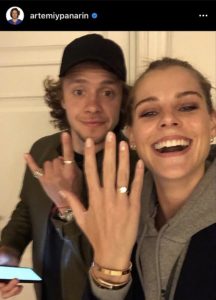 In closing on this story, I do 100% believe that NHL commissioner, Gary Bettman, will work everything out. He's been flawless throughout this whole pandemic. That said, I do think Panarin's words will find the right ears, due to his status in the league. And as I've said in the past, there is more pride with hockey players, than the other sports.
I do think that we'll have to monitor Panarin and his status, as he has now shown he isn't scared of voicing his opinions publicly. I don't think Panarin is blowing smoke here, but I also don't see him running off to the KHL either.
At the end of the day, Panarin accomplished his goal – he has everyone in the NHL talking about the escrow issue right now. What comes of it, remains to be seen.
Let's now run down some quick stories here, before finishing off with the NHL Draft Lottery results from Friday evening.
---
On Thursday, it was announced that Amazon has purchased the naming rights to the arena that will host the new Seattle NHL team. You can find the whole story here: https://www.nhl.com/news/climate-pledge-arena-home-to-seattle-nhl-expansion-team/c-317264152
Since people know I'm a Trump guy (even though I don't wholly identify with Republican politics; I'm an independent that supports our President) I had many people write in, who asked me for my thoughts on this. Here they are:
"I don't give a crap what these arenas are called. Just play hockey."
I will say, I do find it ironic and do see some humor, in this arena being named "The Climate Pledge Arena." After all, who wastes more trees, by making an ungodly amount of cardboard boxes, than Amazon? I mean anytime I order multiple things on Amazon, whether it be deodorant, toilet paper, or a piece of gum, I get multiple refrigerator sized boxes sent to my doorstep!
At the end of the day, this is a non-story to me. Drop the puck in whatever you call your arena. Hell, even being a Trump guy, they can name this place the "AOC-Joe Biden-HRC Memorial Coliseum" and I wouldn't care. Just play hockey!
In a story that carries more weight, the NHL announced that aren't planning to quarantine their players during the period of training camps.
---
On Thursday, June 25th, it was reported that the NHL is not planning on quarantining their players during training camp. You can read the full story here: https://www.sportsnet.ca/hockey/nhl/nhl-not-planning-quarantine-players-training-camps/
I can see the reasoning why fans, and maybe some players, would want tighter restrictions during training camp, but with a "bubble boy" period coming at the end of July/early August, you can't expect these players to isolate themselves from everyone they know for an elongated period of time.
Just like us, these players are human too. You just can't expect them to cut themselves off from their families, especially for the players with kids, and especially for players with pregnant wives.
All you can ask these guys to do, is to do what we're doing now – be safe, practice social distancing, wear your mask and all that other blah blah blah happy horseshit.
Maybe because there are no games to speak of right now, but this story got a ton of traction. To me, while I can see why this story made headlines, there isn't much juice to this story. Players have to live their lives too. Just be smart about it.
And finally, in our last news item before going to everything the draft lottery, Canadian reporter Pierre LeBrun tweeted out the following on Friday afternoon:
NHL Deputy Commissioner Bill Daly says it doesn't appear as though the Hub cities decision/announcement will come today. Still more to iron out. So, we'll see what the weekend brings…

— Pierre LeBrun (@PierreVLeBrun) June 26, 2020
Originally, it was expected that the NHL would announce their two hub cities on Friday, presumably during the NHL Draft Lottery TV special. While Vegas seems to be all but a lock to be one host city, there are still other cities being considered as the second city, with Toronto being the front-runner and most sensible candidate. For whatever reason, the NHL needs more time to make this announcement official. Once something comes out, I'll have an update on this blog.
And now finally, as we get to the end here, the NHL Draft Lottery from Friday night!
---
When it comes to the Rangers, who going into this draft lottery, had a shot of winning the Stanley Cup in 2020, while still having a chance at landing the #1 overall pick of the 2020 draft, the fact of the matter is all that talk is as confusing as trying to find the right pronoun for a transgender person. For the purpose of this blog, let's take a look at the facts first and then everything else after.
Here are the facts – we don't know what team has the number 1 overall pick of the 2020 NHL Draft yet! However, we do know what teams have picks #2 through #8:
And the winner is…

One of the qualifying teams in the Stanley Cup playoffs. One of the 8 teams that lose in the @NHL's play-in round will select first overall in the 2020 #NHLDraft. #NHLonSN pic.twitter.com/uc3RQI9Wis

— Sportsnet (@Sportsnet) June 27, 2020
With the first overall selection of the 2020 NHL Draft, is, drum roll please… a team to be determined at a later date! When "Team E", a team that we won't know until the play-in round is completed, selects Alexis Lafreniere, the LA Kings will be next up on the clock, with the second overall pick of the draft.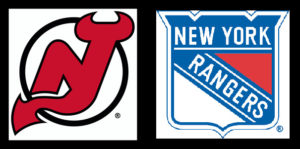 Let the conspiracy theorists have their crack at it – by an unknown team winning the 2020 NHL Draft Lottery, intrigue and interest has multiplied, in concerns to this lottery. Had the tanking/last place teams of the league, the teams not involved in the first ever games of the summer, won the top three slots of the draft lottery, the draft lottery, at least when it comes to the top picks, would've all been decided. Instead, due to "TEAM E" winning the draft lottery, the grand prize of the 2020 NHL Draft, the first overall pick, still hangs on the balance.
With the first overall pick still remaining unknown, this now sets off a new line of conspiracies and talk – if you're a play-in round team, and down 0-2, do you give up in Game 3, in order to increase your shots at the number 1 overall pick of the 2020 NHL Draft? Of course, while people will talk about this, I don't think you'll see this. After all, as mentioned 786786789 gazillion times on these blogs, these players playing today, do not give one crap about the draft. They are playing for their jobs, their contracts and their future. Whatever happens – let the cards fall where they may lay. Think about it, for a current NHLer, a future first round overall pick takes a job away from a current player.
That said, while we know who is drafting in the number 2 to 8 slots, the possibilities are endless, in regards to the number 1 pick. Imagine if Pittsburgh loses to Montreal, and Pitt finds their successor to the Crosby era? What if Montreal loses, and Montreal gets the pick, in what would boost a happy hockey city? You can talk about all the scenarios until the cows come home.
Before talking the Rangers, let's look at everyone else first; at least the teams drafting from the #2-#8 positions.
Let me state this first – I hate the idea of tanking, always have and always will. That's why I love what happened at the NHL Draft Lottery on Friday night – none of the tanking teams were rewarded! Back to the drawing board bitches!
Let's now take a look at the teams that got the #2-#8 picks, in reverse order.
8. Buffalo Sabres – I know the Sabres landed Dahlin, as the first overall pick of the 2018 draft, but for a great market like Buffalo, I felt bad that they finished with only the 8th overall pick. Prior to that draft, the Sabres lost the draft of a lifetime, when they finished #2 in the 2015 NHL Draft. While Jack Eichel is no slouch, he's no Connor McDavid either. The Sabres, who are a mess right now, as recapped in a recent blog on this site, now find a path back to the playoffs more difficult.
---
7. New Jersey Devils – HAHAHAHAHAHA!!! They did everything they could to throw away their season, in an effort to land the #1 overall pick of the 2020 draft. Instead, they finished with the second worst overall selection possible! Take solace NJ Devils fans, the Rangers once had the #7 pick of the 2017 draft, and they drafted that young stud Lias Andersson! OOPS!
---
6. Anaheim Ducks – I could give two quacks less about the Ducks!
---
5. and 3. Ottawa Senators – man, talk about having the shit end of the stick of the draw here. The Senators had the potential of having both the first and second pick of the 2020 NHL draft, but instead, wind up with the third and fifth pick. The long rebuild in Ottawa continues. It's a tough time for Senators fans, between building issues and a cantankerous owner.
---
4. Detroit Red Wings – new GM, Steve Yzerman, will have to really work and find some new "Stevie Y." magic in Detroit, as the number 1 overall pick didn't fall into his lap. It's a long and painstaking task to turn Detroit around right now, and it's even harder without Lafreniere.
---
2. LA Kings – the look on the faces of Kings management, when they realized they weren't landing Lafreniere, was priceless. I'm a Rangers fan, so I feel good about saying this – "FATHER FINK THE KINGS!" There's not a team in the Western Conference that I hate more. And yes, all of my opinions are 2014 related!
---
Now let's take a look at the Rangers and all the confusion going on.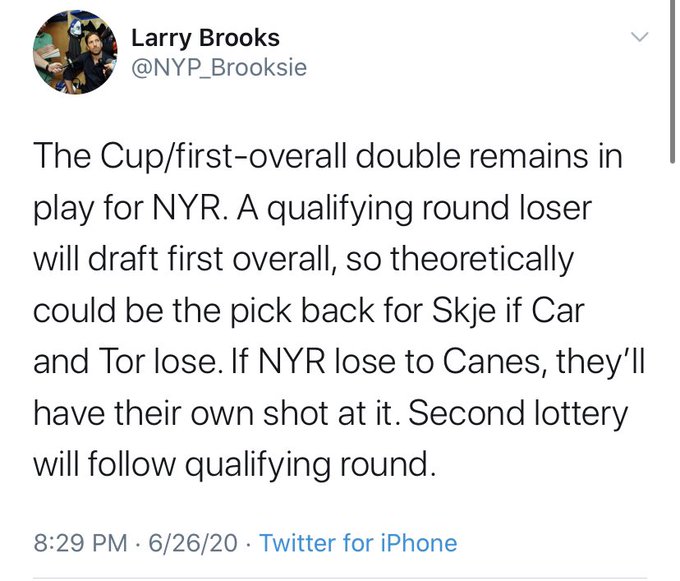 In regards to the Rangers, due to them having Carolina's #1 pick, as a result of the Brady Skjei trade, I was of the thinking that if NYR could knock out Carolina in the first round, the Rangers would then have a shot at winning the Cup and having a chance at the #1 overall pick of the draft. Turns out that optimism was not going to be rewarded.
I also have to say this before continuing, while this NHL Draft Lottery was confusing as hell, I had a grip of it. However, when TEAM E won the first overall pick of the draft, I thought this meant the Rangers had a shot at both the Cup and the #1 overall pick. Turns out that isn't so, depending on who you talk to.
On these blogs, I've never professed myself as being a draft guy. Far from it. I'm all about the history, as you can tell with all my stuff on Frank Boucher (check out the Boucher tab at the top of this site) and everything else NYR history related.
I thought that with Carolina's pick, that NYR could've had the first overall pick of the draft, if they knocked out Carolina. Turns out, the only way the Rangers can land the first overall pick of the NHL draft (a 12.5% chance) is if they lose their play-in round to Carolina.
Let me reiterate what I always say – FATHER FINK THE TANK. While landing Lafreniere would be nice, my only goal is to root the Rangers on to the Stanley Cup. I know there will be moronic Ranger fans rooting for a loss to Carolina, just for a 12.5% chance of landing the first overall pick of the 2020 draft, but that's not me. I root for wins, and as I've been saying since the pandemic (check out the archives of this site) – WHY NOT THE RANGERS?
So yeah, while Lafreniere would be nice, I'm rooting for the Rangers to beat Carolina and beat anyone else in their path, enroute to winning the 2020 Stanley Cup. And save me the asterisk Cup bullshit – you only play in the era you're in!
I know the draft lottery results confused a ton of people, yours truly included, in regards to the Rangers chances of winning both the Cup and landing the #1 overall pick, so I'll let Dave Pagnotta, of TheFourthPeriod.com website, explain better. And really, his explanation is still freaking confusing!
Here's Dave, via his @TheFourthPeriod Twitter account:
For clarity on Rangers & Hurricanes situations:

Unless Toronto loses in the qualifying round and then wins the lottery to pick 1st overall, their pick will go to Carolina.

To complete the Skjei acquisition, CAR will send their 1st OR TOR's 1st to the NYR, whichever is lower. https://t.co/OeEx9mm4SK

— David Pagnotta (@TheFourthPeriod) June 27, 2020
If that tweet doesn't make your head spin, as if you're answering a high school algebra question, there's more:
Now… if TOR loses to CBJ in the qualifying round & wins the lottery, TOR will send Car their 2021 1st round pick (to complete Marleau deal).

If that plays out, Carolina's 2020 1st will go to NYR.

So, it's NOT POSSIBLE for NYR to win Cup & pick 1st overall

My brain hurts. https://t.co/OZMVi4lGhz

— David Pagnotta (@TheFourthPeriod) June 27, 2020
Chris Johnston, of Sportsnet, which means he's a legit mother Canucker of a reporter, originally tweeted out that the Rangers could win the Cup and get the #1 overall pick. Even he was confused! However, Johnston quickly deleted his tweet on that possible scenario, and tweeted out:
Correction on NYR/CAR pick scenarios: New York can't get the No. 1 pick from the Hurricanes in the event it beats Carolina in the play-in round, since it would transfer Toronto's pick (from the Marleau trade) instead.

— Chris Johnston (@reporterchris) June 27, 2020
At the end of the day, the only way the Rangers can get the #1 overall pick of the 2020 NHL Draft, is if they lose to Carolina. I don't like to curse on these blogs, which is why I use "Father Fink" instead of the F-word, but I'm allowed an "F-Bomb" here – FUCK THAT! JUST WIN BABY!
I can't sit here and pump out my scientific calculator from high school, and give you all the permutations and scenarios of who will land the first overall pick of the draft. All I can tell you, is that I'm rooting for the Rangers to win the whole damn thing!
Who said there was nothing to talk about this week!?!?!?!?!
30,000 words written on the Rangers and the NHL this week! Minga! And I still haven't gotten into the Guy LaFleur or James Patrick blogs that I want to do! However, we'll have to cap it here, and hope to check those topics out on a future blog!
If you haven't already, subscribe to this blog for the next update:
As far as the next blog, if you subscribe by clicking the form above, you'll get that bad boy delivered to your email box. For our next update, if something breaks on Monday, I'll return then. If not, I'll return Wednesday night, with a recap of all the podcasts and whatever news is making the rounds.
As always, thanks for reading and…
"WHY NOT THE RANGERS?!?!"
LET'S GO RANGERS!
Sean McCaffrey
BULLSMC@aol.com
@NYCTHEMIC on Tweeter and the new Parler app.