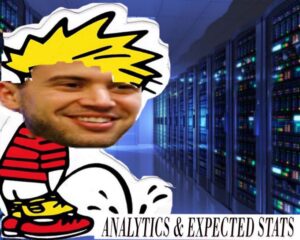 Greetings and salutations everyone and welcome to another blog here on BlueCollarBlueShirts.com. As has been the theme here on this site, over the course of the last several weeks, despite the league remaining in a state of "pause"; news surrounding the NHL continues to pump out at a rapid rate. As mentioned a few blogs ago, expect a steady influx of news until these teams are back on the ice again. Between the CBA, hub cities, the salary cap, escrow, and of course that pesky thing known as the corona virus, there is plenty of food on the plate for the NHL to digest. And really, there has never been another time in NHL history, where so much has to be done, and in such a short amount of time. It's just like Willy Wonka in "Charlie & The Chocolate Factory"!
In tonight's blog, I have several Rangers news stories to discuss with you. Both stories are minor in the grand scheme of things, as one story relates to the status of the Rangers 28th overall pick of the 2018 NHL Draft, in Nils Lundkvist. The other "big" Rangers story, in tonight's blog, is another episode recap of Tony DeAngelo's "Watch Your Tone" podcast.
Before jumping into everything Rangers related on this blog, I'll kick off tonight's blog by looking at all the news surrounding the NHL, including the big news from Monday – 26 NHL players have tested positive for the corona virus. I'll also have a piece on Lafreniere and his future, especially when compared to peers of his past. In addition, I will also have a deep look at recent comments made by TSN reporter, Bob McKenzie.
Of course, as usual, before going down this magic carpet ride of a manifesto, up first – the PLUGS section of the blog!
In case you missed them or need a refresher, here are my most recent blogs:
---
---
---
---
---
---
On Monday, June 29th, the NHL announced their latest Covid-19 numbers, via their Twitter account:
After tweeting out the above information, the NHL released a statement on their website. You can read the statement from its original source here: https://www.nhl.com/news/nhl-statement-phase-2-testing/c-317289726
For the sake of posterity, here's the statement in its entirety, courtesy of NHL.com:
The National Hockey League today released the following statement on COVID-19 testing results:
"As of Monday, June 29, the NHL has had in excess of 250 Players report to Club training/practice facilities for optional participation in Phase 2 activities. There have been in excess of 1,450 COVID-19 tests administered to this group of Players. Those tests have resulted in a total of 15 Players returning confirmed positive test results for COVID-19.

In addition, since June 8 (the opening of Phase 2), the League is aware of 11 additional Players who have tested positive for COVID-19 outside of the Phase 2 Protocol. All Players who have tested positive have been self-isolated and are following CDC and Health Canada protocols. The NHL will continue to provide regular updates on the number of tests administered to Players and the results of those tests."
To look at the facts here, the NHL is saying that they administered 1450 tests since June 8th, where only 15 players tested positive. In other words, that's just a shade under 1%, of all players tested, coming up with a positive result. However, not included in these numbers, are the other 11 players who have tested positive, independently of the NHL's test takers. Of course, as mentioned on a previous blog, Auston Matthews is the biggest name here.
If you are to combine the numbers, that means 26 players, out of a pool of 1476, have all tested positive for Covid-19. In other words, out of those 1476 players, for every player tested, only one out of every 57 players has tested positive. To break this down even more, that's pretty much 1.8 NHLer, for every three teams in the league. In other words, it's not like teams are being ravaged by this virus right now.
What's the good news here? For starters, when it comes to the tests the NHL has conducted during the past three weeks, less than 1% of all players tested have come up with positive results. If you look at the 11 other players who tested positive, they are currently self-quarantining, meaning that their future tests should soon come back negative.
And I know I've been saying this a lot during the last few months, but when it comes the topics of serious illness and fatalities, not one active athlete, of any sport in America, has died from the corona virus. As we know, when it comes to being seriously sick or dying, the majority of those cases deal with the elderly & senior citizens, and not professional athletes, who are in much more better shape than your average human being.
The other good news here, is that the NHL is catching players with the corona virus right now, players who most likely didn't know they even had it. Even with the short time frame, from between now and the date of July 10th, (the date that the NHL is looking to start up training camps across the league) the 15 players who tested positive are doing their quarantine stuff & taking their medicine now, rather than letting this effect them when the league resumes.
For any of the proposed plans by the NHL to work, and for the NHL to hit their target/suggested dates, of course, while the CBA remains a hurdle; ultimately the league, just like everything else in the world today, is up against the virus. As it stands now, I find these numbers more encouraging than discouraging. What will hurt the NHL, now knowing the numbers & information we have here on June 29th, is if come the next round of testing, if the amount of players testing positive for Covid-19 are seriously increased.
Obviously, this is the story to watch. As talked about several blogs ago, the NHL, whenever they start having games again, MUST plan for players testing positive. The NHL, as I assume they will have, MUST have a plan to deal with the players who test positive, while at a player's respective hub bubble boy city.
Moving along.
---
Previously on this site, specifically when talking about the cancellation of the AHL season & the NHL Draft date being pushed back, I said that I doubt we'd see the Traverse City Tournament this year. After all, if things go according to plan, the NHL will be conducting their playoffs this August, which is when the Traverse City Tournament usually takes place. In addition, even if the NHL wanted to keep this Traverse City Tournament going, there is just so much going on and so many dates being changed, that it seemed it would be impossible to pull off this tournament without a hitch.
On Monday, June 29th, the Detroit Red Wings, the host team of the Traverse City Tournament, finally made the news official. The 2020 Travese City Tournament has been canceled.
You can read about this story from its original source here: https://www.nhl.com/redwings/news/detroit-red-wings-2020-training-camp-relocated-to-little-caesars-arena/c-317284818
The following information comes courtesy of the Detroit Red Wings:
DETROIT – The Detroit Red Wings today announced changes to their annual events held in Traverse City, Mich., including the relocation of the team's 2020-21 Training Camp to Little Caesars Arena in Detroit, and the cancellation of the 2020 NHL Prospect Tournament and Training Camp Golf Classic. The Red Wings look forward to both events, as well as training camp, returning to Traverse City next year.
"The health and safety of our fans, players and staff is our top concern," said Red Wings executive vice president and general manager Steve Yzerman. "Based on discussions with local health experts, we have decided to hold our 2020-21 training camp at Little Caesars Arena in Detroit. We look forward to returning to Traverse City next year. The Traverse City community is extremely hospitable to our organization, and Centre Ice Arena is an ideal location for us to hold our events each September."

"We support the Red Wings' decision to hold their 2020-21 training camp in Detroit," said Tom Rodes, Centre Ice Director of Detroit Red Wings Events in Traverse City. "We're able to hold these events thanks to the tireless efforts of hundreds of volunteers who prepare for months to create a memorable experience for thousands of fans across Traverse City and northern Michigan, players and staff from the Red Wings, and personnel from organizations throughout the NHL. Changes to our training camp events were made with their health in mind, and we eagerly await the return of these events to Traverse City in 2021."
While the Rangers have only won this tournament once, (2007) in the 20+ year history of this tournament of prospects, the Traverse City Tournament is a great way for teams to see the pipeline of their future. Ever since the inception of this tournament, which started back in the summer of 1998, the tournament allows teams to make their first decisions, regarding their roster, for the upcoming regular season.
For the Rangers, without question, last year's tournament, the 2019 version, which was won by the host city team themselves, in the Detroit Red Wings, was the most anticipated Traverse City Tournament in New York Rangers franchise history.
While it can be argued that it took the preseason for Adam Fox & Kaapo Kakko to cement their regular roster status with the Rangers, what can't be argued, was that for Adam Fox and Kaapo Kakko; both players made an impression at last year's tournament. Of course, while Kakko still has a long way to go & didn't exactly light the league on fire this season, the opposite can be said for Fox. In fact, while Fox probably won't win the Calder Trophy (Rookie of the Year Award) he should finish no worse than third in the race. What is also a concrete statement is this – Adam Fox was the Rangers rookie of the year. No other argument can be made. (I know some will say Igor Shestyorkin, but he didn't even qualify as a rookie this season. He can win the Calder next season!)
As it stands right now, not only do we not know the order of the 2020 NHL Draft, we also don't know what team will land the first overall pick! With the NHL facing these unprecedented times and with a high uncertainty regarding hitting target dates, I think it was always a foregone conclusion that the Traverse City Tournament was going to be canceled this year. The news from Monday confirmed my suspicions.
And of course, while I 100% support the decision of the Red Wings & the NHL here, this news is truly a shame for eager NHL-bound players. However, this is the right decision, and really, there was no way to have this tournament this year.
Next!
---
On Monday, June 29th, Bob McKenzie went on a news-filled "Tweet Storm", regarding all the latest in the mumbo-jumbo world of the NHL and the CBA.
Here are the highlights of what McKenzie said:
"One issue NHL/NHLPA need to deal with quickly, as in probably today, is Signing Bonus due to players on July 1 (Wednesday). There's $300+ million scheduled to be paid out that day. There have been discussions to defer the date, but no agreement. Not yet anyway.

As has been widely reported, current salary cap of $81.5M likely to remain "flat" for each of next two seasons (20-21 and 21-22). Marginal bumps up possible for each of ensuing 3 or 4 seasons depending on revenues, but it could be awhile before real "linkage" returns.

Also previously reported, escrow would potentially be capped at 20 per cent in each of the next two seasons (20-21, 21-22) and then the complicated formula for figuring out how owners/players share burden of lost Hockey Related Revenue and over how many years.

There's going to need to be agreement on a new NHL-NHLPA international hockey calendar. Given all that has transpired, Olympics do not appear to be a consideration any longer.

Here's a combined CBA/Phase 4 question: What's going to be the resolution on players on 2019-20 reserve lists who signed during pause (Romanov in MTL, Kaprizov in MIN, as examples)? Eligible to play in 19-20 RTP? League initially ruled no. PA objected. Which is it going to be?

Is it possible there could be opt-out clause for any (healthy) player who just isn't comfortable returning to play for 2019-20 season/playoffs? Don't know, but if there were, obviously no playoff pool monies for the player. 19-20 salary has been paid already. Pension impact?

Between the Phase 3/4 protocols/terms and a CBA extension, there is a staggering amount of information/detail to be processed in such a short period of time. The goal would be to have something to present to PA members by end of week to vote on, but is it possible?
Anyway, you get the idea.

The magnitude of what NHL/NHLPA are trying to pull off here in a tight time frame is absolutely unprecedented. Makes 04-05 lockout year seem like a walk in the park. It's not only 19-20 RTP; it's trying to navigate the messy long-term economic impact."

---
Very quickly here, let's run through what McKenzie is reporting:
Bob says: "One issue NHL/NHLPA need to deal with quickly, as in probably today, is Signing Bonus due to players on July 1 (Wednesday). There's $300+ million scheduled to be paid out that day. There have been discussions to defer the date, but no agreement. Not yet anyway."
I say: While of course a topic of concern, I don't think the topic of signing bonuses is the main course here, in regards to everything going on right now. As Bob alluded to, the two parties, in the NHL & NHLPA, they have talked about deferring signing bonuses to a later date. While no date/agreement has been reached yet, with the way Bettman has handled everything so far, I would expect a resolution on this, an eventual resolution that satisfies both parties.
---
Bob says: "As has been widely reported, current salary cap of $81.5M likely to remain "flat" for each of next two seasons (20-21 and 21-22). Marginal bumps up possible for each of ensuing 3 or 4 seasons depending on revenues, but it could be awhile before real "linkage" returns."
I say: This is news we've known for a while, and this news is major. While this news doesn't effect the 2020 Stanley Cup Playoffs, it does make a huge impact on the NHL, and their players, for upcoming seasons. The key in all of this, is what deal the NHL makes with their upcoming expiring TV contract. As talked about a few blogs ago, the NHL is due for a substantial raise, in regards to their TV rights. How will that effect the cap?
Another major thing here, which Bob didn't talk about, was the suggested idea of amnesty clauses, in order to help off-set the news of the salary cap staying flat. Obviously, competitive teams would love amnesty clauses, while the NHLPA & struggling teams would not.
If you're a Rangers fan, and yes, even if we all know how I'm the leader of the "Get Lundqvist The Hell Out of Here" fan club, you should be supporting amnesty clauses for the 2020-2021 season. Not only would an amnesty get the Rangers off the Lundqvist contract hook scot-free, it would also free up $8.5M to play with during the next free agency period. (As we also know, Gorton got $5M+ off the books, when he dealt Brady Skjei at this year's trade deadline. An extra $8.5M in the coffers would do the Rangers a whole new world of good. And lastly on this, even if you're the biggest Lundqvist fan-bot in the world, CZAR IGOR is the future. An amnesty is a win-win all around.)
---
Bob says: "Also previously reported, escrow would potentially be capped at 20 per cent in each of the next two seasons (20-21, 21-22) and then the complicated formula for figuring out how owners/players share burden of lost Hockey Related Revenue and over how many years."
I say: This stuff is above my pay-grade here! I don't know what the right answer is here, when it comes to the topic of escrow. I'm not a CPA. I don't know how you can project numbers for the future.  Obviously, escrow will be one of the biggest battles between the NHL and the NHLPA. What the equal balance number is and what's fair for both parties, I really don't know. This is one of these topics that brings up the old debates of "millionaires vs billionaires." Unlike other bloggers, fans or podcasters, I can admit to you – I don't know what the answer is here. I'm not qualified to speak on this!
---
Bob says: "There's going to need to be agreement on a new NHL-NHLPA international hockey calendar. Given all that has transpired, Olympics do not appear to be a consideration any longer."
I say: Really, the Olympics are the last thing on my mind right now. Knowing that the 2020-2021 season (or maybe just a 2021 season) will not start in October as usual, no one can worry about the Olympics now. It's all about completing the 2019-2020 season and figuring out how to schedule the next season after crowning a Cup Champ in 2020. You can't worry about the cherry on top of the cake without having a cake first. By doing otherwise, all you're left with is just the fruit.
---
Bob says: "Here's a combined CBA/Phase 4 question: What's going to be the resolution on players on 2019-20 reserve lists who signed during pause (Romanov in MTL, Kaprizov in MIN, as examples)? Eligible to play in 19-20 RTP? League initially ruled no. PA objected. Which is it going to be?"
I say: If there is any battle the NHL should cave on, or give to the NHLPA as a concession as part of a huge compromise, it's this one. As it stands right now, the seven teams not playing this August, have all been off since mid-March. By the time next season comes around, it could be late December or even early January, meaning that nearly 25% of the league's players, will have had a 8-9 month lay-off. This isn't good for those teams. (I have also seen suggestions of allowing these 7 teams to play, in some exhibition games, but due to contracts & the cost of corona virus testing, I don't see that happening. These players will just have to adjust.)
Knowing this, and knowing that the NHL's own minor league, in the AHL, has also been shut down & also knowing that leagues across the globe (both college & international leagues) have also shut-down/been stunted, there's no reason to deny players the right to play. I understand that allowing these reserve list players to play could give some teams an advantage, but let's face it, in most of these cases, these players will just be there for the ride, rather than actually playing in August. Let them get their feet wet, even if it's for this unique playoff experience. At the very least, these players will get ice time during practice & get a chance to know their future teammates. Who's against that idea?
I will say this, when arguing with myself here, by allowing a reserve list player to play/practice, it does add to cost, as these players will have to be tested for the corona virus. Perhaps as a wrinkle to allowing these players to join their respective clubs, the teams can carry these players, providing the teams themselves incur the cost of these tests. I think that idea is a fair compromise to all parties involved. (And yes, this would benefit the Rangers, as outlined 78678678969 times in the past – owner James Dolan never spares any expense.)
---
Bob says: "Is it possible there could be opt-out clause for any (healthy) player who just isn't comfortable returning to play for 2019-20 season/playoffs? Don't know, but if there were, obviously no playoff pool monies for the player. 19-20 salary has been paid already. Pension impact?"
I say: I think this is an easy one. If you aren't comfortable with playing, then don't play. In case a player feels this way, their pension should NOT be impacted, at least not in my opinion. I also agree with Bob – the regular season salary has been paid already. If a player doesn't want to play, the only thing that should be held against him is playoff money. As it stands right now, this topic seems to be more prevalent with NBA & MLB players, although I'm sure a few NHL names will eventually pop up here, especially for players with young kids or pregnant wives. (And this is true: many NHL players, when planning their families, usually try to plan for a summer birth, when the NHL is in off-season. Just something to think about.)
---
Bob says: "Between the Phase 3/4 protocols/terms and a CBA extension, there is a staggering amount of information/detail to be processed in such a short period of time. The goal would be to have something to present to PA members by end of week to vote on, but is it possible?"
I say: Knowing that both parties want to play, I think it is possible!
---
Bob says: "Anyway, you get the idea. The magnitude of what NHL/NHLPA are trying to pull off here in a tight time frame is absolutely unprecedented. Makes 04-05 lockout year seem like a walk in the park. It's not only 19-20 RTP; it's trying to navigate the messy long-term economic impact."
I say: To Bob's point, if the NHL pulls this all off, and being an optimist here, I think they will; this will really make the 2004-2005 season look bad. I mean, the lockout was bad and it's arguably the lowest point in NHL history. However, if the NHL can come out clean throughout all of this, have their playoffs & agree to a CBA, again, as we all asked back in 2004-2005, "what the hell went wrong here?" I'll also state here – the 2004-2005 lockout really soured me. It turned me off as a hockey fan, just like the 1994 MLB lockout did with baseball.
And like I've been saying – despite no games being played, there is so much going on right now. If you social distance yourself from social media or hockey websites, you can be left in the dust very quickly!
Let's get into some Rangers news and opinions now.
---
During my last blog, where I recapped the NHL Draft Lottery, I failed to mention one major thought I had. Alexis Lafreniere, who is a slam dunk to go #1 overall in the 2020 NHL Draft, may have the best scenario, of any #1 overall pick in NHL draft history. The only other player that could challenge the throne here, would be Guy LaFleur.
And really, despite where ever Lafreniere goes (ironically, like LaFleur, it could be Montreal) LaFleur may still lay claim to the throne. After all, when LaFleur was drafted by Montreal in 1971, the Habs were coming off a Cup victory, there were less teams in the league & Montreal were still a dynasty franchise. When it comes to Lafreniere, we know that he won't be joining a team off a Cup victory, the league is over twice the size now than it was when LaFleur was drafted and that whatever franchise selects Lafreniere, that team isn't a dynasty team. After all, we haven't seen a dynasty team since, ugh, and I hate to say it, the early 1980's NY Islanders. (Some may say Edmonton, but the Isles four consecutive Cups trumps all.)
The LaFleur draft is one of the most talked about drafts in NHL history, and one of the shrewdest moves pulled off by an NHL GM, when then Habs GM Sam Pollock, fleeced the California Golden Seals. To this day, that 1971 draft has a ton of conspiracy theorists debating it, as it was Frank Selke Jr. (who like his father, had a long history with the Canadiens) who made the trade on behalf of the Seals. I don't want to go too off on a tangent here, but look up this trade, as it may be the most lop-sided trade in NHL history. It also speaks to how smart Pollock was, a man who has his name on the Cup 12 times. (And to give you all the facts, we all know about how Montreal always had a major advantage prior to the institution of the NHL draft, due to the way teams got dibs on players in previous eras.)
That all said, when you look at Lafreniere, let's take a look at his situation, against other #1 overall draft picks of the past decade:
2010: Taylor Hall (Oilers) – Hall didn't make the playoffs until 2018… with the Devils. In his first go in the playoffs, Hall & the Devils were bounced out in 5 games. Also of note, Hall is now playing for his third franchise, here in 2020.
---
2011: Ryan Nugent-Hopkins (Oilers) – As RNH approaches year 10 of his career, RNH, prior to this season, has only made the playoffs once in his career.
---
2012: Nail Yakupov (Oilers) – How the Oilers got three straight #1 overall picks (and would get Connor McDavid four years later) is beyond me. It's something people still talk about to this day. Anyway, Yakupov wound up being one of the biggest #1 overall busts in league history & never made the playoffs.
---
2013: Nathan MacKinnon (Avalanche) – MacKinnon, along with Matthews, are the exception to this list. MacKinnon made the playoffs in year one, made the playoffs several times after & is continually involved in Hart Trophy debates.
---
2014: Aaron Ekblad (Florida) – Ekblad, despite being one of the better defensemen in the league, has only made the playoffs once. He also plays in one of the deadest markets in the league today.
---
2015: Connor McDavid (Oilers) – McDavid, arguably the greatest player in the NHL today & a perennial MVP candidate, only has one playoff run to his name, prior to what's about go down in August. I don't want to do my "greatest hits" here or go off on another tangent, but when the NHL asks themselves "why do we stink at marketing?" they can look at the amount of games McDavid gets on prime-time television for the answer. If McDavid was playing on the east coast, more people would know about the greatest player today.
---
2016: Auston Matthews (Leafs) – In hockey happy Toronto, a league leading franchise, Matthews has made the playoffs in every single season. He also has never made it past the first round either.
---
2017: Nico Hischier (Devils) – Hischier made the playoffs in the first round with another #1 overall pick alum, in Taylor Hall. Both only saw five games of action, before being stomped out by Tampa. Hischier currently is playing for a dysfunctional franchise.
---
2018: Rasmus Dahlin (Sabres) – the Sabres haven't made the playoffs in nearly a decade, and who knows if they'll ever make it again! It's a shame too, as Buffalo is one of the league's best markets.
---
2019: Jack Hughes (Devils) – in his rookie season, the NJ Devils stunk and in turn, fired their GM & HC. They also blew up the roster. Let's not forget, going into the season, the Devils added a slew of veterans to a roster that included a former league MVP in Taylor Hall & with the 2017 #1 overall pick. Are the Devils the new Oilers?
---
Of note here, the last #1 overall pick to win the Stanley Cup? Patrick Kane, who as the first overall pick of the 2007 draft, won the Stanley Cup in 2010.
Ever since the institution of the hard salary cap in 2013 (my number 1 gripe in all of my arguments about Henrik Lundqvist) not one #1 overall pick has ever won the Stanley Cup. By design, the draft benefits the inept, the moronic and the losers. The hard cap punishes the intelligent, the strong and people doing things the right way.
Again, one last time here, "I don't want to do my greatest hits or go off on a tangent", but this is stuff I've been saying for years – there should be a cap loop-hole, where teams are able to go above the cap, without penalty, for their homegrown players. (Larry Bird rule.) By doing this, fans will be able to see life-long players of a franchise, increase good-will and it will allow teams to be rewarded for being smart. After all, with the hard cap, why are we punishing teams for being successful? That's Father Finkin' communism!
Whoever drafts Lafreniere, that team will find themselves with a player, that hopes to reach the "generational franchise player" status. It also opens a wide case of future scenarios, with my best bet being the loser of the Pittsburgh/Montreal series nabbing him. I'll also add this – imagine the outrage if the Oilers land him?
Wherever Lafreniere goes, he most likely won't have to toil and waste the first five of his NHL playing years, by playing meaningless games, in regards to a Cup bid. If amnesty clauses become real, perhaps whatever decent team lands Lafreniere, could also bolster their team with a great free agent. And who knows, perhaps under these conditions, Lafreniere could be the first #1 overall pick in NHL history, to win the Stanley Cup in his first year played too! Will it be with the Rangers? Truth be told, I hope not, as I want the Rangers to make a run & I feel they have a good of a shot as any team in 2020, to win the whole thing. However, if the Rangers are to be eliminated by Carolina, then, as I've been saying for a while here… "WHY NOT THE RANGERS?"
---
In 2018, in the first draft after blowing up their team and releasing "The Letter", a letter that hopes to become a key footnote in an eventual Rangers Stanley Cup victory, the Rangers selected three players in that draft. With their first pick, the ninth overall pick of that draft, the Rangers selected Vitali Kravtsov. After selecting this forward, the Rangers added two defensemen in this draft, by selecting K'Andre Miller with the 22nd overall pick. The Rangers then added Lundkvist, with the 28th overall pick.
On Saturday, June 27th (of course, minutes after I posted my last blog, as it seems like 9/10 times, whenever I finish a blog, a major news story breaks!) Lulea Hockey, Lundkvist's SHL team, tweeted out the following:
Nils är en klok ung man! Ska bli otroligt kul att se honom i vinter med @LuleaHockey och förhoppningsvis i @Trekronorse https://t.co/9NhAGsJe2m

— Ulf Engman (@UlfEngman) June 27, 2020
Translation? Nils Lundkvist has signed with Lulea Hockey, for the 2020-2021 season. In other words, he won't be a Ranger, at least not yet.
I've talked a ton about the Rangers prospects, and their defensemen in the pipeline, in-depth, multiple times on this blog. If you're looking for a QUICK HOT TAKE HERE, since Lundkvist is a right-handed defenseman, this news is good for Tony DeAngelo, Adam Fox & Jacob Trouba. Let me break this down here real fast.
When you look at the Rangers blueliners in the system, of the top names, you have Yegor Rykov, K'Andre Miller & Libor Hajek. All three of these players are left-handed defensemen (LD). In other words, unless they change positions, they don't effect Trouba, Fox or TDA.
It should also be stated, despite some of these chart nerds who believe that every Rangers defense prospect is the second coming of Bobby Orr, that just because DeAngelo & Fox don't vote the same way as these geeks, the Rangers aren't looking to move them. And that includes Larry Brooks, who seemingly dedicates a paragraph every article, about NYR trading DeAngelo. Fake News Lyin' Larry has gotten so out of hand with his bullshit about TDA, that TDA even called him out this week on Twitter:
I like Larry! Good guy & reporter. But it's true, always on the block! 😆 #LGR 🗽 https://t.co/bQVMN9h2CU

— Tony DeAngelo (@TonyDee07) June 28, 2020
It should be stated here, while TDA seems to be jesting about "Lyin' Larry", what do you expect TDA to say here? Do you expect TDA, in a contract year, to go the Dan Boyle or John Tortorella route? I'm sure TDA would love to say "FATHER FINK LARRY BROOKS", but what would be the point in that? It's better to stay on good terms. For all of Lyin' Larry's Fake News, he still is the most senior writer on the block and a Hall of Famer at that. (It still is sickening to me, that Larry Brooks is a HOFer in 2020 and Stan Fischler is not. What does Fischler have to do?)
And oh, for what it's worth, in the history of Larry Brooks & his NY Post columns, HE HAS NEVER MENTIONED THE TOPICS OF POLITICS OR WHAT THESE PLAYERS BELIEVE IN POLITICALLY , except for on one occasion. The exception, Tony DeAngelo of course!
And really, as I commented several blogs ago, I'm surprised Larry can even see his monitor, with his head up Henrik Lundqvist's ass all the time!
I know, I know, I know – I'm already 7000 words in deep here and haven't even gotten to the "Watch Your Tone" podcast recap yet! However, stay with me here. After all, you know this site's motto – "10K words, no ads, one click!" I should also mention here, that BARRING A SIGN & TRADE DEAL, Tony DeAngelo is unable to be traded any way. However, don't let that fact get in your way Larry!
Of Miller, Rykov & Hajek, however they may turn out, they don't play the same side of the ice as DeAngelo, Fox & Trouba. Of the Rangers three right-handed defensemen, three men who may be here for 6+ years, Fox is the safest bet to last the longest in NY. After all, he's the youngest and has the least amount of wear on him.
In the case of TDA, despite whatever these Trump-hating losers say on Twitter, it makes no sense for the Rangers to let him walk in the off-season. He's a big part of the fabric of this team. And oh yeah, have I mentioned in the past that he's had the best offensive season of any Rangers defenseman, since the days of Brian Leetch? His numbers should continue to stay gaudy, especially with Panarin & Zibanejad hitting their primes.
Trouba may be the wild card here, as he has a big contract, a contract that the Rangers may be interested to get out of, especially with Fox & TDA, who are both younger, producing better numbers than Trouba and for significantly less money. Even with TDA set for a huge raise, I doubt his contract will rival Trouba's, even if it should. (And really, it won't happen now, with the salary cap staying flat. This upcoming 2020 free agent class, are the most unfortunate class in recent NHL history.)
And it should also be said, in the case of Trouba, that he only signed with the Rangers, because of his wife's work situation. Then again, while it would be bad optics for the Rangers to buy-out or trade Trouba, I can see the argument for it. That said, I just don't envision it happening.
Back to Lundkvist.
Worth mentioning here, we are now a year and a day away, barring a buy-out, of Henrik Lundqvist no longer being a Ranger! Martin Luther King, in the afterlife, when asked about this topic, said it best:
I mean it this time – back to Lundkvist.
When it comes to Nils Lundkvist, I have no problem with him staying in Sweden and with the SHL. In my opinion, I agree with his decision. I think this is a win-win scenario all around. Just think about it. Need the facts? Here they are:
— In the 2020-2021 (or 2021 season, whenever it starts), Marc Staal and Ryan Lindgren aren't going anywhere, nor should they. Brendan Smith, as a result of the Skjei trade, will fill the third LD roster spot. If Lundkvist, a RD, even tried to convert positions, he would be competing with these three, along with Miller, Rykov & Hajek.
— Moving past the upcoming season, and going into the 2021-2022 season, a season where hopefully everything is back to normal, Staal & Smith will most likely be gone, as their contracts, like Henrik Lundqvist, expire on July 1st, 2021. If Lundkvist can convert, especially knowing the Rangers seem set at RD already, he will see himself as one of four players, competing for a LD job roster spot on NYR. While Miller has the most upside, Lundkvist has a shot of outplaying Rykov and Hajek, with Hajek already failing at this task once in the past.
— No one knows what the hell is going to happen with the 2020-2021 season. What we do know is this – providing the NHL does have and completes their 2020 playoffs, the next season won't start until either December 2020 or January 2021. Instead of standing around with his thumb up his ass, Lundkvist can play meaningful games, and meaningful minutes, with Lulea.
— Even better for Lundkvist? Should Lulea find themselves out on the outs of the SHL playoffs, come the spring of 2021, Lundkvist can fly over to North America and then sign with the Rangers.
— Lundkvist seems like no dummy either. He said, in regards to staying with Lulea, how no one knows what's going on with this pandemic. He also added, that by staying in Lulea, he can add games and experience to his career. He's 100% right. And with a logjam at defensemen for the 2020-2021 season, is it really worth taking a gamble coming over here, and waiting to see what the hell happens with the AHL and the Hartford Wolfpack?
With the state of the world and the NHL unknown right now, I 100% support and agree with Lundkvist's decision. Lundkvist, who turns 20 years old this month, has plenty of time to get acclimated in America, where he hopes to one day ply his wares. And really, the biggest thing here – he will get more playing time and playing experience, staying in Sweden right now, than if he traveled over the pond.
Good luck to Lundkvist. It's just a shame we won't get to hear Rosen call a game with both Lundqvist and Lundkvist on the ice. And in the event that Lundqvist & Lundkvist are both Rangers at the same time, expect a million word blog on why I'm pissed off about that!
And now, finally, the main event of tonight's blog, the Tony DeAngelo "Watch Your Tone" podcast recap!
---
On Tuesday, the morning of June 30th, Tony DeAngelo & the crew released the latest episode of the "Watch Your Tone" podcast. You can listen to the fourth episode of the podcast here:
Epsiode 4 in now available!
Tune in and send us your feedback! Enjoy! #WYTpod

Apple podcast ⤵️https://t.co/MnT66ytNBb

Spotify ⤵️https://t.co/UnJACg2QZp

— WatchYourTone_ (@WatchYourTone4) June 30, 2020
Before dropping the episode, DeAngelo teased a discussion on ANALytics. Everyone who reads this blog knows my thoughts on that topic. If you don't, just check out my last blog by clicking here, as I just talked about this topic when discussing Ron Duguay's latest podcast & his interview with Meghan Chayka. Needless to say, I'm not a fan!
As usual, the show opens up with Frank Sinatra's "NY, NY". As I said last blog, I'm surprised these liberal creeps on social media haven't tried to cancel Sinatra yet! TDA then welcomes us to his show & introduces his co-hosts, who are his brother Fredo & his buddies Huff & Ron the Gambler. The four banter about their individual golf games & then move to the recent events in the golf world.
After talking golf, the quartet start talking basketball. Supposedly there is some conspiracy around the Pelicans. I didn't even know the NBA had a team called the Pelicans. What a horrible team name. This then turns into a joke about TDA and his plus/minus stats. TDA gives us a hint of what's to come, by ranting about ANALytics and the +/- stat in hockey.
The four then talk about an NBA player I do know of, in JR Smith. JR Smith just signed with the Lakers, as he looks to ride on LeBron's cape to another NBA Final. I could give two shits less. I just hope the Lakers lose.
Up next on the docket is Major League Baseball. TDA brings up how some players are not going to play in 2020, due to their own personal family situations. TDA and his co-hosts are understanding of players opting not to play. TDA doesn't bring up the same topic in regards to the NHL players, as talked about earlier this blog in my Bob McKenzie segment.
After talking golf, NBA and the MLB, the boys finally get to the NFL, and the big news in the league, the Patriots acquiring Cam Newton. If anyone can revitalize Newton's career, it's Bill Belichick. TDA's co-hosts pretty much echo my own thoughts on this move – it's a win-win situation for both parties, providing Newton's healthy. A good point TDA brings up, is what will Belichick do with a running/scrambling quarterback. Best part about this bit on the NFL – TDA shitting on the NY Jets! (Then again, to be fair, I'm sure TDA hates the Giants more, due to NYG being in the Eagles division.)
After talking football, the podcast moves to the NHL Draft Lottery. TDA talks about future scenarios and how the lotto shook out. I talked about all of this last blog. TDA breaks down the lotto to his several confused co-hosts. In short, TDA has an opposite opinion of SportsNet's Brian Burke. TDA brought up the entertainment in seeing the sad faces of the GM's as their team popped up on the board. (Meaning that these teams & these GM's didn't get the #1 overall pick.)
TDA talks about the odds of the draw, not knowing that "TEAM E", with a 2.5% chance, actually won the lottery. The boys then bring up the stuff I just said in this blog about Lafreniere and how he won't have to play for a crappy team.
TDA then brings up winning the Cup in 2020 vs winning the number 1 overall pick. TDA was shocked about these loser fans who want to see their team lose during the play-in round of this years Stanley Cup Tournament. According to a poll he ran, 23% of fans would rather root for their team to lose in August, than see their team win a Cup. Like TDA thought, this is insanity to me too. The dream of every fan is to see their team win a championship, or at that's what I thought. And as TDA soon gets into, most of these fans are from the ANALytic side of things. SAD!
TDA thinks some fans are too worried about playing GM. TDA's co-hosts agree and also find it sickening that some fans are rooting for their team to lose. As TDA said, some fans WOULD RATHER LAND A NUMBER 1 OVERALL PICK THAN WIN THE STANLEY CUP. Just think about that insanity. As TDA co-hosts bring up, too many of these fans think real life is like playing video games. TDA's co-hosts bring up that when playing "NHL 20", TDA would do "Be a GM" mode, than play the game itself. The key to a successful franchise – having a good price point for french fries!
Up next, some UFC talk. As I've been saying here and on social media, UFC has been absolutely killing it during these times. Lou aka Fredo went 7-2 this past weekend with his picks. That's amazing, considering you don't know about the training camps of these fighters right now. Also of note, Lou snuck in a nice little spot for ball-trimming.
If I have gotten anything from these guys, regarding UFC, it's that they are all relatively new fans of the fight game. They should go back and watch the old PPV's from the late 1990's, if they really want to see some wild shit. The four then talk about future fights.
After doing the sports report, TDA & the gang get to the main event of the show – ANALytics.
TDA starts off by saying, "I don't think sports analytics are bad." TDA, like yours truly just a blog ago, then says, "I don't think believe they are the end-all. Some people think if you don't believe in sports analytics, you're wrong." Amen to that.
TDA feels that some of these analytic people feel that you could just plug in robots in the place of players. I never heard that thought before. TDA makes sense here, considering 99% of these analytical people, with some of these people now taking jobs from long-time hockey men, act like whatever they have on chart is what will happen. Again, as I always say on these blogs whenever the topic of ANALytics comes up, if any of these foo-foo stats meant anything, someone would be cashing out in Vegas right now.
TDA says he trusts a GM, a scout, or someone of that ilk over a computer. TDA doesn't trust a computer, as he is an eye-test guy. TDA's co-host is also an eye-test guy first and doesn't value analytics much either. The topic of Billy Beane comes up. Check out my last blog for more on Beane. Lou DeAngelo brings up what I said in that blog – Beane has never won a World Series and his Beane's biggest accomplishment is Brad Pitt playing him in a movie! BOOM!
TDA then says he feels analytics are best served for baseball, especially when it comes to positioning, the shift and other managerial ideas. The talk then diverts to the new rule in baseball, when it comes to pitching changes.
TDA feels that too many people just want advanced stats in hockey. And in what got me fist-pumping, TDA then brings up the stupid "EXPECTED" stats. FINALLY, a confirmation and a player saying exactly what I feel. And again, I don't want to do my "greatest hits" here, but sometimes you expect to fart, but depending on what you ate, what you expected may turn into shit!
TDA reads off the definition of "expected goals". TDA jokes, saying "I can't believe they came up with something so ground-breaking!" I was in tears listening to this. TDA basically says no-shit – when I'm in front of the net, I have a better chance of scoring! TDA says, "If I'm not a good scorer, I'm not going to score as much!"
TDA then rips apart Adam Hermtrans, the same loser I've tore apart on this blog in the past. As mentioned, Hermtrans is one of these social justice warriors, who hates anyone who has a different opinion than him. He's also one of these people looking for anything to be racist. I wonder if the white paper he prints his stupid little charts on are racist too? WHY ISN'T THE PAPER BLACK?
Needless to say, TDA going off on ANALytics and Hermtrans, well that made my morning!
TDA's co-hosts talk about these moron fans who tear apart Ryan Strome over analytics. TDA is well aware of what these geeks say about Strome and defends his friend from these chart-humping mooks. TDA brings up how none of these analytic people ever think about hockey IQ or confidence. Preach Brother Tony! The topic of the "PDO Stat" is brought up. I never even heard of that bullshit! The co-hosts then talk about how ridiculous PDO is and how yeah – offensive players will be on the ice during offensive zone face-offs! It's common freaking sense!
TDA likes scouting reports, when it comes to the opposition and goalie habits. He says he never looks at analytics, when it comes to individual players on the other bench. Similar to the talk about Winning The Cup vs The First Overall Pick of the Draft, the guys can't believe how some fans can be mad about their team winning a game 5-0 when the ANALytic stats suggest otherwise! And this isn't made-up either – this happened once during this past season. I forget which game, but I know I have a whole rant on that on this site somewhere! (Check the archives!)
TDA does say that he feels that perhaps they are knocking analytics too much, but the main point he wants to get across that it should never be the end-all, be-all, as I always say on these blogs. The topic of analytics in gambling comes up too.
The crew then goes back to analytics in baseball. TDA brings up the Phillies and the way they have used analytics. TDA feels that analytics cost the Phillies some runs last season. The talk then goes to how the Blackhawks hired an analytic company. Not mentioned – the Leafs hired Valiquette's service several years ago and have never made it out of the first round. (Ironically, the Rangers do not use Vally's CSA.)
TDA then hammers home the point about scouting and the eye-test being more important than analytics. TDA's co-host & brother Lou feels that every GM in the NHL prefers the eye-test over analytics. As discussed last blog, that's not the situation in Toronto or Arizona right now.
While not saying it out-right, TDA hints that analytics in hockey, when it comes to defensemen, these made-up nerd stats do not favor offensive defensemen at all.
After wrapping up on ANALytics, the "Mean Tweets" segment of the show is up next. TDA feels, while he knows he has his detractors (and really, it's only because TDA doesn't vote the same way as these people) he feels some people are just trying to make the show with some of the stuff they say.
One mean tweet has to deal with Tony & a bag of milk. I've never seen a bag of milk before. Supposedly, it's a Canadian thing. Another tweet has to deal with someone wanting to kill Tony. The third tweet doubles-down on wishing death on Tony. The last tweet calls TDA an asshole. Not original stuff here. Maybe these people should hire Rangers fan, and stand-up comic, Chris Roach, to come up with better material!
I will also add here, because I've seen it myself, it boggles me how some RANGER FANS (and really, more importantly, fellow humans) can openly wish death on DeAngelo & threaten his well-being. No way they would say this stuff to his face. And truth be told, they are lucky TDA laughs this garbage off. Another person may forward these type of tweets to their local police department.
Closing out the show, is guess what – Final Thoughts! If I have gotten anything out of this past month of podcasts, it is that these guys are big NBA guys. I think these guys are about 10 years younger than me. I guess if you grew up with the 5 vs 5 three-point game that the NBA has turned into, you don't know anything else. That said, the NBA just isn't for me anymore. Bring back the big centers, the defense, the rivalries, the boxing out and guys taking real charges, like a Scottie Pippen. (The flopping shit in the NBA today is just dreadful to watch.)
TDA's final thought concerns July Fourth and celebrating America's birthday. That wraps up the show. TDA then trolls the analytic people one more time before saying goodbye.
---
If you haven't already, subscribe to this blog for the next update:
As far as the next blog, if you subscribe by clicking the form above, you'll get that bad boy delivered to your email box. For our next update, I should be back sooner than later. I know Ron Duguay, whose podcast I always recap on these blogs, is returning Wednesday afternoon, with an interview with Kenny Daneyko. I'm also assuming, as I write these words, that BSU will return with more of their second round of their "64 Worst Moments in NYR History" Tournament. In addition, I'd expect a ton of NHL news coming our way, as the league approaches resuming their season.
As always, thanks for reading and…
"WHY NOT THE RANGERS?!?!"
LET'S GO RANGERS!
Sean McCaffrey
BULLSMC@aol.com
@NYCTHEMIC on Tweeter and the new Parler app.