Greetings and salutations everyone and welcome to another blog here on BlueCollarBlueShirts.com. As the world, or at least here in America, returns to normal, things are somewhat abnormal in Rangerstown, USA – after all, there's no explosive Rangers news story to talk about at the present moment!
I must add here, I'm glad things are returning to normal. With my area returning to "the way it was", I already have trips planned to Atlantic City and to Saratoga this summer. Of note, I grew up as a fan of baseball, hockey, basketball and football. Now, as I approach my 39th birthday on June 13th, my three favorite sports, and in order, are hockey, MMA and horse racing. I guess I like the animal nature of these sports!
I mean really, I don't understand how anyone could like the products that the MLB and NBA give you in the present day. At least in the NFL, I can understand people's fandom of football, as you do have all of the gambling involved, due to the explosion of fantasy football leagues and sucker-sheets! I must admit, talking crap in my fantasy football league is one of my favorite hobbies. What a life.
After those trips/vacations, I am eagerly awaiting the NHL's announcement of the 2021-2022 season, where my pals and I are eyeing a trip to Seattle and to Vancouver. (I am anticipating the Rangers having a road-trip, where they'll play both of these teams on the same trip. And if Vegas is the third leg of that trip, count me in too! I'm hoping my future book sales will generate enough disposable income for those trips!)
And oh, to be honest with you, I'm writing this blog with a bottle of Proper 12 in me and after the Minnesota Wild were eliminated from the playoffs. Both of these events have influenced what you're about to read here! (I also apologize for any typos in advance, as I'm starting this blog at 12:30AM! When it comes to the "art" of blogging, who is more professional than yours truly? <Hic!>)
As talked about last blog, the Rangers are in a state of pause right now, as we await news on whoever the next coach in franchise history will be. When it comes Chris Drury's decision to name a new coach, I don't think that decision will be made until after the IIHF World Championship Tournament is complete, a tournament that finishes up in Latvia on June 6th. Of course, that's the very same tournament where the alleged favorite for the job, in Gerard Gallant, is currently coaching Team Canada in. (And as talked about on prior blogs, whatever happens in the 2021 IIHF Worlds Tournament should have no bearing on what Drury does.)
Outside of Gallant, from what we know, not much has changed in Drury's search for a new head coach. We do know for a fact that Rick Tocchet has been interviewed. As far as the other names previously discussed on this site, like John Tortorella, Mike Babcock and others; as of this writing, there's been no official word on whether or not they've been interviewed. At the very least, you would think Chris Drury would talk to as many candidates as possible, just because it will give him varying opinions on what direction to take the Rangers in. After all, there's no harm in getting a free expert opinion, which many of these job interviews are.
I brought this point up recently during my last blog here on this site, but one more time for the record – if anything was learned after the Rangers firing of Alain Vigneault, when it comes to hiring a new head coach, sometimes it's better to wait until the Stanley Cup playoffs are over, rather than rushing into a decision.
While David Quinn may have been the route the Rangers would've went down regardless; had the Rangers waited until the end of the 2018 Stanley Cup Final, they may have very well landed Barry Trotz. And had the Rangers landed Trotz? Perhaps as Ranger fans, we wouldn't be sweating out this current Islanders playoff run. Again, who knows, but as outlined last time on this site, this is why history always fascinates me. One decision will always create a snowball effect. In this instance, the Rangers impatience became a boon and a boom for their biggest rival.
Staying with the theme of "patience is a virtue", the Rangers may also want to wait out whatever happens with Mike Sullivan in Pittsburgh. While it's true that Gallant and Tocchet, (the two candidates that we know for a fact that have been interviewed by Drury) are also taking interviews elsewhere; (both men have been linked to the head coach vacancies in Columbus and Seattle) it's my belief that if the Penguins do part ways with Sullivan, Sullivan would be the best candidate of this trio.
Let me just rewind here a second and give you the details.
After the Penguins, the number one seed of the "Mass Mutual, My Shiney Hiney, Bluechew, Applebees, KY Jelly, East" division, were eliminated by the Islanders, the Pittsburgh hockey media quickly pumped out articles regarding the fate of Mike Sullivan. Some members of the Pittsburgh media believe that Sullivan, despite having three years remaining on his contract and a contract that runs through the 2023-2024 season; (Sullivan signed a four-year deal in July of 2019) that the Penguins should move on from him.
For the people of the thinking that the Penguins will/should part ways with Sullivan, their arguments are valid. Here are some of their talking points:
— The Penguins are 4-15 in their last 19 playoff games. (These numbers include the qualifying round loss to the Canadiens from the 2020 Stanley Cup playoffs.)
— The Penguins haven't advanced past the first round since 2018, a Penguins team that has one of the greatest players of all-time on their roster, in Sidney Crosby.
— It seems like Sullivan and Brian Burke, a Burke who took over hockey operations after Jim Rutherford stepped down earlier during the season, are butting heads. In interviews with the media, both men have said conflicting things, where after the series loss to the Islanders, Sullivan took a jab at Burke's penchant for tough guys, when Sullivan said, "we didn't lose this series because we weren't big enough."
— Related to the previous point mentioned, both Burke and new general manager in Ron Hextall, have no "bones" with Sullivan. They may want their own guy, just like how the Rangers/Drury now want their own guy behind the bench.
I'll get into the Penguins/Islanders series soon enough tonight, but I think both Burke and Sullivan are right. You do need toughness and size in the playoffs. That said, to simply break down the Penguins loss to the Islanders, all I have to say is this – goaltending, goaltending and did I mention goaltending?!?!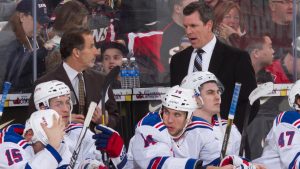 After saying everything above, you may be asking yourself – why would the Rangers want Mike Sullivan? Easy. Sullivan has two Stanley Cups to his name, is familiar with New York City (he previously served as the team's assistant under Tortorella) and has a great track record. While other coaches on Drury's proverbial list do have Stanley Cup wins, if Sullivan were to be fired, he'd be the coach with the most recent success.
In fact, and as I commented on social media, I'm surprised Larry Brooks hasn't run with a story pushing for Sullivan, especially after Brooks "swagger-jacked" my Rangers/Lundqvist/veteran goalie/Georgiev is too expensive blog! (And to be fair, this was common sense stuff, so I don't think Brooks "ripped me off" or anything like that. I'm just having fun here!)
When it comes to questioning Sullivan for the Penguins most recent series loss, again, it was all about goaltending. You can question Sullivan for starting Tristan Jarry in the must-win Game 6, especially after Jarry's gaffe during the double overtime of Game 5.
Additionally, even if you want to say that you don't want to throw in a goalie like Maxime Lagace during a pivotal Game 6, a Lagace who hadn't played much this season; at the very least, Sullivan should've pulled Jarry in that Game 6. (Of note, the regular Penguins back-up goalie, in Casey DeSmith, was injured.) As the game went along, Jarry's sunburn on the back of his neck was intensifying, as a result of the red light constantly going off behind him, during a horrendous first thirty minutes of Game 6.
I can't profess to you that I know what the hell is going on with Pittsburgh right now. Hell, it's not like I knew that John Davidson and Jeff Gorton would be fired in New York! All I can say here is that if Sullivan is removed, I think it will be the result of Pittsburgh's front office wanting their own guy more so than anything else. In the event that happens, it wouldn't be the worst thing in the world if Drury gave Sullivan an interview.
And oh, from the "ISN'T THAT AMAZING SUZYN?" files – imagine if the Rangers did hire Sullivan? The Rangers are fresh off of firing their defense coach, in Jacques Martin, a Martin who served the Rangers admirably. Prior to joining the Rangers for his one-and-done season, Martin was one of Sullivan's assistants in Pittsburgh. One more time – isn't that amazing Suzyn?
Lastly, when it comes to Drury's search, I think he should stick to his guns and not over-react if another team signs a coach before he does. From an outside-looking-in perspective, if Gallant was the no-brainer here, Drury would've locked him up. And while Gallant has had success, there has to be a reason why he was fired from two different places, and in such a short amount of time to boot. One more time here – patience is a virtue.
As far as any other Rangers news, there's nothing else, outside of the several Rangers playing in one of the most watered-down versions of the IIHF Worlds Tournament in some time. Admittedly, tracking the progress of Libor Hajek and Kevin Rooney isn't on my "To Do List", especially with the NHL playoffs going on at the same time.
Speaking of the NHL playoffs, that's our main event topic for tonight's tome, as I give you my round one reaction, prediction results and then my round two preview. In addition, I have some interesting news and opinions on the state of goaltending in the league.
However, before getting into all of that, as usual here – the PLUGS segment.
Here are my last few blogs in case you missed them:
---
---
---
If you didn't read the blogs plugged above, I previously gave out my predictions on the first round. I also recapped the Washington/Boston series and the Colorado/St. Louis series.
Real quick here, here are how my predictions have gone thus far, and with one series still remaining (Toronto/Montreal):
— I went 0-2 in the East division, aka "my home division", as I had both Pittsburgh and Washington winning their respective series in six games. As I've said for years on this site, you can watch every hockey game and on every night of the week; but at the end of the day, you really have no clue what's going to happen in the playoffs. That's why the Stanley Cup Playoffs are the best in sports! These playoffs are truly unpredictable.
— I went 2-0 in the Central division, as both the Hurricanes and Lightning handled business. While I didn't get the number of games correct, both series went pretty much as I thought they'd go – the more experienced and "win-now" team did what they were supposed to do.
— I went 2-0 in the West division, as Colorado easily dispatched of the Blues in four games. While I had the Knights beating the Wild in six games, I did get the winner right, as on Friday night, the Knights beat the Wild in a home Game 7, thus giving hockey fans an explosive round two match-up between Vegas and Colorado. To me, this will be the most exciting series of the second round.
— In the North Division, I'm currently 0-1, as I had the Oilers knocking off the Jets in six. Instead, the Jets swept the Oilers, in what is the biggest shocker of the first round. I took the Leafs in five over the Canadiens, in a series that is currently in favor of Toronto, three games to two games. Due to the pandemic and this crazy season, Game 6 of this series will be played during the first game of round two, which is the Boston/Islanders series. It's also why I'm doing this round two preview blog here on early Saturday morning, as I wanted to get something up before round two begins.
In short, I'm currently 4-3, and I think I'll be 5-3, come Game 6 between Toronto and Montreal on Saturday night. That said, I am rooting for Montreal and for a Game 7. As far as why I'm rooting this way, it's because I have friends in Montreal, love the city of Montreal, would love to see a Game 7 and in the event of a Leafs loss, that would mean they'd be 54 years without a Stanley Cup. 1940 be damned!
---
Let's quickly get into the round one recaps and then get into the second round preview.
EAST DIVISION
Boston Bruins defeat the Washington Capitals in five games.
I recapped this series last blog. As far as anything new here, the biggest story is how long does it take before Washington re-signs Alex Ovechkin? For as much as I'd love to see Ovechkin hit the open-market, and a Panarin/Ovechkin uniting would be great for the Rangers and it would also create fireworks in Russia – I think it's a given that Ovechkin returns to Washington. In addition, both Capitals owner Ted Leonsis and Ovechkin have pretty much said that both parties will come to terms.
---
New York Islanders defeat the Pittsburgh Penguins in six games.
I talked about this series earlier tonight, when talking about Mike Sullivan. In short, while some names may have changed, the Isles are pretty much the same team from last year's bubble, where their defense continues to stymie the opposition.
I think you can very easily make a blanket statement and say that goaltending swung this series. I mean, who would argue otherwise? Ilya Sorokin went 4-0 and every Ranger fan in the world would've given their right side of their genitals to see Igor Shestyorkin do the same. Conversely, Penguins goaltender Tristan Jarry looked like he was auditioning for a horror series on Netflix, as he was a nightmare in net for the black and yellow.
While I think goaltending was the key to the series, you can't ignore the Islanders defense and the coaching of Barry Trotz. Even the future Hall of Famer, in Sidney Crosby himself, talked about how easy the Islanders were able to shut him and the Penguins top six down. And when the Penguins did score? Tristan Jarry quickly gave one up on the other end.
You know I hate the Islanders, but to be fair, they are a great hockey team and built for the playoffs. For those Ranger fans fearing the worst, which would be the Islanders hoisting their fifth Cup in franchise history; even if they do get past the Bruins, I don't think they'd match up well with Tampa, in the event that Tampa advances too. In the event of a Tampa Bay vs Islanders ECF rematch, I'd see a similar a result as last year. That said, I'm getting ahead of myself here! After all, there is no true "Conference Final" this year, as the NHL will reseed the teams after the divisional round.
---
NORTH DIVISION
Winnipeg Jets defeat the Edmonton Oilers in four games.
I talked about this series after game three, during my last blog on this site. If blowing a three goal lead with eight minutes and change remaining wasn't bad enough for the Oilers, the Oilers wound up being swept after a triple overtime loss in Game 4. Talk about putting salt in the wound.
As mentioned earlier, this was the biggest shocker of the first round. Not even the most hardcore Jets fan had the Jets sweeping the Oilers, especially with how well the Oilers handled the Jets during the regular season.
Former Oilers GM Peter Chiarelli made a series of baffling moves on his way out, moves which the Oilers were still paying for during this season. That said, that doesn't excuse the two former MVP's in Connor McDavid and Leon Draisaitl (and McDavid should win the MVP this season) for coming up empty-handed during the first two games in Edmonton.
Want to play conspiracy theorist here? Allow me to share this graphic with you:
I hate to admit this, but it's a fact – the Nassau Coliseum had the loudest crowds of the first round, something which should continue into the second round. While the Penguins were able to win one of these games at the Coliseum, without question, the Coliseum crowd helped the Islanders win the latter games of the series.
To jump ahead for a second, in Nashville and in Carolina, these two franchises allowed the most amount of fans into their arenas, out of all the sixteen first round teams. In turn, the first five games of this series went to the home team, with Carolina winning a road Game 6 – in overtime.
In Canada, outside of Montreal, which didn't allow many fans into the arena to begin with; the other three teams of the Great White North held their home playoff games in front of no fans. Had Edmonton been allowed to have fans, I'm led to believe that the "ORANGE CRUSH" would've at least produced a split at home. However, we'll never know. That said, there's just no way to tell me that not having fans in Edmonton helped the Oilers in this series at all.
Truth be told, the Oilers, fans or no fans in the arena, have a litany of problems, where the Jets really exposed these problems. If McDavid and Draisaitl can't get going, the Oilers are toast. I think the Oilers misfortune is great news for Toronto, although with the way the Jets handled this series, the Jets won't be an easy out.
---
Toronto Maple Leafs lead the Montreal Canadiens 3-2.
While this series may be going longer than expected; I think what most fans and reporters thought going into this series, has rung true throughout this five-game set thus far. This series is pretty much Toronto's heralded offense vs Carey Price, where the Canadiens will only win games when Price is able to steal them. If Toronto gets equal goaltending or if Price has a bad night, the Habs have no chance.
Obviously, the Tavares injury changes things for Toronto, but even without the team captain, Toronto has more than enough firepower to dispose of the Habs, and I expect we'll see the Leafs close out the Habs in Game 6.
---
CENTRAL DIVISION
Tampa Bay Lightning defeat the Florida Panthers in six games.
This series played out as I thought it would. (And let me shout out my buddy "NO FLEX", of NewYorkPuck.com here. As he'd say – "I KNEW IT!")
The Lightning, the defending Cup champs, are built to win now. Florida is a team on the rise, and one of those teams that needs to get knocked down once or twice, in order to get ahead. At least that's my take!
I've talked about the Kucherov/salary cap thing in the past, and really, as stated, it doesn't bother me. Of course, I'm also someone who hates the salary cap to begin with. I won't rehash my greatest hits here, but to me, the Kucherov thing isn't an issue. The issue is that Florida, like Texas, is a no income tax state. In turn, these teams can offer better deals than their competition. A team like the Rangers, for instance, plays in one of the highest taxed states/provinces in all of the league. They have to offer more money to offset the high tax rate of New York City, a tax rate that nears 50% in some cases. Whine about Kucherov all you want, but if the NHL is going to continue with a hard cap, the playing field won't be level until the league offsets the tax rates around the league.
I'll get into this more at the end of tonight's blog, but what's the one thing I've said from day one on this site, when I first started this site over seven years ago? Need a reminder? Here it is – "not one top five goaltender has won a Stanley Cup in the hard salary cap era."
Hello Sergei Bobrovsky, the second highest paid goaltender in the league at $10M a year, and a Bobrovsky who was replaced by essentially two different rookies in this series. MINGA! (Yes, I know Chris Driedger is not technically a rookie, but prior to this season, he only had played in 15 career games. And in a must-win Game 6, Florida went to their rookie netminder in Spencer Knight.)
In any event, I thought Florida made a good showing of it, but Tampa is too deep and that Bobrovsky contract is a team killer. Not having Aaron Eklbad around didn't help matters either.
---
Carolina Hurricanes defeat the Nashville Predators in six games.
Going into the playoffs, I think when you looked at all eight first round match-ups, and when it comes to trying to find/predict sweeps; you would've predicted that both Colorado and Carolina would do so. While Colorado would sweep the lesser St. Louis Blues, the Hurricanes eked by the Predators, even if this series didn't go seven games.
For the Predators, while the loss will sting, the front office has to be happy. After all, there was talk about the Predators blowing it up at the trade deadline, but instead, stuck with what they had, and in turn, made the playoffs. After going down 0-2 to the second best team of the regular season (Colorado was first) the Predators responded with a pair of double overtime wins at home. As talked about earlier, with packed crowds in the arenas, each team won in front of their loyalists, that is, until Game 6.
After the Predators wins at home, the Hurricanes took the final two games of the series, where they won both of those games in overtime as well. To the Predators credit, while Carolina was definitely more superior, especially when it comes to the position of forwards, the Predators hung in there. One bounce here and one bounce there, we could've had an upset here. Instead, unless Montreal wins their next two games, we will only have one first round upset this year. (The Jets over the Oilers.)
While on the topic of upsets, I don't count the Islanders, who were the fourth seed of the East, and their win over the first seed Penguins, as a true upset. After all, the Islanders were in the Eastern Conference Final last season. The Islanders just had a bad stretch at the end of the season, a bad stretch which dropped them to the fourth seed. It's not like the Islanders were ever out of playoff contention, like the Predators were at times. If anything, I think the Capitals being knocked out in five games by the Bruins was more "upsetting" than the elimination of the Penguins.
And one more time, ISN'T IT AMAZING SUZYN, that now, two years removed from the biggest upsets in the modern day history of the Stanley Cup playoffs (Columbus in four over Tampa and Colorado over Calgary in five) that we only had one true upset this year? I think I may have mentioned that the Stanley Cup playoffs are the best, and the most unpredictable playoffs in all of sports before!
---
WEST DIVISION
Colorado Avalanche sweep the St. Louis Blues in four games.
I talked about this series last blog. One thing I'd like to reiterate here is this:
For the Avalanche, their biggest worry right now is to not come out flat in Game 1 of the second round. More on the Avalanche in the round two preview.
---
Vegas Golden Knights defeat the Minnesota Wild in seven games.
As you know, I was fanboying for the Wild here, due to my fandom of both Cam Talbot and Mats Zuccarello. While I was rooting for the Wild, I had the Knights winning this series in six. Instead, the Wild played admirably and pushed this series to seven, where the Knights finally clamped down and knocked out the Wild. For fans of the Knights, who may look for an excuse on why this series went seven games, they can easily say the Knights missed Max Pacioretty in the first six games of the series. After all, Pacioretty had a solid Game 7, where he did score the game winning goal.
All the pressure was on Vegas in this series, as they were supposed to make short work of the Wild, even if the Wild was the one team that no one wanted to play. It was known that Colorado pretty much breathed a sigh of relief when they nabbed first place from the Knights and got the easier match-up with the Blues.
To me, this was the most exciting series of the first round. After all, it was the only series to go to seven games, barring a Montreal win on Saturday night. As a fan of the goaltenders, I enjoyed the great goaltending out of both Cam Talbot and Marc-Andre Fleury. (And while my fandom of Talbot is stronger than my fandom of MAF, I love the MAF story, what he's done and how he's played. Not many goalies have the unique story that MAF has, a story that would have a Disney ending if he can win the Cup this year. In any event, I believe that MAF is the best goalie of his generation and is a first ballot Hall of Famer.)
At the end of the day, while the Wild put up a fight and made it interesting, Vegas had the deeper roster. There's a reason why they were the second biggest favorite to win the Cup going into these playoffs. A loss to the Wild here would've been catastrophic. I think the Wild are like the Panthers a bit here, where they played a far superior team, but played admirably in this losing effort, an effort that may propel them to greater success in seasons beyond.)
And yes, my next segment here is a result of my fandom of Cam Talbot, but needless to say, what I'm about to say here is all 100% true and I will give you the facts to support everything!
---
Before getting into round two of the playoffs, a few things on the goaltenders, if I may!
You know one of my never-ending talking points on this site – "not one top five paid goaltender has ever won a Stanley Cup in the salary cap era. Two rookies on rookie contracts have." (Those two rookies are Matt Murray (twice) and Jordan Binnington.)
And for those who may take a quick glance at this list and might not know this – Andrei Vasilevskiy, who won the Stanley Cup last season, wasn't a top five paid goaltender last season. His new contract went into effect this season. In other words, if Tampa wins the Cup this season, he'd be the first top five paid goaltender of the salary cap era to do so.
Of the top five paid goaltenders in the league from a total package perspective, only Andrei Vasilevskiy and Tuukka Rask are in the second round. Carey Price is two wins away from joining them.
If we are to assume that Toronto closes out Montreal, that means of the eight teams left standing, only two of the top five paid goaltenders would still be alive. If anything, I think this just strengthens my point – when it comes to assembling a roster, paying forwards should be more important than paying a goaltender.
I guess I should also include an asterisk here. Here are the top five paid goaltenders, when it comes to AAV:
When you look at the average annual value (AAV) of the goalies still remaining, Marc-Andre Fleury joins this list. What's impressive about the Vegas Golden Knights, is not only is MAF earning $7M per season – it's the fact that Vegas also pays Robin Lehner $5M a season. In other words, at $12M a season, Vegas pays their goaltenders more than any other team in the league, outside of the Montreal Canadiens, who with Carey Price and Jake Allen on the books, pays a whopping $15,024,639 overall.
As I said in the past with Henrik Lundqvist and the Rangers, I thought the contracts that Price, Lehner, and Bobrovsky received were salary cap killers. At least with Lundqvist and the Rangers, the Rangers never really paid a back-up goalie insane money, as both the Knights and the Canadiens are currently doing.
If there's anything else that I've consistently stressed on this site, outside of my fandom of the Rangers and hatred of the Islanders, it's that the talent amongst goaltenders has never been tighter. It's very easy for a young goalie to adapt to this league. Goalies are starting younger and younger and getting better and better. And as much as I hate to say this – just look at Ilya Sorokin of these playoffs, a Sorokin who is having a run similar to the run that Thatcher Demko had last year.
Short version – overpaying the goaltending position is a major mistake, a mistake which I think has already doomed the Florida Panthers a bit. After all, Sergei Bobrovsky, and that seven year/$70M overall contract is already a bust. At least Carey Price does carry the Canadiens, even if he's not carrying them anywhere far!
Want another "ISN'T THAT AMAZING SUZYN?" here? It's this – as the person who has been screaming about this point from the rooftops for the last seven years here; going into the season, during the season and prior to the playoffs beginning, my Stanley Cup Final prediction was the Tampa Bay Lightning over the Vegas Golden Knights! In other words, I see this trend of "not one top five paid goaltender ever winning the Stanley Cup in the salary cap era" being broken this year.
But wait, while talking goaltenders here, there's more!
---
As someone who is somewhat obsessed with goaltenders, and with the money they earn, (we all have our strengths and weaknesses, and some may consider this as a strength of mine, while some may consider it as a weakness) I just want to quickly revisit last year's off-season.
If you recall, during the 2020 off-season, we never saw so many goalies on the free agency market before. We also had a big trade, when the Penguins dealt Matt Murray to the Ottawa Senators, where the Senators then gave out a four-year deal worth $25M ($6.25M AAV) to Murray. In turn, the Senators sucked this season and Murray wasn't that hot. To be fair here, it's not like Murray was going to be able to change the lowly Senators on his own.
Call me a fanboy jerkoff here if you must, but I want to get this out there – the Minnesota Wild and Cam Talbot won the goalie carousel sweepstakes of the 2020 off-season. Let me explain.
If you visit the archives of this site, and read what I first wrote when the Wild signed Talbot to a three-year deal worth $11M overall ($3.67M AAV), I thought the Wild overpaid Talbot. And that's from me, the biggest fan of Talbot that's not related to him or even knows the guy personally! If the Wild wanted Talbot that bad, I thought they could've got him for less and didn't need to offer him three years either. In year one of the deal, a COVID-19 impacted season, Talbot was one of the Wild's biggest stars and the biggest reason why the Wild took the Knights to seven games in the first round.
In fact, of all the goaltenders signed during the 2020 off-season, Talbot had the most success and went further than anyone, outside of Robin Lehner; a Lehner who is currently the back-up goaltender of the Knights and hasn't played in one playoff game yet. That said, Lehner is the best goaltender insurance policy of the eight teams remaining. Hell, just think – had Pittsburgh had Lehner, they would've most likely beat the Islanders!
As mentioned, Murray was traded and then signed. As a result, the Senators finished in second-to-last-place in the seven team Canadian division.
How about the other goaltenders from the 2020 off-season? Here's a quick look:
— Anton Khudobin signed a three-year deal worth $10.5M overall with the Dallas Stars. ($3.5M AAV)
Khudobin was re-signed after a strong 2020 playoffs, where he wasn't able to replicate his playoff run during the 2021 season. To be fair, Dallas was mired in unfortunate circumstances, due to COVID-19 and bad storms. Ultimately, the Stars finished four points out of a playoff spot, a spot that Nashville took away from them.
---
— Braden Holtby signed a two-year deal worth $8.6M overall with the Vancouver Canucks. ($4.6M AAV)
No team in the league was negatively impacted by COVID-19 as the Vancouver Canucks were this season. That said, Thatcher Demko, the star for Vancouver during the 2020 Playoffs, started more games for the Canucks and was significantly better than Holtby. The former Vezina winner and Stanley Cup champion had a horrid season, where Holtby's contract, which looked sketchy to begin with, looks even worse now. Thankfully, the Canucks only have one year left on the deal and can blame COVID-19 for Holtby's misfortune.
---
— Henrik Lundqvist signed a one-year deal worth $1.5M overall with the Washington Capitals.
I've talked about this already in the past. Lundqvist had a medical condition, and through no fault of his own or the Capitals, was ever able to play this season. However, when you look at this dollars and cents wise, this contract didn't work out.
---
— Robin Lehner signed a five-year deal worth $25M overall with the Vegas Golden Knights. ($5M AAV)
After a strong showing in the 2020 playoffs, in 2021, MAF, who will one day go down as a pioneer and VGK legend, reclaimed his starting goaltender spot from Lehner. It's the future Hall of Famer in MAF that VGK will ride-or-die with in the 2021 playoffs, where it seems that Lehner will only get a chance to play in the event of injury or if MAF just shits the bed two games in a row. In a pivotal Game 7 against the Wild, it was MAF who had the net, and as he should've. While Lehner got paid here, he has had no impact during the playoffs, outside of being a great option if things go bad for MAF.
---
— Brian Elliott signed a one-year deal worth $1.5M overall with the Philadelphia Flyers.
The Flyers sucked this year, and that includes Carter Hart, who struggled all season both in net and while trying to stay healthy. While Elliott can't be blamed for the Flyers lack of success, it's not like he's a game-changer either.
---
— Jacob Markstrom signed a six-year deal worth $36M overall with the Calgary Flames. ($6M AAV)
After moving on from the cheap Cam Talbot and later on trading away "BIG SAVE DAVE" in David Rittich; the Flames hitched their wagon to their former enemy, in Jacob Markstrom. In turn, the Flames finished four points out of a playoff spot. While Markstrom was serviceable, in no way, shape or form, is he worth $6M a season. Even worse, at the age of 31, this contract will only get worse.
---
And heck, if you want even more here, I haven't even mentioned Corey Crawford (retired after signing with the Devils), Thomas Greiss (8-15 with the second-to-last-place Red Wings), Mike Smith (played well enough, but not that great in Edmonton), Craig Anderson (spot starts with the first round exit Capitals), Jimmy Howard (retired) or Ryan Miller (newly retired, after a last place finish with the Ducks.)
And just to pour it on even more – when you look at the career of Cam Talbot, three of his former four teams didn't make the playoffs in 2021. (Rangers, Flyers and Flames.) His other former team, the place where he first became a starting goaltender, in the Edmonton Oilers – didn't even win a playoff game.
And lastly on this topic, (three paragraphs starting with the word "and", which admittedly is horrible grammar here!) yes, I fully admit to being a Talbot fanboy! That said, am I wrong here? Hands down, Cam Talbot and the Wild won the 2020 Off-Season Goalie Carousel Sweepstakes. If you have a differing opinion, I'd love to hear it!
Moving on – the second round predictions.
---
WEST DIVISION
Prediction: The Vegas Golden Knights over the Colorado Avalanche in seven games.
Two things with you up front here. First, I predicted VGK to make the SCF at the start of this season, so I'm sticking with my original prediction. Second, I have no clue who wins this, as this is a coin-flip to me.
As said earlier, this should be the best series of the divisional winner round. There's a reason why both of these teams are the two top favorites to win the Cup by the odd-makers in Vegas.
Going into this series, which begins less than 48 hours after the Knights Game 7 victory over Minnesota; I think Vegas may hold several advantages here. For starters, the Golden Knights are now more "battle-tested" than the Avalanche, as a result of their seven-game set with the Wild. The Avalanche pretty much breezed through St. Louis and weren't tested at all. The Avalanche haven't had a taste of adversity yet, and how will they respond to it?
Sticking with what happened in the first round, I think the Avalanche may come out cold or rusty a bit in Game 1, which could help the Knights steal a game on the road.
While the Knights have had issues scoring goals in the playoffs, both teams are offensive powerhouses. However defensively, both from the blueline and in net, I think Vegas has the advantage. I also think Peter DeBoer is the better coach here too.
With fans back in the arena, I think Vegas has the better crowd than the Avalanche do and I say that as someone who has attended games in both arenas. However you feel on rowdy crowds effecting playoff games, I do believe there is something to it.
Whoever wins this series will become the favorite to win the Stanley Cup. The loser of this series will be faced with much criticism, as both teams are built to win now, where I think Vegas, due to their recent playoff success, may have more pressure on them. Of course, at the same time, Colorado did win the Presidents' Trophy and have been in win-now mode for two seasons. If it weren't for goalie injury issues last year, the Avalanche, as the VGK were three seasons ago, would've been in the SCF last season.
When making predictions, and as an eye-test guy rather than an as an analytical person, I think Vegas has the edge when it comes to intangibles. I also think MAF is having another career year and can steal the series away from Phillipp Grubauer.
I'm taking VGK in seven here, but I will say, if Colorado wins this, I wouldn't be shocked either.
It feels like this season was always destined for this series, and as hockey fans, this will be electric.
---
CENTRAL DIVISION
Prediction: The Tampa Bay Lightning over the Carolina Hurricanes in six games.
While I think the West division series will be the best of the lot, this one should produce explosiveness too.
I fully admit – I hate the Carolina Hurricanes. While the Hurricanes do have ex-Rangers in Jesper Fast and Brady Skjei, I never was attached to those players like I was with former Rangers, in McDonagh, Talbot, Zuccarello and others. And while the Rangers loss to the Canes helped them out last year, as it did lead to Alexis Lafreniere; I just hate the Canes millennial social media account, their stupid celebrations and how they furiously masturbated after beating the Rangers last year.
And yes, this is a personal thing here too – I have friends in Tampa, love that city (I've been there ten times in my life) and if it were ever possible, I'd move to Tampa too. (My family, including my young nieces, all live here, so I'd never move, even if it would be better for me financially.)
All that aside, and as I've said ever since Tampa won the Cup – I think that Tampa will repeat in 2021. I'm not going to stray away from that now.
For all of my hatred for Carolina, they are a great team, a team that possesses a strong top six and a solid defense. However, seven days of the week, and twice on Sunday's, I'll take Tampa's line-up over Carolina's. Plus, when you consider the fact that Tampa has a Vezina winner and Cup champ in net, as opposed to Carolina's rookie goaltender – I think Tampa ultimately wins out.
Carolina is right there. They were the top team of the division, but at the same time, Kucherov didn't play all season and Stamkos missed many games. Tampa has done it before, and they know how to win tough games now.
I'm not discounting how good Carolina has been, but they aren't Tampa. I like the Bolts in six.
---
NORTH DIVISION
Winnipeg Jets vs ???
I can't give an accurate prediction at the time of this writing, as the Leafs/Canadiens series isn't over yet, a series which Toronto is leading 3-2.
Since the second round is starting, I'll just say this for now and expand later – I see whoever wins the Leafs/Habs series, where I see the Leafs winning, beating the Jets here.
I know Jets fans will hate me for saying this, but then again, I only know of one Jets fan that reads this blog. Sorry Chris D.!
---
EAST DIVISION
The New York Islanders over the Boston Bruins in seven games.
Let me say this off puck drop here – I hope I'm 100% wrong here and I hope like many of my predictions, that I fall flat on my face!
Going into the playoffs, I thought the Islanders matched up better with Boston than they did with Pittsburgh. And really, if it wasn't for some horrid goaltending out of Jarry, it's very likely the East Division winner would've been settled by the two teams wearing the black and yellow.
As has been the case ever since Barry Trotz took over behind the bench for the lowlife Islanders, the Islanders have routinely been able to shut down the top stars of the opposing team. For the Islanders, they'll have to shut down the Marchand/Bergeron/Pastrnak line. After that, they'll have to shut down Taylor Hall too.
Fun fact: The Islanders were 5-0 against a Hall-less Bruins team this season. Once the Bruins acquired Hall, the Bruins won the final three games of the eight game series. That said, at the same time, I think you have to throw all of that out the window, as the Isles looked horrendous during the final stretch of the season, only to knock off the first seed of the division in Pittsburgh. Meanwhile, Boston took care of business against an injured Capitals team, a Capitals team that struggled to find a true number one goaltender. For the Isles, it's simple – Seymon Varlamov may have been the hero of the regular season, but it's Ilya Sorokin who owns the crease now.
Truth be told, I don't really care who wins the Cup – as long as it's not the Islanders. As far as the remainder of the playoffs go, the number one thing I want to see are the Isles being ousted. However, I just don't see it happening in this round, but thankfully, I've been dead-wrong on the Bruins before, as I always write them off, only for the Bruins to make deep playoff run after deep playoff run.
Again, I go back to the fans. I hate the Islanders, but you'd have to have your head in the sand to ignore the fact that the Coliseum has produced the best playoff environment of the playoffs.
Like any of these second round match-ups, I think it comes down to the goaltending. Sorokin seems to be on his way up, where I think Rask is on his way down. Special teams could also swing this series, where that would be beneficial for the Bruins, as they had the league's best penalty kill.
This will sound cliche, but it is true – whoever takes the lead in these games will have a significant advantage, where this definitely applies more to the Isles than the Bruins. No one in the league holds a lead better than the Islanders – much to my dismay!
As an Islander hater, while I do think they pair up well with the Bruins, I don't think they match-up well with the Bolts, Avalanche or Golden Knights. Who knows how this will all go down, but can you imagine a third round pairing of the Islanders and the returning John Tavares Maple Leafs? If you're a fan of the drama, you kind of want to see Toronto vs the Islanders, but as someone who wants the Isles out at all costs, I hope the Bruins, who also have a long-storied history with Toronto, takes this. However, I see the Isles having their hands raised here. Hope I'm stone cold wrong here!
---
With nothing going on in Rangerstown, USA, I'm surprised that I was able to pump out nearly 10,000 words tonight!
If you haven't already, subscribe to this blog for the next update:
---
I'll be back sometime next week, as I continue to work on my "New York Rangers Rink of Honor" book in the meantime!
Stay FABULOUS my friends.
Until then, and as always here, thanks for reading and…
LET'S GO RANGERS!
Sean McCaffrey
BULLSMC@aol.com
@NYCTHEMIC on Tweeter