Greetings and salutations everyone and welcome to another blog here on BlueCollarBlueShirts.com. This will be much shorter than last night's blog, and like the slogan goes from the "Men's Wearhouse" – I guarantee it!
With the entire hockey world waiting for Thursday's 1PM NHL freeze deadline to expire, we had a few moves around the league. However, these moves were pretty much small jabs rather than the big knockout shots which were expected. I think on Friday, during the NHL Entry Draft, we'll see bigger moves than the moves we saw on Thursday. And as mentioned on previous blogs, I somewhat expect the Rangers to trade their 2021 first round pick on Friday night. (Hello Eichel? Hmmmm!)
For the Rangers, they made it official on Thursday – Barclay Goodrow is now a New York Ranger. As far as any other Rangers roster transactions, there weren't any, but we did get some great news nevertheless – the 2021-2022 schedule was announced. In addition, after talking about Larry Brooks during last night's blog; Larry Brooks returned to the scene on Thursday, where Brooks is reporting that the Rangers will not re-sign Brendan Smith. I guess I summoned Brooks out of vacation!
Speaking of last night's blog, what a perfect way to transition into tonight's PLUGS segment. After going through the plugs, I'll get into all of the news from Thursday.
Here are my last few blogs in case you missed them:
---
---
---
As discussed last week on this site; Rangers general manager Chris Drury traded a seventh round pick for the right to have first dibs at negotiating with pending unrestricted free agent Barclay Goodrow. While nothing was officially announced at the time; it was expected that Drury had some sort of talks with Goodrow and/or Goodrow's agent, prior to making the trade with the Tampa Bay Lightning. On Thursday, the Rangers made it official and Barclay Goodrow is now the newest member of the club.
Let me share with you what the Rangers said and then toss in some opinions.
Here's the Rangers official press release, courtesy of: https://www.nhl.com/rangers/news/rangers-agree-to-terms-with-barclay-goodrow/c-325738856
The Toronto, Ontario native was acquired by the Rangers from Tampa Bay on July 17, 2021. Goodrow was originally signed by San Jose as an undrafted free agent on March 6, 2014. He attended the Rangers' Prospect Development Camp in the summer of 2012 while he was playing junior hockey with the Brampton Battalion of the Ontario Hockey League (OHL).

New York Rangers President and General Manager Chris Drury announced today that the team has agreed to terms with Barclay Goodrow on a six-year contract.

Goodrow, 28, skated in 55 games with Tampa Bay this past season, registering six goals and 14 assists for 20 points, along with a plus-16 rating and 52 penalty minutes. He established a career-high in plus/minus rating in 2020-21, and he led the Lightning in plus/minus rating during the season. Goodrow also led Tampa Bay in hits (111) and ranked second on the team (min. 20 games played) in shot attempts percentage at 5-on-5 (55.6%) this past season. He registered all of his 20 points in 2020-21 at even strength. Goodrow also recorded six points (two goals, four assists) and a plus-four rating in 18 playoff games while helping the Lightning win the Stanley Cup. He tied for second on Tampa Bay in hits (68) and ranked second among Lightning forwards in average shorthanded ice time (2:02) in the playoffs. In addition, Goodrow ranked fourth in the NHL (min. 20:00 of shorthanded ice time) in power play goals against per 60 minutes of shorthanded ice time in the playoffs (1.64; he was on the ice for only one power play goal against in 36:40 of shorthanded ice time).
The 6-2, 203-pounder has skated in 331 career NHL games over parts of seven seasons (2014-15 – 2020-21) with San Jose and Tampa Bay, registering 32 goals and 61 assists for 93 points, along with a plus-13 rating and 304 penalty minutes. Goodrow is a two-time Stanley Cup Champion, as he helped the Lightning win the Stanley Cup in back-to-back seasons in 2019-20 and 2020-21. He established career-highs in several categories in 2019-20, including goals (eight), assists (18), points (26), average ice time (15:55), and hits (162). Goodrow has recorded at least 100 hits in each of the last three seasons, and he registered more than 60 blocked shots in 2018-19 and 2019-20; he ranks ninth among NHL forwards in blocked shots since the start of the 2018-19 season (161). Goodrow averaged 2:26 of shorthanded ice time per game in both 2019-20 and 2020-21, and he was on the ice for only 5.29 and 5.39 power play goals against per 60 minutes of shorthanded ice time, respectively, in those seasons. Among 65 NHL forwards who have logged at least 200:00 of shorthanded ice time over the last two seasons, Goodrow's 5.33 power play goals against per 60 minutes of shorthanded ice time is the third-best over the span. He has registered a shot attempts percentage of 50.0% or better at 5-on-5 in each of the last four seasons. Goodrow has posted a 52.0% faceoff win percentage in his NHL career (1,021-for-1,965).

Goodrow has skated in 65 postseason games in his NHL career (including 43 over the past two seasons), and he has registered 14 points (five goals, nine assists) and a plus-six rating in those 65 contests. He has helped his team advance to at least the third round of the Stanley Cup Playoffs in each of the last three seasons (he helped San Jose advance to the Western Conference Final in 2018-19 prior to winning the Stanley Cup with Tampa Bay in 2019-20 and 2020-21). Goodrow registered the game-winning goal in overtime in Game 7 of the Sharks' First Round series against the Vegas Golden Knights in 2019. During the 2020 postseason, he led NHL forwards in shorthanded ice time (70:25), and he ranked third among NHL forwards (min. 20:00 of shorthanded ice time) in power play goals against per 60 minutes of shorthanded ice time (1.70; he was only on the ice for two power play goals against.)
---
I pretty much gave you all of my thoughts on Goodrow when news of the Rangers trading for his rights were first announced.  (Check the plugs segment for that blog.) My opinions on this signing haven't changed since that time. In short – I love this move. It was the right move to make.
Of course, other Ranger fans, fans who have to moan and groan about everything, weren't a fan of this deal – especially after details about Goodrow's contract got out. It was rumored over the weekend that Goodrow was going to receive a six-year deal, where Goodrow would become a $3.642M cap hit annually. On Thursday, it became official.
Here's the complete breakdown of the deal, courtesy of @PuckPedia:
As first reported by @frank_seravalli, #NYR signed F Barclay Goodrow 6 Yr $3.6M Cap Hit:

Yr 1: 750K Sal $1.75M SB
Yr 2: 2.5M Sal 500K SB
Yr 3: 5.1M Sal
Yr 4: 5M Sal
Yr 5: 3.75M Sal
Yr 6: 1.25M Sal 1.25M SB
15 team No Trade

Rep'd Pulver @WillSportsGrouphttps://t.co/Rt8TBeSkt8

— PuckPedia (@PuckPedia) July 22, 2021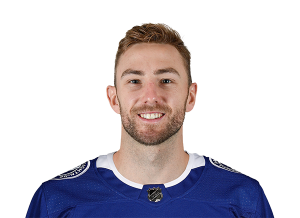 For regular readers of this site, you know I have the glass half-full approach and also favor the "EYE TEST" over analytics. I think a lot of the hate that you're seeing right now from a whiny section of the fan base, is all because Barclay Goodrow doesn't do anything special which pops up on some foo-foo chart, spreadsheet or heat-map. When it comes to the analytical community; nine out of ten times these people prefer a hairless acne-riddled European teenager rather than a throwback and kick-ass hockey player. That's on them. For whatever reason, these people can't comprehend that you just can't have a roster full of skill-set players. You need a vibrant and a diverse roster to have success.
I do not care about what Goodrow is making. Is a $3.642 salary cap hit too high for Goodrow? Of course – I'm not debating that. However, that's on the Rangers. They put themselves into this position. The Rangers don't have a guy like Goodrow on their roster so the Rangers had to go out and buy one. It's business. And really, come the Stanley Cup Playoffs, no one is going to give a shit about Goodrow's contract. For Ranger fans, and if things go according to plan – Goodrow's best value will come during the playoffs and not during the regular season.
Sure, during the regular season, Goodrow will be there to ward off the Tom Wilson's of the league and all of that other jazz; but at the same time, Goodrow is not going to light lamps for the Rangers either. That said, Goodrow's role with this team is not to be a prolific scorer. The Rangers have guys like Panarin, Zibanejad, Fox, Lafreniere, Kreider and others to carry the scoring load.
What Goodrow brings to the Rangers is all of the intangibles, including Stanley Cup championship experience, leadership qualities, a warrior mentality and someone who will be there for his teammates. If you're trying to use analytics to talk about Goodrow – you may as well keep your head up your ass since that's where the rest of the shit is.
In a response to his signing, Barclay Goodrow tweeted out a short, yet perfect message:
LFG @NYRangers

— Barclay Goodrow (@bgoodrow23) July 22, 2021
However you feel about Goodrow's contract, he was always going to be paid. He earned it. There was no question that he was going to get a six-year deal. In addition, there was no question that he was going to get a significant raise too. If there was anything that truly made me roll my eyes, it was that after this announcement, I saw fans already trying to breakdown a future buy-out of Goodrow and bury the deal in general. In turn, I have muted the phrase "Barclay Goodrow Buy-Out" on Twitter!
As I've said in the past, where I've used Ryan McDonagh and his deal with the Lightning when making this point – no one, and I mean no one, will give two craps about Goodrow's deal if the Rangers can win the Stanley Cup during any point of this contract. And let's be clear about this too – this deal is being made with the intention and goal of the Rangers winning the Stanley Cup in the near future. After all, you just can't keep wasting these prime years of Artemi Panarin. It's time to make a run NOW.
And yes, I should also take my own advice here, especially since I've been hard on that Trouba deal. (My biggest bone of contention with Trouba is if you use his contract as a comparable, it means that Adam Fox is worth $80M a season!)
As I said on Twitter on Thursday, I 100% believe that the Rangers are already better now than they were at the end of last season. To reiterate, I was never in the Howden Hate club. I never had an issue with Howden. I knew what he was. However, losing Howden and gaining Goodrow makes the Rangers significantly better.
All season long, I said the Rangers needed more ingredients for their roster stew. Goodrow is the hot spicy pepper that will give this team a kick. This is a step in the right direction. However, and as said last week – this can't be the Rangers lone answer for toughness. They are going to have to acquire more of these types, where yes, one more time here – I'm hoping for Matt Tkachuk! However, if Tkachuk can't happen, the Rangers need to find one or two more of these Goodrow types. While these types may not do much during the regular season, these players will be invaluable come playoff time, especially when you play these tight low-scoring and physical games.
In any event, for Barclay Goodrow – welcome to the New York Rangers. I hope you win your third Stanley Cup real soon!
Next up for Goodrow? Figuring out a jersey number! (As talked about a few blogs ago, Goodrow can't wear #19 or #23.)
Moving on to our next topic – the Rangers schedule for the 2021-2022 season!
---
On Thursday and at around 6:30PM, the NHL released the schedule for the 2021-2022 season. For all the big marquee games, including outdoor games, check out NHL.com for more.
When it comes to the Rangers schedule, the following graphic was provided by the league:
In case that graphic is too small for you to read, Adam Rotter at https://nyrangersnews.com transcribed the entire graphic for you.
For those who don't like squinting, here's the complete schedule, courtesy of Rotter and his website:
October:
October 13 @ Washington
October 14: Dallas
October 16 @ Montreal
October 18 @ Toronto
October 21 @ Nashville
October 23 @ Ottawa
October 25: Calgary
October 29: Columbus
October 31: @ Seattle
November:
November 2 @ Vancouver
November 5 @ Edmonton
November 6 @ Calgary
November 8: Florida
November 13th @ Columbus
November 14: New Jersey
November 16: Montreal
November 18 @ Toronto
November 20 @ Ottawa
November 21: Buffalo
November 24 @ Islanders
November 26 @ Boston
November 28: Islanders
December:
December 1: Philly
December 3: San Jose
December 4: Chicago
December 7 @ Chicago
December 8: Colorado
December 10 @ Buffalo
December 12: Nashville
December 15: @ Colorado
December 17: Vegas
December 22: Montreal
December 27: Detroit
December 29 @ Florida
December 31 @ Tampa
January:
Jan 2: Tampa
Jan 3: Edmonton
Jan 6 @ Vegas
Jan 8 @ Anaheim
Jan 10 @ LA
Jan 13 @ San Jose
Jan 15 @ Philly
Jan 19: Toronto
Jan 21: @ Carolina
Jan 22: Arizona
Jan 24: LA
Jan 27: @ Columbus
Jan 28: Minnesota
Jan 30: Seattle
February:
Feb 1: Florida
All-Star and Olympic Break
Feb 24: Washington
Feb 26: @ Pittsburgh
Feb 27: Vancouver
March:
March 2: St. Louis
March 4: New Jersey
March 6: @ Winnipeg
March 10: St. Louis
March 12: @ Dallas
March 15: Anaheim
March 19: @ Tampa
March 20: @Carolina
March 22: @ New Jersey
March 25: Pittsburgh
March 27: Buffalo
March 29: @ Pittsburgh
March 30: @ Detroit
April:
April 1: Islanders
April 3: Philly
April 5: @New Jersey
April 7: Pittsburgh
April 9: Ottawa
April 12: Carolina
April 13: @ Philly
April 16: Detroit
April 19: Winnipeg
April 21: @ Isles
April 23: @ Boston
April 24: Boston
April 26: Carolina
April 29: Washington


---
No joke – I've already booked my trip to Seattle and Vancouver, where my crew and I are all set to go! Up next? Buying tickets to these games! (I usually use the StubHub trick, but with a long flight ahead, we're buying tickets in advance. Plus, I think Seattle is going to be like Vegas, where the StubHub trick won't work for Seattle games this season.)
If there's anything that made me say "blah", it's the fact that the Rangers are only playing the Canadiens in Montreal once this season. For nearly the last ten years, I've been going to Montreal to see the Rangers play. In addition, recently, the Rangers usually play Montreal and Ottawa on the same trip, which is not something that's happening this season. I bring this up because I was hoping to see the Baird's in Ottawa and pick up some 99 Gretzky Whisky too!
Unless my upcoming "New York Rangers Rink of Honor and the Rafters of Madison Square Garden" book sells 47926462374678635784623528645789265784689356263634 copies; it's going to be tough for me to pull off a trip to Montreal and then fly out west two weeks later. I know many of you have told me that you think my road-trip blogs are the best blogs I do, so for right now, Seattle and Vancouver are a lock for me.
As far as any other road-trips, I'm eyeing Buffalo and/or Pittsburgh. It's just a shame, because prior to the pandemic, I was going to visit Buffalo and Pittsburgh on the same trip. This season, the Rangers really don't have that many trips where you can knock off two cities at once, outside of the Florida, Western Canada and California road-trips. (I've done the Florida and Western Canada trips before, but I haven't visited the three California cities yet.)
At the end of the day, I'm just glad hockey is back and looking forward to things returning to normal. See you in Seattle Frasier Crane!
---
In our last bit of Thursday news, Larry Brooks, who made his grand return on Thursday, reported that the Rangers have no interest in re-signing Brendan Smith. I'm fine with it.
As I said all season in regards to Smith and his UFA status; it would've been nice if the Rangers could've retained him as a depth defenseman and on the cheap. However for Smith, that's not the best deal for him. As a free agent, Smith can find a better situation, where Smith can earn more money, play for a contender and/or receive more ice time than he would with the Rangers. While the Rangers may contend for the Stanley Cup in 2022; the money and the ice time were never going to be there for Smith. Again – it's a business.
When it comes to Brendan Smith, who like Brett Howden, now joins the Rangers alumni; it was an up-and-down time period. Smith had a strong start with the Rangers and got a big deal as a result of his work during the 2017 Stanley Cup Playoffs. After getting the money, Smith came into camp out of shape and was eventually demoted to Hartford. While in Hartford, Smith got into a fist fight with Vinni Lettieri, a fight which ended Smith's season.
After getting a kick in the back of the pants; Smith turned it around, where Smith became one of the most versatile members of the roster under David Quinn. During these seasons, Smith spent time at both the wing and on defense. In time, Smith grew into a team leader, where Smith even took Kaapo Kakko under his wing and helped Kakko get acclimated to the NHL.
Who knows what's next for Kakko, and if Kakko will even be a Ranger next season; but at the end of the day, the Rangers just couldn't pay Smith to be Kakko's confidant and driver.
Best of luck to Brendan Smith moving forward.
---
Before bidding adieu to you, a quick plug.
On Thursday night, yours truly, along with the great draft/prospect expert Danny McGillicuddy, appeared on the E.A.T. podcast. The E.A.T. podcast is a fairly new podcast and a podcast that covers a wide variety of topics, including hockey.
Once in a while I'm asked by people to appear on their podcasts. I usually turn this stuff down for three reasons. One, I'm just a fan and don't bring any sort of inside angle to anyone's program. Two, when it comes to getting my opinions on things out, I have this site/blog to do that. What can I say on a podcast that I haven't already said here? Three, I'm not tech-savvy and I had to figure out how to get a camera on my laptop to work!
With that said, I did 90 minutes on the E.A.T. podcast for two reasons. One, I do have a book coming out, so I guess I should do whatever I can do to pump the book up. Two, one of the co-hosts of the show in Russ is a friend and someone who I have even worked with in "real-life". I'll always support the endeavors of my buddies and I had a fun time shooting the shit with everyone on the show.
To visit the E.A.T. Podcast YouTube channel, click this link: https://www.youtube.com/channel/UCuAEwFSQcnyAOQpSah6TKTA/videos
Unless something changes, I don't think the E.A.T. podcast allows you to embed their YouTube link onto websites. If this video below doesn't work, click the link above and search for episode 16.
Thanks again to Russ and company for having me on. I had a good time. Originally, Danny and I were slotted for 20 minutes. Instead, we did 90!
---
If you haven't already, subscribe to this blog for the next update:
---
I'll probably be back tomorrow night, recapping whatever the Rangers do at the draft. Since I'm not a draft expert or anything like that; (history is my game) I'm hoping we'll have some trades to talk about.
In addition, I should soon have some cover samples of the book for you too. I'm looking for as much feedback as possible so I can present the best cover possible.
Stay FABULOUS my friends.
As always here, thanks for reading and…
LET'S GO RANGERS!
Sean McCaffrey
BULLSMC@aol.com
@NYCTHEMIC on Tweeter