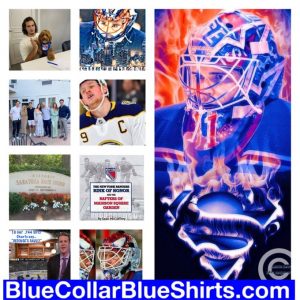 Greetings and salutations everyone and welcome to another blog here on BlueCollarBlueShirts.com. What a weekend it was!
On Friday August 6th, my buddies and I traveled to Saratoga Springs to take in the horse races. By the time we arrived in lovely Saratoga, my phone was going off like a red light behind Steve Valiquette in goal, as Steve Valiquette teased Ranger fans on Twitter with news about Jack Eichel. Some of the NYR beat reporters, the beat reporters who never break news, yet will bombard you with theories, mailbags and mock drafts of players they've never seen play before; quickly took the bait and in turn, Friday August 6th became the latest installment and episode of "EICHEL WATCH". Just like every other day from this off-season which preceded August 6th, no news on Eichel's future was to be had. Similar to Vally's fake news charts, Vally's "spidey senses" were full of baloney once again – a common occurrence during this Rangers off-season.
As I enjoyed my trip in Saratoga, (I even won some money at the track too) I would routinely check my phone during the weekend. Deep down, I felt like nothing was going to happen, especially since Larry Brooks, the only NYR beat reporter who has an inside track these days, was pretty much blowing off all of Vally's nonsense. By the time I arrived home on Sunday afternoon, Eichel was still a Buffalo Sabre.
As I write these words late Monday night, the Rangers current interest in Jack Eichel seems to be the same as any other point of this off-season. In other words, it feels like there's been no new talks between the Sabres and Rangers general manager Chris Drury.
If I learned anything from this weekend, it was this – I'm glad I left the house, had a fun mini-vacation and wasn't a slave to my phone. I can't say the same for other Ranger fans, as many fans expressed on social media how they felt like they were refreshing their social media apps every other minute on their phone, all in anticipation of the potential Eichel bomb. That bomb never came, but at the same time, it doesn't mean that this bomb will never come either. As long as Eichel is still a Sabre, that bomb can drop at any moment, whether it's in NYC or elsewhere.
I will also admit this – while Vally, Carpiniello and Mercogliano have been repeatedly been proven wrong all summer, where in the case of Vally, he's been wrong and wrong again; it wouldn't have shocked me if Eichel was traded to the Rangers during this last weekend. Fortunately, this was one of the rare occasions where nothing major broke when I was busy. Usually, the Rangers make a ton of noise whenever I got something going on! It was good to be on the right side of this for once! And with not many summer days left, it was nice to enjoy life, rather than scrolling around on social media.
And yes, for the 396744786347896789678969769769th time now on this site – I can't wait for these Eichelmania trade rumors to reach its conclusion. However, and with that being stated; when you have the lead analyst of the M$G Networks trolling or perhaps drunk tweeting, in addition to some of the click-bait NYR media throwing gas on the fire – at the end of the day, it's all news, albeit news for a month that's typically slow at this time of year.
I'll get more into the Valiquette garbage at the end of tonight's blog, but I'll say this to wet your appetite for now – for Steve Valiquette, a Steve Valiquette who is trying to find suckers to purchase stats from his fake news stats company; is it a good thing for his business if he's constantly wrong with all of his grandstand proclamations on social media? You'd think that his reputation would take a hit here, at least in the eyes of potential clients. It's one thing to screw around with fans, it's another thing to turn off people who may give you money.
I have no clue what Vally thinks, nor have any desire to know what he thinks, but if he's trolling/having some shits and kicks, I get that. In fact, I respect that! There's an art-form in getting a rise out of people!
And again for the 678678678678686th time, and because this site consistently gets new readers – I have no problem with Valiquette personally. I will just never see eye-to-eye with the way he views hockey.
In addition, I think after a strong start on the M$G Networks, once Vally went full boar into the analytics, where Vally's even plugging his own company multiple times on each Rangers broadcast – it just became too much. The eye-test and WHAT ACTUALLY HAPPENS on the ice will always be more important to me than whatever fake news stat Vally can conjure up. It's always been my opinion that Vally was at his best when Ron Duguay was at his side, in an effort to balance Vally out and give Ranger fans a different perspective than Vally presenting his arts and crafts charts as facts.
Lastly for now and truth be told; Vally can tweet something out and as a result, Vally will then have his analytical minions screaming hoarse from their mothers' basements. Maybe Vally laughs at that, and I can understand that. At the same time, a potential client could be looking at what Vally is writing and like most of us, say – "this dude is a clown and I'm not giving him any of my money." Just food for thought!
There's a few things to get into tonight, as I already got your beak wet with the Eichel stuff – stuff which yes, I am already sick of writing about!
Aside from more stuff about Eichel-gate; we do have some real news to talk about, as the Rangers re-signed starting goaltender Igor Shestyorkin on Monday. After recapping that story and giving out some opinions, I'll recap the latest in Rangerstown, USA. Since today isn't that busy, I'll also give you a mini recap on my trip to Saratoga, and some pointers for those who are interested in visiting Saratoga. Spoiler alert: STAY AWAY FROM THE CASINO!
However, before getting into everything and anything, as usual – the PLUGS segment.
Say it with me – here are my last few blogs in case you missed them:
---
---
---
After a weekend of Jack Eichel hysterics, the Rangers made real news on Monday August 9th, when the franchise announced that it had come to terms with restricted free agent Igor Shestyorkin.
While the Ranger beat reporters/conspiracy theorists were drumming up click bait regarding Jack Eichel, at 3PM Monday, the Rangers tweeted out the following:
On a side-note, it looks like whoever runs the Rangers twitter account doesn't know what the word "NYET" means. I mean really, the Rangers are saying "NO SEASON" here, which we all know isn't their intent!
Here's the Rangers press release regarding this signing, courtesy of https://www.nhl.com/rangers/news/rangers-agree-to-terms-with-igor-shesterkin/c-325933136?icmp=int_web_nyr_news_subnav:
New York Rangers President and General Manager Chris Drury announced today that the team has agreed to terms with restricted free agent goaltender Igor Shesterkin on a four-year contract.
Shesterkin, 25, appeared in 35 games with the Rangers this past season, posting a 16-14-3 record, along with a 2.62 GAA, a .916 SV%, and 2 SO. The 6-2, 182-pounder has appeared in 47 career NHL games over parts of two seasons (2019-20 and 2020-21), both with the Rangers, posting a 26-16-3 record, along with a 2.59 GAA, a .921 SV%, and 2 SO. Shesterkin also appeared in one game during the 2020 postseason.

The Moscow, Russia native was selected by the Rangers in the fourth round, 118th overall, of the 2014 NHL Entry Draft.

---
The Rangers, as they usually do during their official press releases, did not disclose terms of the deal. It should be noted that NHL teams handle all of this stuff differently, as some teams do release contract terms while others opt not to. At the end of the day, it doesn't make a difference, as the information always becomes available regardless.
In what is also usual these days, the particulars of Igor's new contract were broken in Canada, by reporter Frank Seravalli of The Daily Faceoff. It always amazes me, especially now, with all of these beat reporters doing their best to sell Jack Eichel click-bait; that it's always a Canadian reporter who has the scoop on Ranger contract deals. (And as noted about a zillion times on this site, Larry Brooks is the lone exception here.)
As Seravalli first reported, Igor and the Rangers agreed to a four-year deal worth $22,666,666 overall. ($5.65M AAV.)
When you look at the "666" numbers in Igor's new deal, there is a "devil" in the details here too. As a result of Igor and the Rangers agreeing to this contract, both parties set a new record for the most money (AAV) given to a goaltender during his second NHL contract. Previously, Sergei Bobrovsky held this honor, when Bobrovsky signed a two-year deal with Columbus worth $11,250,000 overall ($5,625,000 AAV) on July 1st, 2013.
When it comes to this little salary cap stat/factoid, I really wouldn't put much into it. As time goes on and as the salary cap goes up, teams will continue to lock down young goaltenders, especially young goaltenders who have proved to be successful. For the Rangers, they are locking down a goalie who they think can be a franchise goaltender. There's no harm in that.
Everyone knows all of my talking points on that albatross of a deal that the Rangers once gave Henrik Lundqvist. In turn, and before you question me here, let me rehash this talking point one more time and then move back to Igor.
At the peak of Henrik Lundqvist's contract, (but not the peak of his career) Lundqvist took up 13.22% of the salary cap. During Igor's new deal, Igor is only 6.95% of the Rangers salary cap. In addition, you can argue (and this is my argument) that Igor hasn't even peaked yet.
Long story short? When trying to compare goalies of this salary cap era, don't look at the money earned. Look at the salary cap percentage. The salary cap percentage is a stat that can never be meddled with.
---
As talked about during the last few weeks on this site, and even as recent as last blog; it was never a matter of IF Igor would re-sign with the Rangers. It was always a matter of WHEN Igor would re-sign with the club. These statements never rang more true when Igor decided to bypass the arbitration process a week ago. As talked about then and as I'm saying again now – the two parties were close and it felt like a deal was imminent. Now, the deal is official.
For the last few weeks and when talking about the potential deal Igor would receive; many members of the NYR beat scene floated around ideas such as five-year or six-year contracts, with these contracts being worth anywhere from $5.75M-$6M per season. As usual, these beat reporters were wrong, where really at this point, you just have to expect these reporters to be wrong all of the time. After all, after much speculation and reporting, none of these reporters, not even Larry Brooks, had the Rangers and Igor agreeing to a four-year deal. And to be fair, neither did I. (Check out my last blog for more.)
To continue my effort of fairness, some of the NYR beat and scuttlebutt was that the Rangers would be on the hook for $5M-$6M a season. Igor wound up signing for $5.65M per season, although that's not a figure that is as high as the $5.75M-$6M that some reporters were stating and reporting as fact.
Obviously, while I'm not shocked that the Rangers and Igor agreed to terms; I am kind of surprised, and in a good way, about the deal that these two parties agreed to. To me, this was the ultimate compromise contract. Let me explain why.
---
As talked about last blog and as you probably know already, the Rangers had two ways to go about handling Igor's next contract. The Rangers could've went with a two-year bridge deal or could've went with a long extension. When it comes to Igor's end of things, Igor could've argued for a bridge deal, where Igor then could've became a free agent afterwards. To prevent becoming an unrestricted free agent in two years, Igor also could've looked for a lengthy deal to ensure his future and his earnings. With this deal now finalized, both Igor and the Rangers compromised, where you now have to assume that both parties are ecstatic. As a fan of both Igor and the Rangers, I know that I'm ecstatic about all of this!
For the Rangers, in this "compromise contract", they no longer have to worry about Igor becoming a free agent in two years. However, to attain this objective, the Rangers didn't have to overpay that much either. Rather than being saddled with a mega seven-year or eight-year deal, deals which have been thrown around a lot lately; the Rangers got Igor on a more team-friendly "Presidential" term of four-years.
For Igor, he won't have to play the next two seasons making less money than he is now earning, had Igor signed a bridge deal or if this went to arbitration. Instead, Igor is earning a bit better than market value for the next two seasons.
And if the Rangers can win a Stanley Cup and/or Igor can win a Vezina Trophy in these next four seasons? The contract will be a complete home-run. (It's been my contention since day one, that Igor will become the first Rangers goalie since Davey Kerr in 1940, to win both the Stanley Cup and Vezina Trophy as a Ranger. Hey, a boy can dream, right?)
Igor turns 26 years old on the penultimate day of this year. In other words, the Rangers have Igor locked up until he's 30 years old, where really, Igor is now entering the prime of his career. Some may be worried about Igor's freakish injury issues, but at the same time, Igor has dominated at every level he's been at, including during his stays in both the KHL and AHL. While admittedly, Igor did have some hiccups in some games during the 2021 season, (the early goals allowed issues, issues which have plagued Ranger goaltenders for years) you would think with a full training camp and now with not having to play against the same shooters eight times a season, Igor's numbers and games will only get better.
Like anything else Rangers related, whether it's from this off-season or in off-season's past; there will always be fans crying about something. I have already seen people whining about this contract. When I see these complaints, I do wonder how many of these fans are aware of what the rest of the league does? (Thatcher Demko anyone?) To these fans, you'd think that the Rangers should have a roster of 9676668686869 superstars, all making $1M or less – that is except for Pavel Buchnevich, a Buchnevich who these fans think that the Rangers should've given a 20 year by $20M per season deal to.
Is Igor earning too much money during the next two seasons? Maybe, but really, it's not by much, especially when you look at the rest of the league and what Igor's role is to this Rangers team. Sure, $5M would've been better, but are you really going to cry over an extra $600,000? Plus, if Igor continues to peak, his contract will be a steal in the final two years, ESPECIALLY when you look at what guys like Carey Price and Sergei Bobrovsky are currently making.
I 100% think this is a contract of compromise, where both parties come out as winners here. In fact, when writing these words, I don't know who has an edge here. What happens in these next four years is anyone's guess, but it will be interesting to see what happens in the middle of Year Four of this contract. By then, who knows? Perhaps the Rangers should've went one extra year here. Then again, maybe the Rangers will be proven correct, in ONLY giving Igor four more years here.
In any event, this is a great deal for the Rangers and the Rangers now have their hopeful franchise goaltender all locked up. I just don't see how anyone can be upset about that.
And if the Rangers and Igor want to make more cash? They'll take up my suggestion and sell official CZAR IGOR hairbands – all for the low, low, low price of $59.99!
Let's now move from talking about a starting goaltender to a goaltender who pretends on TV that he was an NHL starting goaltender.
---
As alluded to at the top of this blog, Steve Valiquette kicked off the weekend early by teasing that the Rangers would acquire Jack Eichel on Friday. Of course, it's Vally's status as the featured analyst on the M$G Networks which is why this is a story. If Vally was just a member of the NYR alumni, his tweet wouldn't have received as much traction and play as it did. Since Vally is a talking head on the M$G Networks that we all have to suffer through on a daily basis, what Vally says carries more weight than any other member of the NYR alumni – even when Vally is dead-wrong.
There are two ways to look at this story. You can take this story seriously and say that Vally was wrong again as usual. Another way to look at this story is that it provided for a very entertaining Friday, even if this story was a glaring example of how far the media has fallen. After all, did Elmer Ferguson and Foster Hewitt troll their viewership or make things up for clicks and attention? (Ferguson kind of did, but that's a story for a different time!)
This all started around lunchtime on Friday August 6th, when Vally, out of nowhere, tweeted out "My Spidey senses are tingling. Eichel #NYR". It should also be mentioned here that Vally is a former teammate of Drury, where Vally has even claimed that he's friends with Drury too. (Both men also live nearby in Connecticut too.)
This friendship, that Vally talks about repeatedly, was also displayed during one of the final broadcasts of the 2021 season, when Vally interviewed Drury after Drury's promotion. Ironically, Vally was going on and on about Drury being a big fan of analytics. Whether that's true or not, I do not know; but if you look at the moves that Drury has made during this off-season, none of these moves have been analytically based. All of Drury's moves this summer are from the eye-test realm. (Thankfully!)
As some members of the NYR beat scene busted out their pom-poms and went into cheerleader mode after Vally's tweet, an hour later, Larry Brooks refuted what Vally was speculating:
As I write these words late Monday night, Eichel is still with the Sabres.
For what it's worth, Vally is still going with the "tingling" stuff, so either Vally's in off-season "beer cooler" mode or just having a fun time. Again, if Vally is just trying to get a rise out of people, I understand the humor in that. I just don't know if that's good for Vally's brand/analytical company.
I'll also say this, because I know people think I have a personal disdain for Vally – he's not a bad guy. In fact, the two of us once had a great and in-depth conversation about the great beer known as Labatt Blue, or "Bleu" as it's labeled in Canada. I will just never agree with him on all of his analytical nonsense. However, if he's popping, belting and tweeting here, I respect that, even if I don't think that's great for his CSA company.
But wait, there's more!
On Monday August 9th, about 72 hours after Vally had his fun, Rick Carpiniello of the Athletic decided to join the party:
Just tossing this out there as I head for some vacation time … DO NOT be surprised if Mika Zibanejad is in the deal that ultimately brings Jack Eichel to #NYR

— Rick Carpiniello (@RickCarpiniello) August 9, 2021
As talked about several times this summer, Rick Carpiniello currently has a batting average of .000 with his predictions and reporting. Giordano? Bueller? Mark Giordano? And when you think about it, all of this is kind of sad, as only Larry Brooks has more seniority on the beat than Carpiniello, yet Carpiniello has been reduced to floating out rumors and ideas, rather than reporting real news for clicks and subscriptions.
Whether it was Vally's plan to turn what he's doing into a gimmick or not, immediately after Carpiniello tweeted this, Vally responded with, "what are you smoking?" I have to admit, this got a chuckle out of me. Now if only Vally could bring this personality back to the M$G Networks, rather than babbling out useless fake news stats – then we'd have something here!
As talked about to the point of ad-nauseam on this site, the only way Mika Zibanejad will be involved in a potential trade for Eichel would be if Mika waives his NMC. And there's no way Mika is waiving his NMC to play in Buffalo. For Mika to waive his NMC, a third team will have to be involved here, with that third team most likely needing to be a true contender. After all, if you're Mika Zibanejad, why would you waive your NMC, unless you were traded to a team that could win the Stanley Cup?
If you're a regular reader here, I really don't have to tell you that I have a sense of humor and a love for all things that are ball-breaking. At the same time, I'm just a beer-bellied blogger that's not held to any sort of journalistic standards either. However, when it comes to hockey reporting, or just reporting in general, you'd like to see these reporters take their jobs a bit more seriously than they currently do, with Brooks being the only exception here. (Mollie Walker, also of the NYP, would also get a pass here too.)
Whether it's hockey reporting or reporting in general, every time I check social media or even read articles, I feel that it must be easier to get a degree in journalism these days than at any other point in American history. In fact, it feels like it's easier to get a journalism degree than it is to get one of those one-hour minister certificates. When it comes to sports reporting today, I've never seen more errors and inaccuracies in my life. No joke, we are now in a world where reporters rather rush and be wrong, than take their time and be right.
Need a recent sports reporting example here, and one not related to the hockey world? Just look at this recent Colorado Rockies story, where a fan was accused of using racial slurs. Instead, the fan was just screaming at a mascot named "Dinger". However, that didn't stop the reporters from running with a more salacious story. After all, why fact check? It's easier to get your clicks and then get more clicks with an update. Two cliches come to mind here – "never let the truth get in the way of a good story" and "it's easier to apologize than ask for permission."
To be fair, maybe I'm writing from a personal perspective here. After all, I do have a new book coming out, and it's taken over a year to get this book published. The bulk of the time that went into the book was double-checking all facts, figures and stories, to make sure there wasn't one error, whether factual or grammatical, in the book. Today, most of the NYR beat are regularly wrong with their reporting, (especially with all of the Eichel stuff) and I see typos and grammar errors in a lot of these articles. In another era, you would've never had any of this.
If you've never seen Mike Judge's "Idiocracy" movie, you owe it to yourself to check it out. To me, Judge now comes off as a seer and as a "Nostradamus" prophet that predicted the future. And to think, Judge made that movie before social media boomed.
So yeah – no new news on Eichel. However, we do have some real Rangers news from Friday.
While Vally was doing his thing on Twitter, the Rangers announced the following on August 6th:
On Friday, Drury and the Rangers re-signed Adam Huska, Ty Ronning and Tim Gettinger to one-year deals. It's expected that all three of these men will start the 2021-2022 season in Hartford. In addition, with the Rangers in "WIN-NOW" mode, it's tough to envision any of these guys cracking into the varsity roster next season.
With these signings, in addition to the re-signing of Igor Shestyorkin, the Rangers only have one more decision left – what to do with restricted free agent Libor Hajek?
I know I'm using the phrase "as talked about…" too much tonight, but yeah, as talked about on prior blogs, it's tough to see where Hajek fits in for next season. At very best, Hajek could be the team's 7th defenseman, and even then, a lot of things will have to go right in order for that to happen for Hajek.
It's thought that the Rangers will re-sign Hajek, but where Hajek plays next season is anyone's guess. Hajek could be in the press box in MSG or skating in Hartford. Then again, Hajek could be in Buffalo, but I've had enough Jack Eichel talk for one summer!
---
Over the weekend, ex-Ranger Brady Skjei got married. Congratulations to him.
Many pictures from the wedding have circulated on social media, with ex-Rangers Jimmy Vesey and Kevin Shattenkirk providing a bulk of them, including these:
As you can tell, many ex-Rangers attended the ceremony, including Jimmy Vesey, Kevin Hayes, Kevin Shattenkirk, Vinni Lettieri and others. Current Rangers, in Chris Kreider, Jacob Trouba and Ryan Lindgren also attended.
Also at the wedding? Tony DeAngelo. So much for that "ALL OF TONY DEANGELO'S TEAMMATES HATE HIM" junk! (And if you ever believed that, your head was in the sand.)
Two things of note here, from an alumni perspective. With Tony DeAngelo in attendance, this confirmed what we already knew – Brady Skjei spoke up for DeAngelo when Carolina was courting DeAngelo. The other thing? Jimmy Vesey is currently an unrestricted free agent. Could Vesey, and not Derrick Brassard, be the "extra point" in Carolina's touchdown collection of ex-Rangers? As these pictures would suggest, Vesey does have chemistry with these guys and for Carolina, Vesey would come cheap. As they say – "we'll see!"
Saratoga time!
---
This now concludes the hockey portion of this blog. I just wanted to say a few words about my Saratoga trip, as I had some readers asking me about it on social media.
When it comes to sports, hockey and MMA are my two favorite sports. I can watch any hockey game and I can watch any MMA fight and I'm fine with that. When it comes to football, baseball and basketball; my once great interest in these sports has greatly diminished. In fact, if it weren't for fantasy football, pools and other gambling rackets – I wouldn't watch the NFL at all.
When it comes to horse racing, while it is a sport, it's not a sport that I take serious like others do. I enjoy watching the big races and all that, but I can't profess to know everything about it or follow it regularly. That said, when it comes to the live experience, outside of hockey, there's nothing like being at the track – especially if you're a degenerate gambler.
And real quick on the topic of gambling, for some reason, perhaps because horse racing is one of the oldest sports around today – gambling on horses in some circles is distinguished as "classy" and "prestigious". Of course, for all the fancy clothes and expensive seats you see at any given track in America, there's always the seedy element to it all. Need proof? Hit up Belmont or any OTB on a Wednesday afternoon.
For me, I enjoy going to the track once or twice a year, as it's a fun day out. If you do it right, it's really not that expensive, as you're allowed to bring in your own food and drinks. And if you like gambling, it's even better! For me, I get my horse racing kicks by going to the track once or twice a year, where for others, they are at the track once or twice a week. Maybe some of those people are in it for just the "sport". However for me, I enjoy the live experience when I'm there, rather than following everything meticulously day in and day out.
For my buddies and I, who have all been at Belmont many times; we wanted to hit up Saratoga after hearing so many great things about it. For my Ranger road-trip buddy TEN O'CLOCK TOMMY and I, this was also a trip to take during the off-season too!
Living on Long Island, when I saw that the ride up to Saratoga was anywhere from 3.5-4 hours long, I cringed. After all, going to Atlantic City is about a three hour ride for me and that ride can be brutal with traffic. However, I'm happy to report to you, that while driving to Saratoga and back home from Saratoga, the three hours flew. No joke, the ride felt like an hour, as there was no traffic at all in either direction. Granted, we left very early in the day (6:30AM on both a Friday and a Sunday) but needless to say, the ride was a piece of cake. And I say this as someone who HATES driving. (I was the wheel-man for this trip.) What felt like a driving mission going into this trip, well it couldn't have been any easier. Really, this drive both to and from Saratoga was easier than some of my drives to Atlantic City.
I know many of you readers are into horse racing, so let me give you some of the highlights and lowlights from my trip – especially for any of you readers contemplating visiting Saratoga before this current season ends.
Hotel wise, EVERYTHING is expensive this time of year. I knew that going in and there was nothing I could do about that. I went with three friends, where we got two rooms at $400 a night. ($200 a man each per night and two to a room.) $200 a night isn't that bad, but I've spent a lot less elsewhere and in much better facilities.
We stayed at the "Best Western Plus", which kind of lied on their website when they said they were in walking distance of everything, including the track, the casino and the downtown area. While technically, you could walk anywhere, it would take you 45 minutes to an hour to do so. Plus, if you're carrying a cooler and all of that jazz, the walk isn't as simple as advertised. That said, everything was a 10-15 minute ride away or $15-$30 on Uber. (Damn that surge pricing!)
While the hotel was nice, the amenities stunk. The hotel advertised a free shuttle to the track and free WiFi. There wasn't a free shuttle when we there for the races, which I think was a pandemic-influenced thing. I'll give the BW+ a pass here.
What wasn't excusable was that the free WiFi didn't work. Even worse, your regular cell phone service didn't work in the hotel room either. While yes, this is a "NEW AGE" or perhaps a millennial problem, at the same time, when trying to explore the area and figuring out things to do, it didn't help that you would've got better service with a tin can and a piece of string. The front desk/hotel staff didn't seem to care either, which just compounded to the frustration.
Of course, free WiFi wasn't why we traveled to Saratoga – the track was. When it comes to the track, it's an amazing place, where anyone of any background would have a good time at. Whether you're a family person with kids, elderly, young, going with your significant other or just having a weekend with the boys or girls – there's something for everyone at Saratoga and at the track specifically.
Obviously, the track is why we went to Saratoga. That part of the trip couldn't have been more perfect, especially since I won money! ($325 overall in two days.) I also have to thank two people here, in Danny Mack and Brian Monzo. Going into the trip, Danny Mack told me that "Saratoga is where favorites go to die." In turn, I would throw long shots in my Win/Place/Show bets, and more times than not, I hit. Monzo, who is an avid horse racing fan, would also text me picks, where some of his picks panned out! No one is perfect at the track and if anyone tells you that they win all the time, then you know they are full of this:
When it comes to the track and races, I couldn't have had a better time. It really is a nice set-up there and I enjoyed myself. Of course, winning enhances the experience, but even if I lost a few bucks, it wouldn't have made a difference – something which I can't say about the Saratoga casino, as I'll soon get into. Plus, being with my buddies, my friends who are also optimistic – it just made the trip better.
With the races eating up the sunlight part of the day, we made reservations at two restaurants and planned our nights ahead of time. On Friday night, we'd go to the steakhouse at the casino and on Saturday night, we'd explore the downtown area. Let me get into that now.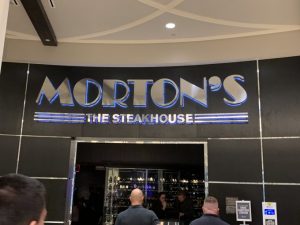 After a good day at the track on Friday, on Friday night we had dinner at Morton's Steakhouse. When I saw that the Saratoga casino had a Morton's inside of it, I was expecting an epic meal and experience. Once finishing dinner, I think I would've had a better time at an "Outback" – and it would've been much less money involved too!
While I bring up the topic of money here, let me say this – I knew everything would be expensive. That said, I don't mind paying money if what I'm getting is great. I just didn't think that Morton's was worth the money.
Put it this way, between the four of us, and after tip, we had a bill of $600 – $150 a man. (No one I hang out with ever does the separate check shit, as we always just whack up whatever it is between us. It makes life so much easier. Sometimes you pay more, sometimes you pay less, but at the end of the day it always balances itself out, especially when you're with like-minded friends/people.)
I'm not a food critic or anything like that, but I felt like I've had better food and dining experiences at local steakhouses and even at the nice bar that I go to in my own town. I thought the portions at Morton's were small and that the food wasn't that great. While the food wasn't bad, it wasn't worth the price either. Even worse, while I'm not trying to get a food coma, all four of us, after eating, felt like we could've had more. Luckily, there was a SIT DOWN OLD SCHOOL PIZZA HUT in the area, a Pizza Hut which would become an on-going gag for us during the whole trip. And if you've never experienced a Pizza Hut in the 1980's or 1990's, you don't know what you missed out on!
After an underwhelming meal at Morton's, we decided to go to the casino. I knew the casino would be a mistake, but I wanted to give it a chance anyway.
Going into the casino, I knew it was just an electric/slots casino and that there were no table games. It's just the law for right now for some of these casinos in New York, a law which will soon change.
That said, I've been to all electric/slots casinos before, and without a question, this is the absolute worst casino I've ever been to.
Put it this way, on a Friday night, a prime night for a casino, we were there for about three hours. In those three hours, NOT ONCE, did I hear anyone shriek in excitement or hear a slot machine go off. These machines were tighter than a "schmedium" t-shirt on a sumo wrestler. Even worse, there wasn't much up-and-down action, as it was a straight pummeling. The only machines that pay out at the Saratoga casino are the ATM's.
For three hours, all you saw were a sea of zombies, as all of these people had facial expressions that rivaled the reaction you'd have if you ever walked into a children's burn ward. I wound up losing $400 myself and none of my friends won money either. However, even if we won personally, that doesn't change the fact that you never heard a machine go off and the feeling of depression that was in that room.
I should've known better, because whenever you go to a city that only has one casino, especially an electric casino, those machines are always tight. With no competition in town, these casinos don't have to loosen up the machines at all. When it comes to casinos, you have a better chance to win in Vegas or AC, than you do in a one casino town. Competition is great for gamblers.
All in all – AVOID the casino in Saratoga. As someone who has been to many casinos in my lifetime, this casino is the absolute worst. The fact that they ask for over four figures a night to stay at their hotel is even more mind-boggling to me.
---
After another fun day at the track on Saturday, we ate at "30 Lake" in downtown Saratoga. The restaurant, despite slow service, provided a better meal than Morton's. We all felt like we got our monies worth and more after eating there. Try the "Seafood Diavolo" and tell them Sean sent you. They will charge you full price, but you will get a good meal out of it!
Before embarking to Saratoga, many people who have been there before raved to me and my friends about the great nightlife in downtown Saratoga, with the "Gaffney" being routinely mentioned. I'm going to have a conversation with these people the next time I see them!
Downtown Saratoga has about a 4-5 block stretch of many bars and clubs, where all of them were packed when we there on a Saturday night. As a UFC fan, I was looking for a bar that would show the UFC PPV, but none were to be had. (I wound up watching the PPV on my phone!) Once we saw the scene in downtown Saratoga, it was easy to understand why none of these bars were showing the PPV – they didn't need to, as Saratoga, which is also a college town, had all of their bars packed shoulder-to-shoulder. In other words, there was no reason for any of these bars to pay the insane prices that the UFC charges, in order for a bar to show a UFC PPV.
The Saratoga bar scene wasn't for me, as a 39 year-old. All of the bars were extremely young, with a scene that you can probably imagine – college aged males with tight t-shirts and chains acting tough and college aged females crying outside. Unlike Nashville, where there's a bar for everyone, all of the live music you heard at these Saratoga bars were of the laptop variety, as some "DJ" played "OONZ OONZ OONZ" music on their Apple computer. That's not for me, but it may be for you. Plus, as someone who enjoys a drink or ten, standing up while constantly being bumped into isn't for me. Give me a dive bar any day of the week!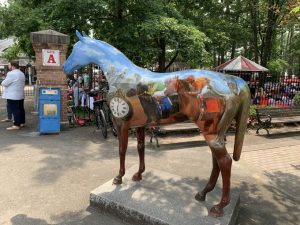 All in all, I had a good time in Saratoga, but once leaving the track, the extra-circular activities weren't as fun as the experience that I've previously had in NHL cities. Let's hope the nightlife is better in Seattle and Vancouver, when I head there next season!
And oh, on a personal note, if my buddy Dylan The Paintballer is reading this – "GO WATCH 'THE GODFATHER'!"
---
A quick plug before closing out here.
This past Wednesday, our buddies over at "2 Guys 1 Cup" returned with another informative episode. You can listen to the show by clicking the link below:
Episode 9 is out now on all podcast formats! Shesterkin long term deal or bridge? Mika for 8 years? Roc goes off on Ryan Reeves and more! #NYR https://t.co/f37er46R9E

— 2 Guys 1 Cup (@2G1CRangers) August 5, 2021
When it comes to great Ranger podcasts, I believe "2 Guys 1 Cup" will return this upcoming Tuesday night/Wednesday morning. In addition, "The Blueshirt Underground Show" hinted that they will release a new episode sometime this week too. You can follow my Twitter account (@NYCTHEMIC) for when these new episodes drop, as I'll retweet the information once available there.
If you haven't already, subscribe to this blog for the next update:
---
For me, I have tunnel vision on getting this book completed, as my editor thinks she'll be done by Friday. In the meantime, I should return with another blog here, especially if something ever happens with this Jack Eichel situation!
Stay FABULOUS my friends.
As always here, thanks for reading and…
LET'S GO RANGERS!
Sean McCaffrey
BULLSMC@aol.com
@NYCTHEMIC on Tweeter