Greetings and salutations everyone and welcome to another blog here on BlueCollarBlueShirts.com. The sun is going down earlier-and-earlier these days which means that that hockey season is just around the corner.
That said, it's been another slow week in Rangerstown, USA, where the present top story is in concern to "The Breadman" and his recent legal trouble from July 6th, where the man without a goal during the 2023 Stanley Cup Playoffs was caught illegally shooting guns in his native land of Mother Russia – and a story that we'll soon get into.
While the New York Rangers regular season is still 53-days away, we're now less than a month away from seeing some form of the Rangers on the ice, because as previously discussed on this site, the Blueshirts and the Broad Street Bullies are set to do battle with a pair of weekend matches on September 15th and September 16th – albeit, in games between the two clubs rookies and prospects:
As talked about last week (https://bluecollarblueshirts.com/81323/ ), there is only one "Lone Ranger" left unsigned, Alexis Lafreniere, who as of this writing from August 20th, 2023 – still remains unsigned.
And as also said a week ago, while I wouldn't put the concern level at an all-out panic; at the same time, the longer the first-overall pick of the 2020 NHL Entry Draft remains without a contract, then, and obviously at that – the more the concern level will increase – and for no matter how mild it may be.
Simply stated – you just have to wonder what the hold-up is.
Theoretically, you'd think that this deal would've been done long ago; but whatever the current snag is has yet to become unraveled.
For what it's worth, Lafreniere, while using social media, has put it out there that he thinks a new deal will be done soon enough; but again, why is it taking so long?
Perhaps by the time that I publish this blog, Rangers' general manager Chris Drury, aka ZOOM ZOOM, aka "The Pizza Man," will have Lafreniere's new contract jump out of his birthday cake, as the man in the big chair at 33rd and 7th celebrates his 47th birthday on 8/20.
---
Artemi Panarin, perhaps the most polarizing and perplexing player on the roster, because without him, it's debatable if the Rangers would even qualify for the playoffs, but once there, he turns into GHOST TOAST; on August 15th, the the Novgorod Gazette, a weekly newspaper published in Veliky Novgorod, Russia, reported the following:
An administrative fine with confiscation of the gun was imposed for shooting in the wrong place.

In July 2023, the district commissioner for the Moshensky district of the police department "Borovichsky" drew up a protocol on an administrative offense against Artemy Panarin for shooting from weapons in an unalone place.

As follows from the case materials, in the afternoon of July 6, on the territory of the Tumashevo tract, Moshensky district, this citizen fired several shots from a gun belonging to him.

Thus, the defendant committed a gross violation of public safety, which threatens the life and health of citizens. However, taking into account the circumstances mitigating administrative liability (Artemiy Panarin pleaded guilty and committed such an offense for the first time), the Borovichi District Court found him guilty of committing the AP and imposed an administrative penalty of a fine of 40,000 rubles with confiscation of the gun.

The court ruling has not yet entered into force and may well be appealed. All this was reported by the United Press Service of the courts of the Novgorod region.
(Of note: The above text is the Google translation of the Russian article, which is why it reads in an unorthodox fashion.)
---
I have a few takeaways from this story, including, but not limited to, the following:
— Isn't it amazing (Suzyn), how WNBA "star" Brittney Griner, an American, received a nine-year prison sentence for possessing marijuana for personal use, while Panarin, a Russian citizen, only received a fine of 40,000 rubles – which equates to roughly $406 in American currency? (And if it wasn't for the U.S. government brokering a controversial trade with Russia, then Griner would still be rotting away in prison.)
— What Panarin's laughable fine tells me is that all of his issues from two-years ago, the ones created by the false allegations from Andrei Nazarov, are now a thing of the past. You have to think that if the Russian President Vladimir Putin had some sort of grudge against "The Breadman," then the much maligned leader would have interjected – by giving Panarin a stiffer fine, if not jail time.
— It must be the athlete gene, but whatever the reason, I can't figure out why all of these mega-star athletes are attracted to shooting guns all day long, and as we always hear about in both the National Felony League and the NBA.
---
As of this writing, there are no reports out there stating what Panarin actually did, nor has "The Breadman" commented about the incident either. For all we know, and akin to a Florida redneck, maybe he was just shooting at empty Smirnoff bottles in someone's backyard.
Furthermore, since this story originated in Russia and was covered by their own state media, you can't fully trust everything reported either.
Based on what's being reported by these influenced scribes, it just sounds like Panarin was having target practice somewhere, but since unaware citizens were nearby, he was committing an illegal act.
And yep, you know it, I am not a lawyer, nor am I up-to-date with Russian laws either!
While this story is most likely to blow over (and in a way, it already has, as you're not hearing much about it anywhere); I guess it's nice to see that Panarin is using his summer to shoot. Now if he can only do so during the Spring playoff months.
---
In a rarity, I'm going to stop here – rather than going on for 10,000 words – the norm!
After all, like Panarin, and while I won't be shooting guns – I do want to enjoy my summer too – especially after spending most of it writing, publishing and packing out orders for my new book, "The Top 100 Villains of New York Rangers History."
However, and before going home, I do want to pay my respects and send my condolences to the friends, family and loved ones of Christopher Biviano (especially his girlfriend Mickey), who sadly passed away last Sunday following a tragic car accident. (Full details: https://www.newsbreak.com/massapequa-ny/3123349655131-massapequa-man-id-d-as-victim-following-2-vehicle-crash-at-long-island-parking-lot)
Biviano was a huge fan of the Rangers, as well as a reader of this site – and a person who always laughed at my horrible photoshop skills. He was also extremely passionate about his favorite hockey team, where he always posted his thoughts about the club on his @ChrisBiv handle on Twitter/X.
Biviano's obituary, and online guestbook/light a candle feature, can be found here: https://branchfh.com/obits/christopher-a-biviano/
RIP Chris Biviano – and it's a death like this one that makes you appreciate the value of life – and how fast it can be taken away in a single accident/moment.
He will be missed.
---
I shall return sometime next week – and hopefully with news about Lafreniere's new contract too.
Until then, enjoy the rest of the summer, as we're already two weeks out from NFL kickoff.
PLUGS TIME! (Buy a book and support my Rangers' induced therapy bills. After all, I don't run ads on this site!)
---
"The Top 100 Villains of New York Rangers History," is now available for preorder.
For complete information, please visit: https://bluecollarblueshirts.com/rangerkillers/
---
My second plug of tonight's blog – the mandatory plug for my book, "The New York Rangers Rink of Honor and the Rafters of Madison Square Garden."
As mentioned previously, the book is now available in hardcover, in paperback and in Kindle formats. To purchase a copy of the book, visit this link:
https://www.amazon.com/Rangers-Rafters-Madison-Square-Garden-ebook/dp/B09CM5N2WD
For those still looking for signed paperback versions of the book, I have re-ordered more copies. I now have a few signed copies for sale at $25 a pop (includes shipping price) through me directly. Here is all the information on that:
---
My four-volume set of books, "One Game at a Time – A Season to Remember," is a game-by-game recount of the Rangers 2021-22 campaign.
My second title as an author, "One Game at a Time – A Season to Remember," is now available in eBook, paperback and hardcover formats.
To obtain signed copies, visit: https://bluecollarblueshirts.com/onegamebook/
To purchase all four volumes on Amazon, visit: Amazon.com – "One Game at a Time."
---
The greatest volume-set of books on Rangers' history today!
"Tricks of the Trade – A Century-Long Journey Through Every Trade Made In New York Rangers' History," a four-volume set of books that meticulously covers every trade made in franchise history, is now on sale.
All four volumes of the title can be purchased on Amazon.com and are presented in three different formats – eBook, paperback and hardcover.
To purchase Volume I: Conn Smythe (1926) – Craig Patrick (1986), visit Amazon.com
To purchase Volume II: Phil Esposito (1986) – Neil Smith (2000), visit Amazon.com
To purchase Volume III: Glen Sather (2000-2015), visit Amazon.com
To purchase Volume IV: Jeff Gorton (2015) – Chris Drury (2022), visit Amazon.com
To purchase signed copies of all four volumes, visit https://bluecollarblueshirts.com/tricksofthetrade/
---
Here are my last few blogs, in case you missed them:
---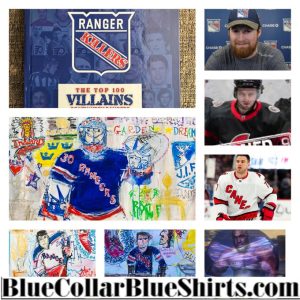 ---

---
---
If you haven't already, subscribe to this blog for the next update:
---
Don't forget to order my recently released four-volume set of books, "Tricks of the Trade!"
If you don't order through me, all four volumes are now available on Amazon.com
For more details, check out: https://bluecollarblueshirts.com/tricksofthetrade/
Thanks for reading.
LET'S GO RANGERS!
Sean McCaffrey
BULLSMC@aol.com
@NYCTHEMIC on the Tweeter machine