Greetings and salutations everyone and welcome to another blog here on BlueCollarBlueShirts.com. We actually have real news to discuss tonight!
As originally stated two months ago, the summer flies by – and as I type these words into the wee hours of Sunday, August 27th – we're now only eight days away from Labor Day – the unofficial conclusion of the summer season.
And yep, you know it – as the kids groan and march their way back into the schools – NHL players are now returning to their home cities – all in anticipation of the 2023-24 season – an anticipation that's also shared by the fans.
---
Before getting into all of the latest news and notes from Rangerstown, USA, where during this past week, Alexis Lafreniere finally re-signed with the club and the franchise also announced all of their latest staff hirings and promotions (but of course, mum's still the word on the June firing of former team trainer Jim Ramsay); for readers who may have checked out from anything Rangers-related this summer (and I don't blame you if that's the case), I just wanted to give you the quick-and-dirty, a catch-up/recap if you will, of what's gone down ever since the disgusting Game 7 first-round series loss to the Devils from May 1st, 2023.
(Of note: All of these events have already been covered in-full on this site and you can check the archives of this site for every detail.)
---
In the immediate aftermath following the Rangers' loss to the Devils, Chris Drury, never a man of many words, if any at all (outside of, "do you want garlic knots with your order?"), took a vow of silence, akin to a Chinese Monk, as his head coach, Gerard Gallant, was forced to defend himself in regards to the rumors of his upcoming ousting from the Big Apple. (If only "The Turk" decided to migrate here on his own accord!)
While the Rangers never shared the video of Gallant's final interview from May 3rd (SNY did – and you can find all of the coverage of it here: https://bluecollarblueshirts.com/5323/ ); "The Turk," and just like Alain Vigneault in April of 2018, defended his work – while also making the case on why his job shouldn't be in jeopardy.
Three days later (May 6th), Gallant was fired.
All-time in franchise history, Gallant's .604 winning percentage ranks second-best to only Mike Keenan (.619), a one-and-done "Iron Mike" who had a much better roster than "The Turk" ever did.
Furthermore, Gallant's points percentage (.652) ranks third-best to only both Keenan (.667) and Emile Francis (.665) – and where for all intents-and-purposes – "The Cat's" numbers would be even greater had he coached in the modern era, aka the no tie era.
But of course, and just like Keenan – Francis not only had full control of his roster (he was the team's general manager during his various coaching stints), but he had a much better roster than Gallant too. (Francis also didn't have 31 other teams to worry about either.)
While Drury never explained his reasoning in his firing of Gallant, nor did he ever publicly speak about it either (aka "The Rangers' Way"); the word on the street is that the general manager and head coach butted heads about both the roster and the playoff loss.
Following Gallant's dismissal was a lengthy search for the club's 37th head coach.
For the next six weeks and until June 13th, when Peter Laviolette was finally hired, rumors ran rampant about who the next bench boss would be, where names such as Joel Quenneville, Mark Messier, John Hynes, Sheldon Keefe, Mike Sullivan, Spencer Carbery, Patrick Roy, Kris Knoblauch and many others were bantered about – no matter either the validity or possibility of any of these hirings ever taking place.
(Of Note Part I: For whatever reason, the New York Post, and as spearheaded by the Hall of Fame scribe Larry Brooks, had a raging hard-on for Sullivan, despite you know – the Penguins' head coach recently signing an extension to stay in the Steel City. And why the Penguins would hand over their head coach, while paying to do so, to a rival no less, never made much sense either. That said, the NYP isn't exactly known for letting the truth ever get in the way of a good story.)
(Of Note Part II: For my exciting and riveting play on the Rangers' search for a bench boss, check out: https://bluecollarblueshirts.com/play/ )
(Of Note Part III: I'm on record – I would have never fired Gallant. And if I were forced to, then I would've looked into Quenneville – and not a coach who was complete failure in Washington during the past three seasons.)
---
Just a few days prior to both the annual NHL Awards Show and the league's Entry Draft held in Nashville, TN; on June 21st, it was made official – Henrik Lundqvist is a Hall of Famer. (For more, check out: https://bluecollarblueshirts.com/hlhof/ )
Five days later, on June 26th, the NHL held their Year-End Awards, where Adam Fox was snubbed of the Norris Trophy, in favor of the -26 defenseman, Erik Karlsson, of the last-place San Jose Sharks. Like most NHL events, this two-hour broadcast was a fiasco. (Recap here: https://bluecollarblueshirts.com/62723/ )
---
Following the firing of the now ex-Rangers' trainer, Jim Ramsay; on June 27th, "Rammer" joined his former boss, Jeff Gorton, in Montreal. (Coverage here: https://bluecollarblueshirts.com/62723b/ )
As noted at the top of this blog and many times before that – not one accredited reporter, local or national, has explained why Drury ended Ramsay's 29-years of employment with the club.
From our sources, who in this case, is Ricky Otazu; it's thought that Drury just wants his own people – and really, that's what he's done ever since replacing his one-time mentor, and now predecessor, Jeff Gorton, in May of 2021.
The only holdover from a previous regime, and bygone regimes at that? Senile Glen Sather – who Drury can't fire, as owner James Dolan won't allow it.
On June 28th, the NHL held their first-round of their Entry Draft (https://bluecollarblueshirts.com/62923/ ), where in a rarity – the entire fan base, and in complete unison, were ecstatic about Gabriel Perreault – who the franchise selected with their 23rd-overall selection.
The previously mentioned Mr. Otazu also recorded and conducted Perreault's first interview following his draft, a quick video chat that you can watch here: https://bluecollarblueshirts.com/62923b/
---
Following June 29th, where all 32 NHL clubs participated in rounds two through seven of the NHL Entry Draft; on July 1st, the free agency period opened – and where for the Rangers, already having been accused of being slow and old (and man, oh man, how fast did the Blueshirts go from being one of the youngest teams in the league to one of the oldest squads in the NHL?) – they just got slower and older.
(For complete coverage of every signing, check out: https://bluecollarblueshirts.com/7223/ )
On the first day of the seventh month of the year, where the stripped of his captaincy and then bought out in Winnipeg Blake Wheeler, and the regressing faster than the 2023 New York City baseball teams, goaltender Jonathan Quick, were Drury's top two prizes; the Blueshirts also added fellow senior citizens to the roster, including Nick Bonino, Tyler Pitlick, Riley Nash and others – and where every contract signed during free agency was limited to only six-figures.
While that was going on, Vladimir Tarasenko eventually wound up in Ottawa and his now former two-time teammate, Niko Mikkola, signed with Florida; while other players from the 2022-23 Rangers, such as Patrick Kane, Tyler Motte and Jaroslav Halak, still presently remain unsigned.
Eleven days later, July 12th, Drury re-signed the first of his two restricted free agents, K'Andre Miller. (Complete details: https://bluecollarblueshirts.com/71223/)
Of course, the biggest highlight of the summer took place on July 20th – as I released my newest book, The Top 100 Villains of New York Rangers History."
---
While you can check the front page of this site for the other stories from July and August, where admittedly, there wasn't much outside of Artemi Panarin illegally shooting a gun and only receiving a $406 fine for doing so (https://bluecollarblueshirts.com/82023/ ); this now brings us to this past week.
On August 23rd, Larry Brooks, the only Rangers' beat reporter who breaks news, had the scoop – the expected Alexis Lafreniere deal – where for whatever reason, took forever to become a reality, but at least became finalized:
A day following Brooks breaking the news, the Rangers made it official – Lafreniere had re-signed with the club for two more years. However, and as always – the Blueshirts released no financial figures in regards to the deal – despite nearly every other team in the league always disclosing such terms and information.
---
Before giving you my thoughts and opinions the deal (and you can read what I said previously about these negotiations here: https://bluecollarblueshirts.com/81323/ ); here's how the Rangers covered it, courtesy of https://www.nhl.com/rangers/news/rangers-agree-to-terms-with-alexis-lafreniere/c-345652774?icmp=int_web_nyr_news_rightrail:
New York Rangers President and General Manager Chris Drury announced today that the team has agreed to terms with forward Alexis Lafrenière on a two-year contract extension.

Lafrenière, 21, set career highs in games played (81), points (39), and assists (23) in 2022-23. The St-Eustache, Quebec native tabbed three power play goals last season, one of six Rangers to reach the mark.
In 216 career NHL games, Lafrenière has posted 47 goals and 44 assists for 91 points and a plus-5 rating. Since the start of his first NHL season in 2020-21, his 41 goals at 5-on-5 are tied for the second-most on the Rangers (tied with Panarin; Kreider is first with 47). In 2021-22, he notched 19 goals and 12 assists for 31 points. All 19 of his goals were even-strength, the second most on the Blueshirts that season. In his rookie campaign in 2020-21, Lafrenière played in all 56 games for the Rangers, registering 21 points (12G-9A). He became the first teenager to skate in each of the Blueshirts' games in one season in franchise history and his 12 goals were the third-most by a teenager with the Rangers in one season in franchise history.

Lafrenière was originally selected by the Blueshirts in the first round, first overall, of the 2020 NHL Entry Draft.
---
Since the Rangers refuse to release such information, and as if they were protecting nuclear codes, here's the skinny on Lafreniere's new deal. The first-overall pick signed a two-year deal worth $4,650,000 overall, which breaks down to an annual salary-cap hit of $2,325,000.
Similar to Miller's deal (check out the link in regards to #79 above), Lafreniere will be paid more in his second year, thus giving the player more power and a higher salary come his next contract negotiation.
For the 2023-24 season, Lafreneire will be paid $1,650,000, while also receiving a $350,000 signing bonus.
In the second-and-final year of the bridge contract, Lafreniere will be paid $2,650,000.
As a whole, and according to CapFriendly.com, the Rangers are currently (and approximately) $46,583 over the league's salary-cap ceiling of $83,500,000.
Of course, and as previously stated during this off-season (I first made this point on the first day of free agency) – the Blueshirts signed so many veterans to one-year deals – meaning contracts where Drury can punt any of these players to Hartford – and more importantly than all else – with no restrictions.
In other words, whoever loses out during training camp and/or the preseason, will be sent to Hartford – and bada-bing, bada-boom, the Rangers will have enough salary cap room – and even enough room to make a play to return Patrick Kane into the fold, should that be the desire.
(As previously written this summer, Kane may not be able to return to play until December/January, and since salary-cap money accrues over time, the Blueshirts will have enough money to sign him. Of course, since Kane is an unrestricted free agent, the future Hall of Famer, who in theory, should be 100% come the turn of the calendar, is suited best by waiting and then signing with whatever team he deems to have the greatest shot at winning the Stanley Cup. Sad to say – I don't see the Rangers as one of these teams – but I hope to be wrong about that!)
---
I've already discussed Lafreniere's off-season on this site, but to just give you the brief summary, the obvious:
Should #13 get out of the gate hot, then you won't hear the word "softball" at all come October. However, should Lafreniere continue to struggle, then all you'll hear about is softball – and perhaps the word "alcohol" too – and where I know – he's just a kid – but he's also a grown man making millions and millions of dollars.
In other words, for the future 22-year-old (his birthday is 10/11/2001 – and doesn't that make you feel old?), he's just not your normal young man, and fair or unfair, he'll never be judged as such either.
For 99.9% of people his age, they can do whatever they want without scrutiny. It's just not the same parameters for a first-overall pick of an NHL Entry Draft – and I don't think that I have to explain this any further to you.
With Lafreniere finally inked, the Blueshirts pretty much have their roster settled, where up next, it's up to Laviolette to determine the lines and make cuts.
And unlike others – I don't do the PROPOZED LINEZ nonsense.
I'll wait for the preseason to explore all of that, because really, I don't know if anyone can predict what Laviolette will do and where furthermore – I don't think that he even has a concrete plan just yet.
In other words, I believe the 37th head coach in franchise history has to see how these guys look in camp, and in the six exhibition matches too, before determining anything.
Following the Lafreniere news, a day later, on Friday, August 25th, the Rangers fleshed out their staff directory and announced these hirings and promotions:
Here's what the Rangers put out there, courtesy of https://www.nhl.com/rangers/news/rangers-announce-hockey-operations-staff-updates/c-345665074?icmp=int_web_nyr_news_rightrail:
New York Rangers President and General Manager Chris Drury announced today several updates to the team's hockey operations staff:

Ryane Clowe has been promoted to Co-Senior Advisor to President and General Manager
Angela Ruggiero has been hired as Hockey Operations Advisor
Christian Hmura has been hired as Skills and Performance Development Coach
Mark Ciaccio has been named Prospect Development Skills Coach
Paul Mara has been hired as Player Development Assistant
Andy Hosler has been named Head Athletic Trainer
Brandon Rodgers has been named Senior Sports Therapist
Kayla McAvoy has been hired full-time as Assistant Sports Scientist
Kathryn Yates has been hired as Manager of Performance Data Insights
Clowe is in his third season with the organization after serving as Hockey Ops Advisor since 2022. He will serve in his new role alongside Mike Barnett. Clowe played 10 NHL seasons split between the San Jose Sharks (2005-13), Rangers (2012-13) and New Jersey Devils (2013-15), compiling 309 points (119G-127A) in 491 games. Following his playing career, Clowe served as an assistant coach for the Devils (2016-18) and was the head coach for the Newfoundland Growlers of the ECHL during the 2018-19 campaign.

Ruggiero is a four-time Olympic medalist and was inducted into both the Hockey Hall of Fame and U.S. Hockey Hall of Fame in 2015, and IIHF Hall of Fame in 2017 after skating 15-plus years (1996-2011) with the U.S. Women's National Team. Ruggiero helped the U.S. claim the first-ever gold medal awarded in women's ice hockey in the Olympic Winter Games in 1998 as the youngest member of the team and went on to win three other Olympic medals (silver-2002, 2010; bronze-2006).

Hmura comes to New York after six seasons (2017-2023) as Hockey Director and Director of Player Development for the Chicago Mission, a Tier 1 AAA Youth Hockey Club. During his tenure with the Mission, 22 players went on to be selected in the NHL Entry Draft. From 2012-2023, Hmura was a Private Professional Development Coach, where he worked with over 70-plus NHL players in private and small group settings. In addition, Hmura was a scout for the Quebec Major Junior Hockey League's (QMJHL) Moncton Wildcats for three years (2013-2016).

Ciaccio has worked with the Rangers since 2013, previously serving as the Skills Coach for the team. In his new role, Ciaccio will be working primarily with the team's prospects as part of the player development staff. Prior to joining the Rangers, Ciaccio served as the Skills Coach for the Phoenix Coyotes for 12 seasons (2001-13) and worked with MODO in the Swedish Hockey League (SHL) in 2011.

Mara will work as part of the player development staff, working with Rangers prospects on and off the ice. He joins the Rangers organization after two seasons coaching the Boston Pride of the Premier Hockey Federation. In addition, he has served as the assistant coach of the USA National Women's Team since 2016 where in in 2018, he helped guide Team USA to an Olympic Gold Medal. A seventh overall pick in the 1997 NHL Entry Draft, Mara played in 734 NHL games and produced 253 points with a total of six franchises. From 2006-2009, Mara skated in 156 games for the Blueshirts, collecting eight goals and 35 assists for 43 points.

Hosler returns to the NHL after spending two seasons at Michigan State University as the Head Athletic Trainer. Hosler spent 14 years with the Nashville Predators (2007-21), including serving as the organization's Head Athletic Trainer in his final eight seasons with the team.

Rodgers comes to New York after spending the past five seasons as Physical Therapist and Assistant Strength & Conditioning Coach for the Tampa Bay Lightning. In his role with Tampa Bay, Rodgers helped implement strength and high-performance programs, and assisted the medical staff by performing physical therapy and traditional athletic training services.

McAvoy earns a full-time role after two seasons with the team as temp associate in the strength and conditioning department. After graduating from Queens College, McAvoy got her start in the industry as an intern with Prentiss Hockey Performance where she worked alongside trainers to design and implement exercise programs for professional athletes.

Yates spent parts of the past two seasons with the Philadelphia Flyers in the hockey analytics department. She joined the Flyers front office after two seasons with the University of Massachusetts Men's Hockey team where she served as the Director of Analytics. In addition to her role at UMass, Yates worked within the analytics department for the Boston Bruins.
---
Here's a hot take, and one that you won't see from any other writer, blogger, podcaster, whoever – and to quote birdbrain Mollie Walker – "I don't give a shit" about any of these hirings and promotions!
While I understand that a strong support staff is needed; at the end of the day, if you're telling me that any of these jobs, especially a ridiculous one, such as "Manager of Performance Data Insights," makes-or-breaks a team and determines their Stanley Cup fate, then that team has already lost.
Simply stated – it's up to the players to do their job (a tall task for this bunch) – the franchise's "Assistant Sports Scientist" be damned!
What's next, an official team "Proctologist?"
Then again, that could be one way to remove the heads from asses come playoff time!
---
If there was any "controversy" about any one hire, then it was some of the reaction to Angela Ruggerio being named as the club's Hockey Operations Advisor – and for the reason that you may have already suspected – GASP, she's a woman!
To me, and again, in another case of "I don't give a shit;" I don't give a shit if Ruggerio is male or female – and sorry (not really sorry) folks – there's only two genders in this world – and despite whatever junk that people are trying to pollute into the minds of America today – and that's not a controversial take either!
(I recently read that some freaks believe that there are 53 genders today. Perhaps these people need a team proctologist to remove their own heads from their own asses too!)
After all, Senile Sather, a male with allegedly old man balls clacking around his knees ("The Larry David"), has been collecting a check from this franchise for over 23-years now – and has OO-GATZ to show for it.
Hell, I wish that Ruggerio could outright replace Sather – and that once-and-for-all – "The Banff Buffoon" would be completely removed from this organization.
The only bad thing about the Ruggerio hiring in my eyes – and something that she would have nothing to do with either?
The fact that you can expect Ms. Walker, and the rest of the "WE HAVE TO ASK EVERY PLAYER ABOUT PRIDE NIGHT ON A 24/7 BASIS" mob, will inevitably write about how "brave" Ruggerio is for being a lesbian – as the new Hockey Ops. Advisor has been married to her wife, Sarah Cahill, a trainer, for some time now.
As said many times before on this site – I don't care who sleeps with who or puts what where – and I rather hear more about Ruggerio's qualifications (and she's mighty qualified at that, as she possesses a Harvard education, an Olympic Gold Medal and was inducted into the Hockey Hall of Fame in 2015, among other things), rather than her sex life – but you know that Walker and others won't be able to resist.
After all, and to compare – do you really want to know who's in Sather's bed? (Perish the thought!)
Seriously speaking, Ruggerio's resume is just as impressive as anyone else's – and if you're hung up on her gender or who she's married to – then you're not seeing the big picture.
However, and I don't care if this sounds "caveman-ish," but I do think that you need to have a male as a head coach – just because most head coaches are former NHLers and/or pro hockey players – thus meaning that they personally know the job of their "employees" – aka the players.
But in a management role? Ruggerio, or any other female (or male too for that matter) with her resume, is just as good as any.
After all, the Rangers have only won one Stanley Cup in the last 83-years. It's a good idea to buck previous (and failing) trends.
Heck, maybe I will flip-flop here – if Lateralette doesn't work out – then Ruggerio, a HOF player herself, wouldn't be the worst person in the world to man, or should I say "woman," the Rangers' bench!
And should Ruggerio win the Cup with the Blueshirts?
Then perhaps Adam Fox can join her in the Hall of Fame one day – as a champion from Harvard! (Ditto Jimmy Vesey – although I suspect he won't be getting call from Toronto once retired!)
The only true bad news from the Rangers' staffing announcement?
The fact that Sieve Vagistat is still part of the M$GN broadcast crew – completely sickening!
---
While I want to save both my Rangers and NHL season previews once we get closer to puck drop; we're now only mere weeks away from the start of training camp – and where most NHL rosters are pretty much finalized – but there are some prominent free agent names still out there, while the possibility of trades also exist.
But since I was already asked this question on Elon Musk's "X" app, here's a spoiler and a sneak peak of my NHL Season Preview – I have the Pittsburgh Penguins winning the 2024 Stanley Cup Final – and yep, you know it – I hope to be dead-wrong about this!
(As mentioned all summer, I have no faith in the Rangers this season, but in an example of "The Power of Negativity" – I'm hoping that such a notion leads to pleasant surprises. At the very least, I can't be let down!)
At this time, some alumni updates before heading home.
---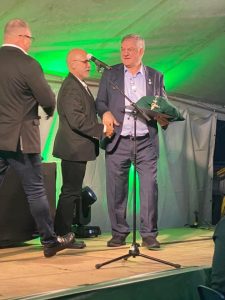 Ron Greschner, one of the greatest defensemen in all of Blueshirts history, was inducted into the Saskatchewan Sports Hall of Fame on 8/25.
I've written so much about #4 over the years, where I've also championed the Rangers to retire his number many times over, including on this site (https://bluecollarblueshirts.com/53120/ ) and in my first book, "The New York Rangers Rink of Honor and the Rafters of Madison Square Garden."
However, and as previously mentioned on this site – Greschner only desired such an honor when his mother was still alive. (She later passed away at the age of 97-years-old on 8/25/2001 – and for the full details, check out: https://bluecollarblueshirts.com/9121/ )
While it remains to be seen if this brain-dead franchise will ever honor their all-time greats, it's nice to see the pride and joy of Goodsoil, Saskatchewan have his day in the sun.
Here are two more pictures of the event, courtesy of both Greschner and Jeannine:
Congratulations to the soon-to-be 69-year-old on his big day.
---
A few weeks back, and following the release of my latest book, I wrote a blog (https://bluecollarblueshirts.com/73123/ ) where I talked about my next idea for world-wide publication.
As a refresher, here are the ideas that are currently rattling around my Blueshirts' brain:
— The Most Unusual Stories of Rangers' History
This idea would cover all of the wackiest things that I haven't covered in my previous books, including, but not limited to, the Rangers drinking a "good luck concoction" during the 1950-51 season, Muzz Patrick vs Eddie Shore, the club burning their MSG mortgage after their 1940 Stanley Cup win, hiring a hypnotist, the comedic styling of Ward Wilson, Emile Francis and the "over-the-glass" incident, Phil Watson almost becoming a movie star (and I'd love to do a biography on Watson – but I know that really only caters to an audience of one – me) and etc.
— Rangers' FIGHT CLUB
This self-explanatory titled book would cover every fight in Rangers' history. I've already somewhat written a skeleton outline for this idea, where readers would also be able to scan QR codes when reading the book and then the code would take you to a YouTube link of the fight that they are reading about. However, by doing so, I also run the risk of getting into copyright issues (and YouTube deletes links all the time too), so while a good idea in theory – I'm not sure if I'll be able to do that.
— DRAFT DAY
This project would cover every Rangers' draft, including who they selected, who they didn't select, what happened afterwards, grading the drafts and so on and so forth.
In addition to the NHL Amateur and Entry drafts, I'd also cover expansion drafts and all of the other drafts that the Rangers were involved in – and then explore the WHA threat too – as the second league was also drafting these same players during the 1970s.
Originally, it was my plan to write and release this book in 2023, but I feel like that I've covered a lot of the subject matter in my first two books, which is why I went down the "Ranger Killer" path instead – as I wanted to write something different – and write in a different style too.
— RICKARD
Admittedly, this is a passion project of mine – and one where hockey wouldn't be the main theme either.
Due to copyright laws, all of Rickard's biographies that were written from 1930-1957 (including one by his daughter) are now available for free under public domain. Should I tackle this project (and I do have some stuff written for it, as I was trying to write a screenplay but there's only so much time in a day) – perhaps I'd upload the best biography of the lot, "The Magnificent Rube: The Life and Gaudy Times of Tex Rickard" (published in 1957) – just so you can get an idea of what I'm going for.
I've written a lot about Rickard in my other books and on this site, but what I'd like to do for this book idea, is write a fictionalized version of his life from his perspective.
While the book would be based on fact; obviously, I'd take some creative liberty and freedoms when recalling his conversations with Teddy Roosevelt, W.C. Fields, Jack Johnson, Conn Smythe, Wyatt Earp, Jesse James and the many other celebrities and famous figures that he was friends with during his life.
I know I've said this many times before, but here's one more time:
Rickard's life is a perfect mini-series for one of these never-ending streaming services. Think "Boardwalk Empire" meets "Deadwood" meets "Yellowstone" meets any Clint Eastwood western picture that you've ever seen. That's Tex Rickard, the founder of the Rangers.
---
In an update, the Draft Day book idea was the most well received, with the FIGHT CLUB book right behind it.
The book, or project rather, that I really want to do the most, but I know it will be a money-loser (it has the least interest), is the Rickard one.
It's impossible for me to sell people on the first owner of the Rangers – but for for the life of me – if anyone took two seconds to do their research on "Dink," then they'd be clamoring for such a book, project and/or television mini-series.
While I've previously reviewed the best source material on Rickard's life, "The Magnificent Rube – The Life & Gaudy Times of Tex Rickard" by Charles Samuels, a book that's now public domain (free use); at this time, this rare book, where at times, goes for over $250 on eBay and Amazon, can now be found for free here: https://archive.org/details/magnificentrubel00samu
Outside of my books (of course), including my new one, "The Top 100 Villains of New York Rangers History;" if you read any other book this summer, then make it this one by the world renowned biographer of his time, Charles Samuels.
It's hard to really generate support and make a grass-roots campaign for a book that's now nearly 70-years-old, especially about a person that died nearly one hundred years ago, but I'm telling you – if you read this book then you will see why I believe that Rickard's life deserves more attention – whether it be in another book or on your television screen.
Presently, I'm re-reading the book for the fourth time – and like any other good book – I take new things out of it with each read.
This is also my way of telling you that you'll see another huge Tex Rickard blog on this site this week – and before publishing my NHL and Ranger season previews – as I really want to try to sell this project to you.
Similar to my new book, which was written in a completely different style from my other books – I want to tackle a new challenge and do something different. However, I also need to make this idea marketable – as this particular beer-bellied blogger needs his booze bucks!
---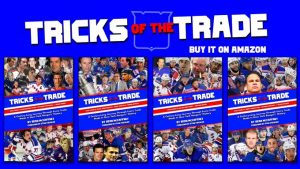 Last but not least, as I continue to close this blog with my selfish acts of promotion (but if not me, then who else is going to push my ventures?); on Tuesday, August 22nd, I appeared on the "Retro Rangers" podcast, as hosted by another fellow Blueshirts' historian, the great George Grimm.
To listen/view the show, you can can watch it on YouTube by clicking the play button below:
---
In one final note, I would like to send my best wishes to #1, former Rangers' goaltender Eddie Giacomin, as the Class of 1987 Hockey Hall of Famer, now 84-years-old, isn't doing too well these days.
To this day, the date of November 2nd, 1975 will forever live in infamy and where there was never a more emotional event than when Giacomin, then a new a member of the Detroit Red Wings, played at M$G for the first time as a visitor.
Don't believe me? Then just ask anyone who was there – including the Rangers who faced their former goalie.
Get well soon Eddie.
PLUGS TIME! (Buy a book and support my Rangers' induced therapy bills. After all, I don't run ads on this site!)
---
"The Top 100 Villains of New York Rangers History," is now available for preorder.
For complete information, please visit: https://bluecollarblueshirts.com/rangerkillers/
---
My second plug of tonight's blog – the mandatory plug for my book, "The New York Rangers Rink of Honor and the Rafters of Madison Square Garden."
As mentioned previously, the book is now available in hardcover, in paperback and in Kindle formats. To purchase a copy of the book, visit this link:
https://www.amazon.com/Rangers-Rafters-Madison-Square-Garden-ebook/dp/B09CM5N2WD
For those still looking for signed paperback versions of the book, I have re-ordered more copies. I now have a few signed copies for sale at $25 a pop (includes shipping price) through me directly. Here is all the information on that:
---
My four-volume set of books, "One Game at a Time – A Season to Remember," is a game-by-game recount of the Rangers 2021-22 campaign.
My second title as an author, "One Game at a Time – A Season to Remember," is now available in eBook, paperback and hardcover formats.
To obtain signed copies, visit: https://bluecollarblueshirts.com/onegamebook/
To purchase all four volumes on Amazon, visit: Amazon.com – "One Game at a Time."
---
The greatest volume-set of books on Rangers' history today!
"Tricks of the Trade – A Century-Long Journey Through Every Trade Made In New York Rangers' History," a four-volume set of books that meticulously covers every trade made in franchise history, is now on sale.
All four volumes of the title can be purchased on Amazon.com and are presented in three different formats – eBook, paperback and hardcover.
To purchase Volume I: Conn Smythe (1926) – Craig Patrick (1986), visit Amazon.com
To purchase Volume II: Phil Esposito (1986) – Neil Smith (2000), visit Amazon.com
To purchase Volume III: Glen Sather (2000-2015), visit Amazon.com
To purchase Volume IV: Jeff Gorton (2015) – Chris Drury (2022), visit Amazon.com
To purchase signed copies of all four volumes, visit https://bluecollarblueshirts.com/tricksofthetrade/
---
Here are my last few blogs, in case you missed them:
---
---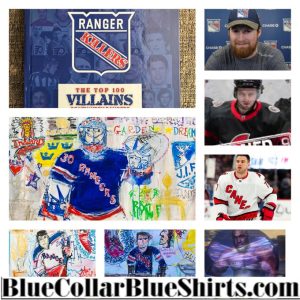 ---
---
If you haven't already, subscribe to this blog for the next update:
---
Don't forget to order my recently released four-volume set of books, "Tricks of the Trade!"
If you don't order through me, all four volumes are now available on Amazon.com
For more details, check out: https://bluecollarblueshirts.com/tricksofthetrade/
Thanks for reading.
LET'S GO RANGERS!
Sean McCaffrey
BULLSMC@aol.com
@NYCTHEMIC on the Tweeter machine