Greetings and salutations everyone and welcome to another blog here on BlueCollarBlueShirts.com. There's a lot to rifle through tonight, so let's get right into it.
Up first, the pair of rookie games between the Rangers and the Flyers from this weekend, where admittedly, I have to vent first in order to cleanse myself! Bear with me!
---
I know I cried (as if I were Nils Lundkvist shedding tears) about the following during the last two blogs posted on this site, but what the hell – "third time's a charm," am I right?
The Rangers didn't just crap in their beds this weekend – they took an Andre The Giant sized wet dump – and then wiped their five-holes with the sheets.
(Fun fact: Andre The Giant did this several times during his career, especially in Japan, where the hotel bathrooms were much smaller than the ones in North America. He couldn't fit in these bathrooms, and in turn, he had to make due – or to be specific – make "doo-doo." The more you know!)
Speaking of "doo-doo," the Rangers and their beat reporters!
To be clear, I'm not talking about the Ranger rookies right now, who lost the first game of the series 2-1 (OT) and then lost the second game by an unimpressive final of 5-1 – I'm talking about the organization itself.
Feel free to scroll down a bit if you're sick of this redundant rant, but yep – the Rangers couldn't have been bothered to air these games, despite you know – owning their own cable network, possessing a YouTube account, and so on and so forth.
And what does it tell you about the state of the Ranger beat reporters, especially when none of them could be bothered to cover these games either? A bunch of go-getters!
To be fair, I understand that the employers of the worst crop of Ranger beat reporters of all-time didn't assign their employees/writers to cover these games. That is 100% on these media outlets – and not on the reporters themselves. (And I guess these media outlets were just following the Rangers' lead. Sad!)
However, if these reporters wanted to go the extra mile (both literally and figuratively), then they would've driven a few miles away to Allentown. After all – it's not like these games took place in Flin Flon or in Moosejaw!
As you already know, outside of Larry Brooks, the rest of the NYR beat are pretty much interchangeable. Simply stated – they're all one in the same and do nothing to differentiate themselves from the pack. Can anyone really debate otherwise? (And if you can, feel free to fire back at me – because contrary to popular belief – my opinions aren't the gospel.)
Aside from Brooks, the rest of the NYR beat have no sources. Most of them are young, straight-out-of-college, and basically run quotes from official press conferences. They also post line-up information and pictures of what they eat on social media. And if they can copy and paste stats from analytical websites, in order to to fill up white space on their monitors – then much like the pictures of their steak dinners that they post online – it's a job well-done.
(And in case you're new here, let me reiterate what I've said in the past, as a way to give you some background – I'm much older than most of the reporters on the NYR beat. I've seen better reporters in my lifetime. And while I'm not a fan of the writers of today, I also understand that most of them are starting out. It takes time. However, I also know that I know more about this team, and its history, than any of them. Heck, that's why Stan Fischler calls me "Young Maven!" What an ego-boost!)
If one of these dime-a-dozen "reporters" wanted to stand out, and get a leg-up on the competition, a little initiative would have went a long way – or so I say!
Then again, what do I know – I'm just a blogger! (Although I am an author too! Damn, I sound conceited! My apologies!)
Of course, it should also be mentioned that the beat reporters aren't Ranger fans either. This is their job – how they pay their bills – and not their passion/hobby. For all I know, maybe in their spare time they write 10,000 word blogs about a topic that interests them – just as I do here.
Why do something job-related in your own free time, especially when there are pictures of pasta primavera to post on Twitter!
My only point – I thought one of these reporters could've increased their profile this weekend. They didn't. That's all.
In case you're wondering – just like the beat reporters, and the Rangers' social media team themselves – I didn't attend these games either. However, I do have two-fold excuse! One, it's not my job, and two, I had a family function this weekend. (And unless it's a Stanley Cup Final – I'm never going to pass up an opportunity to see my nieces!)
---
As previously noted on this site – the Rangers couldn't be bothered to air these games, nor post updates about them either. They just don't care, nor do they have to. Sucks for us, but there's nothing we can do about it.
Let's face it, the Rangers could post a video of the entire team eating babies at center ice and it wouldn't change a thing – they'd still be the richest (most profitable) franchise in hockey, every game at MSG would still sell-out, and they'd still be able to get Caesars Sportsbook to pay them $97867867896896867896796 a season to run their never-ending 678678678967867896796879 commercials per-hour.
Conversely, while the Flyers didn't air the first game (Friday night), they did feature a radio broadcast of the game. They also shared pictures and clips from the contest.
The Flyers, through NBCSN+, aired Saturday afternoon's game. However, unless you lived in the Pennsylvania area – you were geoblocked from watching the contest.
Like many of you, I'm an old-school sucker set in my ways and who still pays for cable, where NBCSN is part of my television package. However, Saturday's broadcast was regional, and in turn, I was blacked-out from watching. Furthermore, the streaming websites, such as NHL66 and the lot of them, didn't have any video of the game either.
And for the last rotten cherry on top – the Rangers haven't posted one thing about these games. Nothing. Zilch. Nada. Zero. The Flyers did the complete opposite, as they covered the games live on their social media accounts and currently have multiple stories posted on their website about it.
Spoiler alert, and as we'll soon get into – the Flyers then used this opportunity to run a puff piece on Tony DeAngelo.
Before moving forward, and giving you some news and notes from the games themselves (one reader of this site covered Friday's game live for us) – no I'm not gassing up the Flyers here. I just call it as I see it.
Perhaps since I've been writing a lot of non-Rangers related material during the past year for Stan Fischler (and as you'll see below – my writing style is much different whenever writing for him), on both "The Hockey News" and NHL.com (more on that to come), I'm able to put my fan goggles down. I can write about the Flyers without disdain – imagine that!
If there's any point I'm trying to get across it's this – while I'll always be a diehard Ranger fan, and a hater of the Flyers too – I can put my fandom aside in my writing and look at things objectively. (If I couldn't, I wouldn't have my gigs with "The Maven!")
Bottom line – the Flyers did an outstanding job this weekend. Kudos to them. The Rangers did a horrendous job.
Let's now get into these pair of games, and then into everything else, as I got a lot of material for you tonight.
---
On Friday night, the Ranger rookies dropped a 2-1 overtime final to the Flyer rookies. Our pal KC was there and recapped the entire game for us. Again – thanks KC!
I do want to say this before proceeding – I saw a few people "steal" KC's videos on social media and present them as their own. Pretty low if you ask me. Is it that tough to credit someone for their work? Maybe I'm on the other side of the equation here, as I plug everyone and anyone on this site.
Heck, here's a plug for you – after reading tonight's blog, and if you want more information on both of these rookie games; on Monday night, "The Blueshirt Underground Show" returns, following their summer hiatus.
BSU co-host, Jim Schmiedeberg, attended both games this weekend, so if you want a first-hand account of both of these games, click the following link at 7PM Monday (9/19):
https://www.youtube.com/channel/UCY7uJZRhIkM1iLKEdo6gmag
In case you don't know – "The Blueshirt Underground Show" is the only Rangers' podcast of its kind, as it's recorded live with fans calling in. You can also join their chat on both YouTube and Facebook as the show airs.
It's also my favorite Rangers' podcast, with "2 Guys, 1 Cup" as a close second. I'm also a big fan of Brian Attard's "BlueTruth Show," who recently, is now taking live calls too. Admittedly, my time is somewhat spread thin, so I usually catch his show after its recorded, rather than watching it live as he intends his listeners to.
And one more plug before moving on, and to show you that I have no problem plugging other Ranger fan blogs? Check out Derek "NO FLEX ALL WELCH" Felix's site, over at https://newyorkpuck.com/author/kovy274hart/
I don't always agree with what he says, but like any other podcast, blog, fan site, Twitter account, or anything else that you can conjure up here – I respect the passion. Plus, it's always good to know different opinions, as a way to fully understand a topic/subject.
Let's get to the games.
---
The following game review/recap of Friday's 2-1 overtime loss comes from @KC9703. Take it away KC:
(Of note: I edited some of his words to make everything flow right.)
Overall, I thought the game was a disappointing effort by the boys in blue. I expected much better. The goalies were solid. Talyn Boyko faced way more point-blank shots than Dylan Garand did. Boyko was up to the task. He's a work in progress, but Benoit Allaire has something to work with.
Defensively, Matthew Robertson was the stand-out rearguard. Zac Jones was blah.
Hunter Skinner looked good, as he made some good plays with the puck. K'Andre Miller's buddy, Ty Emberson, was physical all night. No joke, Emberson had to have at least seven hits in the game. Both Skinner and Emberson are right-handed defensemen, so the chances of ever seeing them with the big club are slim.
When it comes to the forwards, Brennan Othmann didn't do a whole lot, although he did make one huge hit.
Adam Sykora was active, but he took a bad holding penalty in the neutral zone. He also got caught on the wrong side of the puck during the game winning goal scored in overtime. For what it's worth, he was a hound-dog on defense and I did see him sliding to block shots on several occasions.
Bobby Trivigno was all over the place. His diminutive size issue will be a fight his whole career. This was extremely noticeable when he wasn't able to rub out a Flyer on the boards during their first goal scored.
The big guys, Adam Edstrom and Matt Rempe, both used their size well. Just the kind of guys you want on your fourth line.
Ryder Korczak has some talent, but he's on the smallish side too. Maxim Barbashev really surprised me. As a young kid who was just drafted – he didn't look out of place at all. Barbashev constantly mixed it up in the corners and made some good plays with the puck. On the other hand, Karl Henrikkson wasn't a factor at all.
Jayden Grubbe was physical. He also fought in the game. In my opinion, he's a potential Rangers' fourth-liner.  Bryce McConnell-Barker was a little overrated, but you could see that he has some real skill.
Trending Up – Barbashev and Skinner.
Trending Down – Will Cuylle. He was invisible.
I didn't see Gerard Gallant or Chris Drury, but that doesn't mean that they weren't there either. Kris Knoblauch was behind the Rangers' bench.
Somewhat similar to the 2021-22 Rangers, the team was dominated during the third period. Going into the overtime, and tied at 1-1, the Flyers led the SOG statistic, 33-19.
That's about all I can think of, but just like you always say, this caveat:
"One thing to remember is that while this was a prospects game, some of these guys have played four years of college, some guys have played AHL games, and others have only played against teenagers. Simply put – there's no reason to be too high or too low on any of these guys right now – it was only one game in a vacuum."
Here is a video of the Rangers' lone goal of the game, as scored by Robertson:
Robertson with the goal pic.twitter.com/vqUAUrWK0X

— Kc_13 (@Kc9703) September 17, 2022
---
Here is a video of the game winning goal – the end result of an offensive zone faceoff loss (ugh!):
— Kc_13 (@Kc9703) September 17, 2022
---
I have less information about Saturday's game, a contest where the Rangers got smashed by a final score of 5-1.
However, while the Rangers are pretending that this game never happened, both on their website and on their social media channels – the Flyers have a complete recap of game two of the series on their website.
You can find their recap here: https://www.nhl.com/flyers/news/rookie-game-2-swede-victory–philadelphia-flyers/c-335616854
As mentioned, Jim will be recapping both games on "The Blueshirt Underground Show" on Monday night. Since he's a friend and someone I trust, here's his synopsis from a Rangers' perspective:
The Flyers didn't get a shot on goal until the 13:21 mark of the first period. 1-0 Philly. Three shots later, 2-0 Philly. Best of luck to you in your future endeavors, goaltender Olof Lindbom.
At the near mid-mark of the second period/game, the Rangers were out-shooting the Flyers 19-5, but the Flyers were maintaining their 2-0 lead.
With a chance to strike within one goal, the Rangers received a power-play. The Flyers, on the penalty kill, scored a short-handed goal. 3-0 and three goals scored following six shots on goal. That was the end of Lindbom's night.
Talyn Boyko, now in net for the Rangers, gave up the fourth goal of the game on the Flyers' tenth shot on goal. Scoreboard: 4-0 Flyers. SOG 24-10, Rangers.
Bobby Trivigno erased the shutout at 2:06 into the third period. 4-1 Flyers. The Flyers got the goal right back, 5-1, your final from Allentown, PA.
As far as anything else, Dylan Garand looked strong on Friday night. He's the goalie with the most promise.
---
It's tough for yours truly to say anything about these games – especially since I didn't see them.
All I can say, based on what people have told me, these recaps posted above, the box scores and everything else, it's this – yes, these two games are independent of anything else. These two games were exhibitions, meaningless in the grand scheme of things, but not so meaningless for the players themselves.
As KC said, I think it's disappointing that guys like Othmann, Cuylle and Jones didn't provide much of an impact, three players, who going into this game, had the most hype and buzz around them. However, I also ask myself this – "where did this hype and buzz come from?" Certainly not from the team themselves, a Rangers' organization who couldn't be bothered to cover these games.
From day one of this site's existence, and even recently (https://bluecollarblueshirts.com/82222/), I've said that you can't really make a final judgment on these young players during these prospect games, World Junior Tournaments and other games of this ilk.
Whether positive or negative – you can only make your assessments once these young players start playing against men at the NHL level.
Frequently, I'm sent stuff from other fans, where more times than not, these fans are anointing these young kids as if they were the second comings of Wayne Gretzky. As I always tell these people, and as talked about in the link posted above – what does any fan truly know about these kids?
Sure, some fans can interact with the families of these players – but that's not real access. (And in full disclosure, and as you can tell by my Twitter account – I interact with family members of current Rangers – and that means nothing either, outside of having a cordial relationship with these people.)
Furthermore, NHL scouts don't even get it right half of the time – and they are the ones with the inside track on everybody, where not only can these scouts get a read on these players – but on their mental states too.
What I'm getting at – it's great to be a fan of the prospects. I'm not knocking anyone who lives-and-dies by these prospects. However, when you read stuff from other fans, take into account where it's coming from – a fan. Far too often, fans allow their fandom to blur their vision when talking about players.
Need examples? See Kaapo "Mario Lemieux 2.0" Kakko. See Vitali "Jaromir Jagr 2.0" Kravtsov. See Nils "The Swedish Brian Leetch" Lundkvist.
While every fan is entitled to their own opinion (yours truly included – hence these words that you're reading right now), I do feel that some fans present their opinions as facts. It's up to you to be the judge of that.
You can't blame the fans who want the DNA of these young players hanging on their walls; but I do believe, and through no fault of these people (again – they can say whatever they want – we all can), that when these young players don't work out, then these fans start blaming the head coach, the general manager, etc – all because their knowledge of these players come from fans who don't really know how to assess prospects in the first place.
Just because you buy a jersey of a prospect, that doesn't mean you know what the hell you're talking about. I'm more inclined to put my faith in a proven winner, Chris Drury, rather than in someone who has a signed puck of a player.
(And to be clear – I haven't the foggiest idea on how to evaluate prospects either. I'm a history guy! That said, the most recent prospect that I really knew was going to work out, and as said on this site all the way back in 2016 – was some guy named CZAR IGOR! Of course, it's also easier to get a read on goalies than it is with skaters – or at least that's how I feel – MY OPINION!)
(Of note, the last prospect I pegged to be something big before Shestyorkin? Another goalie, Cam Talbot, who as of this writing, has carved out a nice little career for himself, with over $26,000,000 in career earnings.)
I think I went on about this long enough. Let's breeze through the latest with Nils Lundkvist, talk about the Rangers' alumni, and then get into my three latest articles for Stan Fischler.
---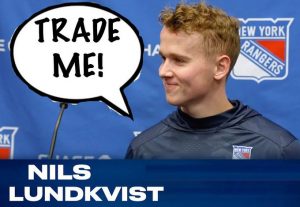 In an update to the Nils Lundkvist story, it's being reported, by Colin Stephenson of Newsday, that Lundkvist, and his agent, Claude Lemieux (you can read more about this here: https://bluecollarblueshirts.com/9322/), first made their trade demand to Chris Drury all the way back to January – when Lundkvist was demoted to the AHL.
When I first opined on the Lundkvist story on 9/3, in the link posted above, I did mention that while Brooks broke the story on that day – we also didn't know when Lundkvist and Lemieux first made their demand. Now we know.
Since we now know the timing of this trade request (and what a trooper Zac Jones is too, as talked about here: https://bluecollarblueshirts.com/91522/), I no longer give a flying Father Fink about Lundkvist.
Yes, I know what the Lundkvist supporters are saying. They are saying the following tripe:
— "BUT, BUT, BUT, HE CAN MAKE MORE MONEY IN SWEDEN!"
— "HE IS BETTER THAN SCHNEIDER!"
— "THE RANGERS HATE EUROPEANS!"
— "HE NEVER GOT A CHANCE!"
— "ACCORDING TO MY PROTRACTOR AND T-SQUARE, LUNDKVIST'S CORSI AND ANALYTICAL STATS ARE AKIN TO A 1972 BOBBY ORR!"
Okay, maybe I made the last one up – but it sounds like something these people would say, no? Then again, 99% of these fans don't even know who Bobby Orr was!
Let me now paint this picture for you, a picture with the broad strokes of reality behind it:
— Yes, it's true that Lundkvist has fallen down on the Rangers' depth chart. He's not bumping Adam Fox. He's not bumping Jacob Trouba. And while he may have had a shot of bumping Braden Schneider – now we'll never know. (In my opinion, Schneider fits the "roster stew" that the Rangers need. I just don't see Schneider being bumped.)
— By being a crybaby, and not learning anything from recent Rangers' history, Lundkvist has put the nail in his coffin.
— All Lundkvist had to do was to look at Vitali Kravtsov. Kravtsov cried, and if it wasn't for the fact that the Rangers needed a cheap winger, due to their salary cap issues – then he most likely would have been gone by now. However, for the history lesson here, and if you recall; following Rangers' training camp last year, Kravtsov was assigned to the AHL. Instead of reporting to Hartford, Kravtsov flew back home to Russia for the second time. Had he hung around, he would've been promoted two weeks into the season, due to injuries and COVID-19 issues.
— While COVID is over, and while you can't root for injuries either; had Lundkvist reported to camp as asked, who knows? Maybe he beats out Schneider. And if not, maybe he's the Rangers' first call-up should a Blueshirt defenseman suffer an injury.
— I totally get that Lundkvist wants the NHL money as opposed to an AHL salary. However, what does this tell the 31 other teams in the league? To me, it says that if I don't get my way, I'm pulling an Eric Cartman and will say, "screw you guys, I'm going home." Plus, an NHL salary is earned – and not a given birthright – much to the chagrin of many of these young players.

— Even if Lundkvist had no shot in hell of making the varsity roster; at the very least, all he had to do was show up and tough it out. Then, if he could excel in Hartford, he'd become more tradeable – his desire.
— Again, just look at the two entitled brats before him, Andersson and Kravtsov. By not reporting to camp, this whole process will just get dragged out. Lundkvist is only hurting his stock. If he played well, not only could he perhaps force the Rangers' hand, at the very least – he'd become a player that teams would want to trade for. Instead, he sort of has a question mark status attached to his name.
Lastly (as I don't want to write about this guy ever again until the day he's traded), I understand that the NHL is a business. I totally do. Lemieux's doing his job in order to get his client the most money. However, as a fan, I'm rooting for Zac Jones, a player that has shown that he wants to be here and willing to fight for a spot on the club.
Funny enough, and according to the reports out of this weekend – it may be Matthew Robertson who gets a full-time job in the NHL before both Lundkvist and Jones.
"Isn't that amazing Suzyn?"
See ya Lundkvist, don't let the door hit you on the way out.
NYR alumni time!
---
Following Saturday's game against the Rangers, the Flyers posted a near ten-minute video on Tony DeAngelo.
I'm not going to get into the whole DeAngelo thing, and my thoughts about him, for the 5427657628947563th time on this site, but needless to say – he's arguably the most-hated man in the NHL today – where a lot of the disdain is rooted in false/made-up reports about him. Just ask fiction author, Adam "Where's my hole to hide in?" Hermit.
As noted on this site in the past, DeAngelo could cure cancer, save a children's hospital that's on fire, end world hunger and create peace in the Middle East, and even then – some fans will still hate his guts and want him "canceled."
Seriously, and I'd have to think it over some more, but DeAngelo may be the most-hated man in all of NHL history – outside of Gary Bettman himself! (Of course, it's easier to get a gauge on who's hated and who's liked during DeAngelo's era, when compared to players who didn't play during the "Social Media Era.")
Currently, there are many Flyer fans who despise DeAngelo, not so much because of his past transgressions, but because they feel that Philadelphia general manager, Chuck Fletcher, should've used the money that he paid DeAngelo this summer and used it to pay Johnny Gaudreau instead.
Had Fletcher had the money to sign both, I think there would be less derision for the already controversial hometown son.
Here's the video that the Flyers posted on Saturday night, with my thoughts below:
---
To me, this was 100% a puff piece, Philly propaganda, in an attempt to rehab DeAngelo's image. That said – this is what the Flyers should be doing. It's their job to promote their own players. They know the stigma attached to DeAngelo, for as right or as wrong as it is, and they want to overcome it. If I was them, I'd do the same thing.
To go even further, if I were the Oilers, I'd be doing what the Flyers did with DeAngelo with their own player soaked in controversy, Evander Kane.
If there's anything else I truly got out of this piece, it's what I've been saying for a long time on this site (and I even have a twenty-year bet on this with a reader of the site, Butta) – one day, Tony DeAngelo will be a head coach in the NHL.
Heck, maybe Ryan Strome will one day be his general manager too!
The second half of the video focused on DeAngelo's work with local kids, where he serves them as a hockey instructor, coach and mentor. He's been doing this for over four years now.
While other NHLers also help young hockey players, I've just felt that DeAngelo, during his interviews and podcasts, has always spoken like a coach. Only time will tell if his future is behind an NHL bench.
As far as anything else from the video, DeAngelo talked about his fandom of the Flyers, how the Flyers finish from last season means nothing this season, how he's already friends with Kevin Hayes, and how much playoff hockey means to him. He said all the right things – and as expected.
Moving on.
---
In some sad news, Stan Fischler, and the best Emile Francis historian today, George Grimm, are reporting that Rangers' legend, Vic Hadfield, is not in good health.
Whatever is ailing Hadfield is not known, but all the best to him. (It's also not my job to pry into his personal life/health issues.)
If there's any encouraging news that relates to this, it's that Hadfield's former teammate, Gilles Villemure, was nearly on his deathbed a few years back, due to brain tumors. At one point, he was even in hospice care. Today, the former Vezina winner is now having weekly lunches with another former Ranger from the 1970s, Pete Stemkowski.
Again, all the best to Hadfield moving forward. I think I can speak on behalf of all Ranger fans – we're all rooting for you.
---
To close tonight's weekend manifesto – my three latest articles for Stan Fischler, articles which will soon appear in either "The Hockey News" or on NHL.com. (I never know when and where Stan will post them.)
As mentioned about 78967867867896 times before on this site – "The Maven" sends me writing assignments, I write the articles, and then he chops them/edits them however he sees fit, where more times than not (and as you may suspect) – he cuts these articles down due to length!
Since I have no space/length constraints on this site, I post the unedited and full-length versions on this site.
My three latest pieces are "McDavid vs MacKinnon," "Keep the Shootout," and "Then and Now: Gordie Howe and Matt Tkachuk."
Enjoy!
---
WHO YOU GOT?
CONNOR McDAVID VS NATHAN MACKINNON
One of the biggest questions in the NHL today, and as it always is at this time of year, is "who is the best player in the NHL?"
According to "The Hockey News" (and many others too), the debate starts and ends with #97 in Edmonton, Connor McDavid. However, there is a case to be made for another Canadian with an Irish surname, #29 in Colorado, Nathan MacKinnon.
And for all of the chatter that the 2022 Hart Trophy Winner, Auston Matthews, belongs in this debate? Get back to me when the Toronto Maple Leafs win a first-round playoff series. Legacies are made in the playoffs – not in the regular season.
There are a lot of similarities between McDavid and MacKinnon, aside from their Irish-Canadian heritage. The two best players of today were both selected first-overall in their respective draft classes (MacKinnon in 2013, McDavid in 2015). The two prolific scorers also play the center position.
From a black-and-white stats perspective, it's McDavid who has the edge on MacKinnon.
While both players are averaging over a point-per-game during their most likely Hall of Fame careers; it's McDavid who has MacKinnon beat with 239 goals and 458 assists (697 points) in 487 games played.
MacKinnon, who had a two-year head start, has 242 goals and 406 assists (648 points) in 638 games played.
To support "The Hockey News'" case for McDavid, it's the man in the orange jersey who has a collection of individual hardware, including four Art Ross Trophies, two Hart Trophies and three Ted Lindsay Awards.
However, it's MacKinnon that has the only trophy and award that counts – the Stanley Cup.
Granted, no one likes to talk about player salaries, but that's what has been designed by the NHL, where salary-cap hits are now as pertinent as any other stat on the back of a trading card. After all, that's why the phrase "salary cap dump trade" has come into existence.
MacKinnon, who earned $6,300,000 last season (and whose contract negotiations this season will be a major story until he signs a new deal in Denver), finished the 2021-22 campaign with 88 points in 65 games played. Once 100% healthy, he then went on to score 24 points in Colorado's 20 playoff games.
Conversely, McDavid, who is the highest-paid player in hockey today, earned $12,500,000 last season (while also taking up 16.67% of Edmonton's salary cap). However, he most certainly displayed his scoring prowess, having scored 123 points in 80 regular season games played and then scoring 33 more points in the Oilers' 16 playoff games – where their playoff journey ended in a four-game sweep to MacKinnon's Avalanche.
Between the two, it's McDavid who wears the "C" on his sweater for his team. MacKinnon wears the "A." (Gabriel Landeskog is the team captain in the Rockies.)
However, it's MacKinnon's leadership that's most talked about.
Following some disappointing years in the Mile-High City; in the Summer of 2021, it was reported that MacKinnon, always keen to nutrition and diet, had shared his daily exercises and eating habits with his teammates. Less than a year later, MacKinnon's Avalanche dominated the NHL, with one of the most impressive playoff runs of all-time.
What really strengthens the case for MacKinnon is his clutch factor. While McDavid is no slouch, more times than not, it's MacKinnon who can pick up the nose of the plane in a far more superior fashion. There were far too many games last season where McDavid wasn't able to turn things around – which is why the Oilers fired then head coach, Dave Tippett.
There's no question that McDavid has the better numbers. That's a fact. However, it's MacKinnon, through his leadership, production and drive, that has brought his team to the promised land.
It remains to be seen if McDavid can do the same. Until he does (and especially when you consider salary-cap hits), MacKinnon is the main man in the NHL.
---
KEEP THE SHOOTOUT
I believe the three ugliest words in hockey today are "the salary cap." For other fans, the three dirtiest words in the NHL are "the overtime shootout."
When the NHL first instituted shootouts following the 2004-05 lockout, a lockout that also spawned the hard salary cap system that we're now familiar with today; hockey fans were excited about the league's newest development. After all, what paying customer wants to invest their time and money just to see a draw?
As the years have passed (and similar to the 3 x 3 overtime), what was once new and electrifying soon became a tired fad to some, a detested gimmick rooted in the equivalent of "hockey heresy."
However, like most subjects discussed in the realm of social media – there have been more tears than solutions.
For all of the "coulda, woulda, shoulda," I have yet to heard a logical and entertaining option to replace the shootout. And here's an idea to ponder – maybe the shootout isn't such a bad thing after all.
As the old adage goes, "a tie is like kissing your sister." In other words, ties don't appeal to anybody – especially not now, with the league and their numerous gambling sponsors kissing and in bed together.
One alternative for the shootout is a continuous overtime, whether of the 3 x 3 or 5 x 5 variety, where a winner of a tied game would then be decided in a more orthodox fashion. However, with 82 games on the NHL schedule, that idea is not feasible. You just can't have teams playing multiple overtime games every night – both for health and logistical reasons, such as flights, travel, sleep, etc.
Critics of the shootout are akin to the people who want fighting out of the game. Say what you want about shootouts and fights, but don't ignore the visual evidence either – fans, and from both sides, are on their feet whenever a fight or a shootout takes place. The unpredictability of these wild events keep fans engaged, rather than sitting on their hands.
While I don't have any true mathematical data to report back to you; from my own observations, and to state the obvious – fans tend to gripe more about the shootout whenever their team loses. As you'd imagine, you don't hear these same complaints whenever a fan's favorite team wins the gimmick contest. In fact, you usually hear these people raving about how exhilarating the finish was.
Sure, as both a historian and a traditionalist, I should be opposed to the shootout. I understand the vexation that people have over this now 17-year old idea. However, sometimes the "good old days" are fondly remembered with feelings of nostalgia, rather than in a moment of reality.
I'll take the top three skaters of each team going up against a top goalie any day of the week, twice on Sundays, rather than going back to the days of old where five minutes of defensive hockey, more times than not, didn't decide anything.
Is the shootout the best answer to decide overtime winners? Until someone comes up with a practical alternative, I'm inclined to say yes.
---
THEN AND NOW
GORDIE HOWE and MATT TKACHUK
When I was first assigned to write a "Then and Now" article on Gordie Howe and an NHL contemporary of today, it was Connor McDavid, and not Matthew Tkachuk, that was supposed to be on the other side of the equation.
However, after thinking about it, if anyone plays a game that rivals the style that "Mr. Hockey" played, it's the newest Panther in Sunrise, FL, Matt Tkachuk, and not the Oilers' Connor McDavid.
Sure, Gordie Howe scored a whopping 801 goals during his NHL career, second-best to only the man who eventually surpassed him, Wayne Gretzky (894). And perhaps one day, McDavid will eclipse both. Be that as it may, what's often lost in all of the fanfare about the iconic Howe is how dirty he could be.
Put it this way: similar to Tkachuk, and despite Howe's proclivity for scoring (he won five scoring titles during his career) – he was never nominated for a Lady Byng Trophy either.
Howe, who also won the Hart and Art Ross Trophies six times a piece, finished his Hall of Fame career (1,767 games played) with 1,850 points – and with 1,685 penalty minutes to boot.
The 24-year old Tkachuk enters the 2022-23 campaign with 152 goals and 230 assists (382 points), and with 425 PIM in 431 NHL games played.
While Tkachuk doesn't score at the same rate that Howe once did, he does average nearly one penalty minute per game played – just like #9.
During Tkachuk's career, he's been involved in a few scandalous squabbles, incidents that have received more coverage than any of Howe's numerous infractions. Of course, this is due to the era that Tkachuk plays in more than anything else, where all NHL games are televised and hockey clips are spread on social media like wildfire.
Tkachuk, following one of his multiple controversies from January 25th, 2021, when he barrelled over then Leafs' goaltender, Jack Campbell, talked about his reputation, when he was asked if he felt singled-out. In a response, the professional agitator replied:
"I'd like to say no, but yes, I get very surprised at some things that come out of peoples' mouths these days. It's a good thing I don't listen to it. I just get asked about it from other people. Thank God I don't go on my phone too much after games, otherwise It would drive me crazy. I know my parents do and it drives them crazy. It's just classic."
Tkachuk, who can most certainly back up his talking (he's fought fourteen times in the NHL – Howe fought twenty-two times), has no problems chirping either.
During Game 1 of the 2022 Western Conference Semifinal, featuring the two warring clubs of "The Battle of Alberta," Tkachuk got into the maligned ear of Evander Kane. Following some horseplay, Tkachuk asked Kane, who was embroiled with his own issues, "you want some money?"
In hindsight, Tkachuk may be as good of a lender as anyone, after signing an eight-year deal worth $76,000,000 overall ($9,500,000 annually) this summer – money completely unheard of in Howe's day.
Tkachuk, who has already been suspended three times during his career, has always been a 6'2″ and 215 pound thorn in the rear of his opponents.
In a 2018 interview with SportsNet, Drew Doughty, the star defenseman of the Kings, said about Tkachuk, "I'm pretty sure he might be [the most hated player in the NHL]. I have lots of friends on other teams and they don't love him either."
For all of Howe's accolades, and perhaps being remembered as a "grandfather" figure in his later years, years prior to his passing in 2016 at the age of 88 – Howe was always a force to be reckoned with. Just ask any rookie that dared to challenge him. Heck, just ask former Ranger Lou Fontinato!
In perhaps one of the most known hockey factoids, despite the "Gordie Howe Hat Trick" being named after him, Howe only recorded two of them himself. (Funny enough, Matt Tkachuk hasn't recorded one of these hat tricks yet. However, brother Brady, of the Senators, has one to his name.)
If it wasn't for Howe's thrashing of the Ranger enforcer, "Leapin' Lou," then he would've had more partners to dance with, which in theory, then would've increased the amount of hat tricks that Howe had named in tribute to his brand of roughneck hockey.
On February 1st, 1959, Fontinato had already garnered a reputation as being one of the toughest guys in the league. In an era where there were only six teams, six teams who knew each other inside-and-out, and who had developed extreme rivalries amongst each other too – Fontinato and Howe had developed an intense feud.
The end result? The two squared off, and once all of the penalties were assessed, it was Howe with his hands raised – and Fontinato with a broken nose and a dislocated jaw. To this day, this fight is considered to be one of the most brutal fights in NHL history.
Following this impressive feat of pugilism – Howe's opponents no longer challenged him that much – despite Howe's frequently nefarious use of his stick blade, a blade that often found the chest and neck areas of his rivals.
Howe, who was known to give younger players an introductory lesson in "keeping your head up;" also had no issues with picking battles with fellow Hall of Famers either. Bigger than that, and just like Tkachuk – Howe held grudges and never forgot anyone who had crossed him.
During the 1959-60 season, Stan Mikita (Blackhawks) slashed Howe and said, "you're an old man who doesn't belong on the ice." Later on in the season, when the Wings and 'Hawks were re-matched, Howe leveled Mikita so hard that he gave Chicago's star a concussion.
Bobby Hull, who like Howe, also split time in both the NHL and WHA, talked about Howe long after their playing days were over. "I enjoyed every high-sticking minute of it," said Hull. "Howe was strong as a bull and tougher than a night in jail." When the two finally played together for the first time during the 1968 NHL All-Star game, Hull said, "it was nice finally having Gordie on my side. He was no fun playing against."
Another Original Six rival of Howe's, the legendary Jean Beliveau, of the Montreal Canadiens, talked about his fiercest opponent during his 1995 autobiography. "Trying to strong-arm Gordie off the puck in a corner was akin to wrestling with a telephone pole," said "Le Gros Bill."
In the present day, Tkachuk's opponents can relate to Beliveau's sentiments.
---
As we get to the end here, last blog, I told you how my newest four-volume set of books, scheduled to be released before the first puck drop of the 2022-23 season, "Tricks of the Trade – A Century-Long Journey Through Every Trade Made In New York Rangers' History," is almost ready.
Next week, I'll put up the preorder information on this site. However, as a teaser, here are the covers for all four volumes:
I can't wait to get these books into your hands.
PLUGS TIME!
---
My first plug of tonight's blog – the mandatory plug for my book, "The New York Rangers Rink of Honor and the Rafters of Madison Square Garden".
As mentioned previously, the book is now available in hardcover, in paperback and in Kindle formats. To purchase a copy of the book, visit this link:
https://www.amazon.com/Rangers-Rafters-Madison-Square-Garden-ebook/dp/B09CM5N2WD
For those still looking for signed paperback versions of the book, I have re-ordered more copies. I now have a few signed copies for sale at $25 a pop (includes shipping price) through me directly. Here is all the information on that:
---
Here are my last few blogs, in case you missed them:
---
---
---
If you haven't already, subscribe to this blog for the next update:
---
Up next for yours truly: a nap. Between the two four-volume sets of books I wrote this summer and this site – I think I've written a legit one billion words about the Rangers during the past three months.
In other words – I'm hoping for no breaking news this week!
I'll be back sometime next week, and with those preorder links for you too!
Thanks for reading.
LET'S GO RANGERS!
Sean McCaffrey
BULLSMC@aol.com
@NYCTHEMIC on the Tweeter machine