Greetings and salutations everyone and welcome to another blog here on BlueCollarBlueShirts.com. This will be a short one (at least for me) – especially after going over 10,000 words just 48 hours ago!
On Monday night, the Rangers announced the following on their social media channels:
Since I've written way too much about Lundkvist during these past few weeks, far too many words on a player that hasn't amounted to anything at the present time; rather than rewriting everything again, you can find my previous thoughts on this now finally fully developed story, and Lundkvist himself, below:
— https://bluecollarblueshirts.com/9322/
— https://bluecollarblueshirts.com/91522/
In addition, on Sunday morning, I posted another blog on this site with more thoughts about Lundkvist. You can read that blog here:
— https://bluecollarblueshirts.com/91822/
In my blog from Sunday, I closed my opinions on Lundkvist by saying the following:
"I don't want to write about this guy ever again until the day he's traded."
That day has now arrived – thankfully at that.
At this time, let's dissect this trade, a trade that I'm happy about since it went down on Monday, rather than becoming a lengthy and drawn out process.
After all, instead of worrying about Lundkvist all-season, we can now place our undivided attention where it belongs – the Rangers' quest to win the Stanley Cup in 2023.
---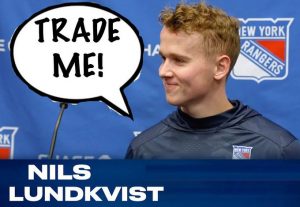 As I like to do whenever a trade is made (even if I wouldn't consider this trade to be "significant"), let's get both sides of the story.
Here is what the Rangers are saying, courtesy of https://www.nhl.com/rangers/news/rangers-acquire-first-and-fourth-round-draft-selection-in-exchange-for-nils-lundkvist/c-335648304?icmp=int_web_nyr_news_rightrail:
New York Rangers President and General Manager Chris Drury announced today that the team has acquired a conditional first round selection in the 2023 NHL Entry Draft and a conditional fourth round selection in the 2025 NHL Entry Draft from the Dallas Stars in exchange for defenseman Nils Lundkvist.

The conditions on both picks are below:

If the Stars pick in the 2023 draft is in the top 10, the Rangers will get Dallas' own first round pick in the 2024 draft instead and the pick will be unprotected.
If Lundkvist produces 55 points cumulative over the 2022-23 and 2023-24 seasons, Dallas will transfer its own third-round pick in 2025 instead of the fourth-round pick in 2025.

New York is now slated to have seven picks in the 2023 NHL Entry Draft in Nashville, including two first round picks, one in the second (from Winnipeg) and third round (from Colorado) as well as two six round picks (one from Winnipeg) and a seventh-round selection.

Lundkvist skated in 25 games for the Rangers last season, collecting one goal and three assists for four points. With the AHL's Hartford Wolf Pack in 2021-22, he tallied 15 points (3G-12A) in 34 games.
---
Here is what the Stars are saying, courtesy of https://www.nhl.com/stars/news/dallas-stars-acquire-defenseman-nils-lundkvist-from-new-york-rangers/c-335645194  :
FRISCO, Texas — Dallas Stars General Manager Jim Nill announced today that the club has acquired defenseman Nils Lundkvist from the New York Rangers in exchange for a conditional first-round selection in the 2023 NHL Draft and a conditional fourth-round selection in the 2025 NHL Draft.

If the Stars' own first-round pick in 2023 is in the top 10 then the Rangers will get the Stars' own first-round pick in 2024 instead and that 2024 pick will be unprotected. Additionally, if Lundkvist produces 55 points cumulative over the 2022-23 and 2023-24 NHL regular seasons then Dallas will transfer its own third-round pick in 2025 instead of their own fourth-round pick in 2025.
Lundkvist, 22, played in his first professional season in North America, splitting the 2021-22 campaign between the New York Rangers and Hartford of the American Hockey League (AHL). He recorded four points (1-3=4) in 25 regular-season games with the Rangers, including his first career goal on Dec. 8 vs. Colorado. Lundkvist also posted 15 points (3-12=15) in 34 AHL games for the Wolf Pack.

He spent the 2017-2021 seasons playing for Lulea HF in the Swedish Hockey League (SHL), where he amassed 78 points (30-48=78) in 166 career regular-season games. He was named the winner of the Salming Trophy in 2020-21, which is awarded annually to the best Swedish-born defenseman in the SHL, as selected by Hockey Hall of Famer Borje Salming. His 14 goals in 2020-21 were the most by a defenseman in one season under the age of 21 in SHL history.

"Nils is a skilled, right-handed shot defenseman that adjusted to the North American game this past season and has a high ceiling," said Nill. "We felt that adding a creative player like Nils to our defensive group was necessary, and he has a tremendous opportunity to establish himself as an everyday, impact defenseman at the NHL level."

The 5-foot-11, 187-pound native of Pitea, Sweden was originally selected by the Rangers in the first round (28th overall) of the 2018 NHL Draft. 

Internationally, he has represented his home country of Sweden at the 2018 IIHF U-18 World Championship, the 2019 and 2020 World Junior Championships and the 2021 World Championship. He won bronze at the tournaments in 2018 and 2020.

---
As you'd imagine, since these blogs usually tend to go long (you may have noticed), I do have some thoughts about this trade.
My first reaction, outside of being elated that this story has finally come to an end? One that's perhaps exclusive to me.
As you already know, for over a year now, I've been working on a four-volume set of books, "Tricks of the Trade – A Century-Long Journey Through Every Trade Made In New York Rangers' History," a title that covers every trade ever made in Rangers' history.
During the book (and I cover this in-detail), I bring up how the art of trading has evolved from era-to-era.
For example, in the early days of Rangers' history, most trades were of the cash variety, where NHL general managers would send money to cash-strapped teams for players – something not possible/legal today under current NHL rules. (As a caveat – instead of cash, today, salary cap hits, up to 50%, can be traded amongst NHL general managers.)
Since there was no such thing as an NHL Draft, whether with the "amateur" or "entry" label affixed to it, until 1963; obviously, general managers from a bygone era never traded draft picks with each other. And while "conditions" later became part of the game – you'd never see a trade like this Lundkvist one during earlier NHL eras.
The more you know.
---
Similar to any other NHL trade where draft picks are involved – there's no way to 100% assess this trade. Only time will determine that.
It must also be said, that to fully determine the outcome of this particular transaction, you have to consider that Lundkvist didn't have a clear path to the Rangers. As numerously repeated on this site once this story of Lundkvist's trade request first broke – he's just not bumping Adam Fox and Jacob Trouba.
Furthermore, if Lundkvist really considers himself as a power-play quarterback (as opposed to a true defensive-defenseman), you can throw Trouba out of this equation. Simply put – the Swede had no shot in hell of ever bumping Adam Fox from that spot.
What really tickled my fancy were the conditions attached to this trade.
We know that the Stars have received Lundkvist. We won't know until the end of the 2023-24 season what Drury and company will be receiving in return. And even then, it will still take a few more years from that point to see how big of a win this trade was for Drury.
What we do know for now, is that one way or the other (and as of this writing), the Rangers will either have two first-round draft picks of the 2023 or 2024 NHL Entry Draft.
As a prediction, I don't believe that the Stars will fall to the bottom of the league this year, so the most likely scenario is that the Rangers will wind up with two first-round picks during the 2023 NHL Entry Draft. Along with these two picks, the Rangers also have five other picks to make during that draft, barring a trade(s).
The second condition attached to this trade, unlike the first, is individual-based, rather than team-based.
What's guaranteed is that the Rangers will at least receive an extra pick during the 2025 NHL Entry Draft.
If Lundkvist scores 55 points in the next two seasons combined, the Rangers will receive the Stars' third-round pick. If Lundkvist can't hit that total, the Rangers will receive the Stars' fourth-round pick.
(This condition also tells you that the two teams consider Lundkvist as an offensive-defenseman, hence a scoring condition attached to this trade.)
---
As said, it's impossible to fully assess the winner of this trade right now, but even so – Chris Drury will never come out the loser – especially when you consider that Lundkvist was drafted by the Rangers' former regime.
For your consideration, it was also known around league circles that Lundkvist wanted out. In other words, Drury was dealing from a position of weakness, even if he has a reputation of displaying a ton of patience with disgruntled players.
Lundkvist, a late first-round draft pick himself (#28 overall) fetched Drury a first-round pick. And unless the Stars go on and enjoy epic playoff runs during the next two years (where they'd have to knock off Colorado too), the Rangers will soon be receiving a higher overall first-round pick than the #28th pick of a draft.
Then, when you factor-in that Drury added either a third-round or a fourth-round pick too – how can he lose?
What's really the worst case scenario for Drury and the Rangers? Fox, Trouba, Schneider and every other RD in the organization have all of their talent zapped from them, as if they were the central figures in the Rangers' equivalent of the 1996 movie, "Space Jam?" Then, following the "MONSTARS'" villainous act, Lundkvist goes on to become hockey's version of Michael Jordan?
Open up your gambling apps that the Rangers incessantly promote and use promo code "EFF THAT" – because that's not going to happen.
Sure, maybe Lundkvist goes on to have a nice little career for himself. The opportunity is there in Dallas.
Currently, the projected Stars' RD depth chart is Miro Heiskanen (who Lundkvist won't be bumping), Jani Hakanpaa and Colin Miller. At the very least, Lundkvist should be able to compete for the third RD position in Dallas – a Stars team that needs some offense from their defensemen, following this summer's departure of former "star" defenseman, John Klingberg (Anaheim).
Since Dallas just gave up a first-round pick for Lundkvist, you have to assume that the Swede will get a shot. And once he gets that shot, go ahead and root for 55+ points out of him during the next two seasons – it only helps the Rangers.
Whatever Lundkvist goes on to accomplish next, the bottom line is that he has a better opportunity in Dallas than he would've ever had in New York. Whether he scores one point, fifty-five points or one hundred points – it would be impossible to compare that production had he not asked out.
Drury is a winner here. And depending on whatever picks he eventually receives, and whoever he drafts – he can only come out a bigger winner.
Plus, who knows? Maybe Drury flips these picks for a greater asset. For all we know, he could trade these picks for a rental this season, or even combine the two first-rounders and trade for a higher overall first-round pick.
Adios Lundkvist – at least you won't have to worry about income state taxes anymore!
---
In a story somewhat related to the Nils Lundkvist story, and to follow-up on a prediction previously made on this site – it's official, Drury has signed a veteran defenseman to a try-out contract.
24 hours prior to news of the Lundkvist trade, CapFriendly.com reported the following:
#NYR have signed UFA d-man Matt Bartkowski to a Professional Tryout (PTO).

Bartkowski played in the AHL last season with the Wilkes-BarreScranton Penguins.https://t.co/4enJBMnM5c

— CapFriendly (@CapFriendly) September 18, 2022
---
In a best case scenario, Bartkowski will increase the competition at Rangers' training camp, a camp that opens this Wednesday. At the very worst, this becomes a "no harm, no foul" type of a deal.
For those unfamiliar with Bartkowski, the native of Pittsburgh, PA is 34 years old and has logged 256 games of NHL experience. He was drafted in the seventh-round of the 2008 NHL Entry Draft (Panthers).
Bartkowski, between his eight goals and forty assists (48 points) scored in his career, has previously played for the Bruins, Canucks, Flames and Wild.
Mainly an AHLer and used in NHL line-ups in case of emergency; the last time Bartkowski played in two or more games during an NHL season was during the 2017-18 campaign, when he skated in eighteen contests for the Flames.
Following his time in Calgary, he played in two games for the Wild during the 2018-19 season, zero games for the Wild in the season that followed, and in one game during the 2020-21 season.
The duration of his 2021-22 season was spent with the Scranton Penguins (AHL), where he played in 72 games.
Since we've been exclusively talking about defensemen throughout this blog, let's close with one that actually made a legacy with the Rangers, former team captain, Barry Beck.
---
Friend of the site, Jeannine Marie, who runs I AM a Ranger, a popular Facebook group full of Ranger fans, met up with Barry Beck this weekend.
To find all of the photos (and videos too) of this rare meeting (Beck has been living in Hong Kong for some time now, and rarely makes NYC appearances), visit I AM a Ranger.
With her permission, here are some of the photos from the planned get-together, where Mr. Beck kind of resembles a 1980s pro wrestler:
A big thanks to Jeannine for sharing these photos with us.
In addition, I saw a ton of reaction to these pictures, where I reached this obvious conclusion – the Rangers, in an official capacity, should bring Beck to MSG. I wouldn't say that he's forgotten, but he hasn't been there in a long time. It would be nice to see him on the scoreboard and get a standing ovation.
I know (and as covered on this site at the time) that Beck had issues with the way John Davidson handled the Mark Pavelich situation (Beck was Pavelich's biggest advocate prior to Pavelich's passing, and really, the only member of the alumni that was there for the former Olympian), but JD isn't there anymore.
While you can never forget Pavelich; at the same time, it's time for the organization to mend fences with Beck and give him his due.
PLUGS TIME!
---
On Monday night, "The Blueshirt Underground Show" returned from their summer hiatus, where co-host Jim Schmiedeberg, who attended both of the Ranger rookie games from this weekend, fully covered both contests.
To listen/watch the show, which also featured a guest-spot with "2 Guys, 1 Cup" co-host, Roc, click the link below:
---
My first plug of tonight's blog – the mandatory plug for my book, "The New York Rangers Rink of Honor and the Rafters of Madison Square Garden."
As mentioned previously, the book is now available in hardcover, in paperback and in Kindle formats. To purchase a copy of the book, visit this link:
https://www.amazon.com/Rangers-Rafters-Madison-Square-Garden-ebook/dp/B09CM5N2WD
For those still looking for signed paperback versions of the book, I have re-ordered more copies. I now have a few signed copies for sale at $25 a pop (includes shipping price) through me directly. Here is all the information on that:
---
My second title as an author, "One Game at a Time – A Season to Remember," is now available in eBook, paperback and hardcover formats.
To obtain signed copies, visit: https://bluecollarblueshirts.com/onegamebook/
To purchase all four volumes on Amazon, visit: Amazon.com – "One Game at a Time."
---
Here are my last few blogs, in case you missed them:
---
---
---
If you haven't already, subscribe to this blog for the next update:
---
As far as anything else, my latest for "The Hockey News" can be read here: https://thehockeynews.com/news/fischler-report-the-dark-side-of-canadas-summit-series-victory-part-2
I didn't plan on writing a blog tonight, but I figured this trade was worth returning for. Until then, I'm back to the proof-reading/editing/formatting phase of "Tricks of the Trade." I should also have preorder links for you next time – perhaps when I post my 2022-23 Season Preview blog.
Thanks for reading.
LET'S GO RANGERS!
Sean McCaffrey
BULLSMC@aol.com
@NYCTHEMIC on the Tweeter machine