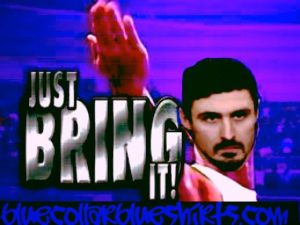 Greetings and salutations everyone and welcome to another blog here on BlueCollarBlueShirts.com. It's been over three months since I last reviewed a Rangers game. Let me knock some of the dust off tonight!
A few quick plugs before getting into everything.
In case you missed my blog from last night, where I previewed the Rangers season and recapped their off-season too, you can read it here: https://bluecollarblueshirts.com/92622/
More important than that, my new four-volume set of books, "Tricks of the Trade – A Century-Long Journey Through Every Trade Made In New York Rangers' History," is now available for pre-order. To order your copies, check out: https://bluecollarblueshirts.com/tricksofthetrade/
Now with that out of the way, let's get into the Rangers' first appetizer of the 2022-23 season, their 4-1 preseason victory over the Islanders – an impressive showing if I say so myself!
---
Going into Monday night's game against the Islanders, the Rangers' first preseason game of six exhibition contests, my original plans were to write a few thoughts and then move on. However, I must admit, I was inspired and ecstatic with what I saw. Plus – it's not in me to write just three paragraphs and call it a night!
A few disclaimers before continuing:
— Yes, I know this is only a preseason game and it doesn't mean anything. You don't have to tell me.
— Yes, I did pick the Rangers to not only finish first-place in the division (https://bluecollarblueshirts.com/2223/ ), but to win the Stanley Cup too. In addition, I also predicted the Islanders to finish in last-place. In other words – the Rangers should beat the Islanders – even if these two squads didn't dress all of their regulars.
— Going into this game, and really, all of these exhibition matches in general – these preseason games are more about getting into shape and into a rhythm rather than anything else. The Rangers, at least this group that played on Monday night, looked like a team that was ready for the regular season. Based on what I saw, I didn't see any rust. The effort displayed confirmed what Gerard Gallant had previously said, when he said that everyone entered camp in prime condition.
— As stated last night, and really, as is always the case whenever the preseason rolls around; for the coaching and front office staffs, these games are about evaluating talent, games which are pretty much the equivalent of job interviews for players on the brink. For the Rangers who are looking for a spot with the varsity club – all of them increased their stock tonight. In other words, you hope to see these players stand out. All of them did. I can't say the same about the Rangers' opposition on this night.
---
Unless you wanted a final score of 100-0, and maybe a goal or two scored by CZAR IGOR too – you couldn't have asked for a better start.
While I'm sure that others will find something to nitpick about – not me. You couldn't have asked for anything more.
Not only did the veterans stand out, such as Mika Zibanejad, Jacob Trouba, Chris Kreider and K'Andre Miller (can you consider him a veteran now?), but so did the young talent, including Brennan Othmann, Adam Sykora and Zac Jones. And hell, even Jimmy Vesey, who is fighting for an NHL paycheck this season, shone too.
Goaltending wise, CZAR IGOR was flawless, where he finished the game with 14 saves on 14 shots faced in his 31:14 worth of work. Dylan Garand, perhaps Igor's back-up one day, made 9 saves on 10 shots faced, where really, the only goal allowed wasn't on him. (He was screened following a Rangers' o-zone faceoff loss.)
Equally as stunning, and this means a lot coming from me, because no one else moans about them more than yours truly – the MSGN broadcast was freaking fantastic.
With Sam Rosen off due to the Jewish holiday (Rosh Hashanah), Kenny Albert, who in my opinion, is the best play-by-play man in the game, and the likely successor to Rosen too, filled-in. He was perfect.
Nothing against Sam Rosen, but I think we all know that he lost his fastball many years ago. It's at the point where yours truly and my buddies, who all have extreme sense of humors, do mock Rosen calls from American history.
"OH JOE, THAT BULLET MISSED JFK. OH NO, IT WENT IN JOE!"
"OH JOE, JAPAN HAS WON THE WAR. WE'LL BE SPEAKING JAPANESE SOON. EXCUSE ME JOE, THE ALLIES WON JOE!"
I told you I have an extreme sense of humor – and for better and for worse!
---
Since I'm never shy to share my opinions when I deem something to be negative, in the same vein – I always want to praise what I find positive too.
There were no pregame or postgame shows tonight, which meant no Steve Valiquette – praise the hockey gods.
However, after listening to Steve Carlson's colorful interview, where he blended comedy with reality, if there was ever a perfect skater to fill in for the seven-foot ex-goalie obsessed with Clairol hair dye, it's Carlson.
As mentioned last night, and really, all last season, I think Joe Micheletti has done a "FABULOUS" job in recent years. His interview (conducted during the first intermission segment) with Carlson may have been the best work of his career yet.
Unlike many of these slickly produced video packages and/or interviews; for the first time in a while, this segment felt real, unscripted and you soon became emotionally invested in it. That's because this interview was all three of these things, as the two good pals, who go back to their days of playing hockey together in high school, and in a bond that felt somewhat similar to Sam Rosen and John Davidson from a previous era, let us into their world. A job well done.
Since there was no one around to talk about their bloody groin and analytics, MSGN gave John Giannone and Michelle Gingras more face-time than usual. I thought they did a great job too. Both asked the right questions during their interviews, with Gingras' second intermission interview with Othmann standing out the most. The NYR beat reporters could learn a thing or two from her. She asked all of the right questions.
The video packages were all strong and relevant tonight too.
Rather than hearing about EXPECTED stats from Lundqvist's coffee boy; instead, we had a tremendous video of the team all talking up Jacob Trouba, as they told us why he deserved to be their captain. I know that many fans would've rather seen Kreider with the "C," but this package really hammered home why Trouba received the nod.
Without Sam Rosen in the booth, Kenny Albert was able to effortlessly work in many personal stories about the players, including one about Bobby Trivigno, and how he grew up as a fan of the Rangers.
Albert also mentioned that Trivigno's father was a first-responder and is a retiree of both the NYPD and FDNY.
And should Trivigno ever make this team (I don't think it will happen this season – but who knows), I'm sure you'll hear this story as many times as you heard about Adam Fox growing up in Jericho, NY last season.
"OH JOE, YOU KNOW HOW JERICHO LOVES THEIR HOCKEY JOE!"
Another great thing about this broadcast? Since sports books don't take action on NHL preseason games, and despite two hours of gambling shows as MSGN's lead-in to this game – NOT ONE GAMBLING COMMERCIAL OR SCROLL during the broadcast.
As opposed to last season, where you saw JB Smoove and his Caesar ads every 2.1 seconds – there was none of that tonight.
I know I'm going on too long about this, so I'll stop here. I just wanted to point out what a great job that the MSGN did tonight. I'd love to see this style of broadcast become a regular thing.
---
Since this was "just a preseason game," I won't go as long as I usually do during regular season games. Instead, I'll give you a mini period-by-period review, with my thoughts on all of the players sandwiched in-between.
However, before getting there, the BOX SCORE segment!
SCORING:
PENALTIES:
GOALIES:
| | | | | | | | | | | |
| --- | --- | --- | --- | --- | --- | --- | --- | --- | --- | --- |
| SA | GA | SV | SV% | ESSV | PPSV | SHSV | SOSA | SOS | TOI | PIM |
| 10 | 1 | 9 | .900 | 6 | 3 | 0 | 0 | 0 | 28:19 | 0 |
| 14 | 0 | 14 | 1.000 | 12 | 2 | 0 | 0 | 0 | 31:41 | 0 |
| | | | | | | | | | | |
| --- | --- | --- | --- | --- | --- | --- | --- | --- | --- | --- |
| SA | GA | SV | SV% | ESSV | PPSV | SHSV | SOSA | SOS | TOI | PIM |
| 15 | 0 | 15 | 1.000 | 12 | 1 | 2 | 0 | 0 | 28:19 | 0 |
| 20 | 4 | 16 | .800 | 13 | 3 | 0 | 0 | 0 | 31:15 | 0 |
---
FIRST PERIOD:
This was easily the best period of the game for the Rangers. I don't know if the team sat back once going up 3-0, but needless to say, once with the lead, the team went into cruise control, mainly during the third period. (And as any team does, as the objective was to maintain the lead and not take any risks.)
However, the Rangers were never in peril. Not for one moment.
Once up on the scoreboard, the Blueshirts played a strong defensive game, including going 3-3 on the penalty kill, where for shits-and-kicks – they scored a highlight reel short-handed goal too. In fact, when it comes to the penalty kill, the Rangers generated more chances and GOOD LOOKS than the Islanders ever did while on their power-play.
New captain, Jacob Trouba, started off with a bang, where he put the first SOG of the game just ten seconds in – a rare save for Isles' goalie, Seymon Varlamov, on this night. The Rangers peppered him all period.
While I don't know what the zone stats were, nor care to look them up either; eye-test wise, it felt like the Rangers spent 75% of the period in the Isles' d-zone. Zone time then balanced out during the latter forty minutes of the game.
About five minutes into the period, Brennan Othmann ate a vicious, yet legal, hit, a body blow committed to him on behalf of the only Islander acquisition of the off-season, defenseman Alex Romanov. Immediately afterwards, Othmann went to the bench with a bloody nose and then put the equivalent of a "nostril tampon" into his left nose hole.
He never missed a shift. HOCKEY PLAYER.
As Othmann would later tell Michelle Gingras about this "welcome to the NHL moment," this hit woke him up. This isn't to say that he wasn't pumped up and rip-roaring ready-to-go; it's just to say that this hit made him realize that he wasn't in the OHL anymore. The big boys come to play in the NHL – especially players looking to make the cut.
Following the hit? Othmann went on to pick up two assists in the period, on the Rangers' first goal and on their short-handed goal. I'll get into this more at the end of this blog – but in his first audition, Othmann perhaps complicated matters for Drury and Gallant – again, a good problem to have.
While Othmann was being fixed-up on the bench; CZAR IGOR, who looked more than eager to defend his Vezina Trophy, made a pair of tough saves. Once making these denials; Jimmy Vesey started to gain notice, following a pair of his shots that were denied by Varalmov.
In fact, at the time, I said this:
Tell you what, Vesey has been noticeable so far #NYR

— BlueCollarBlueShirts (@NYCTheMiC) September 26, 2022
---
After tweeting that out, at the 8:59 mark, the eighteen year old Adam Sykora drew Jeff Kubiak for a penalty, a hooking call. Then, with just eight seconds remaining on the Rangers' power-play, #26, now looking to earn a second stint with the team, kicked off the scoring:
Jimmy Vesey puts the Rangers on the board!

(via @NYRangers) pic.twitter.com/nbV9FHRl4u

— Rangers Videos (@SNYRangers) September 26, 2022
---
1-0, GOOD GUYS!
What. A. Goal.
Somehow, Vesey took a tough angle shot, and the puck then found the little space afforded by Varlamov, as the rubber squeezed in between his mask and left shoulder. And had this puck not went in – Othmann was crashing the net and ready to pounce for the rebound.
I said it last night, and I'll say it again – yep, I believe that Vesey will not only receive a contract from Drury – but he'll be a part of the Rangers' opening night line-up, where he'll then skate with Barclay Goodrow and Ryan Reaves. In addition, and perhaps lost in the excitement of Vesey's eye-popping goal? He was superb on the Rangers' PK too.
Adam Sykora, who I thought played well, but not at the same level as Othmann (and that's understandable), was compared to Carl Hagelin by Kenny and Joe. The last time I heard a Ranger compared to Hagelin, it was Emerson "Ugh" Etem. In other words – I don't want to hear that comparison again! I kid, I kid – or am I?!?!
After Vesey made a play in the Rangers' d-zone, which took place following a Chytil faceoff loss, the puck worked its way to Trouba. The Great Eight bombed a shot, and who else, but Christopher J. Kreider, to grab the rebound, put on a little move, and increase the Rangers' lead:
Kreider picking up where he left off! 2-0 #NYR pic.twitter.com/rPP3yx2BL2

— Rangers on MSG (@RangersMSGN) September 26, 2022
---
2-0 GOOD GUYS, following Kreider's individual effort.
And while Kreider's BFF, Mika Zibanejad, wasn't involved in this goal (Mika did pick up the secondary assist on the Rangers' SHG tally); #93, with a hair style that makes him look like "Swedish Jesus," went 8-3 at the faceoff circle tonight, for a commanding winning percentage of 72.3%. I don't think I have to explain the Rangers' woes at the circle from last season to you.
With two minutes to go, Sykora, who drew the first penalty of the game, took one himself, when he hooked Parker Wotherspoon, an Islander that looks like he can become a new Rangers' agitator.
The end result? The following, and with 3.9 seconds to go in the period/penalty kill:
Othmann to Key for the SHORTY! pic.twitter.com/FHACSmQeu7

— Rangers on MSG (@RangersMSGN) September 26, 2022
---
3-0, GOOD GUYS.
I said this during my season preview, but if K'Andre Miller, who you can see is getting better-and-better with each game played, keeps this up – he might steal Norris votes from Adam Fox! (Yeah, I know – I should pump the brakes on such praise, – but regardless, he was outstanding tonight.)
Even better than Miller beating Varlamov on a shot that the goalie had no chance in hell of stopping? It was Brennan Othmann, with caked-up blood in his nose, who perfectly set-up #79 for this FABULOUS goal.
3-0, GOOD GUYS, after twenty. You couldn't have asked for a better start.
---
I haven't talked much about Zac Jones yet tonight, who during this game, was paired with Braden Schneider – someone Jones hopes to play with once these games count.
As you all know, the Rangers sixth defenseman spot is up for grabs, where Jones is a prime candidate.
While Matthew Robertson may have something to say about that (he plays Tuesday night against Boston); Libor Hajek, who is also looking to serve the club at this position and who did play tonight – didn't do much to strengthen this case.
If you were to look at this game in a vacuum, which admittedly, is the wrong thing to do – it was Zac Jones who outplayed Hajek on this night, thus boosting his stock. And that's not because Jones scored a goal either, as he did at the 11:41 mark of the middle frame:
Zac Jones!

(via @NYRangers) pic.twitter.com/XdlTU4Sa9Q

— Rangers Videos (@SNYRangers) September 27, 2022
---
4-0, GOOD GUYS, as Jones ripped a shot from the top of the right circle, a puck that deflected off an Islander and went in.
Prior to Jones' goal, both Kenny and Joe mentioned that the Rangers were advised to play their game, but to not get into fights neither, nor do anything that could jeopardize their health – the obvious. Right after saying that, Bobby Trivigno and Parker Wotherspoon got into it. When Isles' goon, Ross Johnston, tried to get involved in the scrum, there was the GRIM REAVER to pull Johnston away.
After Jones scored, the two goalies from both teams left the ice, with CZAR IGOR far more superior than Varlamov. Entering the game with 8:19 to go in the second stanza was the Rangers' Dylan Garand and the Isles' Jakub Skarek.
And oh yeah, the score was 4-0 when CZAR IGOR left the game. However, since this was a preseason game, I wasn't able to bet on a 4-0 #31 shutout – as I did all last season!
Jones, after scoring, almost had another goal to his name, but was denied by Skarek.
With 3:50 to go, Ryan Carpenter lost a d-zone faceoff, and immediately after, Robin "Don't call me Tommy" Salo scored on Garand. 4-1, good guys.
Garand was screened by a bunch of different players on this goal. And yes, these games mean nothing, but I believe this was the second shot that Garand saw in the contest, only meaning to say that this had to be tough for him in the moment. However, Garand would prove flawless for the remainder of the match.
4-1, GOOD GUYS, after forty minutes of action.
---
THIRD PERIOD:
Once Mika won the opening faceoff (he won all three of them), the Rangers killed another penalty, after a too many men on the ice call assessed. Thirty seconds later, at the 6:39 mark of the period, Sykora was boxed again, this time for slashing Wotherspoon.
However, in a good catch by John Giannone and the MSGN; the broadcast noted that Gallant, once the Rangers killed this penalty, walked over to Sykora and told him he was playing well and that the officials had erred in their call.
As you may know, Gallant really doesn't talk to his players that much on the bench. However, in this instance, "The Turk" talked up his young player. Great stuff.
During the Rangers' third penalty kill, Rydahl almost scored. Then, after Hajek was burnt by Matt Barzal, Garand came up with his best saves yet, a pair of them, to keep the Rangers' lead at three.
With 2:22 to go, Othmann drew a penalty. The Rangers continued to fire the puck on net. However, with a loose puck set to cross the blue line, Trouba tripped Simon Holmstrom with 28 seconds to go. This was a good penalty to take, as it prevented his young goalie from encountering an Isles' breakaway.
As the time ticked off the clock, we got to triple zeroes. 4-1, GOOD GUYS, in a game that really got you pumped about the 2022-23 campaign.
---
FINAL THOUGHTS:
Vitali Kravtsov, who I didn't mention much of tonight, didn't really do much. Of course, he wasn't playing with his regular linemates either (Panarin/Trocheck). However, if you're doing a bit on "who's trending upwards and who's trending downwards," I thought that Othmann, Vesey and Sykora all out-played him. Heck, I thought these three players also out-played Kaapo Kakko too.
Of course, it's only the preseason.
As we all know, Othmann's future is tough to decide. He can't go to the AHL due to the NHL's archaic rules on player ages. However, if you do give him a spot on the varsity roster, who are you bumping? The Rangers aren't going to bump Kakko and Kravtsov from the roster, especially not Kravtsov, after all of the drama from the past three years.
One idea I saw, was bumping Sammy Blais, but that's not happening either.
The other issue is that even if you promote Othmann to the main roster, it doesn't serve him well to play fourth line minutes. It makes more sense to give Vesey a whirl on the fourth line instead, as that's the type of player he is.
I thought that Filip Chytil, who did get pushed around at points in this game, also fared well. He won twelve of twenty faceoffs and led the team in SOG (5).
Tomorrow night, the Rangers do battle with the Bruins, where just like tonight, the younger players of the team will look to make a case for themselves too. Among the expected mix are Will Cuylle, Matthew Robertson, Hunter Skinner and Matt Rempe.
As far as Monday night's game goes – it was a huge step in the right direction – especially for a team that will have to rely on their younger players much more than they had to do last season.
LGR!
PLUGS TIME!
---
My first plug of tonight's blog – the mandatory plug for my book, "The New York Rangers Rink of Honor and the Rafters of Madison Square Garden."
As mentioned previously, the book is now available in hardcover, in paperback and in Kindle formats. To purchase a copy of the book, visit this link:
https://www.amazon.com/Rangers-Rafters-Madison-Square-Garden-ebook/dp/B09CM5N2WD
For those still looking for signed paperback versions of the book, I have re-ordered more copies. I now have a few signed copies for sale at $25 a pop (includes shipping price) through me directly. Here is all the information on that:
---
My four-volume set of books, "One Game at a Time – A Season to Remember," is a game-by-game recount of the Rangers 2021-22 campaign.
My second title as an author, "One Game at a Time – A Season to Remember," is now available in eBook, paperback and hardcover formats.
To obtain signed copies, visit: https://bluecollarblueshirts.com/onegamebook/
To purchase all four volumes on Amazon, visit: Amazon.com – "One Game at a Time."
---
Here are my last few blogs, in case you missed them:
---
---
---
If you haven't already, subscribe to this blog for the next update:
---
I might return tomorrow night with some thoughts on the Original Six preseason game – especially if it's played in the same fashion as this one!
Keep in mind, these games don't mean anything, except for the players themselves, especially the players fighting for roster spots on the varsity squad. Wins and losses mean nothing. But hey, it's good to have hockey back!
Thanks for reading.
LET'S GO RANGERS!
Sean McCaffrey
BULLSMC@aol.com
@NYCTHEMIC on the Tweeter machine