Greetings and salutations everyone and welcome to another blog here on BlueCollarBlueShirts.com. As Alexandar Pope once said, "hope springs eternal."
Just a little over three months following the Rangers' last game played (the Eastern Conference Final Game Six loss from June 11th), and by the time you read these words – the Rangers will be gearing up for their first preseason game, of six exhibition matches, when the two warring NHL clubs of New York do battle on Monday night at Madison Square Garden.
And if you want to see the Rangers play live for cheap this season – Monday night's tilt may be the cheapest get-in price of the preseason – due to the scheduled Monday Night Football game that will be played fifteen minutes away from MSG, between the Dallas Cowboys and the New York Football Giants.
For fans looking to attend a Rangers' regular season game at MSG for a discounted price, keep an eye out for whatever the two area baseball teams, the Yankees and the Mets, are doing this October.
As is often the case, whenever the Yankees and the Mets are hosting home playoff games when the Rangers are scheduled to skate – Blueshirt tickets on the secondary market will decrease in price – and especially on weeknights.
If you haven't been following all of the Rangers' news this summer (don't worry, I got you covered tonight), here's a tidbit that shouldn't shock you – the Rangers have increased their ticket prices this season, following their run to the 2022 Eastern Conference Final. I've even been told by some season ticket subscribers that their increase was jacked up by 10%.
While ten percent may seem like a small price to pay – don't forget – Ranger fans pay more to see their team than any of the other 31 fan bases in the league.
However, as long as Ranger fans continue to pay these never-ending and skyrocketing costs to see their team live – the boys at 33rd & 7th will continue to hammer the wallets of their fans. Supply and demand, supply and demand!
As far as any sort of protest against these insanely inflated ticket prices goes?
As Robert Deniro's character was told on a payphone (remember when payphones were a thing?) at the end of "Goodfellas," and to paraphrase – "…we can't do nothing about it."
---
Prior to the weekend, I released my NHL 2022-23 Season Preview blog, a long tome which you can read here: https://bluecollarblueshirts.com/2223/
Outside of bringing attention to my own work (what a shameless shill), I mention my season preview for two reasons. One, that blog brought more site traffic than anything else I've written all summer. Two, and as a result, I had many people email me and say that they hadn't been paying much attention to hockey during the hot months.
While I know I'm a hardcore fanatic (and just like many of you), let's face it. Not everyone is tracking Ranger news all summer long, in-between picking out sand from their nether regions, wolfing down frankfurters, enjoying adult beverages at eye-appealing locales and so forth.
If you're one of these people, this blog is for you. And if you're like me, and up-to-date on everything, don't worry – I'll cover all of the latest news and notes from Rangerstown, USA once recapping another newsworthy summer.
Let's work our way through the Rangers' off-season in a chronological fashion and then get into the news. Once done, I'll give you a major update on my new four-volume set of books, "Tricks of the Trade – A Century-Long Journey Through Every Trade Made In New York Rangers' History."
Spoiler Alert: The title is now available for pre-sale!
And if you want to skip ahead and preorder that title before continuing, you can do so here: https://bluecollarblueshirts.com/tricksofthetrade/
---
In case your tan is currently deeper than your knowledge of the Rangers' off-season, here's the quick-and-skinny:
Out are: Alexandar Georgiev, Patrik Nemeth, Ryan Strome, Frank Vatrano, Keith Kinkaid, Andrew Copp, Tyler Motte, Nils Lundkvist, Kevin Rooney, Justin Braun, Greg McKegg, Justin Richards, and Adam Huska.
In are: Vincent Trocheck, Ryan Carpenter, Jaroslav Halak, Louis Domingue, Turner Elson, Ty Emberson and Andy Welinski.
Vitali Kravtsov (one-year deal worth $875,000), and who we'll later get into tonight, is also back for a third go-around, where he will debut with the team on the second line with Artemi Panarin and Vincent Trocheck.
In addition, former Ranger, Jimmy Vesey, and defenseman Matt Bartkowski, are in Rangers' training camp on player try-out contracts.
While the preseason games will determine the fate of these two men; the smart money is on Vesey being offered a one-year deal in the high six-figures.
At this time, let me give you all of the information on all of the roster turnover from this summer – but on first glance, and as these moves would suggest (deals/signings mainly made due to salary cap reasons) – the young blood of the Rangers, the Alexis Lafreniere's, Kaapo Kakko's and Vitali Kravtsov's of the world, will all be asked to take major strides this season, in an attempt to replace all of the veterans that were forced to move on elsewhere.
---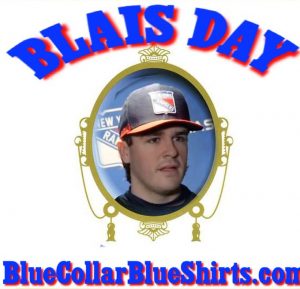 Sammy Blais, after being "Slewbann'd" early into last season, was the first domino to drop this off-season, when Rangers' general manager,Chris Drury, re-signed the then restricted free agent to a one-year deal worth $1,525,000 on June 16th.
You can get the full story here: https://bluecollarblueshirts.com/61722/
Five days later (and this is a story that you should be aware of by now), on June 21st, CZAR IGOR was named as the 2022 Vezina Trophy winner. You can read that full story here: https://bluecollarblueshirts.com/62222/
On July 7th, hours prior to the commencement of the first-round of the 2022 NHL Entry Draft, the other Rangers' goalie from the 2021-22 season, Alexandar Georgiev, was traded to Colorado for three draft picks.
While we all knew that Georgiev was out the door; prior to this trade, we just didn't know where "THE BULGARIAN BEAST" would land. Now we do.
For the now former #40 of the Rangers, he has a perfect scenario when trying to achieve his dream of becoming a full-time starting NHL goaltender. If he can't get it done with the reigning-and-defending Cup Champs – he'll never get it done.
For the full story on the Georgiev trade, check out: https://bluecollarblueshirts.com/agtrade/
Once Drury traded Georgiev to his good buddy and former teammate, Joe Sakic; the general manager and his staff then held court in Montreal at the 2022 NHL Entry Draft. You can read that story here: https://bluecollarblueshirts.com/7922/
Due to Drury's trade made prior to the 2022 NHL Trade Deadline (Andrew Copp), the Rangers didn't enter the draft with a first-round pick. Their highest selection of the draft was the #63rd overall pick (second-round), where the club used that pick to draft Adam Sykora, a left-winger out of Slovakia.
In the later rounds of the draft, the Rangers selected:
— Bryce McConnell-Barker in the third-round (#97th overall)
— Noah Laba in the fourth-round (#111th overall)
— Victor Mancini in the fifth-round (#159th overall)
— Maxim Barbashev in the fifth-round (161st overall)
— Zakary Karpa in the sixth-round (191st overall)
As you'd suspect, due to his selection, Sykora shows the most promise out of the lot. He has been with the club since being drafted, where over the summer, he participated in Ranger development camp and then played in the Ranger rookie games against the Flyers.
Currently, Sykora is at Rangers' camp too, but he's not expected to make team. Instead, the eighteen year old will return to Slovakia for the 2022-23 campaign.
---
Five days following the NHL Entry Draft; the NHL Free Agency period began. You can get the full details on that crazy day here: https://bluecollarblueshirts.com/71422/
The biggest Rangers' acquisition of the summer, and really, the only "big" name to join the club too, was the now former center of the Carolina Hurricanes, Vincent Trocheck.
Trocheck, on paper, seems like a perfect fit. Not only does he have a positive history with Rangers' head coach Gerard Gallant (during their days in Florida), but he is a major threat on faceoffs too. And as you already know – faceoffs (especially zone faceoffs) were one of the team's biggest weaknesses last season.
On this same date of July 13th, it was announced that Andrew Copp (Detroit), Frank Vatrano (Anaheim), Kevin Rooney (Calgary), Greg McKegg (Oilers), and Keith Kinkaid (Bruins) were moving on.
In addition, Drury also added a pair of back-up goaltenders to the books, in the form of Jaroslav Halak and Louie Domingue. Of the two, it's expected that Halak, an outright Rangers' killer, especially during his heyday with the Islanders, will back up CZAR IGOR during the 2022-23 campaign. Domingue, who the Rangers saw during the first-round of the 2022 Stanley Cup Playoffs, is expected to begin the season howlin' in Hartford.
Drury wasn't done yet.
As free agents flew around all over the league, like gossip between washerwomen from a century ago; Drury made a trade, when he sent Patrik Nemeth, a 2025 second-round pick, and a future conditional pick to Arizona, in exchange for AHLer Ty Emberson.
The full details on this trade appear here: https://www.nhl.com/rangers/news/nyr-acquire-ty-emberson-in-exchange-for-patrik-nemeth-two-draft-picks/c-334955096?icmp=int_web_nyr_news_rightrail
It was obvious that Nemeth, once thought to be the "baby-sitter" of Nils Lundkvist (and as you may already know – Lundkvist was later dealt himself), perhaps needed a baby-sitter to watch him.
Nemeth never worked out in New York for several different reasons, including off-ice and performance-related issues.
In order to get Nemeth's contract off of his books, Drury attached two sweeteners in this deal, and picked up defenseman Ty Emberson in return – a player that has a friendship with K'Andre Miller.
A day later, and with center Vincent Trocheck now signed to play on the Rangers' second line; Rangerstown, USA watched Ryan Strome move 3,000 miles away, when he accepted a five-year deal worth $25,000,000 overall with the Anaheim Ducks.
You can read all about Strome's arrival to Disneyland, one that he didn't originally envision, here: https://bluecollarblueshirts.com/71522/
As Strome packed his bags, so did another center, Ryan Carpenter, a fourth-line checking middle-man, as Drury signed Carpenter to a one-year deal worth $750,000 on July 14th.
---
After re-signing both Libor Hajek and Julien Gauthier to cheap one-year deals (and only Drury holds the answer to these decisions); on July 28th, Drury re-signed Kaapo Kakko to a two-year deal worth $4,200,000 overall ($2,100,000 per season).
You can read the full story about Kakko's return here: https://bluecollarblueshirts.com/8122/
---
For over four years now, ever since the departure of #27, Ryan McDonagh (who funny enough, was the 27th captain of franchise history), the Rangers have been without a captain. Ranger fans have been clamoring for the team to name a captain since the day when McDonagh was shipped off to Tampa Bay, in one of the worst trades that then general manager, Jeff Gorton, ever made.
On August 9th, and after much debate – where many people believed that Chris Kreider, the longest-tenured Ranger should've had the "C" sewn on his sweater – the franchise finally announced the 28th captain of team history.
Jacob Trouba, who will enter the 2022-23 season in the fourth-year of his seven-year deal with the Rangers, is now the captain. Following two underwhelming seasons in New York, Trouba enters this season coming off of his best campaign yet as a Ranger, the 2021-22 season.
For complete information on Trouba's ascension to captaincy, check out: https://bluecollarblueshirts.com/captaintrouba/
---
A bunch of perhaps future Rangers, Brennan Othmann, Will Cuylle and Dylan Garand, all won gold this summer, when Team Canada was the last country standing at this year's IIHF World Juniors' Tournament. You can read all about it here: https://bluecollarblueshirts.com/82222/
As August turned into September, two developing stories broke. The Rangers were interested in reuniting with Jimmy Vesey, while Nils Lundkvist wanted out. Here's how it all went down: https://bluecollarblueshirts.com/9322/
While Chris Drury continued to tinker with his roster; on September 8th, MSG and the Rangers announced that they created a new role for Henrik Lundqvist, where essentially, the man known as "The King" will be succeeding the legendary, and recently deceased, Rod Gilbert, as both a franchise and venue ambassador.
Read all about it here: https://bluecollarblueshirts.com/9922/
A week later, on September 15th, Tyler Motte, who had been an unrestricted free agent all summer, became an unrestricted free agent no more, when he agreed to a one-year deal worth $1,350,000 overall with the Senators.
On the same date of Motte's signing in Ottawa, the Ranger rookies got together for camp too. Find out more about these two developments here: https://bluecollarblueshirts.com/91522/
In the weekend that followed, the Rangers and Flyers played a pair of games, with both games featuring each club's rookies and prospects. The biggest news to come out of these games, outside of the Rangers losing the set of matches, was that Zac Jones, who didn't have to be there, eagerly accepted the assignment. He also served the team as their captain.
For complete reports on these two games, two games that the Rangers couldn't be bothered with to air, check out: https://bluecollarblueshirts.com/91822/
---
In our final off-season story, and before getting into the current news; on September 19th, Chris Drury traded Nils "I can't make it in New York City" Lundkvist to the Dallas Stars.
You can get the full 411 here: https://bluecollarblueshirts.com/92022/
And one more time, for my complete 2022-23 NHL Season Preview, which covers all of the other moves in the league, check out: https://bluecollarblueshirts.com/2223/
Let's now get into the news of the day, news made prior to the first puck-drop of the preseason.
---
I covered some of the Rangers' training camp last Wednesday, during the NHL Season Preview spectacular.
As far as anything else, while the Rangers have been doing a good job of posting lengthy interviews every day on their social media channels and on their YouTube account – there's not much really to be learnt.
After all, how many times can you hear Gerard Gallant say the same thing over-and-over again?
While he's not doing his patented drumming act as much, he's been hitting the same stuff in every interview, "we look good," "everyone came into camp ready," "we have to work hard," "last season is over, it's all about what we do this season," and so on.
And that's not a knock on "The Turk" – it is what it is. What else is he supposed to say? He's saying the right things.
If you want (and I did), you can watch a slew of player interviews (and Gallant too) here: https://www.youtube.com/c/nyrangers
While the Rangers have shared with us all of these interviews – they haven't shared any clips of the training sessions.
But really, and as Gallant said himself – these training sessions are just about the guys getting their feet wet and getting back into a rhythm. Nothing that happened this past week at camp will influence Gallant's roster decisions, where as noted – there's not that many decisions to make. Most of the roster is pretty much accounted for.
According to Gallant, he will be assessing his roster and deciding the final pieces of his team during the preseason games. Gallant first said this following Thursday's practice, after CZAR IGOR was run into three different times.
Let's now get into that story, and the rest of the main stories from camp.
---
On Thursday, during the first training camp session/scrimmage game, Adam Sykora collided with Igor in a not-so-friendly manner, where after the contact – Igor laid prone on the ice for a few seconds, while loud shouts came from the Rangers' bench.
As you'd imagine, touching the goalie during training camp, or really, any practice in general, is a major no-no.
Making matters worse? On the same day, both Jarred Tinordi (remember him?) and Johnny Brodzinski also bumped CZAR IGOR.
While these three incidents were all accidental – at the same time, these guys have to be careful.
Nothing against Jaroslav Halak and Louie Domingue – but I don't want to see much of them this season. And perish the thought should Shestyorkin ever receive an injury this season. It changes the whole dynamic of the team – the understatement of the century.
Sykora's contact with CZAR IGOR later became a story on social media, when some zealous fan took it upon himself to "slide into" Sykora's DMs:
I'm not going to get into the whole Tony DeAngelo story for the 8956786896976th time, but when I first saw the screenshot posted above, it reminded me of him a little – and not because Sykora and DeAngelo have anything in common.
Instead, it reminded me that all of these players, where now, I'm twice the age of these guys, have all grown up in "The Social Media Era."
While I can remember the days of rotary phones, payphones, newspapers with real journalists, and the days of only one television in your house (and I'm sure others can remember televisions that were only exclusive to black-and-white colors – and maybe the Pony Express too – I kid, I kid); I also remember a time where there was no such thing as the internet.
And when I remember the infancy of the internet, there are two things that come to mind. The AOL dial-up modem "song" (and where you'd get kicked off the internet if someone called your house, as these were in the days long before such a thing as "WiFi" existed), and some site called AuctionWeb that was selling stock for the cost of a few pennies. That site later became eBay. If only I was a savvy investor as a thirteen year old!
Prior to the days of smart phones, an instant access to the entire world, access that can fit in the pocket of your pants; unless you hung around MSG before and/or after the games – you weren't having personal interactions with these players. Needless to say, you couldn't message them either.
When I saw that a fan had messaged Sykora, I was quickly reminded that all of these players have only known a world where smart phones and social media have always been around. They don't know a world without them.
While I understand that the fan was concerned about CZAR IGOR (who wasn't?); what kind of message, did this direct message itself, send to the Slovakian eighteen year old, a young kid in North America for the first time? If you mess up, then you better expect your social media accounts to be flooded with negativity?
My advice, and I'm sure the advice of the Rangers' public relations team too? Stay off social media Sykora, or at the very least – don't respond to these messages.
We'll get into Vitali Kravtsov later on, but on Saturday, the Russian brought up two words that are often a topic in the sports world (and life in general) – "mental health."
However you feel about the topic, it's obviously a "real thing," and not just something people use as an excuse whenever things aren't going well – as people thought in eras ago.
I'm sure that Sykora felt like shit when he bumped Igor. He didn't mean to do it. And I'm sure time froze for him when he heard shouts and gasps from the Rangers' bench too. To then open up his phone, and see messages like this one – that's not the right course of action – or so I say.
Heck I'll even give you a pass. If fans are trolling players from opposing teams, while not right, I can at least understand that.
To do so to some kid who's new here? Eh – I'm not a fan of that.
And maybe I'm hypocritical. After all, I have no problem writing these lengthy manifestos, full of opinions, both positive and negative. However, I'm not messaging these guys either unless they message me first, where to be honest with you – none of my conversations with the people I have talked to have anything to do about performance.
I just think it's one thing to put out a blog, a tweet, a Facebook posting, a podcast, whatever; but another thing to personally blow up a player's phone.
Rant over. But yeah – don't touch the merchandise in the #31 jersey fellas!
---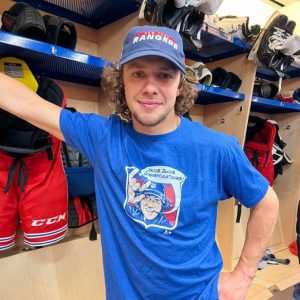 Saturday was a pretty huge day for the Rangers at camp; at least interview wise.
However, before getting there, a few news and notes:
I know I've probably said the following 8624478963789643778962 times last season, and I really want to try to prevent myself from saying the same thing this season; but yeah – the Rangers are a two billion dollar organization, yet they subject us to Steve Valiquette, a former Islander, and veteran of 46 NHL contests as a back-up, as the lead analyst of the richest NHL franchise in the land.
Let me give you my tired spiel one last time, for those who are new here, as I try to prepare myself from not doing so during the regular season (fat chance – but I'm working on it!)
I don't hate Steve Valiquette. I just don't think "Sieve Vagistat" is any good. He's not for me. I just don't give a shit about his homemade arts-and-crafts analytic charts. I'm an eye-test guy. (And if you want my full explanation on why I prefer the eye test over analytics, check the archives of this site.)
And let's not forget – when all of the analytical mopes were predicting doom-and-gloom for the Rangers last season, following Drury's trade of the Russian Wayne Gretzky of his generation, the enigmatic Pavel Buchnevich (and how predictable is it that these same analytical people are doing the same thing right now, in light of the news of Sammy Blais starting the season on Gallant's first line) – I predicted that the Rangers would appear during the 2022 Eastern Conference Final – a prediction I first made in September of 2021.
Plus, and as I often say – I have yet to hear one Stanley Cup champion, whether it be a head coach, a general manager and/or a player, ever say the following, once winning the silver:
"WE COULD HAVE NEVER DONE THIS WITHOUT OUR ANALYTICAL DEPARTMENT. THEY REALLY BUSTED THEIR ASS FOR US WITH THEIR HEAT MAPS AND PIE CHARTS ALL SEASON. AND THAT BACK-UP GOALIE FROM THE MSGN BROADCASTS, THE ONE WHO GAVE UP TEN GOALS TO DALLAS – PRAISE THE HOCKEY GODS. WE WOULD'VE NEVER WON THE STANLEY CUP WITHOUT HIM TALKING ABOUT HIS SELF-INVENTED ROYAL ROAD STATS!"
---
Listen, from all accounts, Valiquette is a friendly guy and a strong family man. I respect that. His act on TV just isn't for me. It can be for you and that's fine. Everyone is entitled to their own opinions.
I'm not even asking for him to be fired. I just don't think he should be on Ranger broadcasts. There are way better members of the alumni, accomplished players, who can do the job.
While I know that Sean Avery may be too "politically incorrect" for TV (but it works – just ask TNT about Charles Barkley); I much rather hear from a player, a player who played in every game, rather than a guy who got Henrik Lundqvist his coffee.
And even if MSGN doesn't want to bring back Ron Duguay (they thought he was politically incorrect too), you still have guys like Ryan Callahan, Brandon Dubinsky and others out there, including the now recently retired Keith Yandle, a soon-to-be former top ironman of the league (Phil Kessel is seven games away); as the defenseman has expressed interest in television following his recent retirement.
Heck, MSGN has Dave Maloney under contract. Whenever he fills in, he's always great. That's a guy who's been through the wars, battled in the trenches and served the club as captain. I value his opinion over some guy who can't go two seconds without mentioning his bloody groin and analytics.
If it were up to me (and it's not – you may have heard), I'd send Vally to Islander broadcasts. They don't have a former NHLer on their broadcasts as of this writing.
And if that's not an option, and if Jeff Filippi, the head honcho of the MSGN, loves gambling ads, JB Smoove and analytics so much – why not just give Vally thirty minutes, between 6:00-6:30PM, where he can give his analytic reports on the whole league to fans who want to hear them?
Henrik Lundqvist is back. He's a natural. While I understand that he has other commitments and can't be in the studio for every broadcast; at the very least, Vally or no Vally, there should be a skater on the panel either way. I don't see the purpose in having two goalies in studio.
Ideally, and I can't believe I have to spell this out again, MSGN should have a skater and a goalie on the panel. This way, you can get two unique perspectives, instead of Lundqvist saying one thing, and Vally saying, "oh yeah, you're right Hanky poo!"
As far as everything else, I'm fine with it.
While Micheletti never played for the Rangers, he's fully installed on these broadcasts.
And really, with the Hall of Fame Sam Rosen somewhat now like a beloved grandfather experiencing senility ("WHAT A SAVE! OH WAIT, THAT PUCK WENT IN JOE!" is a daily occurrence on MSGN broadcasts), I think that Micheletti has done an outstanding job.
Not only is Micheletti doing his job (and doing it well) on most nights – he's also covering up for Sam Rosen left-and-right – and whenever the FABULOUS one does so – he's always careful. He never makes Rosen look bad. Micheletti just has a knack for covering up Rosen's mistakes without ever insulting his partner.
And those New York Emmy's that the MSGN are always talking about? (Some of you asked me if these guys really won Emmys. These guys have won New York Emmys, not the real ones you see on TV, in the field of sports broadcasting – where really, if you're there long enough, you'll win one too – there's just not that much competition.)
After listening to Micheletti all season, I don't know how he didn't win one this year. Not only was he doing two jobs for the Rangers all season, he also filled-in during Devil and Islander broadcasts too, whenever someone came down with COVID-19.
I know I went too long on this, so my point – hire a skater in studio.
---
I know I've talked about this plenty of times before, but it's true – the state of the NYR beat reporters has never been worse. However, it's explainable, or at least it is for me, from a personal aspect.
Similar to how I grew up reading Larry Brooks, someone I now revere today; a whole new generation of fans are growing up with the younger reporters on the beat. However, how is a 40-year old like me, and fans like me, supposed to get into the work of the younger reporters?
Simply put – we all know much more about the game, the players, the history and how things work better than them. Plus – we've read better reporters in our lifetimes too – including people like the Fischlers' (Shirley and Stan), Hugh Delano, Jim Cerny, Steve Zipay, etc.
To be clear – and just like the reporters from bygone eras – I also understand that the beat is mainly young and will need time to develop/grow into their jobs – where really, that applies for anybody.
However, for the biggest sports market in America? Whatever happened to the days where you made your reputation elsewhere, then came to roost in New York? Even Howard Stern had to slum it up in tiny markets before returning home.
Today, all of these sports news outlets are hiring anyone who can put two words together, straight out of college, and people who are willing to work for a fraction of what the top newspaper people from eras ago used to make (adjusted for inflation).
Much like the previously mentioned Adam Sykora – the majority of the current reporters on the Rangers beat don't know a time before social media. Most of them all grew up where posting pictures of your meal is a necessity in daily life. Their reporting reflects that.
This all brings me to Vitali Kravtsov's interview from Saturday, one that you can watch here:
As an aside, and something worth mentioning? The Russian Rangers, Igor Shestyorkin, Artemi Panarin and Kravtsov himself, all tried answering questions in English. While they all needed translators, you can see that they are trying to put in the effort. I think that says a lot. After all, I can't speak Russian!
Also of note, if you want to read the transcripts of the interviews, Adam Rotter, who always does a great job, has them all typed up.
You can read Kravtsov's interview, and all of the other interviews from this past week, here: https://nyrangersnews.com/2022/09/24/updates-from-the-rangers-on-saturday-8/
---
During the interview, Kravtsov went on-and-on, and said that 85% of what's been reported about him in the past isn't true.
Here's what Kravtsov, who was in a good mood and seemed to have a positive attitude, said verbatim (you can listen to it at the six-minute mark too):
"I didn't really want to voice what was going on outright last season, didn't want to answer those mean comments on the internet. My agent and Chris Drury knew what was going on, kind of the people who needed to be in the know were in the know. I didn't want to make it public and at the same time 85% of what was being said on the internet wasn't true."
So here's Kravtsov, who wasn't really prodded too much about his past, opening up big time, where the juicy nugget is that he's claiming that 85% of the reports about him, where the genesis of these reports came from the NYR beat reporters themselves, are false.
Obviously, the follow-up question to ask is this, "what's not true Kravtsov? Can you shed more light on what's true and what's false?"
And even if Kravtsov didn't want to answer the question, and simply replied, "no comment" – at the very least, you'd think that's the question you'd ask after he opened up about this. Am I wrong?
The follow-up question that was asked? And I couldn't believe it myself either, was when Larry Brooks then asked, "do you think you see the game like Artemi Panarin?"
Where were these softball questions when John Tortorella was around?
Maybe I'm making a mountain out of a molehill here, but Kravtsov served these reporters a perfect follow-up question on a silver platter, and not one of these reporters took the ball and ran with it.
Speaking of the beat, and the stories they've allegedly made up, we have an update on Artemi Panarin and Arthur Staple!
---
Check out my blog from August 1st, which you can read here, if you don't already know the whole story: https://bluecollarblueshirts.com/8122/
On that date, Artemi Panarin was asked about Staple's report by Russian reporters, prior to a Panarin/Ovechkin charity game in Mother Russia.
Panarin denied everything and then called the NYR beat reporter, and people like him, "scoundrels."
Here's what the Breadman said verbatim, about Staple's report, a report that I have always perceived to be a work of fiction, to his comrades:
"Speculators! I haven't heard of such a thing firsthand (from Drury). I'm sure I could have played better, but what did they write there? I really don't know, I came to Korkino [after the playoffs] to see my grandfather.

"I don't like these scoundrels-speculators because my grandfather reads it. My grandfather also plunged into this Internet drug, this garbage. All of this annoys him. He does not understand that these people are all couch journalists who write out of envy or whatever else.

"I'm already used to not paying attention to them, but he is always worried and asks me: 'why are they trading you?' I'm just shocked by this.

"They can't trade me! And if these people understood at least a little bit, then they would know that I have a no-move clause and it's impossible for me to be traded."
Here's Panarin from Saturday, a #10 who talked for over ten minutes himself, where of course, no one asked him about this:
---
Just as Staple did in his two media calls with Drury after filing his report, and then again here on Saturday – none of this was addressed or brought up.
So much for journalistic standards!
Obviously, asking Panarin, "do you want to have a good season?" is a much more interesting topic of conversation.
Again, maybe most fans don't care about this stuff, but when you've seen previous eras of sports reporting (and really, reporting in general) and then compare it to today – it's night and day.
As far as what Panarin actually said (check out Rotter's link for the complete transcript), he said that he wants to take over more, wants to be a little more selfish (in a good way, meaning that he wants to shoot more), and wants to play with more confidence. He also said that he wants to play more like how he did in Columbus.
While a better Panarin is certainly better for Ranger fans, it's not like he's been shabby either.
After all, ever since signing with the Rangers – he's been the team's highest/best scorer. He was also nominated for a Hart Trophy. Plus, and this is not an excuse, it's a reality – he had no control over the bullshit, outright lies (perhaps like Staple's report), that emanated from his home country during the 2021 season.
---
We have a game tonight!
The Rangers host the Islanders at MSG with a puck drop scheduled for 7PM.
The line-up posted above is what we're expected to see, based on the fact that this was the group that left the ice first on Sunday morning. Usually, during a training camp, the first group off is the group that plays in the preseason game.
For Ranger fans, you'll see plenty of the team's stars. You'll also see CZAR IGOR, and perhaps one day, his future back-up, Dylan Garand, splitting the net.
Before you know it, the real games will begin, with the Rangers kicking off the season against their Eastern Conference Final nemesis, the Tampa Bay Lightning, on October 11th.
One last update before getting out of here – "Tricks of the Trade – A Century-Long Journey Through Every Trade Made In New York Rangers' History" is now available for preorder!
---
After teasing "Tricks of the Trade – A Century-Long Journey Through Every Trade Made In New York Rangers' History" for over a year now, I'm happy to report to you that the project is now 98% done.
In other words, I can finally start accepting pre-orders for the signed copies of the title!
All four volumes of the title are set to hit Amazon.com during the second week of October, where once listed, you can then buy all four volumes separately or together – and in any format that you please – eBook, paperback or hardcover. Once those links are live, I'll update this page and link them here.
Each volume will retail for the same price – $14.99 for the eBook, $24.99 for the paperback and $29.99 for the hardcover.
For the purpose of this site, I'm only accepting preorders for signed copies of the complete four-volume set.
Should you wish to purchase the volumes separately, Amazon will have you covered.
To be open and honest, shipping prices have gone up over the last year. To reflect these changes, I'm only charging less than a nickel to ship these books out to you!
The preorder price for all four volumes of the paperback version (all signed) is $100.
The preorder price for all four volumes of the hardcover version (all signed) is $120.
I accept PAYPAL, VENMO and personal check. (International customers, please contact me at BULLSMC@aol.com for a shipping quote.)
You can directly PAYPAL me your order by paying BULLSMC@aol.com.
You can directly VENMO me your order by paying @Sean-McCaffrey-34.
In the payment notes section, please include your address, and if you desire – any custom message in your signed books.
Furthermore, as an exclusive deal for readers of this website, if you haven't purchased my first book, "The New York Rangers Rink of Honor and the Rafters of Madison Square Garden," now a companion piece to this four volume set, I am now running a 50% off sale on the one-year anniversary of that title.
For an extra $10, I will include a signed paperback version of "The New York Rangers Rink of Honor and the Rafters of Madison Square Garden" to your order.
For those who would like to pay by check, want a direct payment link (Paypal or Venmo) or have any other questions, please contact me at BULLSMC@aol.com.
It's my plan to have these books shipped to you by no later than October 15th. You will receive a confirmation email once shipped.
---
Here is the Amazon.com description of all four volumes:
"Tricks of the Trade – A Century-Long Journey Through Every Trade Made In New York Rangers' History," is a four-volume set of books that cover EVERY SINGLE TRADE ever made in all of New York Rangers history.
All twelve Ranger general managers are extensively and chronologically covered throughout the course of this four-volume title, where during that time, nearly 700 trades and 3,000 players are discussed.
"Tricks of the Trade – A Century-Long Journey Through Every Trade Made In New York Rangers' History," simply put, is the only book of its kind – as it is the only title on the market today that covers the entire history of the New York Rangers.
From the author of "The New York Rangers Rink of Honor and the Rafters of Madison Square Garden" and "One Game at a Time – a Season to Remember;" "Tricks of the Trade – A Century-Long Journey Through Every Trade Made In New York Rangers' History," recaps every trade ever made in all of Rangers' history and with no detail left unearthed.
This title is not just a list of trades. Instead, every trade made by every general manager in Rangers' history is explored and then graded. Quotes, explanations on why these trades were made and what happened afterwards are featured during the four volumes.
From 1926-2022, "Tricks of the Trade" not only provides a deep look into Rangers' history, but dives into the histories of nearly forty other NHL franchises too, including teams from both the past and the present.
"Tricks of the Trade" is a General Manager-by-General Manager journey, that not only discusses all of the Rangers' general managers from franchise history, but also covers the eras of each men – and both the advantages and disadvantages that each general manager had – such as expansion, salary caps, second leagues, draft rights, home ice and more.
"Tricks of the Trade" also recounts the careers and lives of many men to have worn the familiar blue Rangers' sweater. In addition to the stuff on the ice, "Tricks of the Trade" also takes a look at off-ice human interest stories, triumphs, tragedies and sensitive topics, including substance abuse, arrests, plane crashes, wars, concussions, diseases, mental health, pandemics, defections and more.
During the near one hundred years worth of Rangers' history covered in "Tricks of the Trade," you will relive the greatest hits and biggest misses from the inception of the Rangers throughout today, while also examining every other trade ever made.
Every player from every trade ever made receives full attention, including, but not limited to, players such as Mark Messier, Andy Bathgate, Harry Howell, Dave Kerr, Ryan Callahan, Martin St. Louis, Brian Leetch, Mike Richter, Doug Harvey, Igor Shestyorkin, Rick Nash, Adam Graves, Jean Ratelle, Brad Park, Phil Esposito, Ryan McDonagh, Emile Francis, Glen Sather, Eddie Giacomin, Scott Gomez, Bun Cook, Mika Zibanejad, Camille Henry, Jaromir Jagr, Gump Worsley, Rick Middleton, Bobby Carpenter and hundreds more.
Every era is also discussed in-detail, including "The Original Rangers," "The Original Six Era," "The Post World War II Era," "The Emile Francis Era," "The Core Four of 1994 Era," "The Dark Ages," "The Henrik Lundqvist Era," "The Letter Era," and the current era of today.
"Tricks of the Trade – A Century Long Journey Through Every Trade Made In New York Rangers History" is a book for anyone who not only wants to learn about Rangers' history, but to completely understand the history of the franchise too.
---
Here are all four covers of the title:
---
Here's a video preview of the title:
"Tricks of the Trade – A Century-Long Journey Through Every Trade Made In New York Rangers' History" coming October 2022. #NYR pic.twitter.com/UOIMBbfrht

— BlueCollarBlueShirts (@NYCTheMiC) September 23, 2022
---
SAMPLE CHAPTERS
DATE OF TRADE: March 19th, 2002
RANGERS ACQUIRE: Rem Murray and Tom Poti
EDMONTON OILERS ACQUIRE: Mike York and a Fourth Round Pick of the 2002 NHL Entry Draft (#106 – Ivan Koltsov).
Link: https://bluecollarblueshirts.com/91522/
---
Glen Sather named as general manager of the New York Rangers
Link: https://bluecollarblueshirts.com/81922/
---
DATE OF TRADE: July 1st, 2019
RANGERS ACQUIRE: Third Round Pick of the 2021 NHL Entry Draft (#65 – Jayden Grubbe)
BUFFALO SABRES ACQUIRE: Jimmy Vesey
Link: https://bluecollarblueshirts.com/8822/
---
DATE OF TRADE: November 16th, 2018
RANGERS ACQUIRE: Ryan Strome
EDMONTON OILERS ACQUIRE: Ryan Spooner
Link: https://bluecollarblueshirts.com/71522/
---
DATE OF TRADE: July 17th, 2007
RANGERS ACQUIRE: Andrew Hutchinson, Joe Barnes and a Third Round Pick of the 2008 NHL Entry Draft (#75 – Evgeny Grachev)
CAROLINA HURRICANES ACQUIRE: Matt Cullen
Link: https://bluecollarblueshirts.com/7122/
---
For readers looking for my other book titles, check out: https://bluecollarblueshirts.com/tricksofthetrade/
Thank you for your support.
I don't run ads, spyware, pop-up video players, crowd-funding links or any of that other junk on this site.
All I ask is that you buy my books, and as I've been saying all summer (confidence, not cockiness), no other title on the market today covers Rangers' history like "Tricks of the Trade – A Century-Long Journey Through Every Trade Made In New York Rangers' History."
And if I haven't been doing enough self-promotion already, it's now time for the official plugs segment of tonight's manifesto.
Say it with me…
PLUGS TIME!
---
My first plug of tonight's blog – the mandatory plug for my book, "The New York Rangers Rink of Honor and the Rafters of Madison Square Garden."
As mentioned previously, the book is now available in hardcover, in paperback and in Kindle formats. To purchase a copy of the book, visit this link:
https://www.amazon.com/Rangers-Rafters-Madison-Square-Garden-ebook/dp/B09CM5N2WD
For those still looking for signed paperback versions of the book, I have re-ordered more copies. I now have a few signed copies for sale at $25 a pop (includes shipping price) through me directly. Here is all the information on that:
---
My four-volume set of books, "One Game at a Time – A Season to Remember," is a game-by-game recount of the Rangers 2021-22 campaign.
My second title as an author, "One Game at a Time – A Season to Remember," is now available in eBook, paperback and hardcover formats.
To obtain signed copies, visit: https://bluecollarblueshirts.com/onegamebook/
To purchase all four volumes on Amazon, visit: Amazon.com – "One Game at a Time."
---
Here are my last few blogs, in case you missed them:
---
---
If you haven't already, subscribe to this blog for the next update:
---
I might return tomorrow night with some thoughts on the preseason game.
Keep in mind, these games don't mean anything, except for the players themselves, especially the players fighting for roster spots on the varsity squad. Wins and losses mean nothing. But hey, it's good to have hockey back!
Thanks for reading.
LET'S GO RANGERS!
Sean McCaffrey
BULLSMC@aol.com
@NYCTHEMIC on the Tweeter machine