Greetings and salutations and welcome to another blog on BlueCollarBlueShirts.com. Off puck drop here, I would like to thank all of you that read last night's blog, as it was the most read blog on this site in the last 10 months. I guess people want to tune in to see what I have to say about Lundqvist after a bad game, huh?
Since I have some time, I figured I'd check in to talk about the big news in Rangerstown, USA today, and that is the news about the call-ups of Filip Chytil and Ryan Lindgren. I'd also like to talk about some other random stuff that I missed in last night's blog.
Speaking of last night's blog, here's that blog, plus my most recent entries on this site:
---
---
---
---
---
On Monday afternoon, about 12+ hours removed from their drubbing, courtesy of the Boston Bruins, the New York Rangers held practice. Not practicing were Mika Zibanejad, Jesper Fast and Henrik Lundqvist. Zibanejad is still nursing his "upper-body" injury that he suffered during the game on Sunday night. Jesper Fast is still out for "personal reasons". Henrik Lundqvist wasn't practicing due to "bruised ego, torn five-hole and over-worked tear ducts."
While I'm joking about Lundqvist here, wouldn't it have been something if he hurt himself after laying that cowardly hit on Pastrnak on Sunday night? What a way to introduce CZAR IGOR! I also found it funny that Lundqvist spent his entire post-game interview on Sunday whining about the team and how everyone needed to battle more. Not only did Lundqvist lose his focus in the second period of that game, he sat on the bench for the entire third period. Then, after burying his teammates, he didn't practice with them. What a leader.
When it comes to Mika Zibanejad, his status is up in the air. He may miss tonight's game with the Tampa Bay Lightning. Talk about bad timing if that occurs, as he's the best centerman on the team and the second best player on the team overall. (I would put Artemi Panarin above Zibanejad.)
On the topic of Jesper Fast, after practice, head coach David Quinn said Fast was most likely to return to the line-up on Tuesday night. As far as what Fast's issue was, that he missed the game on Sunday, well no one is talking. And while on the topic of no one talking, the Rangers have still yet to comment on Vitali Kravtsov.
However, what the Rangers were talking about after practice, were the returns of Filip Chytil and Ryan Lindgren. Both played with the team last season and are set to make their 2019-2020 season debuts tonight.
Here's what the Rangers announced about the duo on their Twitter page: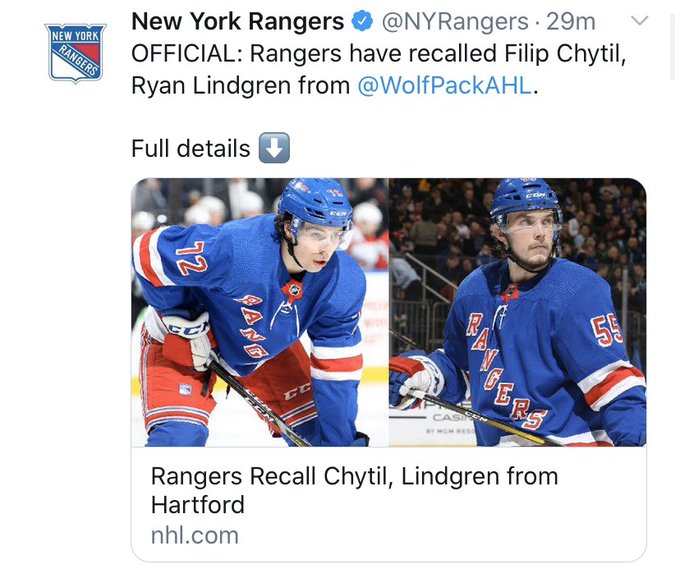 For the sake of posterity, here's the official press release from the Rangers on this news:
The New York Rangers announced today that the team has recalled Filip Chytil and Ryan Lindgren from the Hartford Wolf Pack of the American Hockey League (AHL).

Chytil, 20, has skated in nine games with the Wolf Pack this season, registering three goals and six assists for nine points, along with a plus-nine rating and two penalty minutes. He posted a plus-one rating or better in each of Hartford's first seven games this season, and he has posted a plus/minus rating of even or better in all of the Wolf Pack's nine games in 2019-20. Chytil ranks fourth in the AHL in plus/minus rating and is tied for 11th in the AHL in points this season. He also leads AHL forwards in plus/minus rating this season. Among AHL players in their U21 season or younger in 2019-20, Chytil ranks first in plus/minus rating, ranks second in assists, is tied for second in points, and is tied for third in goals.
The 6-2, 206-pounder has skated in 84 career NHL games with the Rangers over parts of two seasons (2017-18 and 2018-19), registering 12 goals and 14 assists for 26 points, along with 12 penalty minutes. Chytil was a teenager for all of his first 84 career NHL games, and he played in the second-most games as a teenager with the Rangers in franchise history. Among NHL players who were either in their age-18 or age-19 season last season, Chytil tied for fourth in goals (11), ranked fifth in games played (75), and ranked seventh in points (23).

The Kromeriz, Czech Republic native was originally selected by the Rangers in the first round, 21st overall, of the 2017 NHL Entry Draft.

Lindgren, 21, has skated in nine games with the Wolf Pack this season, registering one goal and one assist for two points, along with a plus-eight rating and six penalty minutes. He has posted a plus/minus rating of even or better in all nine games he has played this season, including a plus-one rating or better in six of the nine contests. Lindgren is tied for fifth in the AHL in plus/minus rating in 2019-20, and he also ranks second among AHL players in their U22 season or younger in plus/minus rating (only trailing Chytil).

The 6-0, 191-pounder has skated in 84 career AHL games over parts of three seasons with the Wolf Pack (2017-18 – 2019-20), registering three goals and 15 assists for 18 points, along with a plus-11 rating and 123 penalty minutes. Lindgren recorded 12 assists and 94 penalty minutes in 65 games with Hartford during his first full season in the AHL in 2018-19. He also skated in five NHL games with the Rangers last season, and the Blueshirts posted a 4-0-1 record in those five contests.

The Burnsville, Minnesota native was acquired by the Rangers as part of a trade with Boston on Feb. 25, 2018.
Let's get the easy stuff out of the way first, as I had some Twitter questions about the roster.
The Rangers started the season carrying 21 players. By league rules, each team can carry a maximum of 23 men. By calling up Chytil & Lindgren, the Rangers don't have to send anyone down or put anyone on the injured reserve. With Chytil and Lindgren, the Rangers are now carrying a full boat. That boat also could've been heavier, salary cap wise, but with the trade of Vladislav Namestnikov, the Rangers can carry more salary.
So to be clear, the 2019-2020 season debuts of Filip Chytil and Ryan Lindgren doesn't mean someone is going to Hartford. At least not yet. What it does mean, is that we will see the return of this:
As I write these words nearly at midnight, we don't know who will be dressed for tonight's game with Tampa. We will know that in the morning, when the Rangers hold their practice. However, I doubt the Rangers are calling up Chytil and Lindgren with the intention of putting them in the press box.
I want to be clear that I'm guessing here, so nothing I'm saying here is etched in stone.
I am assuming that with the call up of Filip Chytil, that means Zibanejad won't be able to go. If Zibanejad can go, I would expect Micheal Haley and Greg McKegg to both be scratched. Of Haley and McKegg, if it comes down to choosing one or the other, I think McKegg would play, just because he's been better and is more useful, since McKegg is on the penalty kill.
The call-up of Ryan Lindgren is interesting, because there are no injuries to the Rangers defense. When it comes to who is getting scratched, you can eliminate Tony DeAngelo, Adam Fox and Jacob Trouba, because they are all right hand shots. Lindgren is a southpaw shot.
That leaves us with Marc Staal, Brady Skjei and Libor Hajek. I doubt Staal is getting scratched. Despite some brain-farts, Staal is the best of those three. Quinn has also shown allegiance to his veterans as well.
We're down to Skjei and Hajek. I could see either being scratched, but since Skjei has the contract and because Hajek has been worse, I see Hajek sitting in the press box. If that's the case, that will allow me to make the argument of: "HAJEK GOT SCRATCHED BECAUSE HE MADE A PLAYER COLLIDE WITH LUNDQVIST WHICH LED TO A GOAL. KING DIVA DOESN'T LIKE THAT! SEE YA!"
And really, wouldn't it be something if Hajek was scratched because of that play, Lindgren takes over, Lindgren plays well and then Hajek is sent to Hartford? Isn't that amazing Suzyn?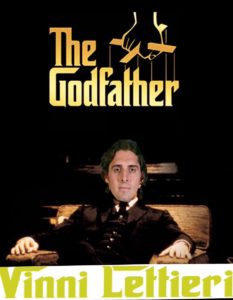 While Chytil and Lindgren were called-up after practice, David Quinn did talk to the media about the call-ups. Here's a snippet of what he said:
Filip Chytil is back ⬆️ with the @NYRangers.

Quinn's take on the call-up👇 pic.twitter.com/KklyDcl15Y

— Rangers on MSG (@RangersMSGN) October 28, 2019
Quinn also went on to say some quote-worthy stuff during his press conference with the media. In an order of no importance, here's what Quinn said, with my comments:
— DQ: You can go down there (Hartford) and get your points. If you look at the leading scorers in the American Hockey League over the last five or six years, you see a lot of the same names. Going down there and getting points doesn't necessarily mean you're going to have a chance to get here and have success.
You can directly tie what Quinn said here to Vinni Lettieri. Lettieri can rack up the points in Hartford, but it hasn't translated at the NHL level, or at least not yet. Quinn's comments could also describe Hartford's All-Star from last season, in John Gilmour, who the Rangers said goodbye to last summer. (Gilmour is now currently with the Buffalo Sabres.)
---
— DQ: So one of the things we like about what Fil has done, he's gone down there and been productive offensively, but he's also done the things that he needs to do to have success at this level.
To me, and based on what we've heard from Quinn already, that means Chytil is winning one-on-one battles, going to the dirty areas and playing defense. And for the record, every time Quinn says "Fil", it comes off weird.
---
— DQ: I think part of our problem is we have a lot of skill guys and that's how they identify themselves. One thing we have to do is make sure they understand that it's great to have that skill set, but you've got to have a grit element and a battle element to your game if you're going to be successful here.
I wonder if this is Quinn's shot at Kaapo Kakko? It could also be a tongue-in-cheek comment about Kravtsov too. Then again, you could apply this to guys like Kreider, Skjei, Andersson and the others.
---
— DQ: One of the things we tend to do is we don't play in the moment. We don't play the play in front of us. We play the 'what-if' game. You do that against teams like Boston and Tampa, you're really going to suffer.
My biggest "what-if"? What if the Rangers told Lundqvist to take a freaking seat and they called up CZAR IGOR along with Chytil and Lindgren?
---
— DQ: I know the makeup of our team right now, I know guys have been trying to establish themselves in the league, learning how to play in the league, and it's our job to help them establish themselves here and get better daily. Coaching, at times, can be frustrating, regardless of when you're winning or losing. But we have guys we believe in and we're going to continue to work with them.
If Quinn really knew the makeup of the team right now, then why does he change the lines every game? Why isn't Kakko playing on a line with players that can bring the best out of him? Is Micheal Haley someone you believe in?
---
While Quinn did use the media to send messages to his guys, I don't think the call-up of Filip Chytil had anything to do with anything the forwards were doing. I think it has everything to do with what's going on with Mika Zibanejad and his injury.
When it comes to Lindgren, I think he is being used here to replace Hajek. I can't knock Hajek's "BATTLE LEVEL", which has become the new hot term from the Rangers, just like how the word "communication" was last week, but I do believe Hajek isn't ready and is one-step back from everyone else. If Lindgren replaces Skjei or Staal tomorrow, I would be surprised, because then that roster move sends a message.
As far as Chytil returning, I have read stuff from Ranger fans all over social media. The majority and popular opinion is that Filip Chytil, a baby-faced 20 year old, from the Czech Republic, a place that 99% of Ranger fans can't find on a map, is the latest savior of this franchise. What happened to Kakko? Are these fans giving up on Kakko already? Poor Ranger fans, always wanting instant gratification.
It is my opinion that while I do want Chytil here, and on the main roster, as there is no point in keeping guys like Haley or McKegg around, just like how I don't want an old guy who won't be here for the future in Lundqvist around either, it's not like Chytil is going to be Wayne Gretzky here.
Since the news of the Chytil call up, I have already seen insane expectations. I think these people need to pump the brakes a bit. All you can hope for is for Chytil to play well and by the time April rolls around, you hope that Chytil is significantly better than he is right now. That's realistic to me.
For Lindgren, he's being thrown to the wolves, as his first game is against one of the best offensive teams in the league. Lindgren is going from playing no name guys in the minors, to now playing against one of the most prolific offenses of the modern era. If Lindgren has a bad game tomorrow, don't blow a gasket over it. Let's see how Lindgen does against teams that aren't the Tampa Bay Lightning.
At this time, let's talk a bit about Quinn.
All over social media, I see Ranger fans adamantly saying, "FIRE DAVID QUINN." They aren't joking, like I was today, when I posted that Tony DeAngelo should be the Captain of the Rangers. (I just wanted to see what feedback that would get and had a good time laughing at the people going crazy over the notion.)
Not even 10 games into the season and with less than 10% of the schedule played, there are many Ranger fans who must be off their medication, as they are blue in the face screaming about how the Rangers need to fire Quinn. To think Quinn is getting fired is silly.
Let's realistically look at Quinn right now. Here's why he's not getting fired:
— IT'S A REBUILD. HE WAS THE HAND CHOSEN PICK OF JEFF GORTON TO LEAD THIS TEAM DURING THIS REBUILD.
— If Gorton was to fire Quinn, this would be Gorton admitting fault with his selection as head coach. Quinn has also worked with Gorton to help select this roster, so while this roster isn't 100% to Quinn's liking (again, in a perfect world, Quinn would prefer younger players and players who haven't peaked already) there are some of Quinn's fingerprints on this roster.
— To overreact to the one singular loss to the Bruins is nuts. The Rangers were missing Zibanejad and Fast.
— If Quinn was fired, who is replacing him? Lindy Ruff? I'm sure Ranger fans would LOVE that. There aren't a slew of head coach candidates out there who could lead this rebuild from the bench.
— While all the new toys and all the big sexy news over the summer was great, Rome wasn't built in a day.
— John Davidson isn't firing Quinn, or Gorton for that matter, either. JD isn't going to upset the apple-cart, at least not in his first year here as Team President.
— Firing Quinn would also upset this rebuild and I think the Rangers would also lose progress. This team would have to learn all new systems and a new style of play. We've already seen a ton of roster turnover since Quinn got here, as Quinn & Gorton build a roster they want for the future. Firing Quinn means a new head coach, with a different mindset, trying to do what he wants to do. The Rangers might not have the roster a new head coach would even want.
— Quinn is in Year 2 of a five-year deal. Do you think the Rangers want to pay him for 3+ years to sit at home? They already paid for a successful coach not to work, when they fired Alain Vigneault. If anything, and you can say hindsight is 20/20 here, perhaps the Rangers should've waited until after the 2018 Stanley Cup playoffs to hire Quinn. If they did that, they may have had a shot at Barry Trotz.
At 3-5-1 and with a tough game with Tampa tonight, where the Rangers could be 3-6-1 by this time tomorrow, there is no way in hell the Rangers are firing David Quinn. This isn't the NFL, where head coaching means the most and where coaches can win and lose games on their own. In the NHL, players are more accountable for their work on the ice, because all of their decisions are snap decisions. Sure, the coach puts out the lines and sets up systems, but hockey is such a fast sport, that when it comes down to it, the players on the ice have to do their jobs.
Listen, I'm one of those guys that wants Kakko on the first line and all the youth on the big club. I didn't expect a Stanley Cup this year. I am trusting in Quinn and the front office, the guys who are with the team 24/7, know best. While fans want to win every game, that's not a reality either. Going into this season, I think the goal was for the team to be much better in March/April than they were in October/November. If this team can challenge for a playoff berth, that would be the ultimate goal, but it's not a make-or-break goal either.
As I said above, I don't think you can truly judge Quinn right now. I don't think you can make a true argument until after the 2020-2021 season, when all the bad contracts come off the books. If there is anything to criticize Quinn about, I think he wants to win so bad, that sometimes that gets in the way of development. Then again, what is he supposed to say and convey? Do you want him to say, "it's okay that we're losing, because we're developing." Of course not. He wants to win and that should be the modus-operandi, no matter who is on the ice.
Rangers and Bolts tonight, with a 7:30PM start time. It's already been announced that Georgiev is getting the start.
This is a huge game for Georgiev, because as mentioned, the Rangers love losing with Lundqvist and they have CZAR IGOR, who should really be on the main club already. It's double tough for Georgiev, because if he has a great game, it means it will fuel the rumor that the Rangers may trade him. If he has a bad game, the Rangers could flip-flop Georgiev and Igor, especially since Igor is the best goalie in the AHL today.
I've been saying it since the summer – Georgiev has the worst position/situation out of anyone on this team. As much as Georgiev has the potential to be trade-bait, he also could wind up in Hartford, especially if Igor continues to mow down the AHL opposition.
Speaking of possible trade scenarios, did you guys hear about Vladimir Tarasenko? No, I'm not talking about how the Rangers passed on Tarasenko during the 2010 NHL Draft to select Dylan McIlrath instead. I'm talking about this:
https://www.nhl.com/news/vladimir-tarasenko-injury-update-recovery-time/c-310586722
If you didn't click the link, Tarasenko, the star right winger of the Stanley Cup Champion St. Louis Blues, will miss at least five months after getting surgery on his left shoulder. If the Blues want to repeat, they could use some help while Tarasenko is out.
Wouldn't Chris Kreider be a perfect back-up plan for the Blues? Even if the Rangers only got back a package of draft picks and prospects, wouldn't this be a win-win trade for both teams? As it stands right now, the Rangers have shown no interest in re-signing Kreider, who is set to be a UFA this summer. There is no way the Rangers let Kreider walk for free. Perhaps instead of waiting until the deadline, maybe the Rangers and Blues could do business here. Just a thought.
I'll be back later tonight, with a review of the Rangers/Bolts game. As always, thanks for reading and…
"LET'S GO RANGERS!"
Sean McCaffrey
BULLSMC@aol.com
@NYCTHEMIC on tweeter