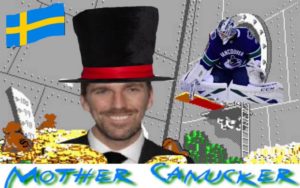 Greetings and salutations everyone and welcome to another blog here on BlueCollarBlueShirts.com. On Sunday afternoon, during a 1PM matinee game, the Vancouver Canucks edged the Rangers by a final score of 3-2. For the Rangers, it was their fourth consecutive loss. It was also a loss where if you just saw the score, you would be deceived. The Rangers were horrible for the first two periods in this game and only woke up to play in the third period.
These are the hardest blogs to write. No fan starts a blog, a podcast or opens up a social media account, which is dedicated to one team, with the sole purpose of talking about losses. It is my belief that every blogger, vlogger, podcaster and social media user wants to use their outlets to talk about the good times. Who wants to waste free time talking about never-ending losses?
Unfortunately, if you're a fan of NY sports, the only thing to talk about these days are losses.
As talked about in the past, when it comes to my sports fandom, I root for the Yankees, Giants and Rangers. To be fair, I'm in a better boat than the people who root for the Mets, Jets and Rangers. While the Rangers haven't provided many championships in my lifetime (1, and for some of you, it's 0) I have seen multiple Yankee and Giant championships. That said, it's been a while, because as we all know, the standards and the bar is higher here in NY than in most places. NY fans will always have the win-now mentality.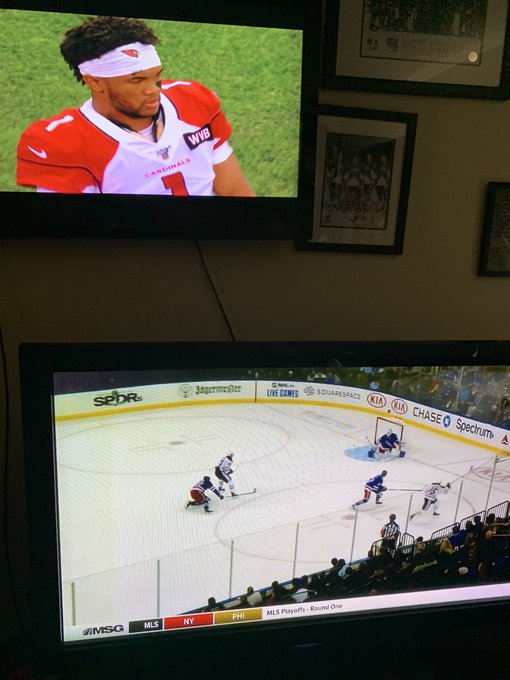 If you start with Thursday night, during a period of less than 100 hours, I was able to see the Rangers lose three times, watch the Giants choke a home game to the lowly Arizona Cardinals football team and watch the Yankees season come to gut-punch, kick-in-the-dick, end. With all this losing, I gotta ask – are the NY Liberty any good? Shit, when does the XFL start?
Really, with the way these games for NY sport teams have gone this week, NY sport fans are more sore than a naive 18 year old girl trying to get into porn. Even worse, is the way these teams have lost. Watching all this losing makes my ass feel like it took a pounding from this guy:
Obviously, because of the time of the month (Not the same time of the month that Lundqvist and his pads experience) the Yankees are the most important thing right now. Or at least they were, as of 24 hours ago. Watching them first pitch swing themselves out of rallies, only to tie a MUST WIN game was a roller-coaster of emotions on Saturday night. Of course, the woman beating piece of shit, known as Aroldis Chapman, blew the game by giving up a two run homer to a sawed off midget. With the way the rest of this weekend went, Jose Altuve might as well come to NY and piss on the face of the Statue of Liberty. It's been that bad.
An unlucky 13 hours after the Yankees were eliminated from the playoffs, the Giants and Rangers both hosted home games on Sunday. Both games were somewhat similar. The two teams had horrible starts, only to make a go of it late, before the inevitable loss. However, the two teams are completely opposite when it comes to their franchise bedrock players. The Giants have moved on from Eli Manning, winner of two Superbowls. The Rangers just keep on embracing losing with Henrik Lundqvist, winner of jack shit.
It just always amazes me that with both of these teams rebuilding, it's the Giants who have benched Eli Manning, while the Rangers keep on trucking with the most overrated and overpaid player in the NHL today. What's the word to describe this? Oh yeah – SAD!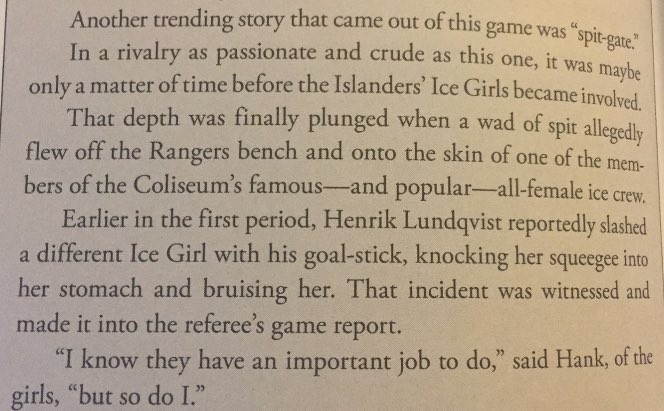 I know it. You know it. Everyone knows it. The Lundqvist stuff gets repetitive, but how do you not talk about it? Despite Quinn shaking up his line-up every two seconds like it's a fucking "Etch-A-Sketch", the Rangers continue to ignore the Swedish elephant-sized contract in the room.
How many times must this team lose with Lundqvist, in order to realize that a Cup with this loser will never happen?
Let's say Lundqvist is as good as the money he is getting paid. Let's say he was playing like he was during his Vezina season of 2011-2012. During a rebuild, would it make sense to play this guy? Would it make sense to invest this type of money into the goaltender position? No and no.
If the Rangers are going to lose, and that's fine as they develop players here, by playing Lundqvist, all you're doing is stunting the growth of two future studs in Georgiev and Shestyorkin. These are the two that should be taking the lumps with the locker room. These are the guys that should be forming bonds with this young core. These are the guys that should be learning how the guys in front of them play. These are the guys that should be on the road-trips. These are the guys that should be forming relationships. Instead, you got Old Man Lundqvist, who keeps to himself and has no chemistry with anyone besides Marc Staal on this team, which is just a detriment to the growth of this organization.
(And I talked about this before, so real quick – this isn't Lundqvist or Staal's fault here. They are 12-15 years older than everyone else. They are family men. They aren't going out for a night on the town. They are in a different stage of life. My point is, more so Lundqvist than Staal, because goalies tend to be loners anyway, there is just no connection with Lundqvist and these young guys. It also doesn't help when Lundqvist trashes these guys in his post game interviews.)
At this time, before moving forward, here are my most recent blogs, in case you missed them:
---
---
---
---
---
---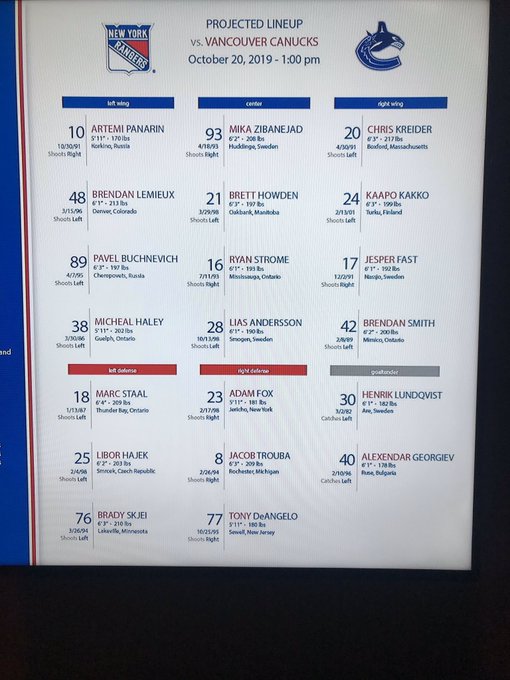 Despite every Ranger fan in the world and their mother wanting Kaapo Kakko to get time with the first line, David Quinn seems hellbent against it. Prior to the game, when pressured by reporters about Kakko, Quinn said that the idea of Kakko on the first line "has been discussed." What the hell is going on here? Is Quinn discussing this during tea-time in Chelsea? Where did the discussion go?
Again, and I know this has been my logic all season, but if you're going to lose and develop, why not put these guys in the best scenario to succeed? Nothing against Lemieux or Howden here, but how are they going to make Kakko better? In the same vein how the Rangers always need to coddle Lundqvist, if anyone should be coddled, it's the 18 year old crown jewel of the organization.
Listen, you know my fandom of Vinni Lettieri, and I'll talk about him in the Hartford section of this blog, but he's not getting any preferential treatment from the Rangers. He's not a priority. You can make the case that he's outplaying Chytil in Hartford and at the very least, you can say that both Chytil and Lettieri are having equal success there. However, we know that Chytil is the focus and I get that. Chytil is younger. He's the one the Rangers invested in with the draft pick. If Chytil fails, it's a black mark for Gorton, where Lettieri is a guy the Rangers are taking a chance on.
When it comes to Kakko vs everyone else, guess what – life isn't fair. Kakko should get special treatment. That's why you made him the second pick of the NHL draft. With the Rangers on a four game losing streak, WHAT DO YOU HAVE TO LOSE by putting Kakko on the first line, come the Rangers next contest? It's like my stuff on Lundqvist here. If you're going to lose, why not give the time and experience to Georgiev and/or Igor?
And while I get why Quinn wants guys like Haley and McKegg over guys like Kravtsov and Chyitl right now, the Rangers are not maximizing their development and future, by playing one-and-done season guys over young talent. At the very least, you could give Kravtsov and Chytil the shot to start, and if it doesn't work out, then you can send them to Hartford. You're just treading water with these veterans that have no future here.
As I mentioned with the goaltenders, I want Georgiev and Igor to play with this team so that when the team in front of them are ready to make a run, they are ready and know their teammates. The same principle applies with the line-up here. By shaking up the lines every day, outside of the first line, how are lines 2-4 supposed to build chemistry? It's hard for these guys to know what their linemates are going to do, because they have new linemates every game.
And here's a SPOILER, not a prediction – by shaking up all these lines every game, it's only a matter of time before we start seeing the "too many men on the ice" penalties again, the same "too many men on the ice" penalty that was called against the Rangers 13 times last season.
I know there are 763478963964 fans crying for Quinn's head and in their mind, have the key to the Ranger lines. In my opinion, I think Quinn has the same attitude as many of us – he hates losing. He's trying to do whatever he can to win games NOW, even if it means denting up the future a bit.
On the bright side, after I talked about how I thought it was messed up how Quinn made DeAngelo his whipping boy in the game with the Caps, while Skjei was much worse, Quinn did hold Skjei accountable today. Quinn benched Skjei for most of the second period in today's game.
This game against the Canucks today was promoted as "kids day". You know, for your average kid who could afford a $200 ticket, a $10 hot dog and a $8 water. The most ironic thing about kids day – after the game, it was the old fuck in net complaining about all the kids on his team! SAD!
The MSG Networks seem really happy about these kids day games. I don't know why. Maybe they want to teach a younger generation of Ranger fans, that no matter how much you care about this team, they will always disappoint you. I guess it's a nice lesson to learn early in life!
Breaking down this game is extremely simple. For 40 minutes, the Canucks played hockey while the Rangers watched. Then in the third period, after the Canucks got tired (they played 24 hours previous, in a 1-0 loss to the Devils) the Rangers looked like world-beaters. However, when it was all said and done, Jacob Markstrom handled the pressure and onslaught better than Henrik Lundqvist did. Since Markstrom didn't give up a bad goal like Lundqvist did in this game, that would be the difference between a Rangers win and a Rangers loss.
Full disclosure here. I'm starting this blog three hours after the game ended, as I was watching football after this Rangers loss. I read some of the post game comments. According to Strome, Panarin and the others, there was a lot of yelling and stuff like "WAKE UP MOTHER-EFFERS, WE GOTTA DO THIS!" during the second intermission. The Rangers, and the reporters that cover them, are spinning this as a major motivational moment, which resulted in the Rangers dominating in the third period. Let's pump the brakes.
IN NOT ONE OF THESE STORIES, is the fact mentioned that Vancouver was on the second game of a back-to-back. The same Vancouver that had to fly 8 hours to the east coast. The same Vancouver who had to play two consecutive games at 1PM, which is 10AM their time. I mean, I guess never the let the truth get in the way of a good story, am I right?
At this time, as usual, let's go to the official box score, courtesy of ESPN.com:
SCORING: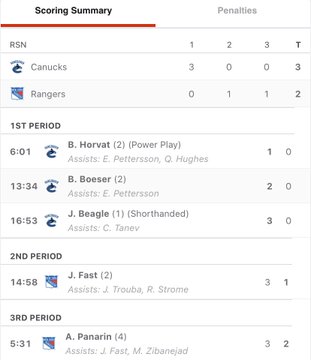 PENALTIES: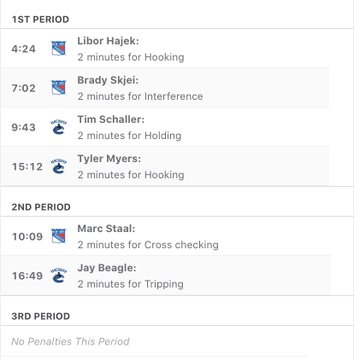 GOALIES:


In the battle of the Swedish goalies, in today's game, Markstrom was better than Lundqvist and for $5M less. When the heat was on in this game, Lundqvist folded like a cheap suit. When the heat was on for Markstrom, he was able to prevent the Rangers from scoring.
You can look at this game one of two ways. If you look at the goaltending, Markstrom was better. If you look at the skaters, the Rangers came out flat and couldn't finish when it mattered. Vancouver was better at capitalizing, although both teams must've sent 7637863643786389 pucks to the boards in this game. After all the rubber marks in this game, Tom Sawyer is going to have to bring his white paint and touch up the boards.
Oh, and if you're one of these people that look for every excuse under the sun whenever Lundqvist gives up a goal, then what's the point of having him here if he can't make the stops when needed? The time would be better suited for Georgiev or Igor. I mean, all I hear are people whining about the contracts of Smith and Staal. I don't hear those same cries about Lundqvist.
I mean after all, take a look at this:
Since his horrible contract went into effect, Hank's save percentages & GAA are:
—14-15: .922/2.67
—15-16: 920/2.96
—16-17: .910/3.17
—17-18: .915/3.22
—18-19:. .907/3.28
—19-20 .896/3.73
Hardly regal or Hall of Fame worthy. In fact, if you take a look at Hank's career since signing that deal, you can argue that the back half of his career has seriously dampened his candidacy for the Hall, as all of his numbers have taken a beating. Furthermore, when you compare these numbers among the other goalies in the league, during each individual season listed above, Hank is nowhere close to the Top 10, nevermind a Vezina, with his save percentage or GAA. SAD!
And this is where you may say – "It's not his fault he signed the deal that was offered to him." If you want to ignore that he held the team up for money and got a coach fired, that's okay. This is where I say that a new management regime, which the Rangers have right now, need to rectify this problem, just like they did when they bought out and traded everyone else.
And then this is where you might say – "We need Hank for attendance and to draw." That's fine if you want to ignore that the Rangers were in the bottom third of the league in attendance last year, which proves Hank isn't a draw in the current day. Furthermore, with all the new toys here, the Rangers don't need Hank to sell tickets anymore.
And lastly, let's not forget that Lundqvist hasn't had a shutout in 2+ seasons. Guess who had a shutout on Saturday afternoon? Why it was the back-up goalie of the NJ Devils, in MacKenzie Blackwood, who shut out this very same Vancouver Canuck team.
Henrik Lundqvist, YOU ARE SAD!!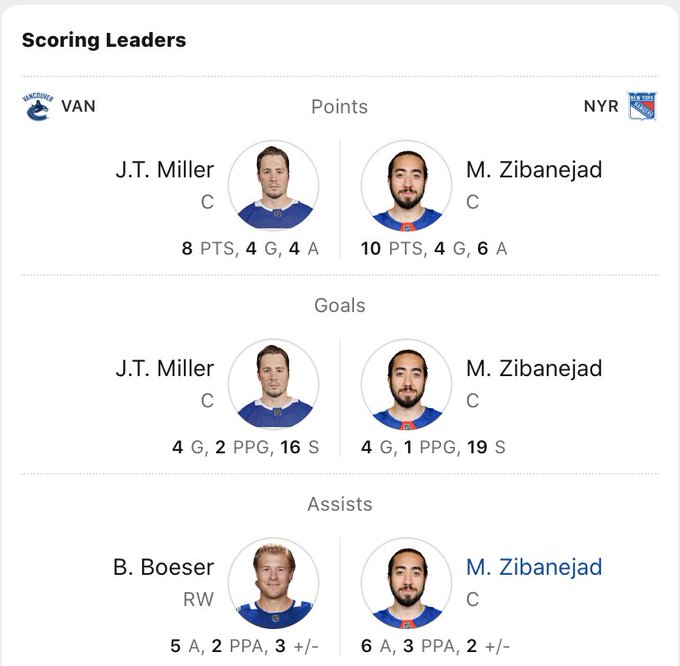 John Giannone and Joe Micheletti had the call for today's game, as Sam Rosen was presumably doing an NFL game somewhere. I'm really starting to prefer Giannone on these broadcasts, just because he's so dry and just calls it like it is. There's no oversell or corny jokes.
Last thing on the kids day, which the MSG Networks told us about 7678967896 times during this game. The Rangers used a girl from Toronto to sing the national anthems in this game. She was fantastic. That said, for kids day, they couldn't find a kid from NY to do this?
For two periods, the Rangers pretty much couldn't do anything right. For forty minutes, you could hear mouse farts and people flushing the urinals at M$G. I don't care how anyone tries to spin it, this was horrible, especially since Vancouver is the road team and on the second half of a back-to-back.
While Lundqvist, to his credit, did amass 40 saves (Markstrom had 38) he also was very lucky. To start this game, the Canucks were all over the Rangers and Lundqvist did his rolling around on the ice act. This almost cost him, but it was Adam Fox bailing out Lundqvist by sweeping a puck away from the goal line.
4:24 into the period, Libor "Where is Ryan Lindgren?" Hajek was sent to the box for hooking. 90 seconds later, Bo Horvat scored a PPG. 1-0 bad guys. Of note, Vancouver's PP was 0-7 just 24 hours prior. Within five minutes of this game, the Vancouver PP was already batting 1.000. As usual, Lundqvist is just what the doctor ordered.
And to be fair, as I always say on these blogs, I rarely blame the goaltender for a PPG allowed. That said, Markstrom made saves on similar shots to this and so did Blackwood in the game on Saturday. $8.5M folks!
Brady Skjei, who had another bad game today, would go to the box at around the 7 minute mark of the period. The call was questionable, but with a coach that gets no respect from the officials, calls won't go your way. Fortunately, the Rangers PK held the Canucks off the board here.
After killing the Vancouver PP, the Rangers would get a PP of their own, after Fox drew a penalty while in the defensive zone. I thought Fox had a good game today. The Rangers PP once again looked good, but couldn't finish. Of note, Markstrom made four great saves here, all while being screened. I thought that was impossible? At least that's what I think when listening to Micheletti.
Right after the Rangers PP expired, Fast took a rebound and Markstrom somehow made a save. Micheletti was quiet.
13:34 into the period, BROCCCCCCKKKKKKKKK BOOOOOOESSSSSSSER (Paul Heyman "Brock Lesnar" voice) beat the diva:
Brock Boeser gets the puck off the turnover and fires it by Lundqvist. #Canucks pic.twitter.com/VsStsgSi34

— Sportsnet 650 (@Sportsnet650) October 20, 2019
2-0 bad guys. As it has been for some time, Hank's reaction to shots glove high has slowed down.
After this goal, Tyler Myers hooked the ghost in the number 20 jersey. This put the Rangers on the PP. This also led to Lundqvist giving up a shorthanded goal:
The first short-handed goal of the year comes from Jay Beagle as he fights for the puck and makes it 3-0 #Canucks pic.twitter.com/8N4ibFXD8H

— Sportsnet 650 (@Sportsnet650) October 20, 2019
3-0 bad guys. Another glove side high goal. Later on in the game, Chris Kreider would have two similiar chances, but Markstrom stopped him. Zibanejad would also have a similiar chance, but Markstrom stopped him too. These two goals that could've been stopped by Lundqvist were the difference.
3-0 after one period and I don't know who was crying more – the parents who paid money for this game or Lundqvist.
For those who missed it, Steve Valiquette's expert analysis on this period was the following: "(Vancouver coach) Travis Green wants his team to take shots at the goal." I guess that's why Vally gets paid the big bucks.
The second period was more or less the same as the first, at least for the first 15 minutes. The biggest threat was when Lundqvist was on his belly and trying to put a hole in the ice by humping it, and Boeser missed a wide open net. The Canucks really could've put a beating on the Rangers today, but whenever Lundqvist was doing his fish-out-of-water act, the Canucks would shoot the puck at the Jagermeister ads.
Quinn looked frustrated, and that's understandable. He then started to shuffle his lines like a blackjack dealer and at one point, that led to Smith and Kakko being on the ice at the same time. Listen, I've said it all season, Smith hasn't been bad. However, there is not one person alive who thought they'd ever see Smith and Kakko on the same line this season. What's next? Re-signing Dylan McIlrath and putting him on the top line?
This period dragged on and on, and it was like watching the funeral of a child. At one point, Marc Staal got crushed/boarded into the corner boards. Micheal Haley, here for his grit, watched. Staal then got up and cross checked & broke his stick over the offending Canuck, out of frustration. Haley watched. Ranger hockey baby!
The Canucks got a power-play after Staal's rightful aggression and then proceeded to shoot the puck at everywhere but the net.
With under five minutes to go, this team and building finally got a pulse, when Jacob Trouba blasted a puck from the blue line. The puck lightly grazed Jesper Fast and went past Markstrom. 3-1, bad guys.
On the goal, I was cracking up. First, you got fans on social media, writing in all caps the following – "JESPER FAST!" "QUICKIE GOAL!" "WHAT A GOAL FROM FAST!" I mean really?
Then, on commentary, Joe Micheletti started talking up Fast as if he was the second coming of Wayne Gretzky.
Not mentioned was how Jacob Trouba would've scored this goal if this puck didn't graze Fast. This goal was purely because of Trouba's powerful shot. Even when the Rangers score, Micheletti comes up with fake news.
The Rangers would then get a PP about a minute after this Fast goal. Micheletti droned on about how the Rangers second PP unit was on the ice. It took a minute for a MSG producer to remind Micheletti that the first line drew the penalty and were on the ice for about a minute prior to the PP, which is why the second PP unit started this power-play off. In either event, the Rangers PP failed on this opportunity to make this a one goal game. Once again, special teams hurt the Rangers in this loss.
After forty minutes, 3-1, bad guys.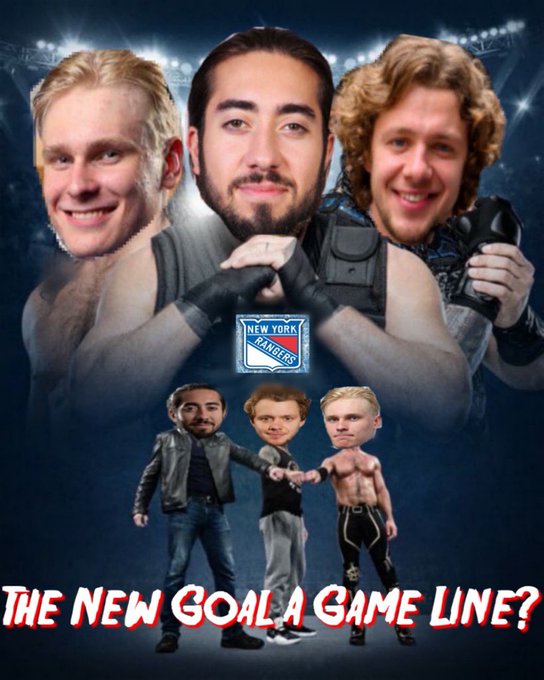 As talked about earlier in this blog, the third period is when the Rangers turned it on and Vancouver looked tired.
I don't have the stats in front of me, but for twenty minutes, the Rangers just kept shooting and were in the Canucks defensive zone. I know Markstrom finished up with 38 saves on 40 shots. I would reckon to think that 20+ Ranger shots came in this third period.
The Rangers just kept firing away. Five minutes into the period, the hard work paid off:
#Panarin scores the second goal for the #rangers. #PlayLikeANewYorker #canucks #nhl #playerfan https://t.co/Wba4jXT4nk pic.twitter.com/0OW88qp76Z

— playerfan (@playerfansite) October 20, 2019
3-2, bad guys.
On the goal, I couldn't tell if Fast couldn't get off to make a change or if Quinn put him on the first line. I can't keep track of Quinn's insanity all game long. In any event, I thought Fast's assist here was better than his goal. Fast made a great pass from behind the net and found Panarin for the goal. Speaking of Panarin, I know it's waaaaaay early to say this, but of all the big name free agents the Rangers have signed since the advent of free agency, Panarin seems to be the lone hit. Let's hope it continues.
With a 3-2 score, one more Rangers goal would ensure the over of hitting. Speaking of that, here was my over-under prediction before the game:
Lundqvist is starting. Canucks were shutout yesterday. Bet the over. I'm 4-1 this season with o/u bets and I expect Lundswiss to be what the doctor ordered for the Canucks. pic.twitter.com/yYfOzv2vr3

— BlueCollarBlueShirts (@NYCTheMiC) October 20, 2019
With a 3-2 final, my record drops to 4-2. I really should've had this over, as the Canucks missed two easy goals and Markstrom went into beast mode after this Panarin goal. Oh well.
Seriously, before, during and after this Panarin goal, the Rangers looked like Mexican wrestlers doing high spots and flips all over the place. It was non-stop action. The Canucks looked like they had a pair of cement shoes on. However, credit where credit is due, Markstrom was remarkable, as he would pull robberies on DeAngelo and Trouba.
The Rangers, despite their offensive reawakening, couldn't find that tying goal. Even worse, with Lundqvist pulled, Buchnevich was tackled. No call. Then Ryan Strome had an opportunity to tie it, but Markstrom somehow made the save.
At the end of the period, it was questionable if there was some time left on the clock, you know, something like .9 seconds. However, Lundqvist didn't care, as the great leader ran to the locker room by himself. Meanwhile, Mika Zibanejad was talking with the referee and pleading his case. Eventually, the refs sorted it all out and said the game was over. Mika then led the team back to the locker room, where presumably, Lundqvist was already coming up with excuses for his post-game interview. 3-2, your final from M$G.
Before finishing on the Rangers, let's switch gears and talk Pack Puck.
In case you didn't hear, the Wolfpack won another game on Saturday night, beating the Binghamton Devils in OT, by a final of 4-3.
Here's the report from HartfordWolfpack.com:
Phil DiGiuseppe scored 38 seconds into overtime Saturday night at the Floyd L. Maines Veterans Memorial Arena, to cap a Wolf Pack comeback from a 3-1 deficit in a 4-3 victory over the Binghamton Devils.

The game was the first on the road for the Wolf Pack after five straight home games, and the win improved Hartford's record on the year to 5-0-0-1.

The overtime strike was DiGiuseppe's third goal of the season, and all three have been game-winners.  Vinni Lettieri had a goal and two assists for the Wolf Pack, and Joey Keane and Filip Chytil added a goal and an assist apiece.  Adam Huska made 30 saves to get the win in net.

Marian Studenic, Brett Seney and Ludvig Larsson scored the Devil goals, and Evan Cormier made 32 saves.

Chytil's goal with 3:50 remaining in the third period tied the game at three, after Keane's tally at 1:54 of the second period was the only scoring in the middle frame.

Lettieri scored his third goal of the season only 3:03 into the game to give the Wolf Pack an early lead, but the home side would battle back to get the next three goals, all in a span of 4:06.

Studenic tied the game for Binghamton at 9:39, assisted by Ryan Schmelzer, and then Seney put the Devils ahead with a power-play goal at 12:25, with Mason Geertsen off for holding.

Ludvig Larsson made it 3-1 Devils just 1:20 later, at 12:25, with his third of the year, but Huska shut the door on the Binghamton attack after that.

The Wolf Pack's next action is right back on home ice this Friday night, October 25, when they host the Laval Rocket in a 7:15 PM game.  Once again this season, Friday-night Wolf Pack home games feature $1 hot dogs and $2 beers through the start of the second period, presented by Nomads Adventure Quest.

Tickets for  all 2019-20 Wolf Pack home games are on sale now at the Sunwave Gas & Power Ticket Office at the XL Center, on-line at www.hartfordwolfpack.com and by phone at (877) 522-8499.  Tickets purchased in advance for kids 12 or younger start at just $10 each, and all tickets will have a $3 day-of-game increase.

To speak with a Wolf Pack representative about season or group tickets, or any of the Wolf Pack's many ticketing options, call (860) 722-9425, or click here to request more info.  To visit the Wolf Pack on line, go to www.hartfordwolfpack.com.

Hartford Wolf Pack 4 (OT) at Binghamton Devils 3
Saturday, October 19, 2019 – Floyd L. Maines Veterans Memorial Arena

Hartford 1 1 1 1 – 4
Binghamton 3 0 0 0 – 3

1st Period-1, Hartford, Lettieri 3   3:03. 2, Binghamton, Studenic 1 (Schmelzer), 9:39. 3, Binghamton, Seney 3 (Morrow, Anderson), 12:25 (PP). 4, Binghamton, Larsson 1 (Gignac, Speers), 13:45. Penalties-Geertsen Hfd (holding), 12:06.

2nd Period-5, Hartford, Keane 3 (Lettieri, Geertsen), 1:54. Penalties-Larsson Bng (elbowing), 11:37; Sissons Bng (hooking), 16:07; Fontaine Hfd (slashing), 18:10.

3rd Period-6, Hartford, Chytil 3 (Lettieri, Beleskey), 16:10 (PP). Penalties-Speers Bng (boarding), 15:17.

OT Period-7, Hartford, Di Giuseppe 3 (Chytil, Keane), 0:38. Penalties-No Penalties

Shots on Goal-Hartford 12-15-8-1-36. Binghamton 15-7-11-0-33.
Power Play Opportunities-Hartford 1 / 3; Binghamton 1 / 2.
Goalies-Hartford, Huska 2-0-1 (33 shots-30 saves). Binghamton, Cormier 1-2-1 (36 shots-32 saves).
A-3,076
Referees-Jordan Deckard (14), Stephen Hiff (56).
Linesmen-Tyler Loftus (11), J.P. Waleski (14).
If you know me or if you're a regular here, you know me as the advocate of Vinni Lettieri. However, I get it. He's not the focus. When it comes to players on the Wolfpack, guys like Igor Shestyorkin, Filip Chytil, Vitali Kravstov and Ryan Lindgren, are the ones that Ranger management has their eyes on the most. Completely understandable.
That said, have you seen this:
| | | Name | Pos | Team | GP | G | A | PTS | +/- | PIM | PPG | SHG | Pt/G | PIMPG | SH | SOG | SOA | SOGW | SO% |
| --- | --- | --- | --- | --- | --- | --- | --- | --- | --- | --- | --- | --- | --- | --- | --- | --- | --- | --- | --- |
| 1 | | | C | | 6 | 3 | 5 | 8 | 8 | 2 | 1 | 0 | 1.33 | 0.33 | 20 | 0 | 1 | 0 | 0.0 |
| 2 | | | RW | | 6 | 3 | 4 | 7 | 3 | 2 | 0 | 0 | 1.17 | 0.33 | 17 | 0 | 1 | 0 | 0.0 |
In six games played, Chytil has 3 goals and 5 assists for 8 total points, while Lettieri has 3 goals and 4 assists for a total of 7 points. Of course, Chytil will get the first call-up, as he's the major project. However, I wonder if Lettieri will ever get a chance with the Rangers again? I know, I know, I know – everyone calls him the 4A player (Excellent in the AHL, not good enough for the NHL) but in the final year of his deal, I would hope Lettieri gets one more crack at it.
What's impressive about both of these players, is that both Chytil and Lettieri are picking up points in clutch situations. They are scoring tying goals and game winning goals. In other words, these aren't Rick Nash 6-1 type of goals. These are pressure goals.
As this Rangers season progresses, if the team continues to lose and if you're not seeing anything great out of Haley and/or McKegg (I won't put Smith here, because he's playing well in my opinion) when do you call these two up?
The Rangers are on a four game losing streak. Again, I can understand if the team loses, but I want to see some development here. When do you cut the cord on guys who have no bearing on the team's future? What more do you need to see out of guys like Chytil or Lettieri? And as mentioned on past blogs, what more do you need to see from Lindgren, before he's called up to replace Hajek?
The Rangers have four more home games during this homestand and Hartford is a two hour drive away. If the losing continues, I think it would be a good time to infuse some young blood onto this roster. It could only motivate the team.
Up next for the Rangers, a game with the Desert Dogs. Raanta just played Saturday night, picking up a huge win. Raanta has had a weird go of it in Arizona. In his first year, he was doing great, then was injured. In his second season, he was injured early and never returned. In the meantime, Darcy Kuemper has emerged as a starting goalie. Raanta is looking to play his way back into the starting goalie role for the Coyotes.
I'm interested to see if the Coyotes play Raanta on Tuesday. As we all know, players who play their ex-teams always have some extra motivation. I'd expect Derek Stepan to have a big game too, as he never liked how he was jettisoned out of here. (If you recall, he screamed back at Hank during the 2017 playoffs, in the loss to Ottawa. A month later, he was traded out of here. And it's funny, if Stepan was never traded, you could make the case that he would've got the "C" after the McDonagh trade.)
As I said in my last blog, these games against the Canucks, Coyotes and Sabres are interesting ones. All four of these teams (Rangers included) are in their rebuild/development phase. While the Sabres are the best of the lot right now, record-wise, I think Arizona is the most developed right now. Like the Canucks, they play in a tough Pacific division, featuring the Vegas Golden Knights, San Jose Sharks and Calgary Flames. And let's not forget how the Edmonton Oilers have been doing in that division too.
I think tomorrow (Monday) we will have some Ranger line-up news, if not some roster movement. (Chytil?) I already see Ranger fans panicking. I'm also seeing a lot of these people turning on David Quinn, just like how they turned on Alain Vigneault and John Tortorella. These are the same people who did back-flips when Quinn was hired and were all excited that Quinn would get to mold Kakko. Six games into the season, these fans want Quinn to be hung from a tree, like it's fucking Deadwood.
I'll be back Tuesday night and will use Monday to mourn all these losses in NY sports.
Until next time, thanks for reading, and as always…
"Let's Go Rangers!"
Sean McCaffrey
BULLSMC@aol.com
@NYCTHEMIC on twitter