Greetings and salutations everyone and welcome to another blog here on BlueCollarBlueShirts.com. This is a "special" blog of sorts, as I wanted to chime in on some of the news that's making headlines in Rangerstown, USA right now. This also saves me time from having to write all of this in tomorrow night's blog, when I do the Rangers/Bruins review.
Before getting started and digging into the main dishes, as usual, here are my last few blogs in case you missed them:
---
---
---
---
---
---
On Friday, October 25th, after it being rumored for over a week, Vitali Kravtsov made it official – he was packing up his shitty apartment in Hartford, and moving back home to Russia. As I write these words on Saturday, October 26th at 6PM, the Rangers have yet to comment publicly on this story.
Before jumping into the pool ice cold here, let's rewind and take a look at how this all started. This all began when Igor Eronko, a Russian reporter that covers the KHL and talks to Kravtsov's father, tweeted out that Vitali Kravtsov was thinking about going back to Hartford.
Here's what I said on the site on October 17th, when Eronko first broke the news. I'm reprinting this here, so I can show you where I was at when this story was first broke:
If Quinn's never-ending game of changing lines is one major story, the other major story concerns Vitali Kravtsov.

On Wednesday afternoon, Russian reporter Igor Eronko (Think the KHL version of Bob McKenzie) tweeted out the following:

Hearing Vitali Kravtsov considers a return to the KHL. Has a European assignment clause in his contract #NYR

— Igor Eronko (@IgorEronko) October 16, 2019

Just to give you some background information on Igor Eronko, he's reputable. He wouldn't just tweet this out for clicks or Twitter followers. He was also the first reporter to report that Kravtsov would be leaving the KHL and would join the Rangers. Eronko was reporting this as far back as January of 2019. In other words, Eronko has sources close to Kravtsov, who many believe to be the father of Kravtsov himself. (Kravtsov's father pays attention to his son and what people say about his son on social media.)

Of course, because Ranger fans have to have a "do-or-die" opinion on everything, I saw extreme opinions from both ends. Some fans think the Rangers have messed up by banishing a 19 year old kid to Shartford, CT. Other fans think Kravtsov is weak and needs to GTFO.

While I don't have the exact figure, Kravtsov can make millions of dollars to play in the KHL right now. He's making $925,000 this season with NYR. I have heard that if Kravtsov went back to the KHL, he can make as upwards as six times the amount of money he's making here. I also heard that he could be making $3M to go play in the KHL, which sounds more reasonable and sound to me.

My take on this, is that if I'm 19 years old and can make $3M annually and live at home, I'm taking that money now. It's a win-win. Think about it. If Kravtsov was to play three more years in Russia, he has the potential to make something like $9M+. I don't know about you, but if I had $9M at the age of 22, I would be set for life. If Kravtsov was to go back, that would give him financial security and he would still be extremely young enough to give the NHL another crack, if that is his desire.

No one but Kravtsov himself can say for sure what his intentions or feelings are right now, but if Kravtsov was to go back, I think it gives him some power over the Rangers. Photo Credit: NYR

With rumors swirling about Kravtsov's attitude in Hartford right now, the same reporter who is reporting about Kravtsov today, previously tweeted out the following:

Kravtsov is the guy who produces and produces when the coach believes in him. When it's not a thing, Vitali usually just can't find himself up #NYR

— Igor Eronko (@IgorEronko) October 13, 2019

Of course, a tweet like this adds fuel to the "Kravtsov is weak and doesn't have the heart to play here" stuff.

Working under the assumption that Eronko is correct in his reporting, it may be the best thing for Kravtsov to go back to the KHL. Not only will he set himself up nice for life, he will also gain maturity and confidence.

To me, these situations are tough. Not everyone can just pack up everything, move to the opposite end of the world, not know the language, not know how to get around and not get the job they planned to get. I mean, look at Igor Shestyorkin. He waited before coming here, and many, myself included, think he can be the next franchise goaltender. Perhaps Kravtsov came here too early. I just don't know.

I've said this before. Think about it. No matter how old you are, could you do what Kravtsov did or what these other international players have done? I'm 37 years old. I wouldn't want to move to Russia and start anew. Shit, I wouldn't even want to move from the place I have now in NY. I'm happy with that I have. For a 19 year old like Kravtsov, who may be homesick and just sick of Hartford, I wouldn't blame him if he wanted to go back. After all, that's why he has the clause to leave anyway. That clause is insurance. That clause is an out for him.

This isn't breaking news. Kravtsov would much rather wear his Traktor jersey than a Hartford jersey. Photo Credit: Chelyabinsk Traktor

The other thing to keep in mind here is the fact that Kravtsov is 19 years old. Of course he's going to be moody and second-guessing himself. Many of us, myself included here too, thought he would make the team out of camp. He didn't. Instead of playing in New York, with all the perks in the world, he's playing in crack-infested Hartford, where penis pizza (CALL BACK!) is the local delicacy. There's not much glitz there.

While I understand why the Rangers would rather Kravtsov play top 6 minutes in Hartford than bottom 6 minutes in New York, the Rangers continue to send out their oxymoron and illogical vibes. The Rangers tell us they want to rebuild, this is a development year and how the best is yet to come. However, how is any of that true with Henrik Lundqvist, Brendan Smith and to an extent, Marc Staal, all here? How is that true if Lias Andersson is on the fourth line playing 6 minutes a game? How is this true with Kravtsov in Hartford? How is this true with Shestyorkin and Chytil in Hartford too?

The Rangers are giving out mixed messages and because of their crossed lines, Kravtsov seems to be pissed. While I understand his frustration, there is something to the art of perseverance. What doesn't kill you makes you stronger, so to speak. This is a Darwinism test for Kravtsov. He has to overcome his woes now for greater success later.

Just like the line changes, when I look at this Kravtsov story, I think it's just another result of the schedule and the downtime. Once the Rangers get back into the swing of things, perhaps it would afford Kravtsov an opportunity to play here. However, if he wants to set himself up for life, I would understand that too.

Whatever happens here, I do think that if Kravtsov was to go back, it puts Kravtsov in the power negotiation chair. For the Rangers to let Kravtsov slip through the cracks, it makes Jeff Gorton and the scouts look bad. It's like when McCain selected Palin as his VP in the 2008 election. He didn't vet her 100%. Even now, with Kravtsov pouting a bit (I believe in Eronko's reporting) you have to wonder how strong Kravtsov was vetted by the Rangers.

And if you're a true pessimist, the 2018 first round Islanders draft pick, in Oliver Wahlstrom, the player the Rangers could've selected before Kravtov, well Wahlstrom is currently playing with the "big-league" (can anyone really call the Islanders "big-league"?) team.

---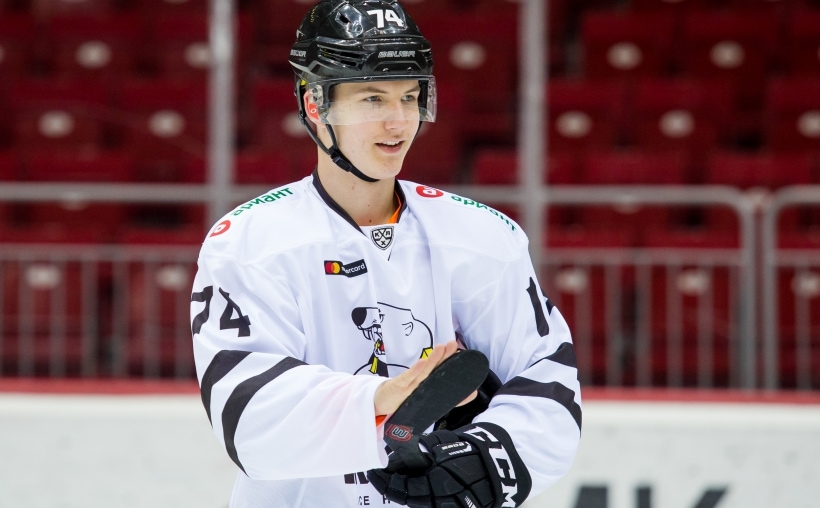 When Eronko originally reported that Kravtsov was thinking about leaving, the newest Rangers reporter to the beat, and a reporter who wasted no time sucking the teet of Henrik Lundqvist like the rest of them, in a Vince Mercogliano, wrote the following:
Yes, I've seen all the Twitter panic about Vitali Kravtsov.

No, I'm not going to speculate based on one rumor tweet.

It seems far-fetched, but I've reached out to Kravtsov's agent.

That's it until I have real information. Don't believe everything you read. #NYR

— Vince Z. Mercogliano (@vzmercogliano) October 16, 2019
Circling back on the Vitali Kravtsov rumor…

No comment from his agent, but the Rangers said they haven't heard anything about him using his option to leave, or considering it.

I can confirm he practiced with @WolfPackAHL today.

Nothing to panic about at this time. #NYR

— Vince Z. Mercogliano (@vzmercogliano) October 16, 2019
So I ask Vince and the others this – is it time to panic yet?
Oh, and before moving along here, Vince also said, "Don't believe everything you read." I wonder that if applies to his other comments, where he supports the Rangers rebuilding around a 38 year old $8.5M cap hit goalie? Keep this in the back of your mind for later on in this blog.
On Friday, 10/25, Larry Brooks, of the NY Post, confirmed what Igor Eronko said over a week ago – Kravtsov was going back to Russia.
Before sharing opinions or reactions, let's take a look at the facts.
— By going back to the KHL, the first year of Kravtsov's entry level deal is burned, no matter what. Most recently, as of two seasons ago, we saw the Rangers hold back Filip Chytil and Lias Andersson, just so the organization wouldn't burn a year of their entry level deal. Keep the name Igor Shestyorkin in the back of your mind here, as we'll get to him in a bit.
— By going back to the KHL, with his original team of Traktor Chelyabinsk, Kravtsov will make more than double, perhaps even triple or quadruple, the money he's making with the Hartford Wolfpack. (As I write these words, I haven't seen what money Kravtsov signed for.)
— The Rangers can recall Kravtsov whenever they want. However, according to the reports, the Rangers want to be accommodating here. If the Rangers were to recall Kravtsov, it won't be until the conclusion of the Traktor Chelyabinsk season.
— There is still a chance that Kravtsov wears a Hartford or NYR jersey this season, as the Traktor season may end before the NHL season ends. With Kravtsov's first year entry level deal already being burnt, the Rangers wouldn't have to put Kravtsov on a pitch/game count.
— Kravtsov holds all the power here. As you can see by the Rangers being quiet on this story and because the Rangers are making this move back to Russia easy for Kravtsov, the Rangers don't want to piss Kravtsov off. This can play out in one of three ways. Kravtsov goes to Russia and never comes back. Kravtsov goes to Russia, waits for his deal with NYR to expire, and negotiates with someone else. And lastly, in the best case scenario for the Rangers, Kravtsov goes to Russia and comes back to light lamps at Madison $quare Garden. By working with Kravtsov here, obviously, the Rangers are rooting for the latter. They are trying to maintain a positive relationship with their first round draft pick of the 2018 NHL Draft.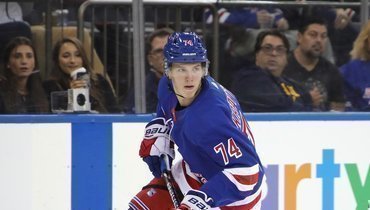 On Saturday morning, an interview with Kravtsov was released by the Sport Express Russian Hockey website.
To read the article from its original source material, check out:
https://www.sport-express.ru/hockey/nhl/reviews/pochemu-nash-forvard-ne-probilsya-v-reyndzhers-k-panarinu-eksklyuzivnoe-intervyu-vitaliya-kravcova-o-vozvraschenii-v-traktor-1603311/?fbclid=IwAR0fanPpEF4luGb76cTNzUQOBEDkMuxcV_SaJCBc3VjVothC9yTmAHVli1U
I translated this interview from Russian into English, using Google Translate. (Isn't it amazing Suzyn, how there is no such thing as language barriers anymore?) That said, keep in mind that when you read this translation, sometimes some phrases and words don't exactly have a true English counterpart. Also keep in mind, that Google Translate isn't 100% fool-proof, so sometimes the tone of some things may not come out right.
For example, if you read this interview, you would think that Kravtsov was trashing Brendan Smith. I talked to this guy on Twitter that I know that speaks Russian, and the guy told me that wasn't the case. I wish I could've got this guy to translate this interview in full for me, as it would've been a more truer translation. However, Google is free and done in seconds, so be happy with what you got! Here is the interview:
Who is to blame for the fiasco of the Russian talent of the Rangers?
Instead of a cool season in the NHL – return to the KHL I don't want to say the real reason for returning.
---
Why are you coming back from the NHL?
There is a lot to talk about. Those with whom I communicate closely know why I want to return. I do not want to spread to the general public.
---
Then I'll try to understand with leading questions. Why did you end up at the Rangers Farm Club – Hartford? After all, you looked very good in pre-season games.
I was told that I am not a 3-4 level player, spending 5-6 minutes on ice is pointless and you need to go get experience at Hartford. It seems to me that these are the standard words of the coach for all players in such cases. More literally: "We trust our specialists in the farm club, they will help you quickly return to New York."
---
In the first match for "Hartford" you spent 5 minutes, in the second – you sat on a bench in the middle of the game and didn't leave. Usually, when a promising hockey player is sent to a farm club, they give him playing time. This can be seen even in the example of Yegor Korshkov in Toronto. However, you have a different situation.
After the first game I was told that playing time should be earned through work in training and games. They also said that my pulse did not rise.
We looked at the statistics on the heart rate monitor. We always ride with him in training. I said that my pulse was always low. That many can turn the exercise bike at 180 beats per minute, but it's very difficult for me to go up to this mark, I always turned 160. These are trifles that it makes no sense to complain about. Apparently, I did not show the due zeal that the coaches expected from me. It is also wrong to justify yourself in front of someone now.
---
You came to New York, lived in a strange family, worked according to the plan provided by the club. I think you should have been trusted at least the first time.
Yes, they entrusted me with 5 games in pre-season matches. I don't know much. They told me that I see only a small picture of what is happening, but I do not see a large one – a plan according to which I will perform in the NHL for 10-15 years.
---
Have you had any conversations with head coach Dave Quinn?
Yes they were. He told me that everything is fine, every day is only better.
---
 It seems that all the coaches in the NHL say the same thing!
Apparently, they have some kind of sign on which they communicate, ha! I can tell you some details in a private conversation. But I don't want to make loud statements, all the more justified.
---
No loud statements. Can the Rangers really get you back at any moment?
They can, but they won't do it. I need to return to Russia as soon as possible and start to show good hockey as soon as possible.
---
There is no feeling that you were deceived?
Ha ha! With the fact that I did not end up in the Rangers?
With the fact that you could sign a solid contract with the KHL club. Not only with Tractor, but, say, with SKA or with Vanguard.
I am 19 years old, it's too early to think about any big money. I would then bite my elbows that I did not go to the NHL, although there was a chance. Everyone says "you are young, you had to do as Kuznetsov or Panarin – to leave at an older age." But all people are different. Each one has his own thoughts in his head, and his own circumstances in life. It is not worth making any hasty conclusions now. You just need to return to Chelyabinsk and re-prove everything, first of all to yourself. Especially – in the psychological plan. The guys from Tractor write, wait, support.
---
Are you satisfied with how you played five pre-season matches for the Rangers?
I did not get into the roster! If you take the time back, I would play differently. And so – I do not regret anything. I gave my best, tried, starting with the beginner camp. He scored points in almost all meetings. In exhibition games I could score more often, but they told me that for this there are other players in the team: Panarin, Kakko, Zibanejad. But I haven't been in the TOP 6 yet, and I'm not going to blame anyone other than myself on this.
---
 You are talking about TOP-6 for the second time, but now in almost all NHL teams there are already TOP-9: three creative links. And in some even the fourth links can come up with something interesting in the attack.
The "Rangers" in the third link plays the defender.
---
 In fact of the matter. Smith plays the attack, but you were not needed.
So he plays better than me.
 Are you seriously?
 In my opinion, this is not important to anyone. Already counted.
NOTE FROM SEAN: I was told that Kravtsov wasn't burying Smith here, but was conveying that the Rangers thought Smith had a better preseason than Kravtsov and Kravtsov agreed with that.
---
 In the third and fourth game for Hartford, you spent more time on the ice.
 The third – I would not say. Fourth, yes. What can I say now! I will return to Tractor – and there it will be necessary to prove everything anew. Nobody has said yet that I'll be right back and will play for 20 minutes right there.
---
 Have you had any problems with the adaptation in the farm club?
 Did not have. I am not returning therefore. There was no point in sitting in Hartford and waiting for someone to get hurt or someone to arrange a coach. You cannot build your happiness on someone else's misfortune. While the maximum that I can achieve – 3-4 NHL link. But in Russia you can play more, play the puck, and not play vertically. It is necessary to develop attacking actions.
---
 Can you imagine which Tractor you are going to now? He goes in last place for the lost points. Hockey players do not yet understand what exactly the head coach Peteris Skudra is asking for from them. Not afraid to face a new problem at home?
I'm not afraid of anything. Problems only temper. When all is well, development is much more difficult.
---
 Now the stream of comments has begun on the Internet that you have left in vain. Does it bother you?
Let them go to the program "Battle of psychics", if people could predict a different outcome. Let them write what they want. They were not in my shoes, they do not know all the circumstances.
---
Why didn't you smile at the Rangers when you scored in the preseason until you were finally forced to.
 I didn't smile at many games. You will ride a smile, then they will succumb as it should. This is hockey.
---
Remember, you scored a goal and marked it without emotion? And a partner pulled up to you and asked to relax and smile.
Well, scored and scored in the preseason. Yes, the emotions were inside, somewhere I was glad, but it was just an exhibition match. I would score in the championship, I would go to celebrate, like Panarin.
---
Artemy is the most expensive Rangers player. Could put in a word for you. For the NHL, this is a normal practice. Was there any help from him?
Yes, I did not require any help. Panara is a good person, helps, prompts. If I asked for something, he would definitely try to do something. But why? Then I would remember it. Yes, and I am for everything to be honest in sports. If I'm worse than someone, why go and ask someone.
---
What kind of fight was in the game for Hartford? True, after it you quickly fell.
Yes, like a fight – a hassle. Our goalkeeper Igor Shesterkin was hit in the trap, he started yelling at the player, I intervened. Found the closest to myself. Confused, the first time this is in North America. I didn't swear in English, I started throwing words in Russian. Got it, but someone took my face, put the bandwagon. But I was rehabilitated, jumped back and grabbed again.
---
The forward of Tractor Alexey Kruchinin has already posted on his Twitter that he is waiting for you back. Communicated with him?
 As often, probably as with my parents. Thank you very much. He supported me all the time, understood that it was difficult for me, and not only for me, but also for two other guys – Igor Shesterkin and Yegor Rykov. I wrote, if you want, I will buy you tickets home.
---
Are you hoping to return to the NHL?
So I have a three-year contract.
 This is another question.
Yes, of course, I hope so. If you want to see me. It all depends on my game.
So there you have it from Kravtsov himself. He feels he can do more in the KHL and wasn't a fan of his time in Hartford. I don't know how you can shame the guy, as like I previously said, it's not easy to move to the other end of the world and learn a new language, a new way of life, be away from your family and give up tons of money.
As Kravtsov said in his interview and as reported by Larry Brooks, the Rangers aren't looking to make this hard on Kravtsov. They will let Kravtsov play out the season in the KHL and then reconvene.
No one knows what the future will hold for Kravtsov. When you look at guys like Chytil, Andersson and now Kravtsov, you can't fully slam Jeff Gorton here. We're still five or so years from having a true and solid analysis of those draft classes. In the present, it doesn't look good, but that's not to say everything can change five years from now.
However, one fact here is that the Rangers and Gorton didn't expect this to play out this way when they signed Kravtsov over the summer. So yes, this is a step back for the Rangers. It could be a small step back for major returns later, but for right now, it looks like Gorton and the Rangers vetted Kravtsov in the same way John McCain vetted Sarah Palin for his VP in the 2008 Presidential Election.
I will say the following because I said it at the time, so this isn't a case of hindsight being 20/20 – the Rangers should've put Kravtsov on the big club to start the season, especially if there was any inkling that he may dart off. This is not me doing the bury Brendan Smith thing like others are doing. This is me saying that I rather see Kravtsov get a shot than Micheal Haley or Gregg McKegg.
Best case scenario if Kravtsov was with the big team – his confidence builds and it works out. Worst case scenario, he goes to Hartford and then this happens. You also have to look at the Rangers schedule. With their stupid schedule, it did make sense to give Kravtsov more time to play in Hartford. However, when you're scratching him after one game played, where did the Rangers think this was going to go?
As I say with Kakko, with these millennial kids, you have to coddle them and develop them. These guys are supposed to be the building blocks and the future of the organization & you can't just treat them like everyone else. That may suck for the other guys on this team, but hey, life isn't fair.
My final thoughts on Kravtsov are simple. I wish him luck. I hope he gets a bug up his ass about wanting to succeed in the NHL and eventually comes back. If not, Kravtsov becomes a black mark on Gorton's tenure as GM. Truth be told, and gut feeling here, I think Kravtsov comes back down the road. We've seen this stuff happen in the league before and this will happen again. Plus, with Lundqvist still here for two more seasons, if Kravtsov wants to win, he's better off away from this organization anyway!
Speaking of Lundqvist, and what a tremendous segue-way if I say so myself, this now brings me to CZAR IGOR SHESTYORKIN.
As it stands right now, on October 26th, 2019, Igor Shestyorkin is the best goalie in the AHL today. He's won all four of the games he's started. Cal Peterson of Ontario has 5 wins, but he's also played in 7 games. Peterson also has a GAA of 2.36 a game, as opposed to Shestyorkin's league-leading GAA of 1.23. Shestyorkin also has save percentage of .951, good for second place in the league overall, as Troy Grosenick of Milwaukee has a save percentage of .955.
Four games in, and just like Panarin with the Rangers, Shestyorkin has been as good as advertised; at least at the AHL level. Let's face it, the KHL is better than the AHL and Shestyorkin should be dominating at this level.
This poses the following question, with Shestyorkin having the same exact contract as Vitali Kravtsov, what's preventing him from leaving?
Let's get the easy thing out of the way first. Obviously, Shestyorkin is/was doing much better in Hartford than Kravtsov is/was. All Shestyorkin really had to do was figure out how to play on a smaller rink. Once that happened, his game was going to come to him. For Kravtsov, as a forward and as a teenager, it's much tougher learning the American game.
Igor Shestyorkin will turn 24 years old on December 30th. He's supposed to be the next franchise netminder. However, with the Rangers having this insane idea that rebuilding around a 38 year old Henrik Lundqvist is the key, they have Shestyorkin buried in Hartford. Furthermore, because of Hank's ego, which is as big as his five-hole, Hank still thinks he should be the starter in NY. Even if the Rangers stupidly trade away Georgiev, which could happen, Shestyorkin will have to waste two seasons of his career either in the AHL or as a back-up goalie. Despite guys like Vasilevskiy, Binnington, Murray and a slew of others replacing starting goalies, the Rangers are happy to keep their head in the sand with Lundswiss.
Lundqvist has to go. Even Peter Stemkowski was saying that during the last Rangers radio broadcast.
I have talked in-depth about why Lundqvist needs to go, about 7634386789364796 times since this blog's existence. I'm not going to play my greatest hits here. I just have one more thing to add, when it comes to Igor.
As time moves along, keep the following on your brain. Shestyorkin has the same deal as Kravtsov. If you're Shestyorkin, why waste two years of your prime in the AHL or as a back-up, when you be making millions as a starter in the KHL? Furthermore, Rangers-wise, the Rangers will be wasting two years of Shestyorkin's contract. Instead of having Shestyorkin at the NHL level and starting next year, the Rangers are happy to watch Lundswiss not win a Cup in the Spring.
I am sure the Rangers are pumping Shestyorkin up and saying that his time will come. However, Shestyorkin is losing millions while he waits. Furthermore, if he stays and gets a shot to succeed at the NHL level, by wasting two years in the AHL/back-up role, he won't be able to maximize his earnings come new contract time. If Lundqvist was gone today and Shestyorkin was splitting starts with Georgiev and did well, come new contract time, Igor could ask for more money. When does Igor or his agent realize all of this? How long will Igor stick around in Hartford before deciding to bail?
Now I'm not saying that Igor has any plans of leaving. I haven't seen that reported by Igor Eronko. I'm just saying as the season goes along and if Igor's best chance at the team next year is at the back-up position (which means the Rangers will be trading yet another back-up goalie that is posting better stats than Lundqvist and for nearly $8M less) why should Igor stay? He doesn't owe the franchise anything.
I hate to say it, but it seems the Islanders understand development better than the Rangers. Wahlstrom, a player the Rangers could've drafted before Kravtsov, is playing with the Islanders. Kravtsov is gone from the Rangers. The Islanders already have a plan to have Ilya Sorokin on the roster next season, with Varlamov showing him the ropes. The Rangers have Igor in Hartford and have shown no interest in moving on from Lundqvist. Even if you look back, the Islanders groomed and put Barzal in the best position to succeed. Are the Rangers doing that with Kakko? I think not. In fact, that brings me to the next segment of this blog and that is Quinn and his ADD.
After the win against Buffalo, I said that in the past, Quinn has usually rewarded his players and kept the same lines for the next game. That won't be the case, come tomorrow night with Boston.
According to every reporter that covers the team, Quinn will be shaking up the lines again tomorrow night. Colin Stephenson of Newsday, reported the following lines for tomorrow:
Kreider/Zibanejad/Fast
Panarin/McKegg/Buchnevich
Lemieux/Howden/Kakko
Haley/Andersson/Smith
First things first – Ryan Strome is ill and didn't practice today. There's a chance that he will play tomorrow. McKegg isn't being pushed to the second line, he was just filling in for Strome during practice. Assuming Strome is healthy, he goes back to his spot on the second line and either McKegg or Haley gets scratched.

The big news here is that Quinn is tinkering with the first line again. He's also putting Kakko on the third line, which is absolutely baffling to me. Quinn is more worried about jump-starting Kreider than he is with the crown jewel of the organization. I don't get it.
According to reporter Vince Mercogliano, here's the reason for the Fast/Kakko swap:
DQ said moving Kakko to the third line is about A) moving Fast back up and B) making it so Kakko isn't matched up as much against other team's top lines.

He also said he wants to get Kakko back to playing with Mika in the near future. Made this sound temporary. #NYR

— Vince Z. Mercogliano (@vzmercogliano) October 26, 2019
I don't get it. In what world do you get better playing against weaker competition? If this is a rebuild, shouldn't Kakko play against the top line of the Bruins and learn? What happens if a third line or fourth line grinder gives Kakko a nice shot that injures him? That's an extreme thing here, but things like that happen all the time in the league.
If anything good came out of Quinn's constant flip-flopping, it's that Tony DeAngelo has been promoted to the first pair and will play on the top power-play unit. Quinn's ADD worked out for him on Thursday, so we'll see what happens tomorrow. I just don't understand the constant rubber ball bouncing of Kakko.
Oh, and Lundqvist is starting tomorrow. Makes sense, with Boston playing a second game of a back-to-back. (Boston is playing a revenge game against St. Louis tonight.) Lundqvist will see old friend Jaroslav Halak on the other end of the ice. That also means that Georgiev gets Tampa on Tuesday. All I can do now is sit back and pray to the hockey gods that Georgiev starts Saturday in Nashville. After all, I'm going to that game and don't want to pay to watch Lundswiss!
Last thing before we head home here.
During this past week, Dan Girardi released his new podcast, called "The Block Party". You can listen to it by clicking the link here:
Feel free to help get us off to a nice start on here!! #GoBolts @TBLightning https://t.co/t24VcYie0c

— Seth (@SethKush) October 24, 2019
The first podcast was sort of a trial run for Girardi and his co-host Seth Kush. It's a short listen, as it clocks in under 30 minutes. I listened to it and thought it was enjoyable. Of note:
— Girardi is very tight with Ryan Callahan and Ryan McDonagh. With Callahan also retired and living close by, the two hang out at BBQ's and go fishing together.
— Girardi went through a slew of names that reached out to him after he retired. Not one mention of Henrik Lundqvist. Girardi did say that Vasilevskiy is the best goalie in the league today.
— Despite Tampa making it clear that they weren't going to re-sign Girardi in the off-season, Girardi has great ties with the team and is keeping his home in Tampa. His son plays hockey with other sons of the Tampa Bay Lightning alum, including Vinny Lecavalier and Tampa coach Jon Cooper.
— It's only one podcast, but Girardi talks about his Tampa days with more pep than his days with the Rangers. Again, it was only one podcast, but he talked about the Rangers in a business-like manner, while he seemed very happy about the life and times he has with Tampa.
— Girardi attends Lightning games and follows the team. He didn't say the same about the Rangers, who really should use my idea and open up a Rangers Rink of Honor. Girardi would be perfect for that and it's a shame the Rangers haven't reached out to Girardi to bring him into the fold. Currently, Girardi is the defense coach of his son's traveling hockey team.
— Girardi has/had ghost social media accounts, which he only uses/used to follow things like Bar Stool Sports, his wife and celebrities. He may open official accounts soon, and probably should, if he wants to promote his podcast.
All in all, if you got the time, it's worth the listen. Girardi has a great personality and I hope the podcast works out for him.
That wraps up this manifesto. I'll be back late tomorrow night, with a review of the Rangers/Bruins game.
Until next time, thanks for reading and…
"Let's Go Rangers!"
Sean McCaffrey
BULLSMC@aol.com
@NYCTHEMIC on twitter