Greetings and salutations everyone and welcome to another blog here on BlueCollarBlueShirts.com. On Sunday, the Rangers hosted a pair of games with the Boston Bruins. During a 1PM matinee tilt, the Rangers alumni were defeated by the Boston Bruin alumni, by a final of 5-3. All ticket sales from that game went to charity. Unfortunately, the Rangers & MSG Networks decided not to not air that game on television. I'll get into that in a bit.
In the main event of the evening, the current squads did battle. Then again, I don't even know if you could use the word "battle" when describing this game, as the game among the current rosters was more like a 1980's WWF squash match. Following up their best game of the season, just one game ago, the Rangers played their worst game of the season, losing to their Original 6 rivals, in the Boston Bruins, by a final of 7-4. And really, when you see the score and see a three goal difference, truth be told, it was much worse. For forty minutes of this game, the Rangers just got their ass kicked, for a myriad of reasons.
Before getting into everything, I wanted to follow up on my Kratvsov blog from yesterday. In case you missed that blog, or any of my most recent blogs, you can find them below:
---
---
---
---
---
---
After posting the Kravtsov blog yesterday, I went out with some of my friends, had a few drinks, came home and went to bed. When I woke up on Sunday, I had a few emails and a few social media comments, telling me that Vitali Kravtsov deleted/erased/scrubbed every single picture of himself with the Rangers, from his Instagram account. I don't have an Instagram account, as I have enough trouble (and stir up enough trouble too, ha-ha-ha) with just Facebook and Twitter. However, people that I trust all informed me that this was true – Kravtsov deleted anything Ranger related from his Instagram account, including the picture that I posted above this paragraph.
If you read the blog from yesterday, and I encourage that you do, I pretty much defended Kravtsov. I understand. I get it. However, when I see that he wasted time doing something as menial and trivial as this, it makes me not only question his maturity level, but it makes me wonder if he's a catty bitch? Seriously, who goes through their social media profile, just to delete pictures from a past job? To me, this is like the jilted ex-lover, who goes through all her photo albums and cuts out every picture of her ex-husband or ex-boyfriend.
You can say, well he had a long flight, as he was flying back to Russia. This was him killing time. However, and again, in my opinion, if you want to kill time, read a book or open up your Netflix account. When I heard (and saw proof) that Kravtsov really did this, it just seems something that you would see from a Kardashian or one of those Real House Wife people.
It also told me that Kravtsov has little interest in returning to the Rangers. After all, if he wanted to come back, why would he do something catty like this? By deleting all his pictures of himself in Ranger gear, he just created a story that not only I will talk about, but it's a story that the organization will talk about as well, internally.
And finally, as I hope these are my last words on Kravtsov for the time being, the Rangers have not said a thing about Kravtsov leaving. This Kravtsov story was also not talked about on the MSG Networks tonight at all. Just like Frank Boucher, Bill Cook, Bryan Hextall, Lester Patrick, Ivan "Ching" Johnson, Davey Kerr, Chuck Rayner, Emile "The Cat" Francis and many others, it's like Vitali Kravtsov never existed. At least the aforementioned names did play for the Rangers. This gets me to the next segment of this blog.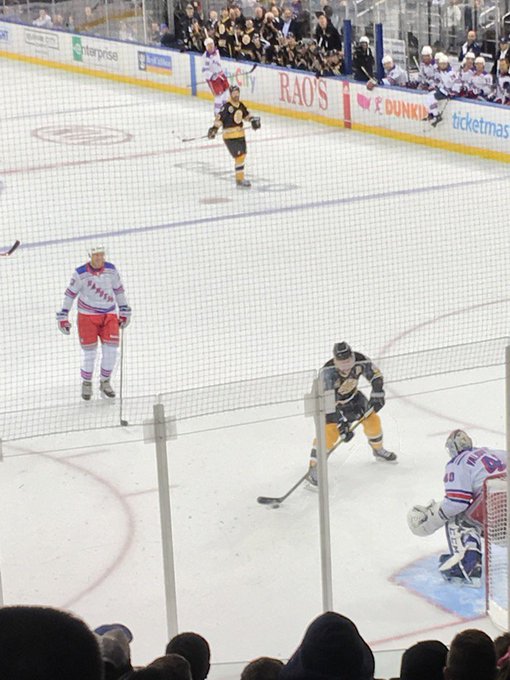 I'm not going to comment too much on the Rangers vs Bruins alumni game today, because after all, like many of you, I didn't see it. It's truly a shame, but at this point, expected. The Rangers are the worst franchise in the NHL and in all of NY Sports, when it comes to promoting their history. The team acts as if they were founded in the 1950's, the Cupless GAG Line was the best thing to ever happen to the team, 1994 happened and Lundqvist needs to be here for all of eternity.
This game today was played for charity, with the money going to youth/kid programs. The purpose of this game was to promote hockey to kids. Going to NYC and going to M$G in general, is very expensive. We all know that. The Rangers wanted $300 a ticket, for the right to meet the players after the game. How does that create bonds with children? How does that grow the game with the next generation? For fuck's sake, these kids need to knock all the teeth out of their mouth and hope for a generous tooth fairy, in order to afford tickets to this game.
While I don't think anyone can ever call James Dolan cheap (I've outlined why in previous blogs, simply put, he just spends his money erroneously) you can't say the same for the Madison $quare Garden Networks, especially ever since Jeff Filippi took over. This game should've been broadcasted live on television, for every fan to see, no matter what the age. Just like the "Garden of Dream" charity drive games, you could've opened up the phone lines to drum up donations for this cause.
I understand that producing live TV is expensive. However, if Dolan is opening up the building for free, the players are playing for free and every fan there is donating money to this cause, are you telling me that the MSG Networks couldn't air this game? I mean, wouldn't they get more ad/commercial revenue for a live broadcast, rather than the 763476379643796348969th repeat of a JB Smoove episode or watching the Knicks replay, where they get crushed by 72 points?
Ever since the existence of Garden of Dreams, the Rangers always have had these telethons to raise money. I just don't understand why they couldn't do that with this game. I know at the end of the day it doesn't mean anything, but it would've been nice for the common fan to watch this game. After all, considering the alumni that played on Sunday afternoon, the average demographic that this game caters to are the fans that are 50+ years old. Plus, while this game was geared to raise money and create awareness for youth hockey, who are the people that can donate money and have that disposable income? The older crowd of course. Then again, Little Johnny could've found a really generous tooth fairy.
As I was telling people on social media, the fact that the Rangers didn't showcase their alumni to a broader audience didn't shock me. After all, the Rangers are horrible at honoring their history. Furthermore, if the Rangers were too cheap to air the Traverse City Tournament on the MSG Networks, which featured the crown jewel of the draft in Kaapo Kakko, what makes you think they would spend money on showcasing talent that belongs in my "Rangers Rink of Honor" idea?
In any event, if you want more about the game, go follow Leslie Treff on Twitter @HFNYRangers. Of everyone at the game, she had the most detailed report.
Of the three Ranger goals in the Rangers 5-3 loss, they were scored by Darius Kasparitis (or as my friend JEFFREY calls him, Kasperminus), Brian Mullen (whose uncle was my next door neighbor growing up) and Brad Richards. Of note, Mike Richter skated as a forward and Valiquette was in goal for the whole game. This is not new, as usually during these charity games, Richter does not play goal, which I assume is because of his injuries and the damage the position does on the body. Valiquette, who is only 42 years old, still plays goal and teaches goaltending at his school in Connecticut. In other words, he's still spry enough to play; that is, when he's not making silly charts!
And now, moving along to tonight's debacle.
Going into this game with the Bruins, despite the Rangers great game on Thursday against the red-hot Buffalo Sabres, I had a bad feeling. I thought the Rangers would have some advantages in this game. You had the alumni in the building. The Rangers had 68+ hours in-between games. The Bruins just played a huge revenge game for themselves the night before, when they beat the St. Louis Blues, the same Blues that beat the Bruins to win the Stanley Cup this past June. Even better, the Rangers would be avoiding Tuukka Rask, as he played the night before.
What did scare me about this game going in, was the fact that with Rask not playing, Henrik Lundqvist would be matched up against Jaroslav Halak, the same Halakness Monster that has a 19-8-1 head-to-head record with Lundqvist. At one point, in their primes, that record was something like 12-2, in favor of Halak. I was also worried about the Rangers getting complacent and feeling like they won their own personal Stanley Cup, when they beat the Sabres on Thursday.
Let's face it – while the Sabres are the best team in the NHL, at least statistically, it's still early. Furthermore, the Sabres aren't battle tested like the Bruins, the same Bruins who have had deep playoff runs all decade, appeared in multiple Stanley Cup Finals and went on to win one Cup as well. As I said in the review of the game from Thursday, I thought while the Rangers played well, the Sabres also treated the Rangers as a trap game. The tenured players on the Bruins, guys like Marchand, Pastrnak, Chara and Bergeron – well they don't think like that. They want to win every game. Once the final horn went off, all four of these men had their names scribbled in the box score, multiple times over.
At this time, before moving ahead, I want to go to the GAMBLING segment of this blog. Here's what I said, early Sunday morning:
Over/under season record 6-2.

Lundswiss vs Halak tonight, just keep hammering the trend & bet the over. DQ is changing his lines again, so who knows what you get out of #NYR. You know Lundswiss is good for at least 2 bad goals & whatever else he blames everyone but himself for. pic.twitter.com/LSS3AAveax

— BlueCollarBlueShirts (@NYCTheMiC) October 27, 2019
With the over-under at 6 goals, the Bruins hit the over all by themselves, with their touchdown and extra point. My record improves to an impressive 7-2. It's also another Lundqvist start that hit the over. You don't hear Vally or any of these chart nerds talking these numbers. This is the real shit here!
I talked about Quinn changing his lines in yesterday's blog. Originally, this is what Quinn wanted to do tonight: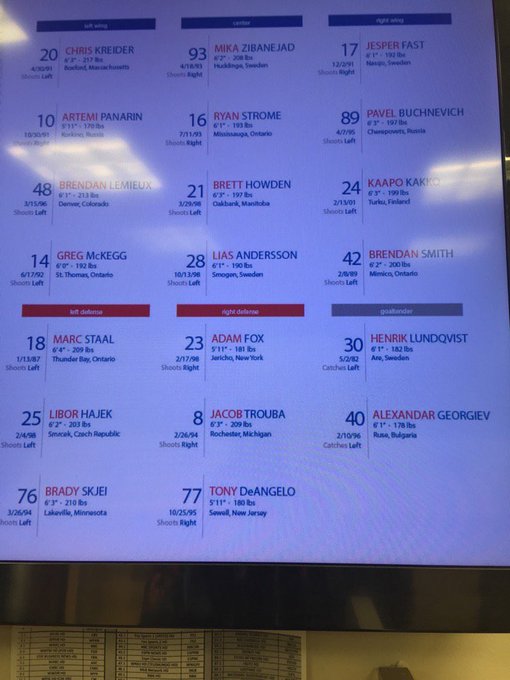 While Quinn wanted to go with the above, right before game time, it was announced that Jesper Fast wasn't going to play, due to "personal reasons." As of this writing, no one knows why Fast couldn't go to work. Whether it was family related, diarrhea or he just didn't want to waste his time playing with Chris "Casper" Kreider, no one knows.
With Fast out of the line-up, 15 minutes before puck drop, Quinn submitted the following line-up: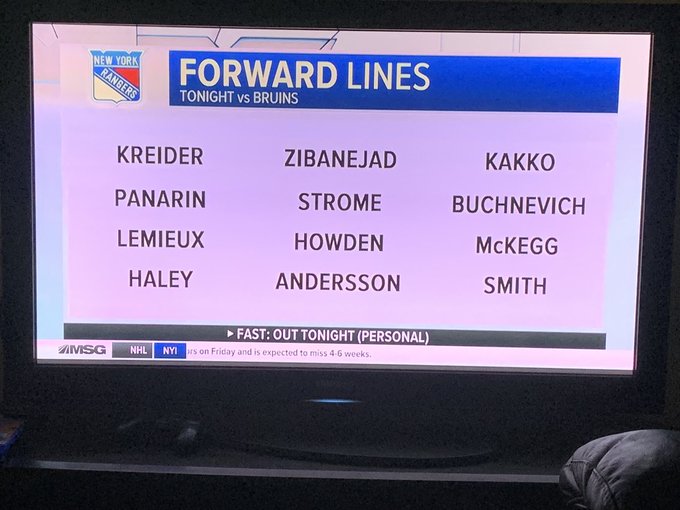 Couple of things here about these lines.
Originally, Quinn didn't want Kakko playing on the first line, as he had Kakko slotted on the third line. Quinn felt that the Bruins, or at least their top line of Pastrnak/Marchand/Bergeron, were too strong for Kakko. Whatever the case, with Fast out, Quinn put Kakko back on the first line. However, as this game progressed, it was the second line of Panarin/Strome/Buchenvich getting more ice time than the "top line".
And as I'll get into once I jump into the game review portion of this blog, Mika Zibanejad would get hurt in the first period, after a hit from Bergeron. Zibanejad would return from the hit in the first period, but wouldn't return to the game after the first intermission. In other words, the Rangers were without their best defensive forward in Jesper Fast all game and the Rangers were without their best center for forty minutes. With the way this game went, Mika Zibanejad's agent must be kicking himself. The second period of tonight's game was proof that the Rangers desperately need Mika Zibanejad around. If Zibanejad plays the second period, the whole course of this game would've changed.
At this time, here's the official box score from ESPN.com:
SCORING: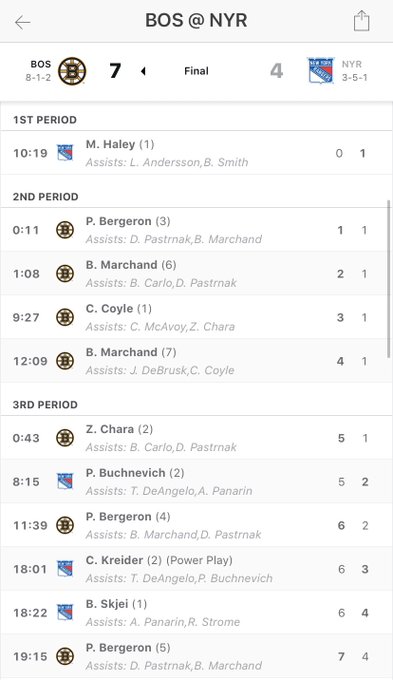 PENALTIES: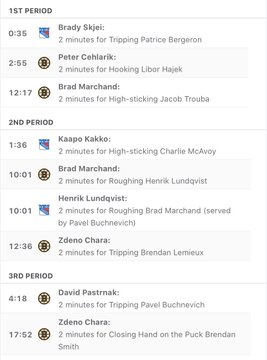 GOALIES:


I want to reiterate this one more time and clearly state this. While others are already doing it, in my opinion, you can't pin this loss on David Quinn and his never-ending ADD style of changing lines. He had to change his line-up 15 minutes before puck drop because of Fast. He also was without his second best player/best centerman, in Mika Zibanejad. Keep in mind, before the Rangers imploded tonight, going into the second period, the Rangers were leading 1-0. With Mika out, Quinn had to adjust against one of the best teams in the league. So for all the crap that's being written about Quinn right now – I don't buy it, at least not for this game.
This game review is just tough to do, because this game was horrendous. While many of you think I rah-rah when Hank sucks, I want the team to win. I've said this before, any fan with a blog, podcast or whatever, well they don't get into it to talk about misery. When it comes to this game, once Zibanejad went down, this game turned into men vs boys.
Of note, with Sam Rosen doing football today, John Giannone, the MVP of the MSG Networks, had the call with Micheletti. Micheletti was his usual cheerleader self, doing cartwheels for every easy save Lundqvist made and coming up with every excuse in the world for every Lundqvist goal allowed.
While I don't know if you can call the first period boring, it wasn't very exciting either. At the ten minute mark of the period, the SOG statistic was Boston 6 – Rangers 0. After having the best first period, and best period of their season just 72 hours prior, the Rangers were right back to where they were before the game with Buffalo. Fortunately, Boston wasn't able to capitalize, at least not in the first period.
35 seconds into the game, Brady Skjei took a stupid tripping penalty, which put the best power-play unit in the league to work. Luckily, the Rangers PK held the Bruins off the board. Lundqvist made two saves during this. While on Skjei, just like Kreider, he was dreadful. Yea, the two of them would later on score goals, but they were of the A-Rod variety, with the Rangers already dead and buried. The goals that each of these guys scored tonight can't erase the other horrible shifts they had.
After killing Skjei's penalty, the Rangers PP went to work, after Peter Cehlarik was boxed for tripping. The second power-play unit for the Rangers were freaking terrible here. It would be Bergeron getting the best shot in these two minutes. The Rangers would record no shots on goal, during this PP.
Once again, the Rangers power-play sucked all game. They were 0-4 to start and would finish 1-5, when Kreider scored his meaningless A-Rod goal, with two minutes left in regulation. As has been the story more times than not, special teams failed the Rangers in this game.
In a period that felt as slow as molasses and in a game where the Rangers were just trying to keep pace with the Bruins, it would be the Rangers drawing first blood. On their first shot of the game, Brendan Smith fired a puck at Halak. Micheal FREAKING Haley, of all people, took the rebound, and with the Rangers second shot of the game, made the score 1-0:
Great hands by Micheal Haley for his 1st goal with the @NYRangers pic.twitter.com/Bqvrv6ZtkA

— Rangers on MSG (@RangersMSGN) October 27, 2019
Isn't it ironic, that the day after Kravtsov did his interview, then packed his bags and went home, that it was Haley scoring his first goal of the season? I mean really – ISN'T THAT AMAZING SUZYN!?!?!
Oh and how about this? Haley now has as many goals as Kakko this season, in 1/8th of the time played. Bust out those Church of Haley shirts, especially after this Haley Comet scored tonight!
If you're a Bruins fan, you had to think this was a fluke goal. Shit, even I think it was a fluke goal, but with the way this game was going, you take it. Unfortunately, the Bruins would then score the next five goals of the game.
After this goal, Marchand took a penalty for high sticking Trouba. With a chance to double-up the score, Trouba came within a hair of scoring a goal, as a blast from Trouba just trickled wide of the net. It looked like McAvoy may have put his hand on the puck, and I think he tried to, but McAvoy never did. Halak was also great during this Boston PK, as he was stopping all the name brand Rangers, such as Zibanejad, Trouba and Panarin.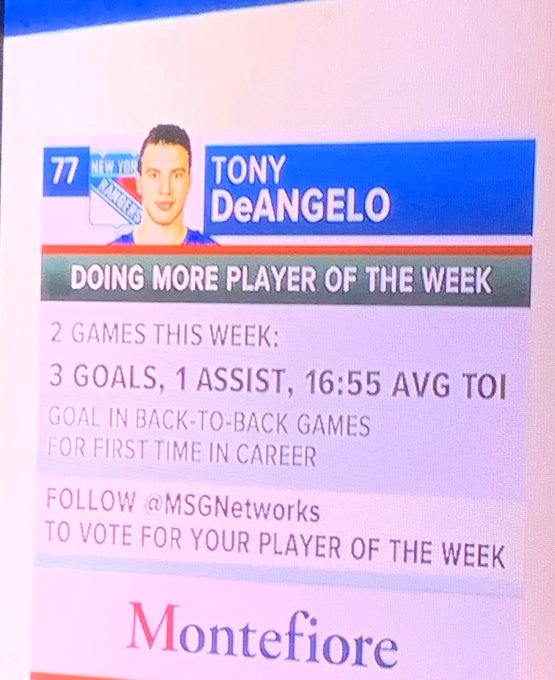 Perhaps the biggest play of the game occurred late in the first period, when Bergeron gave Zibanejad a hard shot. As mentioned previously on this blog, Zibanejad didn't return to the game. I'm starting this blog late, so I was able to check tweets from the Ranger beat reporters. According to David Quinn, Zibanejad's injury is NOT concussion related. Let's hope he's telling the truth. If Quinn is, this is a major crisis averted. After all, Zibanejad has a deep history with concussions and as we all know, you're more prone to concussions once you get one, and the effects of them last longer as you keep racking them up.
While on the Ranger injuries, Quinn said he didn't know if Fast or Zibanejad will be available for the game with Tampa. If both of them are out, I would expect we would get our first look at Filip Chytil on Tuesday, against Tampa. I'm sure that's the game Georgiev gets too, as there is no way King Coward is coming in for that game. That game will be a huge test for Georgiev, who I'll get into more below.
After one period, the score remained 1-0, Rangers. However, it was all downhill from here.
In the second period, Lundswiss gave up two goals in the first 70 seconds of the period, with both goals coming 57 seconds apart of each other.
The first goal was the controversial goal. You make the call:
Should this @NHLBruins goal have counted? 🤔 pic.twitter.com/vv39Hne8No

— Rangers on MSG (@RangersMSGN) October 28, 2019
On this play, Libor Hajek blatantly tripped Pastrnak. Hajek also sent Pastrnak flying into Lundqvist. Then, after the contact, Bergeron scored on the rebound. This all happened in the first 11 seconds of the period.
I want to say this first – you can see how much the Rangers missed Zibanejad. This play probably doesn't happen with him out there, especially off the first draw of the period. Secondly, why was the worst defenseman on the team, in Libor Hajek, doing out there to start the period in the first place?
On the goal, to me, it was good. I've seen this been ruled a goal all over the league. You can't make contact with the goalie, but if a player pushes you into his own goalie, then not only will goalie interference not be called, play will be allowed to continue. This is what happened here, as Hajek created Pastrnak's contact with Lundqvist.
1-1.
This goal changed the game. From this point on, Henrik Lundqvist threw the biggest bitch diva fit in quite some time. He was crying at the referee for the rest of the period. Even ten minutes later, Lundqvist was still crying and whining. It got so bad, that Quinn had to take a time out. Even worse, Chris Kreider had to tell Hank to settle down and go back to the net. (In related news, the Rangers have waived Chris Kreider. Derek Stepan says hello.)
Lundqvist, you know, the leader of the team and the most egotistical player in hockey, wouldn't let this go. 57 seconds after this goal allowed (which wasn't his fault, to be clear here) Brad Marchand undressed Lundqvist and beat him with a backhand. Somewhere, Joe Micheletti is inhaling the jock of Lundqvist that Marchand left in the rafters.
2-1 bad guys, right away to start the second. Now Lundqvist was even more incensed, as he couldn't let the first goal allowed to be forgotten. This is why I've said countless times on this site – this guy will never win a Cup. He always chokes. When the pressure is on, he will crack. He doesn't have the stones to win 16 games in the Spring. There's always something. There's always someone to blame. Even in this game, when he wasn't whining about his teammates, he was crying about the referees. He was like that little bitch kid playing video games, who rage quits after having his ass kicked in "Madden Football" by half time.
Conversely, as we've seen with Georgiev, whether Georgiev is at fault or not, if he gives up a goal, he forgets it. He stays calm, cool and collected. For Lundqvist, the oldest player on this team, he was throwing a temper tantrum. I have four nieces, all under the age of four, and Lundqvist out-cried all of them combined, during this second period.
With 10:33 remaining in the period, Lundqvist was beat yet again, after a perfect one timer from McAvoy to Coyle. 3-1 bad guys. I don't think this goal even bothered Lundqvist, as he was still bawling his eyes out from the first goal, WHICH WAS A GOOD AND LEGAL GOAL! Was it Lundqvist's fault? NO. Was it a legal goal and good call? YES! Get over it you $8.5M baby.
Lundqvist, who was still seeing red, then hip-checked Pastrnak. This could've put Boston on a power-play, but luckily, Marchand got riled up and got called for roughing. Instead of a Boston PP, we had two minutes of four vs four hockey. Honestly, Lundqvist is lucky that Halak isn't Dan Cloutier, because if Halak was, Halak had every right to march down the ice and clean Lundqvist's clock for that dirty hit on Pastrnak.
On the four vs four, Brady Skjei missed a wide open net, as he opted to pass the puck and turn it over. He's been horrible this season. Once the penalties expired, Brad Marchand beat Lundqvist again. 4-1 BAD GUYS. Lundqvist was still in rage cry mode and his temper tantrum hurt the team. He just couldn't let the first goal allowed go.
And while I'm slamming Lundqvist here, because he was such a little bitch, to be fair, the Rangers weren't doing much of anything either. At one point in this period, the Bruins were out-shooting the Rangers by a tally of 18-4. You're not going to win many games like that. However, when your franchise player is kicking and screaming like a petulant child, it all trickles down. For these young kids who have to play with this diva, Lundqvist's behavior was unsettling.
After Marchand's second goal, Chara took a penalty. The Rangers did nothing with the PP. Again, let me be clear here, while I thought Lundqvist was horrible and everyone watching this game knew he was unhinged & rattled, the Rangers did themselves no favors either. The power-play didn't produce, you had guys over-passing and Boston just owned the Rangers. Again, no Zibanejad or Fast.
When this period mercifully ended with the score 4-1, I said this on Twitter:
"Imagine you went to this alumni game, saw Vally choke with the 94 Rangers to the Bruins, hang around at a bar for 4 hours and then overpay to see this shit show on a work night?"
Between the two Ranger losses tonight and for people who are either fans of the Giants or the Jets, once again, us NY sport fans took a nice square kick to the dick. SAD!
With the score at 4-1, David Quinn threw in the towel on Lundqvist, and replaced him with Georgiev. Really, after using his timeout to settle Lundqvist from his temper tantrum in the second period, Quinn should've pulled Lundqvist then, when the score was still manageable.
I've talked about this before and I'll say it again – Georgiev has the worst position/situation on this team. If this any other team, the Rangers would've moved on from Lundqvist and Georgiev would be starting. However, because the Rangers have this insane idea that losing with Lundqvist is what's best, while Georgiev is 15 years younger, $8M cheaper and plays better, Georgiev will probably be the odd-man out soon. Not only does Georgiev have to contend with the egomaniac, Georgiev has to worry about the Rangers calling up CZAR IGOR SHESTYORKIN. Just like he did in the KHL, CZAR IGOR is putting up video game numbers in the AHL. In fact, look at this: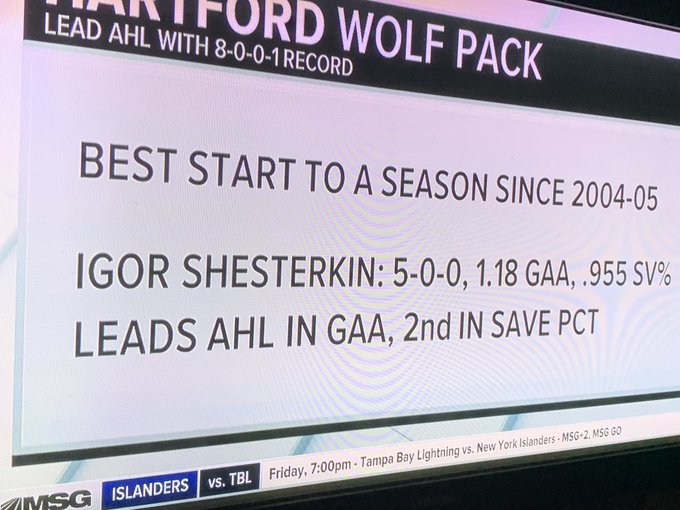 What more do the Rangers need to see from Igor? Plus, when you look at the way this league has been going, the young goaltenders are much better now than they were generations ago. I've already talked about all of this already. However, the fact here is that Igor needs to be with the Rangers. With King Crybaby refusing to leave and with the Rangers more than happy to keep the loser here, Georgiev is the unfortunate monkey in the middle.
The third period of this game was torturous. Any hope of a Rangers comeback with Georgiev in net was immediately halted, when Zdeno Chara blasted a puck from deep and beat Georgiev, just 43 seconds into the period. 5-1, bad guys. This is also another bad thing for Georgiev too. While we've heard how he will split starts with Hank all season, he still has to play mop-up duty when the crying bitch can't control himself. Lundqvist has already said it numerous times – he doesn't come into games if his teammate in the barrel is struggling. What a team player.
At 5-1 and with 19+ minutes left to play, all you did was wait for the clock to hit triple 0, providing you didn't turn the game off. It's funny, for as bad as this game was, I think about another time in Ranger history, from the years 1942-1967, the Original 6 era, where the Rangers were brutal and had their brains kicked in nearly every game. I've talked about why that happened on past blogs, so check the archives. This was one bad game for the Rangers. If Lundqvist really wants to cry, he should go watch what guys like Chuck Rayner and Gump Worsley had to endure. Of course, being an egomaniac who doesn't give two shits about team history, Lundqvist doesn't know who those guys are.
At the 8:15 mark of the period, Tony DeAngelo made a perfect and crisp pass to Pavel Buchnevich, who easily beat Halak. 5-2, bad guys. I should mention, before this goal, the intoxicating commie went high and wide on a shot that was three inches away from Halak. Buchnevich has spurts of doing good stuff, but for every good thing he does, you can point out two bad things.
Oh, and I was wondering as this third period went on, if anyone from the Sabres was watching this game? You got crushed by this? SAD!
Two minutes after the Buchnevich goal, Bergeron scored again. 6-2.
With 2:08 remaining in the period and with the game over, Chara took a penalty for gloving a puck. Tony DeAngelo picked up the assist here, on the K-Reid/A-Rod goal. 6-3. 20 seconds later, after the draw, Brady Skjei, who like Kreider, was horrible all game, picked up his A-Rod goal. 6-4.
With 90 seconds left, Quinn pulled Georgiev for the fun of it. Marchand, who had a good look at the net, unselfishly passed the rubber to Bergeron, allowing Bergeron to get the hat-trick. 7-4, lights out, everyone go home. FUGLY game for the Rangers.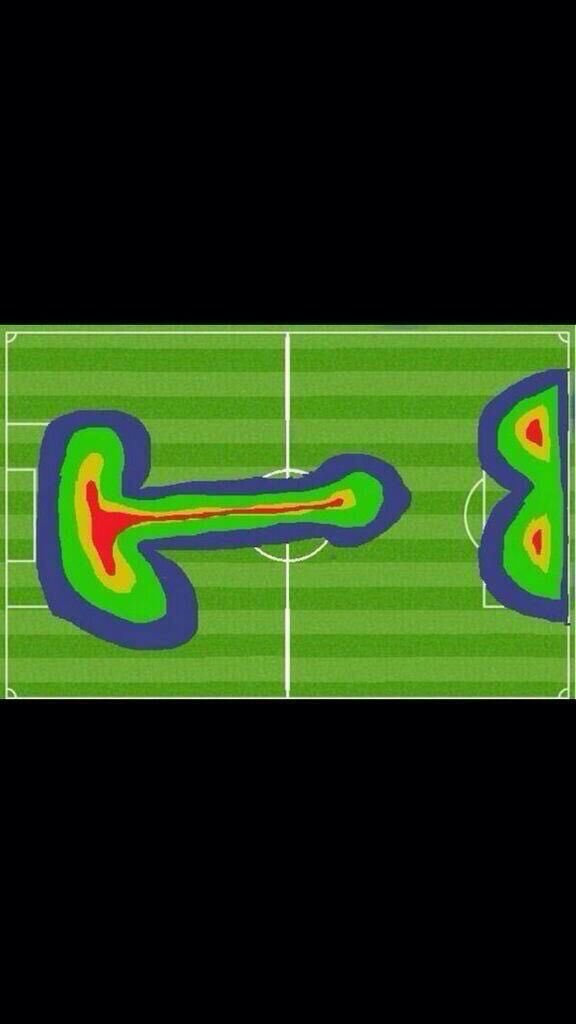 If you're a regular here, you know me. If someone says something first, I'll always credit them. I don't know who it was, it was either Jim Schmeideberg of BlueShirt Underground Radio (They are dropping a new LIVE episode tomorrow night, and you can get all the links by clicking here: BSU Radio/Video) or his girlfriend Jennifer Eberhart, who said – do you really need a chart to tell you how bad this game was? Seriously, after this game, I saw these basement weasels posting charts all over Twitter. Don't these people have two eyes? I can see how bad the Rangers were, without a stupid chart!
When I first saw this five game homestand of Vancouver, Arizona, Buffalo, Boston and Tampa, I would've been happy going 3-2. The Rangers are currently 1-2-1 on this homestand, with perhaps the toughest team up next on the docket, in the Tampa Bay Lightning. It could be even rougher for the Rangers, if Zibanejad and/or Fast are out. As mentioned above, I think this is where we will see Chytil, if one of those two can't go.
After posting my blog on Saturday, where I recapped the Dan Girardi podcast, his co-host reached out to me to tell me that Dan Girardi will be at MSG on Tuesday, where we assume that the Rangers will hold a ceremony for Girardi. I hope this isn't a surprise for fans who don't read this blog. The Rangers should really announce what they are doing with Girardi and more importantly – AIR IT ON THE MSG NETWORKS. Girardi is a perfect candidate for my Rangers Rink of Honor idea and he was a very important player for this team for so long.
I don't want to turn this into a eff you Lundqvist blog, because this blog probably comes off like that already, but when you look at the early retirements of Girardi and Callahan, plus the diminishing work from Marc Staal, without those three, Lundqvist never wins the Vezina in 2012. There's nothing you can say that will change my mind on that. While Lundqvist is aging, you can correlate his decline with the declines of Girardi, Callahan and Staal as well. That's a topic for a different time.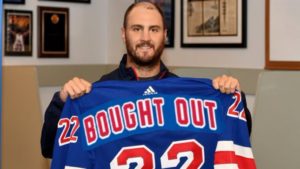 I am 100% off of work next week, as I'm going to Nashville for the game on Saturday. (I better see you there Ricky Otazu!!!) I'm expecting the Rangers to make some news tomorrow and if it's something worth writing about, maybe I'll return tomorrow. If not, I'll be back Tuesday night, to talk about the Rangers/Lightning game. Old friend Kevin Shattenkirk, along with Ryan McDonagh, the only Ranger holdovers from the "Tampa Bay Rangers" return to MSG for that game. I don't expect a ceremony for Shattenkirk.
I will say this, as I said in the summer (check the archives of this blog) the Rangers should've bought out Lundqvist and kept Shattenkirk. Yes, Shattenkirk was going to post better numbers with Tampa, but it was my feeling that Shattenkirk was never healthy while here. He was also sold a false bill of goods. Again, refer to my blogs from the summer for my complete rundown and thoughts on Shattenkirk. All I'll say here is this – if the Rangers bought out Lundqvist for $1M more, Shattenkirk would've been healthy here, which in turn, means you probably could've traded him, whereas you can't trade Lundqvist.
Oh, this is worth a shot. My friend wants to go to that season ticket holder event on Tuesday night, where you can meet Kakko and everyone else. If you can't make it, he'll pay for a ticket. If you have a spare one, let me know and I'll make the introduction.
Until then, all you can do is try to forget this game and move on. Let's hope there won't be another drubbing, come Tuesday night.
As always, thanks for reading and…
"Let's Go Rangers!"
Sean McCaffrey
BULLSMC@aol.com
@NYCTHEMIC on twitter
PS: Travis, after seeing Igor's stats, I want to see us in Igor NYR jerseys this season!