Greetings and salutations everyone and welcome to another blog here on BlueCollarBlueShirts.com. On Thursday night at Madison $quare Garden, the Rangers hosted the best team in the league, in the 8-1-1 Buffalo Sabres. Say what you want about the Sabres and their recent regular season finishes, but on October 24th, 2019, the Sabres are the best team in hockey, at least standings-wise. When the night was over, despite how well the Sabres have been playing, it were the struggling Rangers picking up the two points, with a 6-2 victory.
In the case of the Rangers, they entered this game on a five game losing streak, sporting an 0-4-1 record during the streak. During these past few games, the Rangers had horrendous first periods, where they could just not come back from. In tonight's game, and I can't stress how good the Sabres have been when saying this, the Rangers dominated this game, during the entire 60 minutes of play. Sure, while the Sabres had some chances and glimmers of hope, for the most part, the Rangers just kicked the teeth in of the Sabres. Even better, the Rangers didn't need MacKenzie Skapski to win this game!
If anything, this game lived true to an adage that's usually used when talking about the NFL – "Anyone can win on any given Sunday." Tonight, the Rangers, in the role of the underdog, showed us that anyone can win on any given night. While Sabre fans, or fans of the NHL in general, may say that the Sabres were due for a loss, the bottom line is the Rangers gave it their all, and in turn, were rewarded in the process.
As I work on this blog, I'm starting this manifesto very late, as I wanted to watch the west coast hockey games and the Vikings/Redskins NFL game. (I have the Vikings in my suicide pool this week and have Cook on my fantasy team, hence my interest.) Since I'm starting so late, I was able to watch the post-game show and the post-game player interviews. I also wanted to see what the Sabres thought about this loss, as in my opinion, I thought they treated the Rangers as a "trap game."
Here's what Sabres head coach Ralph Krueger said after the loss:
"We didn't show the Rangers enough respect and they punished us for it. We will learn from that, we're not OK with that, but again, we have to find that balance and we're working on it."
While I'm not trying to take any wind out of the Ranger sails, as this was a huge win, the point I'm trying to make here is that the Rangers just can't kick back now. Two tough games remain on the homestand, as the Rangers will now host the Boston Bruins (the reigning Eastern Conference Champions) and the Tampa Bay Lightning (the reigning Presidents' Trophy winner.)
As I'm sure David Quinn and his bunch know, this victory is a game to build off of, as the Rangers try to redirect this ship back into the right direction.
Before jumping into everything, as there is a lot to talk about right now, here are my last few blogs, in case you missed them:
---
---
---
---
---
---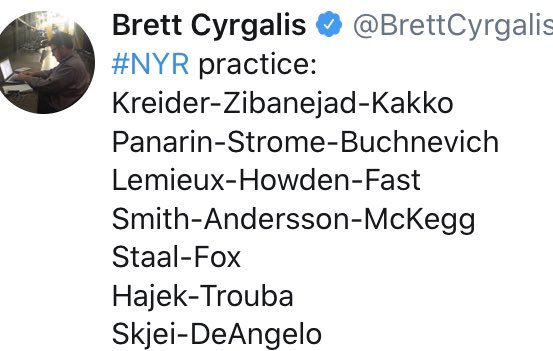 After the loss to Arizona, I knew it, you knew it, your ancestors knew it – David Quinn was going to change his lines for the game with Buffalo. However, what I don't think many expected (I know I didn't) Quinn broke up his best and top act, as he separated Mika Zibanejad and Artemi Panarin.
I've said all season on these blogs (and in seasons prior to this one) sometimes you have to trust the front office. They are there every day. They are with these guys nearly 24/7. They know the game and team better than we do. While fans have been calling for Quinn's head (I guess the win tonight staves off those idiots, at least until the game with Boston) I have understood that he's in the trenches with these guys.
I have not complained much about the lines like others. I say that, because I'm going to go off a bit here and want to keep that in perspective. This also proves that I can admit when I'm wrong too (at least for one night), which is another reason why I'm adding this bit here.
When I saw that Quinn broke up Panarin and Zibanejad, I thought it was the dumbest thing ever. In fact, I was going to do a whole blog dedicated to this topic, but I just didn't have the time to do it. With that said, let me explain my thoughts now, as I want to put this on the record, just in case I need to refer to what I'm about to say in the future.
I just don't get why, when it comes to the topic of the first line, why Quinn refused to go with Kakko/Panarin/Zibanejad. I've discussed this in-detail already, so refer to my past blogs for more. Simply put though, Kakko should be coddled and groomed. He should be playing with the best guys.
In my opinion, Artemi Panarin is the best player on the Rangers. To me, Panarin is also the best possible linemate for Kakko, who is more important to jump-start than Chris Kreider. After all, Panarin is the best pure passer on the team and can help set up Kakko. That's not a knock on Zibanejad, it's just that Panarin is better.
You look around the league during the last few years, and even this season – the top picks of recent drafts all play on the first line. Just like the Rangers insane and inane idea of rebuilding around an $8.5M cap hit 38 year old goalie, the Rangers are doing the "we are smarter than everyone else" act with Kakko.
Again, I was originally going to do a blog on this yesterday, but couldn't find the time. Just pretend you don't know the end result of tonight's game. Plus, keep in mind, this win is just one game. Furthermore, the Sabres pretty much admitted to treating this game as a trap game.
With the Rangers on a five game losing streak prior to this contest, what did the Rangers have to lose by putting Kakko on the top line, with Panarin and Zibanejad? By putting Kakko and Kreider with Zibanejad, is that going to make Kakko better? We've already seen Kakko and Kreider struggle together. Are you telling me that's all the fault of Ryan Strome? (Ironically, Strome was better than both Kreider and Kakko tonight.)
In my last blog, I shared comments from Kakko and Kreider, where both players criticized David Quinn (even if they didn't say his name) for lack of playing time. For Kakko, I get it. For Kreider, he's out of his mind. He's had more than enough chances.
When Quinn broke up Panarin and Zibanejad tonight, I get what he was going for. The team is obviously top heavy and he wants to break up his 1-2 punch, in order to get the other lines going. That said, you don't see teams like the Bolts, the Caps, the Oilers and every other team with a great top line, breaking up their top line, just to get a soon-to-be 29 year old free agent going.
When you look at the Rangers and their talent disparity, obviously the biggest talent descent comes from the centermen. I know what Strome did tonight, but let's face it – there's a huge drop-off, talent-wise, when you compare Zibanejad to the other centers on this team. Therefore, when breaking up Panarin and Zibanejad, you have to keep Zibanejad on the top line/number 1 center, which in turn, puts Panarin on the second line.
Now, when you look at the performances in this game tonight, not only did the second line of Panarin/Strome/Buchnevich outplay Kakko/Zibanejad/Kreider, the third line of Fast/Lemieux/Howden also outplayed the top line. I mean think about this – the Rangers scored 6 goals tonight. Mika Zibanejad, the top scorer on the team prior to this game, (and after this game) wasn't involved in any of the goals. So what does that tell you?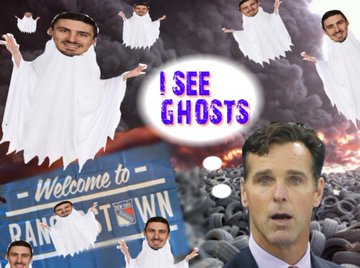 I just found it funny and ironic, that the two people who vocalized their disappointment with their playing time and the frequent line changes, were both promoted to the top line tonight. As a result, Panarin, who has been playing great, was demoted to the second line. And to be fair here, the top line and second line pretty much averaged the same amount of playing time tonight. The only person who didn't log as many minutes as everyone else was Kaapo Kakko and that was because the Rangers had a bunch of power-plays tonight and Kakko plays on the second PP unit, while everyone besides Strome plays on the first PP unit. (Strome also plays on the PK.)
In the past, Quinn usually uses the same line-up after a big win. I would expect that trend to continue on Sunday, especially after a huge team effort in this victory tonight. However, as the season progresses, I think it's a mistake to keep Panarin on the second line. If anything, by playing with Kreider, it hurt Zibanejad tonight. Of course, as a team, the Rangers were better tonight, but I don't know how much of that has to do with Buffalo treating the Rangers as pushovers and having a David vs Goliath thing occur here. I need to see more from these lines and how they do in the next upcoming games. I'm just saying, for the long-term, I don't think these lines, or at least Kreider on the first line and Panarin on the second line, is the true definitive move for success.
That all said, if you look at this game as a single sample, Panarin helped make Strome and Buchnevich look great tonight. I don't think you can say the same about Mika and the people flanking him. Maybe I'm just so down on Kreider and have already accepted the fact that it's time to move on from him. If this is a true rebuild, my opinions on this are just as consistent as my opinions on the goalie – you got to go with the youth & the guys that will be here for the next 3, 4, 5+ years. Kreider isn't that guy. Kakko, Zibanejad and Panarin are.
After saying all of this, everything worked out for the Rangers tonight. I will say, going into this game, while I wouldn't say I lost confidence in Quinn, as I get it, he's trying to find the recipe for success, I thought he came off not looking confident. We are 10% into the season and he's changing his lines as frequently as a teenage boy getting a hard-on, while watching cheerleaders at a football game. Eventually, Quinn has to find something and stick with it, because if he's still changing his lines come 2020, there's a problem.
All this stuff comes off as a downer, so let's move along and talk about this great victory. Let's go to the GAMBLING SEGMENT of this blog!
Here's what I said before the game:
Season o/u record 5-2.

Vegas Insider has Georgiev as probable, but @BrettCyrgalis reported Lundswiss is starting. Buffalo is the best team in the league at 8-1-1 & are due to lose. Won't be tonight though! As always, bet the over w/Hank in net. Could be a game he gets pulled in. pic.twitter.com/z4IObQAmyb

— BlueCollarBlueShirts (@NYCTheMiC) October 24, 2019
With 8 total goals, this game hit the over tonight, bringing my over/under record to 6-2. That was also the final score of this game. Isn't that amazing Suzyn?
What also is amazing that I was confident that the Rangers were going to win on Tuesday. They didn't. I also thought they weren't going to win tonight. They did. At least I know my strengths, and that's predicting the over/under. And while Hank wasn't the real reason for the over hitting, once again, another one of his starts crushed the over. It's been that way for nearly two years now and it's a nice little trend to jump on, should you gamble on these games.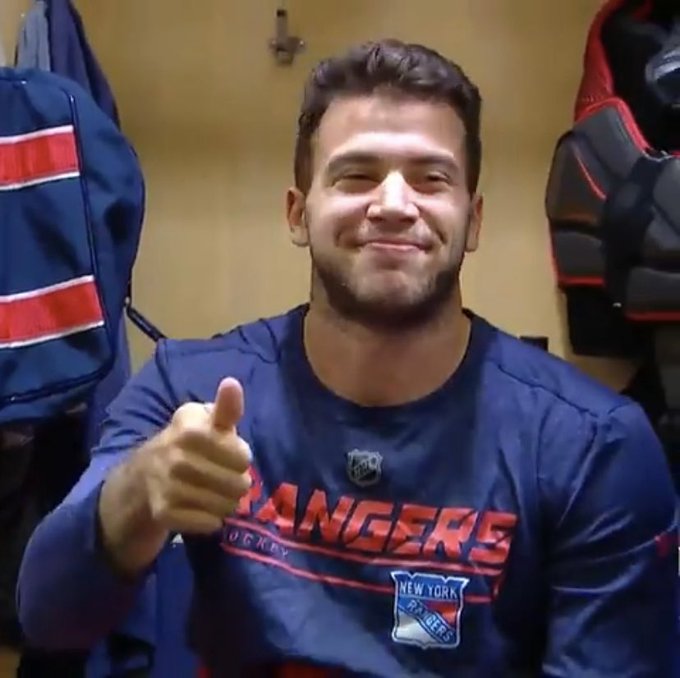 At this time, and as usual, let's go to the ESPN.com box score:
SCORING: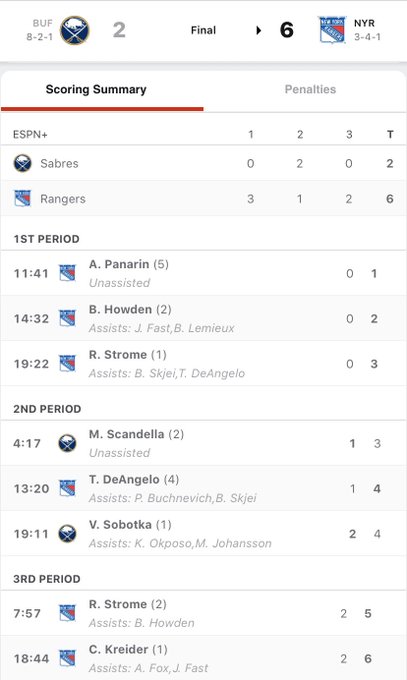 PENALTIES: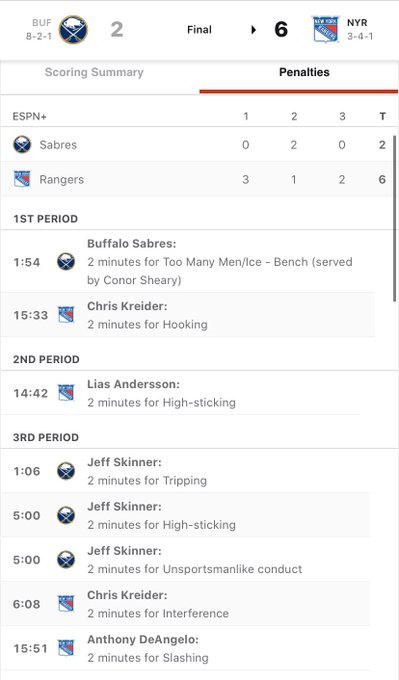 GOALIES: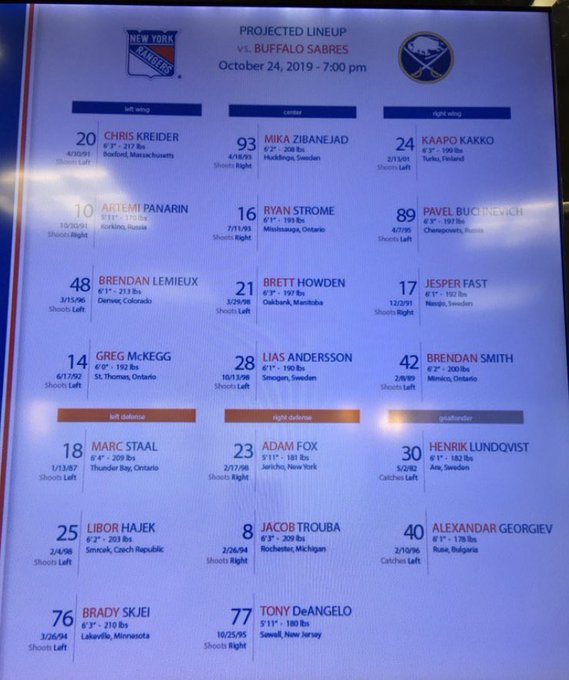 When I sit back and reflect on this game as a whole, obviously, this was the Rangers best game of the season. The Rangers came flying out the gate and dominated the puck. They kept driving to Buffalo goaltender Carter Hutton and were rewarded for it. After the dreadful first period performance on Tuesday, where the team was out-shot by a total of 21-3, the Rangers, after the first twenty minutes of this game, out-shot the Sabres by a total of 10-7. Even better, they scored on three of those ten shots.
The Rangers played well in every facet of the game, sans the power-play. The Rangers finished 0-4 on the PP and that includes a four minute double minor PP, a PP that Kreider took a questionable, and perhaps reputable, penalty on. I think people will ignore the bad PP tonight, just because at even strength, the Rangers shoved it up the ass of the Buffalo tonight.
For David Quinn, he had to feel a huge wave of relief wash over his body. For once, all his constant line changes worked. For the first time this season, he saw production from his middle lines. He saw his defense play well. While we all know my thoughts on Lundqvist, it didn't matter who was in net tonight, as the Rangers wouldn't allow the goaltending to become an issue. While Lundqvist did give up his usual soft goal and kept his impressive streak of no shutouts in two plus years going, the Rangers kept piling it on and controlled the puck enough, that it didn't matter what Buffalo did offensively.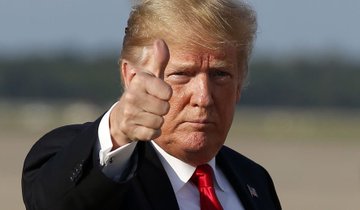 Oh, and since I mentioned it was Tony DeAngelo's birthday today, it was also the 65th birthday of this guy: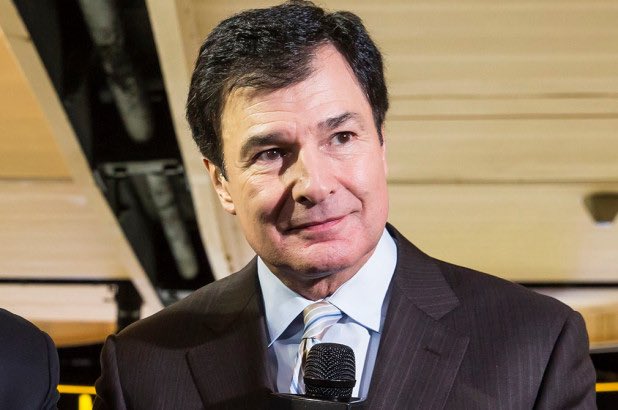 Happy birthday Joe. I wonder if Sam & Vally chipped in for a 2012 Vezina model Hank blow-up doll for him? Then again, maybe he received this heat map chart from the "Cult of Lundswiss":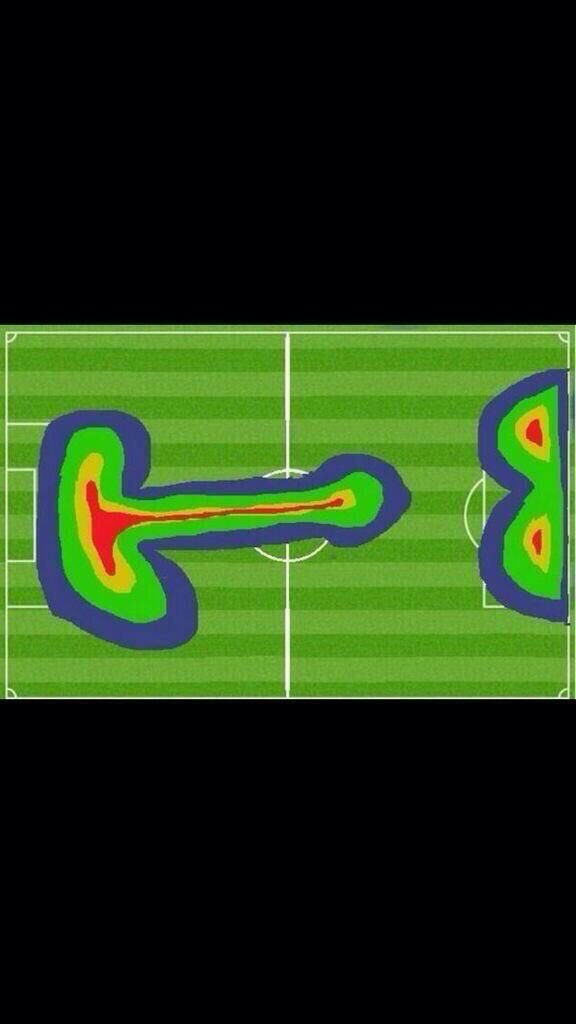 I should mention, as we get into the meat and potatoes here, that despite what many thought (myself included) the newest member of the Sabres, in a one Jimmy Vesey, did not score a goal tonight. In fact, something happened with him, injury-wise, and he left the game somewhere late into the second period.
As far as the pregame show and the MSG Networks stuff tonight, I am starting to subconsciously tune out Vally.  During this game, he said something like "A deflected shot from 30 feet back has a 18.2% chance of going in during a full moon on the third Thursday of the month." All I know is this – I 100% want Ron Duguay back.
Interesting note from the radio side of things. For the second time in as many broadcasts, ex-Ranger Pete Stemkowski said this, when talking to Kenny Albert:
Pete Stemkowski is the #Rangers best announcer. He just said on the radio that he basically doesn't understand why Hank still wants to be on a rebuilding team and that Kreider's play is in excuseable and that he's not doing his job. Glad someone has the balls to say it

— Rangers in Seven 🇺🇸⚓ (@MeanNewYorker) October 24, 2019
I have mutual friends of Stemkowski and he lives something like 15 minutes from me. I got to buy this man a drink!
Update: after his comments on the radio broadcast, the Rangers have reported that they have fired Peter Stemkowski. I kid, I kid, but it's believable, right!?!?!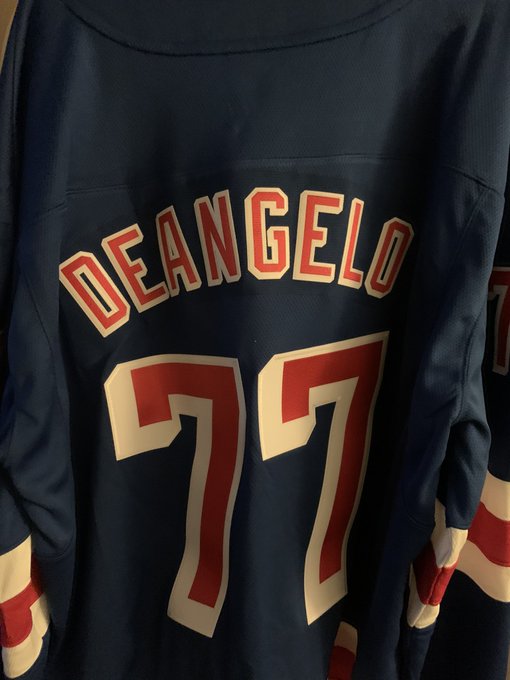 As you can tell from the headline and the pic I'm using to promote this blog, this was a bizarro game for the Rangers. Everything we saw from the last few games? Well the complete opposite happened tonight. It all started when it was Buffalo, and not the Rangers, taking the early penalty in this game, just 1:54 into the contest. Even more bizarre? The penalty was for too many men on the ice, a penalty that plagued these Quinn Rangers during all of last season. If anything stayed true to the Rangers script, it was that they didn't score on this power-play.
On the PP, the Rangers best chance may have been when Jacob Trouba had a deep but point blank look at the net. I don't know if it's all these chart losers getting into his head, but rather than shooting as he's been doing, he passed up the puck which led to a turnover. What also was funny, was that during the pregame, Dave Maloney was talking about some idiot Ranger fans who told him that Trouba was struggling. In what world has Trouba been struggling in? He's been great so far, at least in my opinion.
This game had some flow to it to start. It was a back and forth affair, with the Rangers pushing the issue. In fact, 12:17 of game time expired before we had our first commercial break. After many GOOD LOOKS, Panarin created a stoppage, 11:41 into the game, when he scored this beautiful goal:
FILTHY. Just filthy.@nyrangers | #NYR pic.twitter.com/7SxWUOZOXH

— Rangers on MSG (@RangersMSGN) October 24, 2019
1-0, GOOD GUYS. On the goal, Panarin created a turnover and backhanded the puck like he was John McEnroe, right past Ranger Killer Carter Hutton. As I've been saying, Panarin may be the elusive big free agent signing that actually works out & plays to expectations for the Rangers. This goal put Panarin's new second line on the board too.
Three minutes later, after a rush of guys at the net, Brett Howden cleaned up on a puck that was handled by Jesper Fast and Brendan Lemieux. 2-0 GOOD GUYS. At this point in the game, this was easily the Rangers best first period all season. It was also a goal for the third line, which gave them one more goal than the top line.
Speaking of the top line, immediately after this goal, Chris Kreider took a hooking call. The Rangers PK did their job.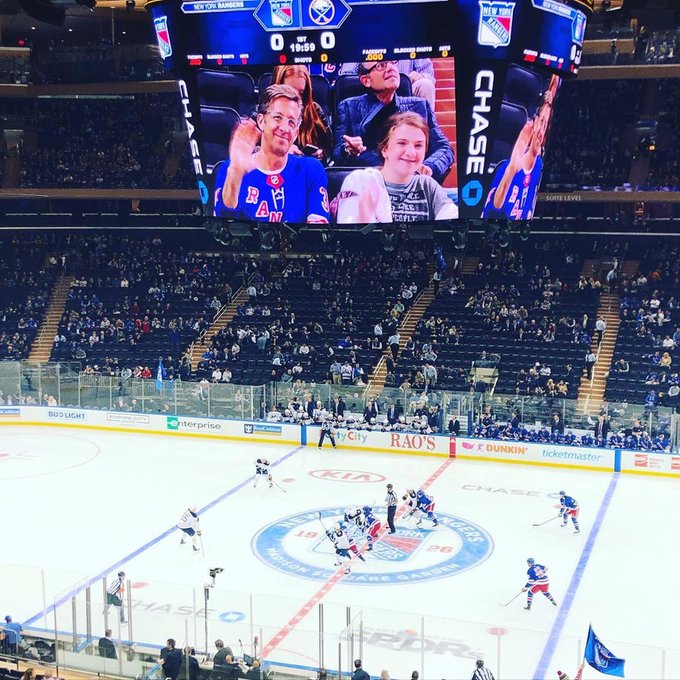 Oh and I have to mention this. The Subway sandwiches promotion is back this year. Bill Pidto, Vally, Joe and Sam were all pushing Subway on us all game. Here's a fact – if these guys eat Subway during these games, not only will they be pushing Subway ads on us, they will be pushing Subway sandwiches out of their assholes, five minutes after consuming them!
To keep the bizarro theme alive, with under a minute to go, it were the Rangers, and not the Sabres, picking up a goal. Even better, it was after a Joe Micheletti trademark "deflection" goal. Here's Ryan Strome finding Skjei's blast:
Strome's sweet re-direct made it 3-0 #NYR pic.twitter.com/lQvOrNC0M6

— Rangers on MSG (@RangersMSGN) October 24, 2019
3-0, GOOD GUYS. Of note, DeMAGAngelo, THAT EVIL TRUMP SUPPORTER, picked up an assist here. TDA finished with a +/- rating of +2, which tells you that he was on the ice for both of the goals he was involved with. And some people will whine about his political affiliations. As his cousin Vienna on Twitter told me, "What a shame."
3-0 would be the score after twenty minutes, the best first period, and perhaps period, that the Rangers have played all season. BIZZARO WORLD!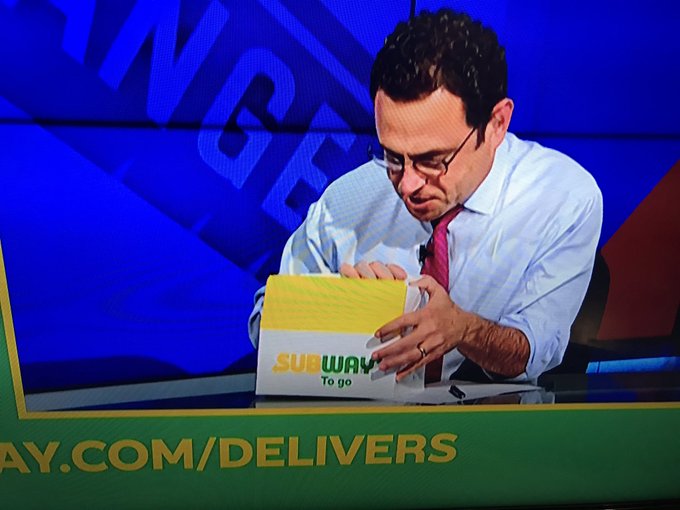 In the second period, the Sabres tightened up a bit, but the Rangers didn't take their foot off of the gas.
Vesey had a bad stretch to start off this period, as he got the puck to the dots in front of Lundqvist, and was covered by one Ranger. Instead of making a move, he waited around and three Rangers swarmed him. Immediately after, on the next Sabre entry, Vesey was on a two vs one situation and failed to capitalize on Lundqvist. Gorton looked smart tonight.
At the 4:17 mark of the second, with the Sabres trying to fight back, Marco Scandella blasted a puck to make the score 3-1. Micheletti immediately blamed Kakko for not making a clear and ignored that the shot was from 25 or so feet away. I hope for his birthday, Hank will let Joe keep a lock of his hair for his Lundswiss hair doll. No one loves a human on this earth more than Micheletti loves Henrik Lundqvist. Also ignored was that right prior to this play, Lundqvist couldn't freeze a puck and it created some chaos.
And to be clear here, I'm not trying to bury Lundqvist here (you know when I am) but I just loved how immediately after the goal, Micheletti was going off on Kakko. The man will find anything to blame for a Lundqvist goal allowed.
Right after this, the Rangers could've really made this a 5-1 game, but credit where credit is due, Carter Hutton made two huge saves to keep the Sabres alive. On the first save, Hutton stopped Howden who was right on his door-step. More impressively was right after this save, Hutton stopped a Lemieux to Fast one-timer, with Fast right on the goal mouth. Two huge saves.
As the game progressed into the final half, Tony DeAngelo cleaned up, after a beautiful pass from Pavel Buchnevich:
THE BIRTHDAY BOY! #NYR pic.twitter.com/Lef34RdOTg

— Rangers on MSG (@RangersMSGN) October 25, 2019
4-1, GOOD GUYS. I have been hard on Buchnevich on these blogs, but like many on this team, I thought this was his best game of the season. Also worth mentioning, half of these Ranger goals were scored by the second line and the other half of these goals were scored by the third line. Yes, I'm singling out Kreider here!
Andersson would take a penalty with under five minutes to go. Just like the Rangers, the Sabres PP were held off the board tonight, finishing up at 0-3.
And one last thing about TDA and the liberal idiots. This was one of the tweets that were sent to me after TDA's goal: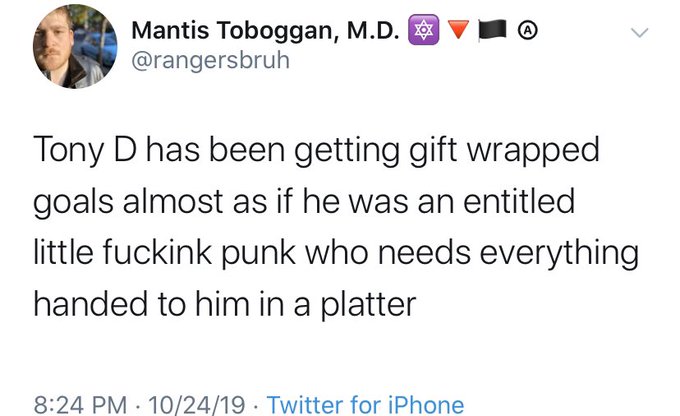 Ironically, the above tweeter supports Bernie Sanders, who wants everything handed to him on a platter.
With under a minute remaining in the period, despite this being a bizarro game, Lundqvist pulled a Lundqvist:
Sobotka's first of the year keeps the Sabres in this one!#Sabres | @BuffaloSabres pic.twitter.com/ah7r6UOOwE

— MSG Networks (@MSGNetworks) October 25, 2019
Gotta stop that one pal. 4-2, GOOD GUYS. This was a huge goal for Buffalo, at least at the time, because they erased the chance of the Rangers taking a three goal lead into the third period. It's a shame no one gave Lundqvist a Subway sandwich and told him to eat it on the bench.
4-2 after two.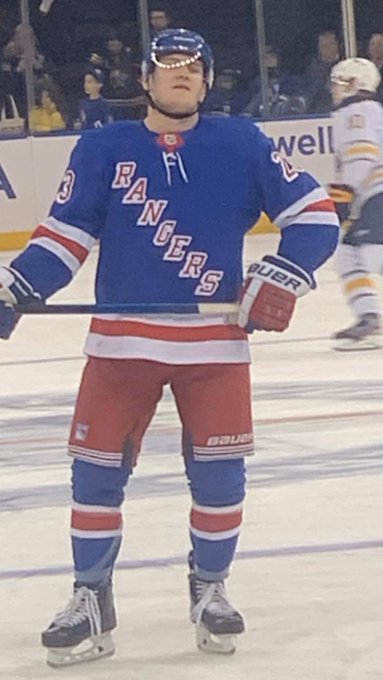 Entering the third period, all the Rangers had to do was protect a two goal lead. Jeff Skinner made it easy for them, as he took two penalties on behalf of the Sabres in the first five minutes of the third period. The Rangers failed on the first PP. Then, after a double minor, Kreider took a penalty, which turned this game into two minutes of a four vs four. On the four vs four, Howden found Strome and boom, 5-2 GOOD GUYS.
Speaking of the Kreider penalty, he was called for goalie interference. This was a tough call, but I think because of his reputation and because contact was made with Hutton, the refs will call this penalty on Kreider, 100/100 times.
Also of note here, as I don't want to omit it, was that Kakko had a real GOOD LOOK during this PP. He backhanded a puck right off the post. It's a game of inches Suzyn.
Later on, as the game progressed, Lundqvist made a save on a shot that was shot directly at his chest. The puck bounced up for a rebound, but Smith cleared it. Sam and Joe called this the save of the game. So dumb, especially after Hutton stopped two sure-fire goals in the second period.
And while on Hutton, if you look at this through the eyes of a Sabres fan, while his stats were terrible tonight, most of the goals he allowed were because of breakaways and odd-man rushes.
With under 90 seconds remaining, after some confusion in front of Hutton, Kreider got a goal. 6-2, GOOD GUYS. This goal came during a line change, as Fox and Jesper Fast assisted on it. In other words, no goal for the top line.
I have to say this. This was an "A-ROD" goal, meaning that it came when the game result was already decided. (During A-Rod's time with the Yankees, he was known for those 8th or 9th inning homeruns, when the Yankees were already up by 7+ runs. I know some Ranger fans call this a "Rick Nash" goal, but in my opinion, while Nash didn't live up to his contract, he played well for the team. If he was a $4M player, everyone would've raved about Nash's time here.)
When Kreider scores a tying or a game winning goal, I'll be more impressed. Despite this goal, I'll say what I've been saying – I don't see the Rangers retaining him for the 2020-2021 season. He was a non-factor in this game and did nothing for Zibanejad. Again, he will be 29 come the summer and is he really going to get better in his 30's?
6-2 your final, with a win that the Rangers really needed. I hope this win creates good vibes and lifts the team emotionally, as the have two tough contests coming up with Boston and Tampa.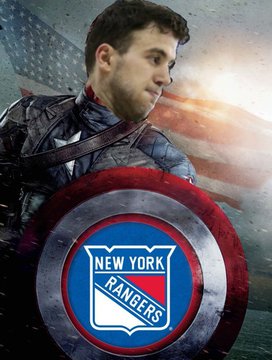 In closing on this game, I found the post-game interviews to be interesting.
Ryan Strome, who had the best game of his Rangers career, wouldn't take an ounce of credit for his two goals. All he talked about were his teammates and how great they were tonight.
Henrik Lundqvist, who was pretty much a non-factor in the game since the Rangers scored more touchdowns than the Jets on Monday night, talked about how the team needed to play better defensively and help him out. This man's ego is out of control. He's fucking poison. Just go back and look at Georgiev's post-game interview from Tuesday night. Georgiev accepted responsibility on a game winning overtime goal allowed, a shot that was pretty much perfect and near impossible to save. Georgiev said the team played well. Despite the Rangers playing their best game of the season, Lundqvist was pointing out errors and how the team needs to stay back more. I can't wait until this cancer is finally gone.
If you watch the other post-game interviews, a common topic was the Rangers and their "communication." Seriously, the Rangers and Quinn said the word "communication" more than Joe Micheletti says "Lundqvist" during a broadcast. Turns out, despite being professional hockey players, the Rangers have found out they can talk to each other on the ice and communicate with one another. What a novel concept!
While I'm being an asshole here, it seems the root of this issue is that the rookies want to respect the veterans and don't want to speak out of turn. From the post-game interviews, it seems that the veterans want the rookies to speak up and do what they have to do to contribute. The veterans, and Quinn, don't want a "walking and talking on eggshell environment." (My words, not anyone else's.)
The Rangers now have around 68+ hours to bask in this win. It also gives Ranger fans three days to not lament about the state of the team.
The Rangers will host an alumni game between themselves and the Bruins. That game will start at 1PM Sunday, followed by the 7PM evening tilt between the current squads. I really want to go to that alumni game, but an early Sunday game during the NFL season, and then waiting around 3+ hours for the night game is a long day. I hope the Rangers air the alumni game on MSGN, but I don't think that's the case.
Larry Brooks, of the NY Post, is pushing for the Rangers to announce that they will retire Brad Park's #2 jersey/put Park in the rafters. I hope that doesn't happen. Frank Boucher deserves the honor first, followed by guys like Bill Cook, Lester Patrick, Emile Francis, Bryan Hextall, Ivan Johnson, Dave Kerr, Edgar Laprade, Ron Greschner, etc.
This is not a slight on Park. If it wasn't for Orr, he was the best defenseman of his era. If it wasn't for Leetch, he's arguably the best defenseman in Ranger history. (Ivan Johnson could challenge for this spot too.) Fact is, Park didn't win a Cup here in NY and spent more than half of his career elsewhere. There are better people that belong in the rafters and most certainly, deserve the honor before Park gets it. However, knowing the Rangers and Brooks pushing for it, I fully expect Park to have his name in the rafters. After all, if PHISH can get a banner, you might as well put up a banner for Emerson FUCKING Etem.
I'll be back Sunday night, if not before then. As always, you can subscribe to these blogs for the latest update.
Thanks again for reading, and…
"LET'S GO RANGERS!"
Sean McCaffrey
BULLSMC@aol.com
@NYCTHEMIC on tweeter