Greetings and salutations everyone and welcome to another blog here on BlueCollarBlueShirts.com. On Tuesday night, during the second game of their five game homestand, the Rangers were defeated by the Arizona Coyotes, in overtime, by a final score of 3-2. After the first period the Rangers had in this game, picking up the loser's point was a gift. However, the fact remains that despite the overtime point, the Rangers are currently on a five game losing streak and sport a terrible 2-4-1 record.
When you look at this game as a whole, while you can't say the efforts of Alexandar Georgiev and Tony DeAngelo were truly wasted tonight, obviously, the tone of this blog and the tone from the team would be a lot different right now, had the Rangers won the game. With the loss, there's no picture of Georgiev or DeAngelo with the Broadway Hat/Fedora. That said, Georgiev and DeAngelo were outstanding in this game. It's just a shame Tony DeAngelo didn't get his hat-trick, just so I could use my "TONY, TONI, TONE!" headline. (I wonder how many people get that reference?)
After the loss to the Vancouver on Sunday afternoon, the Rangers talked the talk after the game, but they couldn't walk the walk in this game. With 48+ hours to prepare for this game, all we heard out of the Rangers and head coach David Quinn was how everyone knew they had to play a full 60 minutes. We heard all the same old shit and tired cliches. "We got to be better." "We have to play a 60 minute game." "We have to get a compass and find out where the north star is." Okay, maybe they didn't say the last thing, but all you hear from Quinn these days is about the north/south and east/west games. Here's an idea, how about shooting the puck at net?
In the first period of tonight's contest with the Desert Dogs, the Rangers were out-shot by a tally of 21-3. I think that tells you all you need to know. For all the jaw-jacking and statements from the puffed out chests of the Blueshirts, the Rangers let the Coyotes mop the floor with them for the first twenty minutes of this game. Granted, while this game did go to overtime, meaning that it was anyone's game after sixty minutes; who knows, perhaps with a stronger effort in the first, the Rangers would've went on to win this game in regulation.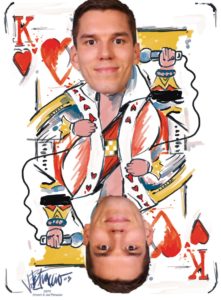 If you're one of those people who make excuses for Lundqvist after every shot or do the "THE SCOAR WOOD BE 7637846789634 TO ZERO IF IT WAZN'T FOR HANK" shit, then the score tonight would've been "7637846789634 multiplied by pi (That's 3.14 and the only math thing I remember from high school) TO ZERO" in the first period, if it wasn't for Alexandar Georgiev.
Georgiev had a monster of a game tonight, which is something he needed after the game with the Devils. Georgiev's game tonight pretty much solidifies what I've been saying ever since this rebuild – Georgiev (and Igor) just makes Lundqvist's presence here insane and futile. We got two young stud goalies, both making nearly $8M less and who are 15+ years younger, who can both outplay Lundqvist. And what sense does it make to have a 38 year old goalie, taking up 10% of the salary cap, during a rebuild? It doesn't. And really, if the "WE MUST WIN FOR LUNDQVIST" mantra continues, when does Igor get a chance to be a starter here? When he's 27?
And really, truth be told, the goaltending isn't the issue for the Rangers right now. It is just my opinion that if the goaltenders are going to face a ton of shots a game, then you may as well have the young studs handle the workload, as that is what's best for the future of the franchise.
For as bad as the Rangers were in the first period in that game with Vancouver on Sunday, they were much worse tonight. With 21 shots allowed in the first period tonight, the Rangers gave up their most amount of shots this season, in a period, during this game. Fortunately, Georgiev made 20 saves during this first period, which kept the Rangers alive in this game. In the same situation on Sunday, Lundqvist gave up three goals and the Rangers had to play catch-up all game. With Georgiev having a strong game, despite the Ranger struggles, they were able to come back twice, tying the game at 1-1 and at 2-2. It also allowed them to steal a point.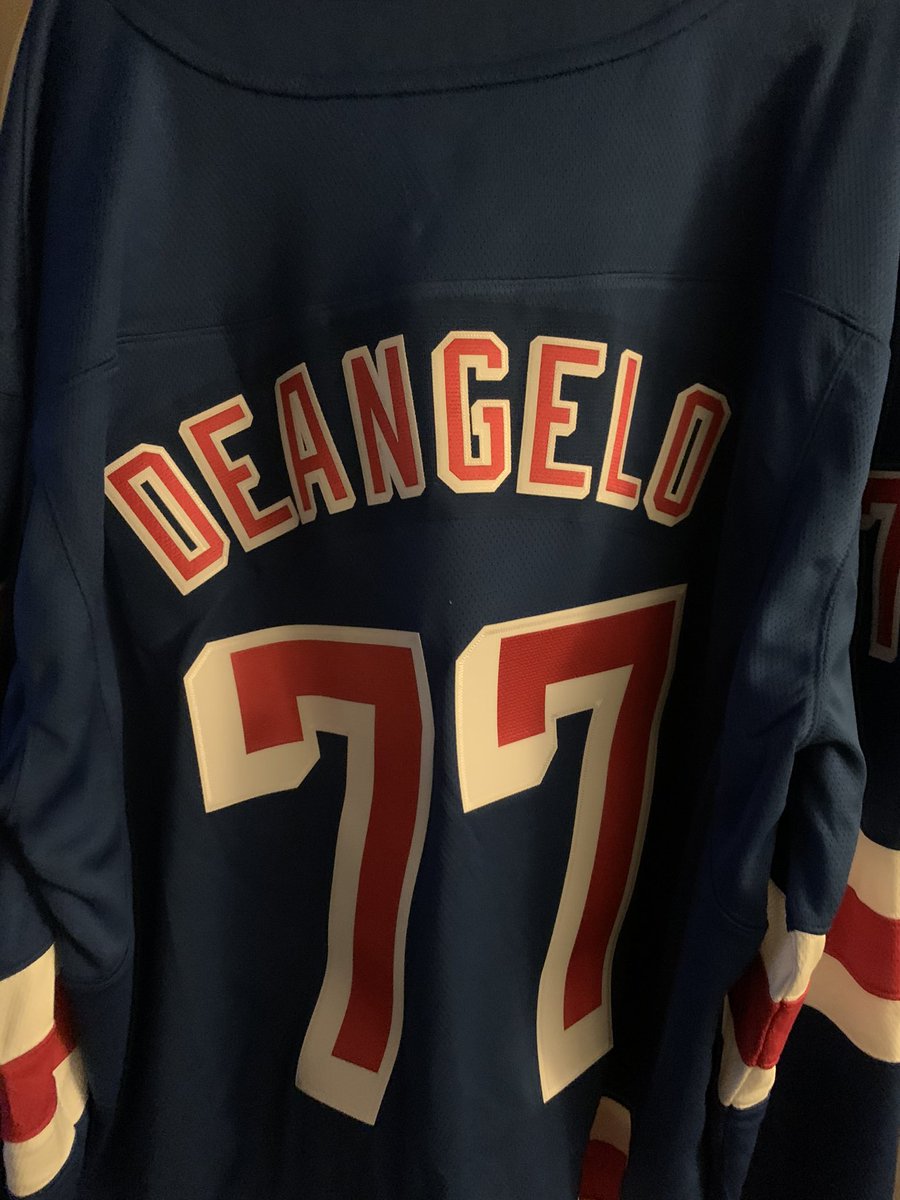 In front of Georgiev tonight, you had few hits and many misses, which I'll get into as we continue. The biggest hit for the Rangers tonight was Tony DeAngelo. Listen, I haven't turned on David Quinn like everyone else. I'm not calling for his firing like many other fans have done or are currently doing. I even saw some retarded woman, the same retarded woman who says "DEANGELO LIKES TRUMP SO HE SUCKS!" say tonight, "FIRE DAVID QUINN INTO THE SUN!" Of course, this retarded woman is a card carrying Cult of Lundswiss member.
If there is any way to defend her opinion, and the people who share the opinion that Quinn needs to be fired, I guess this goes back to what I've said before – NY sport fans have no patience. With the way this week has gone (Four Ranger losses, Giants smoked, Jets embarrassed and the elimination of the Yankees) I guess I can understand the frustration.
And as I talked about a few blogs ago, I don't care about being politically correct. If you're saying DeAngelo sucks and you think David Quinn is going to be fired after 7 games, then you have to be a fucking retard.
Oh and speaking of my last few blogs, what a perfect time to plug my last few blogs, in case you missed them. Here they are, in all their glory:
---
---
---
---
---
---
To be fair, during my last few blogs I have criticized Quinn for three things. I think all three of these points are valid:
— Kakko should be on the first line.
— You're not going to create line chemistry by changing the lines every game. (Kreider talked about this tonight, as I'll get into later on.)
— Putting Tony DeAngelo in the "Quinn Bin" (Quinn Bin Credit: Jim & Eddie of "Blue Shirt Underground Radio/Video/Multimedia")  was a mistake.
While I'm not proclaiming to be the Nostradamus of the Rangers here, the fact of the matter is that as these games go on, and as the losses rack up, I don't look wrong here. In fact, I feel I'm right on the money here, as I was when I first said five years ago, that "Henrik Lundqvist will never win a Stanley Cup."
During the last few games, it looks like Quinn is just pulling names out of a hat, as he tries to get someone going on that first line. The constant line changes aren't producing points at a consistent rate. In fact, the Rangers defense are outscoring the Rangers 2-4 lines at a rapid rate. And lastly, when it comes to DeAngelo, he's not the problem, as is evident by his two goals tonight. If anyone is a problem on that Rangers defense, it's Brady Skjei.
For whatever reason, Quinn thought DeAngelo wasn't playing well and benched him three games ago. After that, Quinn, who used DeAngelo on either the first or second pair, put DeAngelo on the third pair during the past two games. After two goals today, good work on the PP and playing well defensively, it should be interesting to see if TDA gets a bump up on Thursday night, in the game with the Sabres.
On the topic of Quinn and his lines, here was the latest from Quinn: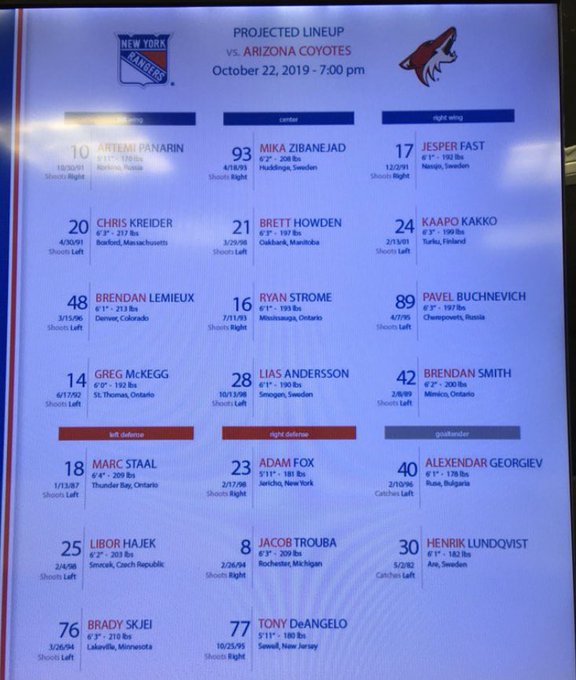 The funniest thing about today's game? Jesper Fast was on the first line for the first forty minutes of this game. Quinn then opened the third with Kreider replacing Fast. One shift of Kreider later, Fast was back on the first line. I get that the coach knows the team better than I do, but this constant nervous shuffling is questionable. That said, I wouldn't fire Quinn either, as others are suggesting that the Rangers do.
Aside from the line changes and Georgiev starting in goal, there was only one Rangers news item before puck drop and it concerned Kaapo Kakko.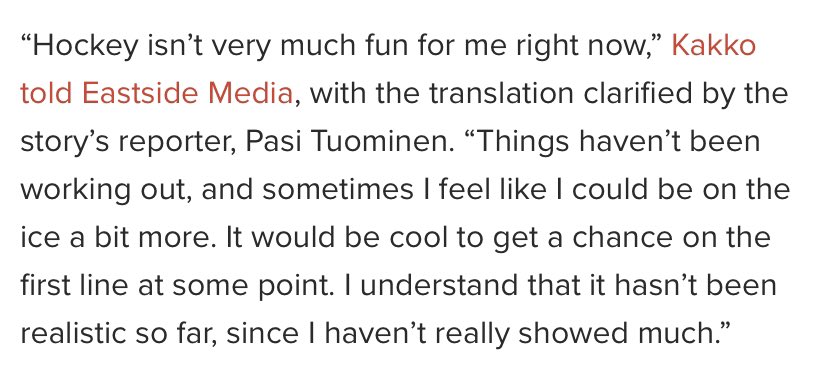 Prior to today's game, an article with a Finnish website was released and translated. In the article, Kakko complained about his ice time, as he feels his lack of ice time is hurting his performance. After tonight's game, Kakko wouldn't be the only one complaining about ice time, as Chris Kreider also complained. I'll get into Kreider at the end of this blog.
When it comes to Kakko, it feels like Kakko, every Rangers fan and every Rangers writer feels the same – put Kakko on the first line. The only person who doesn't agree with that opinion is the man whose opinion matters the most, and that is David Quinn.
I've already talked about Kakko and his ice time in my last few blogs, so I'll save you the whole spiel here. Refer to my blogs linked above for more on Kakko's playing time.
As far as Kakko's comments today, I'll just leave you with this – what more does David Quinn need to see before he puts Kakko on the first line? The team is on a five game losing streak. WHAT DO YOU HAVE TO LOSE?
Let's go to the gambling segment of the blog.
Here's what I said before the contest:
My o/u record this season is 4-2:

Coyotes are on a 3 game win streak, Rangers are on a four game losing streak and I'm on a 1 game losing streak. Every streak gets snapped tonight.

Take the UNDER, in a game where I see #nyr winning by a final of 3-1. pic.twitter.com/jl1w8N3RBG

— BlueCollarBlueShirts (@NYCTheMiC) October 22, 2019
Well, I did snap my losing streak. With an over/under of 6 goals, another Georgiev start hit the under. My record improves to 5-2 on the season.
And if you notice, as you can tell from my tweet before the game posted above, I had a good feeling about this game. I thought Arizona, on the first game of their northeast road-trip, would falter a bit. I also expected a great start from the Rangers, as I thought they would come out guns blazing in the first period. I couldn't have been more wrong on both accounts.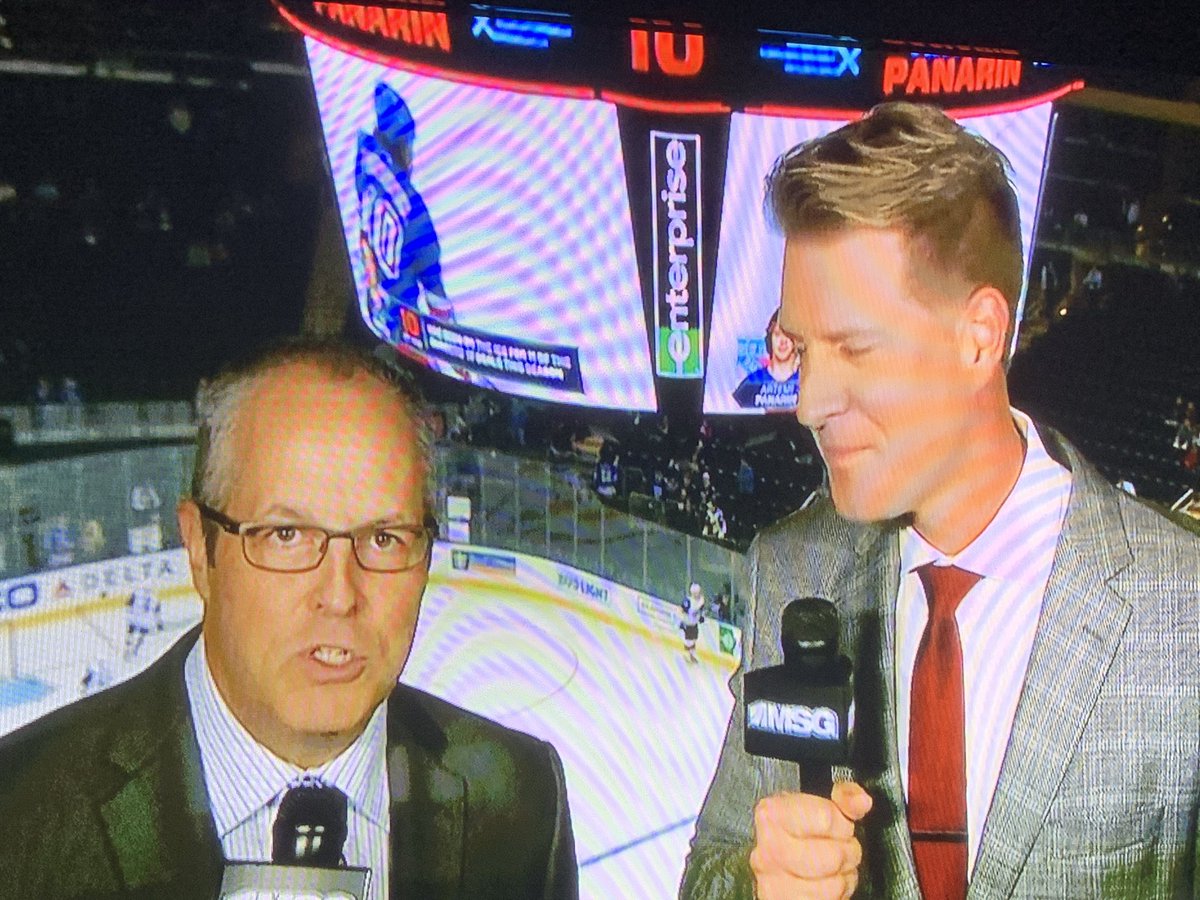 Before getting into the game, I wanted to comment on the MSG Networks broadcast. Here's what I said during the pregame:
Giannone has been the MVP of these broadcasts this season. @RangersMSGN throws @jaygeemsg on the call, between the benches, in the studio & all over the arena before the game. Now if @MSGNetworks would only bring back @RonDuguay10 to the studio where he belongs. #nyr

— BlueCollarBlueShirts (@NYCTheMiC) October 22, 2019
Seriously, a kudos to John Giannone, who is kind of like the utility player/jack of all trades type for the MSG Networks. Not only can the MSG Networks plug him into any role, Giannone also is very fan interactive and is the man who makes the "Bleeding Blueshirts" podcast/live streams possible. I think he does a great job.
When it comes to Joe Micheletti, a man I often use for comic relief on these blogs, while he is still annoying, I thought he did a good job tonight. Say what you want about me and my criticisms, but if someone I'm not a fan of does well, I'll say it. Micheletti was very fair and treated Georgiev's saves as if it was Lundqvist in net. More surprising, both Sam and Joe had the balls to call out Chris Kreider in this game. As talked about before, VERY RARELY do you hear MSGN employees criticize the Rangers or the Knicks. Joe & Sam did criticize Kreider, even if they did add that they were rooting for him to get it going. And really, in defense of Joe & Sam here, aren't we all rooting for Kreider to snap out of it?
Oh, and no update on Al Trautwig yet. I hope he gets better and overcomes whatever he's going through. I need him 100% healthy so I can make teeth jokes on these blogs!
And lastly, the MSG Networks picked up these two hanging out before the game: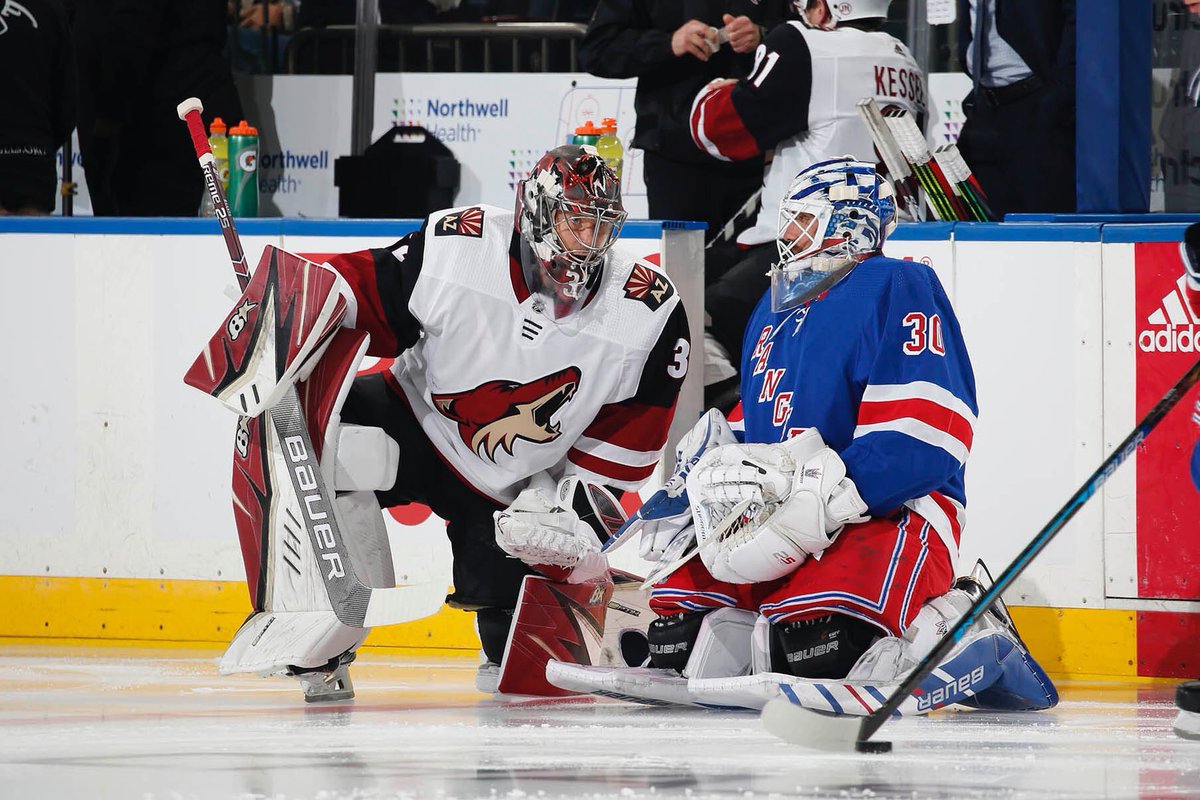 Darcy Keumper started the game in net for the Coyotes tonight. I was surprised, because while Keumper has some unreal stats right now, I thought Arizona may have went with Raanta, just for the revenge game/you always play better against your old team factor. Instead, in a rarity, it was a Ranger who had the "revenge game", as Tony DeAngelo had a kickass performance.
At this time, as usual, let's go to the box score, courtesy of ESPN.com:
SCORING SUMMARY: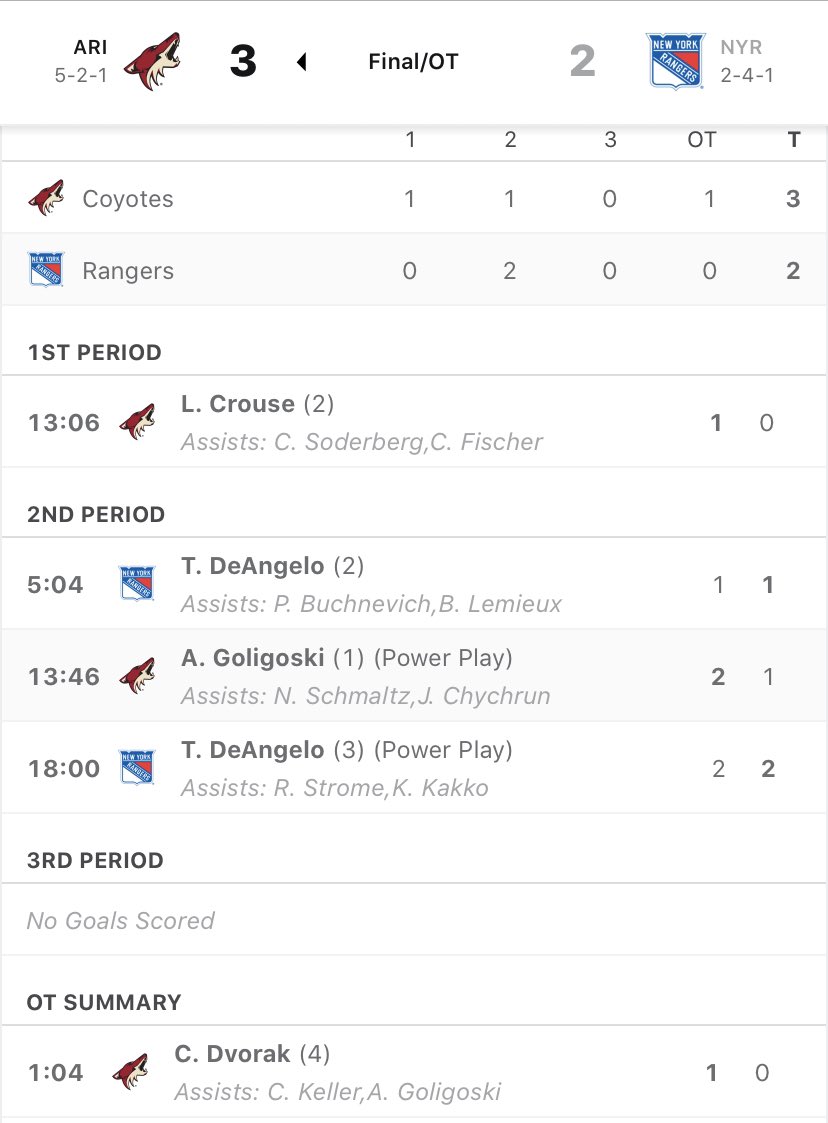 PENALTIES: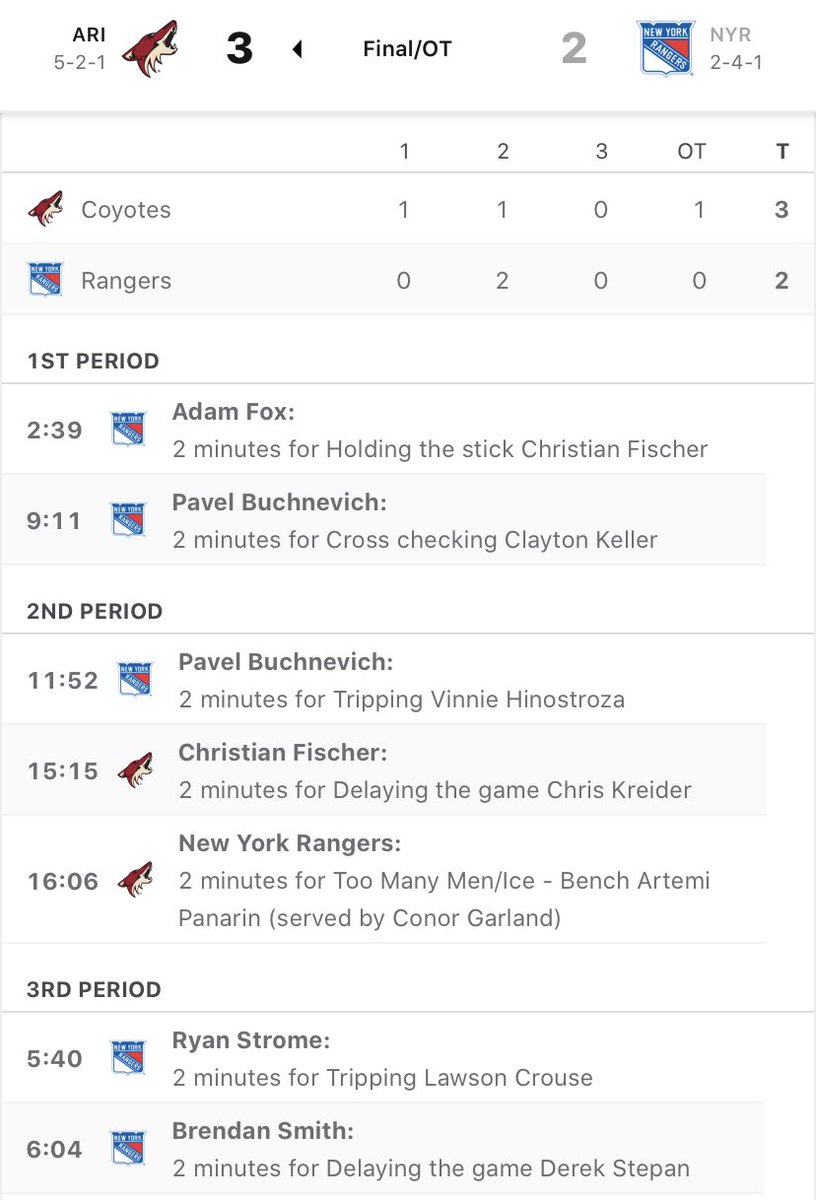 GOALIES:


Just look at the goaltender stats in this game. Georgiev made 32 saves on 35 shots, with 20 of those saves coming in the first period. The Rangers, who now have a two game streak of terrible and lifeless first periods, couldn't get much going in tonight's third period. In the game on Sunday, the Rangers woke up in the third/Vancouver got tired and would go on to log 21 shots in that third period. In tonight's game, the Rangers only recorded 19 shots, in 61+ minutes played. What's the word here? Oh yeah – SAD!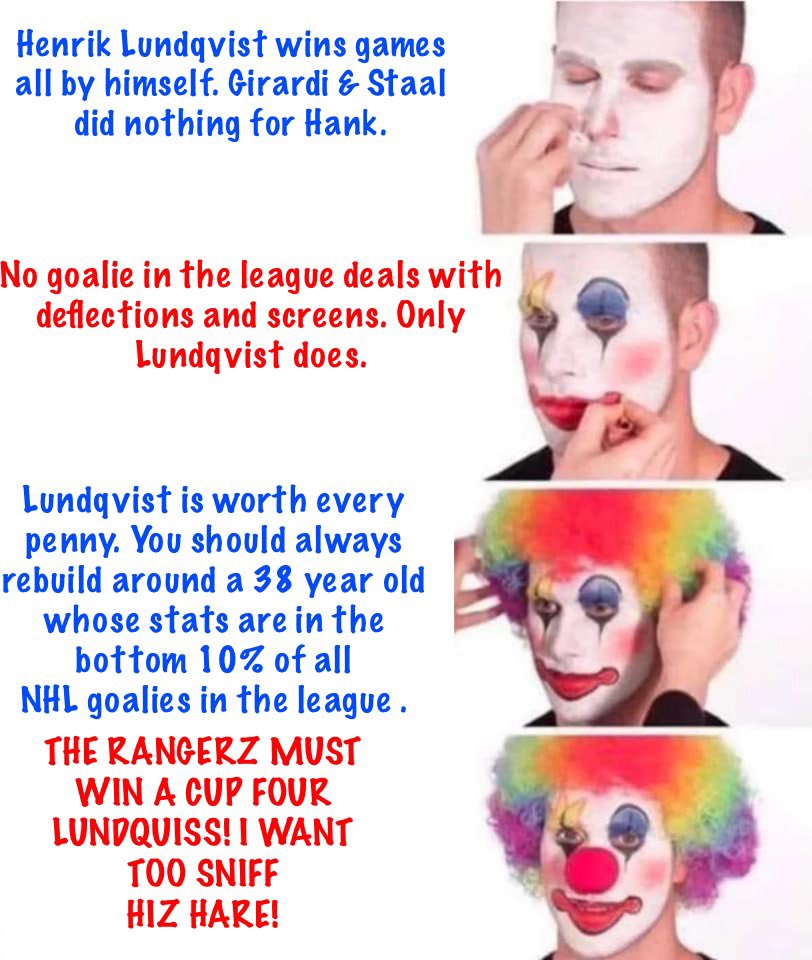 The first period was a complete shit show. I know older Ranger fans are accustomed to it, but even someone as jaded as me was surprised. I truly thought the Rangers would've put forth a stronger effort. Instead, they got out-shot 21-3. During this period, it felt like the Coyotes could waltz right into the Rangers defensive zone at will. Obviously, because of the shot differential, this was Georgiev's best period. Because Georgiev didn't give up three goals or any softies here, despite the disparity in play, when the period ended, this was still a one shot game.
In what's either becoming a trend or maybe it's just happenstance, the Rangers once again took a penalty, early into the first period. I had my buddy on Twitter @DanPesa ask me, "why did Brendan Smith log more minutes in this game than both Kakko and Lias Andersson?" Simply put, the Rangers kept finding themselves getting boxed, which in turn, put the Rangers PK on the ice, which Smith is part of. And really, unlike the others out there, I don't think Smith is playing bad. I'll say what I'll always say about Smith – the only way the Rangers can get out of his contract is by auditioning him with playing time.
Two minutes and change into the period, Adam Fox was caught blatantly holding the stick of Christian Fischer. The Rangers PK were fantastic here, limiting Arizona to one shot.
As the period progressed, Kakko puck hogged for a bit and tried to make something out of nothing. This led to a turnover. When I saw this, I was thinking about Kakko's interview. I won't blame him for trying to be Kobe here, as great players sometimes need to be selfish, but I thought this was a case of him trying to do too much out of frustration.
I also want to get this out of the way now. Georgiev and DeAngelo will get all the Ranger headlines tonight because they were great and have impressive box scores. Two players who won't get as much burn, but also had fantastic games, in my opinion, were Greg McKegg and Jacob Trouba. McKegg was solid on the PK and constantly moved the puck forward. Trouba was breaking up odd-man rushes and kept firing the puck at net. I know some people whine about guys who shoot directly at the goalie, but you can't score if you don't shoot. All it takes is a tip, a deflection or a goalie scared of Trouba's heavy shot, to get a goal.
The first period was basically the Georgiev show. At the halfway mark of the period, the intoxicating commie, in Pavel Buchnevich, turned over the puck, skated back into the d-zone and promptly cross-checked Clayton Keller. Unlike the first Rangers PK, Georgiev would be called upon, as he had to make 5 strong saves during the two minute PK.
While on Buchnevich, I thought this was a "one step forward, two steps back" type of game for him. Literally, as the cliche goes, for every good thing he did, you could find two bad things that he did. He would make a great play and assist on the Rangers first goal of the game, but would also turnover the puck left and right. It also looked like he was afraid to get hit in this game, as there were several times where he shied away from contact.
With 7 minutes to go in the period, Lawson Crouse scored. I wouldn't call this a fluke play, but it was a bit freaky. Arizona caught the Rangers D off guard, as three players were staring at the netting behind Georgiev. The puck took an errant bounce and there was Crouse in front of Georgiev to score the first goal of the game. 1-0, bad guys. Skjei may have been the biggest offender here, as he seemed to have lost track of the puck and his man. Right after this goal, Skjei then skated into Panarin, which saw both Rangers fall to the ice. Not a good game for Skjei tonight.
Mercifully, this period finally came to an end, with the Coyotes only having a one goal lead. I have no explanation on why the Rangers came out flatter than a 20 year old beer tonight.
The Rangers woke up in the second period and made a game of it. Unfortunately, the Rangers missed three great chances, early into the period. Zibanejad would hit the post on a breakaway. Panarin would go wide right in front of Keumper. Kreider was Kreider and couldn't score to save his life. Of course, my old joke here is that Chris Kreider couldn't score in a whorehouse while holding two fistfuls of $100 bills. He's been that bad and that cold.
After stopping Christian Fischer on his door step, Georgiev settled the Rangers down. On the next play, Buchnevich made a great pass to Lemieux. Lemieux couldn't finish, but the puck took a fortunate bounce for the Rangers and Tony DeAngelo cleaned up:
Tony DeAngelo ties the game for the Rangers #NYR pic.twitter.com/PCugQOPVsS

— Rob Taub (@RTaub_) October 23, 2019
1-1, with 15 minutes remaining in the second period. Obviously, as a DEMAGANGELO fan (Credit, as always, to @NYRKELSMADS) I was happy to see TDA pick up this goal. That should keep Quinn off his back for a bit. And to be clear here, I don't root for TDA because he's a Trump guy. I root for him because I enjoy his game and because he's a Ranger. I think he's an asset to this club, perhaps even more so than Lias Andersson, two players that the Rangers both acquired in that trade with Arizona, for Stepan & Raanta.
Oh and I had this debate on Twitter today. If the Rangers never made that trade and the Rangers still went on to trade Ryan McDonagh, I think Stepan would be the captain of the Rangers today. Just something fun to talk about.
One issue during this game were the referees calling questionable icings. Pucks would touch the Coyotes on their way towards Keumper and for some reason, the refs called icings. It was getting so bad, that I'm surprised the refs didn't call icings during Ranger PK's.
Georgiev kept making great saves as the period went on. At the halfway mark of the period/game, Sam & Joe gave us their save of the game. Seemed a bit early for that segment of the broadcast.
At the 11:52 mark, Buchnevich was boxed again, this time for tripping Vinnie Hinostroza. With six seconds remaining on the PP, Alex Goligoski  beat Georgiev with a blast, for the PPG. 2-1 bad guys.
On the goal, as I always say, I rarely blame the goaltender for a PPG. Skjei was screening Georgiev here. However, this is going to happen and these are the situations PP units set up. You have to give the opposing team credit and credit to Arizona for setting this goal up.
With five minutes remaining in the period, the Rangers would get 1:03 of a five on three PP, when Arizona flew a puck over the glass and then followed that up with a too many men on the ice penalty. Arizona killed the 5 vs 3, but with the Rangers still on the PP, Tony DeAngelo did it again:
.@TonyDee07 has 2 in his 💯 career game with the @NYRangers pic.twitter.com/Ay2IbKLafZ

— Rangers on MSG (@RangersMSGN) October 23, 2019
Talk about a great and timely goal. For starters, this tied the game, with about two minutes left in the second period. It was a huge momentum goal. You never want to waste a 5 vs 3 PP. It was also a PPG for the second PP unit and it also featured the first assist in Kakko's career. For all the people whining about Strome and TDA, both of these players were involved in Kakko's first goal and first assist.
However, Arizona wasn't sitting back, as Georgiev made a huge save with 42 seconds left. The clock would wind down, and after two periods, we had a tied score of 2-2. It's amazing what can happen when your goalie doesn't give up three goals in the first period!
The third period saw both of these teams play a bit more conservative. There weren't as many offensive chances in this period. The best chance of this game came with 14:20 left to play, as Strome was caught tripping after a long shift. Immediately after, while on the PK, Brendan Smith flung a puck into the tenth row. This gave Arizona 5 vs 3 PP.
On the PK, both McKegg and Trouba showed their value and kept the Coyotes off the board. The period continued to go back and forth. The best Rangers chance was denied, when Keumper made a good save on Panarin.
In the final minute of the period, in a move that will drive Ranger fans nuts, Brendan Smith was out there.
After a scoreless third period, the game remained tied at two. Considering the fact that the Rangers took off for a whole period again, the fact that the Rangers got a point out of this is somewhat condoling.
In the overtime, the Coyotes won the faceoff. The Rangers would never touch the puck for the remainder of the game.
After skating around and tiring out the Rangers, the Coyotes made a change, leaving the Ranger skaters flat-footed. A minute later, Dvorak beat Georgiev from close up, with a raising shot that found the high corner of the net. 3-2, your final, in OT, in favor of the Coyotes.
Overall, I think I basically covered everything. The Rangers sucked for twenty minutes, made a go of it, and let another Pacific Division team on a time difference embarrass them on home ice.
When this homestand first came up, I said it would be interesting to see how the rebuilding Rangers did against the rebuilding Canucks, Coyotes and Sabres. Right now, the Rangers are 0-2 with the best team of the lot, at least win-wise, coming up next. After that, the Rangers host heavy hitters in the Bruins and the Bolts. By the time the Rangers head to Nashville, they could be sporting a 2-7-1 record. I don't think anyone predicted that, 10 games into the season.
At this time, before closing, I want to talk about Casper The Friendly Kreider.
Here was his post game interview:
…..
THE MSG NETWORKS AND RANGERS WEBSITE PULLED HIS INTERVIEW OFF THEIR SITES AND SOCIAL MEDIA ACCOUNTS!
WOW!
When the game ended, I kept the MSG Networks on and listened to the post game show. Kreider did an interview where he talked about Quinn changing the lines all the time and how the Rangers need more time to put it together. However, after searching all over the internet, that interview has been scrubbed and isn't available to anyone who didn't DVR this game!
In Kreider's post game interview, Kreider questioned the coaching, the ice time and said the team needs more time. When it comes to coaching and the ice time, these are valid criticisms, if you're talking about Kakko or Andersson. When it comes to Kreider himself, this is bullshit.
Kreider is in his 8th season with this team and is the third most tenured player on the club, behind Lundqvist and Staal. Making the excuse of "needing more time" is just that – an excuse. Quinn has done everything to jump-start Kreider, whether it's putting Kreider on the first PP unit or with the first line. However, time and time again, Kreider can't finish. He's missed nets, shot pucks into the goalie's chest and has gone wide. He's losing corner battles and it's like he never left the funk that he had during last season.
I totally understand that the team needs line chemistry, but line chemistry or not, that doesn't excuse Kreider for failing to cash in on the many opportunities he gets. To blame Quinn for his poor start, to me, that's just a cop-out. I really wish I could find the video of this interview to share with you, because when I saw it, my head went like this: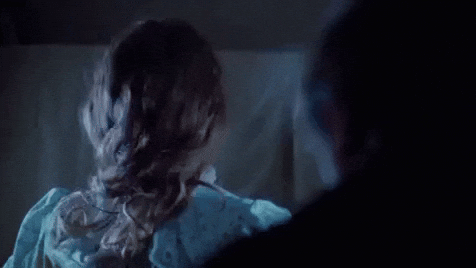 Instead of taking some sort of accountability, Kreider deflected towards his coach. Say what you want about Quinn, but there is no way you can blame Quinn for Kreider's poor start. Man, that interview got me heated!
Up next for the Rangers, is perhaps something scarier than "The Exorcist", as the Rangers host the red-hot Buffalo Sabres. The Sabres are currently 8-1-1 and the best team in the NHL right now. Holy shit, who predicted that? Granted, it's early, but the games in October count just as much as the games in March and April.
I'm interested to see what Quinn does with the goaltending, because I already know what he'll do with his lines – he'll shake them up.  I don't see Quinn letting Georgiev go two in a row. That said, I assume they want Lundqvist to play Sunday vs Boston, just because of the alumni game that precedes it. Too bad Lundqvist won't retire and just play for the alumni team that day! After that, it's Tampa, and Tampa always eats Lundqvist alive at MSG.
As far as this blog goes, I am sitting on some book reviews, but I may wait to write that up when I'm on a plane to Nashville, as I'm attending the Rangers road game there next week. I'll definitely be back Thursday night, work schedule permitting.
Until then, try to keep your sanity with this franchise.
As always, thanks for reading and…
"LET'S GO RANGERS!"
Sean McCaffrey
BULLSMC@aol.com
@NYCTHEMIC on tweeter