Greetings and salutations everyone and welcome to another blog here on BlueCollarBlueShirts.com. By the time you read these words, we'll only be one week away from the first puck drop of the Rangers' 2022-23 season.
As of this writing, the Rangers are currently in South Kingston, Rhode Island for their annual team-bonding trip. While I can't profess to have ever been, it does seem weird that of all places, the club selected the smallest state in the union for this important get-together. Then again, when you play in the biggest city in the world – perhaps the quaint anonymity of Rhode Island is a nice change of pace.
I'll have all the latest in Rangerstown, USA covered for you tonight, including a few stories on the alumni too.
However before getting there, yours truly, and my team, are currently in the final stage of publication, as fingers-crossed, "Tricks of the Trade – A Century-Long Journey Through Every Trade Made In New York Rangers' History" will be released within the next fourteen days.
To pre-order your signed copies, visit: https://bluecollarblueshirts.com/tricksofthetrade/
---
If you have a keen eye, and take a deep look at the picture above (and as my good pal Linda H. did), you'll see that there are typos on the spines of these test/proofreader copies! That's why this final stage, where my staff and I all go through the physical version of the final copy, is the most important. It truly is the make-or-break stage of the book writing process.
Without boring you with all of the details – it's much easier to catch errors in a physical copy of a book, than it is in the file itself. After a while, going through countless pages in a computer document can become tiresome. Conversely, when you flip through pages of a physical book one-by-one – it's much easier to catch tiny errors.
Why do I bring this up? Only because it was my plan to have this title out by 10/11.
As of right now, it may take a week or two longer than that, as I want to make sure these four books are 100% perfect. I've worked long and hard on this project – two more weeks isn't the end of the world – especially since I want this title to be flawless.
Furthermore, and as you're probably aware of by now, I do a lot of reading.
Far too often, whenever I read independent authors (and even mainstream books too), I find errors, both large and small. Maybe most readers don't notice these imperfections, but I know that I do. Personally, even tiny things, such as double spacing, missing periods, incorrect capitalization, typos, etc, can take me out of a book.
I can't speak for other authors, but I can assure you that while these blogs are for fun and never edited with a fine-tooth comb – my books most certainly are. And heck, most of you can probably attest to that, after reading my first two titles, "The New York Rangers Rink of Honor and the Rafters of Madison Square Garden" and "One Game at a Time – A Season to Remember."
Before moving on to the news of the day, one last thing, and as I always say whenever promoting my books:
I don't run ads, spyware, pop-up video players, crowd-funding links or any of that other junk on this site.
All I ask is that you buy my books.
As I've said throughout the summer (confidence, not cockiness), no other title on the market today covers Rangers' history like "Tricks of the Trade – A Century-Long Journey Through Every Trade Made In New York Rangers' History."
I can't wait to see what you guys think of it!
Speaking of "Tricks of the Trade – A Century-Long Journey Through Every Trade Made In New York Rangers' History;" let's lead tonight's blog with a story featuring one of the many players covered in the title, one of the most controversial Rangers of all-time (and NHLer too), Sean Avery.
---
Sean Avery (42 years old), who last played in the NHL in 2012 (there was also that debacle with the Orlando Solar Bears of the ECHL in February of 2022, a deal that went nowhere), is back in the news again.
On Monday, TMZ.com reported that Sean Avery went on another profanity-laced tirade on one of his favorite subjects – automobiles.
You can read the full story, and see the video of the incident, here: https://www.tmz.com/2022/10/03/nhl-sean-avery-threatens-snap-teen-windshield-wipers-heated-parking-dispute/
Following TMZ's report, the New York Post picked up the story, where their headline was "Crazy Sean Avery threatens neighbor, teens in parking dispute."
I bring up the New York Post only to say that Larry Brooks, one of Avery's confidants (Avery was one of Brooks' biggest sources during the John Tortorella years), didn't write the article, nor the headline attached to it. Instead, Ryan Glasspiegel, who admittedly, I've never heard of before, did. And to be fair, in the TMZ video, Avery, when asked if he was crazy, replied, "100%. Ask around."
While I've recapped Avery's previous transgressions on both this site and in my books; needless to say – it's been a rough 2022 for a guy who's always in the news in the first place – where most of the stories about him are self-inflicted.
In 2019, while living in New York City, Avery used his social media accounts to go after Bill DeBlasio, then mayor of NYC. (And who could blame Avery for that?) Avery, a bicyclist, also posted daily videos of himself challenging truckers, drivers, and anyone else imaginable, about their parking and/or blocking of NYC bike lanes.
Fortunately for Avery, especially in a city full of crazies – no one ever pulled a gun on him following his multiple rants (that he filmed and posted on social media), where frequently, threats were made.
I know I'm going to the extreme here (but am I really?), but if you ever saw these videos of Avery going off on these people, all it would've took is one wrong person – and then any of these incidents could have been escalated to the next level.
After ramming his scooter into a car during one of these incidents (it was alleged that Avery ripped a side-view mirror off too), Avery was charged with criminal mischief in 2019. He was soon offered a plea deal with no jail time attached, where he would've then had to pay a fine and attend anger management classes.
Rather than accepting this plea deal, Avery decided to fight the charge levied against him.
Due to the pandemic, Avery, who later moved to California after expressing his disgust in what New York City had become; his case was delayed to 2022.
After dismissing his original lawyer over what really amounted to a minor offense (and let's admit the obvious – NYC has let serious criminals off of the hook with no questions asked – heck, DeBlasio used to give these lawbreakers free tickets to Mets games too – I'm not making this up); in April of 2022, Avery declined a bench trial and demanded a jury trial instead.
Following a battle with the court (he wanted to virtually attend his trial, via FaceTime and/or another video medium, such as Zoom), Avery was ordered to appear in court on June 15th.
Avery used his podcast as a way to garner support and attention to his case, where he asked his fans to attend his trial. According to TMZ, only two fans showed up – the same number of season ticket holders that the New Jersey Devils presently have. (I kid, I kid – or am I?)
At the end of the day, Avery was ordered to pay $205 in fines and was barred from making contact with his "victims" for three years.
Not for nothing, but being barred from making contact with his "victims" for three years is pretty amusing.
Can he curse them out without fear of legal repercussions following the three-year period? What happens if he rips them a new five-hole at 11:59PM on the final day of this court imposed three-year ban?
Where's "Judge Judy" when you need her?!
And without personally knowing whatever deals Avery may have with airlines – the round-trip flight from California to New York and back most likely ran him more money than his $205 fine.
At the very least, traveling to New York wasn't worth his time.
---
Following his NYC bike lane shenanigans and trial; on July 26th, 2022, TMZ reported that Avery's wife had filed for divorce. You can read that story here: https://www.tmz.com/2022/07/26/sean-averys-model-wife-files-for-divorce-from-ex-nhl-player/
Without knowing Avery at any sort of a personal level (he did reach out to me once, about five years back, to criticize my opinions about Lundqvist's contract – and I thought that was fair game – we're all entitled to our opinions and I have no problems with a good debate) – he's obviously had a rough last few months.
Between the trial and his divorce, he may be not be in the best place. Again – this is speculation – not a fact.
Furthermore (and I really dive into this topic in "Tricks of the Trade," most notably when talking about Eric Lindros and Rick Nash) – who knows – he may have CTE. He played a tough brand of hockey and endured multiple concussions throughout his career.
While CTE is no excuse for going off on a bunch of teenagers, and then asking them about their sex lives too (in my opinion, I found Monday's video to be another case of "Avery being Avery," but when he started asking minors about their sex lives, that's when it became tough to watch) – at least it makes the story more understandable. Or so I think.
(And to be fair – I know that I have a tough time when it comes to guessing people's ages. Avery saw kids with a car. He may have just assumed they were eighteen years old or older.)
Avery has yet to comment on the story.
From first look, it doesn't seem like Avery was aware that he was being filmed until he was told that he was being filmed. And once being told that he was being filmed – Avery just amped up his verbal attack – even going as far as telling the kids to look up who he is.
For what it's worth, and as TMZ reported, the police weren't called, nor is Avery in any sort of new legal trouble.
Avery has always been an aggressive guy. However, unless he really wants this national attention – he should keep in mind that everyone has a video recorder in their pocket. Avery, of all people, should know this.
And who knows, for a guy who is trying to get an acting career going (he's recently appeared in several movies and television shows), maybe he can star in a NC-17 version of "Paul Blart: Mall Cop" entitled, "Peter Schlop: Meter Cop!"
Let's now talk about someone who could've been a member of the Rangers' alumni, the greatest coach in all of NHL history, Scotty Bowman.
---
While Sean Avery was making headlines; on Monday morning, I was flipping through the latest issue of "The Hockey News" magazine. This issue is THN's "Legends" issue, where the long-running publication conducted a bevy of interviews with Hall of Famers and future HOFers.
One of the interviews featured Scotty Bowman, the fourteen-time Stanley Cup champion (nine as a coach, five in the front office).
During the interview, Bowman said that he pretty much had a signed, sealed and delivered deal to take over the Rangers, following the 1989 dismissal of Phil Esposito. However, due to his family life – Bowman backed out at the eleventh hour.
While we know what happened in 1994 – what would have happened had Bowman took over the team in 1989, rather than Neil Smith? (All of these figures are discussed at length in "Tricks of the Trade," which is why I'm not going to cover all of these men long-form during this blog.)
Maybe the Rangers go on to win multiple Stanley Cups in the 1990s? Maybe the Penguins don't win back-to-back Cups? And who knows – maybe the Detroit vs Colorado feud, at the turn of the century, never becomes one of the greatest hockey rivalries of all-time.
Then again – maybe the Rangers don't win any Stanley Cups, including in 1994.
This is just another "what if question" for a franchise full of them.
Let's now talk about the 2022-23 Rangers.
---
Over the weekend, and prior to their team-bonding trip, the Rangers made six more cuts.
Aside from the five names listed above, Louie Domingue was also waived on Saturday, October 1st. A day later, he cleared waivers and was then assigned to Hartford.
You can read the Rangers' press release about these transactions here: https://www.nhl.com/rangers/news/rangers-reduce-training-camp-roster-by-five/c-335966340
Last blog, I talked about the expected cuts that the Rangers would make. In other words – these six cuts don't come as a surprise.
While the Rangers didn't officially announce these cuts until Saturday's practice was over – the fates of these players were already known at the time, as they weren't at the training facility on Saturday morning.
Following Saturday's practice, Gallant spoke to the media prior to the team's trip to Rhode Island:
---
There were a few interesting notes to come out of Saturday's "TURK TALK," but at the same time – nothing too surprising.
Among the notable items:
— Gallant said that the team may carry less than 23 players, due to the salary cap. As talked about on this site, and as probably talked about everywhere else – the less money on the books now – the more money/cap space Chris Drury will have at the 2023 NHL Trade Deadline. Hello Patrick Kane.
— Gallant said that the jobs/roster spots up for grabs are the obvious ones. Without getting into specifics, Gallant said that you can figure it out. This is all stuff I talked about last blog.
— As far as specifics, Gallant praised both Julien Gauthier and Jimmy Vesey, and did mention that they were two of the players fighting for a roster spot.
For what it's worth – I'm surprised that Vesey, who is on the team-bonding trip, hasn't been signed yet.
---
The Rangers, who took Sunday off, reconvened for practice on Monday, where as is always the case – the beat reporters were obsessed with Gallant's lines. I guess to be fair, with not much going on, the beat reporters need something to talk about/generate clicks.
I'll save you from my 96796896789678967896th rant on this, but yep – I'll never understand the life-and-death approach that some people have over Gallant's (or any other coach for that matter) lines.
Seriously, with some of the stuff I see out there, you'd think that Gallant's lines were set in stone forever, as if it was a fantasy football line-up being set at 12:59PM on a Sunday.
Have these people ever watched hockey before? Lines can change in-game, game-by-game, and come the trade deadline – the line-up will surely change again.
I know that negativity sells (heck, just look at Sean Avery and the national attention that he received on Monday), but the never-ending "doom-and-gloom" about Gallant's lines is just exhausting.
Anyway, following a Monday practice where Gallant continues to LOOK at his players, rather than defiantly stating, "THESE ARE MY LINES FOR ALL 82 GAMES THIS SEASON," as some would suggest; the head coach spoke to the media:
---
Gallant didn't say much on Monday, but he did joke about how people obsess over the power-play minutes he gives to his younger players.
I know I've said this in the past, but it's worth repeating – Gallant handles the media with ease – especially when compared to his predecessor, David Quinn.
Far too often, DQ would get sucked into these questions, where it always felt like that he was on the defensive. In comparison, you know who the boss is today – "The Turk."
In other news, Gallant also said (wasn't shown in the clip posted above), that Adam Graves, Mike Richter and Jeff Beukeboom joined the team for Sunday dinner.
While Graves and Richter being there isn't that surprising, as the two continue to work for the organization today; it was nice to see Beukeboom back, a former #23 who last served the team as an assistant head coach during the Alain Vigneault era.
And if you're really looking into things, Mark Messier is a busy man. As mentioned over the summer, Messier reached out to Jacob Trouba when #8 was named captain. In other words – Messier still has an interest in the club.
The other notable exception, Brian Leetch, previously left the organization when the old regime, John Davidson and Jeff Gorton, were fired. It remains to be seen if he'll return to the club in any sort of an official capacity.
---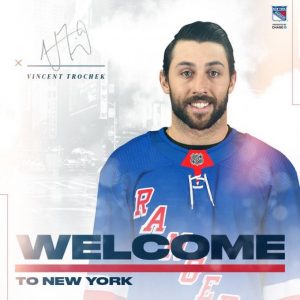 Two more preseason games to go, and boom – Tuesday, October 11th, the home opener against the Tampa Bay Lightning, where the get-in price to this game is currently nearing $300. Maybe that price will dip a bit should the Yankees and/or Mets be playing on that date.
---
PLUGS TIME!
---
My first plug of tonight's blog – the mandatory plug for my book, "The New York Rangers Rink of Honor and the Rafters of Madison Square Garden."
As mentioned previously, the book is now available in hardcover, in paperback and in Kindle formats. To purchase a copy of the book, visit this link:
https://www.amazon.com/Rangers-Rafters-Madison-Square-Garden-ebook/dp/B09CM5N2WD
For those still looking for signed paperback versions of the book, I have re-ordered more copies. I now have a few signed copies for sale at $25 a pop (includes shipping price) through me directly. Here is all the information on that:
---
My four-volume set of books, "One Game at a Time – A Season to Remember," is a game-by-game recount of the Rangers 2021-22 campaign.
My second title as an author, "One Game at a Time – A Season to Remember," is now available in eBook, paperback and hardcover formats.
To obtain signed copies, visit: https://bluecollarblueshirts.com/onegamebook/
To purchase all four volumes on Amazon, visit: Amazon.com – "One Game at a Time."
---
Here are my last few blogs, in case you missed them: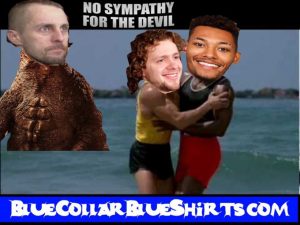 ---
---
---
---
If you haven't already, subscribe to this blog for the next update:
---
Don't forget to pre-order my new four-volume set of books, "Tricks of the Trade!"
If you don't pre-order through me, all four volumes will also be on sale over at Amazon.com
For more details, check out: https://bluecollarblueshirts.com/tricksofthetrade/
Thanks for reading.
LET'S GO RANGERS!
Sean McCaffrey
BULLSMC@aol.com
@NYCTHEMIC on the Tweeter machine