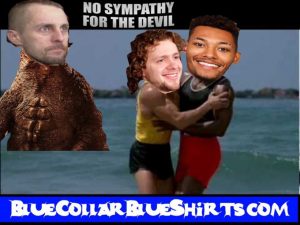 Greetings and salutations everyone and welcome to another blog here on BlueCollarBlueShirts.com. Four down, two to go.
On Friday night, in Newark, NJ (aka Hockeytown, USA – I kid, I kid!), the Rangers were able to outlast Devils' goaltender, Mackenzie Blackwood, and knock off their Hudson River rival by a final score of 2-1.
As the final score would suggest – this win didn't come easy.
Yes this contest was "just a preseason game" (first-and-last preseason disclaimer of the night – you know what this game was), but it also felt reminiscent to a regular season game.
The Rangers ran into a hot goalie on this night. By the end of the first period, the Rangers had out-shot the Devils 17-4, where the Devils closed the first frame with the final three shots on goal.
In other words, the Rangers, at one point, had out-shot the red-and-black attack to a tune of 17-1.
And as we've seen so many times before during regular season affairs – despite a heavy SOG advantage and following a failed power-play too – the Devils struck first, courtesy of Jack Hughes.
On a night that had all of the makings of a Blackwood shutout, the Rangers fought back.
Artemi Panarin (more on him in the GAME REVIEW segment), had been setting-up his teammates all night. When he finally decided to shoot the puck for the first time in the game, he scored. In turn, Panarin finished tonight's contest with one goal off of his lone shot on goal.
The top four of Ranger defenders, Jacob Trouba, K'Andre Miller, Zac Jones and Braden Schneider, all turned in fine performances. Miller, who led the team in TOI (22:42), also led the Ranger rearguards in shots on goal too (4). Better than that – he scored the game winning goal, following a shot from the high slot.
And to continue the regular season theme, the final two minutes of this game wasn't without drama either.
Following a boneheaded Jarred Tinordi crosschecking penalty, the Rangers had to close out the game against a Devils' 6 x 4 empty net attack.
While Jimmy Vesey had two chances to score an empty net goal, which then would've put this game to bed; instead, he lived up to his reputation as a premier penalty killer. In fact, Vesey's final play of the game may have done more to help his case, rather than had he scored on the Devils' vacated net.
During the final seconds of the game, Vesey blocked a shot, a shot that would've found twine had #26 not made the play. (Check the GAME REVIEW for the video of the play.)
Vesey's defensive stroke of brilliance kept Jaroslav Halak's shutout in tact (15 saves in 27:38 of playing time), and more important than that – prevented overtime too – as the Rangers then held on to win this game 2-1.
---
I'll have a game review for you below, but as far as what was learned on this night, was the following:
— Vesey, already a lock to receive a contract, continued to bolster his case for an NHL deal this season.
— Panarin can still razzle-and-dazzle, but for a guy who just last week, said that he wanted to take over games and shoot more – we didn't see much of that. Again (last time, I mean it), it's only the preseason.
— Unless something drastic and/or catastrophic happens – Zac Jones will be the Rangers' third LD on opening night.
— Julien Gauthier wouldn't have scored in a late 1800s Western whorehouse (think "Deadwood") with a fistful of $100 bills in both of his hands. Seriously, if the NHL ever wanted to enter a relationship with "Comedy Central," then the league would ask Gauthier to enter the NHL All-Star shooting accuracy competition. It's that bad.
— While I think that both Dryden Hunt and Ryan Carpenter will make the team, just because they are "Gerard Gallant Guys" (patent pending); they've done nothing to stand out in comparison to the forward on the PTO, Jimmy Vesey.
— Halak, despite being in the twilight years of his career, is already a welcome addition.
While there is no point in recapping Georgiev's history for the 7896789678956789th time on this site; what I also think will be beneficial is that Halak has no problems with backing up. I think Halak will be serviceable during his games, and perhaps unlike Georgiev – will also become a sounding board/support system for CZAR IGOR.
Without knowing one way or the other, the impression I always got was that Georgiev wasn't exactly the best support system for CZAR IGOR. I think that changes with Halak.
---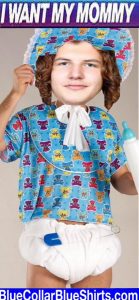 Prior to tonight's game, "The Turk" met with the media and praised Kravtsov.
Somewhat similar to the MSGN broadcasts, I felt a lot of the praise was forced – but I get it.
After all, it's not like Gallant is going to slam Kravtsov, or any of his players for that matter, to the media. It's not like he's Jeff Gorton!
Truth be told, this was Kravtsov's best preseason game yet. I don't think anyone can deny that.
Of course, he also played on the first line with Artemi Panarin and Filip Chytil. In other words – Kravtsov, like anyone else, should have a strong game when playing with these two. It sure beats playing with Gauthier and Carpenter!
Long-time readers of this site, and even my friend of nearly 25 years, Ricky Otazu, have accused me of being a "Kravtsov Hater." Let me clarify this now – I don't hate him. And really, I don't "hate" anyone – I think that word is far too severe to begin with.
That said, I'm not a fan of his attitude and his antics. I won't play my "Greatest Hits" about this subject, so if you're new here – just check the archives of this site.
It's just my opinion that I think Kravtsov has a sense of self-entitlement about him, where to be fair – most athletes should believe in themselves. You can't "hate" on that.
At the same time, I also look at a guy like Zac Jones, and everything he's been through. When I do that, it's much easier to dismiss Kravtsov's "play me, or screw you guys, I'm going home" attitude.
And let's face it – this isn't a one-off with recent Ranger rookies. Whether it was Nils Lundvist and/or Lias Andersson – I guess I'm over all of these crybabies who think an NHL job should be gifted to them on a silver platter.
An NHL job is EARNED. It's not a rite of passage.
I guess what I'm trying to get at is this – if Kravtsov was wearing a #12 jersey, with the name "Gauthier" on the back – would fans and the media still continue to pump the tires on this kid?
I just feel that many are trying to will Kravtsov as a top-six player, rather than looking at what he actually does on the ice.
In the interest of fairness – this happens all the time with first-round picks – no matter the organization they play for.
Heck, for recent Ranger examples, just look at Alexis Lafreniere (who is coming on) and Kaapo Kakko (who I don't think has come on yet).
Kravtsov, who did pick up a secondary assist tonight, his first point of the preseason (although he didn't have much to do with Panarin's goal), has also seemed to develop a new trend. For whatever reason, he falls down a lot. He's also turnover prone – things that perhaps the propaganda machine will ignore.
At the end of the day, I hope he does well. I can't be clearer about that.
However, is Kravtsov a top-six forward? I don't see it yet – but I do hope to see it one day.
Maybe I'm guilty of riding the Vesey train, as if I were Susan Sarandon; but I think the former Hobey Baker winner would complement Panarin and Trocheck much better than Kravtsov – just because he's a better defender. (I'm in the camp of line chemistry/balance, rather than three players who all do the same thing.)
And yep, as repeatedly mentioned on this site all preseason – if it weren't for the salary cap, archaic NHL rules, and the fact that the Rangers are handling Kravtsov with kid gloves – I think Brennan Othmann would have been a better option than Kravtsov.
Speaking of Othmann, let's now get into him, as he, along with seven others, were cut from camp on Friday.
---
On Friday afternoon, the Rangers issued the following press release, courtesy of https://www.nhl.com/rangers/news/rangers-trim-training-camp-roster-by-eight-players/c-335937552?icmp=int_web_nyr_news_rightrail:
New York Rangers President and General Manager Chris Drury announced today that the team has cut its Training Camp roster by eight players. Turner Elson, Karl Henriksson, Patrick Khodorenko, Olof Lindbom, Brandon Scanlin, and C.J. Smith have been assigned to the Hartford Wolf Pack of the American Hockey League (AHL). Brennan Othmann has been returned to the Flint Firebirds of the Ontario Hockey League (OHL) and Adam Edstrom has been assigned to Rogle BK of the Swedish Hockey League (SHL).

The Rangers have 34 players remaining in Training Camp. The roster breakdown is listed below: 
Forwards (20): Sammy Blais, Jonny Brodzinski, Ryan Carpenter, Filip Chytil, Will Cuylle, Julien Gauthier, Tim Gettinger, Barclay Goodrow, Dryden Hunt, Kaapo Kakko, Vitali Kravtsov, Chris Kreider, Alexis Lafrenière, Lauri Pajuniemi, Artemi Panarin, Ryan Reaves, Gustav Rydahl, Vincent Trocheck, Jimmy Vesey, Mika Zibanejad

Defensemen (11): Matt Bartkowski, Ty Emberson, Adam Fox, Libor Hajek, Zac Jones, Ryan Lindgren, K'Andre Miller, Braden Schneider, Jarred Tinordi, Jacob Trouba, Andy Welinski

Goaltenders (3): Louis Domingue, Jaroslav Halak, Igor Shesterkin
---
All of the Rangers' cuts from Friday were expected, where as talked about last night – the biggest question of the preseason was what Othmann's future would be. Now we know.
Again, we can't cry over what we don't control – but yep – if Othmann was eligible for Hartford this season – then he wouldn't be returning to the OHL for the 2022-23 campaign.
Othmann's day will eventually come. It's just not today.
And who knows, the Rangers could always call-up Othmann – even if that seems highly unlikely (barring multiple injuries). (Of note: he can only be called-up once the OHL season ends. Who knows? Maybe he can serve the team as a "black ace" come playoff time.)
The Rangers currently have 34 men on the roster and will eventually get down to 20-23 players.
With a team-bonding trip scheduled prior to the final two games of the preseason, I'd expect the following cuts soon – and perhaps by the time you read these words:
— Jonny Brodzinski (he gets to the net – but like Gauthier – can't score)
— Will Cuylle (it's my opinion that he's not ready for the NHL and is better served in Hartford)
— Tim Gettinger (he hasn't done much and the club has better options)
— Lauri Pajuniemi (this one is obvious)
— Gustav Rydahl (I believe Carpenter and Hunt make it because of their affiliation with Gallant and because Vesey has out-played him too)
— Julien Gauthier (I don't even know why he was re-signed in the first place)
— Matt Bartkowski (Jones has won the competition in my eyes and the Rangers want to keep Libor Hajek)
— Ty Emberson (a given)
— Jarred Tinordi (duh)
— Andy Welinski (surprised he wasn't cut on Friday)
— Louis Domingue (was always expected to start the season in Hartford, and Halak has been much better than him anyway)
---
In my opinion, the eleven names listed above are guaranteed to be cut, which would then bring the Rangers' roster down to 23 players.
Due to the salary cap (and money accrued as the season progresses), it would behoove the team to make one or two more cuts.
If that's the case, then it becomes a two-man race between Hunt and Carpenter, where either man, if not both, could be demoted to Hartford.
As they say, "we'll see" – and we'll see soon enough.
UPDATE: AS I WAS SET TO PUBLISH THIS BLOG, IT WAS REPORTED BY CAPFRIENDLY.COM THAT BOTH TIMOTHY GETTINGER AND ANDY WELINSKI HAVE BEEN WAIVED. SHOULD THEY CLEAR WAIVERS, MOST LIKELY, THEY'LL THEN BE ASSIGNED TO HARTFORD.

---
Going into tonight's game, the original plan was to start Vincent Trocheck in-between his two expected linemates for the home opener, Panarin and Kravtsov.
If you recall, at the start of the season, I suggested that Panarin and Trocheck play in no less than three games together, in an attempt to create chemistry, get a feel for each other, and all of that other happy-happy joy-joy stuff.
While they are practicing together, they haven't played together yet.
However, this was out of Gallant's hands, because on Thursday, Trocheck came down with an illness, believed to be the common-cold. In turn, Chytil got the nod as the team's first line center – and he had quite the showing.
Here was tonight's line-up:
FIRST LINE: Panarin/Chytil/Kravtsov
SECOND LINE: Vesey/Brodzinski/Goodrow
THIRD LINE: Cuylle/Carpenter/Reaves
FOURTH LINE: Hunt/Rydahl/Gauthier
FIRST PAIR: Miller/Trouba
SECOND PAIR: Jones/Schneider
THIRD PAIR: Tinordi/Bartkowski
STARTING GOALIE: Domingue
BACK-UP GOALIE: Halak
---
BOX SCORE time. (The following photos are from ESPN.com.)
SCORING:
PENALTIES:
TEAM STATS:
GOALIES:
| | | | | | | | | | | |
| --- | --- | --- | --- | --- | --- | --- | --- | --- | --- | --- |
| SA | GA | SV | SV% | ESSV | PPSV | SHSV | SOSA | SOS | TOI | PIM |
| 11 | 1 | 10 | .909 | 9 | 0 | 1 | 0 | 0 | 32:06 | 0 |
| 15 | 0 | 15 | 1.000 | 14 | 1 | 0 | 0 | 0 | 27:38 | 0 |
| | | | | | | | | | | |
| --- | --- | --- | --- | --- | --- | --- | --- | --- | --- | --- |
| SA | GA | SV | SV% | ESSV | PPSV | SHSV | SOSA | SOS | TOI | PIM |
| 37 | 2 | 35 | .946 | 30 | 5 | 0 | 0 | 0 | 57:46 | 0 |
---
Before getting into the GAME REVIEW – a few words about tonight's broadcast, if you will!
For the first time ever (I can't think of another time where this was the case), the Rangers and MSGN decided to use the Devils broadcast as the exclusive broadcast of this game.
In previous years, and to save money (one crew as opposed to two, including trucks, production staffs, announcers, cost of airing a live feed, etc), Joe Micheletti would work with whoever the Devils' play-by-play guy was at the time.
Tonight, Ranger fans had to endure a 100% authentic Devils broadcast, right down to the newly hired Bill Spaulding, and long-time Devils' legend, Kenny Daneyko.
As mentioned 24678256782678 times before on this site – I like Daneyko. I think he does a good job and he's a perfect fit for that fan base. He's also an extremely personable and friendly guy – a model citizen for the Devils.
However, on this night, both Spaulding and Daneyko treated this game as a preseason affair – which it was.
While I can understand Daneyko being somewhat unprepared (he didn't know the names of some of the players, kept on apologizing for mispronouncing names, etc) – I thought Spaulding, in front of the biggest audience that will ever see him this season, was downright horrible.
Just like most on the Rangers' beat today, when it comes to Spaulding, he's another example of an old tradition being pissed on.
As brought up on this site before, for most media members, you usually have to make your name elsewhere, THEN come to New York. Today, all of these outfits are hiring people straight out of college.
And I guess to be fair – the Devils play in New Jersey – and not in New York.
Furthermore? Of the 32 NHL teams in the league – the Devils are the only team that doesn't have a dedicated beat reporter. In other words – no one cares about the Devils – except for the 8 people who also argue over "Pork Roll vs Taylor Ham."
I don't want to beat-up on Spaulding all blog, but this guy was calling a game in front of a large audience. You'd think he'd be prepared. I'll give Daneyko a pass because his previous work speaks for itself – he's great at what he does. He has an impeccable track record.
There were numerous mistakes made by Spaulding all game.
Whether it was wrong stats, calling out wrong names, pronouncing names wrong (he kept saying "Hee-Til", with that pause in-between, instead of Chytil) and everything else – it just came off like he didn't give a shit. At the very least – he wasn't prepared at all.
Seriously – don't these guys have production meetings before games?
It was also blatantly apparent that Spaulding was just looking at jersey numbers all night. One glaring example of this is when he kept on confusing Brodzinski (76) and Reaves (75) for Miller (79).
While I think you're aware that Brodzinski has a different skin tone than both Reaves and Miller; it just told me that Spaulding wasn't aware that Miller was a left-handed shot, as opposed to a right-handed shot – which Brodzinski and Reaves are.
Maybe I'm looking too much into this. After all, who else writes 1,000 words on these broadcasts besides me?
And to be fair – I'd be a horrible TV announcer. (I'd be a hell of a beat reporter though!)
Announcers have tough jobs. The game moves faster than ever before. And the last names of some of these players don't roll off of the tongue that easy either.
However, if being a play-by-play man was my calling and profession – I think I'd take an hour or two to study the other team.
If I was Spaulding – I'd reach out to Kenny Albert for advice. No one does it better than Albert. I'm always in awe of how Albert can call any NHL game, and know every player on all 32 NHL rosters. That's why he's the best.
Perhaps like everything else these days – standards just aren't what they used to be.
And let me be clear – this isn't a hit piece on Spaulding. I'm rooting for him. (I don't get any satisfaction in rooting for people to fail.) He was just full of errors tonight. I hope to praise his work one day.
Finally, let's now get into this game review – where admittedly – we can race through this.
---
FIRST PERIOD:
This period is easy to recap.
The Rangers put 986789678689987689 shots on goal (17 to be exact) and Mackenzie Blackwood stopped them all.
And these weren't harmless tries either. Most of these saves were tough ones, and to his credit – Blackwood was perfect.
Right from puck drop, Vesey was noticeable, as he excelled on the forecheck. Panarin also stood out, as he was making tape-to-tape passes all night, only to watch his linemates either have their shots blocked or shoot wide/high.
Again – Panarin has said that he wants to shoot more – but there was no evidence of that on this night.
After only logging 16 shots on goal 24 hours prior; the Rangers were up to 9 SOG by the time Louis Domingue, the Rangers' starter, made his first save of the game – a stop on Ondrej Palat at the 9:53 mark of the period.
If making the varsity team was strictly based on merit, it was Vesey who out-played Kravtsov, Brodzinski, Hunt and Gauthier, as the latter three couldn't find the back of the net if their lives depended on it.
Kravtsov missed nets. Gauthier, during one point-blank opportunity, fired the puck into the "NJ" on Blackwood's chest. Brodzinski is just as snake-bitten as Gauthier. Hunt had a nose for the puck but kept on missing goals by a nose too.
Ryan Reaves also had his best period of the preseason during this first frame. He finished the game with 3 SOG, where two of them led to all-out robbery saves by Blackwood.
No joke, up until the final two minutes of the period, it felt like the zone possession was in favor of the Rangers to a tune of 96%. It also felt like the Rangers should've been enjoying a blowout – but Blackwood wasn't having it.
As we got under five minutes to go, the Rangers had out-shot the Devils 17-1 – and with a save by Domingue's iron too, following a <ding> from Jack Hughes – the best Devils' skater on the ice tonight.
Yes, I'm a Ranger fan, but I'm honest too – Hughes looks ready to dominate this season.
With under a minute to go, Joe Gambardella hooked Julien Gauthier. Domingue then left the ice for the extra attacker (Panarin).
In turn, Panarin watched another one of his sweet set-up passes go anywhere but to the net, as Gauthier continued to litter the boards with rubber marks. With all of the rubber that Gauthier leaves on the boards – he could open up his own condom factory.
At the 19:34 mark, the penalty was finally assessed, following the Devils' touch-up.
This period was all Rangers. It was all Blackwood too.
---
SECOND PERIOD:
The Devils turned it around in the middle frame, but their performance from this period didn't match what the Rangers did during the first twenty minutes.
The Rangers power-play, as it's been more times than not during this preseason, was meh. They put one shot on goal during this and that was that.
For as dominant as the Rangers' penalty kill has been (100%, three goals), the power-play has been the opposite.
Following a Rangers' turnover, and right after the power-play had expired; the Devils then had a two vs one odd-man rush. The Rangers broke up this initial try. However, the puck found its way back to the stick of Hughes, and boom, 1-0 bad guys, just like that.
(Tinordi and Bartkowski were on the ice for this – the only Rangers' defensemen to finish this game with a plus/minus stat of negative one.)
And as noted at the top of this blog – this always happens. – especially whenever you're destroying the other team in the SOG statistic and also fail to score on the power-play. Momentum!
Filip Chytil, who I thought had his best showing of the preseason yet, tied Gauthier with a team-high five shots on goal. However, Gauthier had better looks than Chytil did. It was also Chytil who put on the moves with a spinorama backhander – a tough save for Blackwood.
The top four of the Rangers' defense, and as previously stated, were superb all night.
Despite the Devils coming on, they were able to break-up plays, most notably K'Andre Miller and Zac Jones. (Trouba and Schneider were solid too – but it was the left side that broke up more attacks.)
Jack Hughes, who had previously burnt Tinordi for the Devils' first goal, almost had him dead to rights again, but this time, Domingue came up with a save.
At the 6:42 mark, the Devils were penalized again, this time for too many men on the ice. However, the Rangers didn't do anything with this power-play. (They finished 0-2 tonight.)
With 8:00 to go, Julien Gauthier, for the second time in as many nights, barrelled over a Devils' goaltender. I guess if he can't put the puck into the net, he'll just put himself into the net.
Down to 7:37 remaining, this is when Gallant subbed in Halak for Domingue. Domingue was fine tonight, but you can see that he's shaky and gets a lot of luck at times. Conversely, Halak looks confident and rock-solid.
In what I thought was maddening, even if it was just an exhibition game; is when Panarin, rather than shooting, decided to set-up noted sniper, the Bobby Orr of his generation, Jarred Tinordi, instead.
During another one of Hughes' mad dashes to the net, Trouba got back, covered the Devils' star and then forced Hughes to shoot high and wide.
Right after this, Hunt and Gauthier had one of the worst 2 x 1 odd-man rushes that you'll ever see. Not only did Gauthier shoot the puck directly into Blackwood's chest – this whole play felt like it was in slow motion too.
As Kravtsov fell on his ass for the fourth time in the game; Halak made one of his better saves of the match, when he stopped Hughes during a one-on-one opportunity.
After two periods, we remained 1-0, bad guys. Blackwood was up to 28 saves.
If there was anything alarming, it was that in five preseason periods against the Devils, the Rangers hadn't scored an even-strength goal yet. That would soon change.
---
THIRD PERIOD:
Two minutes in, Blackwood recorded save #29, following a Tinordi-to-Bartkowski one-timer.
Once regaining the puck, Ryan Graves hit a crossbar. Immediately after, and at the 3:48 mark, this happened:
HIM.

(via @NYRangers) pic.twitter.com/wAC50tK951

— Rangers Videos (@SNYRangers) October 1, 2022
---
1-1 – finally, a Rangers' goal!
On this scoring play, Schneider deftly fed Panarin, "The Breadman" made a shimmy move, and boom – the puck found the little space on the short-side afforded and right beneath Blackwood's arm. This was an elite goal scored by a sniper – as Blackwood did all that he could.
In other words – this goal was all about Panarin – and not about Blackwood blowing a save.
Once tied, the Devils upped the ante, but Halak kept making big save after big save – very encouraging.
Hell, by the way Halak has been playing this preseason – maybe he should be the starter in Colorado!
With a chance to go ahead, Reaves went wide from the slot. No joke, it felt like Reaves, Gauthier and Hunt could've each had multi-goal games tonight.
Halak would continue to show off his clutch ability, as during a long Devils' attack, where the Rangers' fourth line and third-pair got caught on the ice for too long; Halak soon slammed the door, after stopping a strong try from Severson.
Following Halak's denial, and a faceoff later, with 8:14 to go, this happened:
Key with the seeing eye puck to give the boys the lead! pic.twitter.com/Ysy3UHrl7s

— Rangers on MSG (@RangersMSGN) October 1, 2022
---
2-1, GOOD GUYS, as K'Andre The Giant blasted a puck from the high slot, the puck caught a small piece of a Devils' defender, and boom, the puck trickled behind Blackwood.
After more tomfoolery out of Tinordi, as Hughes beat him again, only for Halak to make other denial; both Hunt and Gauthier continued their haphazard ways.
Now under 5:30 to go, Hunt missed a wide-open net. Not to be outdone, Gauthier was denied too.
For all of the theme-nights that the Rangers have on their calendar – they should have a Gene Carr night and then dress Gauthier & Hunt.
Since nothing comes easy; with 2:18 remaining, Lindy Ruff pulled Blackwood. Sixteen seconds later, Tinordi cross-checked Holtz. In turn, the Devils closed out this game with a 6 x 4 attack.
Halak made a bunch of great saves during this, but perhaps the biggest save was this one:
Jimmy Vesey might have just secured a roster spot with this tremendous heads up play to stop a scoring chance #NYR pic.twitter.com/E8hYAqbtau

— Rob Taub (@RTaub_) October 1, 2022
---
Vesey, who showed off his scoring abilities during his first two preseason games, displayed his defensive abilities in crunch time, when he denied the Devils of tying the game. This is why the Rangers brought him into camp, and this is why Vesey will get a contract by the end of this camp.
2-1, GOOD GUYS, your final from "The Pebble."
---
FINAL THOUGHTS:
I pretty much covered everything that needed to be said.
While Blackwood (first) and Hughes (third) earned their stars tonight (Panarin was named as the second star); I thought that Vesey, Halak, Chytil, Miller, Trouba and Jones all stood out too – a good thing – as these are the guys who should be in the Rangers' opening night line-up.
I know it's the preseason, but it's good to see the Rangers fight back and win a game against a hot goalie. They'll need to do that during the regular season a few times too.
The team is now off for the next four nights as they are now going on their team bonding trip.
Two preseason games remain, 10/5 against Boston and 10/8, Saturday night, at the IBS Arena in Elmont.
As noted, I expect a bunch of cuts between now and Wednesday's game against the Bruins.
The final two games of the preseason should feature more of the Ranger regulars, as they prepare for the 10/11 home opener against Tampa.
And not for nothing – the schedule makers did the Rangers no favors either.
The Rangers open up on Tuesday night against Tampa, then immediately play a back-to-back road-set against Minnesota and Winnipeg just two days later. In other words, three games in four nights – so much for player safety!
And as opposed to last season – expect CZAR IGOR to start the first game on the Rangers' calendar.
PLUGS TIME!
---
My first plug of tonight's blog – the mandatory plug for my book, "The New York Rangers Rink of Honor and the Rafters of Madison Square Garden."
As mentioned previously, the book is now available in hardcover, in paperback and in Kindle formats. To purchase a copy of the book, visit this link:
https://www.amazon.com/Rangers-Rafters-Madison-Square-Garden-ebook/dp/B09CM5N2WD
For those still looking for signed paperback versions of the book, I have re-ordered more copies. I now have a few signed copies for sale at $25 a pop (includes shipping price) through me directly. Here is all the information on that:
---
My four-volume set of books, "One Game at a Time – A Season to Remember," is a game-by-game recount of the Rangers 2021-22 campaign.
My second title as an author, "One Game at a Time – A Season to Remember," is now available in eBook, paperback and hardcover formats.
To obtain signed copies, visit: https://bluecollarblueshirts.com/onegamebook/
To purchase all four volumes on Amazon, visit: Amazon.com – "One Game at a Time."
---
Here are my last few blogs, in case you missed them:
---
---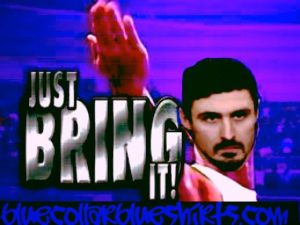 ---
---
If you haven't already, subscribe to this blog for the next update:
---
Don't forget to pre-order my new four-volume set of books, "Tricks of the Trade!"
Fingers-crossed, all four volumes will be released on 10/11, where if you don't want signed copies – you can buy them directly off of Amazon.com
For more details, check out: https://bluecollarblueshirts.com/tricksofthetrade/
Thanks for reading.
LET'S GO RANGERS!
Sean McCaffrey
BULLSMC@aol.com
@NYCTHEMIC on the Tweeter machine