Greetings and salutations everyone and welcome to another blog here on BlueCollarBlueShirts.com. Five down, one to go.
Let's get this out of the way and then move on: "this was only a preseason game. I repeat, this was only a preseason game."
With that disclaimer/qualifying statement now stated; I found the Rangers' 5-4 loss to the Bruins to be a mixed-bag, in what was the Blueshirts' penultimate tune-up prior to the start of the 2022-23 regular season.
Just like any other game, no matter the stakes – you can cherry-pick some positives while also talking about the negatives.
The Blueshirts scored four goals tonight, where the Rangers' third-line, "The Kid Line" (I'm not a fan of that nickname since it's not original and because there have been many other lines throughout hockey history with that same moniker – give me something unique), propelled much of the offense.
Equally impressive was Zac Jones, who in my opinion, has won the third LD job. (To be fair – I also thought this before this game was played.)
Mika Zibanejad, who is often featured in "who and who isn't" elite debates, also had a fine game.
And to continue down the road of positivity, the Rangers' penalty kill went 2-2 tonight. After five exhibition matches, the Rangers' penalty kill remains flawless, with a success rate of 100%.
When it comes to the middle-of-the-road stuff, it was tough to judge Jaroslav Halak tonight.
At times, the back-up goaltender made some excellent saves. At other times, he was flat-out beat. However, there's no way to assess his performance, as he was a last-second substitution following Igor's debacle with diarrhea – a topic we'll later discuss during this blog.
Furthermore, besides playing on no notice (and goalies are creatures of habit, and usually the most superstitious about their pregame rituals too), Halak had also endured a full practice earlier in the day.
In short – I'm not worried that Halak gave up five goals tonight. Plus, most of the goals allowed were the end result of Ranger turnovers – stuff we'll get into during the GAME REVIEW segment.
If there's stuff that continues to alarm me, it's what I've written about before during this preseason.
The Rangers' power-play, their second-best strength from last season (CZAR IGOR being the team's biggest strength), has been abysmal through five games.
While they scored a power-play goal tonight, they ultimately finished the contest 1-4, where two of their power-plays didn't produce a SOG. On their final power-play of the game, the Rangers, for the second time this preseason, took a penalty while on their own man-advantage. Not good.
And once pulling Halak when down a goal and looking for the equalizer – the Rangers could barely set-up their offense – much less put a SOG.
Silver lining – we haven't seen a true PP1 unit during this preseason – as these five assumed players (Mika, Panarin, Fox, Trocheck and Kreider) have yet to all play together.
---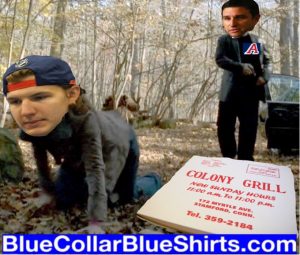 You can read the archives of this site to see what I've previously written; but one thing that I repeatedly mentioned prior to the preseason is that we need to see Artemi Panarin and Vincent Trocheck play as much as possible, as the two try to find chemistry and learn each other's quirks/style.
Simply put – game experience, and not just practice, is the only way for these two stars to gel.
While Panarin hit two crossbars tonight (shot attempts that weren't set-up by Trocheck, nor the other player on that line, Kravtsov) – this line was dreadful.
In a game where four Ranger goals were scored, this line had the worst plus-minus stats of the game. (Panarin -3, Trocheck -2, and Kravtsov -2.) In fact, no other Ranger finished worse than -1.
And yes, I know that the plus/minus stat can be deceiving, and perhaps isn't as valuable as an indicator as it used to be – but on this night, these stats most certainly reflected how this line played.
Perhaps what was deceiving, was that the Lafreniere/Chytil/Kakko line all finished with a team-high +1 a piece. Why was that deceiving? I thought they had played better than that – especially Chytil.
I don't want to bust out my shovel and bury Kravtsov – but once again – I just don't see anything to suggest that he's a top-six winger.
For all of the talk about Jimmy Vesey on the first line tonight (more on this below) – I rather start the season with him in the top-six, rather than Kravtsov himself. (And it doesn't have to be Vesey either. I rather see Goodrow or Blais in the top-six, rather than Kravtsov, too.)
(And of course, no matter what the Rangers do, I'll support it. After all, I didn't coin "IN TURK WE TRUST" for nothing!)
And yep – if only Kravtsov accepted his previous Hartford assignments – then there wouldn't be as much as a learning curve for him as there is for him right now.
Lastly, and to prove that I'm fair, as I've been raving about Trouba and Miller all off-season and into the pre-season – this was the their worst exhibition game yet.
That said, these two have become proven commodities, so I'm not worried about them at all. They have a track record. Kravtsov does not.
---
I know that no one goes longer when recapping/reviewing preseason games than me (the work of a mad-man); but obviously, this was the most important preseason game yet – just because most of the regulars were in the line-up. That's why I want to give this game some extra attention.
However, before getting into everything, a few news and notes, followed by the GAME REVIEW.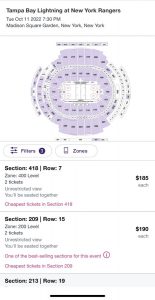 In an update to something that I've previously written (and I've been talking about this topic on this site for over eight years now too, as this site just recently celebrated its eighth birthday) – Ranger tickets are expensive. And if you're new here – you may have figured this out on your own!
While every situation is different, especially whenever it comes to major games, which the home-opener is (other major games include whenever the Islanders are the opponent, Saturday night games, games right before both Thanksgiving and Christmas, the final home game, playoffs, etc) – there's a good chance that cash-strapped fans may have a shot at discounted tickets for the home-opener against Tampa.
As of this writing, there is a chance that the Mets (on the road) could be playing on Tuesday, October 11th. What is 100% confirmed is that the Yankees will be playing on that date, as they will host Game One of their ALDS playoff series in the Bronx.
Since the Yankees are baseball's biggest draw, you can 100% expect them to play head-to-head with the Rangers this coming Tuesday night. (MLB won't put the Yankees in the afternoon time-slot.)
Obviously, if the Rangers were playing their second home game of the season on 10/11 – then tickets would have become drastically discounted on the secondary market – especially since that date falls on a Tuesday night, as opposed to a Friday night or weekend.
Since 10/11 is the Rangers' home opener; while I expect ticket prices to decrease on the day of the game, I'm not exactly sure how drastic the drop-off will be. However, I do expect the secondary market to take a hit either way.
While the Rangers most certainly have a dedicated and loyal fan base, there are people who will opt to either attend the Yankee game or just watch both games from the comfort of their own homes.
In any event, if you're looking to attend the home opener and don't have tickets yet – wait until Tuesday.
And if you have a ton of patience, wait until 5PM or so to pull the trigger – as that's usually the time when the secondary market gets desperate and looks to offload.
Heck do what I do – hang out in a local NYC watering hole before the game ("The Mollie Wee" is my bar of choice), and wait until 6:15PM to buy your tickets!
---
I'm not even going to get into the Vesey on the first line stuff tonight – at least not from a critic perspective.
You are probably aware of my usual talking points whenever this topic comes up – I don't care about PROPOZED LINEZ, lines aren't set in stone, you can change lines in game, and by now – you know the rest of my spiel.
My only concern? Do players deserve to be on the roster – but we've already touched on Kravtsov.
Suffice to say, not everyone thinks like yours truly. And as I always say – everyone is entitled to their own opinions.
However, to go bat-shit crazy over preseason lines? That's not me. I'll let others worry their pretty little heads about that!
That said, it always amazes me, and this includes the media too, how people can dissect Gallant's preseason lines, as if these games were Game Seven of a Stanley Cup Final.
As the head coach has said himself – he wants to try different things during exhibition games. There's no harm in getting a look at what works and what doesn't work during these six contests. Anyone else telling you different? Bless their hearts!
Prior to puck drop on Wednesday night, head coach Gerard Gallant met with the media, where he had fun joking about how everyone gets nuts over preseason lines:
---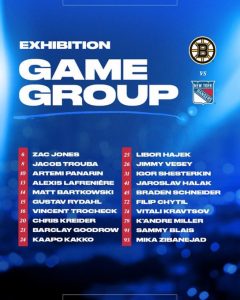 Here is the line-up that Gallant deployed:
FIRST LINE: Kreider/Zibanejad/Vesey
SECOND LINE: Panarin/Trocheck/Kravtsov
THIRD LINE: Lafreniere/Chytil/Kakko
FOURTH LINE: Blais/Rydahl/Goodrow
FIRST PAIR: Miller/Trouba
SECOND PAIR: Jones/Schneider
THIRD PAIR: Hajek/Bartkowski
STARTING GOALIE: Jaroslav Halak
BACK-UP GOALIE: CZAR IGOR
---
Of note: it was thought that the pair of Lindgren and Fox were supposed to play tonight. However, both Gallant and the Rangers reported that #55 was being held out with a lower-body injury. As Gallant said in his press conference (posted above), holding out Lindgren was strictly a precautionary measure, and a case of "rather being safe than sorry." Had this been the home-opener, Lindgren (and definitely Fox) would have most likely played.
One last thing to note before getting into the BOX SCORE and GAME REVIEW – everyone's favorite subject – gambling!
---
I know this is pure degenerate gambling nonsense – but since I track this stuff for my own research – let me share with you my findings.
While the Vegas sportsbooks have recently caught up a bit to hockey, at the same time – these odd-makers aren't up-to-date with the league as they are with the NFL, NBA, UFC, MLB and NCAA sports.
If you are a filthy degenerate (I don't judge!), then like me, you noticed that the line for tonight's game swung by forty points following the Rangers' morning skate.
What happened? After all this line swing, which made the Rangers an even bigger favorite, took place AFTER the news of Lindgren's injury got out.
Easy – Jimmy Vesey was inserted by Gallant on the team's first line. (Okay I'm completely joking here – I couldn't resist!)
In reality, it was announced that CZAR IGOR would be going the whole way.
By announcing that the 2022 Vezina winner was set to play a full game, rather than half of a game – the line then swung by 40 points (and that's a major swing – one that don't you see that often).
That's how valuable the pros in Vegas view Shestyorkin.
Of course, just minutes before puck drop – Igor was yanked from the net. (More on this below.)
While I'd expect Vegas to clean up their act before the regular season begins; if you have a keen eye and follow hockey second-by-second, then you can find value in these lines before the experts in Sin City rectify the errors of their ways.
And yes, I know I sound like a hypocrite. After all, I always bitch about the 7896786796789678967896897679 gambling ads that are featured during any televised sports broadcast. However, since I know that many of you like to dabble in gambling, I figure I'd share this story with you.
Lastly, and of course – the Rangers lost tonight. The house never loses – a lesson often taught to us – but a lesson never fully learned!
---
BOX SCORE time.
The following information and graphics come courtesy of ESPN.com:
SCORING:
PENALTIES:
TEAM STATS:
GOALIES:
| | | | | | | | | | | |
| --- | --- | --- | --- | --- | --- | --- | --- | --- | --- | --- |
| SA | GA | SV | SV% | ESSV | PPSV | SHSV | SOSA | SOS | TOI | PIM |
| 26 | 5 | 21 | .808 | 20 | 1 | 0 | 0 | 0 | 58:23 | 0 |
| | | | | | | | | | | |
| --- | --- | --- | --- | --- | --- | --- | --- | --- | --- | --- |
| SA | GA | SV | SV% | ESSV | PPSV | SHSV | SOSA | SOS | TOI | PIM |
| 32 | 4 | 28 | .875 | 25 | 3 | 0 | 0 | 0 | 60:00 | 0 |
---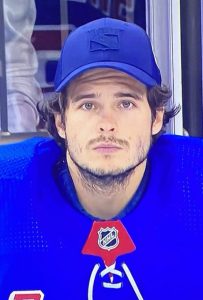 CZAR IGOR, who following the Rangers' morning skate, was tabbed as the starter for this game, led the team on the ice during pregame warm-ups. Whatever happened from 6:30PM – 7:00PM is not 100% unknown, but we can assume that squatting wasn't ideal for him.
And since the Rangers don't wear brown pants, in addition to this game being of the exhibition variety – it made no sense to have an accident on ice. (And you thought the officials and rink crew scraping up blood was tough!)
As far as Igor's future, it's not yet known if he'll play Saturday against the Islanders or not. I'd lean yes, just because he hasn't played a full sixty minute game yet.
While I know that you don't want to run the risk of injury; at the same time, you can't think like that. I just think it's beneficial if he gets one last conditioning assignment before the games matter.
As mentioned earlier, with Igor out with a hint of the brown matter splatter; Jaroslav Halak, who thought he'd be taking in the game from the bench, was now forced to start. In turn, outside of being a "gamer," I don't think there is much else to say about his performance tonight. It was what it was.
---
Also of note? This was a TNT broadcast. I had some people tell me that they hated this broadcast. Not to sound like the ultimate contrarian, like friend of the blog, Derek "NO FLEX" of NewYorkPuck.com – but I had no issues with it – even if Brendan Burke, voice of the Islanders, had the call. (He was joined by Darren Pang and Jennifer Botterill.)
For what it's worth (and please save me the -ism and -ist stuff, this is just an opinion rooted in fact – Botterill is a woman), I think Botterill is the best female color analyst out there.
I don't want to get into a whole gender discussion, but man or woman – I think she does a good job. (Need a comparison? Listen to Leah Hextall, who I hope gets better. After all – she's the granddaughter of a Rangers' legend, Bryan Hextall!)
And as far as the TNT panel goes? There are two sides of the coin, but as talked about last season – my roots are in pro wrestling – as I used to promote wrestling shows for ten years prior to running this site.
I know Paul Bisonette is a topic of much derision, but I have no problem with a "heel" on set – even if he gets his jollies by trolling Ranger fans. He just makes things more entertaining.
To use a "western" reference – you can't have four John Wayne's in white hats. You need at least one black hat to make things interesting. Four Batman's and no Joker is boring television. Both Bisonette and TNT understands this.
I also like the chemistry that the rotating panel has with each other, as most of their stuff comes off as organic, rather than rehearsed – a common problem during MSG and ESPN broadcasts.
As talked about last season – I think no one does a better job of producing hockey games like TNT – including the MSGN.
Of course, I also despise analytics (I'm not a fan of Steve Valiquette either – you may have heard), so listening to an analytic-free broadcast is in my wheelhouse. This may not apply to you – and that's fine too.
When it comes down to it, I prefer the eye-test and colorful banter rather than charts and heat-maps – especially from players who were regulars in the NHL.
Let's now get into the GAME REVIEW.
---
FIRST PERIOD:
It wasn't all bad. In fact, in somewhat of a role-reversal, the Rangers had a hot opening and then an even hotter close to this period. It was just the middle parts sandwiched in-between that raised eyebrows.
Following Zibanejad's first faceoff win of the game, the Rangers got the puck deep. Vesey made a play, Trouba got the puck behind net, the captain dished the puck to one of the alternate captains, Chris Kreider, and "CK52" found the other Rangers' alternate captain on this night, his BFF, Zibanejad himself, for the first goal of the game:
Mika nets one

(via @NYRangers)pic.twitter.com/Y4aDMfJDDa

— Rangers Videos (@SNYRangers) October 5, 2022
---
1-0, GOOD GUYS, just 27 seconds into the game.
And as mentioned to above – Kreider and Mika wore the "A's" tonight. Officially, the Rangers have yet to announce who their alternate captains will be this season. All we know is that Trouba is the "C."
The second line, the Panarin/Trocheck/Kravtsov line, didn't do much on their first shift – a common trend throughout this game.
With the Trouba/Miller pairing back on the ice, Jake DeBrusk, son of Lou, one of the men involved in the Mark Messier trade from 31 years ago, tied the game.
On this play, DeBrusk scored an easy goal, a rebound goal, while a foot away from Halak.
In other words – not much "THE HALAKNESS MONSTER" could have done here. 1-1, at just the 2:27 mark.
While he's a Ranger no more, it was nice to see VINNI LETTIERI fighting for a job in Beantown. For what it's worth, I thought he had a good game tonight. He may get a shot at cracking into the Bruins' opening night line-up, solely because of the current injury issues in Boston.
With 13:46 to go, Kakko failed to capitalize on an scoring chance. This made you say "oh no, not again" at the time, but to his credit, the second-overall pick of the 2019 NHL Entry Draft later redeemed himself. However, it was kind of telling that after the game, he said something akin to, "I want to save these goals for the regular season."
As previously discussed on this site – if Kakko is sitting on five points or less after twenty games played – then the Patrick Kane talk will hit an all-time high.
As the game progressed, the two goalies bared down and soon found their groove. Both men made a few solid stops during this period, and as they'd later do throughout the game, despite the high-score.
In what I thought was kind of silly; for some reason, TNT mic'd up Bruins' center, Mark McLaughlin, a 23-year old with eleven games of NHL experience. After McLaughlin said nothing of note, Halak came up with a pair of saves on DeBrusk. This then led to a scrum, where it was nice to see Miller, no longer hesitant, involved in the fray.
Following two consecutive o-zone faceoff wins for the B's; Sammy Blais ended their attack, after a bone-crunching hit on Ranger agitator, Jack Studnicka. I thought Blais had a solid showing tonight – Gallant would later say this himself.
As TNT dove into the crybaby NYR Twitter playbook, as TNT brought up the Buchnevich trade one more time; with 2:47 to go, Chytil drew Dan Renouf for hooking. As said earlier, of the "Kid Line," I thought Chytil had the best game of the trio – even if he didn't record a point tonight – unlike his linemates.
Zac Jones was the star of this Rangers' power-play, as he subbed in for Adam Fox on the first PP unit.
After Jones broke up a Bruins' odd-man short-handed rush, this happened:
Mika for 2!

(via @NYRangers)pic.twitter.com/fIFBGWx9Ta

— Rangers Videos (@SNYRangers) October 5, 2022
---
2-1, GOOD GUYS, and with 1:52 remaining.
On this play, Jones fired a shot from "Downtown, Julie Brown," and Zibanejad got a piece of it. Nothing that the B's goalie, Jeremy Swayman, could do here.
While Jones had a tough go of it during the Ranger rookie games against the Flyers; he's made a case for himself during his preseason work.
Following a big hit from "OLD FRIEND" Anton Stralman on Blais, this happened with just 45 seconds left on the clock:
Make it 3️⃣

(via @NYRangers)pic.twitter.com/cfJRUjfTDa

— Rangers Videos (@SNYRangers) October 5, 2022
---
3-1, GOOD GUYS, as Kakko made his best play of the preseason yet.
After creating a turnover, #24 went forehand-to-backhand, and bada bing, bada boom, Kakko lit up the room, following his one-on-one victory over Swayman.
Understatement of the preseason? Kakko needed that goal. What an excellent "Finnish." (Har-har-har.)
3-1, GOOD GUYS, after twenty minutes.
---
SECOND PERIOD:
This was the worst period of the preseason, as the Rangers were outscored 3-0 during this middle stanza.
Here's what concerned me the most about this period – the Bruins' first line, Pastrnak/Krejci/Zacha – a makeshift first line at that (Bergeron didn't play and Marchand is out with injury) – just dominated the Rangers.
In a way, it felt like watching the Crosby (Pittsburgh) and Stamkos (Tampa) lines against the Rangers during the 2022 Stanley Cup Playoffs. The Rangers top guns had no answers for another top line on this night. Collectively, this group totaled eight points and each of them scored at least one goal.
Just 44 seconds into the period, Pavel Zacha, Pavel Zacha, "Dormez Vous," intercepted a Miller-to-Trouba pass. 3-2, good guys, following Zacha's breakaway goal.
Following the goal, Miller tried to redeem himself on two different plays. On the first, Kakko put a hair too much on a cross-ice pass to him. Had it connected, Miller would've had a one-timer try. On the second, Miller skated to the net, put on some sweet moves, only to then find the left leg of Swayman.
As the Ranger lines were changing, Panarin had a shot denied. Kakko, as he had in the first period, had another great chance to score but failed. As he did with his first miss, he'd later redeem this one too.
With 11:49 to go, and with the Rangers on their heels; Krejci set-up Pastrnak for a tough-angle one-timer. 3-3.
TNT kind of buried Halak for giving this goal up, but really – Halak came into this game cold and was beat by a future Hall of Famer. It's not like some no-name fourth liner beat him.
At the half-way mark of the game/period, the Rangers had more zone time – but it was the B's with the 2-0 period lead.
Following another penalty assessed to Renouf, his second, the Rangers went on the power-play again. Of the non-scoring power-plays, this one was the best of the lot.
On one play, Mika had Kreider perfectly set-up, only to have a Bruin block the shot at the last second. Halak, who channeled his inner-Igor, then made a hell of a homerun pass to Panarin, only for "The Breadman" to turn over the puck on one of his patented cross-ice passes that goes nowhere.
Once failing on this power-play; with 8:12 remaining, the Rangers then received their third man-advantage of the game, this time when Boston was busted for too many men on the ice.
It was during this time where the TNT cameras spotted Lafreniere giving Gallant some smelling salts, smelling salts that looked like it came out of a vape pen. In any event, it was nice to see some palling around between the head coach and his young star.
The Rangers' power-play could've used some smelling salts themselves. This was the weakest power-play yet, where not a SOG was registered.
Once the Bruins successfully killed this power-play, they went on a two-vs-one odd-man rush. The end result? Krejci scored short-side on Halak. 4-3, bad guys.
Not only did the Rangers blow a two-goal lead, but the Bruins had now scored three unanswered goals too.
With 4:03 to go, Mike Reilly was busted for roughing Kravtsov. I thought this was a weak call. The officials must've thought so too, because just 39 seconds later, and with the Rangers on the power-play, Panarin, you know, the Bob Probert of his generation, was boxed for a cross-check.
Once the foreplay and the Bruins' power-play was over; Panarin came out of the box and missed a wide-open net. (I'm too classy to make the Ryan Strome joke here – you can make it.)
Between this miss and the two crossbars he'd later hit during the third period – puck luck denied him of a hat trick tonight. That said, sometimes you make your own luck.
Down to 52 seconds remaining, Trouba was boxed for hitting Pastrnak. The call was roughing, another soft call, and a call that you hope to never see called during the regular season – unless you want to see Trouba surpass Tie Domi in career penalty minutes this season.
4-3, bad guys, after forty.
---
THIRD PERIOD:
The Rangers opened up the final frame by killing off the remainder of the Trouba penalty. Again – the Rangers' PK remains perfect this preseason.
Following a few exchanges from the goalies; with 13:11 remaining, the Rangers' third line pressed the Bruins.
Libor Hajek, perhaps of all people, fired a shot at Swayman. As the puck was set to trickle past the goalie, it looked like Lafreniere got a piece of it. What was 100% was Kakko slamming the puck home, which erased any doubt if the puck would cross over the goal line.
4-4.
While Kakko got the goal here, I thought Lafreniere (who received the secondary assist) put it past the goal line. Of course, it doesn't matter who scored, as long as the Rangers scored/tied the game.
This would be the final Rangers' goal of the game.
As we approached ten minutes remaining, the Bruins had another odd-man rush, where this time, Hajek tried to break it up. This gave Halak an opportunity to stop the shooter, Jack Studnicka, and as Halak did. Right after the stop, Trocheck leveled the Bruin with a big hit, which then set-off a huge scrum – where I'm happy to report that no penalties were assessed. Let them play!
In a tale as old as time, the Rangers had a chance to go-ahead.
Jimmy Vesey set-up Panarin. The Breadman fired and fell an inch shy, as his puck hit the elbow of where the crossbar connects with the right post. The Bruins quickly retrieved the <ding>, recuperated, raced-up ice, and after Reilly fooled Trocheck out of his shorts – boom, 5-4, bad guys, and with 7:50 remaining in regulation.
Once down a goal, the Rangers had plenty of chances to tie but could never find the equalizer. Kakko just missed, where after this miss – he wouldn't be able to redeem himself this time, nor pick up the hat trick.
Down to two minutes remaining, it took forever for the Rangers to get the puck back. It wasn't until there were 80 seconds remaining when Halak could finally leave the net.
After another Panarin <ding>, and with a faceoff in the Bruins' d-zone ahead, Gallant took his timeout.
Unlike last season, where these timeouts, more times than not, produced game-tying goals; it didn't work out this time. In fact, the Rangers didn't get a SOG during these 43 seconds.
5-4, Bruins, your final from the last home game of this preseason.
A Saturday night preseason finale now awaits the Rangers, at the IBS Arena in Elmont.
Here's Gallant's short press conference following the game:
---
Very rarely, do I watch these press conferences before writing these blogs, as I don't want my opinion to be swayed one way or the other. However, I was interested to see what Gallant thought, so I "cheated," and instead of watching this AFTER writing this summary, I watched it beforehand.
Gallant pretty much said what I felt, where his response about Kravtsov's play was most telling.
While I wouldn't look too deep into this (but it is worth noting), Gallant, and opposed to his previous pressers, didn't exactly give #74 a vote of confidence.
I just can't see it, especially after sending Othmann back to the OHL – but can you imagine if the Rangers/Drury demote Kravtsov to Hartford?
I know I've written about this subject so many times already, so I won't bore you again – but what happens if Kravtsov receives his third bus ticket to Hartford?
Of course, should this event happen – Kravtsov would have to clear waivers – which is the main reason why I don't think he'll be waived.
And while I don't see this happening right now either (maybe later in the season, right before the trade deadline) – I think there are better odds of Kravtsov being traded, rather than being waived.
However, if he is waived – it will certainly garner major ink throughout Rangerstown, USA.
Back at it Saturday, barring something major happening between now-and-then.
Of note – there is a tiny chance that I might go to Saturday night's game (if I receive free ducats) – so if I do – that blog will be posted on Sunday morning.
PLUGS TIME!
---
My first plug of tonight's blog – the mandatory plug for my book, "The New York Rangers Rink of Honor and the Rafters of Madison Square Garden."
As mentioned previously, the book is now available in hardcover, in paperback and in Kindle formats. To purchase a copy of the book, visit this link:
https://www.amazon.com/Rangers-Rafters-Madison-Square-Garden-ebook/dp/B09CM5N2WD
For those still looking for signed paperback versions of the book, I have re-ordered more copies. I now have a few signed copies for sale at $25 a pop (includes shipping price) through me directly. Here is all the information on that:
---
My four-volume set of books, "One Game at a Time – A Season to Remember," is a game-by-game recount of the Rangers 2021-22 campaign.
My second title as an author, "One Game at a Time – A Season to Remember," is now available in eBook, paperback and hardcover formats.
To obtain signed copies, visit: https://bluecollarblueshirts.com/onegamebook/
To purchase all four volumes on Amazon, visit: Amazon.com – "One Game at a Time."
---
Here are my last few blogs, in case you missed them:
---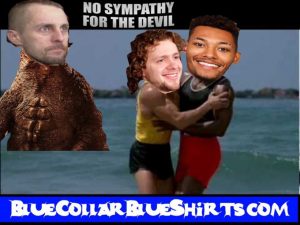 ---
---
---
If you haven't already, subscribe to this blog for the next update:
---
Don't forget to pre-order my new four-volume set of books, "Tricks of the Trade!"
If you don't pre-order through me, all four volumes will also be on sale over at Amazon.com
For more details, check out: https://bluecollarblueshirts.com/tricksofthetrade/
Thanks for reading.
LET'S GO RANGERS!
Sean McCaffrey
BULLSMC@aol.com
@NYCTHEMIC on the Tweeter machine