Greetings and salutations everyone and welcome to another blog here on BlueCollarBlueShirts.com. By now, you already know the disclaimer/qualifying statement – "it's only the preseason."
Now with that out of the way; on Thursday night at MSG, the Rangers played their third exhibition match of the preseason – their worst preseason game yet.
When you consider the talent on both sides of the ice, it was pretty alarming that not only did the Rangers lose this game to the Devils by a final score of 5-2 – but that both Blueshirt goals scored were of the short-handed variety.
I'm sure it's happened in the regular season before (probably the Montreal Canadiens); but how many times in NHL history has a team scored two short-handed goals, only to then lose the game by three goals?
If you're looking for the silver lining from tonight's affair, the Rangers' penalty kill has been flawless this preseason. The team went 5-5 on the penalty kill tonight, and as mentioned – scored two goals too.
Conversely, the Rangers' power-play went 0-3. Worse than that? The Devils out-shot the Rangers, 36-17.
There are many things that ring true during an NHL regular season. Two of these items? One, not every game is a Picasso. Two, every playoff-bound team wins at least five "ugly" games, games they had no business of winning.
While yes, this was "only a preseason game;" at the same time – it would've been nice if the Rangers could've found a way. They didn't – and that's fine too. After all, and one last time for tonight – this was an exhibition game!
---
I'll save all of my thoughts about this game, and the players involved too, for the GAME REVIEW segment.
However, before getting there, let's quickly breeze through the top news items of Rangerstown, USA, news which broke prior to Thursday's match at M$G.
---
In a move akin to the worthless Personal Seat Licenses (PSL) that the Giants and Jets forced their season ticket holders to buy; enter Jimmy Dolan's Rangers, the richest franchise in the league, to one-up the two local NFL teams.
On Wednesday, the Rangers announced their inception of a "Flex Bank" – where fans now have the opportunity to have more of their money flexed out of their wallets.
Here's the full press release, courtesy of https://www.nhl.com/rangers/tickets/flex-bank?icmp=int_web_nyr_tickets_flex-bank_DL_220927:
What is a Flex Bank:

Make the season work for you with a 2022-23 Rangers Flex Bank. Put $2,500 or more into your Flex Bank and enjoy savings on individual tickets when you redeem for the games you want, when you want. Your Flex Bank will allow you to purchase from any available general or premium seating location. Plus, you can also redeem for Knicks tickets and experience basketball at The World's Most Famous arena giving you the ultimate flexibility all season long.

How it Works:

Step 1: Purchase a Flex Bank that fits your needs.*

Step 2: Visit rangersflex.seasonshare.com to access and manage your Flex Bank. Credit will be available for redemption within two (2) business days of purchase.

Step 3: Log in to your Madison Square Garden Account Manager to connect your account.

Step 4: Select the games and quantity of seats you're interested in redeeming your credit for.

Step 5: Digital tickets will be available in your Account Manager within 24 hours of redemption.

Step 6: Don't forget to redeem the rest of your bank for games all season long!**
Located at the end of the press release? The following fine (and small) print:
If it wasn't bad enough that Ranger tickets are the most expensive ducats in the league, and where the franchise demands their fans to pony up thousands-and-thousands of dollars in advance for season tickets (monies collected ahead of time, which then boosts the interest in the Rangers' bank account) – the team is now suggesting that their fans should fork over $2,500 to them. A hell of a cash-advance if I ever heard of one!
Not only will the club increase that $2,500 investment collected via interest – but if you don't use the full $2,500 that you deposited – then you can kiss that money goodbye!
And for a rotten cherry on top – the Rangers reserve the right to change the terms and conditions of this deal at any time.
In other words, during the final week of the regular season, the team, in theory, could announce this asterisk/disclaimer: "Flex Bank monies can not be used for playoff tickets."
This is a win-win deal – for the Rangers. After all, how many people will be able to balance this bank account to $2,500 right to the last penny?
It's a lose-lose deal for the fans.
Also not mentioned in the press release? It's not like you can pick what seats you want. You can only purchase the seats that are available – tickets which I'm sure will be marked-up.
While I do believe that this is a scummy business practice either way (but a good one from their perspective – I can't deny that), I just don't see why anyone would allow the Rangers to make interest off of their own money – and then run the risk of forfeiting your money in the event that you don't spend the full $2,500.
If anything, this is a textbook 101 example of the old adage, "the rich stay rich while the poor stays poor."
This business plan also reminds me of my days in the wrestling business.
Heck – I wish I thought of this idea myself, back when I was promoting shows!
Wrestling fans are a hardcore bunch, but there is only a finite amount of them. Hockey is the least popular sport in New York (and really, in America too). However, hockey fans are hardcore and loyal. This is just another way to boost the team's coffers, as the club continues to find new ways to bilk their most dedicated fans.
Moving on – where "moving on" is our next topic!
---
In news that shouldn't come as a surprise; the team announced nineteen more cuts on Thursday. None of the names listed above are a surprise either, as all of these cuts were expected.
In addition, following this announcement, the team also waived Turner Elson and CJ Smith – news that doesn't shock anyone either. The belief is that if Elson and Smith clear waivers, then perhaps they'll be assigned to Hartford – a highly likely scenario.
If anything, and this is a minor nit-pick, it would've been nice to see Matthew Robertson and Dylan Garand get another game. In the same vein, it also would've been nice to see Matt Rempe play in at least one game.
For Garand and Rempe, they were always expected to start the 2022-23 campaign in Hartford.
In the case of Robertson – he had an outside chance of making the team. Of all the cuts, his demotion raised an eyebrow – just because it happened so early.
When it comes to who gained from these cuts, it's both Libor Hajek and Zac Jones. Not only was Robertson cut, but so was Hunter Skinner.
While nothing is 100% official until it's announced by the team themselves; it's now starting to look like the final starting defenseman spot, the third LD position, is now a two-man battle between Jones and Hajek. The winner will skate with Braden Schneider. The loser of the competition will most likely sit in the press box at MSG.
That said, should Hajek beat out Jones, there's also a possibility that Jones is returned to Hartford too.
Gun to my head (and especially after seeing tonight's 5-2 loss) – Jones makes the cut and Hajek, once again, is the odd-man out.
Time will tell!
---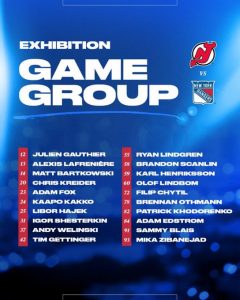 Here was the Rangers' line-up for this contest with the Devils:
FIRST LINE: Kreider/Zibanejad/Blais
SECOND LINE: Lafreniere/Chytil/Kakko
THIRD LINE: Othmann/Khodorenko/Gauthier
FOURTH LINE: Gettinger/Henriksson/Edstrom
FIRST PAIR: Lindgren/Fox
SECOND PAIR: Hajek/Bartowski
THIRD PAIR: Scanlin/Welinski
STARTING GOALIE: CZAR IGOR
BACK-UP: Olof Lindbom
There were three quick things to note about Gallant's line-up tonight:
1- Lindgren, despite being bloodied-up on Tuesday night, played.
2 – The first two lines are half of the Rangers' expected lines for opening night. Again, and as a disclaimer – this stuff is all subject to change.
3 – Lafreniere, who injured his foot on Tuesday night, played tonight. Heck, he was the best Ranger tonight too!
As the Rangers said following Tuesday's loss to Boston – Lafreniere is fine.
In fact, #13 talked about his "injury" from Tuesday night just hours prior to tonight's game:
---
This 5-2 loss is easy to recap. Lafreniere and the penalty kill were great, everything else was akin to sloppy stool.
However, since we all know that I can't write two paragraphs and call it day; let's now recap this game, where I won't prolong the misery for too long!
BOX SCORE time!
---
SCORING:
PENALTIES:
GOALIES:
| | | | | | | | | | | |
| --- | --- | --- | --- | --- | --- | --- | --- | --- | --- | --- |
| SA | GA | SV | SV% | ESSV | PPSV | SHSV | SOSA | SOS | TOI | PIM |
| 10 | 1 | 9 | .900 | 7 | 1 | 1 | 0 | 0 | 19:35 | 0 |
| 25 | 3 | 22 | .880 | 17 | 5 | 0 | 0 | 0 | 40:00 | 2 |
| | | | | | | | | | | |
| --- | --- | --- | --- | --- | --- | --- | --- | --- | --- | --- |
| SA | GA | SV | SV% | ESSV | PPSV | SHSV | SOSA | SOS | TOI | PIM |
| 17 | 2 | 15 | .882 | 14 | 0 | 1 | 0 | 0 | 59:26 | 0 |
---
FIRST PERIOD:
As far as tonight's MSGN broadcast goes, John Gianonne, from the projects in Boonton, wasn't there. Instead, Michelle Gingras handled all of the hosting and interviewing duties – where her first intermission interview with the returning Sammy Blais was comical. More on that in just a bit.
Sam Rosen and Joe Micheletti were on the call tonight, where I'm happy to report the following – Rosen didn't blow one call tonight. However, whenever Rosen talks about the "latinx community," I wish he'd explain what "latinx" means. I'd imagine that would be pretty funny.
"OH JOE, BINARY JOE!"
As I always say, if I'm going to bring up something negative on this site (such as Rosen's numerous follies), I also want to provide equal attention when something positive happens. Rosen was strong and informative tonight.
When it comes to Joe Micheletti, he said the word "FABULOUS" two times within the first thirty seconds of the broadcast. He'd say it a few more times, but come the second period – his favorite word was no longer used.
And yep – besides seeing the Rangers win the Stanley Cup in 2023, if there's anything else I want out of this Rangers' season, it's this – a signed puck from Micheletti with the word "FABULOUS" inscribed on it. A true collector's item!
Going into this game, it wasn't known what either coach, Gerard Gallant and Lindy Ruff, would do with their goaltenders. By the end of it, we found out. Vitek Vanecek, the former Capital, went the whole way for the Devils, where truthfully, he wasn't challenged that much.
CZAR IGOR received two periods of action (40:00), while Olof Lindbom exclusively played during the final period.
The game wasn't all bad.
Just thirty seconds into the game, Adam Fox blocked a shot off of the blade of Tomas Tatar. Following the block, and with the puck now in the Devils' zone, it was nice to see Lafreniere battling for pucks in the corners and on the boards. It just told you that his foot injury from Tuesday night was a thing of the past.
Following an Andy Welinski turnover at the 3:00 mark, Igor bailed out his defenseman.
And isn't it shame that the Rangers, who definitely could've used Brendan Smith last season, and who is now with the Devils this season, wasn't brought back into the fold?
Had Chris Drury brought Smith back to New York (I'd rather Smith as an option than the Libor Hajek's of the world), we could've had a defensive pair of "Smith & Welinski!"
"OH JOE, YOU KNOW I LOVE MY BINARY STEAKS JOE! MOOOOOOOO!"
Following a few saves from CZAR IGOR; Sammy Blais, playing in his first game in nearly a year, laid back-to-back hits on Miles Wood. As Blais later told Gingras, these hits helped shake his nerves and got him into the game.
Here's a crazy stat for you. Blais finished second-best in the hitting department tonight (4). Who had more hits than Blais? Julien Gauthier (8), including one unrecorded hit on the Devils' netminder! (More on that soon.)
With 14:29 remaining in the period, Lindgren flubbed a puck, a puck that found the stick of a charging Tatar. As Tatar made his way to CZAR IGOR, #31 tripped-up the Devils' shooter, in a penalty that basically saved a goal.
Gallant decided to have Brennan Othmann serve this penalty. Fifteen seconds after the penalty box closed on #78, this happened:
Zibanejad ➡️ Fox ➡️ Kreider pic.twitter.com/2M4QShQYrh

— Rangers on MSG (@RangersMSGN) September 29, 2022
---
1-0, GOOD GUYS, a short-handed goal for Christopher James Kreider!
On this play, "MAGNET MIKA," as every loose puck seemed to find the tape on his blade tonight, made a strong defensive play. Mika pushed the puck up to Fox, Fox took his time, dished the puck to Kreider – and "CK52" then scored an easy short-handed goal on a net that may as well have been the size of a soccer net.
Sadly, this was pretty much the lone Rangers' highlight for the next fifty minutes of action.
Fun fact: all three Ranger alternate captains on this night (Mika, Fox and Kreider) all picked-up a point on this goal.
When it comes to the state of the Ranger alternate captains; Gallant said he hasn't decided yet.
While we know that Jacob Trouba will be wearing the "C," and that we won't have six alternate captains this year – we could have five alternate captains for all we know (Mika, Fox, Kreider, Goodrow and Panarin). Time will tell.
With 11:59 to go, and after a successful Rangers' penalty kill; Matt Bartkowski, who is on a PTO, hooked Fabian Zetterlund.
I thought this was a soft call, but regardless – it's Jimmy Vesey, the other Ranger currently on a PTO right now, that has made a case for himself. It's only one preseason game, but I don't see Bartkowski getting a deal.
Following the Rangers' second kill of the game, Julien Gauthier drove to the net, where he totally wiped out Vanecek in the process. The puck also went in the net after contact with the goalie – contact which was the end result of Brendan Smith pushing Gauthier into his own goalie.
While Smith was assessed a two-minute minor for the infraction; Gallant opted not to use a video review.
If this was a regular season game, I believe this goal would've been reviewed, the officials would've pressed the "SCREW THE RANGERS" button, and then we all would've been bitching about the non-reversal!
Either way – Gauthier remains without a point, but as was the case last game – he's continuing to play with more of a physical presence than we're accustomed to.
Still up 1-0 at this point, the Rangers now had a power-play. The Rangers' first power-play unit worked the puck for ninety seconds in the Devils' zone, but couldn't find a goal.
Following Igor's seventh save; Mike McLeod high-sticked Lindgren.
As opposed to Tuesday night, when Lindgren was bleeding after a no-call high-stick – this time, this penalty, which didn't draw blood – was called. However, the Rangers once again couldn't find a power-play goal – as just thirty-six seconds into the man-advantage – Mika was boxed for interference. This was the turning point of the game.
Instead of a two-minute Rangers' power-play, we had 1:36 worth of 4×4 foreplay. The Devils then scored two goals in a span of 41 seconds.
Following an excellent save by Vanecek on a Lafreniere backhanded try; the Devils took advantage of a busted play, where Miles Wood scored on Igor at the end of it. 1-1. On the next Devils' possession, Dougie Hamilton scored on his picture-perfect one-timer attempt. 2-1, bad guys.
As Gauthier turned the puck over after one of his patented shots that go nowhere; Igor made another save with ninety ticks remaining.
Come the end of the period, we remained at 2-1, bad guys.
Due to all of the penalties in this period, it was tough to get a true gauge/read on the younger players and the players fighting for a roster spot.
---
SECOND PERIOD:
If you didn't see it, you should try to go out of your way to find the interview that Gingras conducted with Blais during the intermission.
Aside from the A/V issues, which produced robotic-fart sounds; you had Blais, with the brim of his cap covering his eyes, looking at the floor as he answered all of Gingras' questions. Maybe he's shy, but this interview had all of the charm of a Jeffrey Dahmer confession.
Following our "SECOND PERIOD, WHAT DO YOU LOOK FOR HERE JOE?" comment, the Rangers took control of the puck. Zetterlund hit Fox from behind (no call) and this set #23 off. Fox hounded Zetterlund, where it felt like he hit him 3-4 times. (Fox was credited with two hits during this.)
After giving his charismatic interview to Gingras; Blais had his best scoring chance of the game, but Vanecek made a strong denial on #91's shot from the slot.
"Adam The Giant," whose government name is Adam Edstrom, stood out early into the period. After making a solid defensive play, he charged to the net, pumped up the jets, and came within an inch of scoring a highlight reel goal.
If one thing was apparent as the period progressed, it was that the second line, the one dubbed as "The Kids Line," was head-and-shoulders among everyone else.
While I still think that Kaapo Kakko hasn't done much of note; you could see the chemistry brewing between Filip Chytil and Lafreniere. There were two times during this period where Chytil and Lafreniere drove the offense, and in turn, created the two longest zone possessions for the club.
And here's food for thought, and as first brought up by "The Blueshirt Underground Show" on Wednesday night – if Kakko is sitting on four points after twenty games played this season – how long before the rumblings begin, you know, the Patrick Kane rumblings?
I know it's the preseason, but when Jimmy Vesey is out-playing Kakko (and Kravtsov too) – there's a problem.
Furthermore, while Brennan Othmann didn't stand out as much as he did on Monday night – I think he's looked better than Kakko and Kravtsov as well.
However, and as noted before, the Rangers are going to handle Kravtsov with kid gloves.
Heck, I think Kravtsov could piss on the Rangers' logo at center ice, and I still think he'll make this team – just because the Rangers know how mentally fragile he is. They don't want to run the risk of losing him again, or at the very least, lose all trade value for him.
It's also my belief, that barring a preseason that's "Gretzkyesque" for Othmann – he's going back to the OHL. Fair or unfair.
With 6:04 to go, Kakko drove to the net and pulled a Gauthier. Once gaining possession of the puck, the Devils had the Hajek and Welenski pair dead to rights, but the red-and-black attack were denied by CZAR IGOR. However, right after this initial denial, Hajek and Welenski were lost again, and as a result – with 5:04 to go, Nathan Bastian scored a beautiful top-shelf goal. 3-1, bad guys.
Down to 3:19 remaining, Scanlin interfered with Tatar. Once again, the Rangers' penalty kill held down the fort.
For whatever reason, and in order to hype up the penalty kill; whoever is in charge of the music at M$G played the "Backstreet Boys." Yep, the Father Finkin' Backstreet Boys. Meanwhile, everywhere else in the league, you hear methed-up metal bands to create a fan-frenzy, such as Motorhead. But hey, the Rangers "want it that way." ("Tell me why?")
After forty minutes, 3-1 bad guys, where really, and aside from the penalty kill – only Lafreniere and Chytil stood out.
---
THIRD PERIOD:
During the intermission, MSGN aired a video package of the players talking about their dreams of winning the Stanley Cup.
Vincent Trocheck said the following, "I don't think this season is Stanley Cup or Bust." I vehemently disagree and would 100% argue otherwise.
Olof Lindbom, now in net for the first time this preseason, was decent enough.
For the skaters, the third period was a continuation of the second – Chytil and Lafreniere continued their chemistry.
In perhaps Vanecek's best save of the game, he denied a Chytil-to-Lafreniere backhander, as #13 is really favoring this style of shot – the hardest shot for a goaltender to read.
As Sam and Joe were talking about Lindbom's Swedish heritage, the duo said, "I think Steve Valiquette has some Swedish in him." Since I'm now a world renown multiple-time author – I'll refrain from that obvious punchline, one from the realm of the Artie Lange variety of comedy!
With 13:58 to go, Tatar got the puck, skated from center ice, went forehand-to-backhand and boom – finished off Lindbom with a picture-perfect top-shelf goal. I wouldn't blame Lindbom for this goal at all – Tatar just scored in a highlight reel fashion. 4-1, bad guys.
Let's fast forward to the only thing that matters, as the rest of the period was pure Rangers' sloppiness.
With 6:02 to go, and after being denied by Vanecek thrice before; Lafreniere scored on his fourth shot on goal (team-high):
Pendant ce temps à New York, Alexis Lafrenière nous offre ce petit bijou 🙌🔥 pic.twitter.com/OdvQCNbGrp

— TVA Sports (@TVASports) September 30, 2022
---
4-2, bad guys.
Here's the most obvious observation of the preseason – it would behoove Chris Drury to lock down both Lafreniere and Miller before the regular season begins – and long before their price tags get out of control.
Both of these players continue to improve in each game played. Then, when you start looking at similar contracts around the league, and in the event that both #13 & #79 have career years – the Rangers may be shedding more parts – before the height of this new era even begins.
And oh yeah – Lafreniere's goal was a short-handed goal, following a slashing call assessed to Othmann.
Now with 3:13 to go, and down by two goals; Gallant pulled Lindbom. Twenty-five seconds later, Haula, from 190 feet away, and perhaps with a lucky rabbit's foot wedged between his butt cheeks too – scored on the Rangers' empty net. A perfect shot from long distance.
5-2 bad guys, 5-2 your final from the World's Most Expensive Arena.
---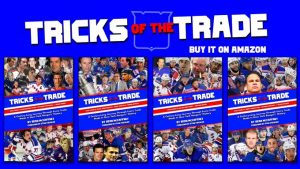 FINAL THOUGHTS:
As "The Turk" said in his postgame press conference – "This game was sloppy. I'm glad it was the third preseason game, and not the fifth or sixth."
I concur.
While I'm not sure if the Rangers will make any more cuts between now and tomorrow night's rematch with the Devils (this time at "The Pebble" in Newark), I'm 100% sure a bunch of roster cuts will be announced over the weekend – where really – I don't see any surprising cuts ahead.
The Wolfpack's camp opens this Monday, so the Rangers will continue to assign more talent in Hartford.
Of course, while I think the smart money is on Othmann returning to the OHL; whatever happens with him will be the top story – that is – unless the Rangers send Kravtsov to Hartford!
Back tomorrow night.
PLUGS TIME!
---
My first plug of tonight's blog – the mandatory plug for my book, "The New York Rangers Rink of Honor and the Rafters of Madison Square Garden."
As mentioned previously, the book is now available in hardcover, in paperback and in Kindle formats. To purchase a copy of the book, visit this link:
https://www.amazon.com/Rangers-Rafters-Madison-Square-Garden-ebook/dp/B09CM5N2WD
For those still looking for signed paperback versions of the book, I have re-ordered more copies. I now have a few signed copies for sale at $25 a pop (includes shipping price) through me directly. Here is all the information on that:
---
My four-volume set of books, "One Game at a Time – A Season to Remember," is a game-by-game recount of the Rangers 2021-22 campaign.
My second title as an author, "One Game at a Time – A Season to Remember," is now available in eBook, paperback and hardcover formats.
To obtain signed copies, visit: https://bluecollarblueshirts.com/onegamebook/
To purchase all four volumes on Amazon, visit: Amazon.com – "One Game at a Time."
---
Here are my last few blogs, in case you missed them:
---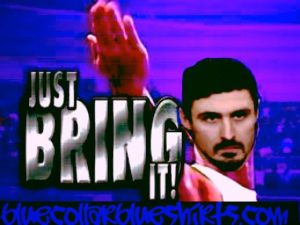 ---
---
---
If you haven't already, subscribe to this blog for the next update:
---
For those interested, I'm running a 50% off sale on my first book, the one that Walt Tkaczuk is holding in his hands, "The New York Rangers Rink of Honor and the Rafters of Madison Square Garden."
For more details, check out: https://bluecollarblueshirts.com/tricksofthetrade/
Thanks for reading.
LET'S GO RANGERS!
Sean McCaffrey
BULLSMC@aol.com
@NYCTHEMIC on the Tweeter machine