Greetings and salutations everyone and welcome to another blog here on BlueCollarBlueShirts.com. Of note, I'm starting this blog really late, as I wanted to watch the NFL slate of games today. I had a lot riding in my suicide pools and fantasy league & wanted to see it all play out. Unfortunately, both my pools & fantasy football team got shot to shit today, just like the Rangers.
Quick aside here, since I know many of you also participate in NFL suicide pools and fantasy football. You want to talk about having the ultimate Japanese Flag Ass Sunday? Then listen to this.
For the fifth week this season in fantasy football, I was the second highest scorer in the league. For the fifth week this season in fantasy football, I played the guy who was the highest scorer of the week. I can feel the hemorrhoids growing already. My ass is getting pounded in fantasy football this season, as if I were Joe Micheletti in the Village at 2AM.
As of 7PM on Sunday afternoon, I was alive in two NFL suicide pools (An NFL suicide pool is where you pick one NFL team to win a week and once you select a team, you can't use that team again for the remainder of the pool's season.) By 4PM, with the Saints loss to the Falcons, there was something like 10-12 people alive in each pool. I was looking good and on my way to something like $14,000 combined.
For this NFL Sunday, I chose the Colts. Seemed like a good pick at the time, because despite their injuries, they were hosting the tanking Miami Dolphins, who had their personal Superbowl last week, when they beat the lowlife Jets. Of course, the Colts go on to lose and I'm out of both suicide pools. Worth mentioning too – with the Colts & Saints loss, one of the pools ended and the other pool could end tonight if Minnesota loses to the Cowboys. (Someone had the Ravens in each pool, as he was luckily enough to not have used the Ravens up to this point in time.)
A day like this makes me wonder how "professional" gamblers, the ones that move to Vegas and chase dreams, do this on a regular basis. While suicide pools and fantasy football are technically gambling, it's a one-time fee for a season. I don't know how people can live and die with this big money on the line every Sunday. I almost won $14,000 this season, but at least I only risked something like $150 to win that money. I don't know how people can risk big money and sweat that out in a three hour period.
So anyway, as you start this blog, here was my Sunday – Rangers lose. Giants lose. Fantasy football team loses. Eliminated in two suicide pools. I even stepped on a Lego! (Okay, I made the Lego thing up for dramatic effect. But hey, never let the truth get in the way of a good story, am I right?)
In conclusion about my day of self-pity, the only way this day could get any worse, is if the Rangers re-sign Henrik Lundqvist!
MINGA!
And now, back to your regularly scheduled New York Rangers blog.
On Sunday afternoon, the Rangers, rolling on a two game win streak and winners in four of their last five games, were defeated at M$G by the Florida Panthers, with a final score of 6-5. The 6-5 loss to the Florida Panthers wasn't all for naught though, as the Rangers lost the game after a shoot-out. With this loss, the Rangers record now sits at 7-6-2, which is one game under a .500 winning percentage.
In a game where the team scores five goals, picking up the loser's point after regulation isn't something anyone wanted. After all, this wasn't a 1-0 or 2-1 loss, where the Rangers trailed all game, only to force the overtime. In this game, the Rangers goalie threw away two easy points. To make matters even worse, the Florida Panthers played the day previous, in a 2-1 loss to the Islanders. And to compound the misery even further, the Panthers started their back-up goalie, in Sam Montembeault, as the Rangers avoided the two-time Vezina winner, in Sergei Bobrovsky.
In today's brutal matinee shoot-out loss, this was a game that the Rangers pretty much had in hand for the duration of regulation. Unfortunately, piss-poor goaltending from Henrik Lundqvist ruined what should've been a big win for the Rangers.
As talked about in prior blogs, even as recent as my last blog, when the Rangers have these types of games, Steve Valiquette, the number 1 ANALyst on the MSG Networks, has nothing to say about the overrated and overpaid goaltender. Despite five goals scored, it's everyone else's fault and the blame goes as far to the scalpers standing outside of M$G.
In the Rangers last game, in the post-game show, all Steve Valiquette talked about was Henrik Lundqvist, as he ignored everyone else on the team. In today's post-game show, despite Lundqvist giving up five goals in regulation and being abused like a government mule in the shoot-out, all Steve Valiquette could do was blame every Ranger on the team, and not the Swedish elephant in the net.
If it gets any worse than Valiquette defending and deflecting any type of criticism of his beloved Henrik Lundqvist, it is the fact that after the game, Henrik Lundqvist had the audacity to blame the team for the loss as well. As I've said in the past, I am 100% convinced that this young team can't stand him. I wouldn't be shocked if there was a secret group text, where the young guys on this team express their frustrations with Grampa Lundswiss.
I mean seriously – this is a rebuild. How does it benefit this franchise with a 38 year old goaltender in net? If you want to say, "well the Rangers are stuck with his contract", I get it. However, how does it help anyone, when after a loss like this, the goalie just sits back and blames everyone else? How does that create chemistry? How does that create unity? How does that help the young guys developing?
I'll get more into Lundqvist and his disgusting egotistical comments towards the end of the blog, but as I start off today's blog, I was disappointed, but NOT surprised, with King Hair absolving himself from any sort of responsibility for this loss. After all, this was the same Cupless Loser who had the balls to criticize Georgiev's loss to Ottawa. What a mentor!
There's a lot to get into today, so before diving into everything, as usual, here are my last few blogs, in case you missed them:
---
---
---
---
---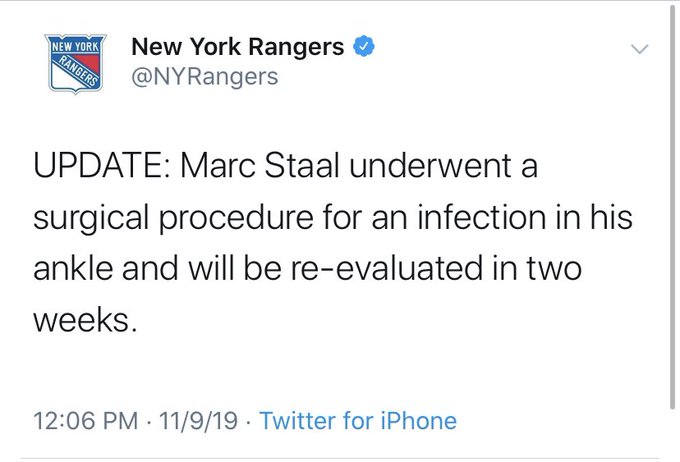 After the Rangers big win over Carolina on Thursday, you know, the win where Lundqvist took all the credit for and Steve Valiquette ignored the rest of the team in his post-game analysis, the Rangers made some news over the weekend. Both news items are injury-related.
The biggest news was that Marc Staal will now be out for at least two weeks, as he had to get surgery after receiving an infection on his ankle. I guess this was one of the injuries that Quinn was referring to in his media talk, prior to the game with Carolina on Thursday.
As a result of Staal's injury, there are two "winners" here. The first winner is Ryan Lindgren, who despite playing well, was a healthy scratch two games ago, as Quinn wanted to rotate his defensemen. With Staal being out for at least two weeks, Lindgren should be a regular in the Rangers line-up.
The other "winner" here is Brady Skjei. As talked about on these blogs, Skjei has been "sjkeitty" more times than not this season. Skjei was a healthy scratch last game. Now, with Staal out, it's tough to see Skjei being scratched in these next two weeks.
It seems like with Hajek & Lindgren already playing for the big club, the only way Skjei will be scratched is if he plays really bad and the Rangers & Quinn decide to put Smith back at his natural position. However, no matter how you feel about Smith's contract, Smith has been working out in his new dual role as a fourth line winger and penalty killing defenseman. Of course, that being said, if the Rangers wanted to call up my boy VINNI LETTIERI, scratch Skjei and put Smith back on the defense – well I wouldn't have a problem with that.
And I guess I should put this out there – despite the Rangers announcing a two week time-table for Staal, it wouldn't shock me if Staal was held out longer. After all, there is no reason to rush him back, for all the obvious reasons.
The other news item that was announced, was that according to David Quinn, Mika Zibanejad's return has been a "one-step forward, two steps back" sort of ordeal. Again, I've talked about this already in my last few blogs, but to me, it sounds like the Rangers are hiding a concussion injury. In a league that has faced lawsuits over the topic of concussions, saying the "c-word" in the NHL is almost as dangerous as dropping the "c-word" at a bunch of LGBTQ's, at the NYC Halloween parade.
Zibanejad, who has had 6-7 documented concussions, and who knows how many undocumented concussions during his career, has to play this safe. As we all know, once you get one concussion, you're more prone for another concussion. As you pile up the concussions, you become more susceptible to them and there is no way to figure out a true recovery time. There's no science to recovery here. Everyone heals at a different rate.
While it is my opinion that I think Zibanejad has a concussion related injury, the Rangers are sticking to their guns and saying it's a neck/upper-body issue. As you may know, I'm not a doctor. However, what I do know, is that if you have a body-related injury, doctors have a better grasp of when you will be 100%. When it comes to concussions, no one truly knows. If you remember, when Zibanejad was first hurt, the Rangers thought he would be back for the next game. It's now been six games, and over two weeks, since Zibanejad last played.
To me, this isn't the JFK assassination here. This isn't some 9/11, flat-earth, Sandy Hook or some other wild conspiracy theory here. Just using logic and the process of deduction, I think you can assume that the Rangers are holding back the true nature of Zibanejad's injury. And of course, as mentioned in the past, because the NHL allows teams to withold injury information, it allows fans, and the media alike, to speculate.
Moving past the injury news, the Rangers held an open practice in Central Park on Saturday afternoon. Here are some pictures: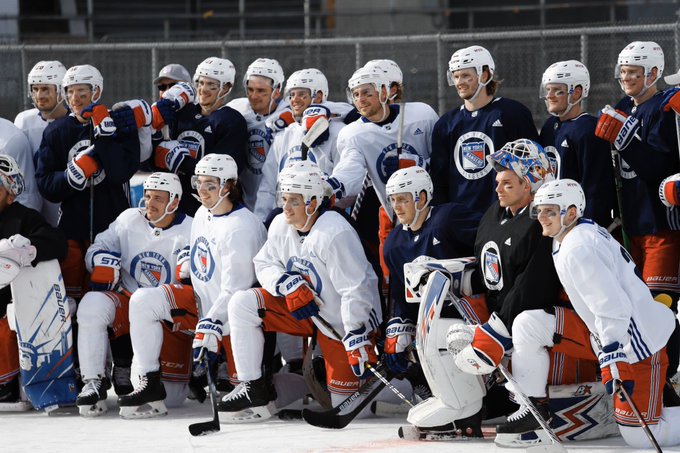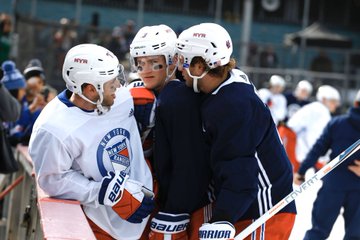 These open practices are promoted as a way to build up good-will between the rebuilding Rangers and their fanbase. In reality, these open practices are season ticket drives for the franchise. It's not a secret – M$G doesn't sell out anymore. These open practices, which started last season, are a direct result of the team rebuilding and the fact that the Rangers are in the bottom half of the league, when it comes to attendance.
No matter how you view these open practices, I saw countless pictures from my Twitter followers and had other people email me pictures from the event and everyone was happy. The Rangers really do a good job with this.
When it comes to this event, all I saw were pictures of young kids with current Rangers. Most hockey players are fan-friendly anyway, so I can't say that the Ranger players were smiling because the red light was on. However, these open practices are a great thing for everyone involved. The kids get to meet the players, and like kids who see & want candy as their parents check out at a supermarket, these kids now want tickets to see the Rangers play. It's a win-win for everyone, as the organization drives up attendance, the young fans get to meet players that they wouldn't ordinarily meet and for the players, they get to play outside, just like they did in the days of their youth.
I didn't attend the open practice, but based on the reports and feedback I got, everyone had a great time and that's what it's all about. Kudos to the organization.
At this time, here's just an example of fans having fun at the event. The following comes from Mel, who took his kids to the event. As you can tell, they all had a blast:
— mel1994 (@mel19944) November 9, 2019
#nyr pic.twitter.com/hzPMwcCVn3

— mel1994 (@mel19944) November 9, 2019
#nyr pic.twitter.com/nslJ3lSF3R

— mel1994 (@mel19944) November 9, 2019
Moving along here, let's go to the GAMBLING SEGMENT of the blog. Here's what I said before the game:
Season over/under record: 9-5

These -6.5's are killing me. If these lines were -6, I would be 9-2-3.

FLA scored once yesterday. #nyr is coming off a high & will face a weak goalie in Sam Montembeault.

1pm games tend to be low scoring.

I'm going UNDER, but don't like the bet. pic.twitter.com/AYOeKsA5pP

— BlueCollarBlueShirts (@NYCTheMiC) November 10, 2019
OUCH! I'm now on a three game over/under losing streak. That said, I did say that I didn't feel good about this pick at all. It's funny, as I said above, most of these 1PM games are slow and plodding. This game was the anomaly, as an insane second period led to plethora of scoring. With my loss here, my season record worsens to 9-6. SAD!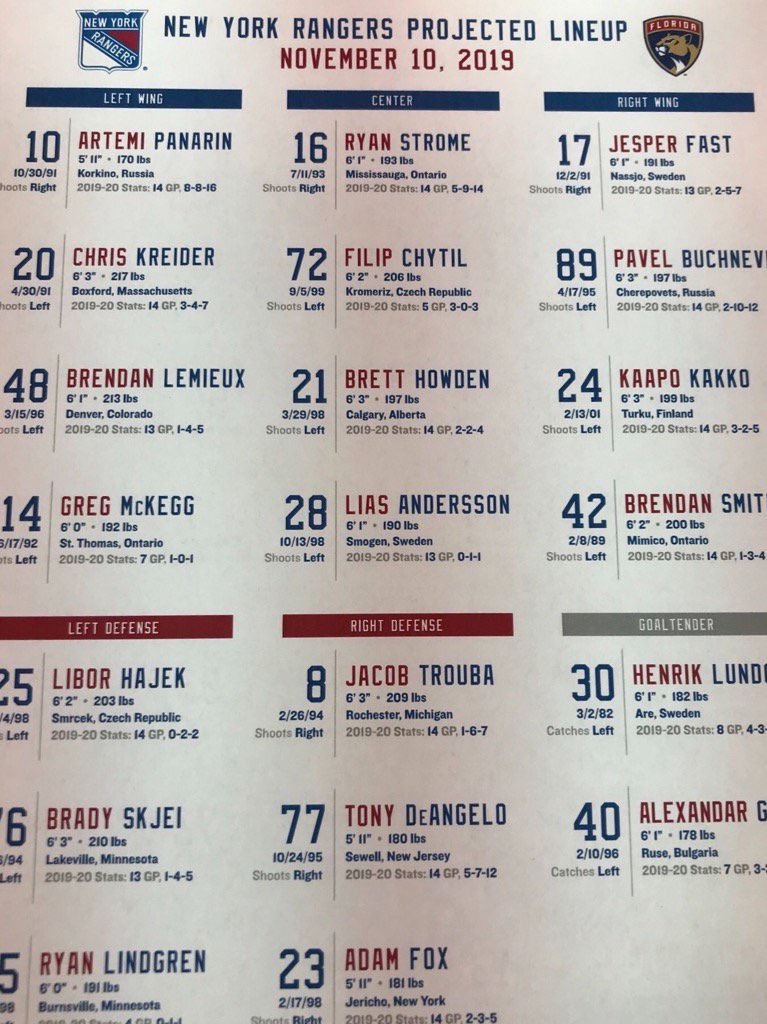 With the Rangers injury issues and with the win on Thursday, David Quinn kept the same line-up that he used in the game with Carolina. Not that this is a criticism or a suggestion or anything of that nature, but I hope to see DeAngelo and Lindgren play on the same pair soon. I'm just interested to see how they would do together.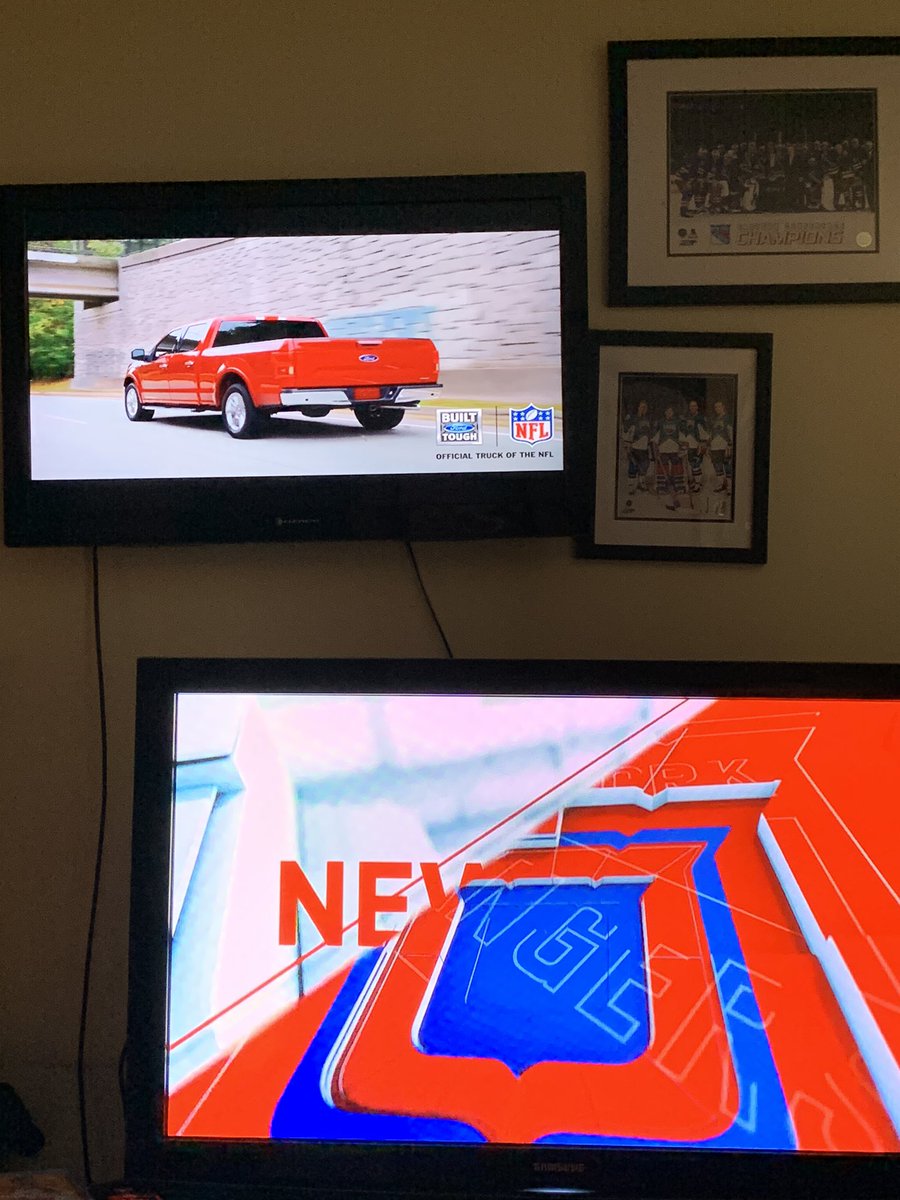 I talked about the idiocy of the NHL schedule makers in my last blog. How someone schedules a Rangers home game, as the same time as a Giant vs Jets game, is beyond me. That said, this Rangers vs Panthers game, promoted as "Kids Day", you know for the multi-millionaire kids who can afford tickets, was practically sold out.
In fact, for the purpose of this blog, I wanted to see how much tickets were going for, one hour prior to puck drop. I figured today's game would be cheap, because despite how bad the Giants and Jets are, I figured there would be more interest in that game. Truth be told, as I looked for tickets for this Rangers game, there were only 100 tickets available. On Stubhub, it would've cost you over $100 just to walk in the door, and over $200 to sit in the lower-bowl. Maybe that Central Park event worked out much better than anyone could've thought!
It just shows you how funny time is and how streaky we can be with our predictions. As noted in my last blog, in the game with Carolina, I was predicting everything correctly. Today, I was bombing on everything. I had the over-under wrong. I thought the Rangers would win. I didn't expect Lundqvist to give up a touchdown. I thought the building would be half-empty. And lastly, I thought the crowd would be dead. It was anything but, which was also the result of a crazy game, a game that got bat-shit nuts in the second period.
At this time, let's take a look at the official box score, courtesy of ESPN.com:
SCORING SUMMARY: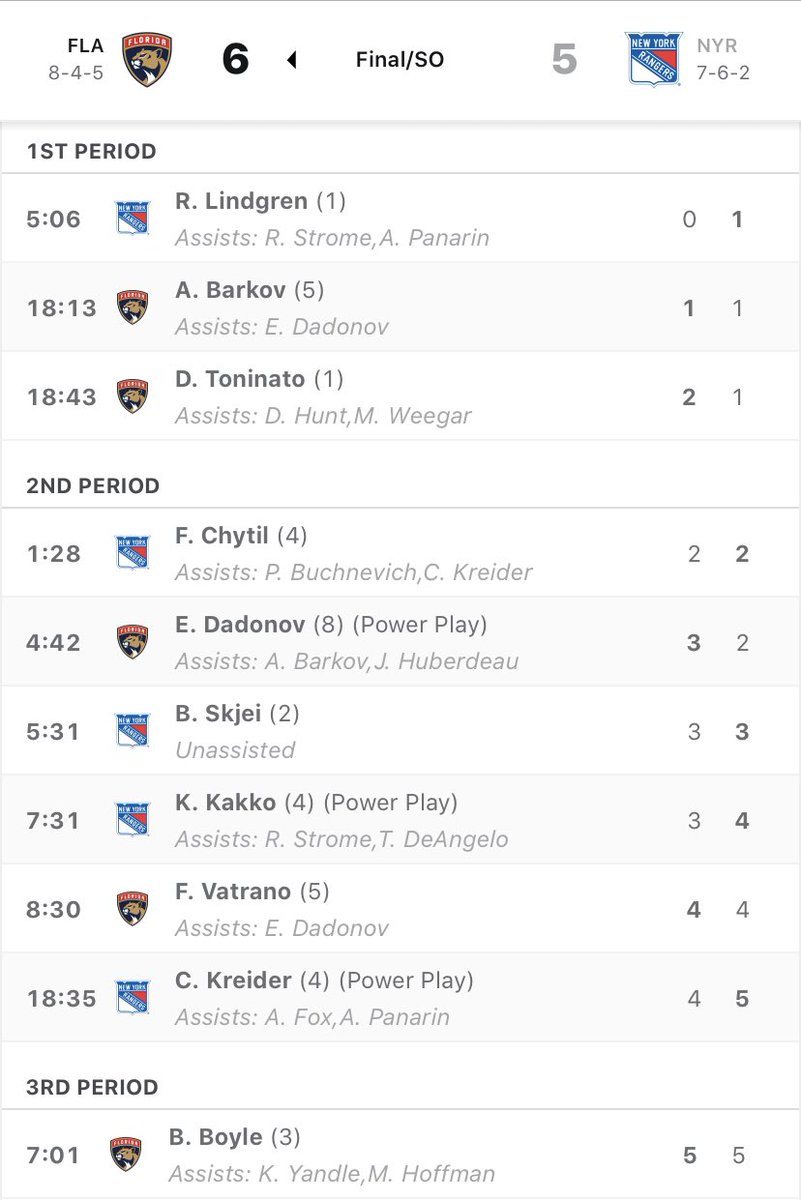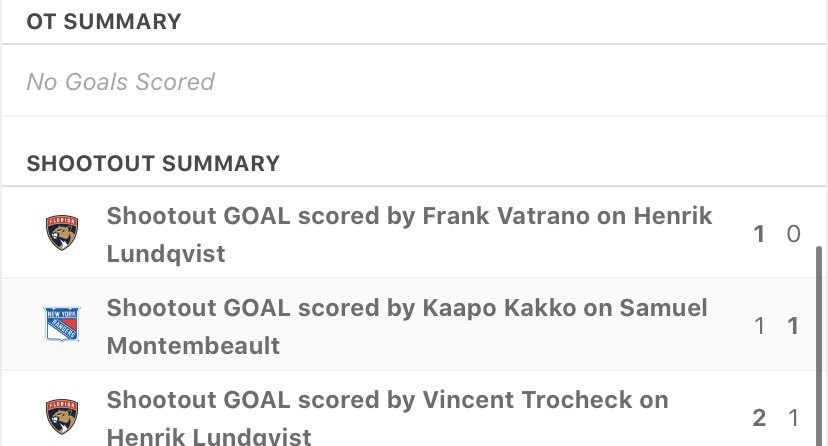 PENALTIES: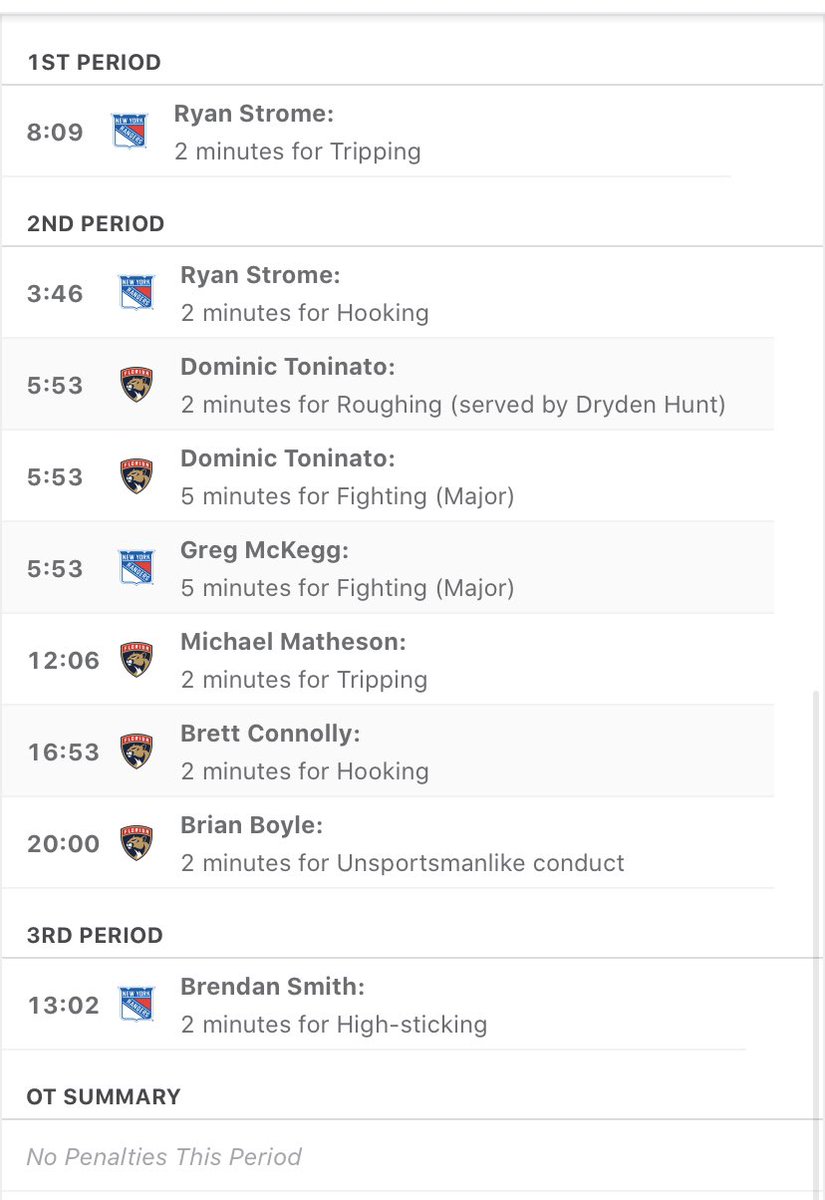 GOALIES:
| | | | | | | | | | | |
| --- | --- | --- | --- | --- | --- | --- | --- | --- | --- | --- |
| SA | GA | SV | SV% | ESSV | PPSV | SHSV | SOSA | SOS | TOI | PIM |
| 34 | 5 | 29 | .853 | 24 | 0 | 5 | 0 | 0 | 65:00 | 0 |
| | | | | | | | | | | |
| --- | --- | --- | --- | --- | --- | --- | --- | --- | --- | --- |
| SA | GA | SV | SV% | ESSV | PPSV | SHSV | SOSA | SOS | TOI | PIM |
| 35 | 5 | 30 | .857 | 22 | 1 | 7 | 0 | 0 | 65:00 | 0 |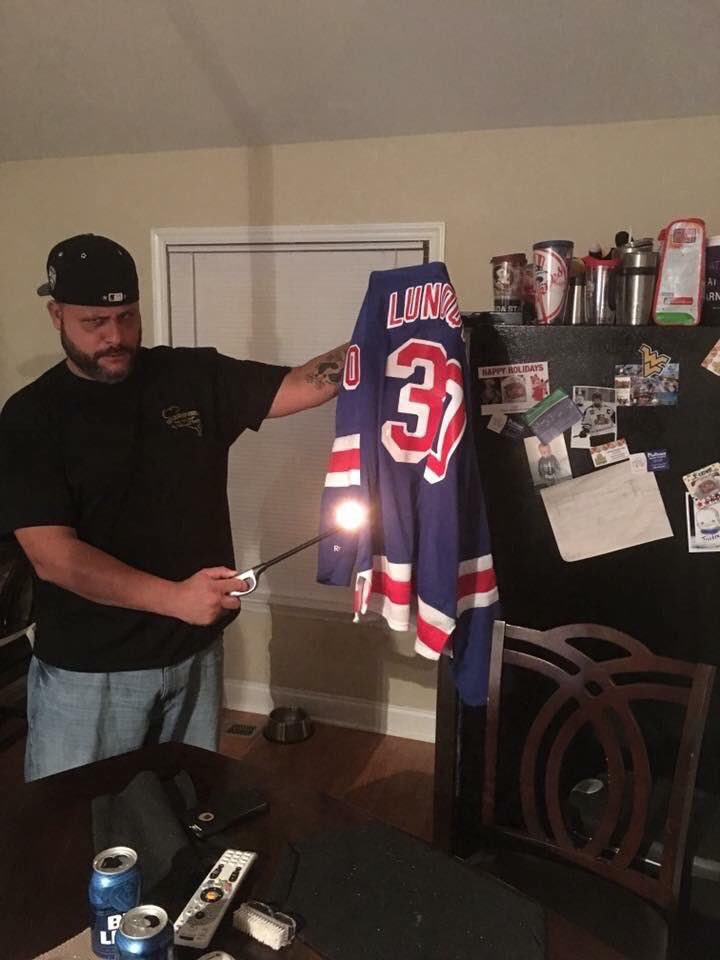 When watching today's game, I was also following the Giants vs Jets game. At around 1:20PM, the Giants were already losing 14-0. While the Rangers game was on my big TV and that was the game that I had the volume on for, by the time the second period started, I was just glancing at the Giants/Jets game. During the second period, I barely looked at the football game, as the second period of this game was wild.
As usual, prior to puck drop, Steve Valiquette started the pre-game show by cranking Hank's johnson for a good five minutes. Of course, after the game, Vally was a better wall in defending Lundqvist, than Lundqvist was in net for the Rangers.
Actual quote from Valiquette on the pre-game show: "I remember Dan Girardi, when he was young, earning playing time in Hartford and then with the Rangers. It's good to see young defensemen play." I guess that doesn't apply to the young goalies on this team!
I mean really, today was "Kid's Day". Instead of starting the grandfather clock in net, the Rangers should've went with Georgiev!
As I start the period-by-period breakdown here, worth mentioning – Rangers south still lives in Florida. However, the majority of the ex-Rangers are now in Sunrise and not in Tampa. Playing in this game for the Panthers today were Brian Boyle, Anton Stralman and Keith Yandle. And of course, it were Yandle & Boyle setting up the game tying goal in the third period.
The early stages of this first period was all Rangers. As mentioned, Florida played the day before. Even better, they had rookie Sam Montembeault in net. Just based off the first few minutes alone, you could see the Rangers would be able to beat this guy. Unfortunately, Florida had no problems scoring against one of the most overpaid goalies in the league today.
Five minutes into the game, the Rangers would pick up their first goal of the contest. In fact, this would also be Ryan Lindgren's first NHL goal too:
Rise and Shine ☀️ 😎

Ryan Lindgren gets his first NHL goal and the @NYRangers are up 1-0. #LGR pic.twitter.com/UtdPxn3Lwi

— Rangers on MSG (@RangersMSGN) November 10, 2019
1-0, GOOD GUYS. On the goal, once again, there was Ryan Strome, you know, the player all these chart nerds hate, making a perfect pass leading to the goal.  Strome would finish with a two point game today. Not bad for someone all these basement breathing momos want the Rangers to trade.
And like I said last blog, if I'm Gorton, I'm re-signing Strome, Lemieux and DeAngelo. The quicker, the better.
As the game went on, Brendan Lemieux blocked a big shot. He would have to go to the locker room for repairs, but would return to the game. Once he returned, Lemieux didn't let the previous blocked shot get into his head. He immediately stepped right into an Ekblad blast, a shot that probably travels something like 100MPH. Lemieux definitely channeled his inner Dan Girardi today.
At 8:09 into the first period, Strome would be called for tripping. Florida's power-play put 5 shots onto Lundqvist, but none of them were difficult. That said, the NYR PK allowed Florida to stay in their zone for 100 seconds and wouldn't get a clear until the final 20 seconds of the Florida PP.
Like Lemieux, Brendan Smith showed off his toughness in this game. Smith would get blind-sided with a big hit. Immediately after, Smith popped right back up and crashed the Florida net. That's an old-time hockey player.
Whether it was the fact that Florida played the day before or not, Florida was more conservative than Mike Pence in this first period. At the first sign of any trouble, all five Florida skaters would skate back on defense. The Panthers were just as fast as that cat from last week's Monday Night Football game, as they ran to their blue line as fast as that cat ran to the end zone. However, this would pay off late into the first period, as Florida scored two goals in the final two minutes, with both goals coming within 30 seconds of each other.
With 1:47 remaining, Aleksander Barkov sniped one past Lundswiss. 1-1. Dominic Toninato would add the Panthers second goal, just 30 seconds later. Typical Lundswiss. 2-1 BAD GUYS.
While you can say the Barkov was goal was the result of an elite shot, Lundswiss needed to stop Toninato.
At this time, I would like to share with you some facts that you will never see aired on the MSG Networks:
Did you know: Henrik Lundqvist hasn't had a shutout in 2+ years.
Did you also know that Hank leads the NHL in most goals allowed in the final two minutes of a period?
Bonus: did you know that no other goalie gives up 2 goals in succession faster than his Royal Highness?
KING!
I guess all those articles from Thursday, stating "LUNDQVIST IS BACK AND CAN LEAD THE RANGERS TO A CUP", are dated already, huh?
2-1 after twenty at M$G.
The second period of the game was a wild one, with 6 total goals scored. The Rangers would pick up four of them.
The Rangers came out like gangbusters in the second period, which I'm to assume meant that they were pissed off with how that first period ended.
Not even 90 seconds into the period, Filip Chytil, a veteran of five games this season, picked up his fourth goal of this campaign:
We know Skjei just scored, but this Chytil goal was so good we knew you'd need to watch it again!#PlayLikeANewYorker| #LGR | @NYRangers pic.twitter.com/8Snwo1QzSC

— Rangers on MSG (@RangersMSGN) November 10, 2019
2-2.
On the goal, I loved how Chytil ignored KreidERR and just took it to the house himself.
At the 3:46 mark of the period, Strome was called for hooking. This was a brutal FAKE NEWS call, as Strome did nothing. These refs man. There were two bad calls against the Rangers in this game and with the benefit of replay, it just made the refs look worse.
On the Florida power-play, the Rangers PK were once again caught out of position. Evgenii Dadonov found himself alone in front of Lundqvist, and beat him point blank. This was one of those 50/50 shots and nothing you can blame Lundqvist for. That said, he did save shots like these three days ago and is one of the highest paid goalies in the NHL. 3-2, BAD GUYS.
Less than a minute later after this Florida PPG, Brady Skjei got the puck, moved up ice and flicked an innocent backhander towards the FULL MONTY in net. (It's tough spelling that last name all blog long, so FULL MONTY it is.) The puck deflected off a Florida defender and went right past the FULL MONTY. 3-3 game, just like that! This was a fluke goal, but hey, if you don't shoot, you don't score!
After the faceoff, the Rangers got the puck down deep again. McKegg crushed Ekblad with a hit. Toninato took offense and threw down the gloves. Toninato wrestled McKegg down, but since he blatantly started this fight, Toninato got an extra two minutes for instigating. The Rangers would get a power-play, and at 7:31, the MAGA boys set up a guy you may have heard of, and that name is Kaapo Kakko:
You love to see it, Kaapo Kakko gets a goal in this scoring extravaganza 🚨 🚨 🚨 #PlayLikeANewYorker | #LGR | @NYRangers pic.twitter.com/amtD8ffMh4

— Rangers on MSG (@RangersMSGN) November 10, 2019
4-3, GOOD GUYS!
Listen, if you're a regular here, you know my thoughts on Lundqvist. I am not a fan. I want the Rangers to move on. That said, when he has a good game, like he did with Carolina, I say it. When you see a goal like this, I hope all these pimply faced assholes, who hate on Ryan Strome, can admit that he is playing well too.
This was a perfect PPG. The Rangers passed around and looked for a shot. Once Tony DeAngelo eyed Ryan Strome, I knew the Rangers were going to capitalize. Tony DeAngelo, who is MAKING ASSISTS GREAT AGAIN, finds Strome and then Strome found Kakko. GREAT TEAM WORK!
Of course, as usual, because this wasn't a "VINTAGE" Lundqvist game, Lundqvist would then wet himself with a lead. Less than a minute after the Kakko goal, Frank Vatrano easily embarrassed the almighty King Nothing for a goal. 4-4 game. I should mention, we weren't even 10 minutes into the period yet, as this goal came at the 8:30 mark.
With four Ranger goals for at this point, I wonder how come the MSG guys didn't say that the "Rangers were carrying Henrik Lundqvist?" I guess Lundqvist can only carry the team when they win? It always amuses me how the MSG Network guys will never give this Rangers team credit, and it's always about what Lundqvist is doing. And when Lundqvist isn't doing, like today, then the MSG Network guys find something else to blame, like the glare coming off the bald spot from the cotton candy vendor in section 214.
It's a shame too – this is when Quinn should've put Georgiev in, but in a tied game, David Quinn doesn't have the balls to make this type of switch. Caitlyn Jenner has bigger balls.
The Rangers would get two more power-plays in this period. On the first one, there was nothing doing. On the second one, with a minute and change remaining, Adam Fox blasted a shot and KreidERR actually did something, and perfectly and deftly, deflected a puck past the FULL MONTY. 5-4 GOOD GUYS! If it wasn't for Lundqvist choking every lead he had in this game, this could've been another game winning goal for Chris KreidERR.
And despite this goal, my feelings don't change on KreidERR. Trade him while he has value.
At the end of the period, Brian Boyle, who was quite the agitator and didn't look like someone who ever had cancer, as he was a physical stud today, would take an unsportsmanlike penalty to close the period. That meant the Rangers would have a power-play to open the third period. And before anyone twists my words around, when I say that cancer comment, you would think guys might take Boyle lightly or Boyle may be a bit hesitant. None of that happened, as Boyle was laying the body when he could and was all up in the Ranger faces in this game. While this wasn't exactly Brady Tkachuk from the game with Ottawa on Monday, Boyle was making his presence felt in this game.
5-4, GOOD GUYS, after two periods.
After a crazy second period, things quieted down in the third period, as there would only be one goal scored.
The Rangers opened up the period on a PP and KreidERR was back to himself, as while wide open, he shot a puck right at the Cat on the jersey of THE BIG MONTY. (Again, I don't know if Montembeault has ever used that nickname, but I'm making it one today!)
The BIG MONTY, who was pretty shaky all game, decided to clamp down in this period. I talked about these type of games in my last blog. While this wasn't exactly a stellar goalie performance from THE BIG MONTY, this was another game, where a no-name third string goalie out-played the overrated and overpaid King Diva. What's the word I want to use here? Oh yeah – SAD! (That's for you Jen Eberhart!)
In a period where both teams did try to buckle down a bit defensively, Brian Boyle would get credit for the lone goal of the period. Keith Yandle fired a puck right past Lundqvist. You couldn't see it live, but apparently, Boyle put a splinter on the puck, causing Lundqvist to get rattled beyond belief. 5-5 game.
Oh, and for those keeping track, Islanders goalie, in Thomas Greiss, made 37 saves on 38 shots on this same Florida Panthers team, just 24 hours prior. Leave it to Lundswiss to jump-start the Florida offense.
Oh again, worth mentioning, I was tagged in a lot of social media postings after the game on Thursday. I didn't hear a peep today. Hmmm, wonder why? And yes, Lundqvist is WASHED!
The refs would make another bad call at around the 13 mark of the period, when they called Brendan Smith for high-sticking. However, it was OBVIOUS live and even more obvious on the replay, that Smith had his stick lifted. That didn't matter to the refs. Florida power-play. Luckily, the Rangers killed the Florida PP here and the Swedish fanook was able to keep his legs closed.
I have to say this, as I do a quick tangent here. The word "Swedish" just triggered my brain. (Not that social justice warrior type of triggering, which I'll get into later.)
The NHL held two games in that third world country of Sweden. I call Sweden a third world country, because this is what I know about Sweden:
— They produce overrated and overpaid egotistical goaltenders
— They produce terrible furniture. I've seen IKEA chairs fall apart after a strong Taco Bell induced fart.
— They produce inferior meatballs. Who wants a Swedish meatball, when you can get an Italian meatball that your NONNA used to make?
— They produce these terrible red-colored fish, that will rot the teeth out of your fucking head.
— They don't even speak English. (Okay, this is the Don Cherry in me and I'm totally 100%  joking here. If you're offended, protest this blog while wearing your pink pussy hat.)
Anyway, the point in all of this, is that the NHL sent the Sabres and Lightning to Sweden this weekend, where the two teams played two games that counted in the standings. This is kind of a big deal, right? After all, when the NFL goes to England, they never stop talking about that game.
This is no secret and I've talked about it before on these blogs – the NHL are horrible at promoting themselves, their stars and the game in general. While I'm not advocating for myself here, the NHL needs to hire a current or former pro wrestling promoter to market and hype these games.
The NHL did literally nothing to hype these games. I watch the NHL network all the time and I'm on all the mailing lists. I didn't see anything to promote this game. Their television partner in America, the NBCSN, did nothing to hype this game to me.
The NHL needs someone who can hype up these games. Sell some story-lines. Sell me on Sweden. Sell me the stars.
And it's not just me, as I saw some of the people I talk to on social media say, "I didn't even know the NHL was in Sweden this weekend." Just a piss-poor job of promoting these games, at least here in America.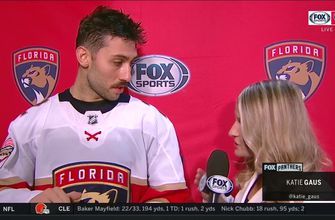 Back to this game.
Lundqvist would make one save with a minute remaining in the period. Despite five goals allowed, the crowd chanted "HEN-RY". That has to be in his contract, where the scoreboard tells the fans to chant "Henry" once a game, as if MSG were a TV game show telling the fans to applaud.
A few seconds after this, the Rangers were blatantly offside. The crowd booed with vim and vigor. This tells you the intelligence of this crowd.
At the end of regulation, the score remained 5-5. A three vs three overtime was up next.
In the overtime, both teams had multiple chances to score. Panarin had a great look at the net, but couldn't finish. Both goalies would make a great save each during this time.
At the end of a scoreless overtime, we then went to the shoot-out. Unlike the shoot-out the Predators and Sharks had last night, where each goalie finished 6 for 6 before the Sharks scored in the seventh round, Lundqvist would be beat twice and that would be it.
In the shoot-out, the FULL MONTY stopped Panarin and DeAngelo. Panarin probably should've scored here, but didn't lift the puck enough. With Vatrano scoring, and the Panthers up 1-0, on the third Rangers attempt, an attempt the Rangers needed to convert on to stay alive, Kakko, the 18 year old wonder kid, handled the pressure and scored. Immediately after, like how he did all game, Lundqvist choked and was beat easily by Trocheck. 6-5, BAD GUYS, your final from M$G.
Before finishing up on this Rangers game, since I just used the term "BAD GUYS", let me talk about Don Cherry here.
Don Cherry is currently being raked through the coals, by the social justice warriors on social media.
In case you missed the story, here's one of 796789686896789 articles about this:
https://www.bbc.com/news/world-us-canada-50367727
In case you didn't see what Cherry said, here it is:
Don Cherry's rant on immigrants:

"You people… love our way of life, love our milk and honey. At least you could pay a couple of bucks for poppies or something like that. These guys paid for your way of life that you enjoy in Canada."

Ron MacLean nodded and gave a thumbs up. pic.twitter.com/OXnIwV1n9T

— Rosa Hwang (@journorosa) November 10, 2019
In 100% of the stories that are trashing Don Cherry for his comments, none of these stories mentioned this:
The stupidity of it is he's being called racist when literally 45 seconds earlier in his segment he talked about how much he loves Ryan Reeves (who is black). And the week b4 did a tribute to 1st Nations players in the NHL. Nothing abt that is racist. He has a political view.

— Howie Wirtheim (@HWirth) November 10, 2019
I know some are trying to spin this story as "Cherry is from a different time" or throwing the "R" word at Cherry, as in the word "racist", but come on. All Cherry is saying here, that during Canada's "Remembrance Day" (Canada's version of USA's "Veteran's Day") is that he wants everyone in Canada to wear the poppy that is associated with Remembrance Day.
Canada, like cities in America, is a sanctuary place for many immigrants. I don't want to go through a whole history or political landmine here, but simply put, Canada hosts a lot of people from third world Muslim countries, where terrorists run the show, such as Syria.
All Cherry is saying here, is that he wants these people to respect and love the country that took them in and gave them asylum. This is not the first time and it certainly won't be the last time, where Cherry expressed his love for his country. Cherry has always been a strong patriot for Canada. I'm not Canadian, as you may know, but I certainly respect Cherry's devotion to his country.
Of course, here in 2019, where people want you jailed if you use the word "fag", Cherry is now a card-carrying member of the KKK and the Nazi party. These whiny liberals can't take what Cherry said at face value. They have to spin it into some sort of social injustice and major tragedy. Even worse, now you have people calling for Cherry to be fired, contacting sponsors of Cherry's employer and demanding Cherry to apologize for having an opinion that is not theirs.
Of course, the NHL and Sportsnet, Cherry's employer, immediately apologized, because they didn't want to deal with the wrath of the liberal crybabies who demand you see everything from their side. If you don't see everything from their side, then you're deemed a racist, a misogynist or whatever -ist they can label you with.
Don Cherry is 85 years old and has been in the spotlight for over 60 years. Do you think he's going to say something offensive on TV, knowing that people are going to try to besmirch him?
This is a story, and the latest story in the 24/7 news cycle, that people are all up-in-arms about right now, but will forget about in a week's time.
Give it a rest. You all know what Cherry meant. To spin it into something else is something people are doing for page clicks.
Simply put, Cherry loves Canada and wants every Canadian citizen to have the same pride in their country, that he has for his.
Back to the Rangers.
All in all, the Rangers played well enough to win tonight, but their overpaid goalie let them down. Of course, despite Lundqvist burying his teammates after every game, no one said a peep about Hank's terrible performance today. Even after the shoot-out, Lundqvist ran to the locker room, while his teammates sat there befuddled on the bench. WHAT A LEADER, WHAT A WARRIOR, WHAT A PERFECT PLAYER FOR THIS REBUILD!
After the game, Lundqvist was interviewed. HERE IS THE QUOTE THE MSG NETWORKS AND THE RANGERS WERE PROMOTING: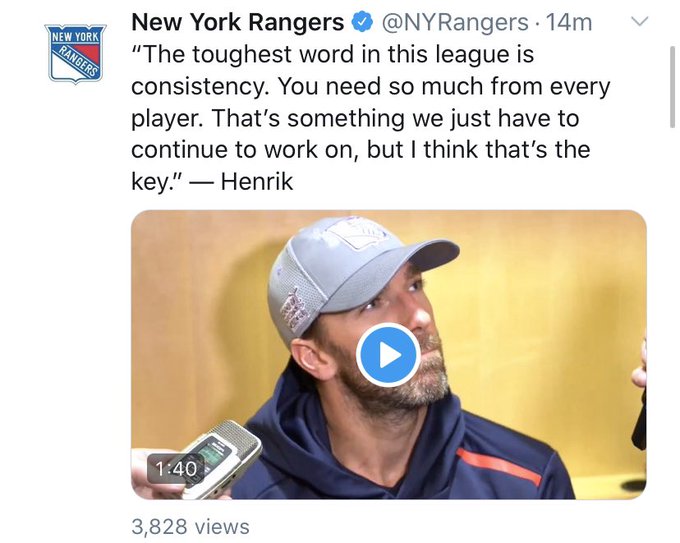 Are you fucking kidding me?
What a perfect quote from this egotistical asshole. Mind you, the Rangers are in a rebuild and this quote comes from someone who fans think is a "mentor". All this piece of shit does is finger-point and blame everyone else after his terrible performance, but he's the first one to take all the credit when he has one of his "vintage" games, a vintage game where the Rangers scored four goals in.

Stuff like this drives me nuts. Get Igor here and deport this self-serving asshole back to his third world country.
In what world is Lundqvist living in, where Lundqvist thinks that by burying his teammates, it's what's best for the team? No one else talks like this, about their team, like the way Hank talks about the Rangers.
This stuff doesn't go unnoticed either, even if the beat reporters, who fear losing their access to the team, are scared to report about it. (I will give reporter Rick Carpiniello an exception shout-out here, as he did say how the team plays harder for Georgiev than they do for crybaby Lundswiss.)
I can also tell you that the team is sick of Hank's me-first attitude and you kind of heard Ryan Strome talk about this recently.
A word you hear from all the Rangers and the front office these days, is the word "battle". The true battle the Rangers have, is a self-serving egotistical maniac in net, and the Rangers are too scared of the backlash they may get, if they kick his ass to curb where he belongs.
Even if you're the biggest Hank fan in the world – let me ask you this? What team in NHL history, while rebuilding, decided to invest 10% of their payroll into a 38 year old out-of-his-prime goaltender? And before you say Hasek, Hasek didn't play in the cap era and he was far more superior at the age of 40, than Lundqvist ever was in his entire cupless career.
You're not going to believe me, but I hate wasting my time on this guy. I long and yearn for the day that this guy is gone and this team can officially embrace the next era of Ranger hockey.
Up next for the Rangers, a Tuesday night divisional showdown with the Sidney Crosby led Pittsburgh Penguins. Of note, for some reason, the game is starting at 7:30PM, as opposed to the usual 7PM start time.
I fully expect Alexandar Georgiev to be in net for that game. I'd also expect KING GEORGE to get the next two starts, because Lundqvist always tries to avoid the Tampa Bay Lightning when he can.
As far as my final comments about this game, I can understand a goalie having a bad game, like Lundqvist had today. It just infuriates me when he buries the team for the loss. It doesn't serve any positive purpose at all, which pretty much sums up Hank's role on this team during this 2019-2020 season.
See you Tuesday.
As always, thanks for reading and…
"LET'S GO RANGERS!"
Sean McCaffrey
BULLSMC@aol.com
@NYCTHEMIC on tweeter