Greetings and salutations everyone and welcome to another blog here on BlueCollarBlueShirts.com. As I write these words, it's Friday afternoon and I'm on my cell phone in my hotel room. My road-trip buddy, the infamous Ten O'Clock Tommy, is currently nursing a hangover. His liver wasn't ready for SMASHVILLE!
I mention that I'm hammering this blog out on my cell phone, just in case there are any typos or formatting errors. It's tough pounding out these blogs on a normal computer. Now just imagine putting a blog together on a wonky iPhone, an iPhone that is not user-friendly when you have fat fingers!
And to whatever 9 year old that is working in some Asian Apple sweatshop – please eliminate the fucking/ducking autocorrect. I ducking hate when that autocorrect is made. See, you did it again! Ducking acehole!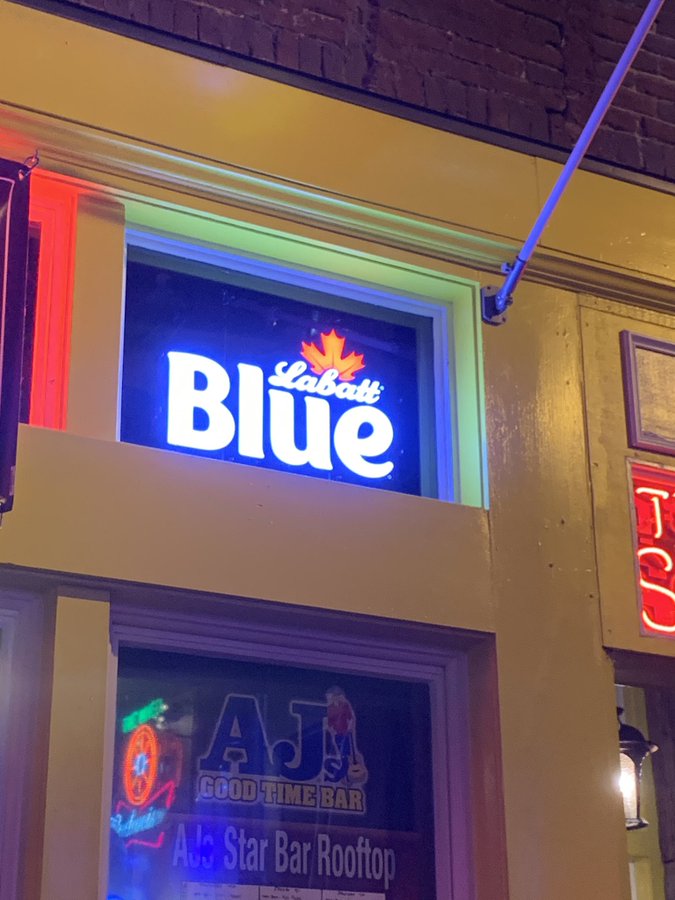 I figured that since I got a little bit of downtime here, as I await for Tommy to recuperate, that I would get a jump-start about my time in Nashville and the Rangers.
Before getting into all of that, as usual, here are my last few blogs, in case you missed them:
---
---
---
---
---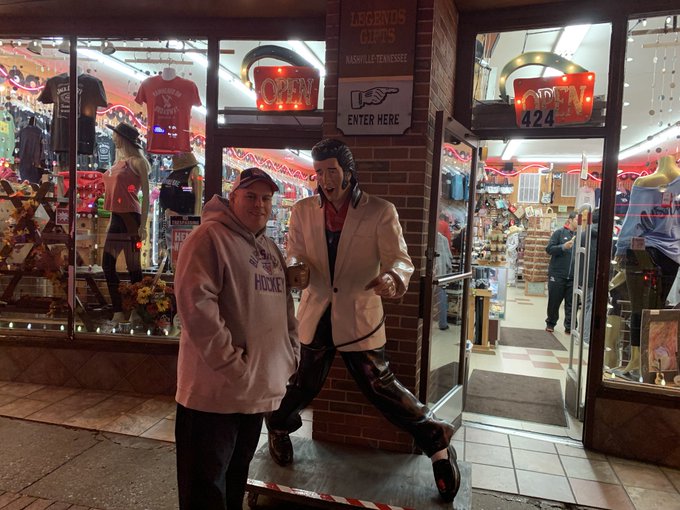 As I write these words, I've been in Nashville for a little under 24 hours and there are also under 24 hours until puck drop between the Rangers and the Predators. I hate to be a jinx, should you believe in such things, but if my luck & time in Nashville is any indication – expect the Rangers to spay the Predators tomorrow.
For starters, before my flight to Nashville, we had terrible weather in NY, with heavy rain and high winds. Magically, that all disappeared before my flight, meaning that there would be no weather delays. In what was even more amazing, check out the TSA lines I had to deal with at JFK: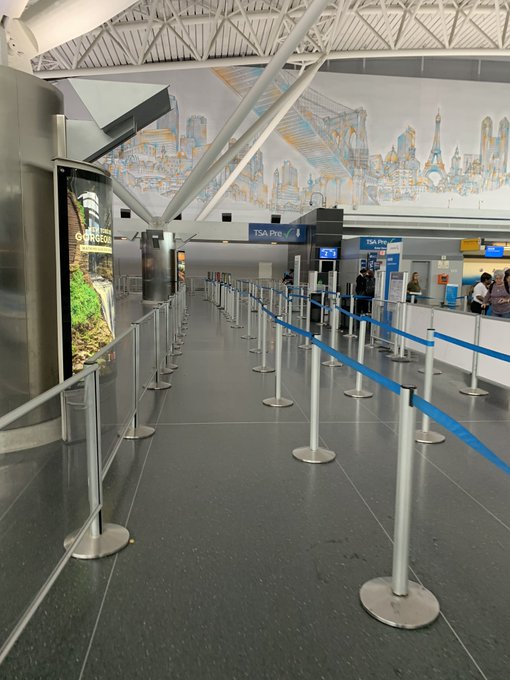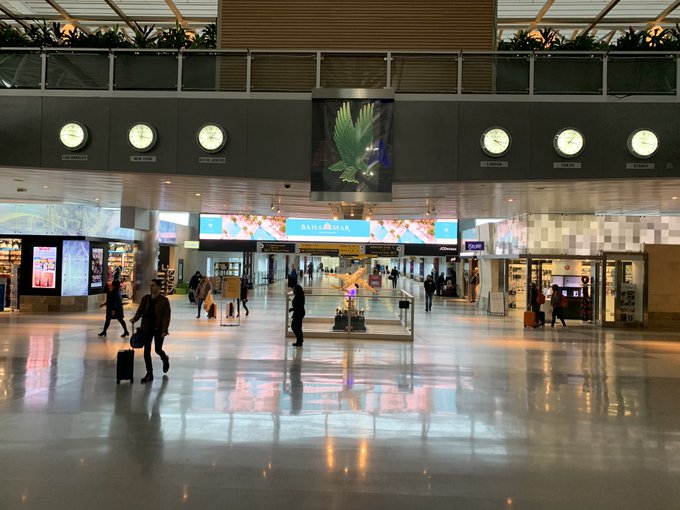 After waltzing through TSA and having a meal, our flight with American Airlines went off without a hitch. If there was anything to complain about, it is the fact that we had a small 18 row plane, which meant for whatever reason, there was no WiFi on the plane. At least I had my new copy of "The Hockey News" on me. While reading that magazine, I found out about this new beverage: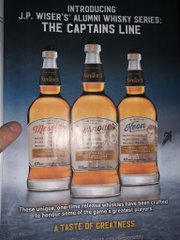 Upon arrival in Nashville, Tommy & I were greeted with ads for things you'd probably expect. There were ads for Jack Daniels, a billion different live music bars, boots and cowboy hats. There wasn't one ad or anything Nashville Predator related. I guess to be fair, when you go through JFK, you don't see any New York Ranger stuff either. That said, in other airports, I've seen ads and stuff for the local NHL team, such as in Chicago, Montreal, Toronto, Detroit, Edmonton, Tampa Bay, Calgary, Vegas, etc.
What's really shocked me thus far, about my time in Nashville, is the weather. As a northern YANKEE, when I think of Nashville, Tennessee, I think of rednecks wearing denim pants and a flannel t-shirt on a nice sunny day. Of course, I also stereotype these southerners with a cowboy hat, cowboy boots and a piece of straw hanging out of their three-toothed mouth.
To be fair, while I did see some of these people, Nashville really isn't like that at all. While I've heard that if you venture away from Nashville, and into the depths of Tennessee, you'll see that stereotypical stuff. However, here in Nashville, you have a lot of transplants. Nashville is as modern as NYC, if not better.
On my way over here, I thought that the weather would be nice and there would be outdoor bars blasting country music all day and night. While there are some outdoor roof-bars, you better find a heater, because it's freezing here. I did not expect that.
Last year around this time, I was in Raleigh for the Rangers/Hurricanes game. For those who don't know their geography, take a look at where Raleigh and Nashville are, proximity-wise, from each other:

I'm telling you, as I sit in a cozy hotel room, outside, it's 40 degrees and extremely windy. Last night, there was a "FREEZE WARNING" issued, as temperatures hit 30 degrees. I didn't realize it got cold down here. I never heard Carrie Underwood singing about her nipples cutting ice or Alan Jackson crooning about shrinkage.
As mentioned, while there are people who look like the southern stereotype that you may have in your head, for the most part, Nashville is a very well built city. It reminds me of downtown Montreal and the Vegas strip a bit. In Montreal, once you hit St. Catherine's Street, you can find all the bars and parties. In Vegas, once you're on the strip, you're in a whirlwind of partying. In Nashville, once you go to Broadway, you'll have your mind blown.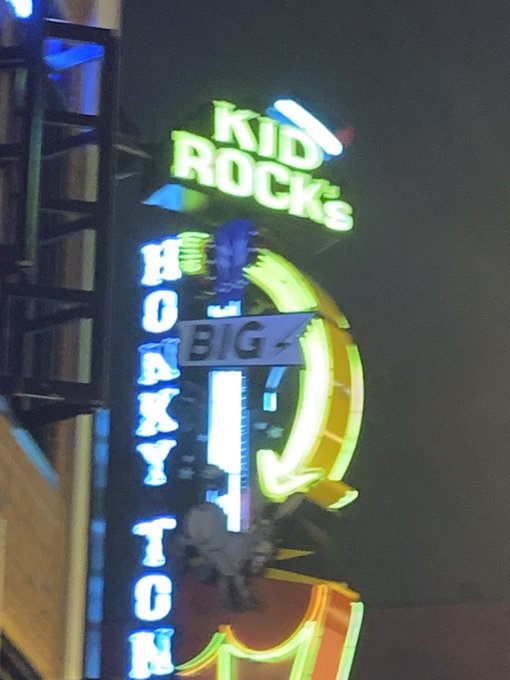 After checking into our hotel and enjoying the complimentary free drinks, we made our way down to Broadway. Unfortunately, because both of us thought that anything south means warm, we froze our balls off the whole way. While I did have a hoodie, it's really winter jacket season down here.
When I told people I was going to Nashville, because the people I talked to know about my penchant for "Sprites", they all told me I would love it here. If you've been to Nashville or live here, you will nod your head in agreement with what I'm about to say next. "It's one thing to read and hear about Nashville, it's another to experience it."
Everywhere you go on Broadway, you're greeted by neon lights, the sounds of guitars and hundreds of people. Every bar is packed, or at least it was on Thursday, 10/31/2019. As mentioned, despite what you may think, while there are plenty of country bars, not every bar is country music. In fact, during our bar crawl, Tommy and I saw some great cover bands. Here's one of them doing "Dreams" by Fleetwood Mac:
Fleetwood Mac cover pic.twitter.com/UYYu9opDCE

— BlueCollarBlueShirts (@NYCTheMiC) November 1, 2019
That video was from Kid Rock's bar. Later on in the evening, we stopped at Bailey's Sports Grille, where we heard some band do the best cover that I ever heard, with "In the Air Tonight" by Phil Collins. I should've video recorded that song, because that cover band was great.
It's funny as I think about it – all these Nashville bars and restaurants do a tremendous job branding. There are t-shirts, glasses, hats and all other sorts of shit for sale at any given watering hole. These cover bands, for as great as they are, don't market themselves well. They didn't have their band name on their bass drum. They didn't have any banner with their name. They didn't even announce who they were. Kind of a shame, as I would've given these bands a follow on Twitter or listened to their stuff on YouTube.
Oh, and on a side note here, because it was Halloween and this is a college town, some of these girls were dressed extremely provocative. I don't know how men with daughters do it. It was literally 30 degrees out, and there were a bunch of college-aged girls with their assholes hanging out. Of course, Tommy and I looked, and if eyes could emit heat, we would've burned a hole through these butt cracks. That said, it's 30 degrees out and these girls didn't give a shit. They were going to shake their hiney's, no if's, ands or BUTTS about it. (And no, I didn't take any pictures of them. I'm not Harvey Weinstein!)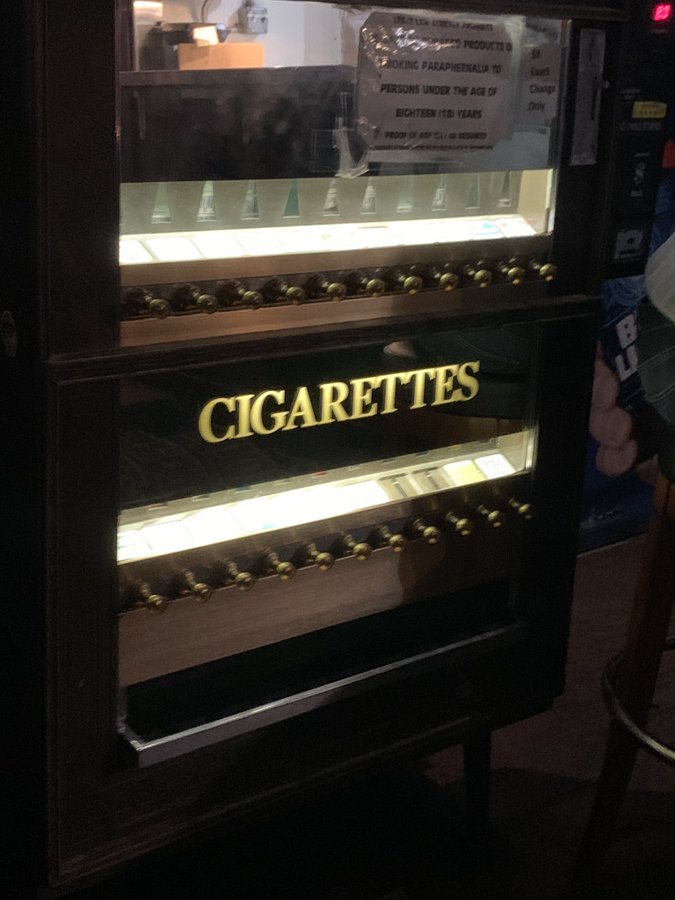 While my time is limited right now, so I can't get into everything, all I'll say here is that Nashville has been amazing so far. I would need a full year here to hit every floor, of every bar, on Broadway. Then there are other sections, should you branch off of Broadway, such as "The Gulch", "Printer's Alley" and other fun named areas.
To me, as someone who has traveled a lot and stayed in big cities, Nashville, BY FAR, blows everything away, when it comes to drinking and live music. The only thing comparable is Vegas, but even so, casinos can get expensive and there is more walking around when bouncing from place-to-place. Here in Nashville, all of these places are bunched in together, where you can hit 10 bars in 10 minutes, should that be your thing. (It's mine, but not Tommy's!)
Oh and let me say this, because he's probably reading this. My buddy JEFFREY needs to do this trip with me in the future. My friend Tommy isn't a big drinker, and when he drinks, he drinks Jameson on the rocks. After three or four drinks, Tommy is done. We are going to hit more places come 5PM today, but he better pace himself better. This town, while whisky themed, is better for the beer drinker. You'll get a longer duration popping Bud Heavy's from bar-to-bar, than drinking straight booze. That said, even my buddy JEFFREY, while admirable in his attempts, can't drink like I can. I do give him credit for trying, even if he knows it will bring him to a state of pure belligerence! YOFFREY!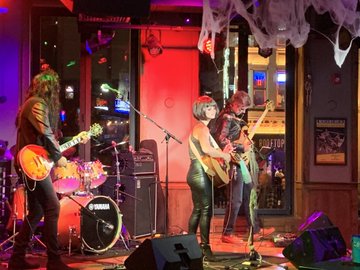 Let's talk some hockey. That's why you're here, right? Then again, maybe you're here because this Rangers blog is 100% different than anything else you'll read!
While drinking and living it up, as we bounced from bar to bar, we were watching the NFL 49ers vs Cardinals game and the Predators vs Flames game. Obviously, we had more interest in the Flames game.
Originally, we were thinking of going to the Flames/Predators game. However, since Cam Talbot wasn't starting, we said "eff it" and decided to bar hop. Wise decision.
The Predators dominated the Flames. During the third period, the score was 4-2, in favor of the Predators. The Predators also were out-shooting the Flames by a tally of something like 32-14.
After leaving Bailey's, we headed to this bar: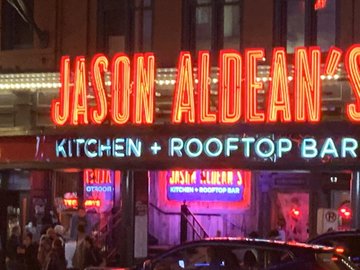 When we got to the bar, it was somehow 4-4. A couple of minutes later, the Flames came back from a 4-2 deficit and won the game in overtime, by a final of 6-5. As we continued to drink on Broadway, these Broadway honky tonk bars got a new wave of new players, as the Predator game let out. Bridgestone Arena is literally the start of the Broadway strip, so you had about 15,000+ new people on Broadway, all ready to drink out their frustrations.
For whatever reason, despite Tommy and I being littered with tattoos from head-to-toe (or in my case, literally neck-to-ankle) people always come up to talk to us. It happens in every city we go to. My buddy, BORGATA RAY, says it's because I look younger than my age and look approachable in a bar. Maybe I should call him BORGATA GAY. (It's a joke, get over it. If you're offended by that, go eff yourself.)
Anyway, we talked to a bunch of Predator fans last night. They were all friendly and not one of them were an asshole. They all seemed impressed that we made a trip to see the Rangers play here. What can I say, we're huge fans of Mike Dunham. (100% true story, I said that Dunham joke to about 8 different people and only one of them got it. From what I can tell, hockey, despite being here for 20+ years, didn't really become a "thing" or "mainstream" in Nashville, until after the Cup run they had, three years back.)
From talking to fans, obviously, they were pissed about the loss. What made me smile and have a "see, what have I been telling you Tommy" moment, was when some of these fans complained about Pekka Rinne and his contract. Hmmm, where have I heard someone complaining about a high priced European goalie contract before?
As I sit here in Nashville, there isn't much on TV or on the radio about the team. I've seen some stuff on the Titans, but not much on the Predators. That said, with the way the Preds lost last night, I would expect this Rangers team on Saturday to get a pissed off Predators team. If Tuesday was the biggest win of the season, come tomorrow, the Rangers will have another huge hill to climb.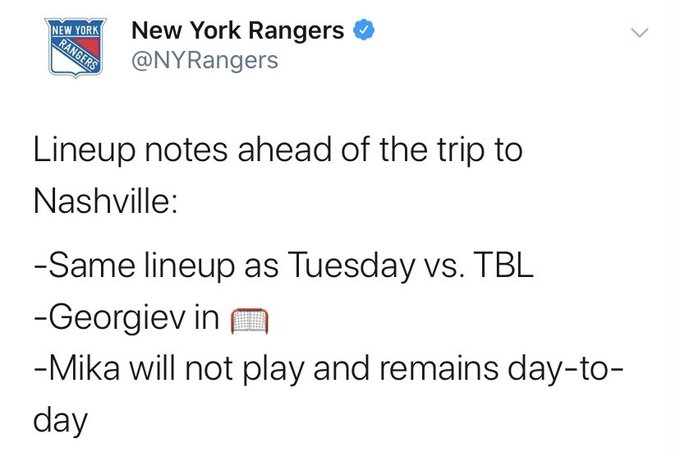 As far as Ranger news goes, as you can tell from the above tweet, the Rangers are skating the same line-up as they did in the big win over the Bolts. Since Mika Zibanejad is still out, this 100% makes sense to me. This is what Quinn did last year. Furthermore, Quinn stays true to his word – he's going with what gives him the best chance to win.
On the topic of Mika Zibanejad, Quinn & the Rangers went out of their way to say that Zibanejad does NOT have a concussion. With Zibanejad having a storied history with concussions, the Rangers keep reiterating the fact that his injury isn't concussion related. According to Quinn, it's a neck issue. Maybe Mika has a pain in his neck and the pain's name is Henrik Lundqvist?
Goalie-wise, I am happy to see Quinn go with Alexandar Georgiev. After the win on Tuesday, he deserves a shot to keep it rolling. I've talked about Georgiev's status and how he has the most pressure on the team right now. This is another huge test for him, especially for a Nashville team that's playing well and wants to rebound after blowing the game against the Flames.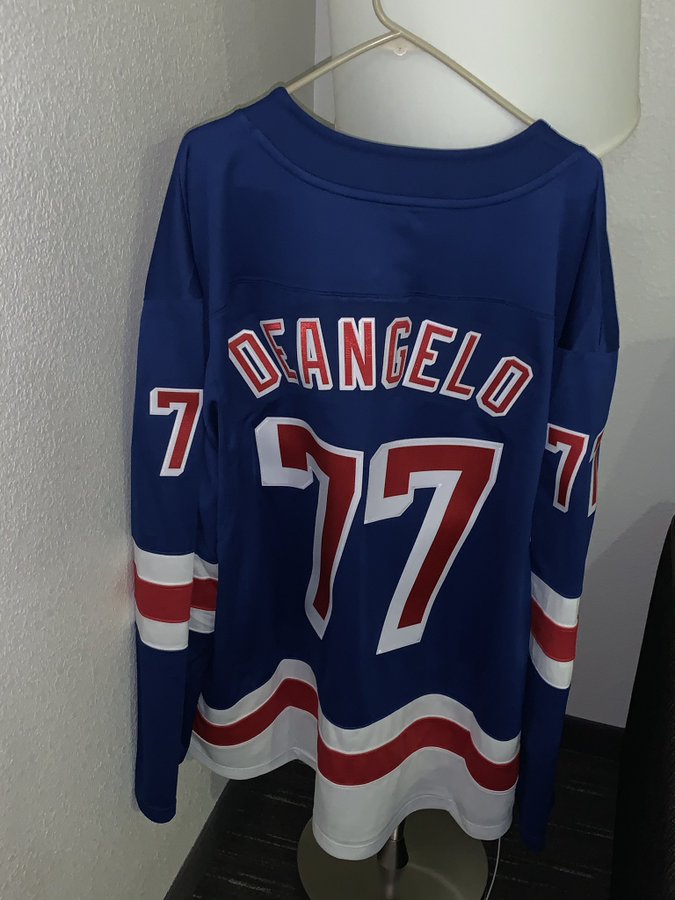 With the line-ups staying the same, that means Marc Staal will be scratched for the second game in a row. I'm pressed for time here, so I'll go down this road later on, but I wonder if this is a tactic to get Marc Staal to waive his no move clause?
I have been campaigning forever for the Rangers to press-box Lundqvist, in an effort to hurt his pride and get him to waive his NMC. By scratching Staal for the second straight game, while it does make sense for the rebuild, is this also a way to perhaps push Staal to waive his NMC? Just something to think about.
I will say, I believe Marc Staal is much better than Libor Hajek, but if this is a rebuild, just like playing Henrik Lundqvist, it makes no sense to play Marc Staal either.
Rangers/Predators, 2PM local time. Moving along.
Full disclosure here, I think Phil Esposito is an asshole. What brought me to that conclusion was when I read and reviewed his autobiography, "Thunder and Lightning". You can read that in-depth book review here: https://bluecollarblueshirts.com/6417/
A few blogs ago, I plugged Dan Girardi's new podcast, "The Block Party". Girardi and his co-host, Seth Kush, released a new episode with Phil Esposito this past Wednesday. To listen, click the links below:
🚨BRAND NEW BLOCK PARTY out now with uncensored HOF Phil Esposito‼️ @TBLightning #GoBolts https://t.co/9RZdRSmsp8
— Seth (@SethKush) October 30, 2019
I want to say this right away – if Dan Girardi keeps releasing newsworthy podcasts like this every week, I'm going to be forced to talk about each one. That's a good thing! I'm going to listen to every episode anyway. It's just finding the time to recap them. I'll try to plug each one on these blogs though.
In the second episode of "BLOCK PARTY", Girardi & Kush "interview" Phil Esposito. I use the word "interview" in quotes, because 99% of the podcast is Espo just taking over and ranting & raving. That's not a bad thing. If I was Girardi & Kush, and I had an upper-echelon elite Hall of Famer going off on everything, I would sit back too. You gotta pick your shots, and if Espo is going to be uncensored, then you sit back and enjoy it.
In the interview, while Girardi pretty much stayed PC and didn't offer much, Esposito went hard as a mother-effer. Here are some of the things Espo said:
— He doesn't care about Ranger, Bruin or Blackhawk fans. All he cares about are the Lightning. (I guess I can get that, but who paid Espo's salary, which allowed him to become the name he became, which in turn, he used to broker meetings to eventually create the Lightning?
— Espo talked about how his Japanese investors don't know the differences between the words "hockey" and "sake". I was in tears listening to this.
— Espo uses four letter words throughout the whole podcast, which is actually refreshing. No PC bullshit here.
— Espo says that he played many All-Star games drunk and no one playing gave a crap about the game.
— Espo talked about how the eras are different. Today, guys have nutritionists, doctors, healers and all this other stuff. In his day, you'd drink beers after every game. OLD TIME HOCKEY!
— Espo says he and Tampa coach Jon Cooper argue all the time about today's game. I'm sure Cooper loves that.
— Espo reiterated how much he hated his time in New York and the Rangers in general. It was a common theme in his book too.
— Speaking of the word "hate", like any New Yorker reading this, both Espo and Girardi HATE New York traffic.
There's a bunch of other fun and eye-opening stuff on the podcast. If you got an hour, it will be the best hour you spend listening to a podcast or radio program this week. I guarantee it.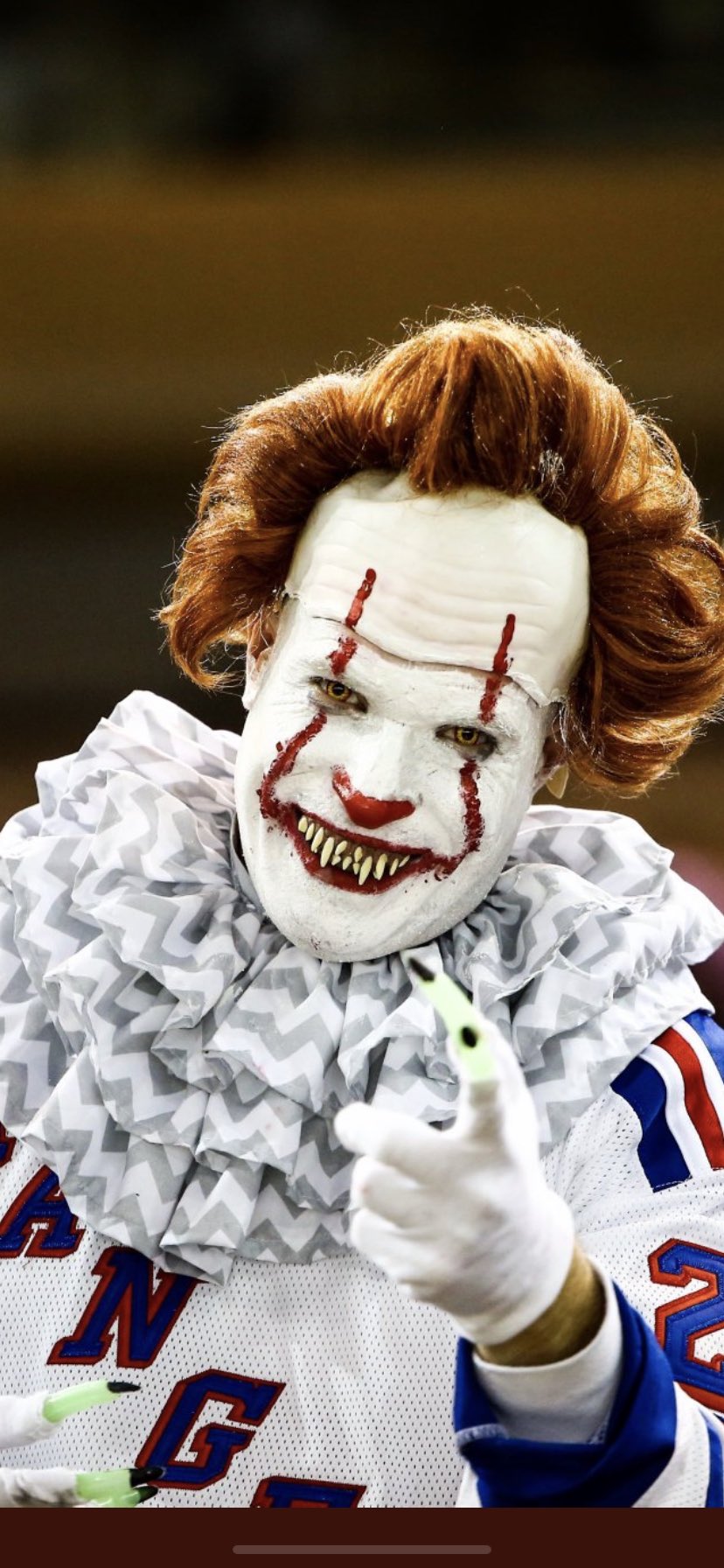 It's almost time to start getting ready to hit Broadway again. We plan on seeing a Nirvana cover band tonight. I've been told this is the best Nirvana cover band around, so as a huge fan of Nirvana, I'm looking forward to it.
We've still yet to get tickets to the game on Saturday yet. Great seats are going for $200-$300. There are about 1000 great seats left, so we are going to use the Stubhub trick. While Saturday afternoon games are a bit pricier than Thursday night games, I monitored last night's Preds/Flames secondary market movement. One hour before game time, you could've sat 6 rows off the glass, center ice, for $110. If I can get that deal for tomorrow, I'm in!
For more pics from Nashville, follow my social media accounts.
Until next time (which will probably be late late Saturday night or early Sunday morning, with a full recap of the game and my time there) thanks for reading and as always…
"LET'S GO RANGERS!"
Sean McCaffrey
BULLSMC@aol.com
@NYCTHEMIC on tweeter