Greetings and salutations everyone and welcome to another blog here on BlueCollarBlueShirts.com. As I sit here from my hotel room in Nashville, it is very late and I had a good amount of "Sprites" tonight. In hindsight, I should've skipped this UFC PPV, especially after that WWE bullshit finish.
That said, with my eyelids fluttering and my state of sobriety be damned; in addition to having a flight at 7:00AM Sunday morning, I wanted to get something up on the site quick. Just like the blog from yesterday, I'm typing this blog out on my iPhone, so bare with me if there are any typos or formatting errors. I also know that I will be making some grammatical errors tonight! Don't worry, this blog will be worth your time. After all – it's free!
As mentioned, I'm in Nashville, Tennessee, as I came into town on Thursday night, in preparation for the Saturday matinee tilt between the Rangers and the Predators. I did a blog about my first night in Nashville. You can read that blog, and my most recent blogs, by checking out below:
---
---
---
---
---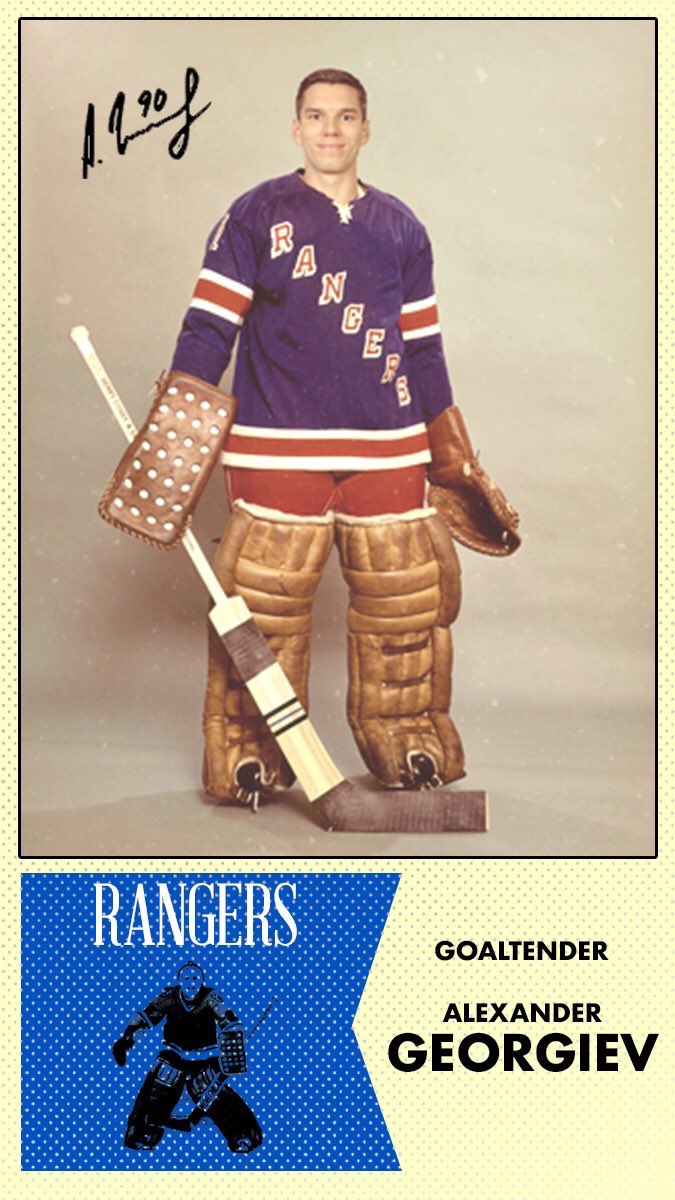 After a wild night in Nashville on Thursday night, which I talked about in the blog linked above, on Friday, the day before the Rangers/Predators game, my buddy Tommy and I continued to explore Nashville. As we made our way through honky tonk bar after honky tonk bar, Tommy and I finally decided it would be a good idea to eat. Of course, while having a bison burger, I may have indulged with this: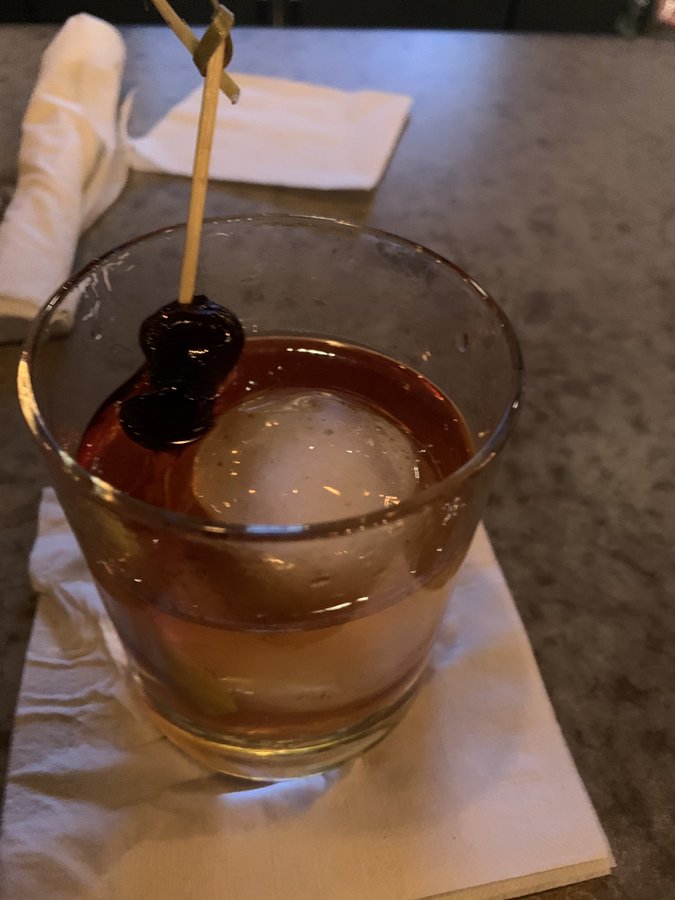 After a great meal at "Stock & Barrel", Tommy and I were excited to check out a Nirvana cover band. That cover band is pretty much appropriately named, as their name is "Nirvanna". I guess by having that one extra "N", it prevents Courtney Love from suing Nirvanna!
If you don't know me, Nirvana was/is my favorite band of all-time. I even got two Nirvana tattoos. They were the music of my youth, just like the Doors or Beatles once were for another generation. (I don't care what you say, and I know every generation says this, but today's music sucks. There are no rock bands anymore. It's all about releasing singles on iTunes. I would love to really go off on a tangent about this, but time is of essence here and my fingers are hurting already from typing on this thing.)
When I walked into the venue (The Mercy Lounge) where Nirvanna was playing, I was impressed. This tribute/cover band really went all out with their stage set-up. Check it out: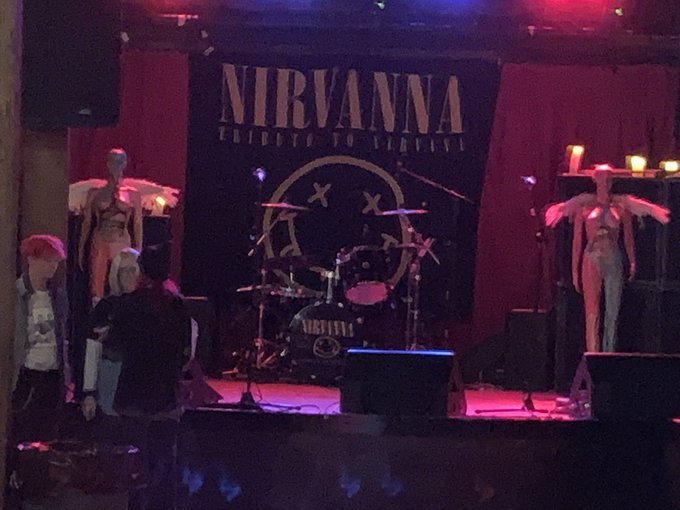 As a huge Nirvana fan, I've seen other exclusive Nirvana cover bands and I've seen bands cover Nirvana. That said – this was the best Nirvana cover band that I ever saw. In fact, it was probably the best cover band that I've ever seen. I've seen people do Jimmy Buffet, Elvis, Billy Joel, Frank Sinatra and other legendary musical acts, but I never saw someone cover their subject as well as Nirvanna did. Furthermore, in these past three nights alone, I've seen bands up and down Broadway cover great musicians. None of these cover bands were as a good as Nirvanna was.
And for those who are really hardcore Nirvana fans, the bassist of Nirvanna, who was somewhat the frontman/guy who interacted with the crowd, would throw out jokes and comments, that were from that era. For example, he brought up the Vanity Fair story, Courtney Love and even shouted out bands like Tad and the Melvins.
Granted, maybe I'm a huge Nirvana fan and I do have a bias. However, these three had Nirvana down. The sound was on the money and captured the boisterous and grungy sound of Nirvana. If you closed your eyes and just listened, you would feel like you time warped to 1993. Plus, whether it's just for the act, or it's because that's how the guy looks, the lead singer, the guy filling the role of Kurt Cobain, actually looks like Kurt Cobain, or at least he does with 10 beers in you.
At this time, for my fellow fans of the 1990's Seattle sound, here are some videos I took from the concert, which drew about 200 or so people, all paying $15 a pop:
Come as you are pic.twitter.com/dkMo7e3zMH

— BlueCollarBlueShirts (@NYCTheMiC) November 2, 2019
Man Who Sold The World pic.twitter.com/hU89KdTaXu

— BlueCollarBlueShirts (@NYCTheMiC) November 2, 2019
School pic.twitter.com/TkHGqIXS09

— BlueCollarBlueShirts (@NYCTheMiC) November 2, 2019
Aneurysm pic.twitter.com/UV5f6O4HDX

— BlueCollarBlueShirts (@NYCTheMiC) November 2, 2019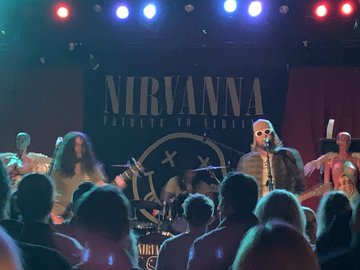 I'll say this – no other Ranger blogger, especially those chart-humping scumbags, are opening up their Rangers/Predators game review with talk about a Nirvana cover band! You only get that stuff here! Oh, and how about that woman blogger who wants to be taken seriously, but spends 90% of her time talking about Lundqvist's hair? "Reporters" like her give women reporters a bad name. Suzy Waldman must be rolling in her grave!
Anyway, as I wrap up my thoughts on Nirvanna here, they were great and proclaim to be the biggest and best Nirvana cover band in the world. I'm not sure how much competition they have, but I can say after seeing them, that it's hard to imagine anyone doing any better.
It was tough to find a website of these guys, but Nirvanna has a Facebook page, which you can visit at https://www.facebook.com/nirvannatributeband/
These guys tour all over, so if you can catch them in your area, it's well worth the price of admission. I hope some NY outfit books them. Nirvanna would be perfect for Mulcahy's in Wantagh, NY, should you know what joint.
MOVING ALONG!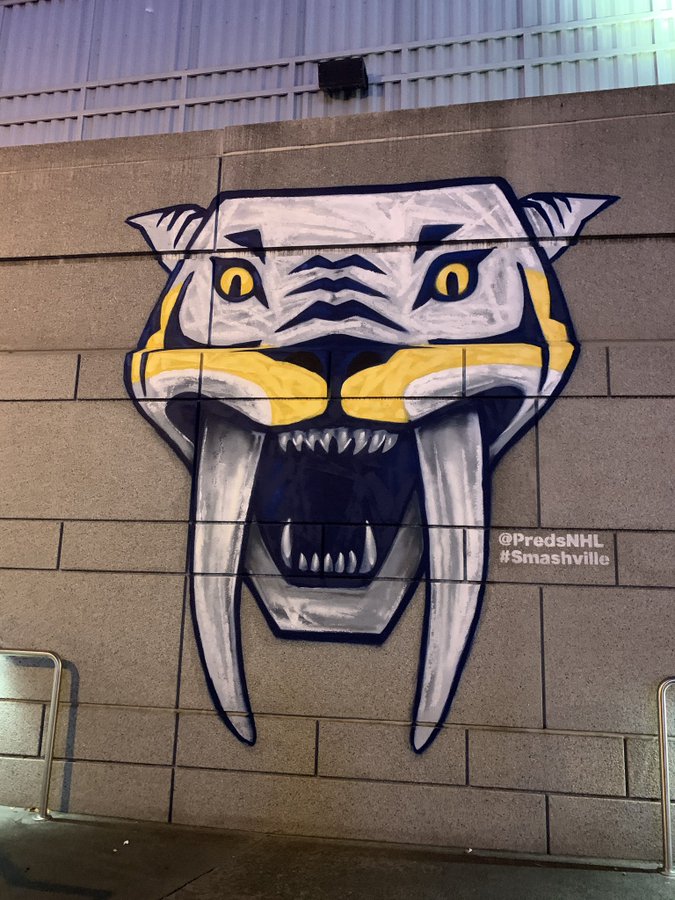 I know I talked about it a lot on Friday's blog, but I'll say it one more time here – Broadway in Nashville is insane. When the Nirvanna concert let out, Tommy and I walked back to our hotel room and decided to have a few pops and belts before turning in. No joke, there's something like 150 bars on this Broadway strip and on Friday night, every single bar had lines. You could barely get in. I've never seen anything like it.
While Tommy and I did stop in at some random place, that was on the sideblock of Broadway, it was at this time that we realized that we weren't 21 years old anymore. What was once fun was now a pain in the ass. We wanted to sit down and drink like gentlemen.
After a beer and a whisky, we decided that spending top dollar to drink while standing up wasn't worth it. Plus, with a 1PM game the next day, we didn't want to make the same mistake we did in Arizona. (Check out my Arizona road-trip blog for more. Long story short, we stayed out until 4AM and the game the next day was at 12PM. We could've floated to the arena with all the booze gas we had!)
As I write these words and think over our actions on Friday night, we made the veteran move. We felt like gold waking up on Saturday. Even better, the game we attended would give us a golden memory.
And really, truth be told, that's what makes these road-trips great. We always have some story from every trip we go to. And when the Rangers win, we don't forget. And to start off with a sentence with the word "and" for the third time in a row, since we started doing these road-trips, the back-up goalies of Talbot/Raanta/Georgiev have something like a 8-1 record, while Lundqvist has a 1-8 record. Deport!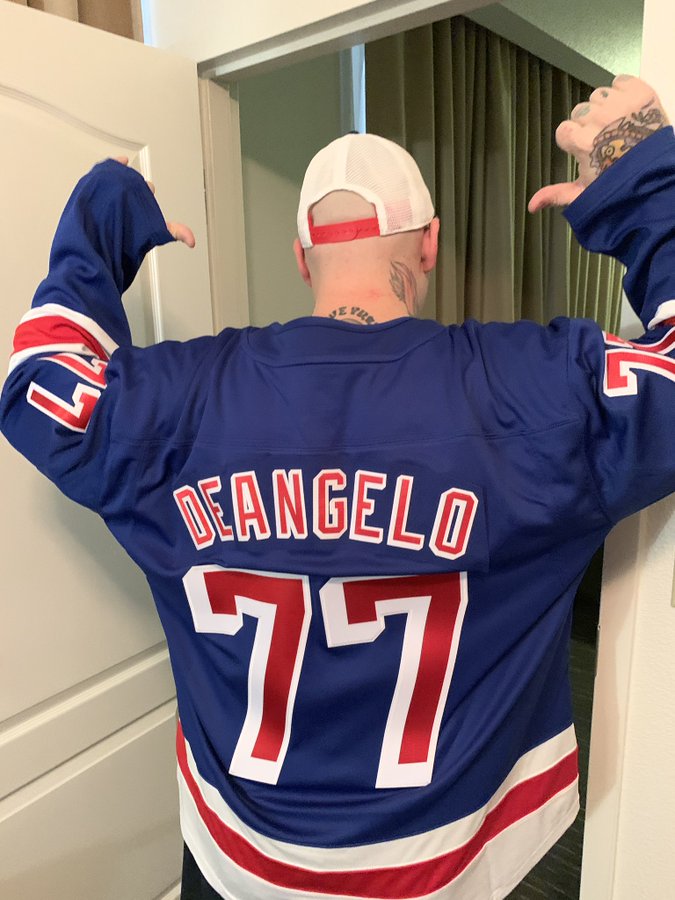 As usual, when I go on these road-trips, I never buy tickets in advance. I always do the Stubhub trick, and try to get great seats for cheap prices by waiting until the last second. This strategy once again looked to be a homerun, as when I was browsing on the Ticketmaster app, I found fourth row seats, right next to the Rangers bench, for something like $150 each. When I went to buy them, I got this message: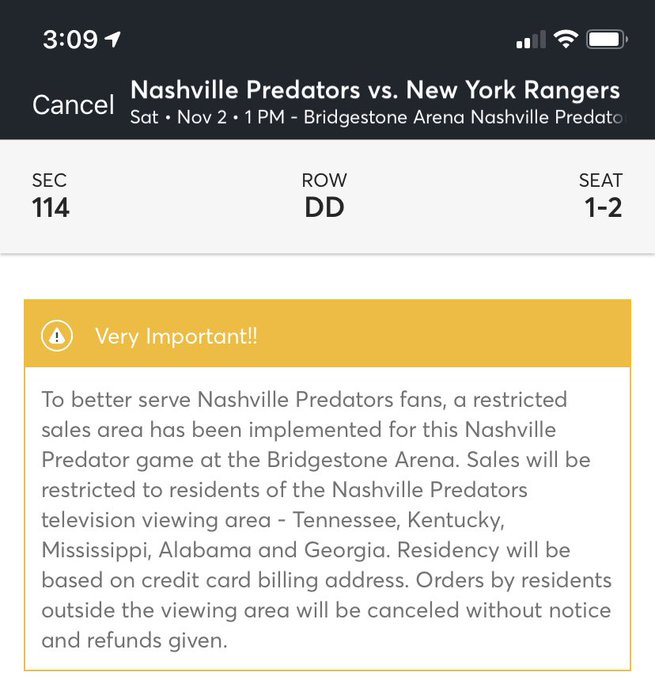 Can you believe this? Everywhere you go in Nashville, all you see are signs promoting tourism. Everywhere you go, there are ads everywhere, designed to separate a tourist and their money. When it comes to a hockey game in November, the Predators & Ticketmaster are telling tourists to fuck off.
I've heard of this practice during the playoffs. I know teams like Tampa, Vegas and Chicago did it. I've never heard of this practice being employed during the regular season. Even worse, this game wasn't sold out and there were tons of tickets available. Last I checked, all money was green. Plus, for these dumbass hicks running this Nashville hockey franchise, you would think they would want that New York money. I guess they rather the seat empty. SAD!
Anyway, we wound up waiting a bit longer and paid a little more than we wanted to. However, when I say we paid more than we wanted to, we paid $25 more for a ticket off of Stubhub, which does not discriminate against people, based on the color of their jerseys! Until I just wrote that previous sentence, I had already forgotten I paid $25 more than I wanted to. My point – for an extra $25, who gives a shit?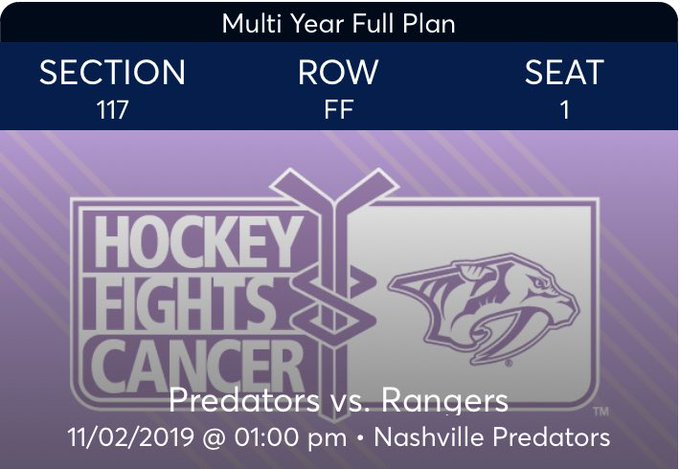 Come Saturday morning, with our digital tickets in our Apple Wallet, we were off to the arena. (Side note: I talked about young kids not knowing what a music video was earlier in this blog. Now my older readers will be asking what the hell does a digital ticket in an Apple wallet mean?)
I also have to mention, as you can tell from the picture above, this game was the "Hockey Fights Cancer" game for the Predators. Tommy and I donated a few bucks to the cause and I saw other Ranger fans donating as well.
I like that the NHL has a game dedicated to raising funds for cancer research. That said, when these teams parade out kid with cancer, it takes you out of the moment of the hockey game you're watching. It's tough to be rooting for your team when you're slapped in the face by real life.
I'm not saying to get rid of this cause/charity drive or anything like that, I'm just saying it's tough to be rooting for your team and going nuts, and then the next second, see some kid, whose body is being destroyed by a deadly cancer. I hope you understand what I'm saying here. There are times where I try to be a dick for laughs, but this isn't one of them.
I wish the best for all these kids. As mentioned during previous Hockey Fights Cancer game blogs, stuff like this is why I'm an atheist. If your god allows innocent children to get cancer, then your god isn't for me.
After a quick bite, we made our way down to Broadway, where despite it being 11:00AM, all the bars were packed again. There was some sort of event going on, as the streets were closed off for bikers revving their engines. I don't know what that was about, but it reminded me about that South Park episode, you know, where everyone calls the bikers fags:
Since we had two hours to kill, we decided this would be a perfect time to check out the world famous "Tootsie's" honky tonk bar: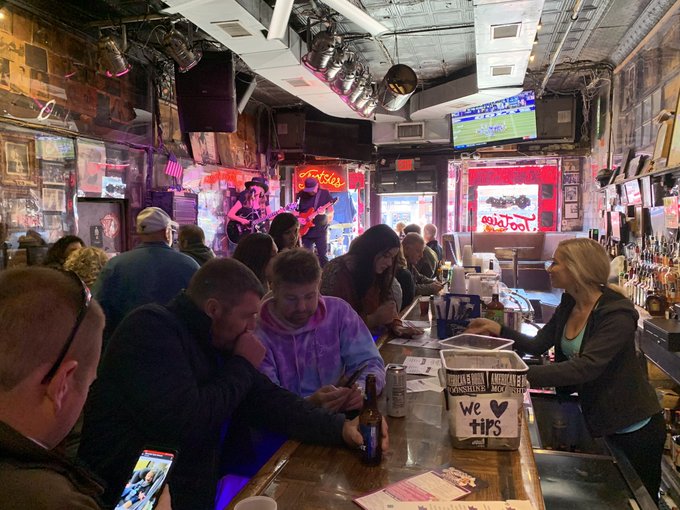 After a few belts, we finally made our way to the arena, as the bar was only a block away. There were employees of the Predators there, as they helped fans get set up for the game. It was just a real friendly environment. Once inside, we walked the main rotunda. Here are some photos, which I posted on my twitter page:
#nyr pic.twitter.com/0wxwDkWkgM

— BlueCollarBlueShirts (@NYCTheMiC) November 2, 2019
As someone who collects pucks from every arena I go to, it was awesome that Nashville had a Rangers/Predators souvenir puck. They had about 300 of these pucks, at least at the merchandise stand I visited. That begs the question, if the Predators want to keep visiting fans out, why are they selling these pucks? It's not like season ticket holders are going to buy souvenir pucks of every game they go to. While I'm sure some Predator fans, who don't attend a bunch of games, will want one of these things, to me, and in my experience, it's usually the fans of the visiting team buying such pucks.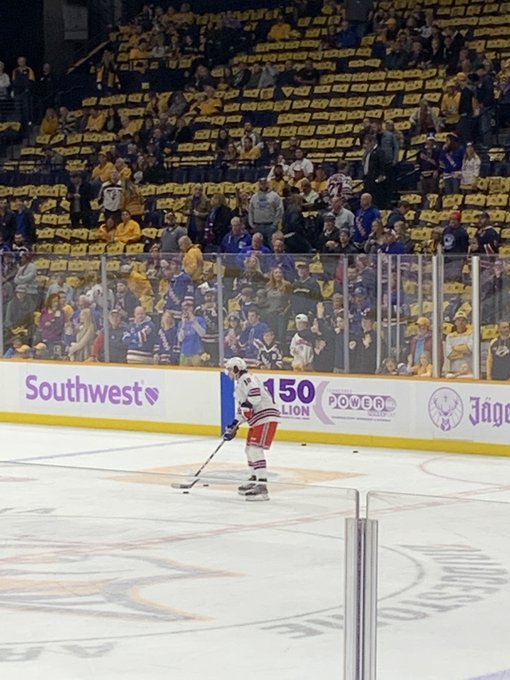 Due to the fact that this is a road-trip blog and I'm extremely pressed for time right now, I'm not going to review this game like I normally do. The regular detailed game reviews will return on Monday, when the Rangers host the Senators. I just wanted to give several of my thoughts here. Let's begin with KING ALEXANDAR GEORGIEV!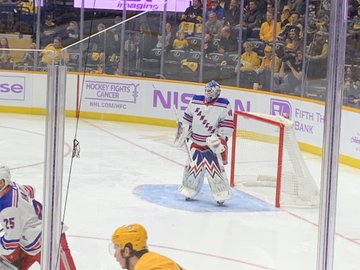 Once again, Alexandar Georgiev was ABSOLUTELY FANTASTIC. In the one goal allowed, it came late during a Predators power-play. 99.9% of the time, you can't blame the goalie for a PPG allowed and that was the case here. Georgiev would deny the Predators on their other 32 shots. When you look at this game, plus the game with Tampa, Georgiev is averaging one goal allowed, and in both games, both goals were on the Rangers. (Bad line change vs Tampa, bad PK here.)
I can't say enough good things about Georgiev's performance in this game, and let's face it, you know I want to! Sadly, I gotta rush through this blog!
If you're a regular reader here, you know my thoughts on King George already. He is purely cool, calm and collective. In the second period, where the Rangers were being out-shot at 2:1 ratio, Georgiev denied all comers and made a ton of insane saves. I am not a purveyor of silly charts or shit such as "expected saves", but I can say this – I 100% believe that if Lundqvist was in net during this game, the score would've been 9-2, Predators. And of course, Lundqvist would be throwing another one of his Swedish bitch-fit temper tantrums.
In fact, as I mention that, let's go to the GAMBLING segment of the blog.
Here's what I said before the game:
Season over/under record 8-2

Georgiev starting today. You know the deal. Ride the trend and bet the UNDER.#NYR are 2:1 dogs today. Gotta love that action. Nashville is mad & there is no Zibanejad, but for the price, you gotta dabble.

Best bet #playlikeanewyorker +1.5 pic.twitter.com/EaGcOZ0oEW

— BlueCollarBlueShirts (@NYCTheMiC) November 2, 2019
Do I know my Rangers or do I know my Rangers? With a 2-1 score, and an over/under of -6.5, where I said take the over, my over/under record now improves to 9-2. KING! Seriously, if you want to make money here, follow me and follow the trends. The majority of Lundswiss starts hit the over and the majority of Georgiev starts stay under.
Oh, and how about these updated stats, which were sent to me by @Rangersfan1977 :
Georgiev is now 3-2 with a 2.27(10th in league) GAA and a .933(4th in league) save %. (Don't forget, one of those losses occurred in mop-up duty for Lundswiss.)

Hank is .906(35th) and 3.58(48th)
One of these goalies makes $8M more than the other. If the Rangers are going to bench Marc Staal and his near $7M AAV, then the same principle must be applied to Lundswiss. Right now, to Quinn's credit, we are seeing just that.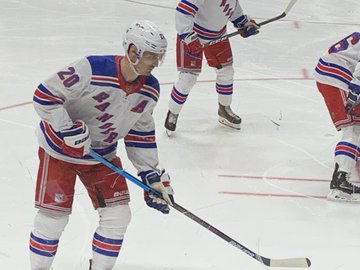 While I still contend that the win over Tampa was the Rangers best win of this young season, this win over Nashville on Saturday afternoon, wasn't shabby either. Keep in mind, the Rangers used the same lines, pairings and goaltender that they used in the win over Tampa in this game. That meant no Mika Zibanejad. Without their top center and second best player on the team, once again, the Rangers gave forth another tremendous 60 minute effort and once again, picked up a huge two points over an upper-echelon team.
Let's face it – no NHL team is perfect. The opposition is forced to make plays too. In this game, while there were defensive lapses, Georgiev continued to bail out the Rangers all game. With Juuse Saros on the other end and in net for Nashville, the Rangers could only put two goals past him. Remember when Lundqvist once said, "give me two goals and I got this"? Now it's Alexandar Georgiev allowing two Ranger goals to hold up, enroute to victory.
Oh, and ISN'T IT AMAZING SUZYN, how both Nashville and NY benched their overpaid and over-the-hill European goaltender? What was the result? Only three goals allowed, in league where we are seeing nearly 7 goals a game scored on any given night.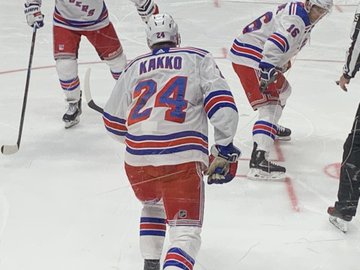 Away from the excellent and regal effort from Georgiev, I thought the Rangers power-play did a great job of moving the puck around, but once again, tried to get too fancy. I don't know how it looked like on TV, but I felt that Panarin was really trying to force the puck to Kakko, in an effort to get him going. There were several times on the power-play, throughout the game, where Panarin had a wide open look. Instead, he would force the puck to Kakko and either a turnover happened or the play went nowhere.
I have no problem with Panarin trying to get Kakko going, but when you got a point blank look at the goalie, you shoot the damn puck.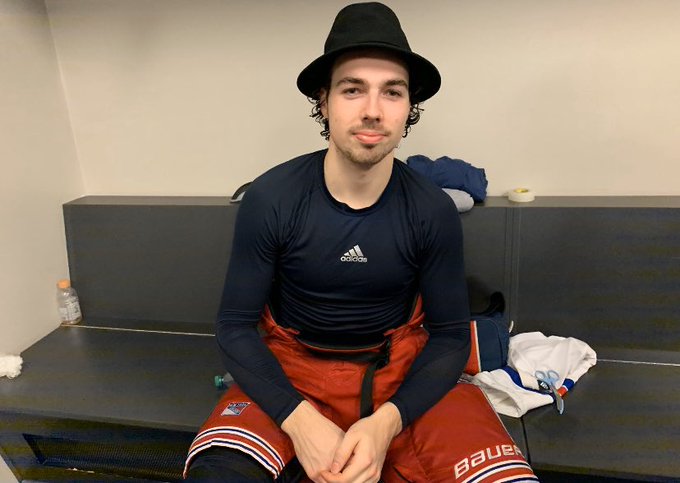 What can I say about Filip Chytil right now that you don't already know? This man does NOT want to go back to Hartford at all.
While I don't think anyone dogged it in this game at all, there were two players, to me, that just broke their holes more than anyone else out there. Those two players were Filip Chytil and Ryan Strome. Ironically, both would score the two goals that the Rangers got in this game. No exaggerations here – every time Chytil or Strome got on the ice, you noticed them. They were hustling all over the place and making plays, both offensively and defensively.
With four minutes remaining in the first period, Filip Chytil scored the second prettiest goal of the season. (The first one was the tic-tac-goal that Zibanejad/Panarin/Buchnevich put together against Ottawa.) Take a look at this goal, which put the Rangers up 1-0:
We're really happy @filip_chytil is back, if you need us during intermission we'll just be watching this goal 🔁 🔁 🔁 @NYRangers | #PlayLikeANewYorker pic.twitter.com/bLKXoR97An

— Rangers on MSG (@RangersMSGN) November 2, 2019
From hustling on defense, to skating like a madman, to finishing, Chytil did it all. Someone who should take notes about Chytil's play is Chris Kreider, who later on in this game, had a clear breakaway, but once again, couldn't finish. The guy just can't score and with each game, Kreider costs himself money, come contract talks this summer.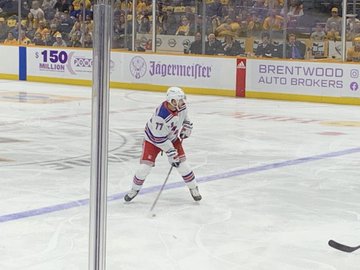 Here's my funny Tony DeAngelo story. To save time, I'll just share the tweet I posted when the event happened:
Just ran into someone who said they were @TonyDee07 's friend. As we are talking, we see this lovely and great American woman. We took a pic together for them! #nyr #PlayLikeANewYorker pic.twitter.com/PTx6X97RYI

— BlueCollarBlueShirts (@NYCTheMiC) November 2, 2019
You gotta love it!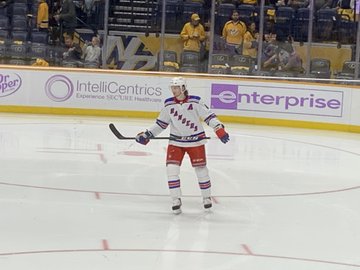 Personally, Tommy and I have had some bad luck recently with our road trips. Off the top of my head, during our last few road trips, we saw the Rangers lose to a Devils team that didn't have a win. We saw the Rangers get absolutely mauled by Colorado and Arizona. We had a losing streak going and we needed that to change!
This game was an excellent game to watch live. I don't know how it translated on TV, but I can tell you, here in Nashville, the media is calling the game "sleepy". Maybe the Nashville crowd was tired, but we weren't. Hey, after all, this isn't my fault: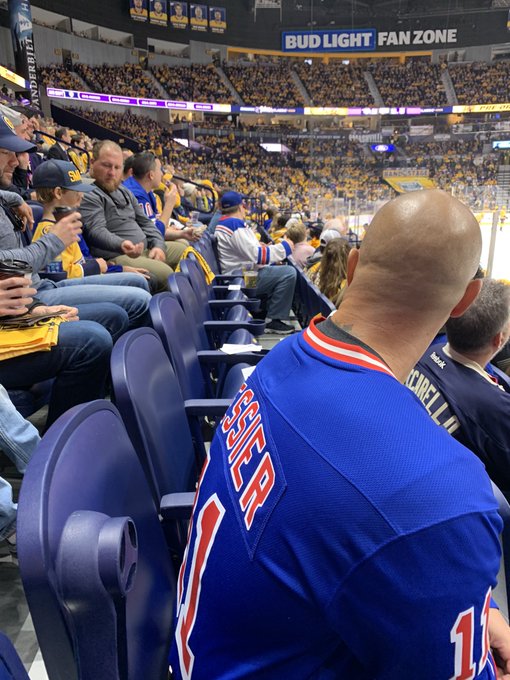 After Chytil's goal, I felt some relief, as Nashville was all over the Rangers. I think at one point, Nashville was out-shooting the Rangers, something like 11-3 in the first period.
In the second period, Ryan Strome scored, after a perfect pass from Panarin. 2-0 GOOD GUYS. Now we were feeling good.
However, after the Rangers failing on their own power-play, Viktor Arvidsson made the Rangers pay, when he scored a power-play goal, with about 5 minutes and change remaining in the second period. 2-1 BAD GUYS! From this point on, you could feel the nerves set in. Fortunate for us Ranger fans, Alexandar Georgiev had ice-water veins and despite shot-after-shot, Nashville couldn't put one by KING GEORGE.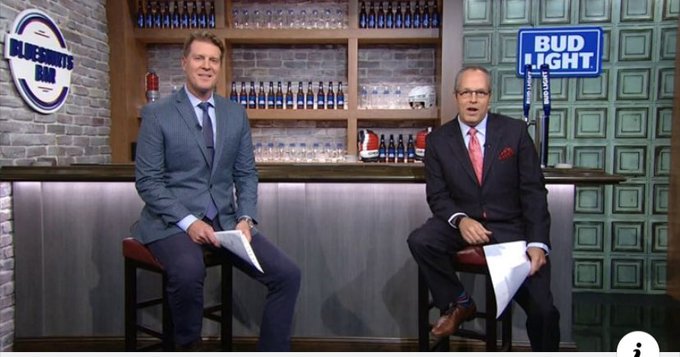 The third period was a nerve-wracking affair, which saw the Rangers on the penalty kill more times than we'd ever want. To start the period, the Rangers PK had to go to work, as Strome took a penalty at the end of the second period. The Rangers killed that.
As the game went on, Nashville applied more offense, only to see Georgiev make some saves. I also have to mention the shot-blocking, as guys like Haley, Lemieux and Lindgren were all grimacing after shifts.
With the period progressing, I just had that pit in my stomach feeling. I knew Nashville was going to tie it, just because the Rangers blew chance after chance. If it wasn't Kakko being gassed on a breakaway, which led to a save by Saros, it was Kreider failing as usual. If it wasn't failing on every single power-play imaginable, it was Saros making a great save on Panarin. It felt that while the Rangers were the better team, they just allowed Nashville to hang in there.
With the game on the line, and in a spot where Lundqvist would've wet himself and choked, Georgiev made some key saves to keep the Rangers hopes of winning this game alive.
At 2-1, the Rangers would fail on another power-play. Immediately after, with five minutes and change remaining, Smith would get boxed. I thought for sure the Predators would make the Rangers pay here. Instead, Georgiev and the PK killed the penalty, which left three minutes and change left in regulation.
As the clock showed us that only 2:20 remained, Hajek was boxed for a dumb tripping penalty. I'll say what I said last blog on Hajek – I don't care if he plays. This is a rebuild. I just don't think he's better than Marc Staal. However, if this is a rebuild, and if you're going to apply the same treatment to Lundqvist as you do Staal, then I have no issues. Truth be told, aside from this bad penalty, I thought Hajek was fine in this game.
For some reason, despite 2:20 remaining and down a goal, Nashville didn't pull Saros until there was 1:30 remaining. This gave Nashville a 6 vs 4 attack, but it also allowed the Rangers to ice the puck at will, since Nashville was on the PP. After some turtlehead-touching-cotton moments, we had a timeout after the PP.
With the Nashville PP expired, the Rangers would ice the puck. After some more nerve-wracking seconds, the Rangers would go on to win the game, as the Rangers D and Georgiev clamped down to preserve the victory. Rangers 2 – Predators 1. WHAT A WIN!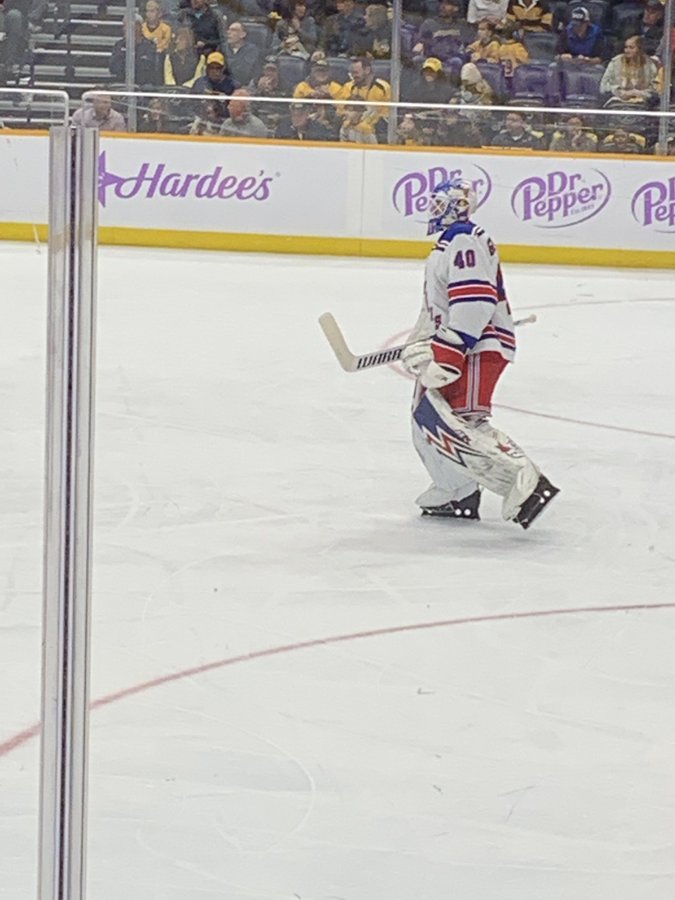 Sorry for going so short here and being in a state of disarray. Hey, I'm on vacation!
Moving ahead, despite a five game losing streak this season, the Rangers are now 5-5-1. Not a true .500 record, but it's almost there. As far as the standings go, while the Rangers are near the bottom, that's the least of my concerns. It's way too early and the schedule was such a shit show, that you have some teams who have played way more games than other teams. For example, the Capitals have played 15 games, while the Rangers have played 11 games. That's a difference of 8 potential points there.
On Monday, the Rangers will host the worst team in the league, when they host the Vladislav Namestnikov led Ottawa Senators. I wonder if we'll get a video of Vlad's illustrious Rangers career on that night? Ha!
I hope Quinn keeps on doing what he's doing. By that, I mean that I hope Quinn keeps using the same line-up that's been winning with. If Zibanejad returns, then I'm fine with Haley or even Howden being scratched. Obviously, there's no fucking way Chytil gets scratched.
Defensively, and I plan on doing more on this when I get time and I'm home using a real computer, I have no issues with Staal being scratched. It sucks for him and he's been a great Ranger, but this is a business. I would be a hypocrite to campaign for more Marc Staal playing time, while slamming Lundqvist. Personally, with all these cheap contracts on the team right now, I have no problem keeping Lundqvist and Staal in the press box. It's addition by subtraction. Let them find their favorite recliner and let them create ass grooves into those recliners.
Speaking of the crybaby goalie, you can bet your bottom dollar that King Coward is chomping at the bit to play a last place team. If I'm Quinn, you have to ride the hot hand. Georgiev has been lights out against two great teams and he should be rewarded until he needs a breather. He has shown no signs of being tired or burnt, so give Georgiev this "easy-on-paper" start. (Don't forget – Ottawa has beaten Tampa this year and also pushed Vegas to overtime.)
If you're Quinn, keep this motor chugging and don't change a thing, with the exception of a returning Zibanejad.
I also want to say this too – this game was one of the most fun games I've seen in person in a while. You really can see the light at the end of the tunnel for this rebuild.
Furthermore, this city of Nashville has been great. I would definitely come back and I found all the fans to be very friendly.
During this game, we talked to fans sitting next to us. They even shook our hands after the Rangers won. We talked to fans at the bars. We talked to fans during smoke breaks. In every single encounter, these fans were friendly and great to talk to. There just was no bullshit, like you would get in a Philadelphia or sometimes Montreal. Thank you Nashville for a great time.
Oh, and the Bridgestone Arena? I've been to over 20 NHL arenas. I would put this arena in my top 3 arenas. (Vegas/Nashville/NJ. Yes, "The Rock", which blows away M$G like every other freaking arena in the NHL.)
One more special message to go, and then I'm done, and I can go home.
(Give yourself a strong pat on the back if you knew the above sentence was a lyric from "On A Plain", which is a Nirvana and a Nirvanna cover song! BLOG CALLBACK!)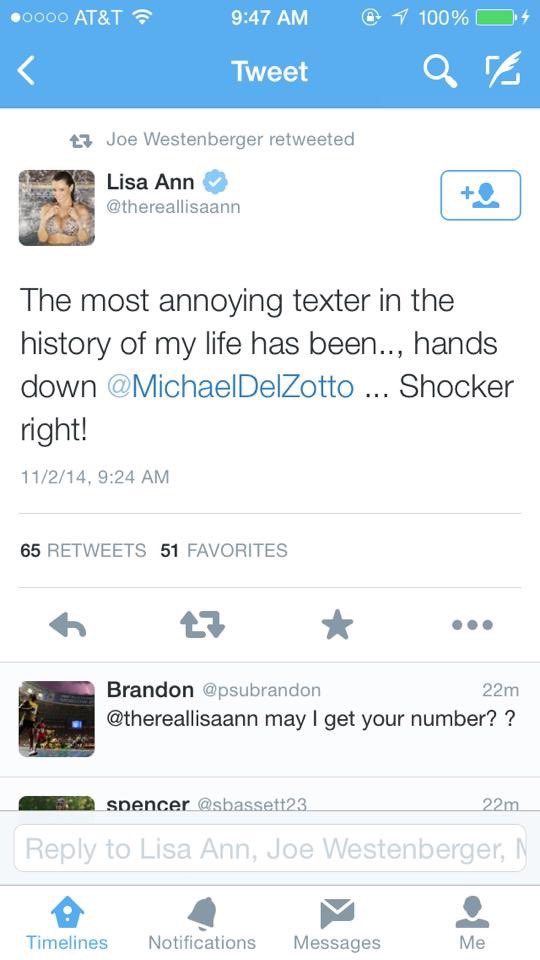 As I close up this blog on Nashville, I'd be remiss if I didn't mention a former Ranger and Predator, in a one Michael Del Zotto. (And how great was that trade, when the Rangers dumped Del Zaster to Nashville for Kevin Klein?)
Happy anniversary to Michael Del Zotto, on his five year anniversary of stalking porn star Lisa Ann and being exposed world-wide, as a sick creepy bastard. Ironically, it's also the five year anniversary of Michael Del Zotto blocking me on twitter. Hmmm…. he must be a chart guy! Eh, he won't be the first to block me, and he won't be the last! DEPORT LUNDQVIST!
Barring no plane crash or something work-related, I'll be back Monday night with a Rangers/Senators recap. I might start that blog after the Giants/Cowboys game, but with how bad the Giants are, maybe that game result will be over before the Rangers game is complete!
As always, thanks for reading and…
"Let's Go Rangers!"
Sean McCaffrey
BULLSMC@aol.com
@NYCTHEMIC on twitter