Greetings and salutations everyone and welcome to another blog here on BlueCollarBlueShirts.com. After the Rangers worst loss of the season this past Monday, when the Rangers were trounced by the lowly Ottawa Senators, the Rangers rebounded on Wednesday night, and put away an even worse team than the Senators, when they thumped the Detroit Red Wings.
In a game broadcasted live on national television, the Rangers won this Original 6 match-up by a final of 5-1. For the Rangers, while you can't use the term "MUST WIN", this was a game the Rangers needed to win. If the Rangers lost this game, you would've had people with tiki torches protesting outside of MSG.
In a game that had people nodding off in the first period, the Rangers exploded in the second period and never looked back. For all the talk about how bad Ottawa is, Detroit may actually be worse, as with this loss to the Rangers, the Red Wings only have one win in their last thirteen games. So yeah, that's not a recipe for a success. Even worse for this new era of Dead Wings, the Wings are getting abused like they are the girlfriend of an NFL player. While the Red Wings wear red, the team is just absorbing black-and-blue loss after black-and-blue loss.
I, along with many others, were very critical after the Rangers loss to the Senators on Monday. To me, that loss was inexcusable. Going into tonight's game, I thought the Rangers would win, as during the David Quinn era, the team usually rebounds after bad shellackings. Of course, as it is after many bad losses, Ranger fans were all up-in-arms before the game, which I'll get into below.
Speaking of the game with the Senators, you can read that blog, and my most recent blogs, by checking out the links below:
---
---
---
---
---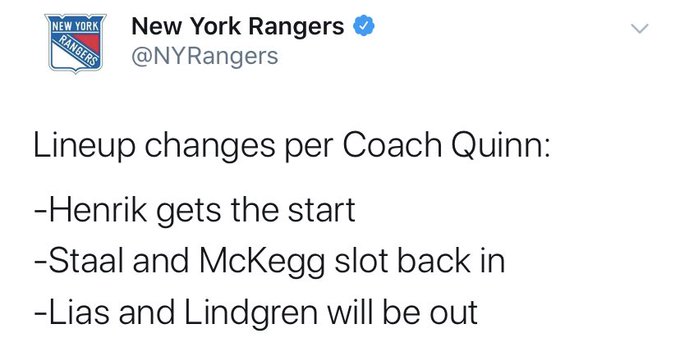 As predicted in my last blog, and really this wasn't rocket science here, David Quinn once again changed up his lines for this game. It's what Quinn does. It seems no matter how the Rangers lose, if the Rangers lose, Quinn is shaking up his lines. For some reason, some fans haven't figured this out yet. I mean, look at this deranged lunatic, who tweeted this, once learning the news of the line-up changes: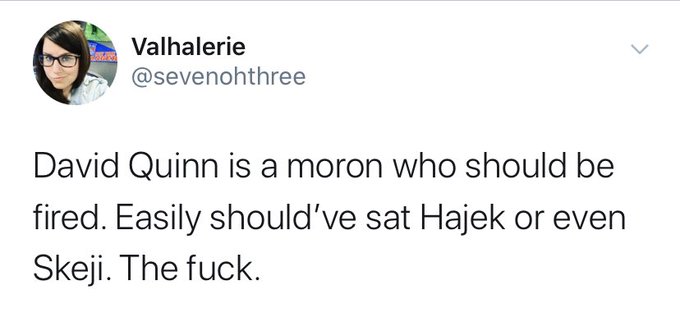 In a blog linked above, I talked about why despite these MR's advocating for the firing of David Quinn; it will just never happen. After all, for starters, James Dolan doesn't care about his hockey club like how he cares about his basketball franchise. To expand on that, James Dolan did not want to fire the last two Ranger coaches that he employed, in John Tortorella and Alain Vigneault. Those firings were the direct result of both Glen Sather and Jeff Gorton, respectively.
And really, if you need another argument on why Quinn won't be fired, simply put, he's only 94 games into a five year/$12M contract. Do you think Dolan is going to pay a hockey coach $10M to sit at home? If that was the case, you better expect to shell out $60 for a beer at M$G and hundreds of more dollars for tickets!
I've said this countless times on this blog and it's worth repeating. Despite your level of fandom or investment into this franchise, at the end of the day, none of us, yours truly included, are around these guys 24/7. David Quinn is. Jeff Gorton is. John Davidson is. I'm not. You're not. Joe Schmo making a chart in his basement surely is not. To paraphrase Alain Vigneault here, sometimes you have to "trust the pro-cess."
That said, to be fair, once all this news broke, while I'm still on Team Quinn, I did question some of his moves as a fan. Here were my responses to the tweets of Rangers reporter Colin Stephenson, who does a great job covering the team for Newsday:
It feels like an exercise when trying to figure out Quinn's lines https://t.co/RkdZzEvY77

— BlueCollarBlueShirts (@NYCTheMiC) November 6, 2019
---
Give Skjei the Norris #nyr #PlayLikeANewYorker https://t.co/RkdZzEvY77

— BlueCollarBlueShirts (@NYCTheMiC) November 6, 2019
---
No partying on Tobacco Road for DJ Mika #nyr #PlayLikeANewYorker https://t.co/8M42pnNHW2

— BlueCollarBlueShirts (@NYCTheMiC) November 6, 2019
---
Georgiev tomorrow after Hank gets torched by McIlrath tonight #NYR #PlayLikeANewYorker https://t.co/Yvjpjp6MIq

— BlueCollarBlueShirts (@NYCTheMiC) November 6, 2019
---
Give Kreider the Art Ross trophy #NYR #PlayLikeANewYorker https://t.co/OZWiLdvhP4

— BlueCollarBlueShirts (@NYCTheMiC) November 6, 2019
---
Brady Skjei will lead the d-corps in the all star game too #NYR #PlayLikeANewYorker https://t.co/cWD8H0eGr9

— BlueCollarBlueShirts (@NYCTheMiC) November 6, 2019
---
To be clear here, I DO NOT WANT DAVID QUINN TO BE FIRED, like some of these assholes on Twitter do. As a fan, all I want is a clear explanation or an understanding of what Quinn is doing. To me, if you watched that game on Monday, Kreider & Skjei were terrible. If you're going to scratch anyone and do the "tough love" thing, to me, those two players were perfect candidates. Instead, in tonight's game, it was Ryan Lindgren and Lias Andersson, receiving the tough love style that David Quinn seems to be now known for.
My only critique here, is with Andersson and Lindgren scratched, what is the point of having them on the NHL roster? Wouldn't they be better off in Hartford, if Quinn is scratching them? They aren't getting better watching these games. They need to play.
I am sure that in Quinn's mind, he thinks he's sending a message to Lindgren and Andersson. However, again, IN MY OPINION, I thought Skjei was much worse than Lindgren on Monday. To be honest, what does Skjei do well and what has he done to deserve the playing time that he gets? I guess that because he has a big contract, Quinn feels that he has to play him.
When it comes to Andersson, I don't know how you blame a guy, who is averaging something like 6 minutes and a change a game, for the loss to Ottawa. To me, Kreider has been way worse. If you look at things salary-cap wise, Andersson has provided more from his role and his position on the team, than Kreider has in his. Can anyone really argue otherwise?
This all said, if Quinn wanted to send a message to Andersson and Lindgren, I'm sure they received it. Furthermore, with a team that is as bad as Detroit has been, if you're going to make moves like this, it makes sense to do it in this game. After forty minutes of play in this game, it looked like Quinn could've dressed the "Little Rangers" and the Rangers still would have won this game.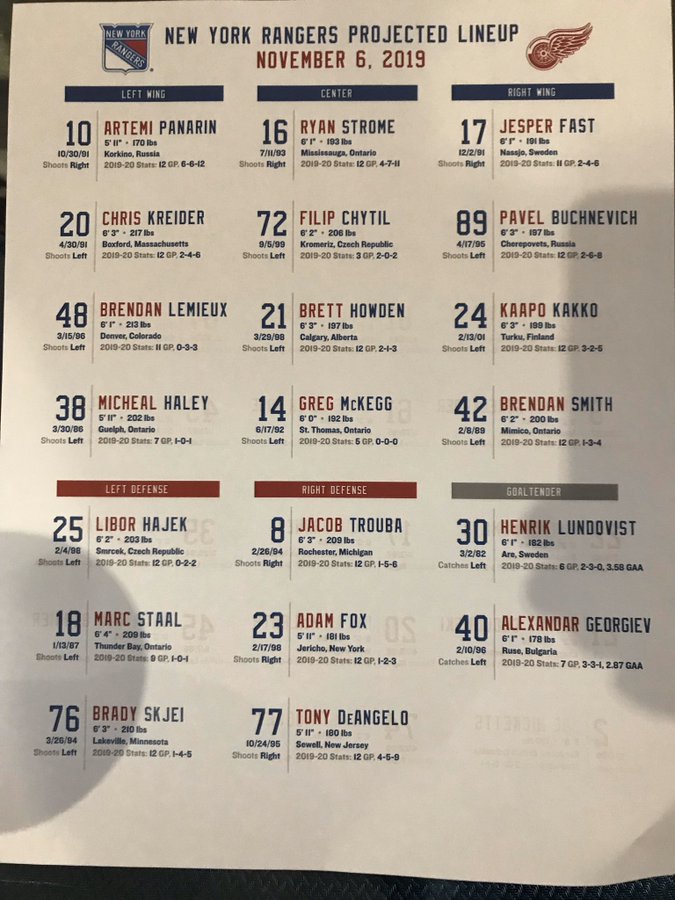 Aside from Quinn's line changes, two other news items were broken before this game. The first was that Mika Zibanejad wasn't going to play tonight, nor will he play in the team's road-game with Carolina on Thursday night. The Rangers keep hammering home the point that Zibanejad's injury isn't concussion related. However, if it was a concussion, would the Rangers tell us so? In the NHL, teams always hide injuries, as a way to protect their players from opposing teams.
The other news story prior to tonight's game, was that despite the Rangers having a back-to-back, Quinn didn't rule out Lundqvist for tomorrow's tilt with Carolina. With Lundqvist playing well tonight, albeit against a team that would be lucky to beat an AHL team, if Quinn is true to his word, I'd imagine Lundqvist starts tomorrow too. Does that make sense for a rebuilding team? Of course not. But despite JD running this team and despite Eddie Giacomin (who was in the building tonight) being an example that it's okay to cut the cord, the Rangers would rather not win a Cup with Lundqvist, than try to win one without him.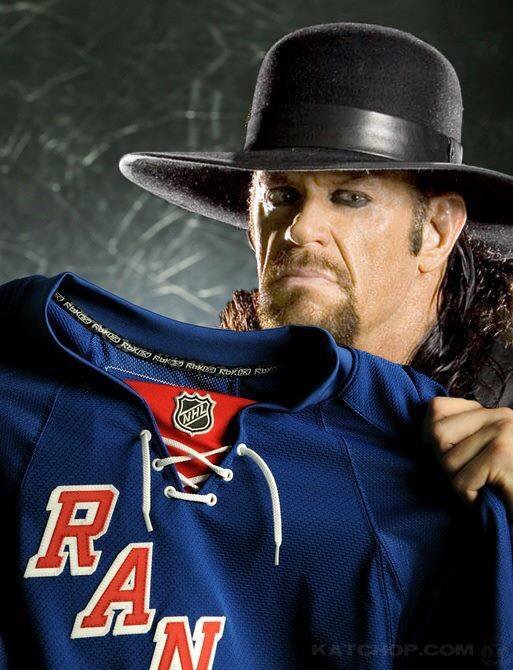 At this time, let's go to the GAMBLING segment of tonight's blog. Here's what I said before the game:
Over/ Under Season Record: 9-3

This is a tough one to predict. Most Lundqvist vs Howard games tend to go under, but these aren't the same teams in front of them from battles ago.

Play the recent trends. Near 90% of Lundswiss starts go over. #NYR should score too.

Take the OVER pic.twitter.com/ZczTvTCiRz

— BlueCollarBlueShirts (@NYCTheMiC) November 6, 2019
With only 6 total goals scored, instead of the 7 that were needed for this game to go over, I lose my bet. My record drops to 9-4. I'm 5 games over .500 still, but I'm now on a two game losing streak. SAD!
The worst thing about this over/under loss? There were plenty of opportunities to make this a 7 goal, 8 goal, 9 goal game. Howard made a few good saves. Lundqvist, who was fine against this terrible team, also gave up many juicy rebounds tonight. However, Detroit was so freaking bad, that they couldn't tap in any of them. While I knew the Rangers would score, I thought Detroit would've at least scored two. If they did, I would've been right. Coulda, woulda, shoulda!
With this game starting an hour later than usual, and because I have an early engagement tomorrow, time is of the essence here. Let's get right into it. As usual, here's the box score from ESPN.com:
SCORING SUMMARY: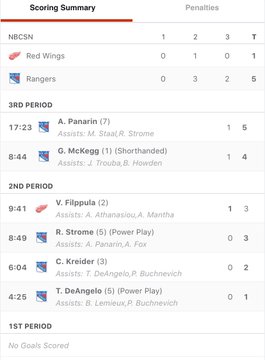 PENALTIES: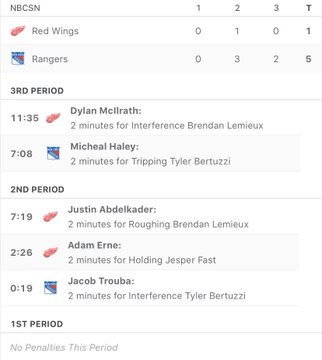 GOALIES:
| | | | | | | | | | | |
| --- | --- | --- | --- | --- | --- | --- | --- | --- | --- | --- |
| SA | GA | SV | SV% | ESSV | PPSV | SHSV | SOSA | SOS | TOI | PIM |
| 0 | 0 | 0 | .000 | 0 | 0 | 0 | 0 | 0 | 0:00 | 0 |
| 36 | 1 | 35 | .972 | 28 | 2 | 5 | 0 | 0 | 59:47 | 0 |
| | | | | | | | | | | |
| --- | --- | --- | --- | --- | --- | --- | --- | --- | --- | --- |
| SA | GA | SV | SV% | ESSV | PPSV | SHSV | SOSA | SOS | TOI | PIM |
| 30 | 4 | 26 | .867 | 22 | 1 | 3 | 0 | 0 | 56:42 | 0 |
I guess because you guys all know my talking points and opinions on Henrik Lundqvist, I'll start with him right now. In tonight's 5-1 victory, Lundqvist had his best game of the season.
While I would say the win over Tampa was a better win for the Rangers as a whole; this win over Detroit was a good win for the team too. And to be frank here, this was a win the team really needed. Let's face it, it would be all doom and gloom right now, had the Rangers lost two consecutive games to the two worst teams in the league.
Box score wise and statistically speaking, Lundqvist had his best game of the season tonight, and really, perhaps his best game in all of 2019. The one goal he allowed in this contest wasn't his fault, as it was the result of a two vs one break for Detroit, which quickly turned into a two vs no one chance. If there was anything to criticize Lundqvist on, it was the fact that he gave up a ton of easy and juicy rebounds, but after every rebound offered, the Ranger skaters quickly cleared the puck and made sure there was no chance for the Wings to put one in the empty net. Against a better team, say such as Boston, I think that team would've capitalized on those rebounds.
Of course, because Lundqvist looked great tonight, my social media accounts exploded with comments from the Cult of Lundswiss. I guess one great game, against the worst team in the league, a game where the WHOLE TEAM PLAYED GREAT, means Lundqvist is worth his salary and the rebuild should be put on hold. Ugh.
To be honest, Lundqvist could win the Vezina this season and my opinion still wouldn't change. It makes no sense to have him on this team and all the playing time should go to Alexandar Georgiev and Igor Shestyorkin. And I'm consistent on this and really, consistent on all of my opinions about this rebuild. I would keep Lundqvist and Staal in the press box, just as I would keep a short leash on Skjei and Kreider too.
I'd like to see if Lundqvist can have this type of performance, against a team that isn't scraping just to get to the bottom of the barrel. That said, to be fair, Lundqvist was great tonight and did his job in this game. That's all you can ask, at least for ONE GAME, against the worst team in the NHL.
And just to add on this, the above applies to the Rangers themselves. I'm not doing backflips (not like I could anyway) over this win. I'm not pumping my chest out. This is a game I expected the Rangers to win. The Rangers should beat bad teams like Detroit. Don't get me wrong, I'm happy the Rangers won, but this isn't Tampa, this isn't Buffalo and this isn't Nashville. What the Rangers did tonight was handle business, just as they should.
Prior to the game, despite having an hour pregame show, all NBC could talk about was Henrik Lundqvist and Dylan Larkin. Not one other player was mentioned. I understand that the league wants to market stars, but if that was the case, NBC would've been better off showcasing the Oilers vs Blues game instead. After all, Edmonton has the best player in hockey and the Blues are the defending Cup champs.
Seriously speaking here, during the pregame show, you heard the words "Henrik Lundqvist" and "Dylan Larkin" more than you heard the words "New York Rangers" and "Detroit Red Wings".
And while on the topic of announcers, I was cracking up huge when my buddy @WHALEPACK talked about Doc Emrick's commentary tonight. Take a peek:
Twirled back in, Ricocheted, sashayed, pivoting, poked back in deep, spin it back around, grabbed and held, pokes at it, kept alive, played along, spun back, settled down, kept alive, ricocheted, great grab, pitched along, curled it around, jammed around, tucked back in. #DocTalk

— WhalePack™ (@WhalePack) November 7, 2019
While I wouldn't call the first period of this game boring, it wasn't exactly exciting either. To each team's credit, they played hard, got to loose pucks, tried to establish a forecheck and limited mistakes, but not much was going on, at least offensively. I mean, ten minutes into the period, and Detroit was out-shooting the Rangers by a tally of 4-3. Not much to really talk about.
That said, to start the game, the Rangers did have a chance, when Buchnevich fed Kreider for a wide open shot at the net. Kreider flubbed the puck. Hit the gong. Later on, the Rangers would put together their best forecheck of the game thus far, with a play started by Lemieux and with a forecheck that saw the returning Marc Staal get a good shot on.
Speaking of Buchnevich and Kreider, I thought Buchnevich played well tonight. He was setting up offense every time he had the chance. He really went out of his way to look for Kreider in this game, and for once, it finally paid off.
Towards the end of the period, Fast got a shot off from close, followed by two Trouba blasts. Detroit goalie, Jimmy Howard, kept the Rangers off the board here. Detroit would come back down the ice and get a great shot off past Lundqvist, only to find iron. It just felt that in this first period, that whoever would score the first goal in this game, would win the game by a final of 1-0.
In a period devoid of much action, both teams went to the locker-room at 0-0. Rangers had the SOG advantage, by a tally of 11-7. However, to me, the biggest question was – "will anyone tell Doc Emrick that his name is pronounced "DEANGELO" and not "DEANGELIS?"" Seriously, Doc was calling him DeAngelis during the entire first period. Doc would go on to fix his mistake as the game entered the middle stanza.
0-0 after twenty.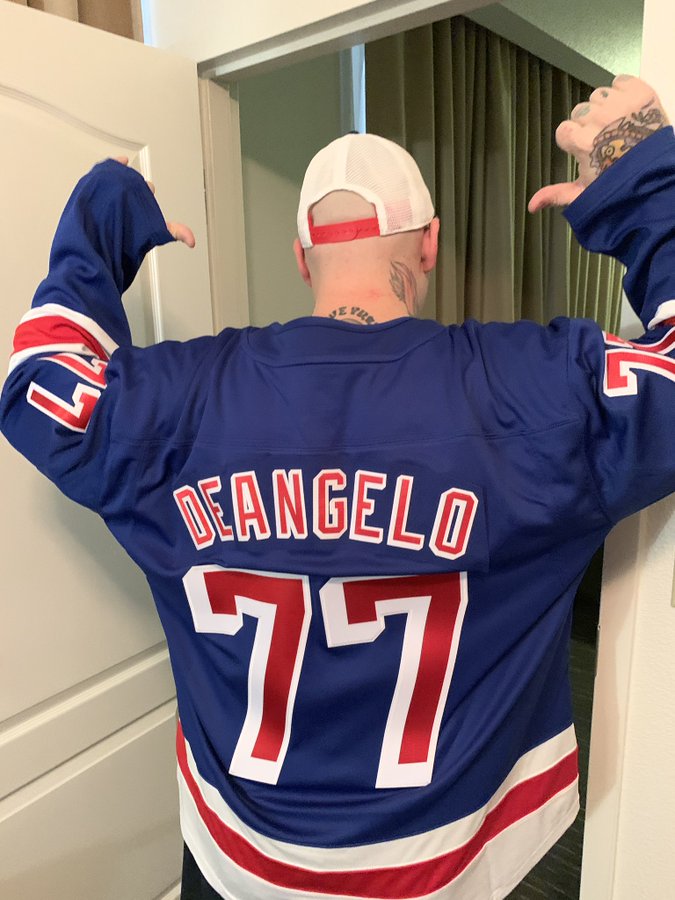 The second period started off in a way that most Ranger first periods do – with the Rangers taking an early penalty. Despite no penalties in the first period, Jacob Trouba, who once again didn't have a good game tonight, was called for interference 19 seconds into this period, after a faceoff.
During this Rangers PK, Erne collided with Lundqvist and Lundqvist either dove to try to get a call or was that weak and toppled over. Not one Ranger did anything. 48 hours prior, after contact less than this, five Rangers got into the face of the Senators during a similar play with Georgiev in net. Hmmm….
With Detroit on the PP, Jesper Fast drew Erne for holding, right around the time the Detroit PP was about to expire. The Rangers finished killing off the Detroit PP and then had a PP of their own.
With only two seconds remaining on the power-play, your favorite player and mine, in a one Tony DeAngelo, cleaned up and put the Rangers on the board:
ICEBREAKER!

The @NYRangers light the lamp first. 🚨

Presented by: @NewAmsterdam pic.twitter.com/JRp3V7wl3J

— NHL on NBC (@NHLonNBCSports) November 7, 2019
1-0, GOOD GUYS, at the 4:25 mark of the second period.
On the goal, one thing of note here. TDA was put on the second PP unit. He previously was on the first PP unit. That move paid off here. And how about Lemieux with the assist here? The MAGA boys do it again!
90 seconds after this goal, we saw this at MSG: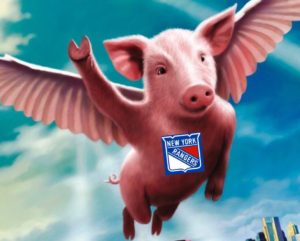 At the 6:04 mark, Chris Kreider scored his biggest, best and most important goal of this young season:
Chris Kreider gets the cross-ice pass and buries it short-side. 🚨 pic.twitter.com/CDtIHZkpzF

— Sportsnet (@Sportsnet) November 7, 2019
2-0, GOOD GUYS!
There was a lot of good about this goal. First off, the pass from Buchnevich was perfect. This was a two-point game for Buchnevich too, as he also assisted on Tony DeAngelo's goal. Speaking of TDA, he also assisted on this goal. With this assist, we got this stat from the Rangers:
"Tony DeAngelo is the first Rangers defenseman who has recorded five goals in the team's first 13 games of a season since Brian Leetch in 1988-89."
Perhaps a meaningless stat, but it shows you that DeMAGAngelo (Credit, as always, to @NYRKELSMADS) has been putting on the best offensive performance from a Rangers defenseman in 30+ years. I hope that continues.
For Kreider, who I have dragged through the mud on these blogs, while I'm happy he scored this goal, my feelings don't change. I feel the same way and it's the same thing I said about Lundqvist. Let's see Kreider do this against a team that isn't playing for the number 1 pick, come the 2020 NHL Draft. That said, this was a huge goal for him and I hope he can continue to finish, as the season moves along.
At this point in the game, the wheels started to fall off for Detroit. It's like the wheel on their jersey was falling off too.
Immediately after this CK20 goal, Fox had a great chance, only to be denied by Howard. At the 7:19 mark, Justin Abdelkader would be called for holding. On the Rangers power-play, RYAN STROME, another player that some of these twitter and chart jackasses hate, would score the PPG. 3-0 GOOD GUYS, at the 8:49 mark of the second period.
Less than a minute later, and perhaps too full of themselves with a 3-0 lead, Lundqvist's attempt at his first shutout in two plus years would be marred, when Valtteri Filppula beat Lundqvist as the result of a two on zero rush. Trouba blew this play.
Let's face it – blog-wise and social media troll-wise, it's funny if Lundqvist can't muster a shut-out, while every other goalie in the league does. However, even I, the blackest of blackhearts in the "GET LUNDQVIST OFF MY FUCKING TEAM" community, felt bad for the bitch here. Who knows, with a little defense, maybe Lundqvist does that get that shut-out that's been eluding him for two+ years.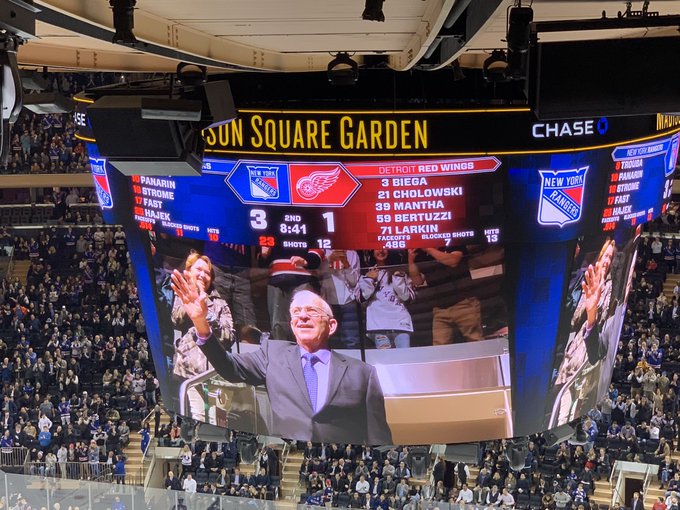 Oh, and for the last time, or at least for a while, when I talk about these demented liberal Ranger fans on social media, I'm talking about these tweets, which people send me as the game goes along:
What a sick set of individuals. pic.twitter.com/uX2sUS4ATE

— Fixxser 🔥🥃🍺🏒🥅 (@Fixxser) November 7, 2019
The most sickening thing about all of this? One of these accounts pictured above, has the headline of "ALL MY HEROES KILL COPS" on his profile. This is why I say that liberalism is a mental disease. Who says shit like this? It's one thing to joke around about deporting Lundqvist; it's another to promote cop killing. Of course, Twitter would ban me if I ever said Lundqvist is acting like a "cunt". However, cop killing? That's okay by Twitter standards.
As the period wound down, the Rangers had something like a 22-13 SOG advantage and were able to survive a late Detroit forecheck. After two periods of hockey at M$G, it was GOOD GUYS 3, BAD GUYS 1.
The third period started off kind of sloppy. Neither team could muster much. Detroit got actively worse, as it felt like they could not connect on a pass if their life depended on it. I know Detroit sucks, but I wanted this win. I was rooting for the clock, as if it were a football game.
At the 7:08 mark of the third period, Micheal Haley earned himself a scratching against Carolina tomorrow, when he blatantly tripped a Red Wing right in front of the benches. Totally unnecessary. Totally unneeded. Totally bone-headed. Fortunately, Detroit was so freaking bad, that they couldn't do anything. In fact, the Rangers PK picked up a goal here, as GREGG MCKEGG picked up a short-handed goal.
At the 8:44 mark of the third, Gregg McKegg, while on the PK, flung a harmless shot at Howard. Howard bobbled it, gave up a bad rebound and McKegg beat Howard for his first goal as a Ranger. 4-1 GOOD GUYS. While it is hard to slam Howard tonight, this was probably something he should've saved. (And really, he should've stopped Kreider's shot too.)
With the three goal lead reestablished, I thought the Rangers got a little bit cocky here, with the game result most likely decided. I thought Lundqvist did his best work here, as the Rangers, like they did with Ottawa, took their foot off the pedal.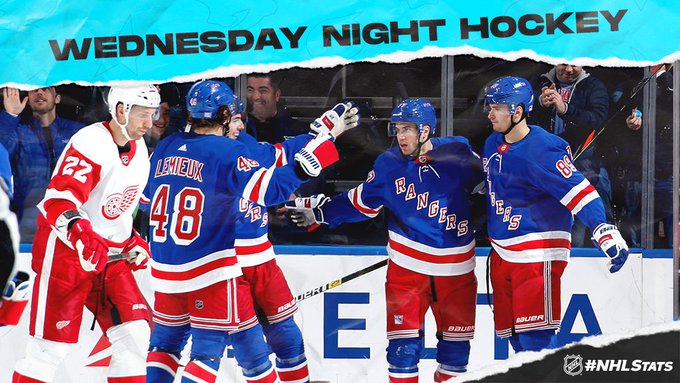 After surviving one last attack at even strength, with 5:40 remaining in regulation, Detroit head coach, Jeff Blashill, decided to pull his goalie. I can't recall ever seeing a team pull their goalie in a three goal game, with this much time remaining. I don't have the stat on me, but I think the only time you would've ever seen this done, is in the days of total goals deciding tie-breakers to qualify for the playoffs.
Back in those days, and I'm talking about in the pre-NHL/NHA days here, and I forget the exact instance, but I want to say it was Montreal, they needed something like 9 goals to make the playoffs. They pulled their goalie very early into the game, and this allowed their attack to have a man advantage all game. While they gave up a ton of goals, they scored a bunch too and that allowed them to sneak into the playoffs. Again, I'm doing this blog off the top of my head here, but unless Roy did it when he was coaching Colorado, I think you'd have to go that far back to see a team pull their goalie this early, in a three goal deficit game.
As far as this game, here in 2019, despite three minutes of Howard on the bench, Detroit couldn't score. With 2 minutes and change remaining, Panarin scored the empty netter (assist by Strome, so a two-point game for him too) putting the Rangers up 5-1. That would be your final, as the Rangers cruised to the final horn.
All in all, this was a game the Rangers needed to execute in. They needed to make a statement after that disaster with Ottawa. If you're looking for any nit-picking here, Trouba didn't have a good performance, despite picking up a secondary assist on the McKegg shorty. That said, I'm not down on him or anything. He's been good more times than not. If any defenseman makes me roll my eyes, it's Brady Skjei, but I said enough about him on my last blog.
Onwards and upwards my friends!
The Rangers won't have time to bask in this win, as by the time you read these words, they are most likely already in Raleigh, North Carolina. The Hurricanes are currently third in the division and have kept their momentum from last year, despite being without Justin Williams.
I can't say this enough or relay this sentiment to you any more than I already have – this was a nice win, but keep it in perspective. DETROIT SUCKS. They only won 1 out of their last 13 games. Now the Rangers must keep this going and play hard & smart against this Carolina team, which as you may know, are a division rival.
We don't know the line-up for tomorrow, but it's being hinted that Lundqvist will start tomorrow and that Lindgren & Andersson will be worked back into the line-up. I guess we'll know around 5PM Thursday, the latest.
And now, one last thing before we go home here:
🚨New BLOCK PARTY out NOW!! This week we interview Ryan McDonagh from the @TBLightning and we find out how he made Dan Girardi cry 😢 ‼️#GoBolts @NYRangers #NHLGlobalSeries https://t.co/9S7wYj2TLU

— Seth (@SethKush) November 6, 2019
Prior to tonight's game, Dan Girardi released his latest podcast. The featured guest was Ryan McDonagh. As you know, I was/am a huge fan of McDonagh's, just like I was a huge fan of Girardi's.
In this episode, the third episode, this was the least newsworthy of the three episodes. Then again, there was no way Girardi and his co-host Seth Kush, were going to be able to top the podcast they did with Phil Esposito.
In this podcast, McDonagh and Girardi talk about their light ribbing with each other, fantasy football and their penchant for fishing.
If there's anything interesting to report back on, both talked about their time with the Rangers and Ranger fans in general. I found both players to have business-like attitudes about the Rangers, which I understand, especially in the case of McDonagh, who is still active in the league.
If anything, you can see that both men love living in Tampa, and while they appreciated their time in New York, it's not a place they'd ever want to live in. That's what I got out of it. Check it out yourself, by clicking the link above.
I'll be back tomorrow night.
Until then, as always, thanks for reading and…
"LET'S GO RANGERS!"
Sean McCaffrey
BULLSMC@aol.com
@NYCTHEMIC on twitter