Greetings and salutations everyone and welcome to another blog here on BlueCollarBlueShirts.com. Let me start off tonight's blog by saying this – WHAT A WIN! As a fan of the goaltenders, Henrik Lundqvist must've been watching his Alexandar Georgiev tapes, because he put on a clinic tonight. (It's a joke, settle down!)
On Thursday night, after drubbing the Detroit Red Wings 24 hours prior, the Rangers traveled to Raleigh, North Carolina and defeated the Carolina Hurricanes, by a final of 4-2. If there's anything negative to say right now, it's the fact that the Rangers treated the Ottawa Senators as a trap game on Monday. Who knows? If the Rangers showed some focus in that game with Ottawa, the Rangers could be on a five game win streak right now.
That being said, it's a moot point to dwell in the past, and with tonight's victory, the Rangers are now on a two game win streak and have won four of their last five contests. Oh and this is worth mentioning – after blowing a 3-0 lead to the Pittsburgh Penguins tonight, the Islanders are now on a losing streak. (I had to get that in!)
The story of tonight's victory was the "vintage" performance by Henrik Lundqvist. I saw many people, both in the Cult of Lundswiss and fans who are not in the cult, both use the vintage word, when describing Lundqvist tonight. Of course, whenever you use the word "vintage", that implies that these performances are rare. It implies that Lundqvist dialed the clock back, to a time where he was one of the best goalies in the league and to a time where he wasn't grossly overpaid. However, one must give Lundqvist his due, as he was absolutely fantastic tonight. (See Michael Broderick, I can admit when Lundqvist played well!)
If there is anything that bothers me about these "vintage" Lundqvist games, it's not the social media mentions that I get from people that come out of the woodwork. I'm used to that by now. What does bother me, is how the MSG Networks crew, namely John Giannone and Steve Valiquette tonight, who talked after the game, about how Lundqvist did everything and the rest of the Rangers did nothing. I get that it's all Lundqvist all the time on the MSG Networks, but this reporting was so sugary sweet, I had to make an appointment with my dentist after viewing this.
Let me be clear – no one can deny how great Lundqvist was tonight. This was a game straight out of his Vezina season from the beginning of this decade. However, when you have Giannone and Vally saying Lundqvist did everything, it discounts the contributions from everyone else on the team. It's the never-ending kiss Hank's ass narrative from the MSG Networks, that is bothersome.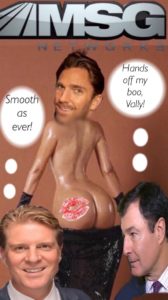 To put things into perspective here, when Georgiev has his shutouts (Lundqvist hasn't had a shutout in 2+ years) or if the Rangers offense put up a touchdown, you never hear how Georgiev carried the team or how the Rangers offense carried Lundqvist. You'll never hear that. For as great as Lundqvist was tonight, and he most certainly was, and I'm not denying that, the MSG Networks won't give any spotlight to anyone else.
Yes, Lundqvist was great tonight, but at the same time, Ryan Strome continued to shine. Since Zibanejad went down and Strome was slotted as the new first line center on the team, the Rangers are now 4-1. Strome's linemate, in Artemi Panarin, had a two point game. Buchnevich, who has been playing well during this recent stretch of games, also collected a two point game for himself. Once again, there was Tony DeAngelo setting up a power-play goal, as Brendan Lemieux scored in this game. In fact, Lemieux, even without this goal tonight, had his best game of the season tonight too. Lemieux was an offensive presence all game long and I know that's something he wants to be.
All I'm saying here is this – whenever Lundqvist has one of these games, you know, where's paid an extreme amount of money to do, it's nice to be happy about it. I would just like to see the MSG Network guys talk about the other players on this team with the same passion.
And really, let's face it – Lundqvist could win the Vezina this season, and it would serve no purpose to this rebuilding team. However, you already know my opinions about wanting a Georgiev/Shestyorkin backstop. No point going down that road again.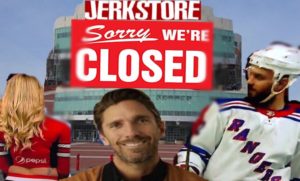 The MSG Networks propaganda aside, Lundqvist was pretty much perfect tonight. He finished with 45 saves on 47 shots. On the two goals against, neither were his fault, as deflections, which every goalie has to deal with, marred the potential shutout. I don't have the exact number, but I think Lundqvist had 32 or 33 saves before the first goal against him went in. On the second goal, it was a pure fluke thing, as Carolina was trying to make a cross-ice pass, and while trying to break up the pass, Lias Andersson deflected the puck right past Lundqvist. On a side note, THIS JUST IN: Lias Andersson has been deported to Sweden. You can't mess with King Compiler's stats!
With this game now over, and now feeling good about the win, it's safe to say this – this game was a bizarro game for the Rangers. So many times with this team, especially during the last few seasons, we've seen games where the Rangers will put up a ton of shots, usually against a second or third string goalie, and that goalie would shut down the Rangers on M$G ice. Then, in the final minute of a period, despite the Rangers having something like a 20-6 shot advantage, the other team would score and take the lead.
In tonight's game, it would be Carolina shooting at Lundqvist like he was a 1990's Compton, California. There were more rubber marks on Lundqvist's white jersey than rubber marks on the asshole of a gay prostitute. (That's not a Micheletti joke.)
In this game, Lundqvist had something like 22 saves in a scoreless first period. As the game progressed, the Rangers would have these stretches where Carolina would get off 5, 6, 7, 8, 9+ shots off in a row, before the Rangers could get one. By the time the game was over, Lundqvist tripled the amount of saves than his counterpart, in Carolina Hurricanes goalie Petr Mrazek. (Lundqvist 45, Mrazek 15.)
During the game, for as much as Carolina was cursing the name of Henrik Lundqvist, they were also their own worst enemy. There were times in this game where Carolina had open looks and would shoot wide. Carolina would have a wide open man in front of Lundqvist, but then pass the puck too deep and to the boards. Carolina fanned a few pucks. Carolina muffed several odd-man rushes. And when Carolina did put one of those "high quality" shots on net, Lundqvist was there to slam the door in their face, as if Carolina was a door-to-door Mormon.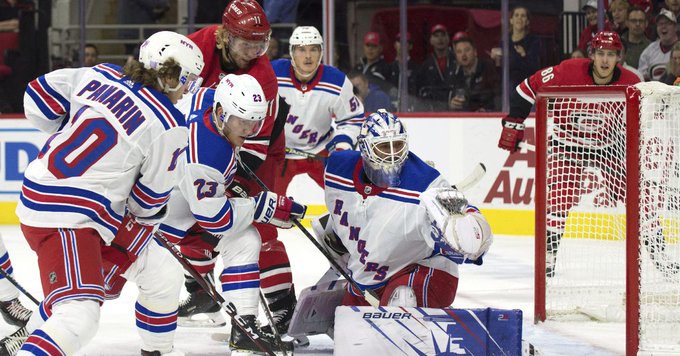 I don't want to be the MSG Networks here. There's plenty of other things to talk about tonight, away from Henrik Lundqvist. However, before getting there, let's go to the PLUGS section of this blog.
As always, here are my last few blogs, in case you missed them:
---
---
---
---
---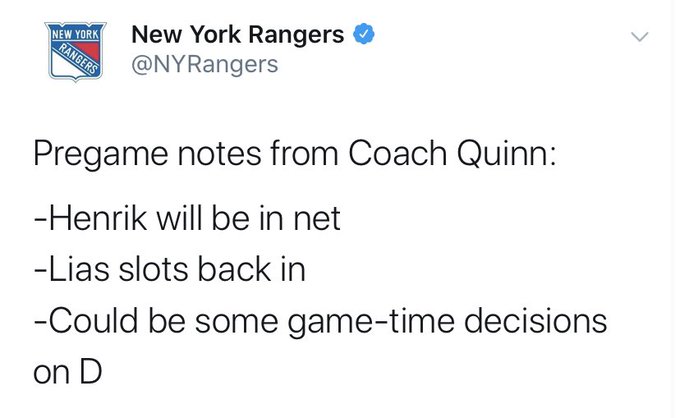 After beating the Red Wings at MSG on Wednesday night, the Rangers took a flight to Raleigh for this game. This would be the Rangers first back-to-back set of the season, so it was going to be interesting to see how they handled it. For the Rangers, who were just effed up the a-hole with this schedule this season, they will play the most amount of back-to-back games than any other team in the NHL this season. In test one, the Rangers passed with flying colors.
However, I thought the MSG narrative here, especially from Sam & Joe, was quite much. They made such a big deal about this back-to-back. I mean come on, these are NHL players, on a team that's pretty young. Sam & Joe acted like this was a travesty of justice. I'm sorry, with all the days off these guys have had, I thought they should've handled this back-to-back with ease. I'm not saying they had to win tonight, I'm just saying they needed to give 100%.
After all, just last week, I flew to a different time zone, when I went to Nashville. Once I got off the plane, my liver and I visited the tremendous amount of bars on Broadway. I put up an MVP performance, putting down something like 20 beers and 10 shots. If I can excel in what I do best under these conditions, than I expect the Rangers to do what they do best as well!
Due to the fact that the Rangers had a quick turnaround between games, it meant that the Ranger beat reporters didn't get a chance to talk to Quinn until 90 minutes before puck drop. During this mini press conference, David Quinn didn't provide his lines, as he said a few guys were beat up and it was going to be a game time decision. However, during warm-ups, we were able to figure out the lines, and I was pleasantly surprised.
Prior to this game, David Quinn made it clear that he planned on returning Ryan Lindgren to the line-up. That begged the question, who was going to the press box? I've been adamant about wanting Skjei to get a break and to receive some of Quinn's tough love. That happened tonight.
That said, at the time, Quinn said some of his guys were banged up, leaving him an out for anyone he scratched. That would've been the veteran move from a veteran coach. However, after the game, David Quinn told Colin Stephenson, of Newsday, in regards to scratching Skjei, that ""I just think there's a– he needs to play better." To me, I was happy to hear that. Skjei needed a time-out.
Forwards-wise, Quinn scratched Micheal Haley and reinserted Lias Andersson. More on Andersson later.
With the line-ups set, here's what Quinn went with tonight:
FIRST LINE: Panarin/Strome/Fast
SECOND LINE: Kreider/Chytil/Buchnevich
THIRD LINE: Lemieux/Howden/Kakko
FOURTH LINE: McKegg/Andersson/Smith
Defensively, we had:
D-PAIR 1: Trouba/Hajek
D-PAIR 2: Staal/DeAngelo
D-PAIR 3: Lindgren/Fox
I'll get more into it later, but if you're looking to finger-point anyone on the defense for the amount of shots Carolina piled up, you can look squarely at Jacob Trouba. More on him as we continue.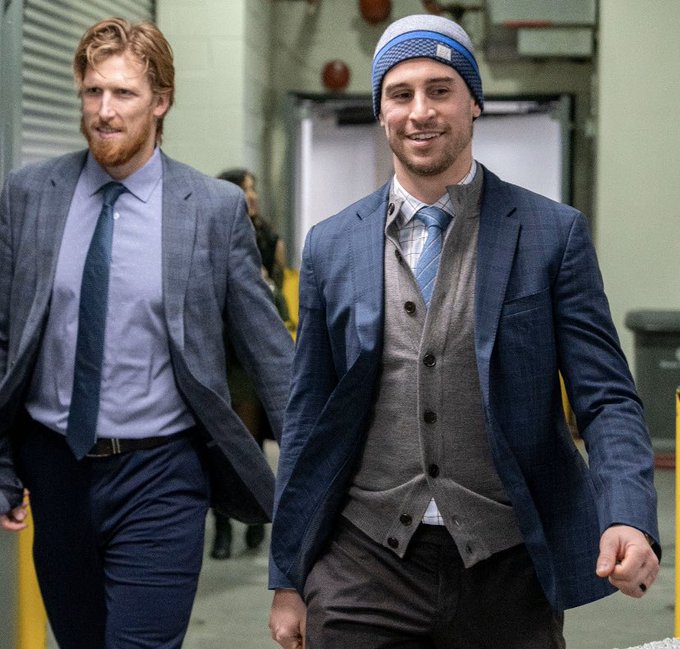 And now, it's time for the GAMBLING segment of this blog. This is a two-parter tonight, because we didn't know 100% what goalie was going to start in this game. Here's what I said before Lundqvist was announced:
Waiting for the teams to announce their goalies before doing my over/under predictions. However the Rangers being over 2:1 dogs in this game is fucking insane. I know Carolina is good, but worth betting on #NYR for the great value. pic.twitter.com/neuCfeH2EH

— BlueCollarBlueShirts (@NYCTheMiC) November 7, 2019
Here's what I said after Lundqvist and Mrazek were announced:
Season over-under record: 9-4

The real action in this game is the fact #nyr are over 2:1 dogs to a struggling Carolina team.

O/U wise, I just hope the Rangers didn't blow their load last night. Lundswiss first back to back means Carolina will score.

Take the over. pic.twitter.com/YmGwVaNLMG

— BlueCollarBlueShirts (@NYCTheMiC) November 7, 2019
I've been tracking my over-under predictions all season. With tonight's loss, I'm now 9-5 on the season. That's a playoff team in the NFL!
Seriously speaking here, these -6.5 total goals are ruining my record. I would be 9-2-3 if these lines were -6!
The real story here, was the blatant disrespect these Vegas odd-makers gave the Rangers tonight. They had the Rangers opening up at +235 and settled at +210 at puck drop. That means that you would make more than double your bet if the Rangers won tonight. Even crazier? If you bet the Rangers to win by two goals, you would make five times your bet. If you bet the Rangers to lose by only one goal, you would make even money!
In other words, I loved the Rangers tonight. I had to throw on my old school Lundqvist jersey and pray to the hockey gods. It worked out, especially on the Rangers winning by two goals bet. And if it wasn't for that piece of shit Chris Kreider, the over would've hit tonight too! More on him as I march on!
At this time, as usual, let's go to the ESPN.com box score:
SCORING SUMMARY: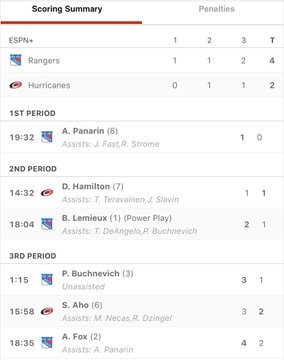 PENALTIES: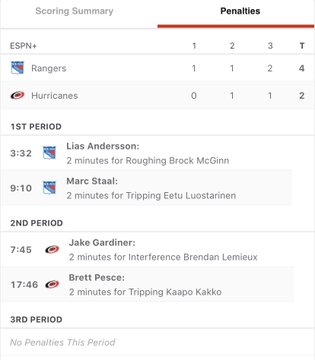 GOALIES:
| | | | | | | | | | | |
| --- | --- | --- | --- | --- | --- | --- | --- | --- | --- | --- |
| SA | GA | SV | SV% | ESSV | PPSV | SHSV | SOSA | SOS | TOI | PIM |
| 47 | 2 | 45 | .957 | 40 | 0 | 5 | 0 | 0 | 60:00 | 0 |
| | | | | | | | | | | |
| --- | --- | --- | --- | --- | --- | --- | --- | --- | --- | --- |
| SA | GA | SV | SV% | ESSV | PPSV | SHSV | SOSA | SOS | TOI | PIM |
| 18 | 3 | 15 | .833 | 13 | 0 | 2 | 0 | 0 | 58:04 | 0 |
The first period of this game wasn't that great. Whether it was the second half of a back-to-back or what, Carolina just owned the Rangers. Fortunately, between Lundqvist making big stops and Carolina missing easy chances, Lundqvist was able to keep the Rangers in this game, until the Rangers were able to put some goals together.
When watching this game, I felt like I could do no wrong, at least with my predictions. Sure, the over-under didn't hit, but the monster 5:1 play hit. As Tommy and I were finishing a bottle of booze (it's really impressive how I get these manifestos done, as I'm currently half a bottle of whisky and 12 beers deep right now) I was calling out stuff before it happened. If you follow me on Twitter, @NYCTHEMIC , you saw me do this live, as I have tons of notifications talking about it.
I called the final minute Panarin goal of the period. I called the TDA assist on the power-play. I called the Buchnevich goal. And to really blow your balls off here – I even said Lundqvist would have a good game. He's pissed off right now because he knows his time is up and with the performance he had in this game, he continues to dangle that carrot in front of those jackasses who think that he can win a Stanley Cup.
I was so on top of what was going on tonight, I was telling my buddy Tommy what Sam and Joe were going to say before they even said it. I also had the trivia question answered correctly before the time Sam could finish reading it. (The question was, what Ranger shared the same name as the city that Carolina plays in? The answer was Don Bones Raleigh. Unfortunately, the MSG Networks didn't share us his footage from Game 7 of the 1950 Stanley Cup Final.)
Feeling in the zone, and maybe it was the whisky or maybe it's the fact that since I bought a Tony DeMAGAngelo jersey (Credit, as always, to @NYRKELSMADS) I felt like I had a good grasp of this game. Once the first period ended, there was no doubt in my mind that the Rangers were going to win this divisional battle.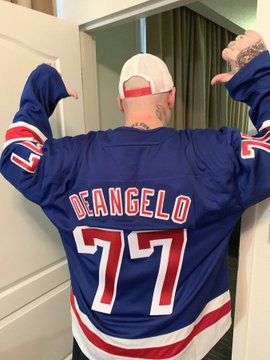 I never truly noticed this until Jim and Eddie, of Blueshirt Underground Video, pointed this out, but for whatever reason, whenever the Rangers play Carolina, Sam & Joe get Bluechew hard when talking about the Hurricanes. No joke – they were blubbering like school girls in admiration of the Hurricanes. They don't do this with other teams. Whatever the case, Sam and Joe are diehard Caniacs.
The first period was pretty much the Carolina Hurricane show, as they tried to show us how many shot attempts they could get off without a goal. Lundqvist had 22 saves during the period and Carolina missed about 20 more chances. During this time, Joe Micheletti said a Carolina power-play took away the Rangers momentum. THE RANGERS NEVER HAD ANY MOMENTUM IN THIS PERIOD.
Listen, I'll give Micheletti a pass tonight for his man-love of Henrik Lundqvist. Micheletti deserved to go nuts about Hank tonight. That said, Micheletti was beyond awful with everything else. In the second period, with the Rangers up 1-0 after a Panarin goal, Micheletti praised Kakko and Lemieux and said they were the only two with shots in the first period. Panarin literally scored with 30 seconds left in the first period. How do you forget that? Effing Joe.
3:32 into the first period, Lias Andersson was called for a penalty which I thought was pure bullshit. He was called for roughing. What Andersson did here is something you see all the time and it never gets called, especially in the playoffs. Just horrible, especially for a guy trying to work his way back onto the roster.
On the Rangers PK, Carolina missed on a bunch of open chances, including a wide open net after a pass that went too far. The Canes then found a post. Despite being beat and getting some luck, Lundqvist didn't let it bother him and continued to motor on, as the Rangers killed the Canes PP.
With Lundqvist doing his thing, Marc Staal was called for a blatant tripping penalty, at the halfway mark of the period. This was a terrible penalty for Staal to take. I'm not a Staal hater like many of the fans out there, but I'm saying what this was – this was bad. Luckily, once again the Rangers killed the Canes PP.
Trouba, who in my opinion, has been struggling lately, had another bad game tonight. After killing the Staal penalty, there was a play where Trouba was stripped of the puck, looked soft and wouldn't hit the Cane that stole the puck from him. As a result, Carolina sustained some offense here, tired out the Rangers and Lundqvist made 7 saves during a minute plus Carolina attack. To me, this was Lundqvist's best work of the game.
Later on, as the game progressed, Trouba, who was shooting at net when the season started, continued to fire pucks at the boards to the right and left of the goalie. His accuracy has dipped during the past week.
As Lundqvist amassed saves, I said to Tommy, this is where the Rangers bite back and give Carolina that heartbreaker goal against. With 28 seconds remaining in the period, Ryan Strome, WHO HAS BEEN FREAKING AMAZING SINCE ZIBANEJAD WENT DOWN, found Panarin for the easy goal:
🍞 🔥 🍞 🔥 🍞 🔥 @artemiypanarin pic.twitter.com/vKjzDNhydP

— Rangers on MSG (@RangersMSGN) November 8, 2019
1-0, GOOD GUYS!
On the goal, while Panarin gets it, this was just great puck movement and offensive awareness from a player these snot-nosed chart humpers on Twitter hate. I'm not advocating Strome as the 1C once Zibanejad gets back, all I'm saying is that if anyone has stepped up during Zibanejad's absence, it's Ryan Strome. He's been racking up the points.
In a period where Carolina put up 22 shots and the Rangers went shot-less for 10+ minutes, it was the Rangers leading after twenty minutes, by a score of 1-0. How many times have we've seen the Rangers on the other end of this?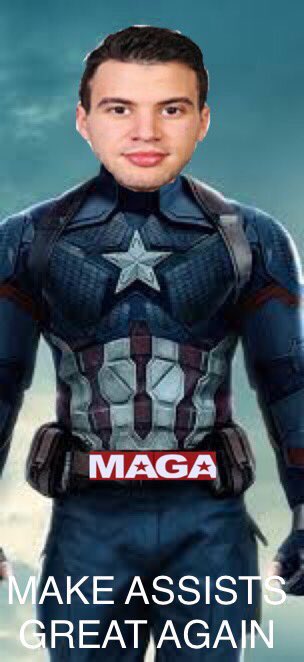 The second period was better than the first, but not by much. The Rangers offense did do some work and Hank didn't have to face as many shots, but it was another period that Carolina won overall, albeit just not on the scoreboard.
Lemieux would block a big shot, early on in the period. He would lose his blade during this and would have to get to the bench by using his knees. Sam & Joe loved this, especially Joe, who definitely has experience being on his knees.
At the 7:45 mark of the period, Gardiner would be called for interference after a faceoff. We're seeing that penalty getting called a lot recently. I remember, and I want to say it was two years ago, where the NHL wanted the referees to call this all the time. These calls got so bad, that the NHL curtailed them. Now, we're seeing them come back again. Just something to keep an eye on.
On the Rangers PP, they didn't do much. Kill for the Canes.
At the 14:52 mark of the period, Dougie Hamilton scored after a deflection past Lundqvist. Glove high, too slow Hank. It's funny, I wrote that exact same sentence on social media and no one could tell that I was joking. After all, Hank had something like 32 saves at this point. That said, it's fun riling up the twitter momos!
1-1.
With 2:30 remaining in the period, the shots on goal were Carolina 33 – Rangers 11. The shot attempts were something like 75 to 20. So yeah, the Rangers had no business winning this game.
With 2:16 remaining, Kakko was tripped. This would put the Rangers on the power-play, for pretty much the end of the second stanza. However, the Rangers didn't let it get that far, as Brendan Lemieux scored a PPG, just seconds into the NYR PP:
🚨 🚨 2-1 lead going into the 3rd 🚨 🚨 pic.twitter.com/afb6sLDbeq

— Rangers on MSG (@RangersMSGN) November 8, 2019
2-1, GOOD GUYS. The MAGA BOYS do it again! And if you don't get why I'm hamming up the MAGA stuff, check out the blog from last night.
In a play that just made you shake your head, as the clock was about to expire to signal the end of the period, Carolina got off a great shot, which Lundqvist made a save on. I don't know if this goal would've counted if the puck went into the net, but I'm glad I didn't have to find out either.
2-1, after two periods.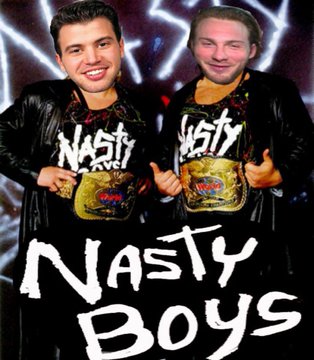 Oh, and I hate to be that guy, but then again, do I really hate to be that guy?
This one game doesn't erase my thoughts on Lundqvist being on this team. This should be the Georgiev and Igor show. I've already discussed why 87893678937473673 times on this blog.
That said, I do want to share this tidbit with you:
FWIW, a Hank buyout next year saves NYR $3 million in 20-21 with a dead cap hit of $1.5 million in 21-22. A Staal buyout next year saves NYR $2.13 million in 20-21 with a dead cap hit of $1.06 million in 21-22. Worth buying one out next summer IMO.

— James Louis (@JvCx7) November 7, 2019
Remember a few games ago, how Vally was openly politicking that the Rangers should trade Georgiev and keep Lundqvist on this team? I wonder if Vally will be fair and bring up the above numbers? I won't hold my breath!
Once the third period started, I said this:
A quick insurance goal would be nice #nyr

— BlueCollarBlueShirts (@NYCTheMiC) November 8, 2019
Ask and ye shall receive!
75 seconds into the period, the intoxicating commie scored after this beautiful play:
It's Chytil baby!! pic.twitter.com/5ENuHCdBvc

— Rangers on MSG (@RangersMSGN) November 8, 2019
Don't listen to the Rangers twitter account, an account that promotes Lundqvist as the face of this rebuild. This was Buchenvich's goal and not Chytil's. 3-1 GOOD GUYS.
I gotta give it up for Buchnevich here. While I don't think he's elite and I see him as a career second or third line type, he's been heating up lately. I'll also give some praise to Chytil here. If Buchnevich missed, Chytil was here to clean this puck up. Either way, this gave the Rangers a two goal lead, with under 19 minutes to go. Of course, in Vally's World, this meant that Lundqvist scored three goals too.
As the period continued and wound down, Lundqvist was making saves on odd-man rushes and even had the balls to leave his net and challenge shooters. When you're locked in, you're locked in.
With four minutes remaining in the game, Sebastion Aho was trying to make a pass and wasn't even looking at Lundqvist. Unfortunately, Lias Andersson would go on to score his first goal of the season, but for the wrong team:
NYR@CAR: Aho scores on favorable bounce https://t.co/6P08trSCIv

— NHL Goal Tracker (@NHLGoalTracker) November 8, 2019
3-2, GOOD GUYS, but with enough time left, you had to sweat a bit.
On the goal, Andersson was trying to break up a cross ice pass but got some bad luck, and scored on Lundqvist. SWEDE ON SWEDE CRIME! It's an epidemic, I tell ya!
This has not been a good season for Andersson. Between tripping on Opening Night to this goal, Andersson needs some positivity in his life.
Luckily, this goal would not bite the Rangers in the ass. Carolina would pull their goalie with two minutes left and with under 90 seconds to go, Adam Fox scored the empty netter. 4-2 GOOD GUYS.
You can forget the fact that I predicted the over to hit in this game.
In a two goal game, with 90 seconds remaining, Carolina kept Mzarek on the bench.
Kreider would then get the puck ALL ALONE. Kreider skated 3 feet in front of the net, and instead of just shooting into the twine, KREIDER DANGLED THE PUCK AND TURNED THE PUCK OVER! INEXCUSABLE! Fortunately, this play didn't effect the outcome, as the Rangers would go on to win 4-2, but WHAT THE FUCK IS THIS IDIOT THINKING? How many NHL players would give up the chance at an easy goal, just to look like a jackass? That's Chris Kreider tonight.
I mean, just imagine if this was a one goal game, Kreider pulls this stunt and Carolina comes back to tie it? There's just no way to defend this play. There's no way to find a silver lining here. Kreider just SUCKS and this was PATHETIC!
I gotta wonder – did Kreider bet the under tonight?
After this KreidERR, the Rangers did in fact hold on and picked up a big two points against a team that could be a Cup contender. I can hear the Ranger fans celebrating on Tobacco Road as I type these words!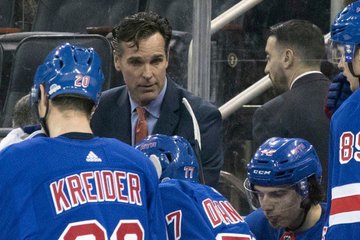 All in all, this was a great TEAM win by the NY Rangers, even though the MSG Networks won't say that.
Looking forward, the Rangers have two days off, before hosting the Florida Panthers on Sunday afternoon, at 1PM. You want to talk about how retarded the schedule makers are this season? Without knowing how bad the Giants and Jets were going to be, the NHL schedule makers scheduled this game head-to-head with the Giants vs Jets game. Expect a dead crowd on Sunday, like most of these Sunday matinee games are.
I mean really, even the most hardest of hardcore Ranger fans, don't want to watch hockey at 1PM on a Sunday. Sunday afternoons are a day for family, not hockey. Maybe I'm talking from a personal perspective, as I love seeing my nieces on Sunday. However, I don't think many people are advocating for Sunday 1PM games. This game would've been a perfect Saturday night game, especially during a three-day holiday weekend.
Line-up wise, Quinn said he wanted to ride the hot hand, so I would expect Lundqvist again on Sunday. I don't know how starting Lundqvist three games in a row helps a rebuild, no matter how good he's been playing of late.
As far as the skaters, I could see Andersson getting scratched again. I would prefer Kreider, but it seems DQ has an allegiance to him. Defensively, I think it comes down to Hajek, Skjei and Staal. If it were me, I'd let Skjei ride the pine a bit more. If you take anything out of this paragraph it's this – none of the right-handed shots or Lindgren should be scratched.
I know it's way too early to talk about this now, but as of 11/8, the Rangers are a true .500 team, with a 7-6-1 record. They are also four points out of a playoff spot, with two games in hand, of not just the third seed, but of the wild card too. Usually by Thanksgiving, you can get a handle on this. Then again, look at the St. Louis Blues last year, who were in last place on New Year's Day. I guess what I'm trying to say here, is that the Rangers have as good as a chance as any, at making the playoffs. Again, way too early, but I must admit, I'm taking a gander at the standings.
I'll be back Sunday sometime. I still don't get this idiotic scheduling against a Giants vs Jets game. Fortunately, both football teams had their season's decided in September. The Rangers are way more important right now than these two losing franchises! In other words, come Sunday, it's the Rangers on my big tv with sound and the little TV on mute for the Snoopy Bowl.
Until next time, as always, thanks for reading and…
"LET'S GO RANGERS!"
Sean McCaffrey
BULLSMC@aol.com
@NYCTHEMIC on twitter