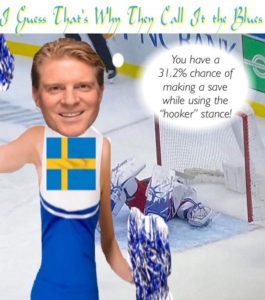 Greetings and salutations everyone and welcome to another blog here on BlueCollarBlueShirts.com. I can tell you this, off of puck drop here – this blog won't be as long as my last two blogs! After all, I'm not feeling too rah-rah after this game.
In fact, let's get the PLUGS section out of the way before continuing. In case you missed them, here are my most recent blogs:
---
---
---
---
---
---
I bring up my last two blogs, because if you read them, I think you could feel my excitement and passion after those two wins. While teams win and lose games all the time, with CZAR IGOR SHESTYORKIN now here, there's an extra pep in my step. IGOR gives us Ranger fans, especially the fans who can't wait to get out of this Lundqvist Era of Error, a look into the future.
Of course, after CZAR IGOR and the Rangers rattled off two straight wins, head coach David Quinn halted all momentum from those two wins and announced Henrik Lundqvist as the starter, in this game with the Blues. So much for riding the hot goalie.
It's very easy to second guess a coach after a loss, but there wasn't one person I knew, except for the extreme Cult of Lundswiss members, who thought that starting Lundqvist in this game was a good idea. The move made no sense.
All season long, and even today, before tonight's loss, David Quinn was talking about the playoffs. The Rangers just won two games in a row and had a historic game on Thursday night. What does Quinn do? He puts CZAR IGOR in the press box and puts Grampa Lundqvist in net. In turn, the Rangers, after a decent first period, played a listless game. The Rangers treated the third period as if they couldn't prevent the inevitable with Lundqvist in net – a loss. If you watched this game live or watched the replay, there was not an ounce of fire in the Rangers. They just wanted the game to get to triple 0.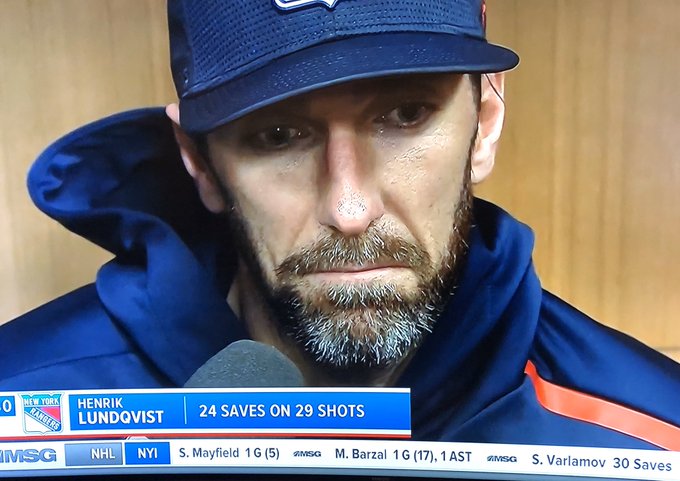 I've talked so much about the goalies on this blog, that I don't want to rehash everything. Just check the archives of this blog.
That said, before tonight's game, Sportsnet reporter Elliotte Friedman, was reporting that the Rangers WOULD LISTEN to trade offers for Alexandar Georgiev. The key two words here – "WOULD LISTEN". Friedman reported that the Rangers will be all ears on trade offers, but won't give away Georgiev unless they get something fantastic back in return, such as a forward that can play right now.
You know my feelings already. I don't know how many times I have to repeat it here. I would go Shestyorkin/Georgiev and put Lundqvist in the press box until he waives his No Move Clause. I don't know if John Davidson has had the heart-to-heart "TALK" with Lundqvist yet, but it's time man. I've been saying this for years and you know that. This team must move on from Lundqvist.
JD must draw from his own personal career when approaching Lundqvist. 45 years ago, JD was the young gun and he watched Emile Francis waive the beloved & past-his-prime Eddie Giacomin, FOR FREE. Three years later, the Rangers and JD were in the Stanley Cup Final.
Trading Georgiev is a mistake. With Shestyorkin, the Rangers have two goaltenders, that under best conditions, can take you all the way into the next decade of Ranger hockey. They have a young and formidable 1-2 punch with these Russian speaking net-minders.
While it's reported that the Rangers would listen to offers for Georgiev, unless you're getting an all-star or something like that, you're just doing yourself a disservice by allowing Georgiev to go. How many goalies and players must be a victim of the Lundqvist contract? When do the Rangers address the real problem on the roster, head-on?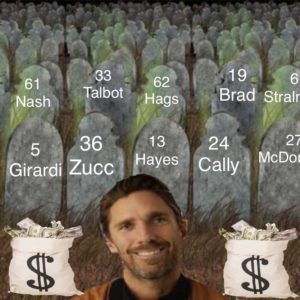 If you're the Rangers, and you have your phone lines open for Georgiev trade talk, I wouldn't be so quick to pick up the phone right now. After the way Lundqvist looked tonight, the Rangers better pump the brakes, back up, pull over and really consider where they want to go. I've been saying it forever – Lundqvist isn't the guy and that contract is a killer.
During the course of this game, with the Blues up 5-2, someone on Twitter, at a one @PAPABEEZ , said something like, "How come David Quinn won't pull Lundqvist?" The answer was simple, at least to me. After tonight's game, I don't think you'll see Lundqvist on ice, for at least two weeks, if not longer.
I'll get more into this at the end of the blog, but the Rangers have two games next week with the Islanders and the Islanders have owned Lundqvist in recent years.  Then, after those two games, the Rangers play Columbus and the Islanders one more time, before heading into the All-Star Break. If Igor or Georgiev get hot here, why would you play Lundqvist in any of these important "four-point" games? We may not see Lundqvist again until February! (And if I had my wish, we'd never see him again!)
Aside from the predictable trade talk concerning Alexandar Georgiev, there were a few other Ranger news items between the win over the Devils and puck drop tonight. I'll start with the silly stuff first and the make my way into the serious stuff.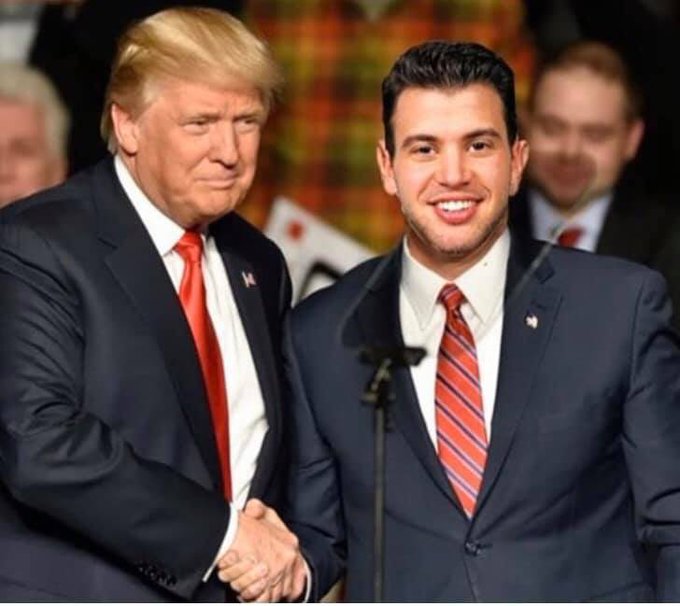 As I've said over the years on this site, I have no problem plugging other people's stuff. It's the internet. Anyone can click anything they want. If you're a regular reader of this site, you see me plugging podcasts all the time, (most notably Blueshirt Underground, who I think are the best at what they do) different Facebook Groups, and even other blogs. Shit, I even recently posted a press release for someone who floods Al "SMD" Demauro's Facebook Group, with 78678967896789678967896 ads, on how you can meet Mika Zibanejad for three figures.
I mention this, because when I talk about Adam Hermtrans here, who writes for a blog/site which I think is terrible, don't take this as me trying to "put down the competition". There is no competition. Anyone can click any site they want. Furthermore, I don't take myself serious. I'm not looking for a job off of this. I'm not making 767679696789 charts a day and submitting them to the Rangers like a kid begging their mother to watch them jump off the diving board.
In fact, I'll plug a Rangers blog that I do like right now. When it comes to the stuff I'm about to cover here, I think Derek Felix, of New York Puck, did a great recap of all the events of the past 48 hours. You can read his stuff here: https://newyorkpuck.com/2020/01/11/deangelo-owns-troll-on-twitter-thoughts-on-lias-andersson/
(And yes, all this Hermtrans stuff is a waste of time and pretty much garbage, but because Tony DeAngelo responded, this now becomes a real news story to me. If this was just internet squabbling, I wouldn't even mention it. However, TDA did get involved, so I feel obligated to at least tell you what happened. Plus, I know some of you enjoy this stuff too!)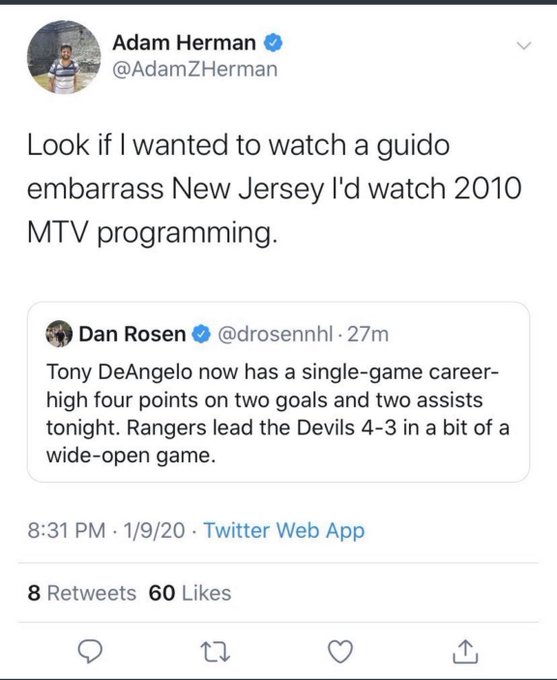 Stop me if you heard this before on this blog – there is a small sect of Ranger fans, who hate Tony DeAngelo, only because Tony DeAngelo supports the President. That's it.
You know who else supports Trump? This guy: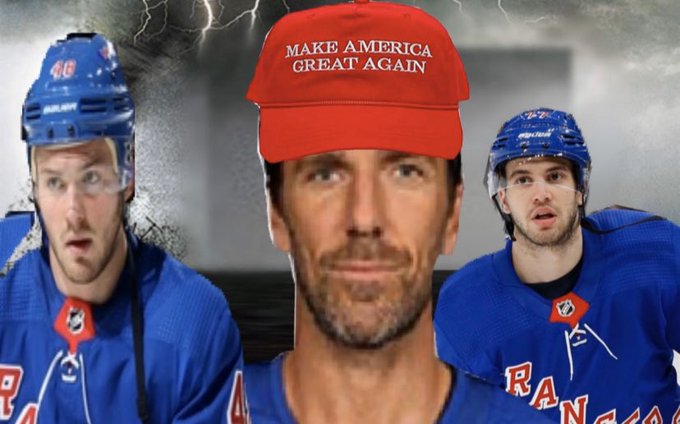 As I write these words, I'm currently battling flu-like symptoms. This is what I'm writing about as I wheeze, cough and try not to shit myself. What dedication!
Adam Hermtrans, one of these whiny millennial liberals, who would call you a racist for supporting Christopher Columbus, decided to slander DeAngelo's Italian heritage after DeAngelo's five point game from Thursday.
I don't think you need this explanation here, but this blog is always getting new readers – I DO NOT TAKE MYSELF SERIOUSLY. I like to joke and have fun. I like to drink beer and whisky rather than making charts and graphs. I am not begging the Rangers to hire me. On the other hand, Hermtrans thinks he's this Rangers Messiah and thinks that players should respect his opinion, just because he gets crazy with a compass from a basement.
I'll be fair here. Some nerds love the chart crap and ANALytics that Herman does. That's not for me. I've always been a fan of telling stories and fans/writers expressing themselves. Making foo-foo charts, many which are deemed through the eye of the beholder (who gets to determine what's "expected" or not anyway?) is not entertaining to me. Most of this stuff comes off as elitist nonsense. And as I've mentioned – NONE OF THIS STUFF is worth a damn. If it was, someone would be cleaning up in Las Vegas right now.
And even while I don't take myself seriously, I don't make racist comments about the players. Sure, I'll make a DEPORT LUNDQVIST crack every now and 34073837837878430974 times a day, but I don't expect ICE & Trump to roll up to Lundqvist and boot him out of the country. I think you can tell that I'm trying to be funny. I don't think Lundqvist will ever be deported. (Of note: if anyone works for ICE, feel free to contact me, maybe we can get Lundqvist deported!)
Anyway, Adam Hermtrans decided to call Tony DeAngelo a "guido". Listen, I don't do the fake outrage shit. I don't think the word "guido" is offensive. I know Italians whose real names are Guido. I even have a buddy who calls himself "Vinny the Guinea". That said, it is funny to see Adam Hermtrans get his on the internet. Furthermore, Hermtrans was taking a crack at DeAngelo here and was using DeAngelo's Italian heritage to make that crack. I can only imagine what Hermtrans says about the darker Italians, in the Sicilians. It would make that rant from "True Romance" blush!
So why is this news? Tony DeAngelo fired back at Hermtrans, through two tweets, prior to tonight's game. Here are the tweets:
Guys. They are calling me names! I guess I have to go cry in a safespace, or maybe ask that they be boycotted or fired or something horrible!😔 😢 😔. https://t.co/zYw1XE6Rgb

— Tony DeAngelo (@TonyDee07) January 11, 2020
Most people will realize this is a joke but if you don't I just want you to know it is most definitely a joke!! https://t.co/EtEtZ6tJAv

— Tony DeAngelo (@TonyDee07) January 11, 2020
I love DeAngelo! I just love the way he fires back at his haters, just like the way Donald Trump does.
Want to know the sad thing? Hermtrans actually tried to get one of his readers fired from their real job, after an argument the two had while discussing the team. Again, this is just another example of these super uptight self-righteous SJW liberal millennials and how are they complete hypocrites.
DeAngelo picks up a hat trick and two assists in a game, and in return, we have a Rangers fan making racist comments about him. As Donald Trump, Tony DeAngelo and yours truly would say – "SAD!"
And lastly, before getting into the real news, I've talked about this psychotic woman before, who is the head cheerleader of the "TONY DEANGELO LIKES TRUMP SO HE IS EVIL BOOOO I HATE HIM EVERYONE MUST AGREE WITH ME" fan club.
Let's take a look at this crazy thing, who identifies as a liberal Democrat, you know, the party of peace. Here are her thoughts on "Dancin' Larry":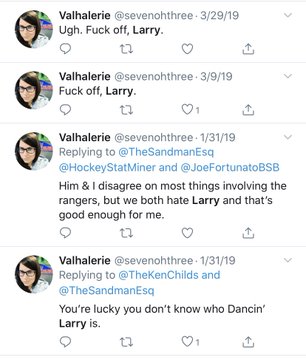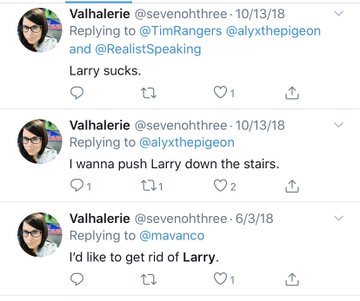 If you have the time and stomach for it, if you check this thing's Twitter account, she is burying Tony DeAngelo non-stop, for having an opinion that isn't hers. In her next breath, she is wishing violence and making death threats against Dancin' Larry, who is one of the nicest guys you'll ever meet. No joke, you'll never hear Larry say a cross word about anyone, but here is this touched-in-the-head millennial liberal, wishing violence and all sorts of bad shit against Larry. Classy.
To be fair, how about the beta-males who hate DeAngelo? Let's take a look at this guy:

I was forwarded about 10 tweets from this Kevin guy. I don't have the energy or will-power to go through all of them.
All I'll say is this, because these people make me physically sick and I don't want to waste too much time on this. If you hate the Rangers for having DeAngelo on this roster so much, just stop watching. Boycott them. Don't give them your time. Don't give them your TV ratings. Don't give them your money. If you're that hard-pressed and you feel that strongly on DeAngelo supporting our President, then stop wasting your time on the Rangers. Go away. Support another team. No one will miss you.
Of course, these are the same people are typing up their tweets on their iPhones, you know, iPhones that are made by 8 year old Asian kids in sweatshops.  I guess when you're a messed-up in the head liberal, you pick and choose your battles as you see fit!
Damn, this blog is going longer than I thought. Real news time!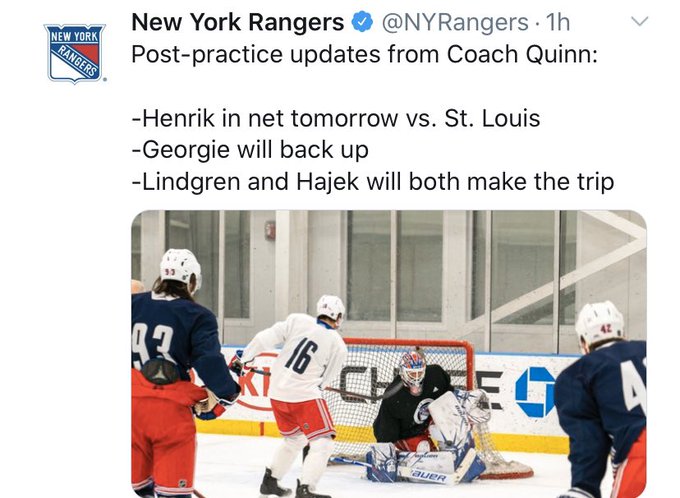 As you can tell from the above graphic, the decision was made on Friday, to start Lundswiss for this Saturday night tilt with St. Louis. Hajek also made the trip and that wound up being important, as Marc Staal did not play tonight, in what's being called a "day-to-day upper-body" injury. That could mean anything. Maybe he has diarrhea. Maybe he has chapped lips. Who knows?
In addition, since the Rangers were playing a big and physical team, Micheal Haley was re-inserted into the line-up tonight, as Steve Fogarty took a powder.
Here was the line-up that DQ used tonight:
(Quick shout-out to Joe L. here! Thanks for your feedback!)
FIRST LINE: Kreider/Zibanejad/Buchnevich (There have been talks about Kreider being linked to St. Louis in a deal. If this game was an audition, he failed.)
SECOND LINE: Panarin/Strome/Fast (Panarin picked up a point tonight, but it was a quiet one.)
THIRD LINE: Howden/Chytil/Kakko (Best line of the game, with Chytil standing out. Chytil was the best Ranger in this game.)
FOURTH LINE: Haley/McKegg/Smith (They had a decent shift at the end of the game, but outside of that, the biggest thing this line did is when Haley drew a double-minor penalty.)
FIRST D PAIR: Skjei/Trouba (Trouba continues to play well. Skjei has to go.)
SECOND D PAIR: Hajek/DeAngelo (Hajek replaced Staal and it hurt the Rangers & DeAngelo tonight. DeAngelo couldn't play his game without Staal around and Hajek wasn't very good in his first game back.)
THIRD D PAIR: Lindgren/Fox (Solid work as usual.)
In goal, as mentioned, was Lundqvist. CZAR IGOR, the 2-0 CZAR IGOR, the only Rangers undefeated goalie of the decade, was sent to the press box. That's someway to reward Igor, huh?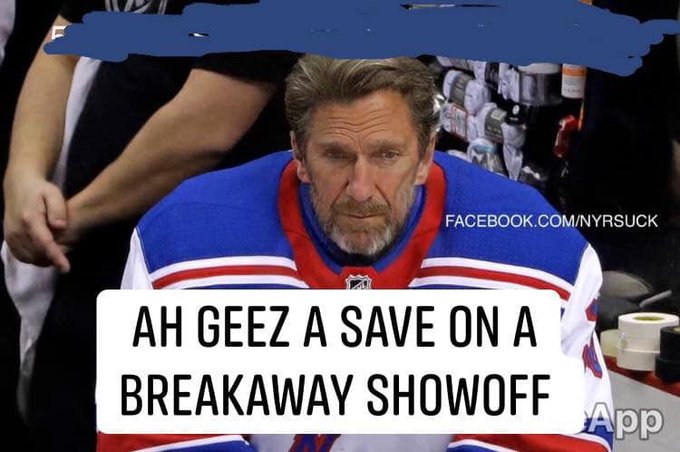 At this time, let's go to the GAMBLING segment of tonight's blog. Here's what I said before the game:
Season over-under record: 22-20-1

Lundswiss returns to the net for the first time in nearly two weeks. Blues are best in the west, but Rangers can easily hang 5+ on you.

Take the OVER, especially at 6 where you have a shot of pushing if you're wrong. pic.twitter.com/a5DjTyjHyf

— BlueCollarBlueShirts (@NYCTheMiC) January 11, 2020
At 5-2, this bet hit in the second period, improving my record to 23-20-1. This may have been the easiest over-under bet of the season, as you had the old and shot-to-shit Lundqvist in net, playing against one of the hottest teams in the NHL. Once Lundqvist blew the lead, the Rangers threw in the towel and the Blues never looked back.
And finally, as we hit word 3000 here, let's go to the official box score of this game, courtesy of ESPN.com:
SCORING SUMMARY: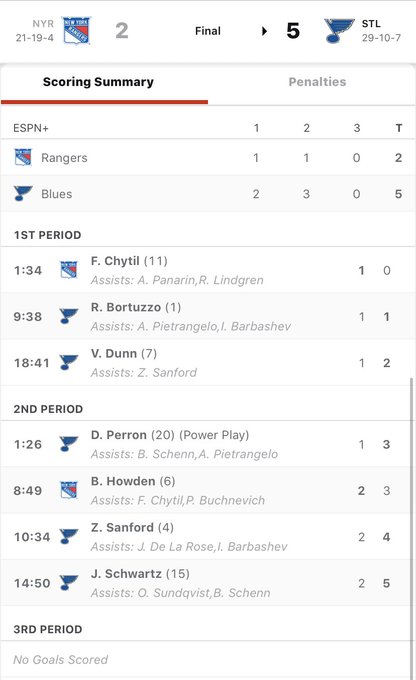 PENALTIES: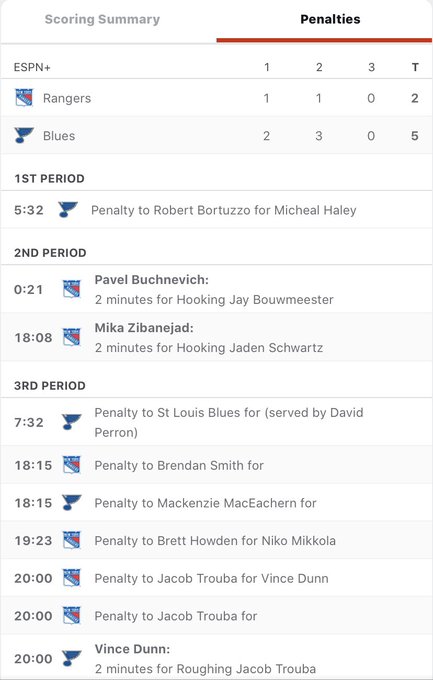 TEAM STATS: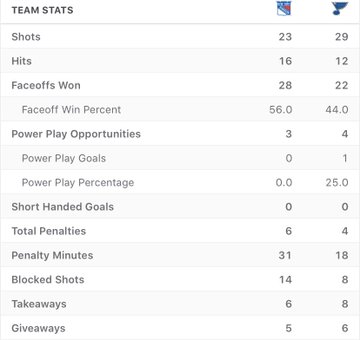 GOALIES:
| | | | | | | | | | | |
| --- | --- | --- | --- | --- | --- | --- | --- | --- | --- | --- |
| SA | GA | SV | SV% | ESSV | PPSV | SHSV | SOSA | SOS | TOI | PIM |
| 23 | 2 | 21 | .913 | 17 | 0 | 4 | 0 | 0 | 60:00 | 0 |
| | | | | | | | | | | |
| --- | --- | --- | --- | --- | --- | --- | --- | --- | --- | --- |
| SA | GA | SV | SV% | ESSV | PPSV | SHSV | SOSA | SOS | TOI | PIM |
| 29 | 5 | 24 | .828 | 20 | 2 | 2 | 0 | 0 | 60:00 | 0 |
Opening sentence of the M$G broadcast tonight: "If Lundqvist can win this game….." – Steve Valiquette.
Right after saying that, Vally then went on a huge monologue about how this would be Lundqvist's best game of the season, how Lundqvist was going to show everyone up and how Lundqvist was extra motivated. In turn, Lundqvist gave up five goals. Of course, when breaking down those five goals, Vally made every excuse he could find, including this one, "Lundqvist is trying so hard, that it backfired." I'm sure every goalie would love that excuse after every goal given up.
It gets worse. Valiquette then blamed the Blues for being too good and how this was a tough start for Lundqvist. Let's not forget that Lundqvist is one of the top paid goaltenders in the NHL and stunting this rebuild. Oh and let's share this stat, since Statiquette, for all his useless stats, didn't share the ones that mattered the most: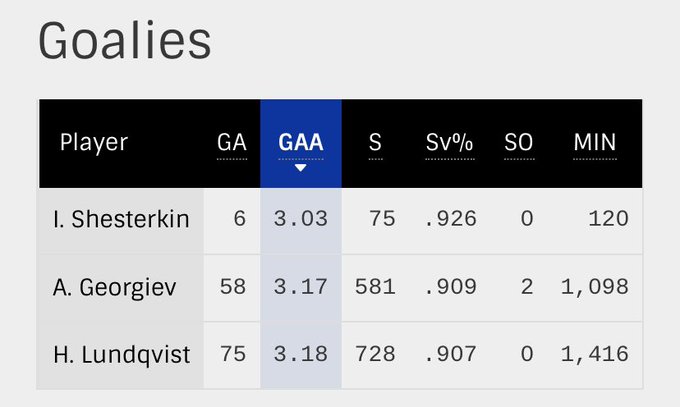 Again, for all this nonsense about Georgiev being traded, Georgiev and Shestyorkin, COMBINED, make $6.5M less than Lundqvist. They are 75% cheaper, TOGETHER, than Lundqvist. Yet, Larry Brooks and others, are spinning tales about Tony DeAngelo and how his great play will force the Rangers into cap hell. Yes, let's bury the guy that's actually out-performing his current contract and should be rewarded this summer, than talk about the guy whose contract has been an albatross for YEARS!
Let's just rewind real quick. Vally said that the Blues were too good and this start wasn't fair to Lundqvist. Can you tell me how Lundqvist, playing the Ducks from several weeks back, who were on the second half of a back-to-back and sporting an AHL roster, was fair? That would've been the perfect game to debut Igor in. Instead, CZAR IGOR debuted against a Cup contender in Colorado and BEAT THEM. Then, in a follow-up, Igor faced 49 shots against the red-hot Devils on Thursday (The Devils even beat the Capitals tonight) and held them to three goals, in a 46 save effort.
However, it is unfair to expect $8.5M Lundqvist to make a save. That is Vally's View. And even worse, he blocked two more fans today, for calling him out on this. What's that phrase Vally likes to use? Oh yeah – "SOFT AS CHARMIN".
I have had enough talking about Valiquette on this site, but he's been so Father Finkin' brutal this season. You can't ignore it. These broadcasts are like walking on glass to watch.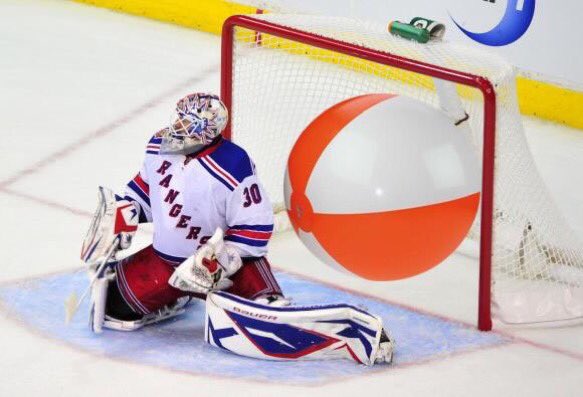 After a segment with Joe Micheletti & Sam Rosen at the Arch in St. Louis, we had puck drop. I thought this was a cool segment, even if it didn't land. It was creative to have these two guys doing the sight seeing stuff. However, they were doing this segment from a darkly lit room and didn't capture the views from the Arch. I liked the idea though.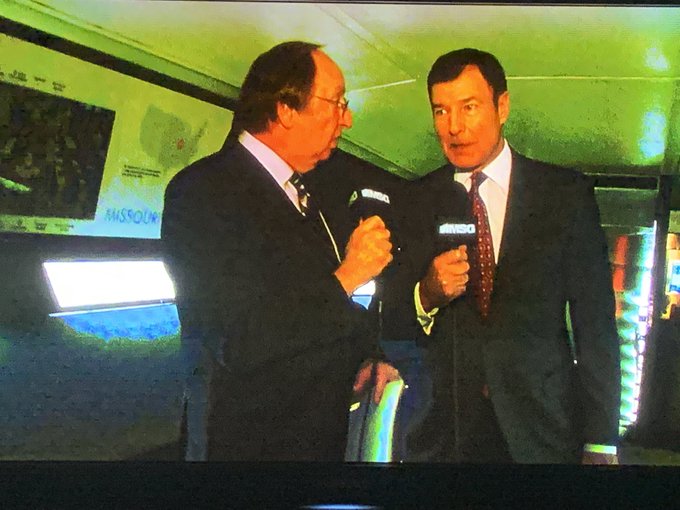 Twenty seconds into the first period, Mika Zibanejad made a move at Stanley Cup winning goaltender, Jordan Binnington. You know, a rookie goalie who made $8M less than Lundqvist last year, but did something Lundqvist hasn't been able to do in 15 years – win a Cup.
After Zibanejad's move, Kreider got the puck, shot wide and St. Louis marched down the ice. Lundqvist, seeing a sign of adversity, quickly dropped his stick. Luckily, this didn't cost him here.
This game wasn't all bad for the Rangers, as just around the 90 second mark, Filip Chytil beat Binnington, on what looked to be a simple shot in real-time:
Chytil with some HEATTT 🔥 🔥 🔥 @NYRangers pic.twitter.com/oqRSSQculD

— Rangers on MSG (@RangersMSGN) January 12, 2020
1-0, GOOD GUYS. On the goal, it was a hell of a snipe on Binnington, but I thought Binnington should've had this. Kudos to Chytil, who is arguably the second best sniper on the team, behind Panarin.
Four minutes after this, Robert Bortuzzo was boxed for four minutes, after drawing blood on a high-stick to the face of Haley. With a 1-0 lead, this is where the Rangers really could've revved things up here. Instead, the power-play turned into pure George Costanza shrinkage here, as the Rangers handled these four minutes of a man advantage, as if they were a bunch of frightened turtles.
Kaapo Kakko did not have a good game tonight. He made several turnovers, which were the result of him puck hogging. In the past, I have said I don't mind the puck hogging, since Kakko has talent, but he needs to know when and where to do it. That will come with time. It's a learning process. During a period of time on this PP, Kakko puck hogged and a Blues PKer easily tapped the puck past the blue line, clearing the puck.
The Blues PK made mincemeat of the first two minutes of the Rangers PP, as the Rangers couldn't get off a SOG.
After Buchnevich failed to score, during a terrible four minutes of this Rangers PP, Ivan Barbashev got the puck and pushed it towards a returning-to-the-ice Bortuzzo. With the Blues on a breakaway, you know what happened next:
Gotta be honest… that four-minute double minor by Robert Bortuzzo worked out pretty good for us in the end. #stlblues pic.twitter.com/NRzzX6Ux62

— St. Louis Blues (@StLouisBlues) January 12, 2020
1-1, at the half-way mark of the period.
Can Lundqvist stop anything?
And what's becoming the new norm, anytime Lundqvist has to face a tough shot, he starts falling on his back or does the stop, drop and roll fire drill from elementary school. He's humping the ice like a mad man. He's rolling around like a dog with an itch.
No joke, after this goal, I was inundated with social media taggings, with Lundqvist on his back and on his side, like this one: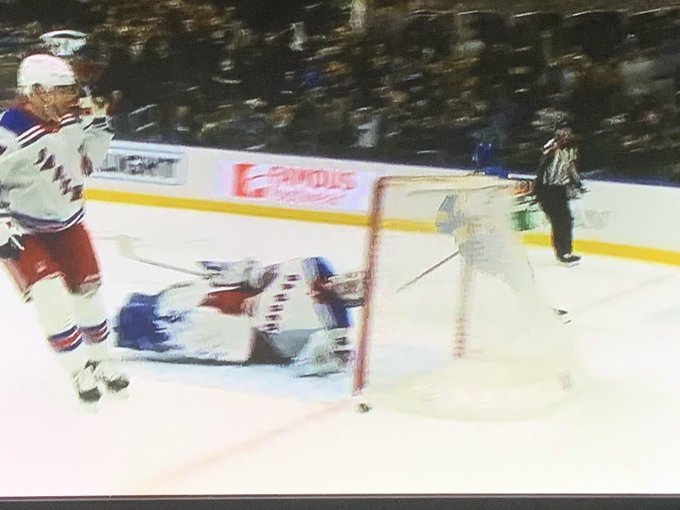 Can the man ever stay upright? This laying on your back, like a Hunts Point hooker, goalie stance just doesn't work.
I can't stand this guy on my team anymore. He has to go!
In a period where Joe Micheletti said the word "fabulous" about 867867967896896 times, Adam Fox would be denied a wraparound goal, on a "fabulous" attempt. What a "fabulous" save by Binnington, who remained upright.
Later on in the period, Lundqvist was doing his fish-out-of-water act. Fortunately, Zibanejad grabbed the puck and cleared it.
The Rangers defense was playing well this period. As Micheletti said, as he echoed my thoughts on Twitter at the time, the Rangers limited the Blues to only 8 shots on goal in the period. Unfortunately, despite playing some shutdown defense, we had the two minute warning Lundqvist special, as Vince Dunn beat Lundqvist with 1:20 remaining in the period:
Good way to finish the first period. #stlblues pic.twitter.com/VF6kKytwL2

— St. Louis Blues (@StLouisBlues) January 12, 2020
2-1, bad guys.
Of note, if you watch the above video, look at Lundqvist. He was looking into his own net, something he did all game, even during the rare times he made a save. He just didn't have it tonight, which seems to be the case more times than not, hence him being the worst on the team in GAA, save percentage and winning percentage.
And you can't blame the defense here, because Lundqvist always preaches that he wants a clean look at shots, rather than someone screening him or deflecting the puck by him. Lundqvist was just too slow as usual. Glove high or five hole always works.
At the end of two periods, the score remained 2-1.
I'll say this – the failed four minute power-play betrayed the Rangers. In a perfect world, they get two PPG's, thus making the score 3-0. Instead, the Blues get a jack-in-the-box goal, tie the game and they never looked back.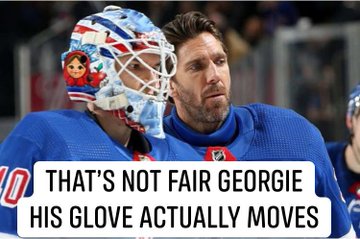 21 seconds into the second period, Pavel Buchnevich was called for hooking. This was another Stinknevich game.
A minute into the Blues PP, newly minted all-star, in David Perron, beat Lundqvist. 3-1, bad guys.
On the goal, it's a PPG. I rarely bury goalies for PPG's. I will say, Lundqvist just looked disinterested and beat on this one, as he shrugged his shoulder in his save attempt.
Speaking of the All-Star Game, while Perron won the "LAST MAN IN" vote in the Central division, TJ Oshie won the vote in the Metro division. That means no All-Star Game for Mika Zibanejad, barring injury. To me, I think Mika has been better than TJ this season, but it's an internet vote and the Caps fans were more diligent in voting than Ranger fans. That's all it comes down to.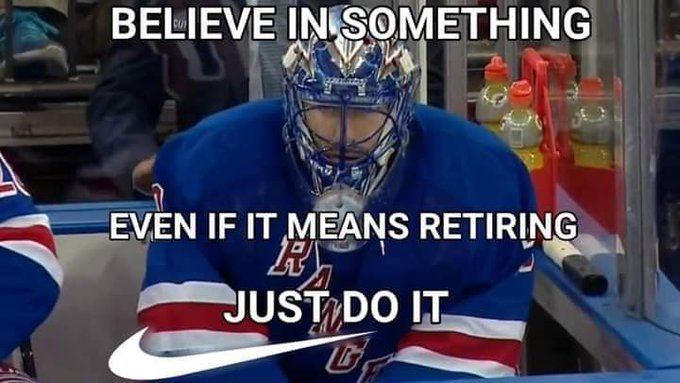 For most of the remainder of the second period, and really the game, the Blues would dominate the puck. While they wouldn't always get a SOG, they just milked the clock with the puck. Eventually, the Rangers would get the puck back, the St. Louis defense would swarm the Rangers, the Blues would get the puck again and rinse, wash, repeat.
Down two goals, Buchnevich had a good look at the net after the Perron goal. Instead of shooting, he turned the puck over, with one of his patented cross-ice, through traffic, passes to nowhere.
With 11:11 remaining in the second period, the Rangers got their first SOG of the period. This wound up being a goal!
Filip Chytil, as mentioned, the best Ranger on the ice tonight, got the puck behind Binnington. Chytil fired a hard pass to a camped-out-in-front-of-Binnington Brett Howden and the puck bounced off Howden's stick and past Binnington. 3-2, bad guys. Howden tried to make a play on the puck, but Chytil fired the puck so hard and fast, that by the time Howden could react, the puck already beat Binnington. What a great pass.
Of course, less than two minutes later, Lundqvist gave it right back, as Zach Sanford beat Lundqvist as the result of a two-on-one play. 4-2 bad guys.
Few things on the Sanford goal. Tony DeAngelo was the only man back and the man that was beat on this two-on-one. This is where the Rangers really missed Marc Staal.  Another thing, was that all game, outside of Perron, Sam Rosen was ringing off stats, such as "this guy hasn't scored since 67 B.C. and this guy hasn't scored since the Ides of March." Leave it to the Rangers, to get the unheralded Blues off the schneid.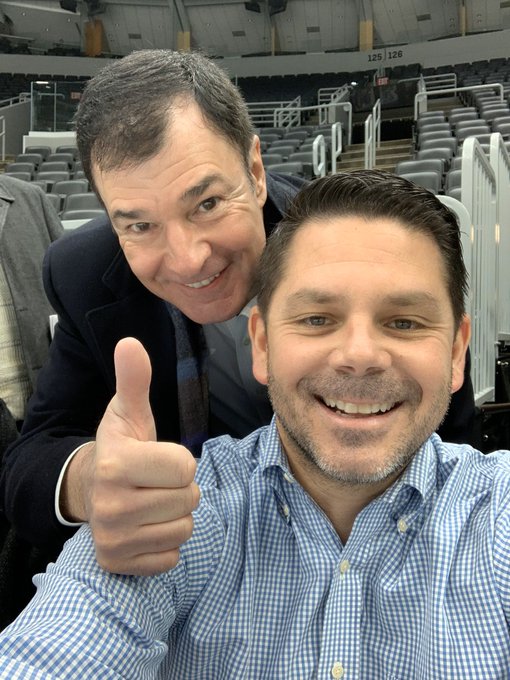 As this woeful game progressed, Tony DeAngelo would hit the post. After this, Binnington made a save on a Zibanejad one-timer.
At the 14:50 mark, Jaden Schwartz would score the final goal of the game:
We're running out of clever captions for all these goals. #stlblues pic.twitter.com/4lZ3ynqH1d

— St. Louis Blues (@StLouisBlues) January 12, 2020
5-2, bad guys.
On this goal, you see Schwartz coming at you, but you get beat anyway. It's a great set-up, but how many excuses can you make here? As I've said in the past, I rather Igor and Georgiev take their lumps and garner experience, rather than watching Lundqvist look down and out & defeated.
Of note, this is when I saw fans on social media saying to pull Hank. I will say, while David Quinn does talk out of both sides of his mouth (remember how he wanted to "ride the hot goalie"?) he has said in the past, he hates doing goalie changes in-period. Most of his goalie changes take place after intermissions. And as talked about above, Hank might not be playing for a while after this. And maybe, perhaps, David Quinn didn't want to embarrass Lundqvist either.
Here were my thoughts at the time:
You had to be deaf, blind, slow and a vegetable if you didn't know hank was going to kill this winning streak #nyr #PlayLikeANewYorker

— BlueCollarBlueShirts (@NYCTheMiC) January 12, 2020
With 1:52 remaining in the period, Zibanejad was boxed for hooking. Fortunately, the Blues didn't get their touchdown during this power-play. 5-2 after two periods.
The third period was an absolute bore. Here's a one word recap of the third period – "ZZZZZZZZZZZZZZZZZZZZZZZZZZ."
In this period, the Rangers didn't muster up anything until late and the Blues looked disinterested in running the score up.
As I refer back to my Twitter page for notes of this third period, here's what I said at the time:
This is just a wasted 60 minutes of the season for @nyrangers

Even if Igor or Georgiev started and this game goes like this, they at least get time and experience. Playing Hank here does nothing for the future and confirms what we've known forever. #nyr #PlayLikeANewYorker

— BlueCollarBlueShirts (@NYCTheMiC) January 12, 2020
The third period didn't have much of anything to talk about, outside of DQ keeping Lundqvist in net. I don't know, maybe if Quinn put Georgiev in here, it would've changed things up a bit.
At the 7:32 mark of the period, the Blues took a too-many-men-on-the-ice penalty. Ironic. The Rangers didn't do anything with this man advantage.
This period just dragged to the final stages. With under two minutes to go, Mackenzie MacEachern and Brendan Smith got off-setting misconducts, after the lone Rangers chance of the period.
With 36 seconds left in the game, Howden was boxed for a high stick. During the Blues PP, they didn't want to score.
As the final horn went off, Trouba, who was chopping and whacking away at Dunn, got into a brawl with Dunn. However, too little too late for these kind of shenanigans. Both Dunn and Trouba took penalties here, but the game was over. 5-2, the Blues, your final from St. Louis.
What a waste of a night. Until this franchise realizes they need to move on from Lundqvist, they are a hamster on a wheel. And I'm aware of the Lundqvist NMC, for you new readers. You can buy him out, ask him to waive or really, since the team is okay cap-wise this season, just put him in the press box and don't play him. Send the message.
When wrapping up this game, I'll say what I said before the game. I knew the Rangers would lose with Lundqvist. And furthermore, it's just another example of the Rangers being a "one step forward, two steps back" team. Anytime they get any momentum, they dagger you.
Moving ahead, it will be interesting to see if DQ has the balls to make Lundqvist a healthy scratch, as the Rangers have done with Georgiev and now Igor.
There are now four games between now and the All-Star break. The Rangers will host the Islanders on Monday and then go to the Nassau Coliseum on Thursday.
In the following week, the Rangers will then host Columbus and the Islanders again (as the Rangers play the Isles three times in four games, which seems stupid to me) and then will have the All-Star break.
Lundqvist has horrid numbers against the Islanders, especially on the road.
If this is a true three goalie system, by the process of elimination and who has been sitting the longest, I see Quinn going with Georgiev on Monday. However, that might not be the case.
Georgiev has played the Isles well on the road during his career, even shutting them out. It might be wise to let Igor go Monday, at home. Then, let Georgiev take the start at the Coliseum. From there, it's a day-to-day thing.
The Rangers, fans and other people in the media can ignore it, but let's face facts – Lundqvist doesn't belong here anymore. His presence is actively hurting this roster, the team's cap and this rebuild. It's time for JD to pull up a seat and tell Hank it's the press box or to waive the NMC.
Rangers vs Islanders, the first meeting of the season between these two teams, takes place this Monday at M$G. As mentioned last blog, my buddy Ten O'Clock Tommy snagged a ducat for me for the Rangers vs Islanders game at the Coliseum on Thursday. If you're looking to tailgate and shoot the shit, that would be the game to do it at.
I'll be back Monday night, as I hope to have these flu-like symptoms beat by then. As I was doing this blog, I had to take three different wet Lundqvist's. I'm hoping it's all out of my system!
As always, thanks for reading and…
"LET'S GO RANGERS!"
Sean McCaffrey
BULLSMC@aol.com
@NYCTHEMIC on Twitter