Greetings and salutations everyone and welcome to another blog here on BlueCollarBlueShirts.com. It's been a hell of a day for me.
As mentioned in my blog from Saturday night, I either have the flu or a bad cold. What started off as coughing, wheezing and sneezing, has now grown into headaches and an explosive case of the Lundqvist's. I had more five-hole action when watching this game tonight, than Lundqvist trying to stop a breakaway. My stomach feels like I ate a White Castle crave case, after polishing down a 30 pack of Natty Light.
My sad case of Japanese Flag Ass aside, (Picture that. Actually, don't!) there was no way I was not going to do a blog tonight, after the Rangers 6-2 thumping of the New York Islanders. For the Rangers, while two points against the Islanders are the same two points you get after beating any team in the league, obviously, against the Islanders, those two points feel much better.
For the Rangers and head coach David Quinn, who keeps using the word "playoffs" in all of his media briefings, this was a "four-point" game for the Rangers. If the Rangers can make a three-game sweep of the Islanders, as they play the Islanders three times in less than two weeks, then who knows, maybe there is a glimmer of a chance of this team making the playoffs. While I've said I don't see the Rangers making the playoffs, I'm hoping I'm wrong on that. I'm rooting for the playoffs every step of the way. Set-up that Rangerstown tent in April!
Tonight's victory over the Islanders was a crazy game. Before jumping into everything, as usual, here are my last few blogs in case you missed them: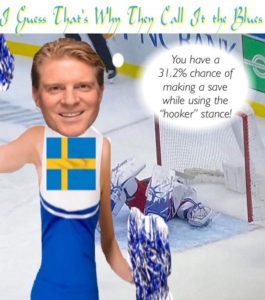 ---
---
---
---
---
---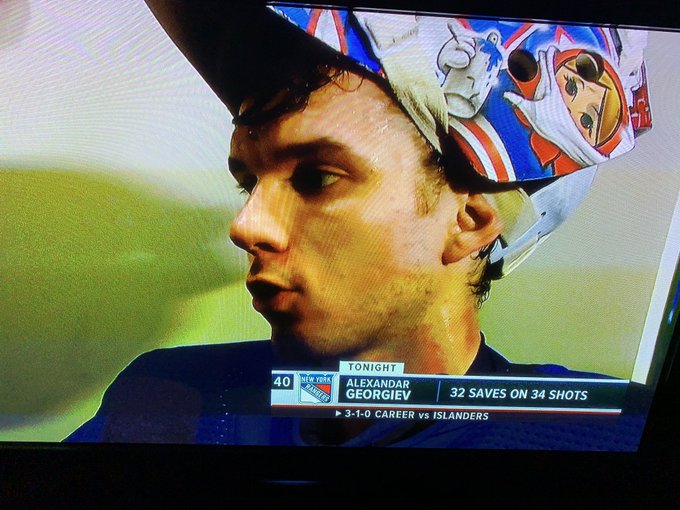 After the last few blogs, I'm happy to report that there aren't any silly or political news items to report on. There were no Tony DeAngelo tweets to talk about before this game. The crazy liberal fans who hate DeAngelo, while still posting their anti-DeAngelo rhetoric, didn't get a response from DeAngelo since the loss to St. Louis.
While there aren't any Tony DeAngelo tweets or TDA vs idiotic fans stuff to report on, Tony DeAngelo did make the news on Monday, as he was named one of the NHL three stars of the week: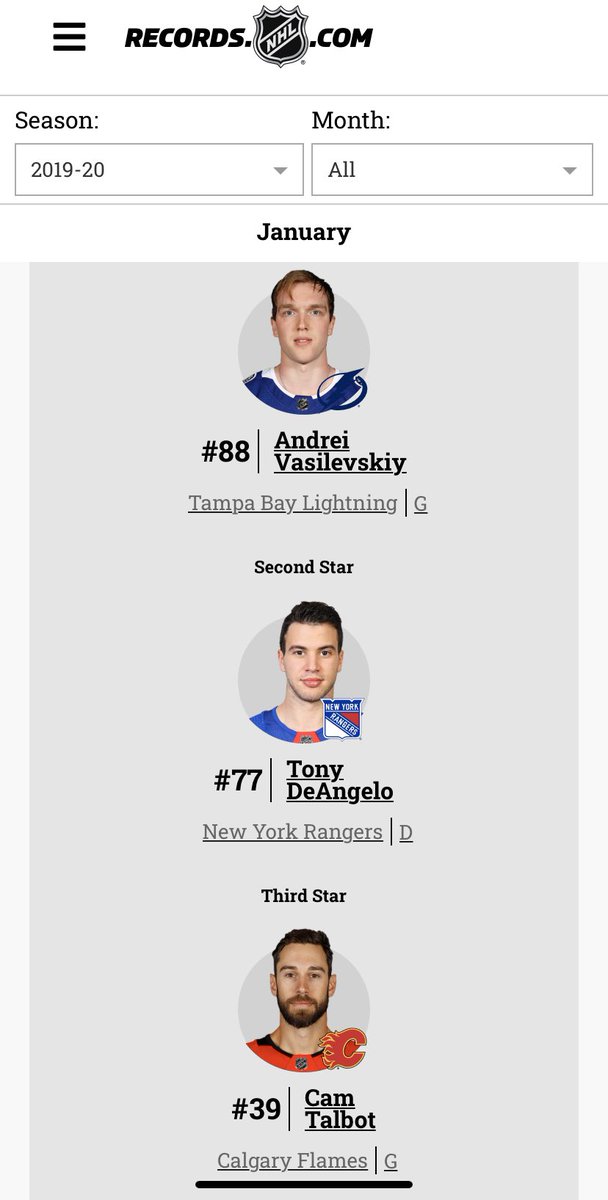 After a hell of a week, Tony DeAngelo was named the second star of the week by the NHL. And hey, look who got the third star? Why old friend "THE GOALBUSTER" himself, in a one Cam Talbot! I guess Lundqvist's $8.5M salary and 5.00 GAA didn't cut the mustard for a nomination this week! Congratulations to both Tony DeAngelo and Cam Talbot.
And oh – I guess I should mention the first star of the week was Andrei Vasilevskiy, you know, a former cheap back-up goalie that forced the Tampa Bay Lightning to trade their expensive number 1 goaltender in Ben Bishop. Funny how that stuff works out. It doesn't look like Tampa misses Bishop at all. Hmmm, I wonder what would happen if the Rangers ever moved on from Lundqvist? Have I ever brought that topic up on these blogs before?
Moving along!
Prior to tonight's game, the Rangers announced this: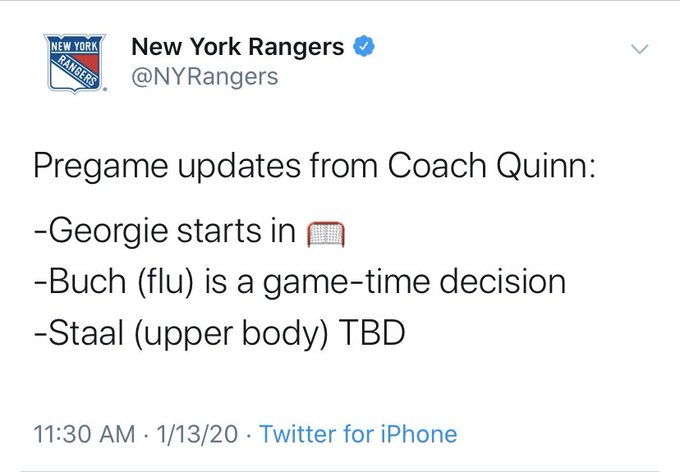 I predicted at the end of my last blog, that I thought Georgiev would start tonight. I didn't use any voodoo magic or a chart to make this prediction, I just felt it was Georgiev's turn in the rotation. When asked about Georgiev starting prior to the game, Quinn said that was starting Georgiev because it was his turn and because Georgiev had good numbers against the Islanders in the past. In turn, Georgiev rewarded Quinn with a great performance. (We'll get into the first goal allowed as we move on.)
As far as Buchnevich and Staal go, both of these players played tonight. Buchnevich wasn't much of a factor, but when is he? I will say, very often, we see Buchnevich get chances, but fail to score. In tonight's game, he barely shot the puck, so maybe his illness harmed him tonight. I know that I feel like I have the flu too, and I couldn't imagine playing hockey with this ailment. For Buchnevich, one hit could've led to a big brown disaster.
Staal, in my opinion, was solid as usual. Whatever was effecting him wasn't noticeable in tonight's game.
Furthermore, after the loss to St. Louis on Saturday night, the Rangers made a roster move.
The following comes from NYRangers.com:
The New York Rangers announced today that the team has recalled forward Phillip Di Giuseppe from the Hartford Wolf Pack of the American Hockey League (AHL). In addition, the Rangers have assigned Steven Fogarty to Hartford.

Di Giuseppe, 26, has skated in 39 games with the Wolf Pack this season, registering 11 goals and 11 assists for 22 points, along with a plus-nine rating and 39 penalty minutes. His 11 goals this season are tied for the second-most he has registered in one season in his AHL career. Di Giuseppe ranks second in the AHL – and leads the Wolf Pack – in shots on goal this season (134). In addition, he ranks second on Hartford in goals, and is tied for fourth on the team in points and plus/minus rating in 2019-20.
The 6-0, 193-pounder has skated in 150 career NHL games over parts of four seasons (2015-16 – 2018-19) with Carolina and Nashville, registering 14 goals and 27 assists for 41 points, along with 58 penalty minutes. Di Giuseppe skated in 24 games last season with the Hurricanes and Predators. He established NHL career-highs in goals (seven), assists (10), and points (17) with Carolina during the 2015-16 season.

The Toronto, Ontario native was signed by the Rangers as a free agent on July 18, 2019. Di Giuseppe was originally selected by Carolina in the second round, 38th overall, of the 2012 NHL Entry Draft.

Fogarty skated in six games with the Rangers after he was recalled from Hartford on Dec. 28. In 32 AHL games with the Wolf Pack this season, he has registered nine goals and 14 assists for 23 points, along with a plus-five rating and 14 penalty minutes.

---
When it comes to the Rangers sending Fogarty back down to the Wolfpack, it's just another question of "why?" What did we really see from Fogarty? He barely averaged five minutes a game and didn't have the best linemates when doing so. I guess it's about maximizing your minutes. I doubt anyone will miss Fogarty, but is switching him out for Di Giuseppe that much of a difference?
Making things even more questionable, was the fact that Di Giuseppe didn't even play in tonight's game. Micheal Haley was used instead, which I kind of thought would happen. After all, the Rangers and Islanders play physical games and I thought DQ would lean to Haley's fists, than whatever Di Giuseppe could bring.
This is Di Giusppe's second recall with the Rangers. In his first recall, in a game against the Flyers, Di Giuseppe was in the press box and didn't play. After that game, right before the X-Mas break, the Rangers sent him back to Hartford. With another game against the Islanders coming up, I doubt Di Giuseppe will play in that game either, unless someone is hurt and/or sick.
All of this makes me wonder – will we ever see Vinni Lettieri? Perhaps his best chance of seeing NHL ice this season, is if the Rangers are out of the playoff mix and the Rangers decide to reward guys with ice time. Then again, who knows if the Rangers would disturb Hartford's Calder Cup run? Then again, the Rangers do currently have CZAR IGOR SHESTYORKIN in the press box, rather than playing hockey right now.
GAMBLING SEGMENT time. This is what I said before the game:
Season over-under record: 23-20-1

Another tough one to predict. NYI don't score much. Rangers can explode for 5+ in any given game & usually rebound well after bad losses.

Will AG40 be cold or pissed off good?

I see a 4-2 Rangers win. Take the UNDER. #nyr #playlikeanewyorker pic.twitter.com/xBqB2LOFyZ

— BlueCollarBlueShirts (@NYCTheMiC) January 13, 2020
I've said it before on these blogs. I have no problem with losing these over-under predictions when the Rangers win a game like this! With eight total goals in this game, my under bet loses, dropping my record to 23-21-1 on the season. I will say, I got everything else right though! The Islanders didn't score much. The Rangers did explode for 5+ goals. The Rangers did rebound after a bad loss. And most importantly, the Rangers did win!
Let's talk a bit about the M$G Network broadcast, before getting into the game itself:
Here are two graphics @RangersMSGN @vallysview won't share on the Rangers broadcast: #nyr #PlayLikeANewYorker pic.twitter.com/rB1IbRRF5N

— BlueCollarBlueShirts (@NYCTheMiC) January 13, 2020
I don't want to waste too much time on this, because I know it sounds redundant, but Vally was completely horrible again. His new go-to thing now, is that during every broadcast, he brings up his below mediocre career. No one cares. Vally even said on-air, how Islanders goalie Semyon Varlymov was once his back-up in Russia. Vally then said, how he didn't think Varlymov would make it to the NHL. Color me shocked! Steve Statiquette, king of the chart humpers, couldn't see talent right in front of him! Then again, this is the same guy who thinks that Lundqvist is an All-Star this season.
No joke – Sam Rosen and Joe Micheletti provided more insight and value about this game, in their five minutes before the game, than Valiquette and the merry band of M$G nitwits did, in their 30 minute pregame show. I don't want to keep doing the rah-rah stuff on Micheletti, but to pull a page out of his book, Micheletti has been "FABULOUS" this season, for the M$G Networks.
Oh, and not once on the M$G Networks pregame show, was Derick Brassard being on the Islanders brought up. Instead, Vally and the others talked about Ryan Strome once being on the Islanders and how Strome scored goals against the Rangers, while as an Islander. Of course, Strome played in Rangers vs Islanders games last year as a Ranger. This was Brassard's first game against the Rangers as an Islander. I thought that tid-bit would've been worth mentioning on the broadcast.
And finally, before getting into the game review itself, here was the Rangers line-up for this game: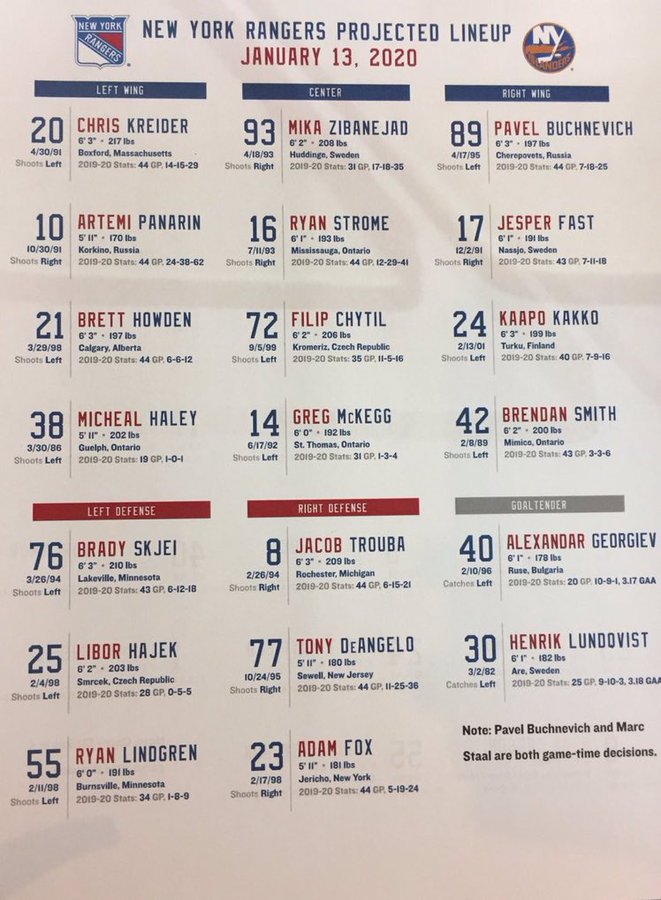 Real quick on the lines – this was a TEAM WIDE victory tonight. While obviously Panarin's line shines the brightest, I thought the top three lines all played well in this game. The fourth line didn't exist tonight, as you'll see as I get into the review of the game.
Defensively, the above graphic shows Hajek as playing. He was scratched, as Marc Staal, celebrating his 33rd birthday, was back. Doesn't Staal seem much older than 33? He's like 67 in hockey years. With Staal back, I thought DeAngelo had a better game than the one he had in St. Louis, as he was able to comfortably play his game. And in case you haven't done the "one + one = two" math, your two skater scratches were Hajek and Di Guiseppe.
Of course, Henrik Lundqvist didn't go to the press box, where he belongs, for this game. Instead, CZAR IGOR was scratched for the second game in a row. I'll get more into the goaltenders at the end of this blog, but I'll say it for the 78967856565th time on this blog – Henrik Lundqvist serves no purpose on this roster. It serves no purpose to have CZAR IGOR in the press box. What does he learn from watching the writers tweet and eat peanuts? If he isn't playing, he should be on the bench, watching up close and learning first-hand. Sitting upstairs does nothing for his progress.
And to be clear – I predicted and WANTED Georgiev to start this game. It's not fair he's the third-man out here. He deserved this start and it was his time up. Again, more on the goalies at the end of this.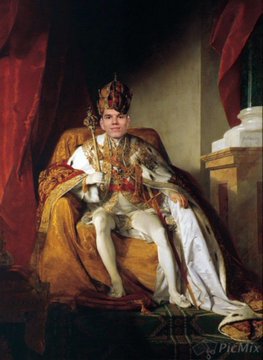 At this time, I present to you, the official box score of this game, courtesy of ESPN.com:
SCORING SUMMARY: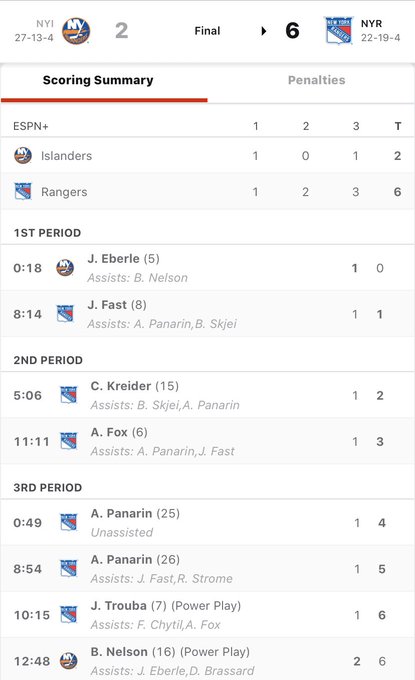 PENALTIES (and there are a lot of them):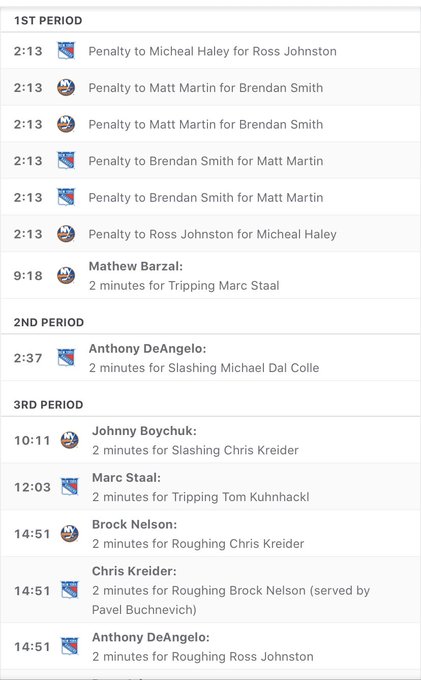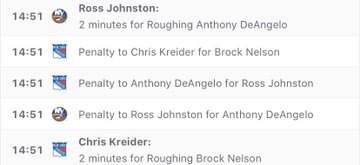 TEAM STATS (Look at Blocked Shots, as both teams were great tonight in this department):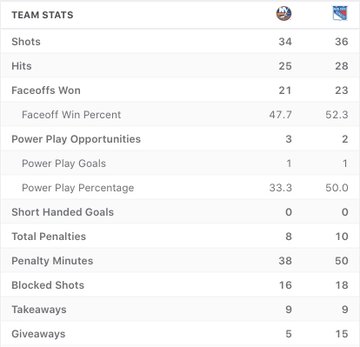 GOALIES (Of note, for the second home game in a row, the Rangers ran off an opposing goaltender):
| | | | | | | | | | | |
| --- | --- | --- | --- | --- | --- | --- | --- | --- | --- | --- |
| SA | GA | SV | SV% | ESSV | PPSV | SHSV | SOSA | SOS | TOI | PIM |
| 35 | 6 | 29 | .829 | 26 | 0 | 3 | 0 | 0 | 49:52 | 0 |
| 1 | 0 | 1 | 1.000 | 1 | 0 | 0 | 0 | 0 | 9:45 | 0 |
| | | | | | | | | | | |
| --- | --- | --- | --- | --- | --- | --- | --- | --- | --- | --- |
| SA | GA | SV | SV% | ESSV | PPSV | SHSV | SOSA | SOS | TOI | PIM |
| 34 | 2 | 32 | .941 | 29 | 0 | 3 | 0 | 0 | 59:41 | 0 |
Real quick, before jumping into this game, I want to say this one more time on this blog.
Artemi Panarin will break every single Russian single-season scoring record for the Rangers, which are currently held by either Zubov or Nemichinov. With the way this season is going, he may even break all the single-season scoring records, which are currently held by Jagr or Leetch.
What is most amazing, is that Panarin, the same Panarin where if he doesn't get a point, the Rangers have a 1-21 record this season, is not playing with an upper-echelon roster. He's not beasting with linemates, like a Stamkos or Kucherov. While nothing against Strome or Fast, or any of Panarin's teammates, Panarin doesn't have a true #2 punch on his line. Outside of Panarin, the only true solo offensive threat on this team is Zibanejad (with Chytil making a nice case for himself too.) When teams play the Rangers, Panarin gets all their focus.
In other words, Panarin is not only playing on a border-line/outside-looking-in playoff team, but in many games, the other team is on him like white on rice. Despite all that, Panarin has the chance to break every single-season scoring record in 93+ years of Ranger history. He also should be a Hart Trophy candidate.
As mentioned in past blogs, the Hart Trophy usually goes to a player on a playoff team. However, at this rate, Panarin should at least be one of the nominees. (As it stands right now, McDavid probably gets the Hart. Ironically, he was robbed in the year that Taylor Hall won it, and Hall only won it because the Devils made the playoffs, while the Oilers did not. I have discussed this in-depth already on past blogs. Check the archives.)
What Panarin is doing this season is unheard of for Ranger fans. What impresses me the most, as someone who knows their history and watches every game, is that he makes scoring seem so simple. I have talked about this during a few blogs this season. In the game where TDA had five points, I had to put it in bold print that Panarin had a three point game, yet no one was talking about it. Half-way into this season, we're already immune and expect Panarin to pick up three points in every game!
When I look at Panarin, when compared to the Rangers of the past, what he is doing is really unprecedented.
Listen, I understand the eras are different. I understand the gear, the amount of games played, the rules of the game, blah blah blah were all different. That said, look at the great scorers of this franchise. They all had a 1-2 punch.
Frank Boucher had the Cooks and vice-versa. Bryan Hextall had Phil Watson and vice-versa. The GAG line all had each other. Messier, Graves and Leetch all had each other. Jagr had Nylander and Shanahan. Who does Panarin have? He has Ryan Strome as his center and Tony DeAngelo on defense.  NO ONE, has been a bigger fan, advocate or proponent of Strome & DeAngelo this season than me. I'm all for Strome and DeAngelo. However, are Strome & DeAngelo future Hall of Famers? I mean, I hope so, because that would be great for the Rangers, but as of right now, they are not. They are having great seasons, but even so, what Panarin is doing is unprecedented.
If Panarin can keep this up and go on to even come close, or even break the team single-season scoring records, you can 100% argue that Artemi Panarin is having the best regular season, out of any New York Ranger, in the 93+ years of the existence of this franchise. I will say this too – Panarin will ultimately be remembered by what he does in the playoffs for the Rangers, and I can't wait to see those days. I don't see Rick Nash 2.0 for Panarin.
For as much raving as I'm doing about Georgiev right now, things didn't start off so hot for him and the Rangers. The curse of the early goals allowed continued for the Rangers in this game, as just 18 seconds in, Jordan Eberle made this a 1-0 game:
Jordan Eberle in his 700th game scores 18 seconds in. Wow. #Isles pic.twitter.com/tst9RLQJ5M

— Rob Taub (@RTaub_) January 14, 2020
1-0, bad guys.
On this goal, once again, the Rangers lose the opening faceoff, things go haywire defensively and boom, it's a goal the other way.
I'll say this, I thought Georgiev could've been better here, and that's me saying it, the leader of the Georgiev fan club.
While yes, Eberle gets all alone with Georgiev, Eberle outsmarts Georgiev and gets the easy goal. Then again, who knows, if Georgiev stays in net, maybe Eberle hits a cross-ice pass the other way or just beats Georgiev top shelf. While I don't think you can blame Georgiev for this goal 100%, I do think he could've made this a harder attempt. That's all.
Of course, after this early goal, my social media accounts were going nuts with tags and mentions. This is where my buddy Al "SMD, I can't wait to go to a Ted autograph signing" Demauro, was trolling me.
(I have to say this too – this was well deserved trolling and quality ball-breaking, by Al, if I say so myself. Unlike others, he gives it and takes it and doesn't run away when things go the other way. And really, that's all I ask. If you're going to blow up my social media accounts when one of the players I like has a bad moment, be there when a player I like plays great. To Al's credit, he's there to break balls and to take it too. That's quality.)
Optically, this early goal allowed looked horrible for Georgiev, especially with all the pressure on him. He knows the deal. I know the deal. You know the deal. Everyone has him off this roster, so the Rangers can continue to fail with Lundqvist. People with a brain know this is a stupid move, because you don't give up a potential number 1 goalie or someone who can do a timeshare with CZAR IGOR for the next decade, for one more year of Lundqvist.
As mentioned on past blogs, every Georgiev start is magnified. Whatever he does is blown up. If he plays well, you will have people saying this was a great trade audition. You will also have people like me, who says "SEE, this is why you have to keep him here." We all know the contract stuff, as I've talked about that 78678686 times on this blog. If he plays bad, people will say "this is why the Rangers need to move him when he's at peak value." Georgiev also has to deal with high priced Lundqvist and the newly anointed next franchise goalie of the Rangers, in Igor. Whatever Georgiev does, it doesn't feel like he can win, except to win games on the ice.
Speaking of winning games, did you know that Georgiev and Shestyorkin are the only goalies to win a game for the Rangers this decade? Isn't that amazing Suzyn?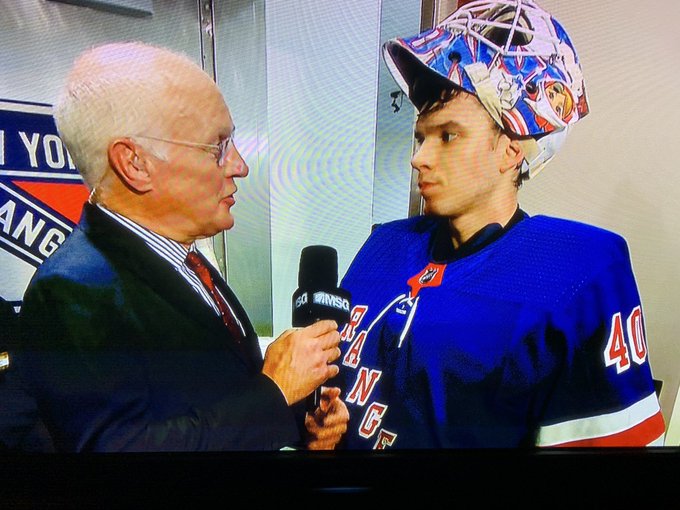 After this goal allowed, the Rangers would score the next six goals of the game. In fact, Georgiev would blank the Islanders the rest of the way, sans one late meaningless power-play goal, late into the third period.
After Filip Chytil got the first Rangers shot on goal, we had two fights, two fights where the Rangers were beat by the Islanders. Ross Johnston defeated Micheal Haley badly, while Brendan Smith was edged out by Monkey Face Matt Martin:
Johnston vs Haley. Fantastic bout. #Isles #NYR pic.twitter.com/IkjpTxishd

— Rob Taub (@RTaub_) January 14, 2020
Martin and Smith just seconds later. Old Time Hockey! pic.twitter.com/haXJZ0knWU

— Rob Taub (@RTaub_) January 14, 2020
A big thanks to Rob Taub, as I'm stealing all his gifs tonight. It's nice to see someone post clips from both teams. When I usually grab videos from the team's Twitter accounts, they never show what the opponent did. @RTAUB gave me some one stop gif shopping tonight!
While the Rangers go 0-2 on the fight card here, these fights may have swung the game.
Johnston is a goon. We all know that. He's a player you love if he's on your team and a player you hate if he's not. He was a big dickhead last year with the Rangers, with his sole purpose being to start fights. However, he took Haley off the ice for five minutes, so no loss there.
In the second fight, Matt Martin and Brendan Smith went at it. However, they went at it before the puck was dropped after the first fight. According to the NHL rule-book, that's a game misconduct. I wasn't aware of that rule, and while I think it's fugazi, it is in the rule book. The refs made the right call.
Since Martin & Smith couldn't wait for the puck to drop before fighting, the two were kicked out of the game. This was perhaps beneficial to the Rangers, as they gave up their fourth forward for Martin, who has been a Ranger killer in the past. Furthermore, while this game was still physical, the Islanders lost a physical presence with Martin out for the game. And let's face it – Smith's biggest asset to the Rangers, besides driving Ms. Kakko around, is his work on the penalty kill. If the Rangers could stay out of the box, this player-for-player swap off the ice, would work out for them.
Now listen, while the Rangers did go on to kick the crap out of the Islanders here, I'm not saying Matt Martin being out of the game was the reason. I'm just saying it helped. Martin likes to goon and thug it up in these games, and without him there, I just think it made things easier for the Rangers.
4000 words in, and we aren't even three minutes into the first period yet! That said, these blogs are always much easier and more fun to write, after games like these!
After these two fights, we saw a shot of Quinn looking bewildered on the bench. I think he didn't understand why Smith and Martin got a misconduct.
Then, after face-off, the Islanders would get a two-on-one break, which DeAngelo broke up. I thought DeAngelo, all game, was more focused on his defense than his offense tonight. That tells me he knows when and where to pick his spots. Plus, in a game like this, against a playoff team and fierce rival, you want to be better defensively.
Islander goalie Seymon Varlymov (Varly for the rest of this blog, as it's easier to type) played really well for a bit here. He was making stops on everyone, freezing a shot from Skjei at the five minute mark. And I'll say this, since I bury him so much on these blogs, I thought Skjei had a good game tonight. I still would trade him tomorrow, but I thought he was good tonight.
Also having a good game for the Rangers tonight was Chris Kreider, who led the team with 7 shots on goal. He drove to the net all game and kept firing away. That's what you want to see. As opposed to many of his games of the last three years, you noticed him on the ice during every shift tonight. Great job.
As this game progressed, I said the following in the first period. Don't believe me, check the time-stamp!
Varly doesn't seem to have much rebound control, fire away and get in front #nyr #PlayLikeANewYorker

— BlueCollarBlueShirts (@NYCTheMiC) January 14, 2020
How prophetic.
Right after tweeting this, Panarin fed Skjei. Skjei went wide. The Rangers retained the puck and then this happened:
Jesper Fast ties the game with his 8th of the year #NYR pic.twitter.com/2RMMyQ1b0x

— Rob Taub (@RTaub_) January 14, 2020
Tie game.
Panarin takes a shot here, and there is a diving Jesper Fast, collecting the rebound and scoring a goal. 1-1.
From this point on, this game was all Rangers. I also have to mention here, that even if Fast didn't score here, he had a tremendous game. He was constantly involved in the offense, moved the puck well and was strong defensively. As you'll see below, he simply dominated on one Ranger PK in this game.
With 10:42 remaining in the first, Mat Barzal tripped Marc Staal. The Rangers would take three shots on a scoreless PP. At the time, I feared that not scoring on this PP would be like many other Ranger games, something that would bite them in the ass, in an eventual one goal loss. Thankfully, that was not meant to be!
After missing on the PP, the Rangers failed on a two-on-one chance. I'll talk more about Kakko later on, but he was playing scared and timid all game. He had plenty of chances to shoot and score in this game, but time and time again, he would just skate with the puck and lose the opportunity to shoot on a good chance. I don't know what it is, but he looked trigger-shy tonight.
As the period progressed, each team kept blocking shots. I thought both teams were strong defensively at this point and weren't letting much through. That would change a bit. After all, the Rangers finished the period with a 17-7 SOG advantage, but both teams were actively blocking shots out there.
Varly did his best work of the game in the final half of this period, stopping Kreider multiple times, stopping a blast from Staal and stopping a DeAngelo attempt.
In what I thought was a huge play at the time, with 7 seconds left in the period, Ryan Strome broke his ass and raced to beat an icing call. I thought this was big, because so many times this season, we have seen the Rangers lose a faceoff in the defensive zone and then get beat for a goal. In a 1-1 game, you wanted this score to hold and you didn't need the Islanders getting a late momentum goal at the end of the period.
After one, we remained tied at 1-1. Not one mention of Strome's hustle during the intermission break. (Told ya @McFadden, who to his credit, noticed this play as being big too.)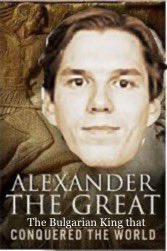 After Sam Rosen said, "SECOND PERIOD, WHAT DO YOU LOOK FOR HERE JOE?", the game resumed.
The Islanders would get a quick chance to score, but Brassard fanned and missed on an easy shot, during a delayed slashing penalty call on DeAngelo.
The Rangers PK were monsters here, led by Jesper Fast, who took 30 seconds off the Isles PP by himself. Staal and Lindgren would also make great plays during this too.
After the kill, Ryan Strome found a jack-in-the-box Tony DeAngelo, on a Rangers two-on-one break. Varly made the save of the game at this point, denying a great shot from TDA. Varly didn't even know he made this save!
5:06 into the period, Chris Kreider broke up the tie:
Chris Kreider makes it 2–1 #NYR pic.twitter.com/ZAHrW6ZC8z

— Rob Taub (@RTaub_) January 14, 2020
2-1, GOOD GUYS!
On the goal, Panarin rips a shot, and Kreider tips it in. This goal was reviewed for a high-stick, but the referees quickly let the call on the ice stand. Another assist for Panarin. The funniest thing about this goal, was that Kreider had 6 other shots in this game, and this was the SOG that went for a goal!
Right after this, Chytil would hit a post. Then, Adam Fox would turnover the puck, but would race back to break up an Isles odd-man rush.
Despite the goals allowed in this game, both goalies were playing well here, but the Rangers would finally break through for good.
At the 11:11 mark of the period, in a period full of action, Adam Fox would score what would wind up being the game winning goal:
Adam Fox finds a hole and makes it 3-1 #NYR pic.twitter.com/TqzCivbCuk

— Rob Taub (@RTaub_) January 14, 2020
3-1, GOOD GUYS.
It's funny, at this point in the game, on my Twitter account, I was raving about how well Varly was playing, especially after the two-on-one save on TDA. Then, a few minutes after, he lets this shot from Fox go in. I thought Varly should've had this one. Whatever the case, a goal for the GOOD GUYS. Oh, and this was Panarin's third straight assist of the game too.
With under four minutes to go in the period, Alexandar Georgiev was a one-man show:
Georgie out there stopping everything! #NYR #LGR pic.twitter.com/JQ28EZy1w1

— Panarin Is The Greatest (@RangersMSGN) January 14, 2020
Four straight saves, in a matter of seconds, for your King of Kings! With these saves, Georgiev kept this a two goal game.
And do you know why Georgiev made these saves? It's because he stays upright. He doesn't do the Lundqvist stance: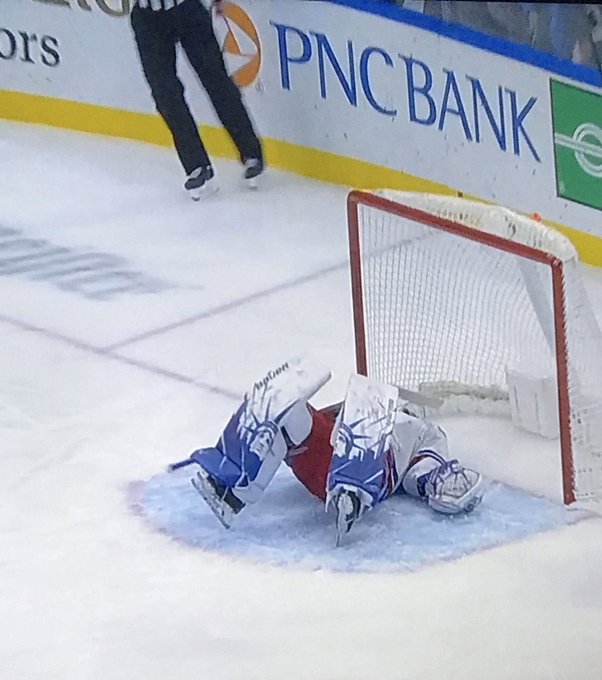 Right after this, the crowd did a huge "GEOR-GEE" chant. Lundqvist has to be fuming.
Then, Rangers beat reporter, Vince Mercogliano, tweeted this:
Fans chanting, "Geor-gie! Geor-gie!"

Not sure I've heard that one before. All three goalies have their own chant now. #NYR

— Vince Z. Mercogliano (@vzmercogliano) January 14, 2020
Apparently, Mr. Mercogliano has never been to a game with me! As my buddy Greg R./@FIXXSER mentioned on Twitter, I start these chants all the time!
3-1, GOOD GUYS, after two periods. Of note, the SOG stat leveled out a bit, at 25-23, in favor of the Rangers. Georgiev had a clean 16 save period.
The ass-kicking of the Islanders continued in the third period. Barry Trotz's head looked like it was going to blow off his shoulders.
49 seconds into the third period, Artemi Panarin was off to the races:
Describe the Islanders effort in one word tonight:

— Rob Taub (@RTaub_) January 14, 2020
4-1, GOOD GUYS!
Outside of maybe Mika Zibanejad, it's tough to see any other Ranger scoring like this. Panarin gets the puck, races up ice, has Mayfield hot on his heels, yet backhands the puck right by Varly. Elite players doing elite things.
After Georgiev stopped Brassard, in what seemed like the 78678967896879th time of the game, the Rangers would get a three-on-one break. Kakko decided to skate behind the net and not shoot. I don't get it.
The Rangers just kept the pressure up in this period. Use whatever cliche you want – they kept their foot on their necks, they kept the metal on the pedal, whatever you want here – the Rangers just dominated.
At the 8:54 mark, Panarin scored again, after a perfect pass from Ryan Strome. 5-1, GOOD GUYS. The rout was on.
Oh, and this comes from the @NYRSTATSINFO account:
Artemi Panarin has registered 67 points in 45 games this season. The only two players who have recorded more points in the Rangers' first 45 games of a season in franchise history are Jean Ratelle (79 points in 1971-72) and Jaromir Jagr (69 points in 2005-06).
Not shabby!
Less than two minutes after Panarin's goal, Johnny Boychuk was boxed for slashing. Seconds into the Rangers power-play, Jacob Trouba bombed one home:
This goal sums up the #Isles and Semyon Varlamov's night — Embarrassing pic.twitter.com/o15mkGh6SW

— Rob Taub (@RTaub_) January 14, 2020
6-1, GOOD GUYS! This game was a laugher. At this point, Trotz switched his goalies and put Thomas Greiss in to do mop-up duty.
Just think about this. This game started off with a quick Isles goal and the Rangers losing two fights. It was now 6-1 Rangers here, as they were embarrassing the Islanders.
After this goal, Marc Staal took a tripping call. Brock Nelson would be credited for a PPG here, as a puck fired by Eberle bounced off Trouba's back, the puck went past Georgiev and Nelson slammed the puck in for insurance. In effect, Nelson stole a goal from Eberle. 6-2, good guys.
On this goal, you can't blame Georgiev. It's a PPG and the puck went off his own man. I will say, if the Rangers weren't blowing out the Islanders here, Staal would've been crucified for taking a penalty, Trouba would've been buried by Ranger fans on social media for scoring on his own goalie and the pressure would've intensified for Georgiev.
With under five minutes to go, the Islanders got dirty a bit, as Brock Nelson leveled Mika Zibanejad, hitting him near the head. We all know about Zibanejad's concussion issues. So do the Rangers. IMMEDIATELY after this hit, Kreider and DeAngelo went after the Islanders, as Kreider tussled with Nelson, while the middleweight Tony DeAngelo picked a fight with the super-heavyweight Ross Johnston. Give credit to TDA here. He's out-muscled, out-sized and giving up about 8 inches in height here, yet he was picking a fight with the Isles goon. All four of these guys would be kicked out of the game here.
I'll say it later on in this blog, and I'll say it here first – Thursday is going to be interesting. Perhaps the schedule of playing these dicks three times in less than 10 days will be interesting. There will be a lot of bad blood on Thursday. Let's hope the league doesn't issue any warnings before the game and let's hope for lenient officials.
For some reason, despite what should've been off-setting penalties, the Islanders got a power-play out of this. That was fugazi. The Rangers PK came up big again, keeping the score at 6-2.
In the final minute of the game, ONCE AGAIN, Kakko would have a one-on-one chance with the goaltender. Instead of shooting, Kakko did nothing. I know some people think he should go to Hartford for a while, but I don't think the Rangers will do that to him. However, someone has to drill into this kid to shoot the puck.
As the final horn went off, Rangers 6 – Islanders 2. A huge statement win at M$G, which must be followed up on, come Thursday.
In wrapping up on this game, this may have been the most entertaining game of the season. While this may have not been the best win, it was a great win and a fun game to watch. There was never any period of doldrums in this one.
Of course, with this three-headed goalie dragon we now have, every goaltender performance will be magnified to the umpteenth degree.
I thought Georgiev was great today. Yes, the first goal allowed wasn't hot, but this was his first game in 9 days. How did Lundqvist do in his first game in 9 days against the Blues? Plus, I've done this talk so much, we all know the stats, the contracts, blah blah blah – Lundqvist has to go.
And really, what does Lundqvist value more? A cozy situation here, where he has everyone kissing his ass or winning a Stanley Cup? When I look at Lundqvist and the way he refuses to move on & saddle this team, it makes me respect Ray Bourque even more.
Winning has always been secondary to Lundqvist. If winning was his number one priority, he would've never got Torts fired. He would've never said "I want to win a Cup at all costs" and then demand the highest goalie contract in the league, in the salary cap era. He's not a Tom Brady, who has given up millions over the years, to win championships. Lundqvist has always been about Lundqvist.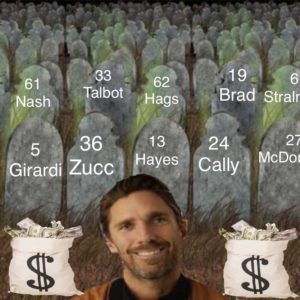 I've had a lot of fun recently, writing about these games where Georgiev and Shestyorkin have won in. When I watch these guys play, coupled in with many other guys on the roster, especially Panarin and DeAngelo, I see the future of the Rangers. I see the new brand of Rangers hockey. I see the new era emerging. However, Lundqvist is that little nugget of shit that refuses to go away. You can keep flushing and flushing, but no matter how many times you flush, this little nugget of Swedish shit keeps floating to the top of the bowl.
I really have to question how much winning a Cup matters to Lundqvist. He's a third string goalie on this team. He has the worst stats, and the worst contract, of all three goalies. Furthermore, what if the Rangers did make the playoffs this season? Do you really want Lundqvist in net?
If Lundqvist really wanted to win a Cup, which would in my eyes, make him a guaranteed Hall of Famer, rather than the border-line HOFer I see him as today, he would waive the NMC. He would look at Toronto, Colorado or Carolina, three teams that could use a back-up or starting goalie for their playoff causes. And it's not a matter of what the Rangers get back in a trade. It's just getting out of this broken marriage.
I've heard many people, including my pal Al "SMD" Demauro and Mike B., say stuff like "it's the contract we have, so we deal with it." That sounds like an early 1900's battered Irish house wife to me. The Rangers have gotten out of plenty of bad contracts over the years, even if it's hurt them cap-wise through buyouts, and it's time to get out of the worst contract of them all.
All this Georgiev trade talk is horrendous. Why would you give up a great goalie, a goalie who can be part of a tandem for the next decade, to have one more year of bad-to-mediocre overpaid goaltending from Lundqvist? It's like choosing to pay insane prices for Pony Express stock, when you can get Apple stock for pennies on the dollar.
My good old pal, the somewhat newly married and father of two, in a one JEFFREY, asked me to go on another Lundqvist press box rant. And he's not the only one flooding my social media with these comments either.
WHEN WILL DAVID QUINN HAVE THE FATHER FINKIN' BALLS, TO PRESS BOX AND MAKE HENRIK LUNDQVIST A HEALTHY SCRATCH?
What is the point in calling up CZAR IGOR, only to have him sit upstairs for games on end? The Rangers need to get out of the Lundqvist business and get into the "what's best for the Rangers" business. And really, if you're not going to have the heart-to-heart talk with Lundqvist, the only way to get him to waive is to son him, by taking away his playing time.
After tonight's game, David Quinn said that "it's tempting", in regards to going back to Georgiev on Thursday. And really, that's my opinion too. Georgiev plays well against the Islanders and had a great game tonight. After that, you get a break with Columbus, and I would go with Igor there. And to add on this, David Quinn keeps talking about the playoffs. In the Rangers next game, I believe Georgiev gives them the best chance to win. All the numbers point to Georgiev for this game on Thursday with the Isles.
Forcing Lundqvist into any of the next two games would be just that – FORCING him in.
Scratching Georgiev or Igor does this team no service. And while I want Georgiev to get the next start, you would be icing Igor for three straight games, giving him over a week off since his last game played. That's why I would've started Igor against St. Louis.
For all this talk about a three goalie system, only Lundqvist has been at ice-level for every game. It's time for him to sit upstairs and let Igor & Georgiev play. These two need to be on the bench watching and learning. I don't want to do all my Giacomin and Leetch comparisons right now, as I've done all that in the past repeatedly, but really, the Rangers need to cut the cord on Lundqvist. It's like the Rangers have empty nest syndrome with this guy and are afraid to move on.
Sure, after this game, you will hear 80967867867896 people talk about how Georgiev raised his value for a trade. Instead, I see it as Georgiev raised his value FOR THE RANGERS. You really want to give up on a proven product, just to have Lundqvist steal time from Igor next year? And what if the Rangers are a playoff team next year? Are they really going to sit Lundqvist during the playoffs?
MOVE ON ALREADY. Lundqvist is not part of the future. It's time to make him part of the past, just like the Rangers did with Stepan, McDonagh, Girardi, Zuccarello, Hayes, Nash and the countless others, that the Rangers have said toodles to during this rebuild.
The Rangers will now travel to the Nassau Coliseum on Thursday, for their first game in that arena in over five years. As mentioned, my buddy Ten O'Clock Tommy got me a ducat, so I'll be in attendance.  Anyone looking to pregame in the parking lot, let me know.
Goaltender wise, Quinn didn't tip his hat, outside of pretty much saying he wasn't against going with Georgiev in round two. Playoffs are the goal for Quinn and if he stays true to "riding the hot hand", Georgiev is the guy for this game.
If it matters, only Lundqvist has played in the Nassau Coliseum before. However, he sucks today and his last game there was over 5 years ago. Georgiev seems to handle road games well (Quinn starts Georgiev in more road games than any other goalie he's had) and I would let Igor start on Sunday against Columbus, in the friendly confines of M$G.
In closing on tonight's win, one more time – TEAM WIDE EFFORT.
Barring anything breaking between now and Thursday, I'll be back Thursday night, after returning home from the Coliseum. I just hope to have this flu and non-stop diarrhea bug beaten by then, or else I will be wearing a diaper and carrying an extra pair of trousers on me!
As always, thanks for reading and…
"LET'S GO RANGERS"
"FATHER FINK THE ISLANDERS!"
Sean McCaffrey
BULLSMC@aol.com
@NYCTHEMIC on tweeter