Greetings and salutations everyone and welcome to another blog here on BlueCollarBlueShirts.com. As I start this blog, it's 1AM, as I have just returned home from Madison $quare Garden. I should go to sleep right now, but after tonight's win, what's the point? I'm not going to be able to sleep anyway!
For nearly three years on this site, I've posted the following picture:
On January 7th, 2020, I finally saw one of my Ranger wishes come true – CZAR IGOR SHESTYORKIN made his first start as a Ranger.
While you can argue that perhaps the Ranger debuts of Kaapo Kakko & Artemi Panarin were more anticipated this season, when it comes to the history of Ranger goaltenders, outside of perhaps Eddie Giacomin, this was the most anticipated goaltender start in NY Rangers history. And unlike Giacomin and his first few games with the Rangers, there were no fans throwing rotten fruit and vegetables at Igor! (True story: Giacomin wasn't beloved in his first season with the Rangers. Eventually, he would become one of the most beloved Rangers in team history, if not the most beloved.)
I've been preaching this forever – for the New York Rangers to win a Stanley Cup, they must move on from Henrik Lundqvist. For the first time since Lundqvist has been a Ranger, we are finally witnessing the Rangers embrace a new era. While the Rangers obviously have some ways to go, before becoming a Cup contender, tonight may be a night we look back on in the future, when the Rangers are having a Stanley Cup parade in New York City.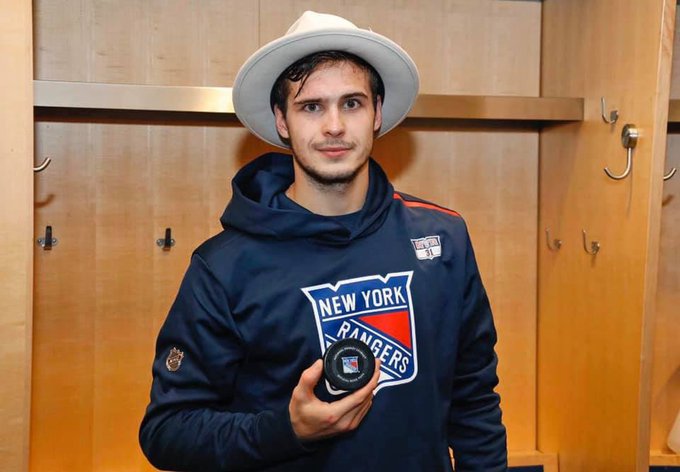 I talked about the Rangers calling up CZAR IGOR in my New York Rangers Mid-Season report card blog. To read that blog, and my most recent blogs, check out the following links below:
---
---
---
---
---
---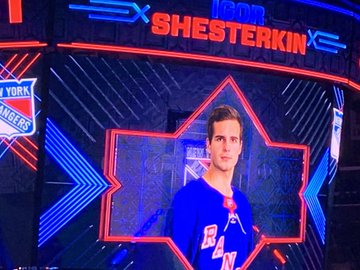 As you may know, as of 48 hours ago, I had no plans to attend this game. However, when CZAR IGOR was called-up, I knew I wanted to be there. I think many of you wanted me there too, as I got a ton of social media comments and emails, telling me I had to go. As mentioned in the past, I'm not too much of a fan of Morgue $quare Garden and their insane ticket prices. Fortunately, I had a $100 Stubhub gift card, so I blew that on this game. Money well spent!
This blog may sound extremely "giddy" tonight. After all, I'm ecstatic after this game. When I think about it, this may have been my favorite regular season game, that I've ever attended, ever. Off the top of my head, I can think of only two other regular season games, sans home-openers, where I had this level of anticipation and excitement before, during and after the game.
One of those incredible regular season games was a Rangers/Islanders game, back in 1998, when Dan Cloutier beat up Tommy Salo. I've talked about that game in-depth in the past. However, the Islanders did win that game. The other game that I had similar feelings about, occurred at the end of the 2014-2015 season. With Cam Talbot in net, the Rangers had to beat the Devils at the Rock, to clinch the Presidents' Trophy. The Rangers did just that on that night. Locking up the Presidents' Trophy, on one of your most heated rivals home ice? Priceless.
In tonight's game, we finally got our first real glimpse at a new era of Ranger hockey. While we don't know what the future will hold, we at least have hope with this new core. In fact, this new core may as well be dubbed as "The Red Shirts", as the future of the Rangers starts with players from Mother Russia. With Panarin as an elite forward and CZAR IGOR in net, it is my hope, and the hope of every Rangers fan, that these two deliver the Rangers their first Stanley Cup since 1994.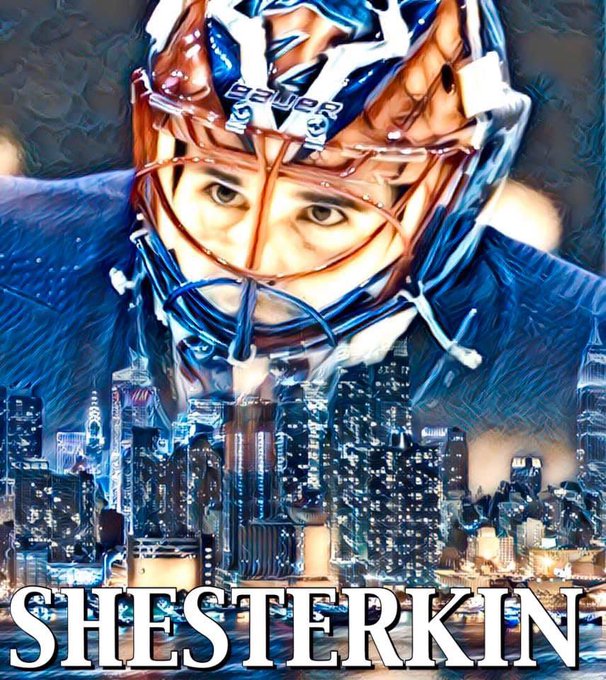 Prior to tonight's game, we already knew about Igor Shestyorkin & how he would be debuting in this game. Line-up wise, everything stayed the same from the last few games, with Haley as your lone healthy skater scratch. Refer to my past few blogs for the lines. (Of course, in this new three goalie system, Georgiev was the other lone scratch.)
The only real news item, that I haven't covered previously on this blog, was an interview Lias Andersson did in Sweden, during a Frolunda vs Lulea Swedish Hockey League game.
On Tuesday, January 7th, Lias Andersson, after being caught on camera using SNUS, did an interview on the Frolunda broadcast, talking about what's been going on. Swedish hockey reporter, Uffe Bodin, translated the interview and posted the highlights on his Twitter account @UffeBodin. Here are the snippets: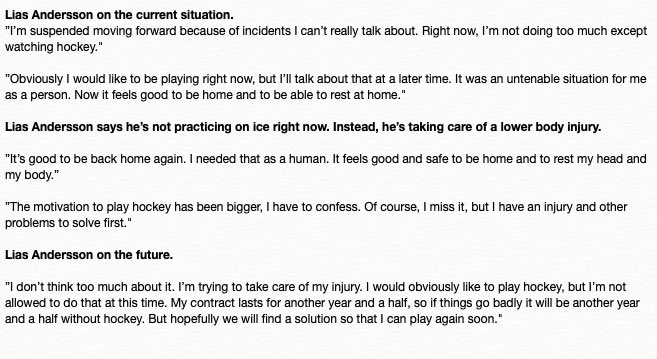 After this interview, it was also rumored that Lias Andersson is battling "mental health" issues, which perhaps is a cop-out of an excuse. Did he have "mental health" issues when he was stinking out M$G every night, or did these issues arise when the Rangers gave him the boot to Hartford?
Ironically enough, after this interview was posted online, David Quinn, in his pregame press conference, when talking about CZAR IGOR, said the following:
"One of the things that we've been very impressed w/ when he went down to Hartford… He never whined & never bitched & complained about being down there. He just went down there & did the best he could & was the best goalie in the American Hockey League."
Is this a shot at Andersson? Is this a shot at Vitali Kravtsov? Or was David Quinn just talking about Igor, without realizing how his words could be twisted? I'll say this – David Quinn strikes me as a very smart guy, who is alert when talking to the media. I don't think he leaves his words to be misinterpreted.
Lias packing a snus on live television lmao you love to see it pic.twitter.com/xxALGhVw3g

— Timpa – #VoteMika (@TimRangers) January 7, 2020
For the record, I have no issues with Andersson packing a snus or anything like that. I just found it humorous.
After reading what Andersson said, and to his credit @TIMRANGERS had the interview up first on his Twitter account, to me, it just confirms what I've been saying all along – Andersson is just not cut out for the NHL. He's got bigger issues going on, perhaps both mentally and physically. Not everyone makes it.
It's also being rumored by reporters from Sweden, that Andersson was "bullied" and given pain killers by the Rangers. I don't know how well-founded those rumors are. I'm just telling you what's out there, and if anything comes from it, I'll report back to you on this site.
As it stands right now, Lias Andersson is a basket case and is a BUST for the New York Rangers. Do you know who is not either of these things? This guy: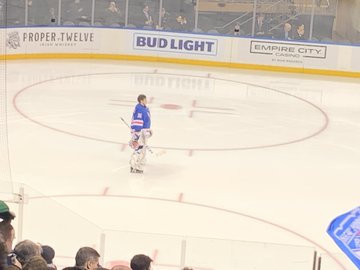 At this time, let's go to the GAMBLING segment of the blog. Here's what I said before the game:
Season over-under record: 22-18-1

I'll keep it simple. Colorado will look to explode after being shutout by the Islanders last night. THE CZAR won't budge.

Take the UNDER and dont even think about it.#nyr #PlayLikeANewYorker pic.twitter.com/YLdyMo7giQ

— BlueCollarBlueShirts (@NYCTheMiC) January 7, 2020
I happily take the gambling loss tonight, as my record now goes to 22-19-1. Not one Father Fink given.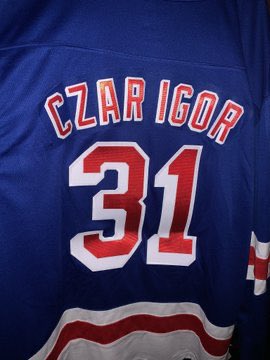 When it comes to reviewing this game, just like any game that I attend live, this review will different than if I watched the game on TV. When I watch games on TV, I "live-tweet" the games, and then use my tweets to refer back on as notes, when doing these write-ups. When I'm at a game live, I just tweet pictures and a few thoughts out. For me tonight, this was all about my personal experiences and I hope you enjoy my stories. While you're doing that, I'll catch up on the 634789637894378963 social media notifications and emails that I have right now!
A few blogs ago, I talked about how this blog reconnected me with my best friend from high school, in a one SPIGGY. Just like many of you, in life, we lose contact with old friends. For me, SPIGGY moved out of my area during our college years and for 10 years of my life, I was on the road working in the independent wrestling business. And how funny is this – during tonight's game, I wound up sitting next to a Sirius Radio DJ, in "Bobby Banana Hammock", who also did some work in the independent wrestling scene. What a small world!
As you can see from the photo above, I attended tonight's game with Spiggy. This was our first game at M$G together since the 1999-2000 season. Just like any old friendship, we picked up right where we left off. Life happens, and you lose contact with people you like. In addition, you don't get to see people as often, due to people having families/work/just real life shit, but you always cherish the times when you do get to hang out together.
The funniest thing, prior to puck drop, was when Spiggy and I sat down, and Bobby Banana Hammock recognized me, but couldn't remember where we met. After about 15 minutes, Mr. Hammock realized that I used to run wrestling shows and that we had common friends and acquaintances. It was nice to see you and talk with you tonight Bobby, if you're reading this!
Again, I'm talking about personal experiences here, but hey – it's my blog and I'll blog if I want to!
While this blog has reconnected me with Spiggy, this blog and my Ranger fandom led to me becoming friends with Dancin' Larry. This is how my night began: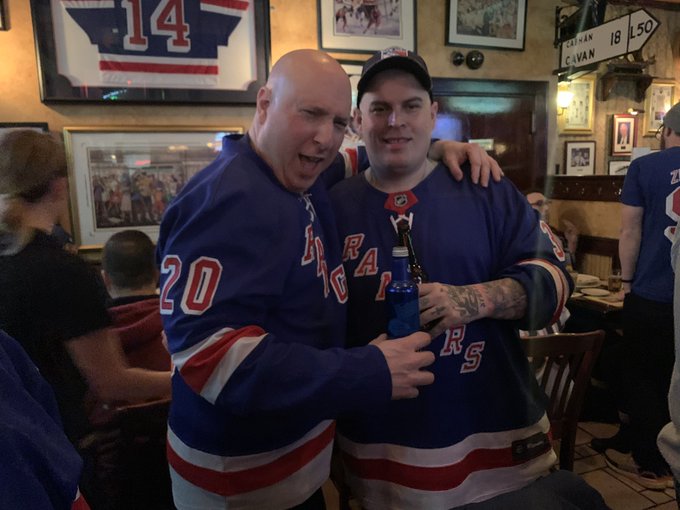 After arriving at Penn Station, at around 5:15PM, as usual before a game, I went over to the Molly Wee. The second I walked in the door, there was Dancin' Larry. The first thing Larry said to me, "Tonight is your night brother!" Ironically, and totally unplanned, I would see Larry after the game, and I'll talk more about that as we move along.
As mentioned on past blogs, Larry is a big Lundqvist fan, but understands my takes and opinions. We can talk civilly. We understand where the other is coming from and we both understand that we want the same thing, even if we have different ideas on how to attain that goal. Away from hockey, we have common interests in beer consumption, music, movies and politics.
Of course, Larry knew right away, that I was only attending this game because Igor Shestyorkin was starting. Later on, my friend Padma Rao showed up to the bar, and she knew the same thing too. Am I that predictable? Ha!
As we were talking, Larry pretty much said what I felt – tonight was something special. This was a game that we wouldn't forget, one way or the other. I've been chewing Larry's ear off, like I do to many of you guys too, about Igor Shestyorkin for years. Tonight, we would finally see him play a regular season game for the Rangers.  And Larry, like other die-hard Lundqvist fans, while appreciating what Lundqvist has done for this franchise, also knows that it's time to get into a new era and brand of Ranger hockey.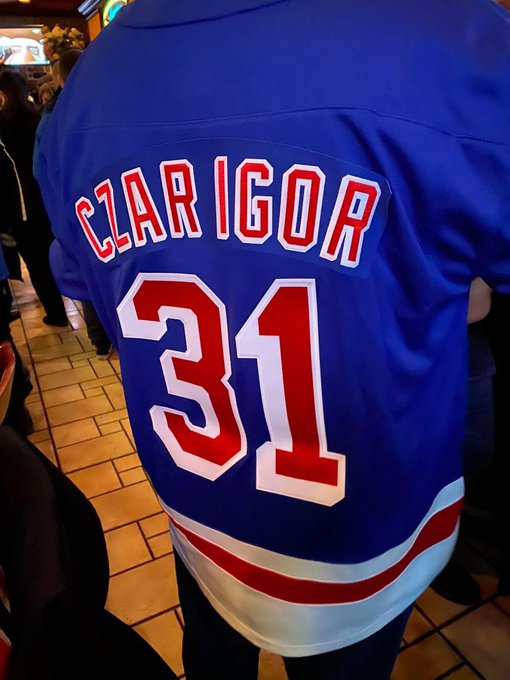 After having one or ten cocktails, Spiggy finally arrived to NYC and we made our way into Madison Square Garden. Spiggy was just as excited as me, and like many of you, who knew how important and special this night could be. In a dream world, Igor Shestyorkin will win a Cup for the Rangers and tonight's game will be the night where it all started.
And really, while I might sound too ecstatic or over-the-top here, games like tonight are why I started this blog in the first place. To share my Ranger passion and fandom. Trust me – I'm sick of talking about Lundqvist all the time. I rather be known as the guy who wants Frank Boucher's #7 jersey in the rafters of M$G, and not as the guy who wants Hank off the team. However, you can't control how others view you. All I can tell you that if you know me, you know that I want the Rangers to win the Cup anyway possible. That's my only dream. I just don't think Lundqvist is the guy who will do it. His time has long passed, at least in my eyes.
Even better, many of you can tell how much work I put into these blogs, as they take two hours plus to complete. Throughout the course of the evening, starting at the Molly Wee, inside of M$G and outside of M$G after the game, I ran into about 12-16 readers of this blog. Outside of Larry, Padma and Spiggy, this was the first time I met these people. It was cool to hear how they enjoy these manifestos. One reader, Phil, said he's never seen anything like this blog. That meant a lot. Thanks Phil!
I do have to mention this too – I got about three nasty looks from people tonight. Of course, they didn't say anything to my face. It's easier to talk shit on Twitter about me!  Hey, can't please them all! Just spell my name right!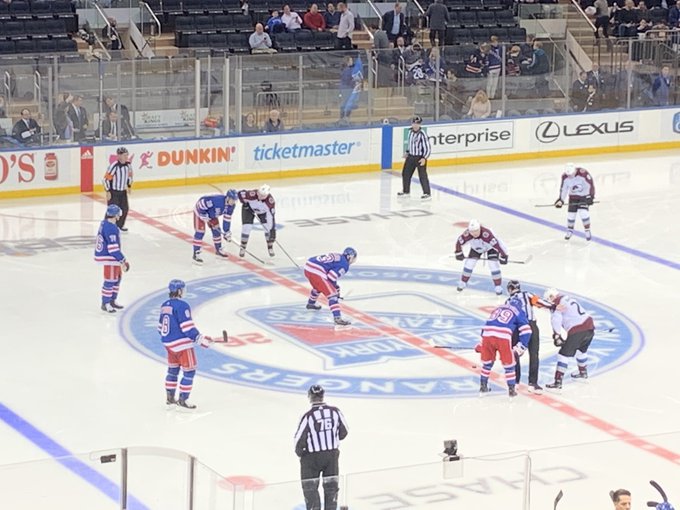 For Father Fink's sake, it's now 1:50AM and I haven't even got to the game yet! Let's go to the official box score, courtesy of ESPN.com:
SCORING SUMMARY: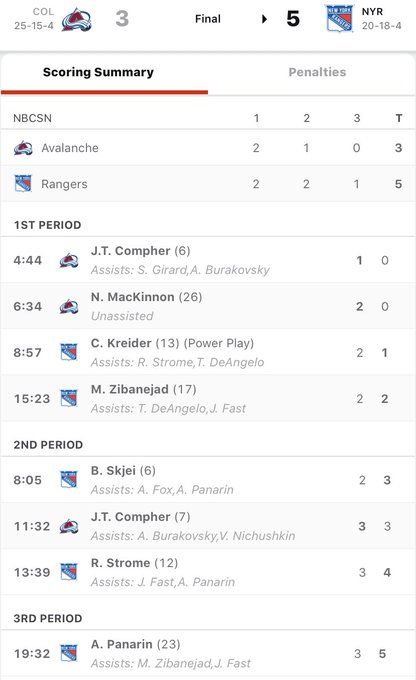 PENALTIES: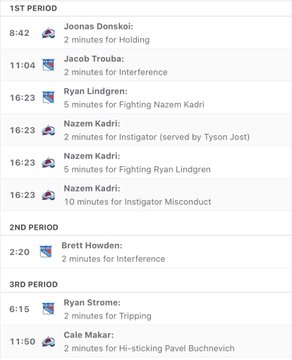 TEAM STATS: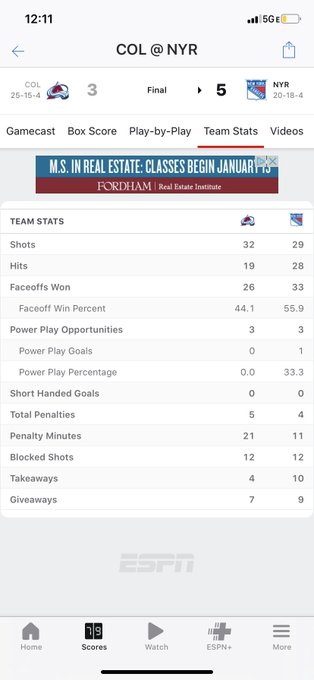 GOALIES:
SA

GA

SV

SV%

ESSV

PPSV

SHSV

SOSA

SOS

TOI

PIM

28
4
24
.857
23
0
1
0
0
| | | | | | | | | | | |
| --- | --- | --- | --- | --- | --- | --- | --- | --- | --- | --- |
| SA | GA | SV | SV% | ESSV | PPSV | SHSV | SOSA | SOS | TOI | PIM |
| 32 | 3 | 29 | .906 | 23 | 0 | 6 | 0 | 0 | 59:26 | 0 |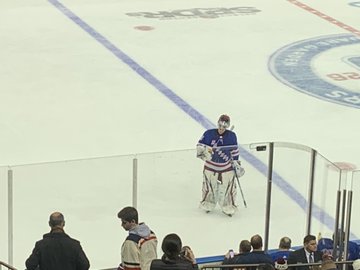 I talked about this in my last blog – Ranger fans are diehard and hardcore. While maybe some of the suits didn't know this, every Ranger fan in the building knew about Igor and his situation. After the national anthem, there were light IGOR or EE-GORE chants spattered around. This would be the first of many Igor chants, one of which I started. (I think there were about 5-7 different Igor chants tonight.)
I just want to mention this real quick – there won't be many gifs or videos tonight, because it's late and I don't have the time to scour all the stuff I want to include here. I say this, because I quickly checked multiple official NY Ranger social media accounts and I couldn't find a gif or video of the play I'm about to describe to you.
Prior to tonight's game, I had my buddy Nick Adams ask, "how are Shestyorkin's puck-handling skills?" Nick had his answer in the first minute of this game. In the opening seconds of this game, Igor made a perfect pass from his net, right onto the tape of Kakko Kakko's stick, at mid-ice. This set-up the Rangers offensively. Can you only imagine if this went for a goal? An assist in Igor's first minute of action? And let's face it folks – this pass was better than any pass Lundqvist had made during his entire career.
After this pass, the Avalanche came down the ice. Skjei turned the puck over and we had an icing. After the face-off, Tony DeAngelo made a great play to prevent a scoring chance.
Going into tonight's game, I was kind of nervous. After all, Colorado was shut-out 1-0, to the Islanders, just 24 hours ago. I thought they would come into this game pissed off and looking to pick up two points. And that's what this game looked like, at least in the opening minutes.
On the first Colorado Avalanche shot of the game, Colorado scored. While it didn't come in the first two minutes of the game, like we're used to, on his first official shot on goal faced, Igor gave up a goal. However, you couldn't blame him, as J.T. Compher scored while Igor was screened by two guys, and the puck deflected by him:

A sneaky redirect from JT Compher in front.#GoAvsGo pic.twitter.com/AULd0N8Wuj

— Colorado Avalanche (@Avalanche) January 8, 2020
I'm glad I wasn't checking social media during this game. I can only imagine what the Cult of Lundswiss was saying here. "SEE SEE SEE – IGOR ISN'T THE ANSWER! LUNDQVIST IS BETTER OMG I LOVE HIS HAIR AND I WANT TO LICK IT!"
1-0, bad guys.
Two minutes later, Nathan MacKinnon would beat Igor on a breakaway, 2-0. I'll say this, if Igor made the save here, the Garden would've exploded. When it comes to breakaways, I always feel the goalies have a 50/50 chance. 2-0 bad guys.
After these two goals, the Rangers settled down a bit, and would put forth a decent 6 x 5 attack, after Joonas Donskoi was penalized for holding. While the Rangers didn't score here, they held the puck for a good amount of time and had a "GOOD LOOK" on net.
Seconds into the Rangers power-play, Tony DeAngelo got the puck to Ryan Strome, Strome put the puck on net and Chris Kreider deflected the puck into net. This was the first Rangers PPG of 2020, for the Rangers first PP unit. 2-1 bad guys.
And I'll get into this later, but how about Ryan Strome, who all these chart geeks hate? Once again, he's racking up points and in this case, he didn't need Panarin to do it. More on Ryan Strome at the end of this blog, as I talked to him after the game and have a funny story to share!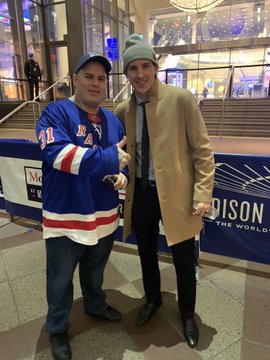 At the 11:04 mark of the period, Jacob Trouba was penalized for playing hockey. The call was interference, but it was complete bullshit and a fugazi call to me.
CZAR IGOR was thrown right into the fire here, but he would make several big saves, which led to some more IGOR chants!
After killing the penalty off, Tony "Two-Points" DeAngelo was at it again, as this time, he set-up Mika Zibanejad, who finished the puck right past Grubauer. 2-2 game. All tied up!
Oh, and it must pain these liberal losers, who hate Tony DeAngelo, just because he supports Donald Trump. How about this stat:
Tony DeAngelo has tied a career-high with 30 points this season. He is the first Rangers defenseman who has posted back-to-back 30-point seasons at age 24 or younger since Sergei Zubov in 1993-94 and 1994-95. #NYR

— NYR Stats & Info (@NYRStatsInfo) January 8, 2020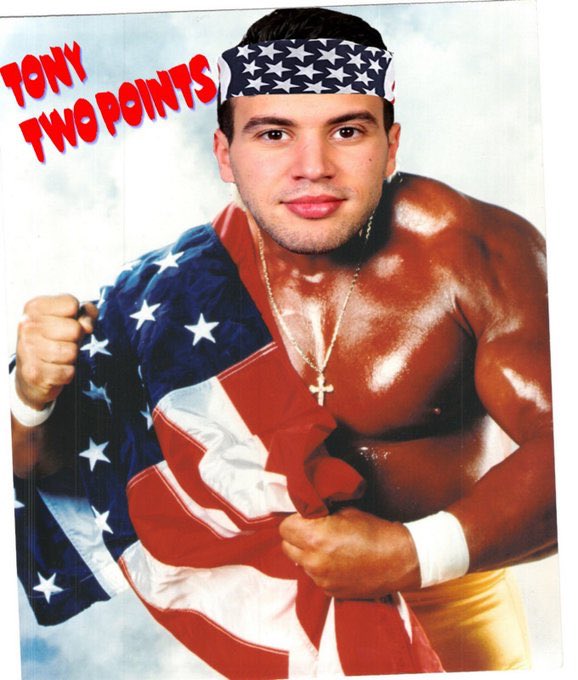 At 2-2, and with under four minutes remaining in the first period, we had this:
Ryan Lindgren takes a shot on Joonas Donskoi and Nazim Kadri has something to say about it. #GoAvsGo pic.twitter.com/PBbzQ0PaPV

— Michael Spencer (@MichaelCBS4) January 8, 2020
Lindgren made a clean hit on Donskoi and Kadri immediately threw down with Lindgren. While Kadri won this fight, the only thing I can think of when I see him, is when Adam McQuaid rag dolled him like a bitch last season, in Toronto.
Here's Lindgren after the tussle: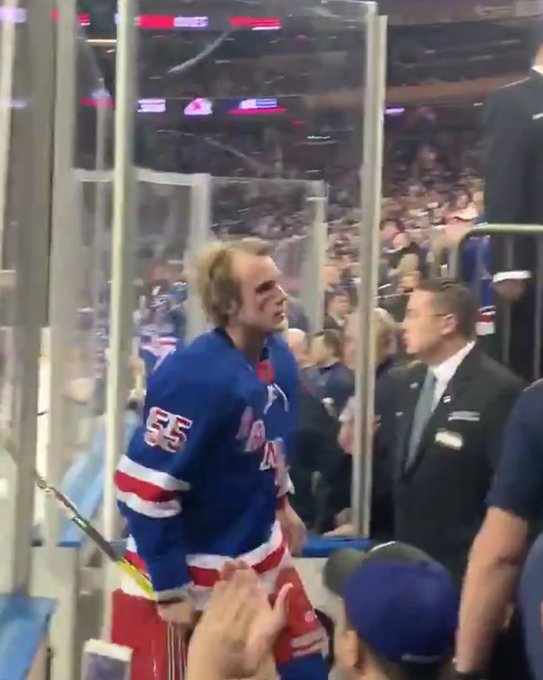 Credit to the refs here – they got this right. Kadri got an extra two minutes for this fight, since he skated across the ice and instigated it. This gave the Rangers a power-play.
While the Rangers power-play didn't score here, I thought the PP looked good. They were getting good angles and looks. It wasn't like Colorado's PK overwhelmed NYR here or anything like that.
After one period, tie ballgame, 2-2.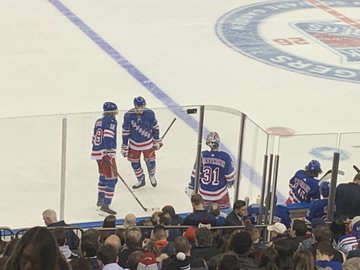 In the second period, the Rangers would have to kill another Colorado PP, after Howden was boxed for interference, just 2:20 into the period. The Rangers PK was really good here, as Zibanejad had the best looks on net during all of this.
Eight minutes and change into the period, Panarin got the puck to Fox, Fox dished it to Skjei and Skjei just blasted a puck by Grubauer. 3-2 GOOD GUYS. Live, I couldn't believe this puck went in. I don't know how it looked like on TV, but I thought Grubauer should've had this. His loss. The Rangers had now not only erased the two goal deficit, they now had the lead.
Of note, Lindgren didn't return to the game during this period. In fact, he didn't return at all. I had to look this up while doing this blog, but it turns out he was ruled out for the game, with an "upper-body" injury.
At just half-way past the second period, J.T. Compher scored again, after a ton of traffic and a cross ice pass in front of Igor. 3-3.
No joke, at this moment in the game, Spiggy said to me, "That's it, he won't let another one go in." Spiggy wound up being correct.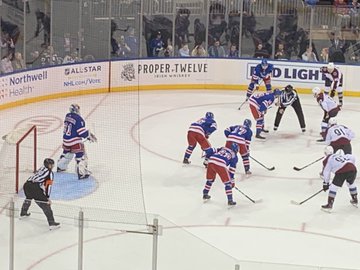 After a tremendous shift, and with the game now at 3-3, Ryan Strome would score what would be the game winning goal, just two minutes after Compher tied it up:
Ryan Strome with his 12th goal of the year! Rangers answer quickly!#PlayLikeANewYorker pic.twitter.com/Z7MPwqzGGf

— Hockey Daily 365 (@HockeyDaily365) January 8, 2020
4-3, GOOD GUYS.
And how about this:
Through the first half of the 2019-20 season, Ryan Strome ranks fourth among NHL centers in primary assists (19; trailing only Draisaitl, McDavid, and MacKinnon), ranks 10th among NHL centers in assists (26), and is tied for 13th among NHL centers in points (37). #NYR

— NYR Stats & Info (@NYRStatsInfo) January 5, 2020
Once again, eff your charts, eff your abacus, eff your Microsoft Excel – Ryan Strome is a great hockey player and is having a tremendous season.
This score would hold up after two periods, as the Rangers led 4-3. The third period was all about finishing.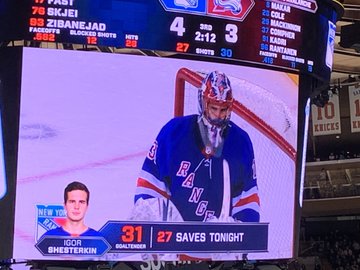 Six minutes and change into the third period, Ryan Strome was boxed for tripping. Igor made a masterful glove save on the PK here, which led to a huge IGOR chant! And oh – I started this chant! Just ask Spiggy!
Igor was like Jon Taffer in this period – he shut it down.
After the mid-way point of the period, likely Calder Trophy winner, in Cale Makar, high-sticked Buchnevich. This put the Rangers on the PP. During this PP, Trouba blasted a puck from the blue line and scored. However, upon replay, it was obvious that the puck just went over the blue line, meaning that the Rangers were off-side. Still, what a hell of a blast as usual from Trouba.
Upon Colorado killing the Rangers PP, Colorado would drive towards Igor. Igor would make another big save and it was at this point in the game, where M$G got into the IGOR action. The familiar bass sounds, which have set off "HEN-RIK" chants for over a decade, rang around the Garden. The crowd complied and we had more I-GOR chants.
With over two minutes remaining in regulation, Grubauer was pulled. Colorado made a go of it and it was hairy for a bit. Then, with 30 seconds remaining, Panarin scored the empty net goal. 5-3, good guys, which was your final.
I don't know what others are saying, as I haven't looked at social media or other reports yet. I know what I did tonight. I focused on Igor. I'm sure others did too. That said, what can't be lost in all of this, is that Artemi Panarin had a hell of a game, picking up a goal and two assists.
When you look up and down this Rangers line-up, you had a bunch of Rangers racking up points. Fast had three assists. Kreider had a goal. Strome & Zibanejad had a goal and an assist each. DeAngelo had two assists. Even Skjei scored a goal.
While Igor is the rookie making headlines tonight, I thought Kakko had a good game, even if he didn't pick up any points. You noticed him out there.
If you're looking for anything to criticize, all you can say was that there were defensive lapses. However, I feel at this point of the season, we're so used to seeing them, that we are now somewhat immune to them. The other team is paid to play too. The fourth line also kept Colorado in check, as Smith, Fogarty and McKegg, in limited ice time, finished with a plus/minus of 0. No goals for, but the bigger thing is no goals against.
And oh, here's my live reaction to the win:
The win #nyr #PlayLikeANewYorker pic.twitter.com/nNH2Mp59pU

— BlueCollarBlueShirts (@NYCTheMiC) January 8, 2020
5-3, GOOD GUYS, your final from Madison Square Garden. We are 1-0 in the CZAR IGOR ERA. It's going to be really interesting to see what Quinn does on Thursday against the Devils. I'd let CZAR IGOR go again. If Lundqvist starts against a last place team, he might as well wear clown make-up while doing so.
Let's talk about my post-game real quick!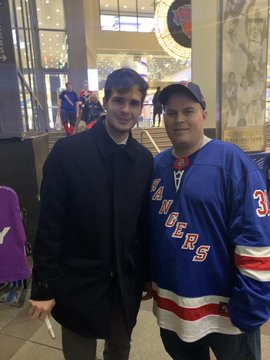 I've talked about Spiggy on past blogs. Growing up, and as teenagers, we would always go for autographs before and after the game. Once I found out how good beer tasted, I stopped doing that.
To me, and again, check my past blogs for more in-depth stuff on this topic, getting autographs and shit like that is for kids. Even as a teenager, I was always spooked out about these 40+ year old creepy men, who would push little kids out of the way to get autographs after games. What these dolts didn't realize then, and what I knew then (and what I still know now) that if a player is stopping to sign autographs for 15-20 people, they will sign (and now pose for pictures, as we only had disposable cameras in the 90's, as opposed to cell phones today) for everyone. If you're an adult seeking pics or autographs, let the kids go first. You can wait a few extra minutes to do you.
After this huge win and feel-good historic game, Spiggy said "let's kick it old school and go for autographs." I said I felt weird doing that, as I was about 20 beers deep, but Spiggy talked me into it. I'm glad he did. This made me feel like it was the old days again, where we would be jacked to see Mike Richter and Adam Graves after games. (Leetch and Messier rarely signed back then and it was a pain in the ass to try to meet them.)
Unlike the creepers of old, when players came out of the main entrance tonight, we stayed back, let everyone do their thing and then we went up to get pictures. And to be honest, I only wanted to get pictures with Igor, DeAngelo, Strome and Georgiev. Of course, I wanted some of these pictures to troll with, such as this one: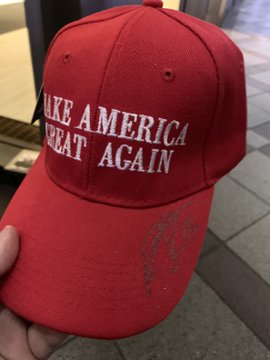 While Tony DeAngelo exited through a different exit, we did get to meet Ryan Strome. Since we were the last two people to meet him, of the 15-20 people there, I did get to have a short conversation with Strome. I told him screw the chart nerds and he laughed. I said I liked how TDA defended him on Twitter and Strome said TDA is a great guy and teammate.
After he took a picture with us, I asked Strome if he would sign my MAGA hat. Strome said, "do you have it on you?" I said "of course". Strome was cracking up as he signed it. I thanked Strome after I made fun of the ANALytic losers and it seemed like he got a kick out of all of this. After all, how could you not laugh? Who asks these guys to sign a MAGA hat? At this point, now I have to get DeAngelo to sign this hat!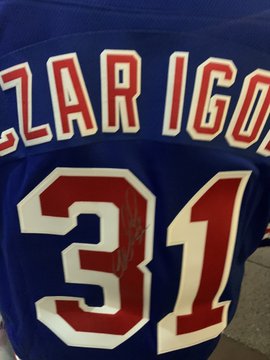 Prior to meeting Strome, CZAR IGOR was the first player to exit the arena, which I found odd. I figured he would be held up doing media interviews. However, he was the first one out there and he was with his family. He signed and talked with everyone. I'll say this – I don't know how strong his English is, but he was able to make short conversation with everyone.
When I asked Igor to sign my jersey, he smiled once he saw it. His family started taking pictures of it too. It seemed like he got a kick out of all this. Again, I'm not a big autograph guy, and this was the second time in about 20 years that I waited after a game to meet the players, but this was cool for me. (The only other time I did this, was with my friend Mary-Anne and I wanted to give props to Tanner Glass, which is what wound up happening on that night.)
Knowing that I made Strome laugh and gave Igor's family something to talk about, I feel this was a better experience for these guys, than for the players of 20 years ago, when 40+ something old men would shove 273678468936 pucks and hockey cards in these guys faces to sign. (Which later on, would be sold on eBay and at local trading card stores for jacked up prices.)
During this time, this is when I bumped into Larry again. He once again came up to me and said "What a night for you. I called this at the bar!" We started talking and really, even someone like him, who has been to a ton more Ranger games than me, said that this was a game he wouldn't forget. I'll have to watch his post-game video, which he usually posts on his social media accounts.
As I said at the top of this blog, this was just a great night. I got everything I ever wanted. I saw Igor finally get the call-up. I saw the start of the post-Lundqvist era. I saw the Rangers win. And shit, I even got to joke around and make a few of these guys laugh. Plus I met many great people and got to hang out with my old pal in SPIGGY.
What a night. What a win. And screen shot this: Igor Shestyorkin will win a Vezina and a Cup for the Rangers one day, which would make him the first goalie to do this since 1940, when Davey Kerr did it.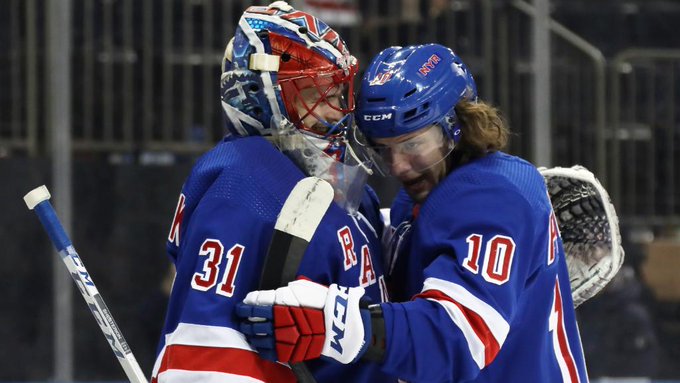 It's now 3AM. I have to get some sleep here!
Barring anything crazy, no blog Wednesday night and I'll be back on Thursday, after the home game with the Devils.
I just did a quick scour of the internet – DQ hasn't announced a starter for that game yet. Give it to Igor. Then go to Hank or Georgiev on Saturday night, against the Stanley Cup champs, when the Rangers host the Blues.
In closing, WELCOME TO THE IGOR ERA.
As always, thanks for reading and…
"LET'S GO RANGERS!"
Sean McCaffrey
BULLSMC@aol.com
@NYCTHEMIC on tweeter