Greetings and salutations everyone and welcome to another blog here on BlueCollarBlueShirts.com
January 2nd is a date I can never forget. After all, that's the date of my mother's birthday! (Hi Mom!)
However, on January 2nd, 2020, in the first Rangers game of this new decade and in the penultimate game before the half-way mark of the Rangers season, the Rangers once again found a new way to lose. While you can breakdown this game in a myriad of ways, to me, once the Rangers allowed the Flames to score, during a Rangers 5 vs 3 power-play, the fat lady was on her way to singing her tune.
A few blogs ago, when previewing the games after the Christmas break, I said it was imperative that the Rangers grab 8 points in these five games against Carolina, Toronto, Edmonton, Calgary and Vancouver. As we head into the fifth game after the Christmas break, the Rangers are now 2-2 and have only gained four points. Perhaps they can salvage this Western Canada road-trip with a win over Vancouver, but even if they do, I think the cause is lost.
Before motoring on here, because I broke this all down in-depth already, here are my last few blogs in case you missed them:
---
---
---
---
---
---
In the first two games after the Christmas break, the Rangers started off well and essentially won a pair of one goal games. In the next two games, the two games in Alberta, the Rangers have now lost each of those games by essentially one goal. (When I say essentially, it means there were empty net goals scored in the games.)
Who knows, but maybe one play here, one play there, and the Rangers are 4-0 after Christmas. Instead they are 2-2 now, and as that record suggests, they are pretty much a middle-of-the-pack team.
Without Artemi Panarin, who wasn't much of a factor in tonight's 4-3 loss to Calgary, perhaps this Rangers team would be at the bottom of the standings. However, because of Panarin, the Rangers aren't bad enough to be in the cellar. Unfortunately, because of multiple issues, the Rangers aren't good enough to contend for the playoffs either. In other words, once this season is complete for the Rangers, I see them with a 2020 draft pick, in the #10-#14 range.
While obviously, the final score in Edmonton doesn't tell the full story of that game (check the blog of that game which is linked above) the Rangers did fight back to make it a one goal game, before Edmonton scored an empty net goal.
In the Edmonton game, the Rangers scored the final five goals of the game, with the first goal coming with 25 or so seconds left in the second period. As I predicted in that blog, I said that I felt David Quinn and the Rangers would ignore their horrid and putrid start in Edmonton and focus on the positive, which is how the Rangers closed the game.
Prior to tonight's game with Calgary, during an interview with Kenny Albert, Chris Kreider said the Rangers would use those five goals as momentum in this game. Instead, defensive lapses and shoddy goaltending from Henrik Lundqvist gave Calgary an early two goal lead. The Rangers would never take the lead in this game, as Flames goalie Cam Talbot, shut the door when he was needed most, at the end of the third period.
I'll tell you what, after seeing the Rangers in these past two games, I now have a huge fear. In two weeks, the Rangers will play the Islanders three times in nine days. I've talked about this before – the schedule makers were horrible this season.
When I see how the Rangers lose these games, it wouldn't shock me if the Islanders won those three games in two weeks. I pray to the hockey gods that doesn't happen. However, with the way this Rangers team just spaces out for periods of time in games, the Rangers could be in for a world of hurt and embarrassment, against their most hated rivals.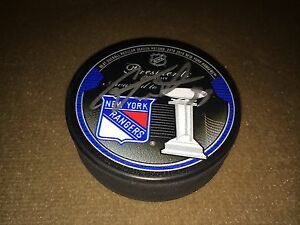 I'll get more into this once I finish the game review section of the blog, but I am now throwing in the towel – no playoff run this year. What made me really think this even more, was when after the game, David Quinn did his post-game interview, where you could hear the sound of defeat in his voice. He couldn't even muster up any energy to spin some positivity after this loss. More telling, was that Henrik Lundqvist, who does have a good track record of doing interviews after losses, didn't do a post-game interview on the M$G Networks. I think he, like Quinn, and not to lump myself in here, but me too, now know this season is no longer about trying to grab a playoff spot. Not happening.
(I will say this, I hope I'm 100% wrong on these comments and come April, I'm eating crow when you screenshot that above paragraph to me on social media or over email.)
If you recall at the end of my last blog, in the game with Edmonton, I said that writing that blog felt more like a job than a hobby. I don't have that same feeling right now, because hey, silver lining/glass half full here, my man Talbot beat Lundqvist tonight! And yes, I'm being facetious here!
If anything, I feel like the wind is out of my sails after this game. I wouldn't use the word "depressed" or anything like that, because it's not that serious. After all, I thought the playoffs were a 50/50 thing heading into the season. In addition, I know this team has no shot at a Cup with Lundqvist either.
I will say, I do see a lot of light ahead for the Rangers, but perhaps they aren't as close to the end of the tunnel, as I originally hoped and thought.
In my head right now, as I prepare to do 42 more game review blogs, it's now about players individually improving. It's about getting kids more time. It's about getting Henrik Lundqvist the hell out of here, once and for all. Bring up Igor and let's see what he can do. Enough of the placating to the diva.
It's also time to start holding everyone accountable, and I'm talking about Brady Skjei & Pavel Buchnevich here. If they continue to constantly err, bring up Rykov. Let Hajek play when he's healthy. Call up Vinni Lettieri or Timothy Gettinger. You can't just do this hamster wheel act, and run around in circles aimlessly. With the playoffs officially a pipe dream now, it's time to really take a look at some of the younger talent in the organization and at every position – forward, defense, and YES, GOALIE!
Let's try to shine some bright light on this blog here. Of course, I'm talking about my five game win streak, as we now hit the GAMBLING segment of the blog.
Here's what I said before the game:
Season over-under record: 21–17–1

In #NYR 's last five games, Rangers have either scored five goals or given up 5. (5-1 ANA, 1-5 PHI, 5-3 CAR, 5-4 TOR, 5-7 EDM.)

You gotta ride the trend until it snaps, TAKE THE OVER.

NYR is good value too & they do rebound well after a loss. pic.twitter.com/9hFxsFhbpL

— BlueCollarBlueShirts (@NYCTheMiC) January 2, 2020
And worth mentioning, in several social media debates, I did say I saw a 4-3 or 5-4 game tonight. In other words, I didn't see a goaltender's duel with these two teams. For as much of a fan that I am of Cam Talbot, he's not what he once was. Just like Lundqvist, he's getting older. I will say, I did agree with both Talbot and Micheletti on the broadcast tonight, that in regards to his win-loss record, which I'll share below, some of the games he has lost aren't on him.
With seven total goals scored in this contest, the over once again hit. In fact, it looked like the over would hit in the first period, as five total goals were scored. However, after giving up a goal each in the second period, both goalies shut out the opposing team in the third period.
The over once again hit during a Lundqvist start. My record now improves to 22-17-1. Five games over .500!
At this time, let's go to the official box score of the game, courtesy of ESPN.com:
SCORING SUMMARY: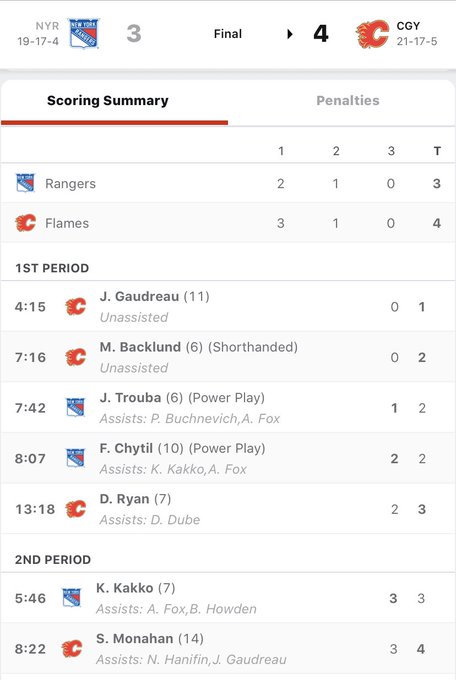 PENALTIES: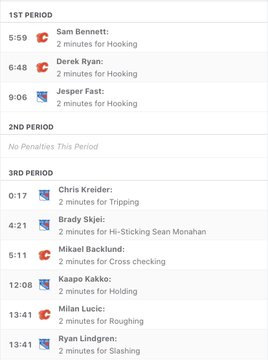 TEAM STATS: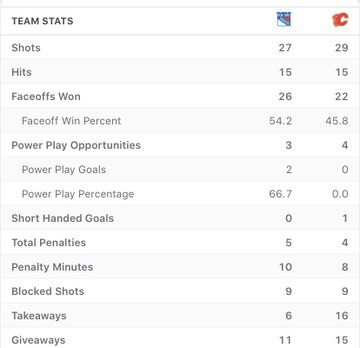 GOALIES:
| | | | | | | | | | | |
| --- | --- | --- | --- | --- | --- | --- | --- | --- | --- | --- |
| SA | GA | SV | SV% | ESSV | PPSV | SHSV | SOSA | SOS | TOI | PIM |
| 29 | 4 | 25 | .862 | 17 | 1 | 7 | 0 | 0 | 58:50 | 0 |
| | | | | | | | | | | |
| --- | --- | --- | --- | --- | --- | --- | --- | --- | --- | --- |
| SA | GA | SV | SV% | ESSV | PPSV | SHSV | SOSA | SOS | TOI | PIM |
| 27 | 3 | 24 | .889 | 21 | 1 | 2 | 0 | 0 | 59:53 | 0 |
---

Once again, with this being a 9PM EST game, we were treated to a broadcast without Steve Valiquette! In other words, while I can't tell you if every goal Lundqvist allowed tonight was the fault of Iran, Iraq, Martians, Black Friday Sales, New Year's diets, Netflix buffering issues, asteroids, gridlocked traffic, Hal-Al food or Domino's selling pizza's for $30 a pop, I can tell you everything else that happened in this game!
And also once again, while I don't want to sound like the President of the Joe Micheletti fan club, I thought Micheletti was great tonight. While he does get goofy at times, and for some reason, he has an obsession with the Tkachuk family, for the most part, he was on-point all night. He breaks the game down much better than Valiquette does, with Micheletti's best work coming in-between periods.
I'm telling you, it sounds so odd and weird coming from me, because I've used Micheletti for comic relief on these blogs for the last six seasons. However, in this season, to criticize Micheletti is just looking and hunting for something to find. Yes, he can get a little batty, but when he's serious and talking hockey, he's been money all season. I don't see how anyone could disagree on that. And as I said last blog, he also has to cover up for Sam Rosen's follies and Micheletti makes that job look effortless.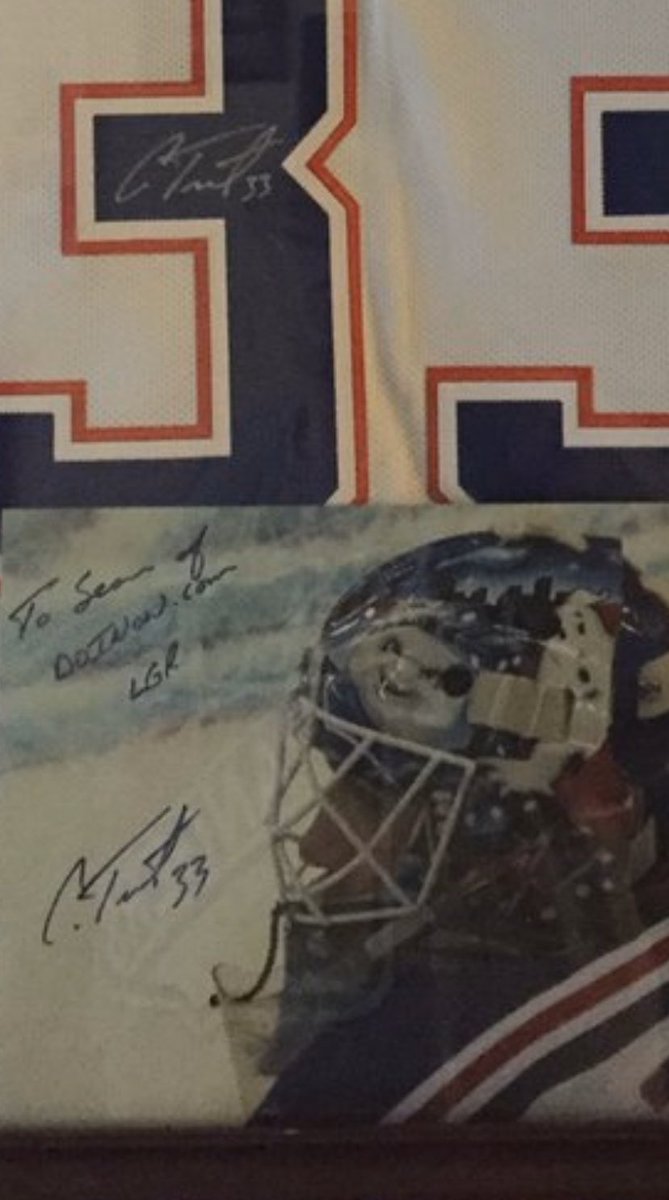 Line-up wise, in this game for the Rangers, DQ used the same lines and defensive pairings as last game, meaning that Haley remained the lone healthy scratch.
If there was any real news or notes before this game, it was this:
#PlayLikeANewYorker #Flames get refs Brad Meier and Chris Schlenker with James Tobias and Jesse Marquis on lines https://t.co/HQdXSCXoeC #NYR #CGY #NYRvsCGY @NYRangers @NHLFlames #NYRangers #Flames pic.twitter.com/toNiuE7hC6

— Scouting The Refs (@ScoutingTheRefs) January 3, 2020
After David Quinn went off on the referees last game, for their piss-poor officiating, what was the NHL's response? To have these same referees call this game. I understand travel and everything, but as I said in the Nashville game review blog, I don't get how you can have the same crew of referees call the same team's game twice in a row, especially when the first game has some heated and profanity-laced dialogue from the head coach.
That said, the referees had no bearing or effect on this game at all. I just thought this fact was worth mentioning.
Also worth mentioning? Joe Micheletti's focus and his player for his "TACO BELL TAKE" for this game was Adam Fox. In turn, Fox had his best offensive game of the season, recording three assists. Way to go Joe!
After a decent pregame show, we finally had puck drop. Of note, after Lindgren and Fox opened the game in Edmonton, where they were torched for a goal in the first 11 seconds of the game, Quinn opened tonight's game with Skjei and Trouba. Trouba and Skjei were complete polar opposites tonight. Trouba had a fantastic game, both offensively and defensively. In fact, Trouba logged a team-high seven shots on goal. Trailing Trouba in the SOG stat, were a few Rangers with 3 SOG. In other words, Trouba more than doubled-up his teammates, when it came to shots on goal. And as you'll see as you get to the end of this game review, the Rangers were feeding the hot stick, when trying to get a goal with Lundqvist pulled.
I'll get more into Skjei as we mosey on along here, but he WAS ABSOLUTELY HORRIBLE TONIGHT. He's had a shitload of bad games this season, so it's tough to say what's been his worst game of the season. I will say this, for the first time this season, David Quinn had it with Skjei (was caught on camera saying this too) and stapled Skjei to the bench in the third period. Again, I'll get more into this when I get to the third period.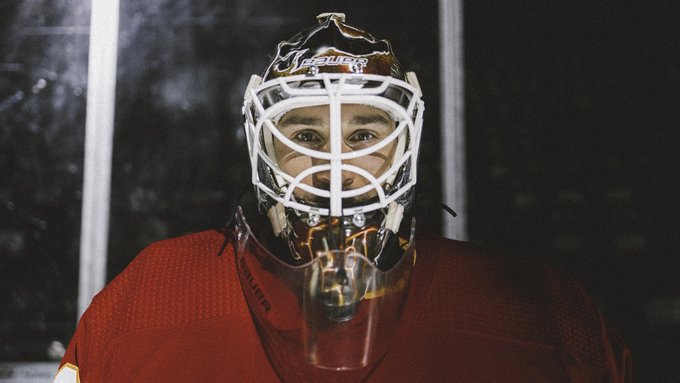 One last thing before talking about, you know, the actual product on the ice.
For whatever reason, Calgary was deader than Morgue $quare Garden tonight. I don't know why. After all, the Flames were offering $5 beer: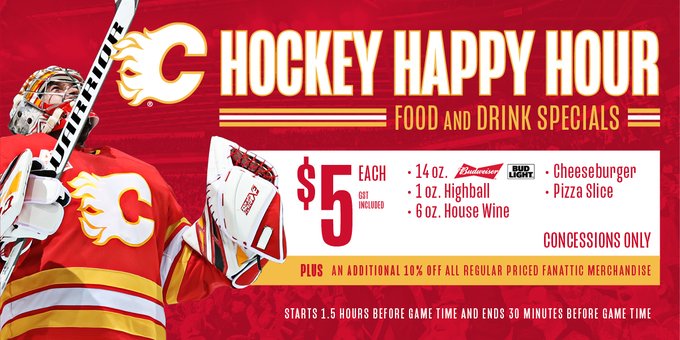 I've talked about this before – I don't eat at games. Maybe once in a blue moon, I'll get a pretzel to soak up the beer. When at a game, I pregame at the bar beforehand and pound beers in the arena. It's a process that's worked out nice for me over the years! Sure, you get a beer belly doing this all the time, but hey, that's my sacrifice. Like David Puddy once said on "Seinfeld" – "ya gotta support the team." This is how I support them!
Can you imagine M$G, selling tall-boy beers for $5, here in the year 2020? Beers now are nearly $20 at the World's Most Famous Tourist Trap. The saddest thing, is that M$G has priced out so many hardcore fans over the years, that hops and barley are no longer the drink of choice. Instead, many fans drink vegan kale quiona smoothies, infused with compost heap clippings, while they down a $50 plate of sushi.
I bring up $5 beers because of this – despite the Flames looking to get the crowd sauced, the arena was akin to the funeral of a small child. You could hear some fan, in the men's room, with his deep Canadian accent say, "Eh, I'm sorry I forgot to flush the urinal, eh." Then you would hear the sound of the urinal flushing, which was kind of the same sound that came out of David Quinn's mouth after this game.
The ONLY sound you heard all game, and I'm talking about a game where the Flames scored four goals in, was when the crowd booed Adam Fox, whenever Fox touched the puck. No joke, the crowd booed Adam Fox all game. Like it was his fault that he was traded in that monster Flames/Hurricanes trade of years ago. Fox wasn't even in the NHL then. The Flames just traded his draft rights for a huge package back from the Canes. The Flame fans made it out as Fox spurned them, which was never the case.
If anything, Canes fans should be upset with Fox, not Flame fans. This wasn't a Rick Nash, as a Ranger, going back to Columbus situation here. However, the Flames fans treated Fox as if he wiped his ass with the Canadian flag.
If any Flames fan is reading this, and if you know the reason why, please contact me and let me know why the Flames hate Fox so much. I can't find a reasonable explanation for the non-stop booing all game. And let me reiterate – in tonight's game, FOX GETTING BOOED created more crowd sound than THE FLAMES SCORING GOALS!
And now, let's talk about the game on the ice.
The first four minutes of this game started off kind of slow. Both teams played a bit conservative. However, if this game was like the "Wizard of Oz", the black and white boring stuff ended real quick and we had a full color explosion, right after the early doldrums.
At 4:15 into the first period, a puck took a weird route to Johnny Gaudreau. This puck moved like a seeing eye single in baseball, as it eluded every skater on the ice, but would then wind up on the stick of Mr. Johnny Hockey. Gaudreau would then race up the ice and made short work of King Five Hole:
What. A. Move. All-Star worthy, we'd say …

Make sure to vote Johnny and get him to the #NHLAllStar Weekend! https://t.co/484cu5uSrH pic.twitter.com/SF9sIZFqj5

— Calgary Flames (@NHLFlames) January 3, 2020
There used to be a period of time where Lundqvist would make these saves regularly. That period of time feels as long ago as actual $5 beers inside of M$G.
Word's out, as it has been for some time – go five hole or glove high on Hank. Johnny Hockey picked his spot here and just like that, see ya shutout, 1-0 bad guys.
Six minutes into the game, the Rangers still hadn't logged a shot on goal. It looked like that would change, as at the six minute mark, Sam Bennett was boxed for hooking.
In the Rangers first chance of their power-play, Panarin dished a puck to Zibanejad, who was denied of a goal.
Then, 50 seconds into the Rangers power-play, Derek Ryan was boxed for hooking Ryan Strome. The Rangers would now have 1:11 of a 5 vs 3 power-play. As I always say, if you can't score on a 5 vs 3 chance, you don't deserve to win. In a nice turn of event for the Rangers, the power-play actually showed up here and scored two goals. However, before scoring their two goals, this happened, with just 35 seconds remaining on the 5 vs 3, two-man advantage:
— Calgary Flames (@NHLFlames) January 3, 2020
2-0 bad guys, courtesy of a breakaway goal from Mikael Backlund. I'm sorry, this was inexcusable. It's inexcusable by all five Rangers on the ice and it's inexcusable by Henrik Lundqvist, who once again, let in a goal from his larger than the Lincoln Tunnel sized five-hole. To me, this goal epitomized the Rangers season, as they find a new way to Plaxico Burress themselves, as it seems they have a fetish with shooting themselves in the foot.
With 35 seconds left on the two-man advantage, I felt like crap here. However, the Rangers would go on to score two quick power-play goals in succession:
🚨 Trouba and Chytil get us right back in it 🚨 pic.twitter.com/kKQV421V4f

— Rangers on MSG (@RangersMSGN) January 3, 2020
2-1, bad guys.
2-2, tie game!
On the first power-play goal, the 5 vs 3 goal, Trouba just blasted one and beat Talbot. After that goal, Trouba found his confidence and would continue to blast away at Talbot all game. Unfortunately for Trouba, while his intentions were good and his play was better, Talbot would deny everything else off of Trouba's blade.
On the second power-play goal, Chytil screened Talbot and put a puck right past him. Great hard working goal for this young man. Lias who?
Of note, after the Rangers first power-play unit stunk the joint out, and opted to do fancy passing over shooting, the second power-play unit picked up both goals here. Even better, Fox picked up assists on both of these Ranger PPG's.
With only 8:30 played, we were tied at 2-2. It's great that the Rangers scored two PPG's, as that is as rare as a Honus Wagner rookie card these days. However, even with the two goals, HOW DO YOU GIVE UP A 3 VS 5 SHORT-HANDED GOAL? This just can't happen.
Of course, and as usual, after scoring a goal, the Rangers immediately took a penalty, as Fast went to the sin bin for hooking.
The best "save" here, was when Lundqvist stopped a shot from Monahan. Looked like the puck was going high, but that didn't stop Sam Rosen's toupee from spinning like it was something out of a Bugs Bunny cartoon. From here, the Rangers would then kill this penalty.
At the 13:18 mark, the Flames scored off a harmless play:
Pucks on net, kids. pic.twitter.com/LJ9DSqkSoU

— Calgary Flames (@NHLFlames) January 3, 2020
3-2 bad guys.
To me, this goal epitomized the age old adage of, "Fool me once, shame on you. Fool me twice, shame on me. Fool me three times, shame on both of us."
For the third time in three weeks, someone takes a shot and Brady Skjei puts the puck into his own net. I get shit happens, but it always happens when Skjei is on the ice. Either square up and block the shot, or let the goaltender see the puck. Too many times this season, has Skjei scored on his own team. When he's not doing that, he's running away from blocking shots. This contract is a BUST.
Seriously, someone on twitter, I believe Steve D., was talking about the worst contracts of the Rangers and mentioned Marc Staal. I'm sorry, I'll take Marc Staal 10/10 times, 100/100 times and in all 82 games, than Brady Skjei. Yes, Marc Staal is beat up, but that's because he plays with no fear and sacrifices himself. Every time I see Skjei play, he reminds me of a dump you would take after 20 beers and a meal at White Castle.
What was a harmless shot, turned into a momentum goal for the Flames and left the Rangers trailing. NOT GOOD.
Later on in the period, Zibanejad would take the same exact shot as Derek Ryan, but no goal here.
And give big credit to Sean Monahan tonight. You can't see everything on TV, but from what I saw, he was all over Panarin tonight. Panarin, who has been a god for the Rangers this season, was held off the box score tonight. The Flames game plan against Panarin worked. (Talbot also made a few big saves along the way too.)
The period concluded after Talbot saved a blast from Trouba. 3-2 after twenty. Despite the score, this was still a winnable game for the Blueshirts.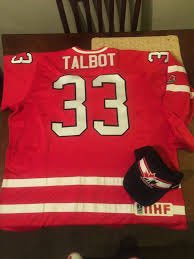 The second period started off like the first – a Talbot save on Trouba, or as Sam Rosen calls him, "TROOBER."
Oh, and this graphic appeared during this point in the game: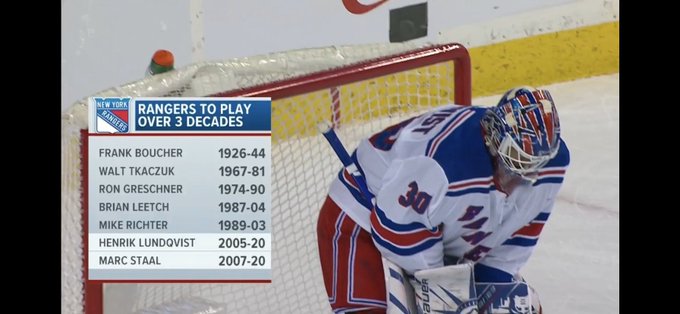 This was also the point of the game where Micheletti declared his undying love of the Tkachuk family, talking about their grandfather's and the Ottawa Senators dad's road-trip, as that had any bearing on this game. Save that story for a podcast.
Early into the period, Bennett tried to go through Lundqvist's legs, but lost the puck late. On an attempted move to freeze the puck, Chytil passed the puck to Hank and it almost went through his legs again. Adam Fox prevented a Flames goal here.
Due to not being able to make a change, we had a line of Panarin/Chytil/Kakko on the ice. Once Panarin got off (not that way), Kakko tied the game up:
KAKKO GOAL 🗣️ 🗣️ pic.twitter.com/qH6CqTC7mT

— Rangers on MSG (@RangersMSGN) January 3, 2020
3-3, 5:46 into the second period.
On the goal, while it stands in the game, I don't know if it will stand for Kakko. We'll see tomorrow, when the NHL reviews these type of things. To me, it looked like the puck deflected off Howden. If it's Kakko's goal, it's his first in the last 19 games played. If it isn't Kakko's goal, he still winds up with a two point game, which is a step in the right direction. And ironically enough, this goal was kind of like Ryan's goal.
Less than three minutes later, Sean Monahan would score, in what turned out to be the game winning goal:
🎵 Shoot 'em down turn around come on Mony 🎵 pic.twitter.com/ec2BeNlfyA

— Calgary Flames (@NHLFlames) January 3, 2020
4-3, bad guys.
On this goal, Johnny Hockey makes a great move, halts time like Zack Morris calling a "Time Out" in "Saved By the Bell", finds Hanifin and Hanifin serves up the easy dish to Monahan.
I'll also say this – even with 7 goals allowed in this game, I am hard pressed to blame the goalies for any of them. Poor defense and penalties led to goals. I will say though, Lundqvist has to make at least one of the saves on the two Flame breakaway goals. Talbot was better tonight and made that extra save that Lundqvist couldn't.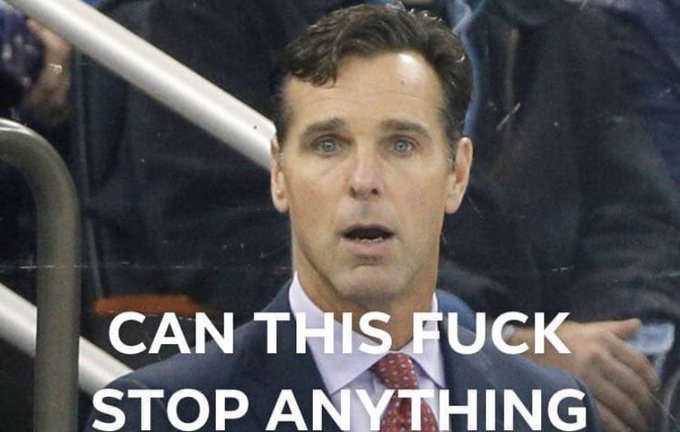 In what I thought was the save of the game, Cam Talbot denied Jesper Fast, right from his doorstep.
This is what I said at the time:
That Talbot save on Fast might be the difference #nyr #playlikeanewyorker

— BlueCollarBlueShirts (@NYCTheMiC) January 3, 2020
How prophetic. This huge save denied the Rangers from tying this game and it upheld Monahan's goal as being the eventual GWG.
Again, Micheletti has been great this season. As television viewers, we can't see everything. Micheletti pointed out how Lindgren wasn't on the ice. Once again, Lindgren logged the lowest amount of ice time by any defenseman on the team. I just didn't get why Lindgren was being punished, while Skjei, who was 2478578926478562789462578942657892645 times worse, was still out there. However, Skjei's time of reckoning would come in the third period, as he would feel the wrath of Quinn's leash, as if he was a dog that shitted on grandma's new roses.
Oh, and once Lindgren re-entered the game, late into this second period? He forced a turnover and denied a Flames chance at Lundqvist.
With ten seconds left in the period, the Flames took the puck behind Talbot and just watched the final 10 seconds run-off. The Rangers didn't even attempt to force the Flames to make a play here. 4-3 after forty minutes.
Before the third period started and even during it, Sam Rosen went into Mush from "Bronx Tale" mode and rattled off all the comeback and Ranger third period stats. Mush. And yes, while I know this is redundant, but I always want to be fair to people I've criticized in the past – Micheletti was superb in breaking this game down, during intermission.
17 seconds into the third period, Kreider was boxed for tripping. Legit call. Fortunately, the Flames wouldn't score here, as during their best opportunity, Andersson shot wide from two feet away. It was like he was channeling his inner Pavel Buchnevich.
After the kill and at the 15:39 mark, Brady Skjei took a stupid high sticking penalty, when he lazily caught Monahan in the grill.
Here's David Quinn's reaction:
Looks like Quinn is saying "I've had enough of him." H/T to @mikeysaps311 @thenotablymisc1 & @Dusse27 for sending me video. https://t.co/oeHba9TlXe pic.twitter.com/AXWNkNpOGN

— Kevin DeLury (@kevindelury) January 3, 2020
This was it for Skjei in this game. If you can read lips, David Quinn says, "I've had enough of him." No shit. I think David Quinn speaks for the entire fan base here. Of note, notice how DQ tries to cover his mouth? He knows he's on camera. However, the "Twitterati" never misses a beat.
I've talked about GM Jeff Gorton in the past. His biggest black marks, during his tenure as GM of NYR, has been the contracts he's given to his defensemen. (Smith, Skjei & Shattenkirk.)
When I look at how bad Skjei has been during these past 1.5 seasons, I'm just waiting for Jeff Gorton to wake up and do what he did with Ryan Spooner. If you recall, Gorton gave a terrible contract to Ryan Spooner. 20 games in, Gorton knew he messed up. Right then and there, Gorton woke up and dealt Spooner to Edmonton, where the Rangers got back Ryan Strome. You can argue for the value, this was the second best trade Gorton has ever made with the Rangers. (Zibanejad for Brassard being the best trade.)
I know I've said it so many times this season, but this blog gets new readers every day. I'll say it one more time here. With young left-handed defensemen in the system, like Yegor Rykov and K'Andre Miller, Gorton needs to dump Skjei, especially with this team having no shot at the playoffs. Even if they were a playoff team, Gorton should flip his ass like he was turning the river card in a game of poker.
Seriously, when Libor Hajek gets back (he's practicing right now with the team) I would give Skjei an all-expense paid trip to the press box. I've seen enough. You've seen enough. This Skjei contract is a disaster.
A few blogs ago, and as mentioned before, I previewed these five post Christmas games. We now know the Rangers aren't a playoff team. Obviously, Kreider will be the talk of the town & the league. Arguably, right now, Kreider is the best rental option available. If Gorton does deal Kreider, while Gorton is probably looking to package Lias Andersson along with him, Skjei has to be a guy Gorton forces a playoff team to take, if they want CK20.
And as mentioned on past blogs, while it's a no-brainer that these Lundqvist and Staal contracts hurt, they both have NMC's. You know how I would get out of the Lundqvist contract already. That said, the Rangers will need to find money for DeAngelo, Lemieux and Strome, come this summer. If they want to go after someone like Taylor Hall, they will have to free money too. Dumping Skjei's contract is the easiest way to do this. His deal is the least path of resistance. Gorton already moved Skjei's BFF's on the team, in Hayes & Vesey. It's time to move the third Muskateer now.
No joke, it's now 2AM as I write these words. I don't have work tomorrow, so this blog feels more "hobbyish" than a job tonight. My keyboard is smoking like the typewriter of Hunter S. Thompson!
After Skjei's penalty that ended his night for the Rangers, 40 seconds into Calgary's power-play, Backlund took a penalty for cross-checking. We now had some four on four foreplay.
During the 4 vs 4, Trouba once again, put another good shot on Talbot. Save by the KING. Again, I am upset about tonight's result, but I'm happy for Cam Talbot. He is a great guy off the ice, a good family man and gives it his all. He's easy to root for.
The Rangers would then get a 45 second power-play here. Talbot would deny Panarin. Talbot was dining on bread. Watch the carbs!
With the teams back at even-strength, the Rangers would have the puck for 30-40 seconds, with Hanifin losing his stick. The Rangers didn't put one shot on goal here. WHERE IS THE SENSE OF URGENCY? WHERE IS THE WILL TO WIN?
After failing to shoot here, Lindgen took a big hit. He favored his leg, but would later return to the game.
With under 8 minutes remaining, Sam Rosen started raving about a great defensive play by Kakko. In turn, during this play, Kakko was called for holding. Just like Skjei, for this unwarranted penalty, DQ benched Kakko for the remainder of the game, as McKegg, as he has been a few times recently, was promoted to the third line.
I know people will whine about Kakko being benched here, but at least Quinn is consistent. Plus, you have to be a fool if you don't think DQ wants to make the playoffs. DQ knows the gravity of this game and what a loss meant. Just watch his post-game interview, as he comes off as a defeated man. DQ was coaching for a win here and was punishing any player that was getting in his way. However, at least in the case of Brady Skjei, it was too little too late.
And because people will ask me this – I had no problem with Lundqvist playing tonight, especially since I know they weren't going to fly out Igor from Hartford to Calgary. Georgiev had a tough game in Edmonton and Hank had good numbers vs Calgary, heading into this game. Goaltending wasn't the big issue tonight, even if Hank should've stopped at least one of the breakaways.
With under 7 minutes remaining, Milan "Slim Shady" Lucic (have you seen his new hairdo?) and Ryan Lindgren went at it. Off-setting penalties, despite Lindgren bleeding from the nose. If you recall, these same refs gave Lindgren an extra two minutes, during a scuffle similar to this one, just 48 hours ago in Edmonton.
After killing the Kakko penalty, Micheletti brought up how Skjei was benched. Again, good observation from Micheletti, something that we may have not noticed during crunch time.
As we hit the FOXWOODS portion of the game, in the final five minutes, the Rangers revved up a little bit. Talbot just kept making the saves. Trouba looked like a man possessed out there.
With two minutes remaining, I think DQ fouled up big-time. The Rangers had the puck deep in the Calgary zone. In fact, they couldn't get it any deeper, as they were behind Talbot. The Rangers were also controlling the puck for some time here. Instead of pulling Lundqvist, DQ allowed the team to play five vs five. This was a mistake to me. In my opinion, I think DQ was hesitant on pulling the goalie, because of how many times the Rangers have given up quick empty netters this season. That said, this was a great chance to add an extra attacker.
Finally, with 1:10 remaining, DQ called a timeout and pulled Lundqvist for the extra skater. The six men out there for the Rangers, were Panarin, Strome, Zibanejad, Buchnevich, Kreider and DeAngelo. In other words, one defenseman, which is normal for Quinn. I bring this up, because with the way Trouba was playing, I think Trouba should've been out here, even if it meant double-shifting #8. When Trouba finally got out there, with seconds remaining, the Rangers did try to feed him. They should've had him out there, the second Lundqvist was pulled.
Talbot came up big here, in the final minute of the game, denying everything. With 11 seconds left in the period, Talbot was finally able to freeze the puck, which led to Calgary using their time-out, to give their players a breather, with a face-off coming to the right of Talbot.
Calgary would win the final face-off of the game and that was that. 4-3, bad guys, your final from the Saddledome. Season over.
Wow, this went long tonight! I hope you're still with me!
In conclusion on this game, the Rangers blew it. In game 40, the Rangers had to win to stay alive.
Let's face facts, this team hasn't ripped off a 4,5,6,7+ winning streak this season. Good teams, playoff teams, do that. It's too much "one step forward, two steps back", for the Rangers this season.
Moving ahead, as we hit the back nine of the season, I expect the Kreider rumors to heat up. I expect more talk about Igor being called up. I expect rumors about every player on this team, except for guys like Panarin and Zibanejad.
The Rangers have slipped too far in the standings and they aren't good enough to rip off a serious number of wins, to make a real go of it.
As my buddy, Al "SMD" Demauro said, this schedule is brutal in January. The Rangers are now on a two game losing streak. Coming up next for the Rangers, are Vancouver (playoff team), Colorado (Cup contender), Devils (playing well and the best they've been all season), Blues (defending Cup champs), two games with the Islanders (playing well and Lundqvist can't beat them), Blue Jackets (playing well, despite injuries and a decimated roster) and one final tilt with the Isles before the All-Star game.
Again, go read the blog I wrote during the Christmas break. The Rangers have thrown away too many points against bad teams. They also have a knack for losing many one goal games.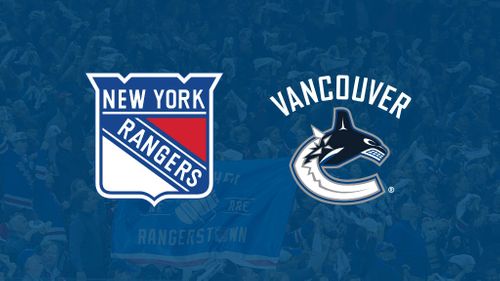 The Rangers travel to Vancouver now, where they will finish this Western Canada swing, where they are now 0-2. I expect JT Miller to have a "Viagra" of a game on Saturday night. Miller currently is second place on the team, in goals, assists and points.
Goalie wise for this game, does it matter? I would just go Georgiev here, to give him the playing time and experience.
Obviously, with a 10PM EST start time, expect an early Sunday morning blog. I might have this blog posted later than usual, as I am baby-sitting my nieces on Saturday night. However, at 10PM they should be sleeping, so I shouldn't have to pause the game! Maybe I'll slip them a Nyquil, to make sure they are sleeping at that time! I kid, I kid!
Two quick shots and I'm out.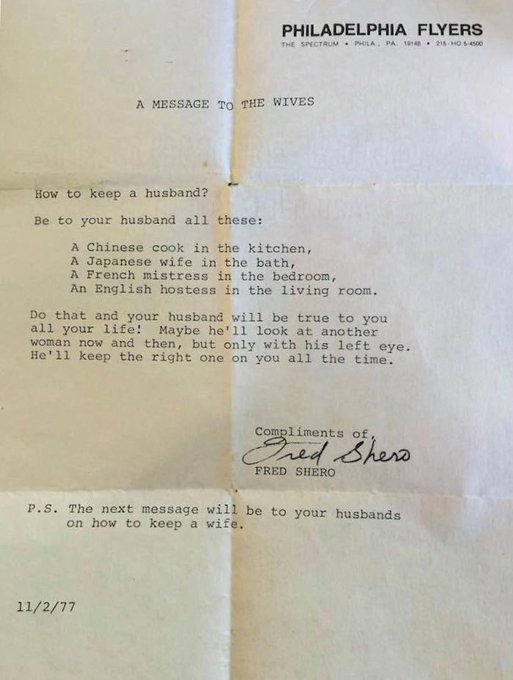 Someone sent this above letter, from Fred Shero, to me on Facebook today. Of course, because of my opinions on millennials and liberals, this person thought it would be funny if I saw this.
All I'll say is this – can you imagine if a two time champion coach sent out a letter like this today? The liberal fake outragers would want his championships taken away from him, his job and mandatory therapy. What a character Fred Shero was! This would never go over today. Just look at the coaches being accused of "bullying" today!

While on Fred Shero, let's talk about one of his ex-players, in Ron Duguay;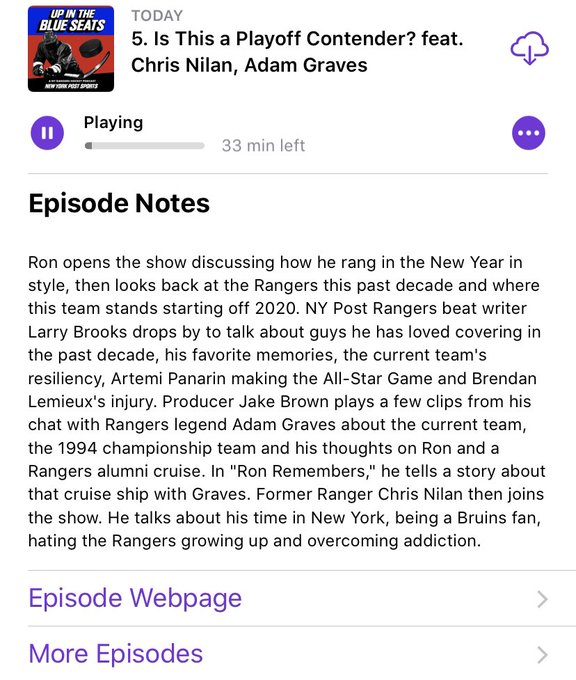 Ron Duguay, with his producer Jake Brown, uploaded their latest podcast on Thursday. Once again, I thought this was another good outing for Duguay and his podcast.
I don't hide my biases for Duguay. I like him. I wish he was still with MSGN. At least with this new podcast, Ranger fans can hear his current perspective and views on the team.
In the latest podcast, while Duguay doesn't have one of his famous "after hour" stories, Duguay talks about hanging out with Adam Graves & how the two get along. While Duguay doesn't interview Graves on this podcast (I'm sure that interview will come eventually) Duguay talks about his friendship with #9. Good stuff and worth listening to.
Outside of talking current Rangers with Larry Brooks, Duguay interviews ex-Ranger Chris Nilan. I wasn't aware that Nilan has a book and after hearing Nilan on Duguay's podcast, I now want to read it. I got to see if there is a copy on Amazon, as I'll review it for this blog.
You can check out Duguay's podcast on iTunes or wherever you get your podcasts. Every Duguay podcast is under 40 minutes in length, so it's a quick and easy listen. My only criticism of the podcast, is that I wish the interviews were longer, as Duguay has had on some great guests, but they only get about 10 minutes of time.
One last time, so I'm clear here – I hope I'm wrong on this, but it is of my opinion that the Ranger playoff hopes are now shot to shit. I want to be wrong about this!
I'll be back late Saturday/early Sunday.
Until then, hopefully we get a cup in this new decade.
As always, thanks for reading and…
"LET'S GO RANGERS!
Sean McCaffrey
BULLSMC@aol.com
@NYCTHEMIC on the tweeter machine