Greetings and salutations everyone and welcome to another blog here on BlueCollarBlueShirts.com. Welcome to the "Roaring Twenties", a phrase I'm sure we'll hear about 47582847528758472805740237 times in the next few weeks. It's now 2020 as I write these words. 1990 was 30 years ago. Isn't that amazing Suzyn?
And speaking of the 1990's, how did we, as a society, go from pushing the envelope, where we would say "It's the 90's", to justify anything, to this soft crybaby censored nonsense we see today? This fake outrage nation, has crippled the exchange of free ideas and opinions. Everything has been neutered. You can't say anything anymore, without the risk of being made out to be a pariah & an outcast. Liberalism and millennials have poisoned this nation.
In the final game of 2019 and of the decade, the Rangers were defeated by the Edmonton Oilers, by a final score of 7-5. While the score suggests a close and hard-fought game, this game was anything but that. The Rangers were down 6-0 in this game, with 30 seconds remaining in the second period. A late second period Chris Kreider goal and a sleepwalking third period Edmonton team, would help instill hope in a Rangers comeback victory, but a Rangers victory wasn't meant to be tonight.
For the first 39 minutes and 30 seconds of this game, the Rangers couldn't do anything right. They couldn't finish chances. They gave up a ton of breakaways and odd-man rushes. They let the Oilers screen and tip/deflect pucks at will. If the Oilers dominance wasn't enough of an uphill battle to conquer, the referees made sure to stomp out the Rangers chances of winning this game. Put it this way – the Rangers had one power-play in this game, while the Oilers had six. The majority of the penalties called against the Rangers were of the fugazi kind, as I'll get into below.
I don't know what's been the worst officiated Rangers game of the season. When you think about it, it's either that game with Nashville, where intentional elbows to the head were a two minute minor, while Brendan Lemieux playing hockey was a 10 minute misconduct, or this game tonight.
In the Nashville game, where the officiating was downright atrocious, the big issue was Ryan Ellis getting away with intentionally trying to give Buchnevich a concussion. In this game with the Oilers, the refs were all over the place. There were many phantom penalties called in this game, penalties so phantom, that the M$G Network cameras couldn't even find some of the infractions called.
It's tough to play the "what if" game. You just don't know how things will or would play out. Just because "A" led to "B", if "A" doesn't happen, it doesn't mean that "B" and "C" would've happened, if you get my drift. Of course, I'm talking about the Rangers scoring five straight goals in this game.
What I can tell you here, is that the Rangers, down 3-0 in the first period, were fighting and trying to make a comeback. However, when you call 14 minutes worth of penalties on the Rangers in the second period, it's tough to make that comeback, when you're a man down for the majority of the period.
The turning point of this game, was in the second period. With the Rangers trying to mount a comeback, the Rangers looked like they were going to go on the power-play, after Tony DeAngelo was slashed by Ryan Nugent Hopkins. Instead, Ryan Strome got a double-minor for a high-stick. The M$G Network cameras couldn't find Strome committing this infraction. They also couldn't find an Oiler bleeding either. What should've been a Rangers power-play turned into an Oilers power-play.
Right after this, in what should've either been a no call or off-setting penalties, Ryan Lindgren got two extra minutes after a physical quarrel with Jujhar Khaira. Of course, the Oilers then scored after this perplexing call, making the game 4-0.
NY Rangers head coach, in David Quinn, was absolutely incensed about the fugazi call. Quinn went on the mother of all Father Fink rants, dropping the f-bomb repeatedly and calling the referee a "Father Finkin' jerkoff." Quinn then took a bench minor here for his rant. This then led to another Oiler PPG, giving the Oilers a 5-0 lead.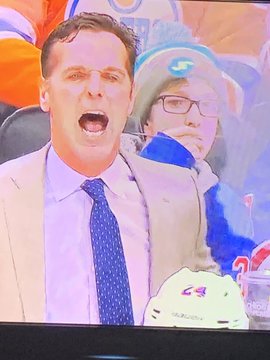 Again, while I know you can't play the what if game, what I 100% can say is this – if the bullshit call against Ryan Lindgren never happens, then David Quinn doesn't go batshit, thus getting a two minute bench minor penalty himself. The Oilers got two PPG's off of these calls, goals that would ultimately be needed for them to secure their win.
The Oilers would make the game 6-0, before Chris Kreider scored late into the second period. In the third period, the Rangers would add four more goals, making the game 6-5 and having a chance at a comeback. This is where the "what if" game comes into play here.
What if the officials called this game fairly and what if the officials did their job correctly? Would the Rangers win this game? Who knows?
I'll say this – the Rangers did make a game of this late, and it was 6-5 before Kailer Yamamoto scored an empty net goal with just over a minute left in regulation, to make the game 7-5. That said, in the third period, I thought the Oilers were just trying to skate out the clock and were in celebration mode. If this was a one goal or even two goal game, I don't think the Oilers would've been as loose, thus creating chances for the Rangers to score.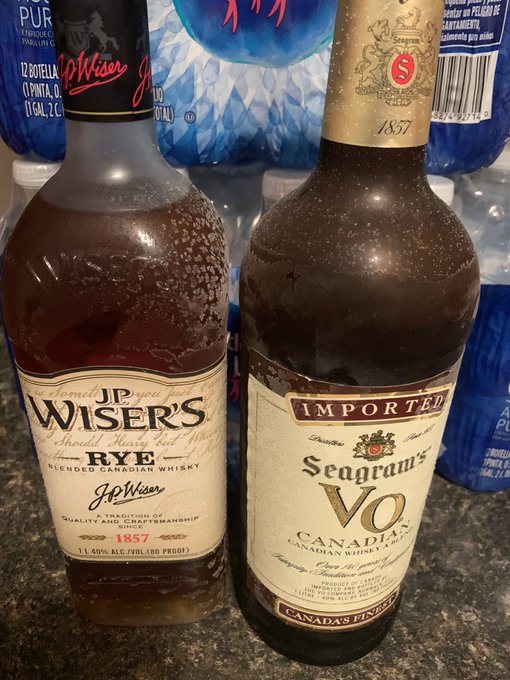 While the referees certainly swung the game in the second period; prior to the terrible officiating, the Rangers really had no one else to blame but themselves. The first period was an unadulterated shit show. The Rangers were down 3-0 quick. Ironically, the Oilers had only scored three goals in their last two games, but the Rangers did their best to help get the Oilers off the schneid.
This game felt like the Rangers decided to make a fashionably late appearance. However, in the NHL, teams play sixty minute games, not twenty minute games. Watching this game in the first two periods, you just felt like the Rangers were checked out and deciding where to go for their New Year's Eve party. The Rangers then crashed this party late, scored a few goals and then hit the road for the next party. Not a recipe for success.
I think a big topic after this game, will be how the Rangers fought back and made it a one goal game late. However, again, I don't think this happens if the Oilers didn't give up and if they didn't play the Rangers loose in the third period. It felt like the Oilers didn't want to rub it in and allowed the Rangers some pity chances, pity chances the Rangers did capitalize on.
I caught some of the post-game and the Rangers, and Quinn himself, were focused on the five straight goals they scored in this game. However, to think this is an accomplishment is just burying your head in the sand. Do these guys really think they would've scored these goals if the game wasn't already decided? Sure, the Rangers almost had a chance to tie it, but with the game on the line, the Oilers buckled down and finished the Rangers off with ease.
After two impressive wins over Carolina and Toronto, the Rangers need to figure out what the hell happened in this game. The Oilers are good, but that doesn't excuse the Rangers for playing the first 40 minutes of this game with their head in the clouds. It's one thing to fight hard and lose to a better team, it's another thing to come out and get your ass kicked.
Even weirder, despite two days off, there were long periods of time in this game, where this Rangers team looked like they had the legs of Lieutenant Dan from the movie "Forest Gump". So while the Rangers may try to spin some positivity over their five straight goals, they really should be looking at why they came out like crap in the first period. It cost them way before the officials decided to effect the outcome.
I know it's a New Year, the time for resolutions and positivity, so if you're looking for anything positive from this game, you can once again look at Artemi Panarin. In tonight's 7-5 loss, Panarin had a four point game, scoring a goal and picking up three assists. In his first game after being announced as an All-Star, once again, Panarin shone the brightest for the Rangers.
I did a long blog on Panarin and his All-Star selection last night. In case you missed that blog, or any of my most recent blogs, check out below:
---
---
---
---
---
---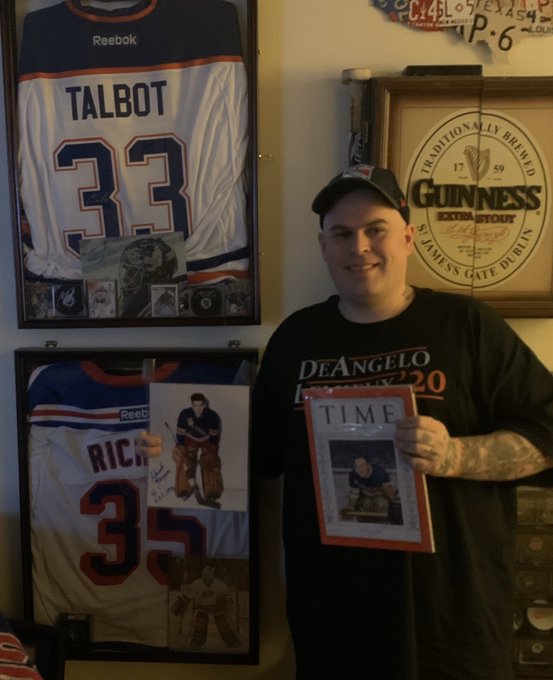 For a better look at the DeAngelo Lemieux 2020 shirt, check out the following tweet that I sent out today:
What a perfect shirt to ring in the Rangers New Year with! @TonyDee07 @blemieux22 @Fixxser @HockeyPhone @joedocnewman @bent_aileron @HWirth @ChrisBiv @NYRKelsMads @JAGD94 @JLH7112 @Rangersfan1977 @barnled02 @vanko_eric @generalmongo109 #nyr #PlayLikeANewYorker #MNYRGA pic.twitter.com/ESxFs6YZc1

— BlueCollarBlueShirts (@NYCTheMiC) December 31, 2019
As we continue this power of positivity theme right now, let's go to the GAMBLING segment of the blog. This is what I said before the game:
Season over-under record: 20-17-1#NYR has scored 5 goals in each of their last 2 games, Oilers have 3 goals total in last 2 games. I don't know if both streaks continue. McDavid should wreak havoc on Skjei.

I see a 4-3 type of game. Taking the OVER. I like NYR value to win. pic.twitter.com/0PPTAEFtJm

— BlueCollarBlueShirts (@NYCTheMiC) December 31, 2019
With 12 goals scored, this game easily hit the over. My over-under record now improves to 21-17-1 on the season. Granted, this is not the way I wanted to win this bet, but a win is a win.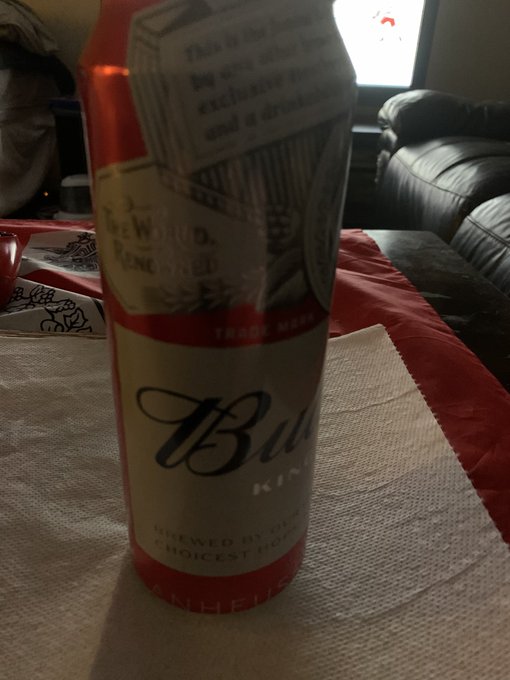 That now concludes the positivity theme. Back to this game tonight.
Line-up wise tonight, we pretty much had the same lines as last game, except with Brendan Smith replacing Micheal Haley. Here were the lines:
FIRST LINE: Kreider/Zibanejad/Stinknevich
SECOND LINE: Panarin/Strome/Fast
THIRD LINE: Chytil/Kakko/Howden
FOURTH LINE: Smith/McKegg/Fogarty
Defensively, we had this:
FIRST PAIR: Lindgren/Fox (who opened up the game)
SECOND PAIR: Skjei/Trouba
THIRD PAIR: Staal/DeAngelo
In goal, was Alexandar Georgiev. Let's talk about him now.
Well folks, it finally happened. Alexandar Georgiev cracked like Henrik Lundqvist tonight. While Georgiev wasn't rolling around, humping the ice, doing the "fish-out-of-water" act or hanging out in the second tier thus leaving his net empty, Georgiev did have a meltdown in this game.
Here's Georgiev, once the Oilers made the game 6-0:
— Kyle Reese (@KyIeReese) January 1, 2020
For the second time in his career, Georgiev cracked like Lundqvist and had a nuclear meltdown. The only other time I can remember this happening, was last season, in the third game of the season, when Georgiev went bat shit nuts during a game against Carolina. I can remember this vividly, because I was at that game in Raleigh, with the hard-working TEN O'CLOCK TOMMY.
It's tough to praise a goalie when they give up a touchdown in a game, but once again, as I've been saying all season, I 100% agreed again with Joe Micheletti. It was hard to blame Georgiev for all of these goals allowed.
Real quick on Micheletti, in case you're new here, as I've gotten a ton of new readers, made up of new fans of this blog, and some soft crybaby millennials, looking to see if I'll mention them. I think Micheletti has been great this season. Micheletti has had to carry Sam Rosen all season. Micheletti has even dialed down his never ending fawning of Lundqvist this season too. I also think that Micheletti has been a good analyst, when breaking down plays and in the next breath, making a seamless transition when correcting Rosen, for seeing something that didn't happen.
Put it this way, just like the California road-trip, the M$G studio guys had the night off. In their steed, was Joe Micheletti & Sam Rosen, along with John Giannone, working the game.
Joe Micheletti was a breath of fresh air during the pregame, intermission and post-game segments. Instead of listening to Valiquette yammer on about useless bullshit, Micheletti actually broke down every play and the goals allowed.
Often during the M$G Network studio segments, Valiquette, after rattling off some useless stats, which are generated through the eye of the beholder, Vally will then go into his Henny Youngman act, where none of his jokes are funny. Usually, he'll make a joke to Giannone and then we'll see only Vally laughing. While Micheletti's strong suit isn't humor, I thought he did a strong job of breaking down this game throughout, just like he did when tasked with that job in the Vegas and California games.
When you look at the six Oiler goals in this game, the first one came off a bad defensive play. Then, the Oilers scored two more goals, one of which was a PPG, after screening and tipping a puck past Georgiev. Micheletti called out Lindgren for not staying with his man/moving his man away from Georgiev or trying to block a shot. What happened? Lindgren was then benched, and logged 9:53 of ice time, which was the shortest amount of time on ice, for any Rangers defenseman in this game.
The Oilers would then score their two power-play goals, which I already discussed. None of these goals allowed were soft.
On the sixth and final goal, which led to Georgiev blowing up, the Rangers turned the puck over and Josh Archibald beat Georgiev on an uncontested and clean shot. That would be Georgiev's night, as the back-up goalie, in Henrik Lundqvist, would come in for mop-up duty.
Statistically, this was a horrible game for Georgiev, but he did make some great saves in this game, saves that will all be forgotten. It's tough to praise the goalie with a game like this, but he never had a chance. To Micheletti's credit, Micheletti, who used to be the number 1 Lundqvist cheerleader before Valiquette wrestled that title away from him, called out every goal for what it was. Micheletti even said you couldn't blame Georgiev for any of the goals allowed. That's not something you would've heard from Vally this season, or even from Micheletti himself, just a year ago.
After the game, David Quinn absolved Georgiev of all blame and blamed the defensive work, or lack thereof, by the team and the officials.
And because we have to go through this same song and dance every time – I rather see Georgiev take his lumps with this team than Lundqvist. Not going to rehash all this again, as I've done many blogs on this before. Simply put, Georgiev is $8M less, 15 years younger and can be Shestyorkin's partner in net one day. Lundqvist just serves no purpose to the rebuild.
And hey, with Georgiev looking bad statistically, maybe I'll get my wish and this game will prevent a trade! Let's smile about that: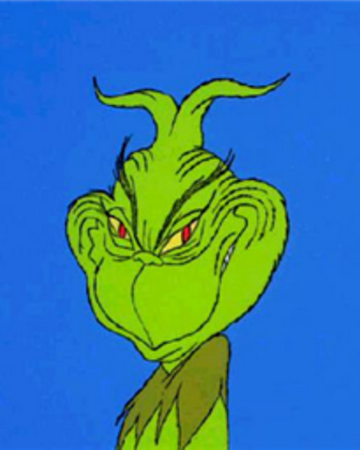 This is going way too long for a game that was horrible!
Let's go to the official box score, courtesy of ESPN.com:
SCORING SUMMARY: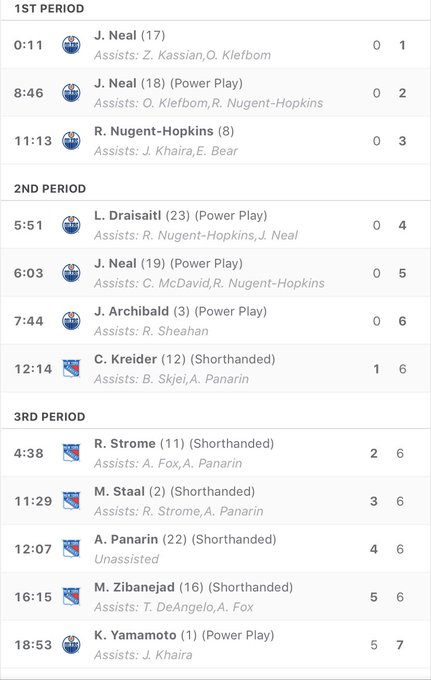 PENALTIES: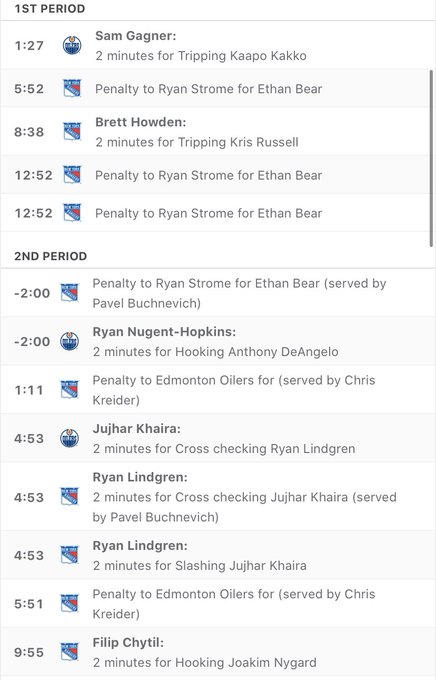 TEAM STATS: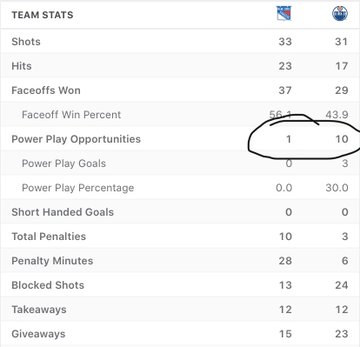 GOALIES:
| | | | | | | | | | | |
| --- | --- | --- | --- | --- | --- | --- | --- | --- | --- | --- |
| SA | GA | SV | SV% | ESSV | PPSV | SHSV | SOSA | SOS | TOI | PIM |
| 24 | 6 | 18 | .750 | 12 | 0 | 6 | 0 | 0 | 35:18 | 0 |
| 6 | 0 | 6 | 1.000 | 6 | 0 | 0 | 0 | 0 | 24:18 | 0 |
| | | | | | | | | | | |
| --- | --- | --- | --- | --- | --- | --- | --- | --- | --- | --- |
| SA | GA | SV | SV% | ESSV | PPSV | SHSV | SOSA | SOS | TOI | PIM |
| 33 | 5 | 28 | .848 | 24 | 2 | 2 | 0 | 0 | 60:00 | 0 |
Of note – with this game starting late, this being New Year's Day and with 12 total goals, I'm going to skip grabbing all the videos of the goals tonight. If you want to see them, check out NHL.com. I just don't have the energy or time to find a dozen goals!
After a decent pregame show, another pregame show that featured Igor Shestyorkin (M$G is getting ready for him folks) we finally had puck drop. Going into this game, I had my buddy TEN O'CLOCK TOMMY over, and we were pumped. We had a few drinks before the game and we were looking forward to Rangers hockey. Of course, 11 seconds into this game, the Oilers made it 1-0 bad guys.
Upon puck drop, the Oilers won the faceoff, rushed towards Georgiev and Oscar Klefbom dished the puck to James Neal, who was all alone in front of Georgiev. 1-0, just like that.
In what's been common place, after a goal allowed, Georgiev remained cool, calm and collected and would make two robbery saves. The game could've been 3-0 in the first minute. While the Oilers would get there, Georgiev held them off for a while. This is also why Georgiev's meltdown later in the game, was kind of big, as you rarely see that from him.
90 seconds into the period, Sam Gagner tripped Kakko. This would put the Rangers on their first and only power-play of the game. As noted, Edmonton would have six power-plays tonight. In the lone Oiler PK of the game, the Oilers made short work of the Rangers PP, holding them off the board.
In one of the Rangers best chances of tying the game up, Edmonton goalie, the 6'7″ Mikko Koskinen, would stop a Fast to Howden two-on-one attempt.
And oh, speaking of Koskinen, what a terrible game for me as a fan tonight! Here we have Georgiev, who got pummeled tonight. On the other end of the ice, we had Mikko Koskinen, whose play last season forced Cam Talbot out of Oil Nation, shutting down the Rangers. SAD! (That said, Koskinen's contract is horrible and I still don't know how then Oiler GM, in Peter Chiarelli, was allowed to give that deal out. As you may know, Chiarelli was fired right after giving that contract to Koskinen.)
In a creepy moment, John Giannone started talking about the "darn long legs" of Koskinen. Giannone sounded very "Buffalo Billish" to me.
At 8:38 into the period, after some good goaltending from both sides, Brett Howden would go to the box for tripping. Eight seconds later, after winning another faceoff, James Neal screened Georgiev and tipped in a shot from Ryan Nugent Hopkins. Brutal. 2-0 bad guys, after this Oilers PPG. Rangers PK was now 0-1 here.
The Rangers, who looked absolutely disjointed in this period, couldn't do anything right. The Oilers just had their way with them.
Less than three minutes after the Neal goal, the Oilers would score their third goal of the game, in the same exact fashion as they scored their second goal. Ryan Nugent Hopkins screened Georgiev and then tipped in a shot from Jujhar Khaira. 3-0 bad guys and we still had 8:47 remaining in the first period. NOT GOOD.
Once the Oilers made this 3-0, David Quinn took his timeout. The Rangers had to settle this game down. Instead, the Oilers would take the puck and hold onto it for a minute plus, as they peppered Georgiev with shots. The Rangers couldn't clear the puck. Luckily, the score didn't go 4-0 here.
As this first period progressed, Pavel Buchnevich was once again horrible. While he's done this before, his fear of being hit hurt the Rangers tonight. Buchnevich once again led the team in turnovers tonight, and the root of it in this game, was after he took a hit. I can't remember which Oiler hit him, but it was just a clean hockey play. It wasn't a dirty hit or anything like that.
After Buchnevich felt contact, for the remainder of the game, anytime he had the puck and had the inkling that any Oiler was near, Buchnevich either turned the puck over, made a pass to nowhere or quickly dumped the puck. While not as bad or as egregious in previous games, such as the last game with Toronto, Buchnevich continued to refuse to shoot the puck, rather opting to make a pass to nothing.
I don't care what you may think here, but I much rather Jimmy Vesey on this team than Stinknevich. I know what Vesey's stats are, but I think he would've fit in better with what Quinn is trying to preach with this team.
The Rangers, who need to free money to re-sign guys like Lemieux, DeAngelo & Strome in 2020-2021, if they can't get out of Lundqvist & Staal's contracts, the first two players they should look to move are Brady Skjei and Stinknevich. Shit, even if the Rangers can get out of Lundqvist's deal, I'd still move those two! I rather see K'Andre Miller or Yegor Rykov get a crack at Skjei's spot. I much rather see Vinni Lettieri, even if he may only be a 4A player, than Stinknevich. At least Lettieri shoots the puck!
The rest of the period remained scoreless. 3-0 BAD GUYS, after one period. This was one of the worst Ranger periods of the season.
The second period was an absolute terror. I don't know if the Rangers would've won this game or not, as the circumstances would've been different, but the refs did everything they could to Father Fink the Rangers here.
In a 3-0 game, the Rangers would have a good shot of cutting the deficit by two. However, Adam Fox somehow airmailed a puck, when one foot away from Koskinen. After another Stinknevich turnover, Ryan Strome would have a shot at a goal, but Koskinen made a great save off a Strome tip-in opportunity.
At the 5:20 mark of the period, things got wacky. Originally, Hopkins was called for a slashing penalty on DeAngelo. That penalty was then thrown away. Instead, Ryan Strome was called for a double-minor, four minutes for high-sticking. I can't tell you if this happened or not – the M$G Networks didn't have a replay of this penalty. And I don't think the M$G Networks were hiding anything here either. Nothing happened. The cameras panned the Oilers bench. Not one of them were bleeding, so how in the hell does Strome get four minutes here?
Once this penalty on Strome was called, David Quinn went nuts. However the best/worst was yet to come.
After killing the penalty on Strome, Stinknevich, who was also serving as part of the double-minor, came out of the box. He had a great look at Koskinen. Instead of shooting, he made a pass to nowhere. Turnover. Bench him.
Remember a few blogs ago, how I talked about how David Quinn can be two-faced and talk out both sides of his mouth? Remember how Quinn said the Rangers would never take another "too many men on the ice" penalty this season and then right after saying that, the Rangers would take that very penalty in the next game? I know I remember! I'm like this guy:
At the 8:31 mark of the period, the Rangers took another one of those "too many men on the ice" penalties, a penalty that Quinn said, if it ever happens again, it's on him. Well the Rangers had seven men on the ice here, so I guess Quinn is doubly at fault here.
On this latest Oilers power-play, the Rangers would kill it. That was two straight kills in a row for the Rangers.
At the 12:31 mark of the period, this is when the refs decided to insert their johnson's into the Rangers ass without a condom.
Jujhar Khaira got cute with Georgiev. Defending Georgiev was Ryan Lindgren. These two then got into a shoving match, something YOU SEE IN EVERY HOCKEY GAME EVER. Usually in these situations, we see no penalties called. When you do see penalties called in these situations, usually both players get off-setting penalties and there is no loss of man power.
In this situation, these god-awful referees decided to give Lindgren an extra two minutes, thus giving the Oilers another penalty, in addition to giving the Rangers the never-ending trip to the penalty box. Micheletti was going nuts here and he was right. This was horseshit.
Here was Quinn's reaction to this call:
So from what I have pieced together, David Quinn said something along the lines of "Nice/Wrong Fucking call" 3 times as shown in this clip and is assessed the penalty 1/2 #NYR #PlayLikeANewYorker pic.twitter.com/xlAxdYN65h

— Matt (@msegs13) January 1, 2020
On the Oilers power-play, Leon Draisaitl would score. Nothing Georgiev could do here. 4-0 bad guys. The Oilers got a goal off a bullshit call. This is when David Quinn went bonkers:
F*cking rabbit ears, you f*cking jerkoff !!! I love this so much…David Quinn can stay ! @alanhahn @DonLagreca #PlayLikeANewYorker pic.twitter.com/87usSLUNcy

— SteveBrudzynski 🇮🇹🇵🇱 (@Big_Steve89) January 1, 2020
FATHER FINK'S GALORE!
David Quinn was 100% right here. The refs were brutal and it cost the Rangers. Again, you can't do the what if game, but if this goal isn't scored, then what happened next doesn't happen and maybe the Rangers do come back and win this game.
After Quinn's outburst, the refs penalized Quinn for his abrasive language. You see, everyone is offended by everything these days, so you when you get screwed, you're supposed to sit there, be quiet and take it.
Listen, I agree with Quinn. Sometimes you got to fight back. Unfortunately, Quinn has no power in these situations and the refs put it up the Rangers poop chute again. The Oilers got another power-play and they would then get another power-play goal, just seconds into their power-play.
Just like the first goal of the game, the Oilers won the draw, the Rangers played their "El Matador" defense and James Neal charged right in. 5-0 bad guys. A hat trick for James Neal. To say Quinn was incensed here, well that would be an understatement.
With under five minutes to go in the period, the Rangers turned the puck over again. 6-0 bad guys and this is when Georgiev had his meltdown. After a TV timeout, Quinn pulled Georgiev for Lundqvist. After Georgiev's meltdown, I get it. For the first time this season, Georgiev was rattled. He had to go.
The refs, not satisfied here, then called Chytil for hooking, with less than three minutes in the period. Lundqvist would make a good save, preventing an Oilers PPG.
With 25 seconds left in the period, Artemi Panarin found Chris Kreider, cross ice, for a goal. 6-1, bad guys.
In a disgusting and brutal period, marred by bad officiating, at the end of 40 minutes, Oilers 6 – Rangers 1.
At 6-1 and on New Year's Eve, if you stuck with this game, you deserve a star of the game too. At least you got a thrill. I'm sure at this point in the game, many fans that were watching this game, tapped out.
The third period was dominated by the Rangers, which again, I think had to do with the lead. The Oilers, like a football team up by 30, didn't play much defense and they didn't look to pour it on. I think the Oilers had something like 4 shots on goal during the period too, with one of those shots being the empty net goal.
In a game that I continued to watch with Ten O'Clock Tommy, where admittedly, it was tough to pay attention to the game, Panarin, who was at the blue line, tossed the puck deep to Adam Fox. Fox swished the puck over to Ryan Strome. 6-2 bad guys, 4:38 into the period. Live, I thought whoop-de-do. After all, the over had already hit!
With under nine minutes to play, Panarin got the puck to Strome again. Strome put the puck on net, and upon replay, we saw that Marc Staal tipped the puck in. (It originally looked like a Strome goal.) 6-3 bad guys. I wasn't creeping up to the edge of my seat just yet, but I was 30 seconds later, when Artemi Panarin absolutely sniped a hell of a shot past Koskinen. 6-4 BAD GUYS, and with a little over 7 minutes remaining. Things were officially interesting!
Oh and I've talked about Strome a lot the few nights, so just refer to my last three blogs for more. However, once again, here's Strome and Panarin showing off their chemistry. The two lead the team in points this season. They also led the team in points in this game too. And morons want Strome off this team.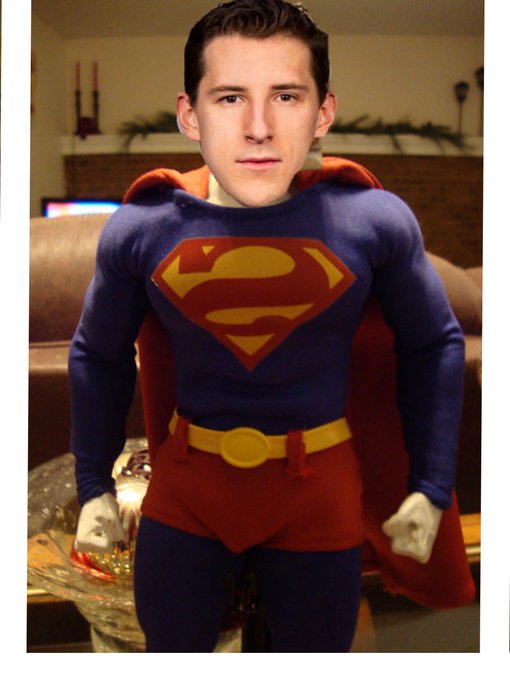 After this Panarin 6-4 goal, the Rangers kept pressing. Adam Fox was tripped. No call. Hilarious.
With 3:45 remaining, Tony DeMAGAngelo set up Mika Zibanejad. 6-5 bad guys. WOW. Holy shit.
Of course, right after this Zibanejad goal, Sam Rosen started ripping off stats about every big Rangers comeback in history. Jinxed. The Rangers hadn't even tied the game yet and Rosen was already talking about comebacks.
After pulling Lundqvist, the Rangers didn't shoot, turnover and Yamamoto for the empty net goal. 7-5. I'm telling you, the second Sam Rosen started talking comebacks, I ripped my proverbial ticket on this game, like the guys in "Bronx Tale" with Mush:
7-5, your final from Edmonton.
It's getting late and I already wrote too much about this terrible game. While yes, you can blame the refs partially for the loss, the Rangers couldn't get out the gate correctly and they were behind the eight ball all game. Give Edmonton credit for wanting this win more.
And for the first time this season, doing this blog tonight felt like a job, and not like a hobby. Losses like this will do that to you, especially a game with a late EST start on a holiday! If I didn't have this blog, I probably would've flipped the game off in the second period and went on either a "Twilight Zone" or Paul Newman movie marathon.
Totally unrelated, but since I asked this question on Twitter and got a ton of different feedback, I'll pose the question here. Not using the movie "Slap Shot" what do you think is the best Paul Newman movie ever? I gotta go with "The Sting" here. Honorable mention, "Nobody's Fool", a movie late into Newman's career, which also deserves mention.
Oh and this Paul Newman stuff, at least for this blog, started because I was tagged in a Twitter thread, in a conversation about the greatest actor ever. I went with Paul Newman, because not only were his movies great – he was such a philanthropist and did so much good with his fame. To this day, his name and charities still generate revenue for the less fortunate.
Feel free to sound off in the comments, about your favorite Paul Newman movie ever. After this game tonight, I rather talk about Paul Newman's career than this game!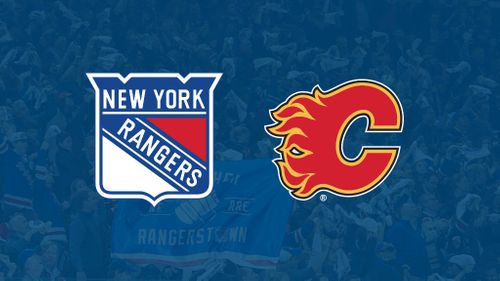 Since Igor Shestyorkin is not an option, in the next Rangers game, which takes place this Thursday in Calgary, I would go with Grampa Lundqvist. Georgiev needs a timeout after tonight.
I'll be back Thursday night. However, if this game is 6-0 in the second period, I may ditch the game and go watch "Cool Hand Luke" or "The Hustler" again!
Happy New Year and thanks for your continued readership.
As always, win or lose…
"LET'S GO RANGERS!"
Sean McCaffrey
BULLSMC@aol.com
@NYCTHEMIC on tweeter