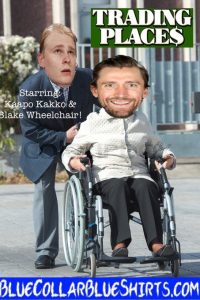 Greetings and salutations everyone and welcome to another blog here on BlueCollarBlueShirts.com. Holy déjà vu Batman!
Then again, holy déjà poo my dear Robin!
And had what happened on Saturday night happened tonight?
Then Lavy would be looking for a lavatory.
---
On the heels of blowing a three-goal lead in Minnesota on Saturday night during their 5-4 loss to the Wild; come Tuesday night, some 72-hours later and now returned to The Big Apple – the Rangers, and like Brittney Spears, belted out, "Oops, I Did It Again."
If a three-goal lead is considered to be "dreaded," then what's a five-goal lead? "Feared?"
Or perhaps the word "fatal" works best!
---
Up 5-0 through forty-minutes, and where the team was clicking on all cylinders except in one area (their knack for taking bone-headed penalties, and where it has to be a fact – they must be giving out the wettest of blowjobs in NHL penalty boxes these days, as there's no other explanation to explain why the Rangers are hell-bent in their maddening never-ending rushes to the sin bin); what should've been a cruise control victory was anything but that.
Whenever a team coughs up a bad goal late when up big, the most common excuse to explain it is "the team took their feet off of the gas."
I don't think that was the case on Tuesday night.
Rather than that elementary excuse; instead, the team got sloppy, while conversely, the Wings weren't going down without a fight.
Once again, and for the second consecutive game too, the Blueshirts enjoyed their never-ending two-minutes-at-a-clip parade to the penalty box.
And while YES – it's about the win and the two-points netted in the standings above all else – at the same time, the Rangers lack of a killer instinct, an ability to close out and a desire to play well wire-to-wire, did prevent Jonathan Quick of finishing with a shutout tonight.
CZAR IGOR, who is still day-to-day, has seen this script before, as for whatever reason, and it doesn't matter who the head coach is – and whether it be David Quinn, Gerard Gallant and now Peter Laviolette – this core will just constantly brain-fart.
I know, I know, I know – I sound so negative following a huge win that took place on national television.
The truth of the matter, and what irks me the most following a final twenty minutes where I was sweating like new TNT hire Chris Chelios in one of his saunas that he talked about all broadcast, was that this third period marred some otherwise perfect and "step-in-the-right-direction" performances.
Rather than raving about the new third defensive pair, Zac Jones and Braden Schneider, having their best game of the season (which is still true regardless I suppose – especially when compared to their previous games together); instead, we're thinking about how they imploded late.
If you're to singularly focus on this game as a whole, and not the sum of its parts, then perhaps lost in tonight's 5-3 win are the strong games that BILLY THE KID (Will Cuylle) and THE GUS BUS (Erik Gustafsson) had – two players who have quickly become the top candidates for this year's Steven McDonald Extra Effort Award.
And the same comment about having a strong game most certainly applies to Alexis Lafreniere too, who definitely looked engaged tonight.
But of course, the main question remains.
Can he stay consistent?
Only time will tell.
---
Moving away from the younger players; THE FAT CATS, the long-tenured veterans making the most money on the team, all thrived too.
Chris Kreider scored his ninth goal of the season, as he continues to chase Rod Gilbert's franchise record of 406 strikes.
Speaking of Mr. Ranger Rod Gilbert, the red-hot Artemi Panarin (and he better shave the little hair that he has growing back again), and like Kreider, finished tonight's game with two-points, following his (game winning) goal and assist.
As a result, "The Breadman" has baked a point in all twelve games that the Rangers have played this season (and more times than not – picked up multi-point games too) and he is now two-games shy of tying Gilbert's 14-game point-streak.
Not too shabby.
Captain Jacob Trouba, while not on the scoreboard tonight, did lead the team in ice time (24:50) and blocked shots too (3). The bulk of his efforts took place during the Rangers' six penalty kills – and where "THE GREAT EIGHT" was the biggest star during a Detroit 5 x 3 two-man advantage.
But for all of the positivity prior to the perilous third period, two constants remained:
— Mika ZibaneDAD can't score goals.
— Neither can Kaapo Kakko, nor Blake Wheelchair either for that matter, as these two, who are separated by an age difference of fifteen-years, were flip-flopped in the line-up tonight.
Hoping to give a spark to his line-up, create new chemistry and give his two struggling players a jolt; head coach Peter Laviolette watched Kakko and Wheelchair combine for only three shots on goal.
Equally as alarming?
In a game where the Blueshirts scored five goals – Kakko and Wheelchair weren't involved in any of them.
Worse than all of that?
Wheelchair's two horrible offensive zone penalties, two infractions that only incurred because he earned this "Wheelchair" moniker on this night – as he was too slow to keep up.
(As noted on this site in the past: "Wheelchair" nickname credit goes to Paul S. of the Blueshirt Underground Show.)
---
Despite tonight's tumultuous final frame (and where I guess the glass half-full perspective is that they played well for two-thirds of the contest), the Rangers are now 9-2-1 and have a firm control of first-place in the standings.
Something else that shouldn't be ignored?
The fact that many, if not everyone, thought that the Blueshirts would struggle out the gate a bit, as they tried to learn, adapt and adhere to those two words that have been repeated so much that they have now lost all meaning, "systems" and "structure."
(According to some, including resident New York Post dingbat Mollie Walker, Laviolette is the first coach in over 100-years of league history to ever use systems and structure!)
While I do believe that every Blueshirts backer and paying customer in Rangerstown, USA should be happy about tonight's win, but with one eyebrow raised too; I'm also reminded that this was Game 12 of the 82-game season.
In other words, and you have to know what's next – my daily season-long disclaimer for this 2023-24 Rangers' campaign.
Say it with me:
"WHATEVER THE RANGERS DO IN THE REGULAR SEASON DOESN'T MATTER. THEY CAN ONLY BE JUDGED BY WHATEVER THEY DO IN THE 2024 STANLEY CUP PLAYOFFS!"
---
At this time, let's get into all of the pregame news and notes, as there's a lot to cover from the past two off-days, and then get into the main event segment, the GAME REVIEW.
Up first, paper transactions.
---
On National Felony League Sunday, the Rangers had off, but Blueshirts' general manager, Chris "The Salary Cap Accrues" Drury, did not.
In paper transactions (I can't believe that some people on the great Tweeter machine actually thought that these were physical moves, but I guess that's what happens when you also believe that Mollie Walker is actually a real reporter), Drury made the following moves:
As you can tell from the graphic above, the contracts of Brodzinski, Domingue and Mackey were temporarily shelved from the varsity roster, only to be brought back later in the day, and when the "cap accrual process" was completed.
(Hello Patrick Kane? Ha, I had to do it!)
It was blatantly obvious what Drury and company were doing here, which is why I found it so comical when nearly every Rangers' beat reporter had their brains fried when trying to figure it all out.
Me?
This is what I said, as Wince, Mollie and company scrambled to come up with an explanation:
Probably cap savings until Tuesday. Should send Kakko, Lafreniere and Jones down too #nyr https://t.co/XPGle3pYcq

— BlueCollarBlueShirts (@NYCTheMiC) November 5, 2023
---
When the Rangers recalled everyone later on in the day, and as the birdbrain beat desperately asked, "WHAT DOES THIS ALL MEAN?" – again, someone with a working brain:
I get it's paper transaction time, but are #nyr going to send them down again after tomorrow's practice and then recall them Tuesday morning? https://t.co/2xlENTBLAQ

— BlueCollarBlueShirts (@NYCTheMiC) November 5, 2023
---
If anything, and outside of the birdbrain beat reporters being exposed as clueless hacks for the 976868963477373th time, then it tells you how precious every penny is under this ridiculous triple hard-salary cap system.
But you knew that too.
In more news from Sunday, and in another example of yours truly being ahead of the beat (I know this is redundant, but I'm just giving you the facts), <GASP> – the roving junior-high school level reporters told their one-brain celled readers that CZAR IGOR was "day-to-day."
Of course, I already told you that on Friday, some 48-hours earlier: https://bluecollarblueshirts.com/11323/
Just imagine if people with real jobs were as bad as the current crop of reporters on the Blueshirts' beat?
A routine check-up at the doctor's office would lead to death.
A defense lawyer would see his client jailed for life for a traffic infraction.
And crane operators?
Let me stop here!
---
If you read my Rangers/Wild review from Saturday night (https://bluecollarblueshirts.com/11423-2/ ), then you may have been able to gather that I'm not exactly thrilled with Kaapo Kakko these days.
Furthermore, that sentiment is largely shared around the mean streets of Rangerstown, USA too.
After giving you all of the black-and-white stats about Kakko's miserable season thus far on Friday and Saturday on this site, a Tweeter user, @LadyLibertyNYR, answered my question about first line right-wingers and their point totals (stats following all games played on Saturday, 11/4):
Here's a list of 1st line RW in the NHL and their point totals. Notice #NYR Kakko is tied for dead last. All but one player have at least twice the amount of points. While points aren't everything, they definitely matter when you're on the top line. pic.twitter.com/BginSbRobp

— Lady Liberty 🗽 (@LadyLibertyNYR) November 5, 2023
---
In case your browser doesn't allow you to scroll all the way to the bottom when trying to view that tweet, then here's the cold hard black-and-white of it for you:
---
Yep, there's fifth-year man Kaapo Kakko, tied for last place with Montreal's Juraj Slafkovsky, who is now in his official rookie season with the rebuilding Canadiens.
Even Anthony Duclair, of the historically bad last place Sharks, has more points than the "Finnish Flash," who these days, may be a "Flash in the Pan."
Apparently, Lavy also took notice of these numbers.
At Monday morning's practice, and in an idea that I shared on this site over the weekend (and some of you were saying the same thing too), the inevitable – Kakko and Wheeler were flip-flopped.
Lavy (and you know that Gerard Gallant would've been raked through the coals by some people, both fans and the beat reporters, had he made the same move), was diplomatic when explaining this decision – a decision that reminded me of Jimmy Conway's phone call in "Goodfellas" – "it had to be done and there was nothing we could do about it."
Here was Monday's edition of "LAVY'S LOUNGE," where once again, the Blueshirts' bench boss talked for over ten-minutes:
---
Obviously, the head coach isn't going to rip Kakko's gluten-free asshole apart.
Instead, Lavy said that he wanted to give Wheeler a shot and pushed the team-first message, rather than singling out any player for anything that could be deemed as negative.
However, Lavy didn't completely ignore the elephant in the room when he said, "If you're not getting the results that you're looking for, then you look at what maybe you could do to see a different look. I just wanted to change the scenery."
Perhaps the best scenery for #24 would be in Hartford, Connecticut?
(While I'm joking and know that Kakko would have to clear waivers; at the same time, and with most teams pressed up against the cap ceiling – would anyone claim him right now?)
Lavy also talked about his new line-up that he put together (check the LINE UP segment below), where if I had any concerns, outside of still seeing Zac Jones with the varsity team, then it was that I thought that Kakko could stunt Cuylle's production.
As far as anything else from a pertinent standpoint, then it was when the head coach talked about his goaltenders.
At the practice in Tarrytown, NY, all three goalies, CZAR IGOR, Jonathan Quick and Louie Domingue, were in-attendance.
Lavy did use the phrase "day-to-day" when describing the 2022 Vezina Trophy winner, but also noted that #31 was practicing.
Lavy didn't say this verbatim, but it was obvious – there was no reason to push CZAR IGOR at the moment – and certainly not in November if he's not at 100%.
And oh, the Rangers' beat reporters also kept their stupid questions streak alive, as one of them actually asked if losing Adam Fox hurt the team.
You can't make this up.
---
On Tuesday morning, game day, the Rangers held a well-attended optional skate, where following it, Lavy spoke again to the media one more time prior to tonight's game.
Here is the pregame edition of "LAVY'S LOUNGE" for you below:
---
Somehow, Laviolette spoke for what felt like another half-hour, after previously doing the same on Monday.
And just like the "LAVY LOUNGE" from 24-hours prior, the head coach talked about the same topics, as he continued to be diplomatic about Kakko, said that CZAR IGOR was day-to-day and didn't want to try to predict when Chytil and Fox would be returning.
---
Here was Laviolette's line-up for the twelfth game of this 2023-24 season:
FIRST LINE: Kreider/Zibanejad/Wheeler
SECOND LINE: Panarin/Trocheck/Lafreniere
THIRD LINE: Cuylle/Bonino/Kakko
FOURTH LINE: Vesey/Goodrow/Pitlick
FIRST PAIR: Miller/Trouba
SECOND PAIR: Lindgren/Gustafsson
THIRD PAIR: Jones/Schneider
STARTER: Quick
BACK-UP: Domingue
HEALTHY SCRATCHES: Mackey and Brodzinski
DAY-TO-DAY: CZAR IGOR
INJURED RESERVE: Chytil
LONG TERM INJURED RESERVE: Fox
---
BOX SCORE time.
The following graphics and information come from ESPN.com:
SCORING:
PENALTIES: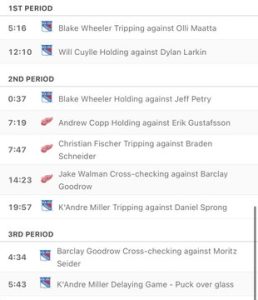 TEAM STATS:
GOALIES:
| | | | | | | | | | | |
| --- | --- | --- | --- | --- | --- | --- | --- | --- | --- | --- |
| SA | GA | SV | SV% | ESSV | PPSV | SHSV | SOSA | SOS | TOI | PIM |
| 32 | 5 | 27 | .844 | 23 | 3 | 1 | 0 | 0 | 56:42 | 0 |
| | | | | | | | | | | |
| --- | --- | --- | --- | --- | --- | --- | --- | --- | --- | --- |
| SA | GA | SV | SV% | ESSV | PPSV | SHSV | SOSA | SOS | TOI | PIM |
| 28 | 3 | 25 | .893 | 17 | 8 | 0 | 0 | 0 | 60:00 | 0 |
---
It was an absolute breath of fresh air, if not paradise, to watch a Rangers' game away from the M$GN.
Rather than the seven-foot smug jackass Sieve Vagistat polluting our televisions tonight, instead, we were treated to the great group at TNT – a group that now includes former ESPN panelist, Chris "We Know Why P.K. Slewban Still Has His Job Over Me" Chelios.
Chelios, one of ESPN's budget cuts from over the summer, was a welcomed addition to TNT's panel.
No joke, and within the first five-minutes of this pregame show, he was already featured better and used more prominently than how he was with the world-wide leader.
And after watching tonight's broadcast?
I'm sure that Mark Messier is now wondering if he can get out of his ESPN contract.
With Lundqvist in New York pushing his new $230 cologne to fans (and who is this scent marketed to anyway? Most Ranger fans don't have an extra $230 laying around to drop on perfume, and the ones who do aren't buying a novelty aroma to begin with), and since the Red Wings were the Rangers' opponent – Chelios sat in "The Kings' Throne" – the far right chair.
After TNT showed us some poorly produced photoshops, photoshops so bad that you would have thought that I made them, which featured a chiseled Chelios in his saunas, and resident heel, Paul Bissonnette (with tits – but to be clear – I didn't make this photoshop – TNT did!) on a stationary bike; the three-time Stanley Cup champion said, "Europeans [players] are notorious for being quiet on the ice and not talking."
Maybe that explains Kakko's lack of chemistry with the BFF's, Kreider and Zibanejad.
(And yes, I know that Zibanejad is a Euro too, but he's the second-longest tenured Ranger on the club and his relationship with CK20 supersedes all.)
As the broadcast continued, and as Steve Yzerman and his "YZERPLAN" was mentioned no less than three times (I'm wondering, has anyone trademarked "YZERPLAN" yet, ala the way Pat Riley trademarked "three-peat" during the Bulls' runs in the 1990s?), it was then brought up that Barclay Goodrow, back in the line-up, is now a father to a new baby boy.
This made me grateful that this was a TNT broadcast tonight.
If this were a M$GN broadcast, then Joe Micheletti would have told us how Goodrow was a "daddy" – and in a creepy tone of voice where "Jumpin' Joe" sounds like he's sitting across a table from Chris Hansen.
Up next was everyone's favorite topic – Patrick Kane rumors!
However, the focus on these rumors?
Kane as a Red Wing – and not as a returning Blue Shirt. (This was because Chelios was there. I wonder how this talk would have went if Lundqvist was there?)
As far as a decision, and he said that he has no inside information, Biz predicted that SHOWTIME will wait until Christmastime before signing on with a club.
To close the pregame show, TNT ran a package on their employee, Lundqvist himself, as #30's Hall of Fame induction takes place this Saturday.
Here's some of what Lundqvist said:
— "I loved every day when I played for the New York Rangers." 
— "The biggest goal was to win the Stanley Cup. We had good teams. Three Eastern Conference Final appearances. [TNT then cut to the Alec Martinez clip, ugh]. Yeah, it would've been pretty cool to win it in NY, but it wasn't in our cards."
— "You play for yourself, you play for the team, you play for the fans," where for what it's worth, Lundqvist did use the word "yourself" first. (I'll duck now!)
---
After watching this pregame show and the package on Lundqvist, I was left with two questions.
One, how come TNT doesn't feature SIEVE VAGISTAT, the man with the most epic 46-games to ever be played in league history (you don't even have to ask him, as he'll tell anyone who listens about it), in this manner?
Two, how come nearly every M$GN employee has a national gig too – besides the seven-foot clown in the bad suits?
Hmmm!
GAME REVIEW time – and where this stuff on Vagistat will play into something that I'm going to attack soon enough.
---
FIRST PERIOD
As we went to M$G, we were joined by TNT's B-team announce crew, the Islanders' Brendan Burke and Darren Pang – and the less said about Panger's Homer Simpson like donut drool for Boston's Matt Poitras the better.
Twenty-seconds into the game, and following Zibanejad losing the first faceoff of the match; Kreider forced a turnover in the o-zone, which then set-up a shot for Miller Time.
Already, this new first line was creating 5 x 5 SOG!
I kid, I kid!
Following the first whistle, the new roving reporter of WWE's Monday Night Raw, Jackie Redmond (a woman in sports who actually knows her shit – get a clue Mollie), pushed what Laviolette had previously said – Kakko wasn't being demoted.
But of course, that couldn't be any further from the truth, and as the Finn's 12:10 TOI, lowest of the season, would suggest.
And wouldn't you know it, Wheeler only played 9:53, and where his lack of minutes was due to all of the dumbass penalties that he took.
At just the 1:48 mark, and following a strong shift from the Rangers' new third line – BOOM – Trocheck brought the marinara sauce:
Way too easy for Vinny Trocheck.

What a snizz 🎯pic.twitter.com/6c2T9HrE4z

— Jonny Lazarus (@JLazzy23) November 8, 2023
---
1-0, GOOD GUYS!
This was a heck of a goal for #16, as he streaked into the zone, got to the circle to the left of Husso, and then ripped a shot that cradled itself right into the top left corner of the net.
Assisting on the goal?
Who else?
THE GUS BUS, as the regular third-pair rearguard continues to have more points to his name when compared to the likes of Kakko, Lafreniere, Chytil and <GULP>, Zibanejad too.
But I've already brought up the salary (and points) differentials between these players on Saturday night (https://bluecollarblueshirts.com/11423-2/ ) – so I'll save you from going into repeats tonight.
At just the 3:22 mark, the Rangers were out-shooting the Wings by a tally of 9-0, as this period was all Rangers – and all BILLY THE KID too, as Cuylle was all over the place – and let me be clear – in a good way!
At around the five-minute mark – I wanted to punch Burke in the mouth.
(And let me clear – I am joking – I would never physically attack him – but I will verbally attack him!)
Here's what this new-aged a-hole said:
"Chris Kreider has eight goals this season, but five of them are power-play goals," as the Isles' homer remarked in a condescending tone.
Let me be fair with you:
Burke isn't the first mental defect to devalue power-play scoring, and sadly, he won't be the last person in hockey to do so either.
I don't know which one of these peckerheads from the ANALytical community started such garbage talk (and I don't think that it was Vagistat either, mainly, and as we see every night on ESPN & TNT – he doesn't have a national profile, as no one outside of the M$GN respects his "knowledge"); but for whatever reason, and similar to how these derelicts have tried to devalue both faceoff and plus/minus stats – these scumbag scoundrels are now trying to devalue power-play goals/points.
Are you kidding me?
I mean just look at this game!!!!!
The Wings went 0-6 on their power-play tonight.
The Rangers scored two power-play goals tonight.
The final score was 5-3!
What's next?
Is Burke and company now going to downplay Wayne Gretzky's power-play points?
I can hear it now, as one of these twerps pound their pud while fiddling around with their homemade charts:
"Meh, Gretzky had 890 power-play points, so he wasn't really that great."
---
If anyone knows, then please, write in – but I'd love to know who was the first jerk-off to come up with such crap!
Just like cockroaches, weasels, and even the current illegal migrants in NYC – once you let these people in, where in this case, I'm talking about these ANALytical losers – it's hard to get rid of them.
It's not just bad enough that these morons are creating "EXPECTED STATS" (I expect the Rangers to win every night, but that hasn't worked out!), but now and today – they are trying to tell you that power-play goals don't mean as much.
(And let's not forget that these horrid human beings have used their self-invented junk to take jobs away from real hockey people too. Look no further to the top "analyst" on the M$GN today.)
Of course, these are the same deep-throaters that also hate fighting, big hits, checking, etc.
If it were up to them, then these games wouldn't even be played on the ice.
They would be played on their computers instead.
And oh.
I'm still waiting for the first player, coach, general manager, owner, whoever, where right after hoisting the Stanley Cup over their heads in June, proudly proclaim the following:
"WE COULD HAVE NEVER WON THIS PRECIOUS PIECE OF SILVER WITHOUT ANALYTICS!"
Get outta here with that shit!
---
It's 12:00AM as I type these words and I have an early alarm clock in my future.
You'd think that I'd know better than to go off on these long-winded tangents by now, but you'd be wrong.
Moving along, and quickly at that!
(And if you want the complete play-by-play, as I do have to rush a bit now, then check out my Tweeter feed, which I use as my blog notes, https://twitter.com/NYCTheMiC )
---
With 14:44 remaining, and with the Wings yet to have tested Quick; Wheeler, while the Rangers were attacking Husso, tripped Olli Maatta.
Two things.
One, I was extremely nervous at the time, because, and as we just saw on Saturday – one bad penalty can completely unravel all positive momentum, while also allowing the opponent to hang in there.
While yes, we were only five-minutes in, but at the time, this game was all Blueshirts.
Two, and most importantly, this was a penalty taken because Wheeler was too slow to keep up.
While this wasn't a dirty penalty or anything of the sort, it did remind me of Slewban's final season – where he did get dirty – and dirty because he was too slow and needed to come up with something to stall/slow down his opponents.
The game has passed Wheeler by – or so I say.
Now watch him score ten goals on Thursday night!
Then again, I thought that following all of the criticism from the past few days, that Kakko would score tonight too.
So much for that!
Don't believe my well-intended intentions for the player that I haven't called a "bust" yet, but the word is getting closer-and-closer to the tip of my tongue?
Here's the proof:
This has to be a 🔒 tonight, right? #NYR pic.twitter.com/GUWA1KR9em

— BlueCollarBlueShirts (@NYCTheMiC) November 7, 2023
---
As I feared, and just like in Minnesota – while the Rangers' PK got out of this unscathed – the momentum was lost too.
After racing out to a 9-0 SOG advantage, the Blueshirts then went the next five-minutes without a SOG.
Down to eight-minutes remaining, and now with three more Rangers' SOG; you were just hoping that this strong start wouldn't be erased on the Red Wings' second SOG, as they only had one SOG at this point.
The fear intensified ten-seconds later, as with 7:50 remaining, Cuylle was boxed for holding Larkin.
For whatever reason, Burke, who may need the jaws of life to have his head removed from his rectum, then went on-and-on about the Rangers' poor penalty killing stats at home.
Need I remind you – this was only the fourth game at M$G this season – so of course every home stat is somewhat artificial/inflated/deflated.
Talking about such stats is akin to talking about a baseball player's batting average on April 4th.
And as mentioned – the Rangers went 6-6 tonight on the PK.
Quick, who made two saves during this Cuylle penalty, finished with "ONLY" eight saves against Detroit's power-play.
In other words, the Wings had 12:00 in power-play time (20% of the game) and behind both Quick and the PK units – the Rangers didn't allow anything.
And who knew it at the time, especially when later up by five goals?
It were these kills that got the Rangers the win tonight.
---
As TNT brought up the Eddie Giacomin game from 48-years ago ("WHO IS EDDIE GIACOMIN? WAIT, I DON'T GIVE A SHIT WHO HE IS" – Mollie Walker); down to 2:04 remaining, Artemi "Silky Selke" Panarin forced a turnover in the o-zone, only for the terrific Lafreniere to cough up the puck.
As the period waned down to its final seconds, BIG WILLIE STYLE trucked Fischer with a hit. However, the Wings still had the puck, and with 42-ticks left, Sprong hit the post.
Whew – as this late goal would have been a kick to the gonads following the previous 19:18 played.
1-0, GOOD GUYS, after twenty.
Here's what I said at the time:
1-0, GOOD GUYS, after 20. 1P Thoughts:
— Feels a bit like deja vu from Saturday – strong first period, but all the penalties killed momentum.
— Kakko/Wheeler switch hasn't done anything, yet.
— Please tell me who was the first ANALytical asshole to come up with the asinine…

— BlueCollarBlueShirts (@NYCTheMiC) November 8, 2023
---
SECOND PERIOD
This was one of the best periods of hockey that the Rangers have played this season, if not the best.
The only reason why I won't proudly and defiantly proclaim it as the best?
The two penalties, which took place 19:20 apart from each other, as Wheeler took another stupid o-zone penalty at the 37-second mark, while Miller took an unnecessary penalty with only three-seconds remaining.
But sandwiched in-between?
A cavalcade of goals, four in all, and where the Wings and Husso looked like they were doing their best imitation of the two NYC NFL teams, the Giants and the Jets – as they were completely inept and devoid of doing anything positive.
But one more time.
Against a better team?
Then I'm not so sure if the Rangers would have won.
---
Following Wheeler holding Jeff Petry Dish, and especially after watching tonight's game – I thought that maybe it's time to give Cuylle a chance with Mika and Kreider.
What do you have to lose?
It's not like Kakko and Wheeler have done anything with them and with their opportunities.
Trocheck, following a short-handed feed from Goodrow, almost had a 2 x 1 odd-man rush goal, but had trouble handling the pass. If he didn't, then maybe he finishes this game with a hat trick.
Once returned to full-strength, the terrific Lafreniere, all alone in the slot, shot the puck wide.
Right after that?
Another terrific turnover.
But as you were shaking your head over Kakko and Lafreniere (overall, #13 played better than usual tonight, and he even assisted on Panarin's goal too – but still – a #1 overall pick, now in his fourth season? Brett Howden is playing better these days) – BOOM – the savior of the Blueshirts these days – and no, not the lotto picks – but THE GUS BUS!
With 12:41 remaining, Gustafsson drew OLD FRIEND, Andrew Copp (and in hindsight, moving on from Copp was a wise decision – but of course – who knows how he would've fared here had he stayed), for holding, as the defenseman was going hard to the hopper.
Twelve seconds later?
A goal that Burke wasn't happy with – a power-play goal for CHRISTOPHER JAMES KREIDER, a CK20 who continues to make history:
PPG CHRIS KREIDER 🚨 pic.twitter.com/rCcU2WiGjD

— Rangers Videos (@SNYRangers) November 8, 2023
---
2-0, GOOD GUYS, as the TIP MASTER got a piece of another puck, this time following a GUS BUS blast from the point!
Just sixteen-seconds later, Fischer tripped Schneider.
The Rangers' PP1 unit went right back to work – as Lavy wasn't going to screw around with the PP2 unit if he didn't have to.
The decision paid off:
2️⃣ on the night for Vincent Trocheck! pic.twitter.com/3hGb8PF7A0

— Rangers Videos (@SNYRangers) November 8, 2023
---
3-0, GOOD GUYS, as Zibanejad couldn't have set up this slot goal any more perfectly than he did.
And isn't it amazing Suzyn how the bulk of Kreider and Zibanejad's points take place away from their anemic right-wingers?
Hey, have you ever heard about that Patrick Kane feller before?
---
As Jackie Redmond interviewed a bewildered Detroit head coach Derek Lalonde, where I wondered if the reporter carried silver, wooden stakes, bibles and garlic in her pockets before approaching the Bela Lugosi doppleganger – BOOM – Panarin:
ARTEMI PANARIN IS RED HOT 🔥 pic.twitter.com/bcsrqqkea8

— Rangers Videos (@SNYRangers) November 8, 2023
---
4-0, GOOD GUYS!
And yep, here was Lafreniere's assist, from Gretzky's office.
Of course, this led to many Ranger fans, some with good intentions, some with one-track minds, all quiet for weeks, to defiantly claim, "SEE, I TOLD YOU! LAFRENIERE IS A STUD!"
Need I remind you, the third pair defenseman doubled Lafreniere's point production tonight – and most importantly – has been consistent in every game this season.
But as they say, "don't let the facts get in the way of a good story!"
What's up with that Kane guy again?
---
With 5:50 remaining, the Rangers beat Husso for the fourth time in a span of 6:39:
Zac Jones with the shot, Will Cuylle with the tip!

It's 5-0 Rangers! pic.twitter.com/RHnfU8Uzwa

— Rangers Videos (@SNYRangers) November 8, 2023
---
5-0, GOOD GUYS!
This had to feel real good for the temporary third pair, Schneider and Jones, a struggling duo who at this point in the game, were lights out.
This goal, as scored by CUYLLE HAND LUKE, his third of the season, as the rookie, when compared to Lafreniere (4), Kakko (1) and Chytil (0), is now only two goals shy of matching their goal scoring totals (combined), was the end result of a long shift for the third line and third pair.
With Detroit wheezing like Wheelchair, Cuylle pulled a "Kreider" and tipped/deflected the puck past Husso – who definitely needed a Snickers bar.
Come 5:37 remaining, and with Walman in the box for cross-checking Goodrow, I said the following as the Rangers' third power-play was set to commence:
Husso is still in net, if Kakko can't score tonight then he never will – now #NYR back on the PP and looking for the TD. What a response.

— BlueCollarBlueShirts (@NYCTheMiC) November 8, 2023
---
It wasn't just Kakko who didn't score tonight, as following the 5-0 goal, where let's face it, should have been enough to remove all doubt about the eventual victor – but the Rangers never scored again.
It wasn't for a lack of trying either, as Husso found a horseshoe in his five-hole and buckled down.
But of course, while he did stop Pitlick on an odd-man rush, he did get some of that horseshoe luck when Kreider, with under 2:00 remaining, went wide on a breakaway.
With three-seconds remaining, this is when Miller tripped Sprong. Both the head coach and player were incredulous about the call – but contact, completely unnecessary contact at that, was made.
The Wings would start the final frame on a 1:57 power-play.
5-0, GOOD GUYS, after 40, and where M$G looked like a New Years' Eve party.
The New Years' Day hangover was to come.
Here's what I said at the time:
5-0, GOOD GUYS, after 40. 2P Thoughts:
— I see a happy blog in my future lol
— All these goals and no points for Wheelchair or Kakko – go figure.
— Fat cats dining – please do it in the playoffs.
— Best game yet for Jones/Schneider, ditto Trocheck
— BILLY THE KID! #NYR

— BlueCollarBlueShirts (@NYCTheMiC) November 8, 2023
---
THIRD PERIOD
Two words: SHIT SHOW.
That said, and as mentioned – I need some sleep, as my 5AM alarm clock is inching closer-and-closer!
Furthermore, I kind of said what needed to be said at the top of this.
And this is true too:
While you can't be happy about this period; at the same time, the start of this game, the response following the loss to Minnesota, shouldn't be forgotten about either.
Put it this way: The Rangers, now with a dozen games under their belts, have yet to lose two in a row this season.
Of course and inevitably, there will be at least one losing streak down the line, but true to form, they have been able to weather all storms thus far.
Tonight, they were just lucky that they weren't playing a team that had an effective power-play.
But they were good too.
Prior to the breakdown, Kreider and Mika almost hooked up for a shorty. Vesey and Trouba then made sure this Miller penalty was deaded.
Come 15:35 remaining, Vesey, who had all day in the slot, hit the post, which by now you can deduce, meant that the Rangers had multiple scoring chances during this period too.
With 14:15 remaining and with Goodrow already in the box for cross-checking, Miller took his second penalty of the game, this time for a delay of game (puck over the glass).
While Miller did nobody any favors with his two penalties tonight; in no way, and in no how, were his infractions worse than Wheelchair's.
After all, and this isn't something to hang your hat on either, Miller's two penalties took place in the d-zone.
The Wings, now with 52-seconds of a 5 x 3 power-play, would never score.
However, just twelve seconds after Miller was released from the box, and with both sides returned to full-strength – blah – with 12:05 remaining, Michael Rasmussen, a fourth-liner, scored.
5-1, good guys.
Twenty-seconds later?
Another fourth-liner, this time Klim Kostin, scored – and of course – his first goal of the season to boot.
5-2, good guys.
The third pair was on for both goals allowed.
With 6:11 remaining in a game that couldn't end fast enough, the M$G patrons decided to chant "POTVIN SUCKS." In a response, a former Ranger scored, since that's always the way – and as ROBOCOPP did here.
5-3, good guys, as you now had turtlehead touching cotton and your hands on your head too.
What should have been a laugher was now a nail-biter.
With 3:00 remaining, Husso left for the extra attacker.
Two things here.
One, the Rangers, and just as the PK had done six times over, wouldn't allow Detroit to score with a one-man skater advantage.
Two, the Rangers, with an empty net to shoot at for three-minutes, didn't score and put this game away either.
5-3, GOOD GUYS, your final.
Another game where the phrase, "not all wins are Picassos" applies – but unlike some of the recent wins (a good thing) – this did start off as a masterpiece until the Wings threw paint all over it.
Here's the head coach after the win:
---
Up next: A pair of home games where the Rangers will look to avenge their previous losses (Thursday against Minnesota and Sunday against Columbus) prior to their five-day mini-vacation/bye week.
Bed time for me!
See ya Thursday night.
PLUGS TIME! (Buy a book and support my Rangers' induced therapy bills. After all, I don't run ads on this site!)
---
My fourth title and tenth book is now available for preorder!
"The Top 100 Villains of New York Rangers History," is now available for preorder.
For complete information, please visit: https://bluecollarblueshirts.com/rangerkillers/
---
My second plug of tonight's blog – the mandatory plug for my book, "The New York Rangers Rink of Honor and the Rafters of Madison Square Garden."
As mentioned previously, the book is now available in hardcover, in paperback and in Kindle formats. To purchase a copy of the book, visit this link:
https://www.amazon.com/Rangers-Rafters-Madison-Square-Garden-ebook/dp/B09CM5N2WD
For those still looking for signed paperback versions of the book, I have re-ordered more copies. I now have a few signed copies for sale at $25 a pop (includes shipping price) through me directly. Here is all the information on that:
---
My four-volume set of books, "One Game at a Time – A Season to Remember," is a game-by-game recount of the Rangers 2021-22 campaign.
My second title as an author, "One Game at a Time – A Season to Remember," is now available in eBook, paperback and hardcover formats.
To obtain signed copies, visit: https://bluecollarblueshirts.com/onegamebook/
To purchase all four volumes on Amazon, visit: Amazon.com – "One Game at a Time."
---
The greatest volume-set of books on Rangers' history today!
"Tricks of the Trade – A Century-Long Journey Through Every Trade Made In New York Rangers' History," a four-volume set of books that meticulously covers every trade made in franchise history, is now on sale.
All four volumes of the title can be purchased on Amazon.com and are presented in three different formats – eBook, paperback and hardcover.
To purchase Volume I: Conn Smythe (1926) – Craig Patrick (1986), visit Amazon.com
To purchase Volume II: Phil Esposito (1986) – Neil Smith (2000), visit Amazon.com
To purchase Volume III: Glen Sather (2000-2015), visit Amazon.com
To purchase Volume IV: Jeff Gorton (2015) – Chris Drury (2022), visit Amazon.com
To purchase signed copies of all four volumes, visit https://bluecollarblueshirts.com/tricksofthetrade/
---
Here are my last few blogs, in case you missed them:
---
---
---
If you haven't already, subscribe to this blog for the next update:
---
Don't forget to order my recently released four-volume set of books, "Tricks of the Trade!"
If you don't order through me, all four volumes are now available on Amazon.com
For more details, check out: https://bluecollarblueshirts.com/tricksofthetrade/
Thanks for reading.
LET'S GO RANGERS!
Sean McCaffrey
BULLSMC@aol.com
@NYCTHEMIC on the Tweeter machine